2022 Canyon Torque
Wheel Size: 27.5'', 29'', and mullet versions available'
Travel: 170–175 mm rear / 170–180 mm front (see below)
Material: Aluminum and carbon fiber versions available
Stated Weight:
Carbon frame only, w/o shock: 2,652 g / 5.85 lb
Aluminum frame only w/o shock: 3,000 g / 6.61 lb
Torque CF8 Mullet: 15.82 kg / 34.9 lbs
Price: Complete bikes $3,300 to $5,400; see below for details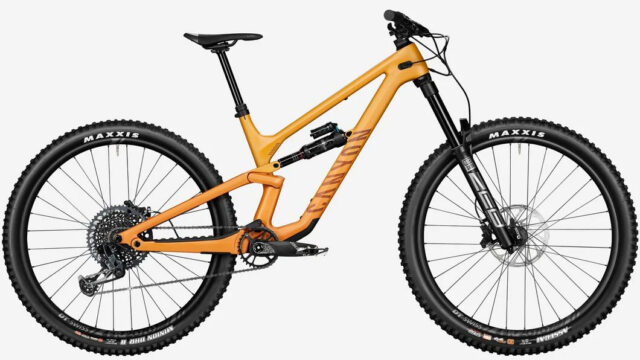 Intro
Canyon has just given their long-travel Enduro / Freeride bike a major overhaul, and they're talking a big game about the new Torque. With 170+ mm of suspension travel at both ends and much more aggressive, modern geometry than the outgoing model, the Torque is clearly meant to descend aggressively first and foremost — and Canyon seems to agree, calling it "the perfect option for a season in Whistler, Queenstown, or any other all-time riding destination."
But the Torque isn't just meant to be a hard-hitting descender — it's meant to be able to climb back to the top, too. And with options for aluminum or carbon frames and all three modern wheel size configurations, there's a Torque version for a whole lot of people looking for a bike in that category.
The Frame
The new Torque shares a strong family resemblance with a number of current Canyon models — most notably the Spectral — with a Horst link suspension layout and a horizontally mounted shock. Both carbon fiber and aluminum versions are available, and no matter which material you pick, you get internal cable routing, ISCG chainguide tabs, rubber chainstay and downtube protection, and room for a water bottle inside the front triangle. An extra set of accessory mounts are also featured underneath the top tube.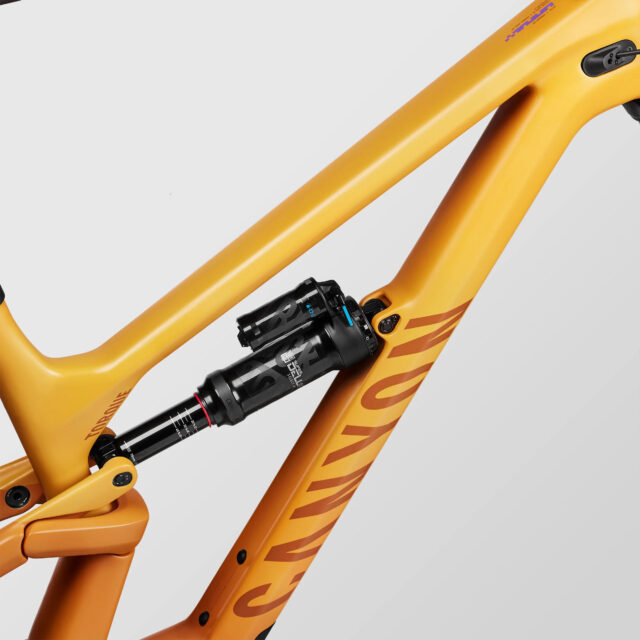 The carbon version of the frame does add a flip-chip for geometry adjustment at the rear shock mount; the aluminum version goes without, with the equivalent of the "low" setting on the carbon frame being the only setting on the aluminum frame. The aluminum frames also forgo the tube-in-tube internal cable routing of the carbon models, and instead use bolt-on ports for access.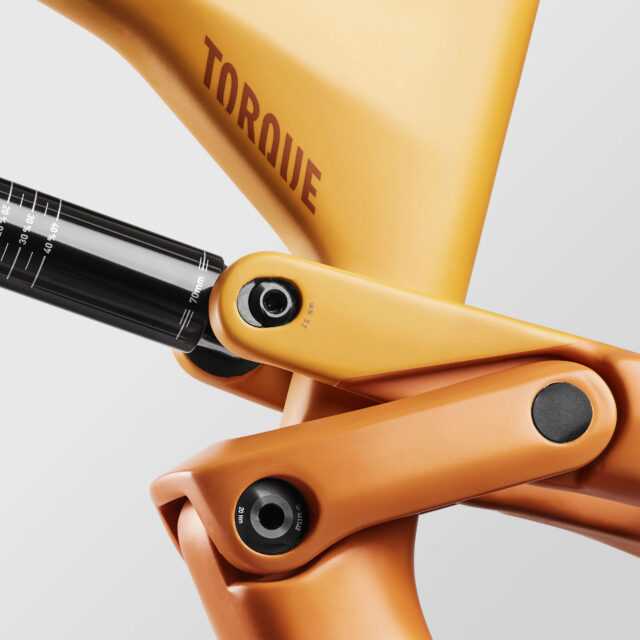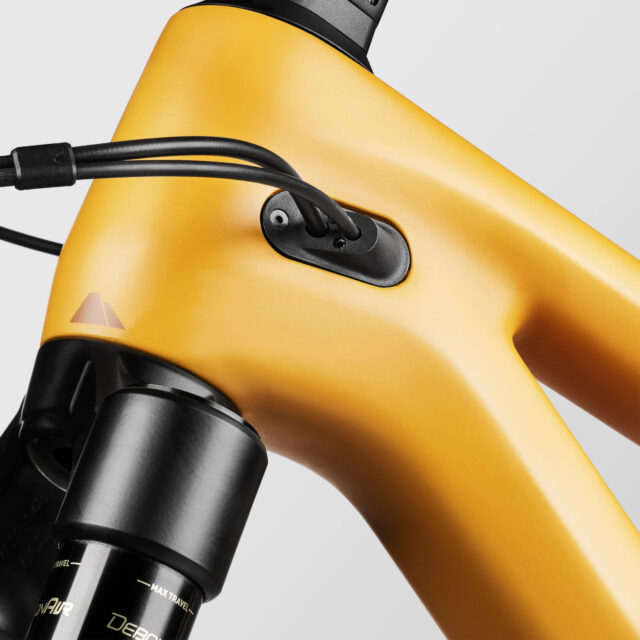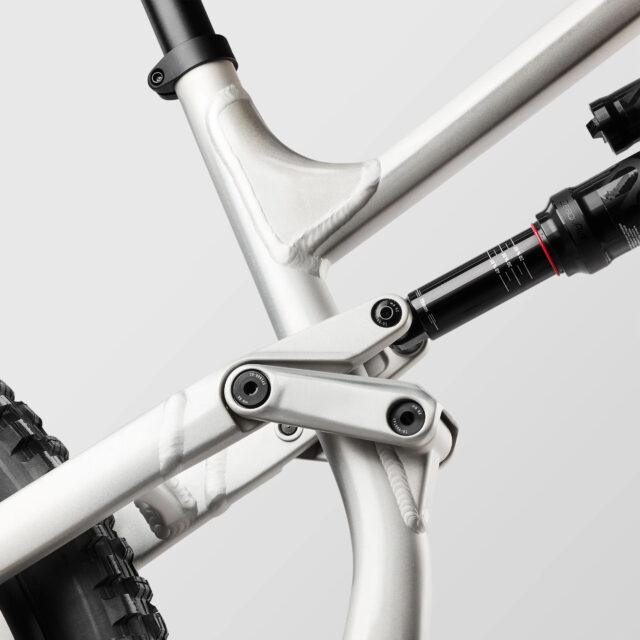 Canyon also offers the Torque in frame versions for 27.5'', 29'', and mixed / mullet configurations. The front and rear triangles are specific to a given wheel size (i.e., the 27.5'' and 29'' frames are entirely different; the mullet frame is built by mixing the front and rear triangles from the two). And while the Torque is available in four sizes, ranging from Small through Extra Large, the 29'' and Mullet bikes are only offered in the three largest sizes (Medium through XL) and the 27.5'' bike comes in sizes Small through Large, only.
The 27.5'' bike gets 175 mm of rear-wheel travel, paired with a 180 mm fork. The 29er drops both to 170 mm, and the mullet configuration winds up at 175 mm rear / 170 mm front. And while all of the builds on the Torque come with single crown forks, Canyon does say that dual crowns are allowed if you want to go that route. And in keeping with the theme of more-is-more when it comes to options, Canyon says that the Torque works well with an air or coil shock, too.
Fit & Geometry
The geometry of the Torque is nearly identical no matter which wheel size you opt for. The headube angle sits at 63.5° across the board, and the effective seat tube angle is stated at 77.5° (low position for carbon frames). Reach ranges from 440 mm (size Small, 27.5'' only) through 515 mm (size XL, 29'' and mullet only) with the Medium and Large frames getting 465 and 490 mm reaches (all three wheel combinations). The chainstay lengths don't vary by size, but are 5 mm longer on the 29'' rear end, at 440 mm; the 27.5'' rear triangle gets 435 mm chainstays in all three sizes. The flip chip on the carbon frames steepens the headtube and seat tube angles by 0.5°, and raises the bottom bracket by about 8 mm.
There's nothing that jumps out as deviating from modern norms for this sort of bike here — e.g., the Torque's geometry is notably similar to that of the Nukeproof Giga, another long-travel Enduro / Freeride bike with a plethora of wheel size options. We certainly don't expect it to be a super sprightly, quick-handling bike, but those numbers look like they should make for a very, very capable descender.
The Builds
Canyon is only offering the Torque as a complete bike — there's no frame-only option — in one of three builds, ranging from $3,200 to $5,400. Or at least that's the case in the US — a number of additional builds are available in other markets. The rundown on the US options is below; check out the Canyon site for the details in your area.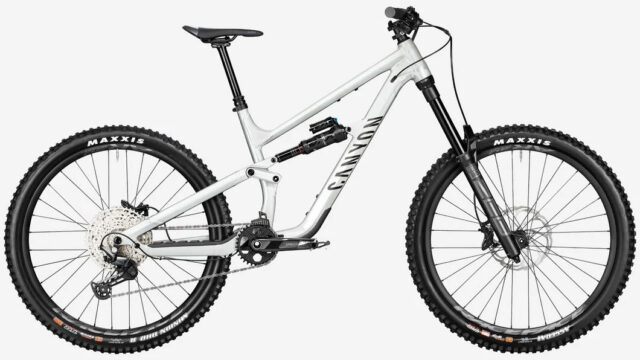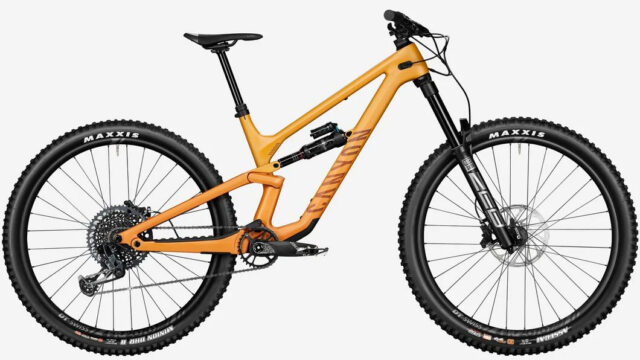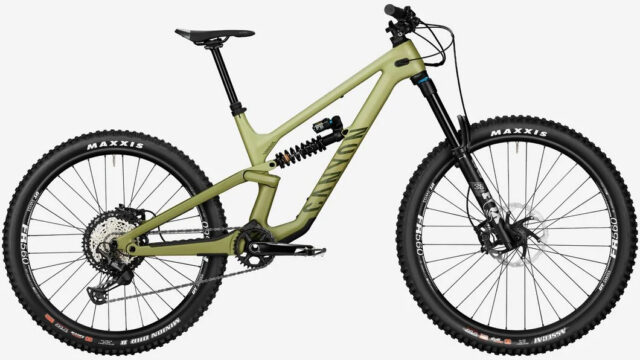 Fork: RockShox ZEB Select
Shock: RockShox Super Deluxe Select+
Drivetrain: Shimano Deore
Crankset: Shimano Deore
Brakes: Shimano Deore 4-piston, 203 mm rotors
Wheels: RaceFace AR30 rims / Shimano MT400 hubs
Dropper Post: Canyon Iridium
Fork: RockShox ZEB Select+
Shock: RockShox Super Deluxe Select+ RT
Drivetrain: SRAM GX Eagle
Crankset: SRAM Descendent 6k
Brakes: SRAM Code R, 200 mm rotors
Wheels: DT Swiss FR 2070
Dropper Post: Canyon G5
Fork: Fox 38 Performance Elite
Shock: Fox DHX2 Factory
Drivetrain: Shimano XT
Crankset: Shimano XT
Brakes: Shimano XT, 203 mm rotors
Wheels: DT Swiss FR 560 rims / DT Swiss 350 hubs
Dropper Post: Canyon G5
As per usual for Canyon, the builds on the Torque are notably good value for money, though some riders will undoubtedly be disappointed to see a mullet build only available on the top-spec CF 8 (and vice-versa).
Some Questions / Things We're Curious About
(1) Just how versatile is the Torque, and how well does it climb? Is it a park bike first and foremost that can pedal in a pinch, or is it more efficient than that?
(2) And how does it stack up against the increasingly crowded field of very long-travel Enduro bikes, such as the Norco Range, Nukeproof Giga, Propane Spindrift, and Nicolai G1?
Bottom Line (For Now)
The Canyon Torque looks like an extremely capable Enduro / Freeride bike for fast descents and big lines, but we're curious to see just how versatile it feels, and how it stacks up to a number of the other great options in that category. We should be getting on a Torque soon, so stay tuned for a full review to come.