Nicolai / Geometron G1
Wheel Size: 27.5'', 29'', & Hybrid 29'' / 27.5''
Travel: 162 / 175 mm rear; 160–190 mm front
Material: Aluminum
Blister's Measured Weight:
Frame only (including axle and seat post clamp, size Medium / "Longer"): 3,929 g
EXT Storia shock (including spherical bearing mounting hardware): 466 g
375 lb spring: 291 g
Total: 4,686 g / 10.33 lb
Complete bike, as built: 16.0 kg / 35.3 lb, w/o pedals
Price:
Frame and EXT Storia shock: £3,290 / $3,770
Complete bikes: £6,250 – £7,750 / $7,160 – $8,880; custom build options also available
[Note: UK prices include 20% VAT; US dollar prices are without VAT, at the conversion rate at the time of publishing.]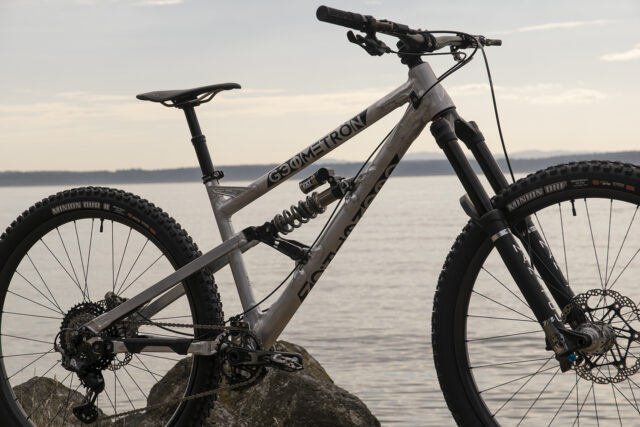 Intro
Chris Porter has long been known for pushing the envelope of what mountain bike geometry could be and he blew a lot of minds around the bike world when, in collaboration with Nicolai, his company Mojo put the first Geomotron on the market back in 2015. That bike soon became known as the G16, and I've owned one as my personal ride since 2017. That project soon spawned Geometron Bikes — the spinoff of Mojo (still run by Chris) that develops and distributes the bikes, with Nicolai continuing to handle production.
The G1 is their follow-up to that original G16 (which itself went through a few small revisions over the years). The overall design and layout are similar, but the geometry has been refined, some details tweaked, and a great deal of adjustability added — for both geometry and wheel size, as we'll describe more below.
All of that adds up to a bike that somehow doesn't stray too far from its predecessor, and yet still stands out in the market more than six years later. I'll be spending a lot of time on the G1 to see how it compares to the G16 and the rest of the market, but in the meantime, we're going to dive into the design of the G1 and what makes it so interesting.
The Frame
Nicolai has built a reputation for their aluminum construction and the G1 sticks to that tradition. There's no carbon option, and Nicolai's trademark giant welds are featured front and center. As with the G16, the G1 is available from either Nicolai directly or from Geometron. All the frames are made by Nicolai regardless of who handles the distribution, and both versions of the frame are identical apart from decals and some very minor finishing touches that we'll describe in more detail below.
As with all of Nicolai's bikes, they're made in Germany with the machining, welding, finishing, and assembly done in house. The G1 frame comes with "MADE IN GERMANY" proudly etched into the non-drive-side chainstay. And they're right to be proud of the craftsmanship — the machining and welding on display are outstanding, and the fit and finish are truly second to none.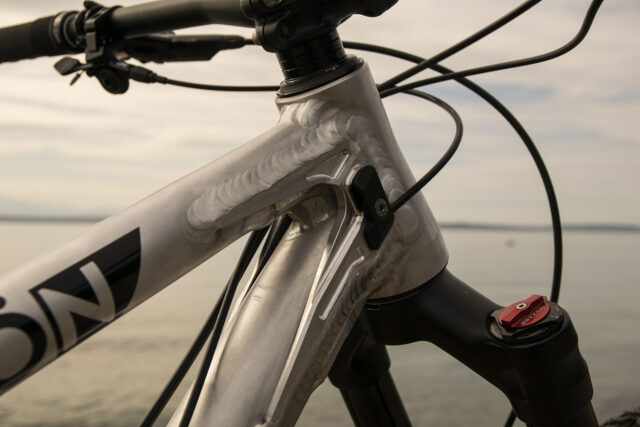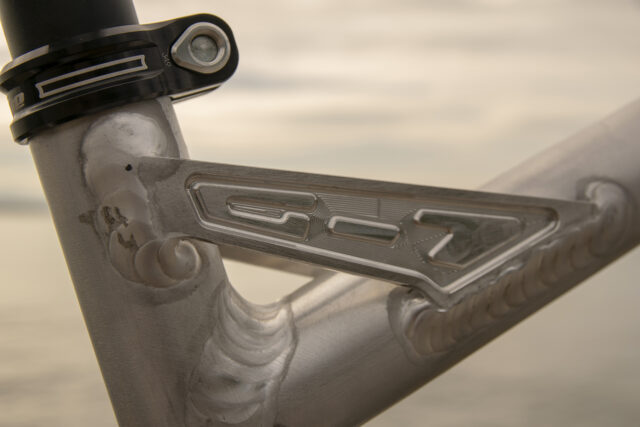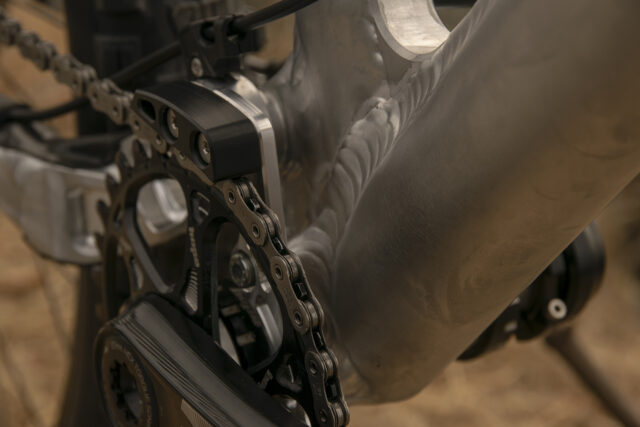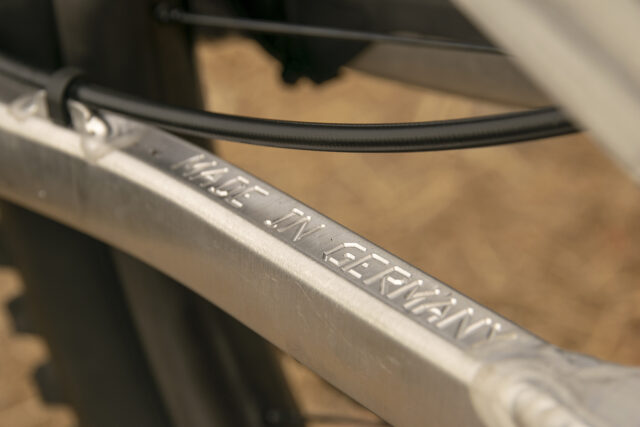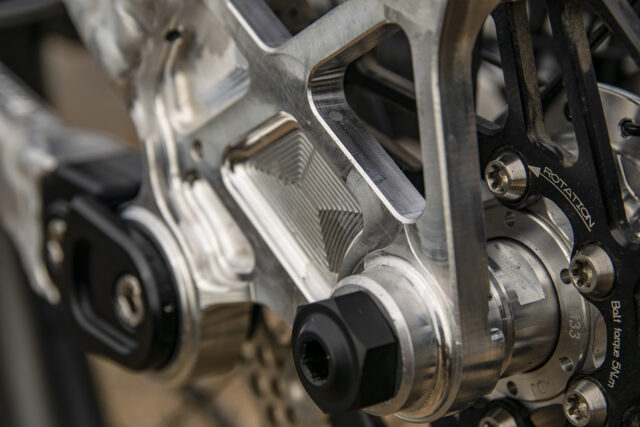 The G16 was already a beefy frame, but the G1 takes things a step further; the downtube is larger, the seat tube has thicker walls, and some extra gussets have been added to further reinforce things. The G1 is rated for use with dual-crown forks up to 596 mm axle-to-crown height, and up to 40mm-diameter stanchions. That (narrowly) rules out a full 29''-wheeled, 203mm-travel Fox 40 and Manitou Dorado, as well as a 200mm-travel RockShox Boxxer, but all are viable once lowered to 190 mm.
The overall layout of the G1 frame hasn't changed much from the G16 and still features a Horst-link suspension design, with a horizontally-oriented rear shock that unfortunately doesn't leave room for a water bottle. The G16 could be converted between 155 and 175 mm of rear-wheel travel, but doing so required both reversing a flip chip and changing between two sizes of rear shock. The G1 slightly narrows the spread between the two travel options to 162 and 175 mm, but achieves both with the same size shock and the reversal of a chip on the rocker link. Since switching travel configurations changes the overall leverage ratio of the bike, Geometron says a change of spring rate will be required and recommends running a 25lb heavier coil in the 175 mm setting. The EXT Storia rear shock that the G1 is designed around comes stock with two spring weights, and Geometron will help you choose the most appropriate weights — recommending 350 and 375 lb options for me, at ~165 lb / 74.8 kg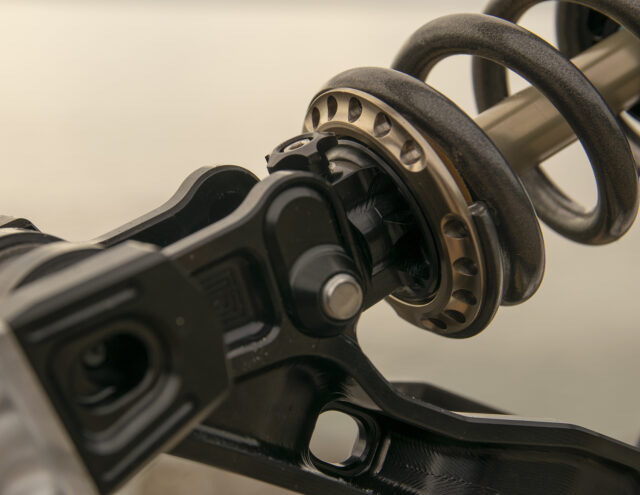 Speaking of the shock, the G1 gets a special version of the EXT Storia that's a bit different from the standard version. The G1-spec version adds a coil negative spring for even greater small-bump sensitivity, and spherical bearings in both eyelets to reduce friction and binding. I spent a lot of time with a "standard" Storia (which still features a custom damper tune) on the G16, and will be very curious to see how the tweaks made for the G1 impact its performance.
The G1 features a standard threaded bottom bracket, 148 mm Boost rear end, and external routing for the brake hose and derailleur housing. The rear brake mount is set up for a 180 mm rotor, and Nicolai condones running up to a 203 mm with an adapter. The dropper cable is routed internally through the downtube, entering through a bolt-on port on the right side of the downtube. There are two options for the exact style of external routing for the brake and derailleur lines; the "Geometron" spec version uses bolt-on guides on the outside of the shock and rocker link mounting tabs (as pictured); the Nicolai-spec style routes them inside of those tabs, and therefore requires disconnecting the brake hose to run it underneath the rocker link pivot. This arguably looks slightly cleaner, but also negates much of the convenience of external routing. Either style of clamps can be ordered from either Geometron or Nicolai; just ask if you'd rather change from their default.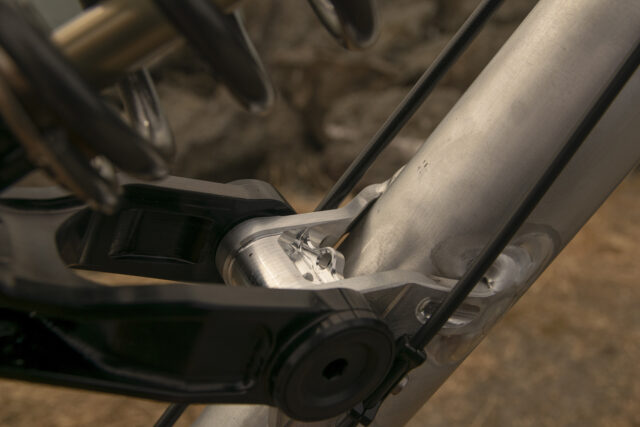 The G16 already featured adjustable chainstay length by way of switching out the dropout pivot housings (Nicolai / Geometron call them the "chainstay mutators") for different length options, but the G1 adds a similar arrangement to the seatstays. In short, you can bolt varying thickness of spacers between the ends of the seat stays and the rocker link pivot housing (shown below with no spacer installed), which in conjunction with the chainstay mutators offers a dizzying array of geometry and wheel size options. The G1 can be run 27.5'' front and rear, 29'' front and rear, or with a hybrid 29'' front / 27.5'' rear setup, with a multitude of geometry options in each. We'll discuss those in more detail in the "Fit & Geometry" section, below.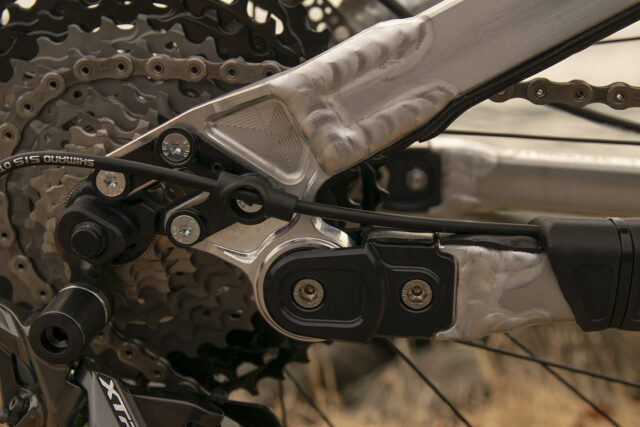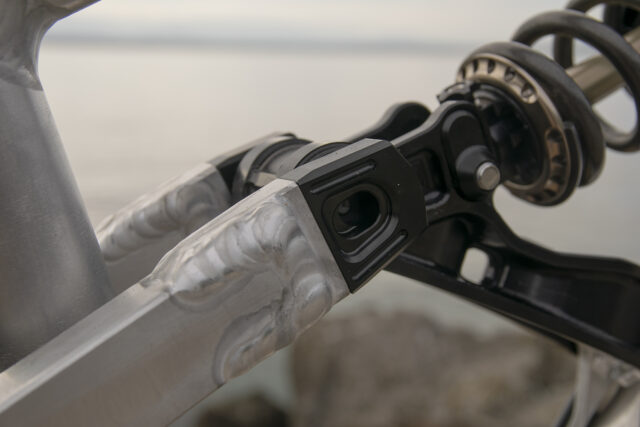 If all those options aren't enough, a G1 can be ordered with a raw aluminum frame, one of several colors of anodized finish, or just about any color of powdercoat that you can imagine. The rocker link and other small parts can also be had in a wide range of anodized colors for an upcharge; a raw frame with black hardware (as shown here) is the default, but the sky's the limit for customization if you so choose.
Nicolai offers a 5 year warranty on G1 frames for the original owner, and guarantees small parts availability for 10 years from the time of purchase. In addition to the extra-beefy construction described above, there are tons of little features built into the G1, with an eye towards durability. The rear brake mounts feature replaceable steel barrel nuts for the threads, so they're both harder to strip and easy to swap out if you do; similarly, the seatstay mutator bolts thread into steel inserts, rather than being tapped directly into the swingarm. The same goes for the lower two mounting holes on the ISCG-05 tabs. All the pivot hardware features excellent secondary sealing, and I haven't had to replace a single pivot bearing in four years of G16 ownership, despite living in the Pacific Northwest and riding year-round.
Fit & Geometry
Even in our current world of longer / lower / slacker everything, the G1 is still notably aggressive. It's even more remarkable when you note that it's actually not too far off the geometry of the old G16, which debuted all the way back in 2015 — ages, in terms of the evolution of mountain bike geometry. The headtube angle is the same; the reach has actually shrunk by 5 mm on my size Medium frames, and the seat tube angle is only about a degree steeper. All of that says a whole lot more about just how revolutionary the G16 was when it first came onto the scene than it does about the G1, though — as we'll get into here, it still takes the longer / lower / slacker trend further than just about anything else out there.
The G1 is offered in five sizes, which Nicolai labels Small through XXL; Geometron labels them "Long" through, hilariously, "Extra Extra Longest." They're not wrong though. Even the Small / Long frame has a 470 mm reach; my Medium / Longer comes in at 495 mm, and the subsequent sizes each add 20 mm, culminating in an absolutely gargantuan 555 mm on the XXL. The headtube angle sits around 62.5° in all five sizes, and the effective seat tube angle ranges from 78° to 79°, getting steeper as you move up the size range. Chainstay lengths start at 446 mm on the Small and Medium, and grow to 453 mm on the Large and XL, before jumping to 458 mm on the XXL. All of that adds up to wheelbase numbers ranging from an already very-long 1,271 mm on the Small, through 1,371 mm on the XXL. I haven't run the numbers to confirm but I think that might be longer than my truck. The full geometry chart can be seen below:
Or at least, those are the "default" numbers. As we mentioned above, the G1 is quite possibly the most adjustable frame out there, from a geometry perspective. By swapping the chainstay and seat stay mutators, you can set any size G1 up with any of the possible chainstay lengths in the range, and/or significantly steepen or slacken the overall geometry — to say nothing of the wheel-size flexibility that they also afford. The options are so complex that Nicolai and Geometron maintain massive spreadsheets with the full slate of options. If you really want to take a deep dive you can check out Geometron's, here. And if that somehow isn't enough options for you, Nicolai can also make a G1 with fully custom geometry for an upcharge.
All of that is to say that the G1's geometry is… aggressive. Reach numbers aside, it's no longer wildly out of line with some of the other most progressive bikes on the market (the Transition Spire is notably similar) but the reach on the smallest G1 is still between that of the Medium and Large Spire. Geometron says that their range of sizes covers riders from 5'5'' through 6'9'' (164–205 cm), but are also quick to note that sizing isn't as prescriptive as just matching a height to a frame size. Riding style and preferences go a long way, and the G1 is one of the few bikes that I'm tempted to downsize on. At 6' / 183 cm, the Geometron size chart would actually put me on a Large / Longest frame, but my experience on my Medium / Longer G16, plus a quick spin on a Large G1 convinced me that bumping down for a little extra maneuverability was the way to go. I definitely could ride a Large, but the G1 is already a very long, very stable bike, and my hunch was that I'd rather size down and preserve a little more playfulness.
The Build
Nicolai and Geometron predominantly offer the G1 as a frame-only package or as part of custom builds, but Geometron does list a couple of stock options on their site, with the possibility to customize them to your liking; Nicolai's site offers a comprehensive bike builder tool to spec your G1 exactly as you wish. Partial builds are also available.
I got my G1 as a frame / shock package from Geometron, which also includes a Hope headset and seat post clamp. I then built it up with the following:
All that adds up to a complete bike weight of 35.3 lb / 16.0 kg, without pedals. The G1 frame isn't light, and the build philosophy was clearly meant to emphasize downhill performance first and foremost, and then save weight where practical, without compromising performance or durability. The result is on the heavier side for a high-end Enduro bike, but I'm really not bothered by that. As we at Blister have talked a lot about recently, weight matters a lot more on bikes that are meant to perform on more mellow, rolling terrain, and the G1 is not that. This is a bike and a build that's meant to descend aggressively first and foremost, while still being able to pedal back up to the top.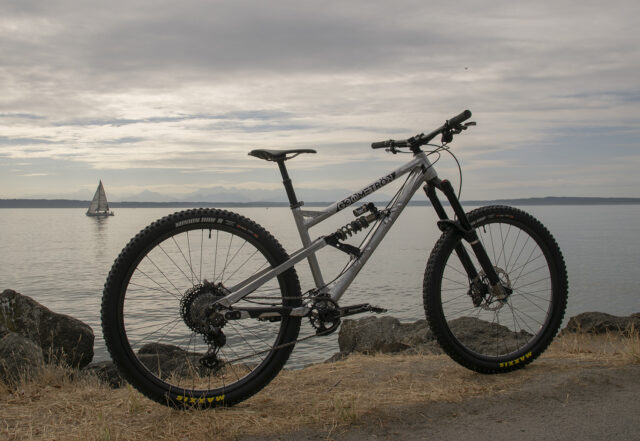 I'll be starting with the G1 in the stock geometry configuration for a Medium 29er (33 mm chainstay / 0 mm seatstay mutators) which produces the stock geometry described above. But I've also got the longer 41 mm chainstay mutators and a veritable mountain of seatstay options to experiment with both geometry and wheel size adjustments, and will be running through all the various options in the months to come.
Some Questions / Things We're Curious About
(1) Just how different does the G1 feel from the G16 that it effectively replaces, especially with both bikes in a full 27.5'' wheel configuration? And how does the special version of the EXT Storia on the G1 play into that?
(2) How does the G1 stack up to the current crop of super aggressive Enduro bikes, which have been creeping closer and closer to Geomotron geometry numbers for a while now?
(3) How will all the wheel size experiments shake out? It's rare to be able to try all three "normal" modern combinations on the same bike, and we're very curious to find out more.
Bottom Line (For Now)
The Nicolai G1 is one of the most aggressive Enduro bikes on the market — despite having been around for a few years itself, and being heavily based on a model that debuted way back in 2015. After four-plus years on the G16, I'm very excited to give its successor a go and to experiment with the litany of wheel size and geometry adjustments it affords. Stay tuned for a full review to come, along with some more experimentation with wheel sizes, geometry, and a whole lot more.