La Sportiva Karacal
Test Location: Bishop, CA
Test Duration: 100 miles
Stated Stack Height (Men's): 29 mm (heel) / 22 mm (forefoot)
Stated Heel-to-Toe Drop: 7 mm
Stated Features:
Highly breathable 3D AirMesh upper is very accommodating and snugs up to any volume foot
External medial and lateral counters add stability on trails
A dual density EVA midsole brings ample cushion and stability
Frixion® AT 2.0 outsole and varied lug depths provide durability and traction
A full-length rock guard helps protect the foot from sharp debris
Stated Weight: 290 g (Men, size 9) / 250 g (Women, size 8)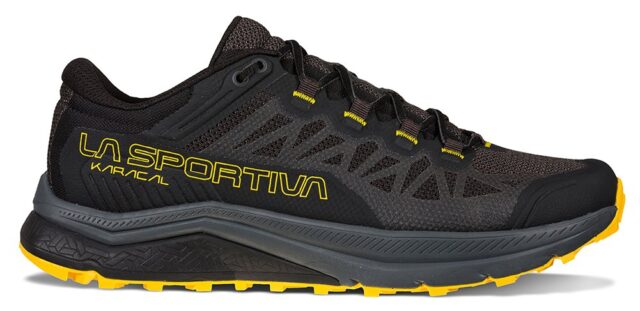 MSRP: $145
Size Tested: US Men's 10 / EU 43
Reviewer: 5'5", 123 lbs / 165 cm, 56 kg
Intro
Based in the heart of Italy's iconic Dolomites, La Sportiva has defined itself as a premier brand specializing in technical mountain gear for the last 94 years. The company got its start in 1928 from the skilled hands of Narciso Delladio, who crafted wooden clogs and leather boots for farmers and lumberjacks. Years later, Delladio began to produce custom mountain boots for the army. Delladio named his operation, "Calzoleria Sportiva," before later adopting the name "La Sportiva." The brand primarily focused on designing mountain boots and footwear for cross-country skiing up until the 1980s, when they shifted more attention toward climbing shoes.
In 1982, La Sportiva released its first climbing shoe, the iconic, "Mariacher," named after its designer and free-climbing pioneer, Heinz Mariacher. The debut of the Mariacher coincided with the introduction of La Sportiva's first proprietary outsole rubber, which paved the way for the brand's iconic line of "FriXion" rubber compounds later used throughout their trail running collection.
After establishing themselves widely in the climbing sector through the 1990s, La Sportiva again pivoted, this time setting their sights on the mountain running world. True to form, the brand quickly rolled out several hardy trail shoes that are now held as classics in many circles. Models like the Ultra Raptor, Wildcat, Akasha, Bushido, and Mutant were designed to meet the demands of the rugged Italian Alps, and La Sportiva's uncompromising approach to durability, protection, and fit are largely responsible for their continued popularity today.
The Karacal was introduced alongside the Jackal in 2020 as La Sportiva's attempt to move from making highly technical performance footwear for mountain running to more accessible options for trail running. The "maximalist" shoe trend has steered the running industry for the last few years, so it was only a matter of time until we saw higher stack height models come out of companies like La Sportiva. However, in my opinion, designing cushion-focused trail shoes for smooth surfaces feels slightly at odds with their identity, so I was curious to see how the Karacal compared to brands at the forefront of the "maximalist" movement, like Hoka and Altra.
I tested the Karacal in the Eastern Sierra, home to a wide range of topography and trail conditions ranging from dry and loose sand to slippery 2nd class talus. While the shoe isn't my go-to choice for anything super technical, I do think folks who enjoy a bit more cushion underfoot for runs that stick to buffed out trails will likely find a nice home for the Karacal in their quiver. In this review, I'll break down where I think the shoe excels, where it leaves a bit to be desired, and why (or why not) it might be worth snagging a pair.
Fit
Before I dive into the Karacal's fit, I'd like to revisit some of the inaccuracies surrounding our system for sizing shoes in the US; as I've said before, it's not all that precise. To make things more complicated, US sizing is also separated by gender. European half sizes are smaller units of measurement than US half sizes, resulting in size conversion disparities. For example, consider my US Men's size below compared to my unisex EUR size, according to various brands: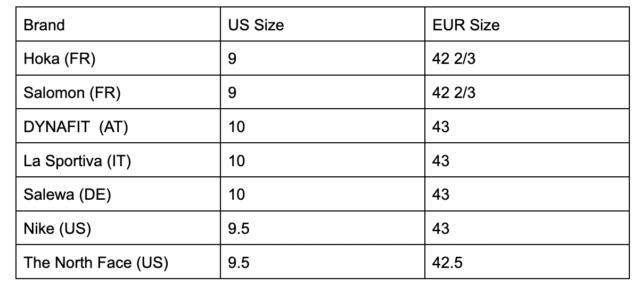 Here, we see brands from various countries are all within 1/2 of a EUR size while my US size varies one full unit. Because the European metric uses smaller units of measurement that are also unisex, I strongly encourage folks to get familiar with EUR sizing. This is something you can expect me to echo throughout my reviews. Anyway, La Sportiva attempts to remedy this discrepancy by offering 4 extra US sizes per size run for both genders.
Okay, so let's get into the Karacal's fit, starting with length. The EUR 42.5 and 43 both fit my foot well, which is standard for my foot length. I'd select the EUR 42.5 for a performance fit where speed and security are priority, and I'd go with the EUR 43 for long days during big training blocks. If you're going to stick with US sizing, I'd recommend going up half a US size to one full US size depending on your intended use for the shoe.
Moving on to volume, the Karacal is intended for a high volume foot. This generally means the shoe is best suited to fit a person with higher arches, which position the metatarsal bases higher off the footbed and normally require extra space along the laces. However, unlike the Jackal, which is also intended for a high volume foot, the fit of the Karacal is very specific and not nearly as adaptable as the Jackal. I found the fit to be really fussy at the bottom eyelet of the shoe, just above the metatarsal heads. This zone felt unusually spacious, which I enjoyed on certain types of terrain but found to be problematic for my foot on others, which I'll explain later in this review.
The front of the Karacal's collar is really where the specificity of the shoe's fit really comes into play. The top eyelets' overlays sit unusually high and have a shape that really bites hard into the medial malleolus of a low volume foot. I attempted a few different lacing techniques to better secure my foot and remedy the lace bite at the top eyelet, but to no avail. When I tied the shoe to the appropriate tension that was needed to lock my foot into the frame of the shoe, the Karacal actually ended up causing me a decent amount of pain at my 5th metatarsal base. I found myself frequently having to stop to retie the shoe with less tension. Needless to say, constant interruptions to adjust the fit of the Karacal definitely hampered my enjoyment on runs requiring a lot of foot security. With an excess in width and volume, and the shoe's large collar, I struggled on anything off cambered or chunky.
While I had my fair share of difficulties with the Karacal, I do believe folks who enjoy a wide fit and who have mid-to-high volume feet will find that the shoe offers enough security and agility on moderately technical to non-technical terrain. However, if you like a narrow and low volume fit, there are definitely better options within La Sportiva's lineup than the Karacal.
Weight
The Karacal falls nicely in the middle of its category when it comes to weight. It's not the trimmest shoe around, but with a stated weight of 290 g / 10.2 oz, it's still surprisingly light considering the amount of material underfoot. For reference, here's how the Karacal's stated weight compares to some of its competitors (all stated weights are based on a US Men's size 9):
260 g / 9.2 oz — Salomon Ultra Glide
278 g / 9.8 oz — Hoka Challenger ATR 6
283 g / 10.0 oz — Topo Athletic Ultraventure 2
290 g / 10.2 oz — La Sportiva Karacal
303 g / 10.7 oz — Altra Timp 4
306 g / 10.8 oz — Scarpa Spin Infinity
306 g / 10.8 oz — ON Running Cloudultra
310 g / 10.9 oz — La Sportiva Akasha II
310 g / 10.9 oz — The North Face VECTIV Infinite
329 g / 11.6 oz — adidas TERREX Agravic Ultra
La Sportiva has traditionally favored protection and durability over weight, and the same is true of the Karacal. It's not going to feel as nimble as a shoe like the Salomon Ultra Glide or the Brooks Cascadia 16, but it's still far from a heavy hiking boot. The Karacal also does a good job of distributing its weight, so on foot the shoe feels much lighter than it is on paper.
Upper
In my opinion, I'd say the Karacal's upper is pretty standard for its weight and class. One unique feature of the shoe's upper is its proprietary external medial and lateral counters, which are essentially two blocks of TPU material placed externally on the medial and lateral sides of the heel counter. Unlike Dynafit's proprietary "Heel Preloader" (which is outstanding when it comes to enhancing the shoes' on-trail performance), I didn't feel like the Karacal's heel counter provided a measurable difference one way or the other when compared to the heel counters on similar models, like the Salomon Sense Ride 4, Salomon S/Lab Ultra 3, La Sportiva Bushido II, and the La Sportiva Akasha II.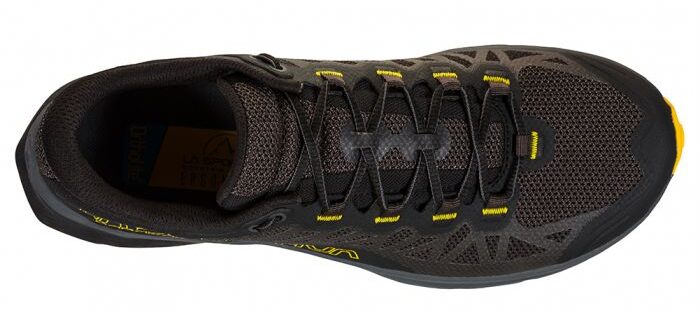 The Karacal's upper is designed for protection and comfort with its seamless 3D mesh and bellowed tongue. Strategic padding on the tongue is intended to protect the foot from potential lace bite. While La Sportiva clearly structured the Karacal's upper to guard against blisters, I struggled with very painful hotspots at the medial malleolus of both feet. However, I suspect the fit of the shoe was the culprit, not so much the materials used for the Karacal's upper. In fact, the seamless 3D mesh La Sportiva uses for the shoe's vamp is definitely one of the areas the shoe shines. The upper offers outstanding protection and drains adequately, though the hefty overlays that wrap the midfoot and forefoot between the upper's external TPU thermo-shaped features did prevent the Karacal from draining completely when wet. Aside from this minor critique and my particular fit issues, the Karacal's upper performed pretty well, and I'm confident in saying that folks with a much wider last, a high volume foot profile, and a larger ankle would all fare much better than I did in this shoe.
Midsole
There's no doubt about it, the Karacal's midsole provides excellent protection and cushioning for its weight and class. The blend of compression molded EVA cushioning and a 1.5 mm dual-density EVA rock plate provides impressive energy return, great stability, and excellent protection throughout the midfoot and heel. La Sportiva states the midsole stack heights are 29 mm and 22 mm at the heel and forefoot, respectively, which definitely edges into the "maximal" category as far as midsole thickness is concerned.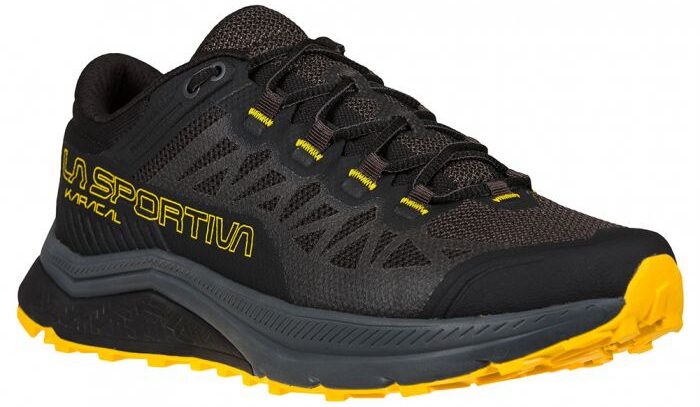 The spring loaded feel and forward leaning posture of the midsole make for really nice energy transfer on rolling terrain. I am a pretty confident forefoot striker and I felt that the forefoot didn't quite have sufficient amounts of EVA foam in that area to maximize the midsole's energy return for my style of running. However, the shoe's snappiness was impressive at the heel and midfoot, where extra materials are located to improve protection, stability, and the overall response of the shoe.
When considering other La Sportiva models, I do think the "Infinitoo" technology used in the Jackal's midsole performs much better across the board. "Infinitoo" blends EVA with TPU inserts strategically placed throughout the length of the shoe to provide better energy return and response, especially at the forefoot, where the Karacal's midsole performance suffered. It was really strange for me to run in a shoe with such a specific response to foot strike. Despite my issues with the Karacal's fit, I found myself really enjoying the midsole's ride once I shifted my foot strike further back on non-technical, hard packed fire roads and trails. This shoe will likely work well for runners who typically land on their heel or midfoot.
Outsole
The Karacal's outsole is outfitted with 3 mm lugs, flex-groove inserts, La Sportiva's "Impact Brake System" and "FriXion Blue" dual compound rubber, which they rate at 5.6 / 10 for grip and 7.1 for durability. After testing this shoe on just about every surface type — dry conditions, wet conditions, moderately technical terrain, and non-technical terrain — I've found the outsole to be pretty disappointing. This might be a reflection of the high standards I hold a brand like La Sportiva to, especially when it comes to grip, but I don't think I'm the only one that will be underwhelmed by the Karacal's outsole.
Even on flatter and less technical trails, I slid out in the Karacal more frequently than I do in just about any model in my current quiver. I found that the outsole often lacked the ability to gain purchase on firm features like roots and rocks, especially when encountered on downhills. My favorite types of runs almost always include some class 3 or class 4 terrain where losing traction and falling can have huge consequences. Because of those stakes, and my initial impressions of the Karacal's outsole, I didn't feel safe taking the shoe on alpine ridges or ribs; the "FriXion Blue" rubber isn't sticky enough to trust on exposed ledges or slabs. Traction issues were less of a concern on trails around town, but I still occasionally ran into issues when I'd plant on hard, smooth surfaces — wet or dry.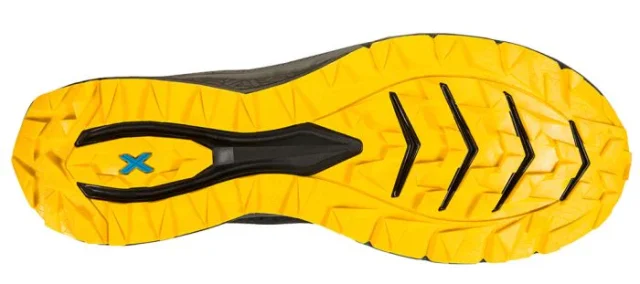 The performance of the Karacal's outsole was pretty frustrating, especially since I've grown accustomed to phenomenal rubber compounds like La Sportiva "FriXion Red", Vibram "Megagrip," & Salomon "Contagrip." While this may seem like splitting hairs, I do appreciate each compound for slightly different reasons. "FriXion Red" excels on dry, slabby rock, while "Contagrip" bites wet, rooty features really well; and Vibram's softer "Megagrip" compound (65 / 70 Shore A) excels at both.
An aside: Vibram makes two "MegaGrip" compounds, 65 / 70 Shore A (a softer rubber) and 75 / 80 Shore A, a harder rubber that compromises some grip for a little more durability when compared to the 65 / 70 Shore A compound. I've run in shoes with the harder Megagrip formula and found the performance to be pretty great, but I still prefer the La Sportiva Bushido II's "FriXion Red" outsole if I'm scrambling class 3 and 4 terrain, the Salomon Sense Pro 4's "Contagrip" compound if I'm running on something wet and firm, and the Dynafit Alpine's softer Vibram "Megagrip" outsole for, well, just about everything. So, given the description and performance rating La Sportiva assigns their "FriXion Blue" rubber, it seems reasonable to compare it to Vibram's harder "MegaGrip" formula. I think the subtleties between outsole materials can be quite valuable when it comes to choosing the right shoe for a specific terrain or activity.
In all fairness, I'm a pretty slender guy, so I'd wager that heavier individuals might exert enough downward force when they run to have no issues gaining purchase on moderately technical trails in the Karacal. Even so, it was clear to me after testing that La Sportiva's "Frixion Blue" rubber compound does not perform quite as well as "FriXion Red," which raises the question: Why not give the Karacal the same "FriXion Red" outsole La Sportiva already uses on models like the Jackal and Bushido II? And what exactly is gained by outfitting the shoe with less durable "Frixion Blue," given the Karacal's modest lug structure?
On Trail
After 100 miles in the Karacal, I'm not quite sure the shoe performed well enough on the types of runs I generally enjoy to earn a spot in my rotation. Because of the diameter of the collar and the upper's high volume fit, I wasn't really able to run more than 2 hours at a time. Add that my distrust of the Karacal's outsole prevented me from wearing the shoes above treeline, my use for the shoe quickly became pretty limited. For those reasons, most of my time in the Karacal was spent running anywhere between 8 to 10 miles on pretty buffed out trails.
While I likely won't be purchasing a fresh pair of the Karacal anytime soon, I do think it's important to note that the shoe felt phenomenal under a heel-strike on rolling, non-technical terrain. Its midsole and upper absolutely thrive in these conditions, and I could see the Karacal being a great option for longer runs on gravel roads or smooth singletrack. For my preferences, which skew toward shoes that prioritize traction and ground feel, I'll probably stick to models like the Dynafit Alpine, La Sportiva Bushido II, and the Salomon Sense Pro 4.
Durability
Credit to La Sportiva for their continued emphasis on premium build quality. After testing the Karacal, I've walked away impressed by the shoe's overall durability — for the most part. While the upper is stout and provides outstanding protection, and the midsole's liveliness has held up really well, my main gripes are still with the Karacal's outsole.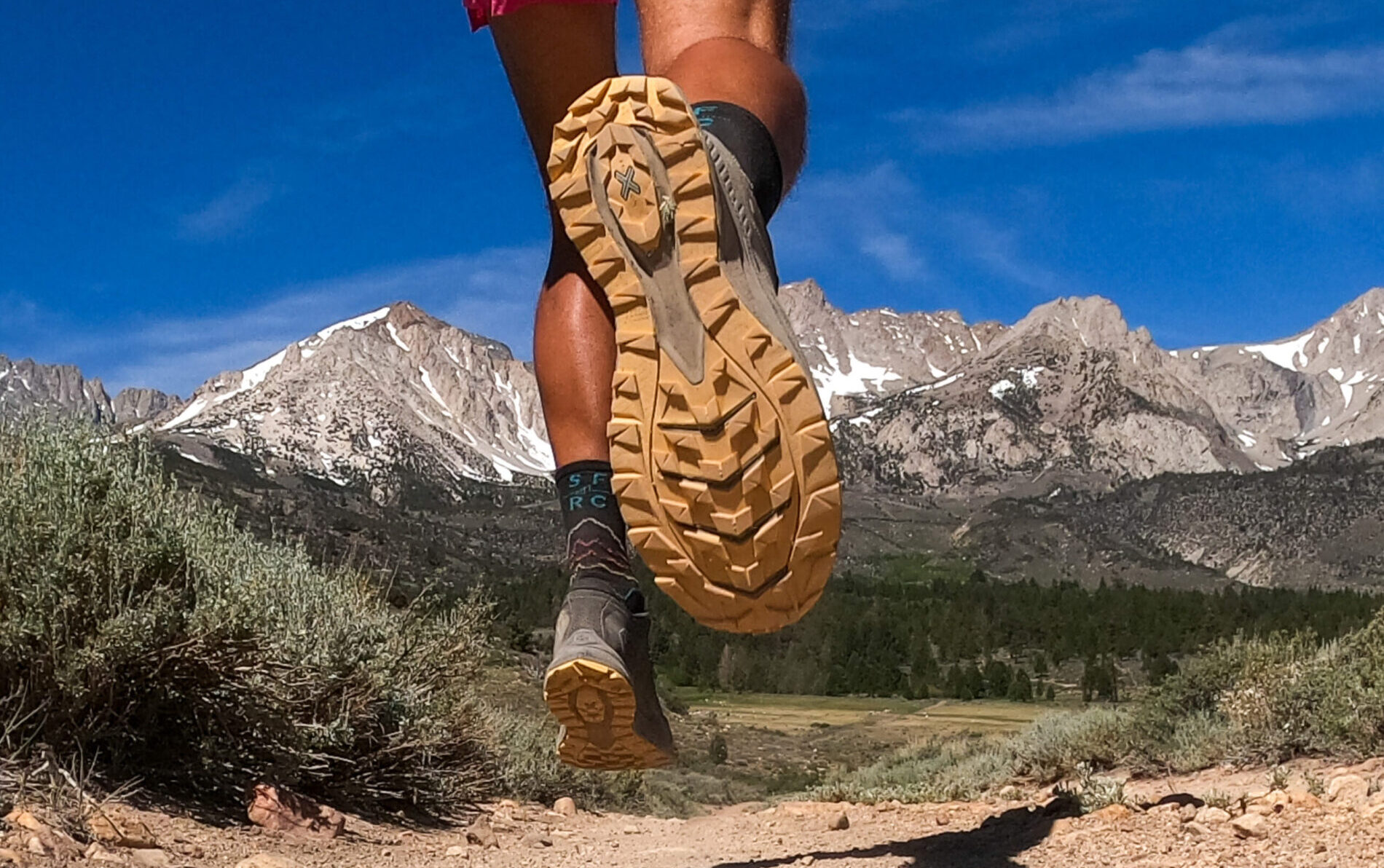 La Sportiva's "Impact Brake System" puts a ton of stress on the shoe's trimmed lug pattern toward the heel, increasing the likelihood of premature mechanical failure (e.g. ripping off an individual lug). A shoe's brake (usually located on the posterior side of the outsole) is rarely the area to save on weight, in my opinion. Anytime we pick up speed running downhill we'll be forced to break at some point along our run. Whether brief or sustained, frequent or infrequent, deceleration puts a lot of pressure on the posterior half of a shoe's midsole and outsole. In my opinion, the demands placed on the Karacal's paired down lugs under the heel will likely be the first part of the shoe to fail. With that in mind, I think some ways to ensure the outsole lasts as long as the Karacal's incredibly durable midsole involve controlling speed on descents and making sure to keep most of your weight forward when doing so. At the end of the day, we're still dealing with a shoe from La Sportiva, so I expect the rest of the Karacal to hold up well over time. The upper and midsole both feel and look pretty much the same as they did out of the box. If that changes at all down the line, I'll be back with updates.
Who's It For?
I think the Karacal would be a solid option for folks with wide, high volume feet who intend to run the bulk of their mileage on tamer trails, with the occasional technical section sprinkled in. If your foot shape works well with the upper, namely the large collar, I'd say most midfoot strikers and heel strikers will likely enjoy how the Karacal rides on really runnable surfaces. I'll also add that the shoe's higher stack height and firm (but forgiving) midsole could benefit heavier runners looking for a bit of extra cushioning and protection. This type of runner is also more likely to get better purchase from the outsole's rubber compound, too. I wouldn't necessarily recommend the Karacal to folks who forefoot strike or have a low volume foot. For runners (like myself) who prioritize technical off-trail objectives over runs on mellower terrain, the La Sportiva Bushido II, the La Sportiva Cyklon, and the Dynafit Alpine might be better options.
Bottom Line
All in all, the La Sportiva Karacal is a well rounded, durable shoe that does a lot well. As a generalist, it might not be best suited for bigger mountain days involving a lot of technical terrain and 3rd or 4th class moves, but it's a good option for runs — short or long — on buffed out trails where traction is less of a priority. If you're looking for a higher volume, higher stack shoe with a midsole that is neither too firm nor too plush, I'd recommend giving the Karacal a closer look.