Dynafit Alpine
Test Locations: Bishop, CA
Test Duration: 215 miles
Stated Stack Height (Midsole + Outsole): 26 mm (heel) / 20 mm (forefoot)
Stated Heel-to-Toe Drop: 6 mm
Stated Lug Length: 4 mm
Stated Features:
Dynafit's "Alpine Rocker" technology helps promote efficient energy transfer through the gait cycle by encouraging a heel-to-toe motion.
A duo-density EVA midsole provides a nice balance between cushion, protection, and energy return.
Full length Vibram Megagrip outsole offers stellar traction on all surfaces.
A highly breathable 3D mesh upper that is both protective and snug around the foot.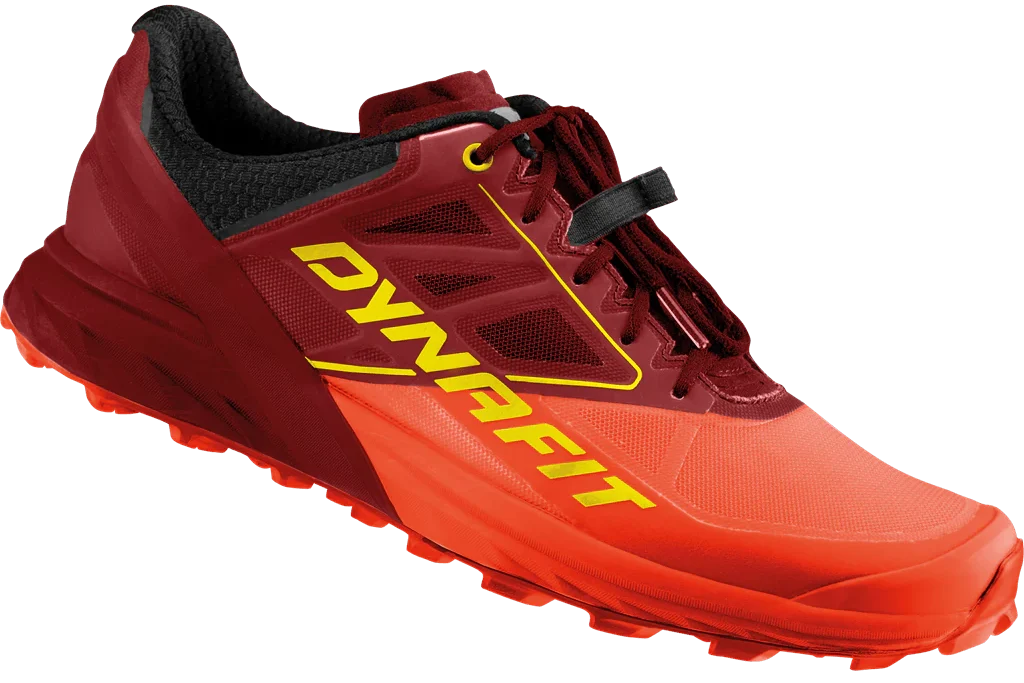 MSRP: $140.00
Size Tested: US Men's 10
Stated Weight per Shoe (US Men's Size 9): 280 g / 9.8 oz
Reviewer: 5'9″, 140 lbs
Intro
Dynafit is a brand best known for their backcountry skiing and ski mountaineering gear. Credited with launching the first ski boot with buckles in 1965 and debuting the first low-tech tour bindings in the mid-1980's, Dynafit (formerly Humanic) has earned their reputation as one of the ski industry's leaders in innovation since the 1950s. Much of the brand's success came from its commitment to manufacturing high-performance gear for high-performance athletes, resulting in, well, high-performance outcomes — Dynafit's skiers dominated much of downhill skiing well into the 1980's.
Dynafit's first mountain running shoes appeared in their 2010 "Summer Collection," a line intended to satisfy the training needs of skimo athletes during the warm and dry seasons. This initial venture focused on 3 pillars of trail running — vertical running, alpine running, and ultrarunning — culminating in a four-day team expedition during which Dynafit athletes crossed four countries and summited four iconic peaks: Zugspitze (DE), Similaun (AT), Ortler (IT) and Pizu Palu (CH).
More than 10 years later, the brand's trail line is still going strong. With the Alpine, a shoe designed as a lightweight all-round trail companion for technical terrain, Dynafit is staying close to the formula that brought them great success in the ski world. The Alpine's proposition is simple: to be a do-everything shoe that fits well, has good cushioning, and holds up regardless of where you take it. To quote Dynafit, the Alpine is, "all you need for your daily runs." I've put over 200 miles on my pair thus far and I think that statement still largely still rings true, with minor exceptions. In this review, I'll break down why, while also providing some context behind why I think the Dynafit Alpine is not only a great mountain running shoe, but one of the best all-round trail running shoes I've tested to date.
Fit
Before I dive into the Alpine's fit, I'd like to start by touching on some of the inaccuracies surrounding our system for sizing shoes in the US, because, as it turns out, it's not all that precise. We also arbitrarily separate those flawed sizes into different genders, adding an extra layer of confusion to something already unclear. For example, consider my US Men's size below compared to my unisex EUR size, according to various brands:

Here, we see French, Italian, Austrian, and American brands are all within 1/3 of a EUR size, while my US size is all over the place. For that reason, I strongly encourage folks to get familiar with the EUR sizing metric, especially if they've had trouble with dialing in the fit of their shoes in the past. Anyway, I found that the Dynafit Alpine's EUR 42.5 and EUR 43 both fit me well, which is standard for my foot length. The EUR 42.5 offered a precise fit I'd use for race performance when security and speed are prioritized. I'd size up to a EUR 43 for long days and big training blocks, with the potential for foot swelling in mind. For those sticking to US sizing, I'd recommend going up either a half size or a full size depending on your intended use for the shoe.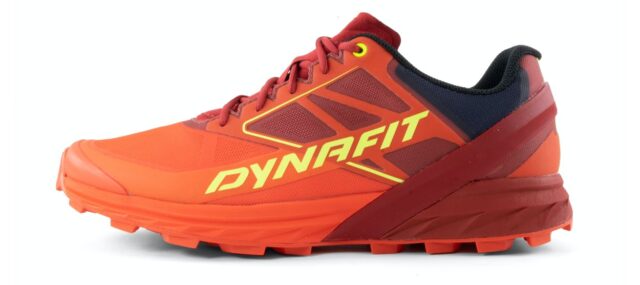 Moving from the Alpine's length to its volume, Dynafit designed the shoe to accommodate primarily mid-volume feet, yet the Alpine proved to be much more adaptive than perhaps even Dynafit would care to admit. Using myself as an example, I have canted forefeet at a standard width of 99 mm coupled with a very low-volume profile, yet the Alpine did a phenomenal job of keeping my foot locked into its frame without any irritation. I'd add that folks with wider feet shouldn't be dissuaded from trying on the Alpine, even though I'd describe the shoe as having a classic European (petit) fit a la many models from Salomon and La Sportiva (thinking here of the S/Lab Ultra 2, Salomon Sense Pro 4, Akasha, and Kaptiva in particular). Dynafit positioned the durable overlays with different foot shapes in mind, allowing metatarsals to splay when the shoe is flexed, minimizing pressure on the 1st & 5th metatarsal heads. Really, the only folks I'd steer away from at least trying on the Alpine are those with squarely shaped feet (i.e., with toes all the same length). They might do better in models with an equally square toe cap, such as many Altra and Topo Athletic shoes.
A crucial point about the Alpine's fit that I think is worth mentioning but likely won't impact most runners: the heel counter sits a bit low and is pretty stiff out of the box. For folks with bulky orthotic inserts, or who regularly experience heel slippage, this could be an area of weakness in an otherwise pretty accessible shoe. That being said, I use custom orthotics, which add 2 mm to the heel, and have had no issues after heavy testing. Additionally, folks shouldn't be turned away by the initial rigidity of the upper out of the box. Any initial concerns I had about heel slip were remedied after a couple short runs — the fabric definitely softens and becomes more pliable.
Weight
Dynafit's Alpine sits nicely within the mid-weight category at a stated weight of 280 grams (9.8 oz) for a US Men's size 9. For women, the stated weight is 240 grams (8.11 oz) for a US Women's 8. Here's how its weight compares to other models in its category (all stated weights are based on a US Men's size 9):
258 g / 9.1 oz — Hoka One One Torrent 2
269 g / 9.5 oz — Brooks Catamount
260 g / 9.2 oz — Salomon Ultra Glide
270 g / 9.5 oz — Inov-8 Terraultra G 270
278 g / 9.8 oz — Hoka One One Challenger ATR 6
280 g / 9.8 oz — Dynafit Alpine
283 g / 10.0 oz — Topo Athletic Ultraventure 2
283 g / 10.0 oz — Nike Zoom Terra Kiger 7
286 g / 10.1 oz — Topo Athletic Mtn Racer 2
306 g / 10.8 oz — Scarpa Spin Infinity
306 g / 10.8 oz — Hoka One One Speedgoat 4
The Alpine is by no means the lightest of the bunch, but considering it's constructed from materials meant to endure rigorous alpine conditions — including some technical scrambling — the shoe is still impressively nimble. The Alpine also does a fantastic job of distributing its weight, meaning the weight feels evenly spread across the entire shoe in a manner that allows it to remain stable when planted but also allows weight to transfer forward nicely when moving. Dynafit has done well to position the Alpine as a pretty versatile option for just about anything technical, whether that's racing or long days spent peak-bagging above treeline. But I still think that's selling the shoe a bit short. I'd argue that the Alpine outperforms most other trail shoes on more generic surfaces, including gravel and hard-packed fire roads. I'm not being hyperbolic when I say that it's quite easily the best trail shoe I've tested, and many of the reasons why are due to its versatility, which I'll talk more about later.
Upper
As noted in the previous section, I'm sure Dynafit could have trimmed a handful of grams from the Alpine if they elected to work with lighter, less durable components. Most brands trying to slip under a certain weight will look to strip any excess material from their model's upper, which tends to take less of a beating than, say, a shoe's outsole. But doing so is often to the detriment of the shoe's longevity and performance. Dynafit's build quality is great throughout the Alpine, with seemingly no corners cut.
The shoe's upper is a great blend of techy design and practical application, ensuring an adaptable and secure fit. The Alpine's upper does a great job of locking my foot into the shoe's frame, inspiring a confident and controlled ride on varying terrain. Add in the upper's TPU toe cap and thermal bonded microfiber foot cage overlaid with PU, and you have a well-fitting shoe that's protective against sharp objects like scree & hardy brush. Protective uppers can often run hot and drain poorly, so I made sure to target both of those concerns during my testing. All in all, I'd call the Alpine's drainage standard for its class. As I assumed, the protection on the side panels doesn't allow for quick drainage, but the shoe emptied out plenty well on long runs with water crossings.
Now, I want to spend some time focusing on Dynafit's proprietary "heel preloader," because it's a very interesting feature seen throughout the brand's entire trail running line. While technically part of the upper, the heel preloader functions as an extension of the shoe's midsole in many ways. So, what is it, why is it there, and what makes it so special?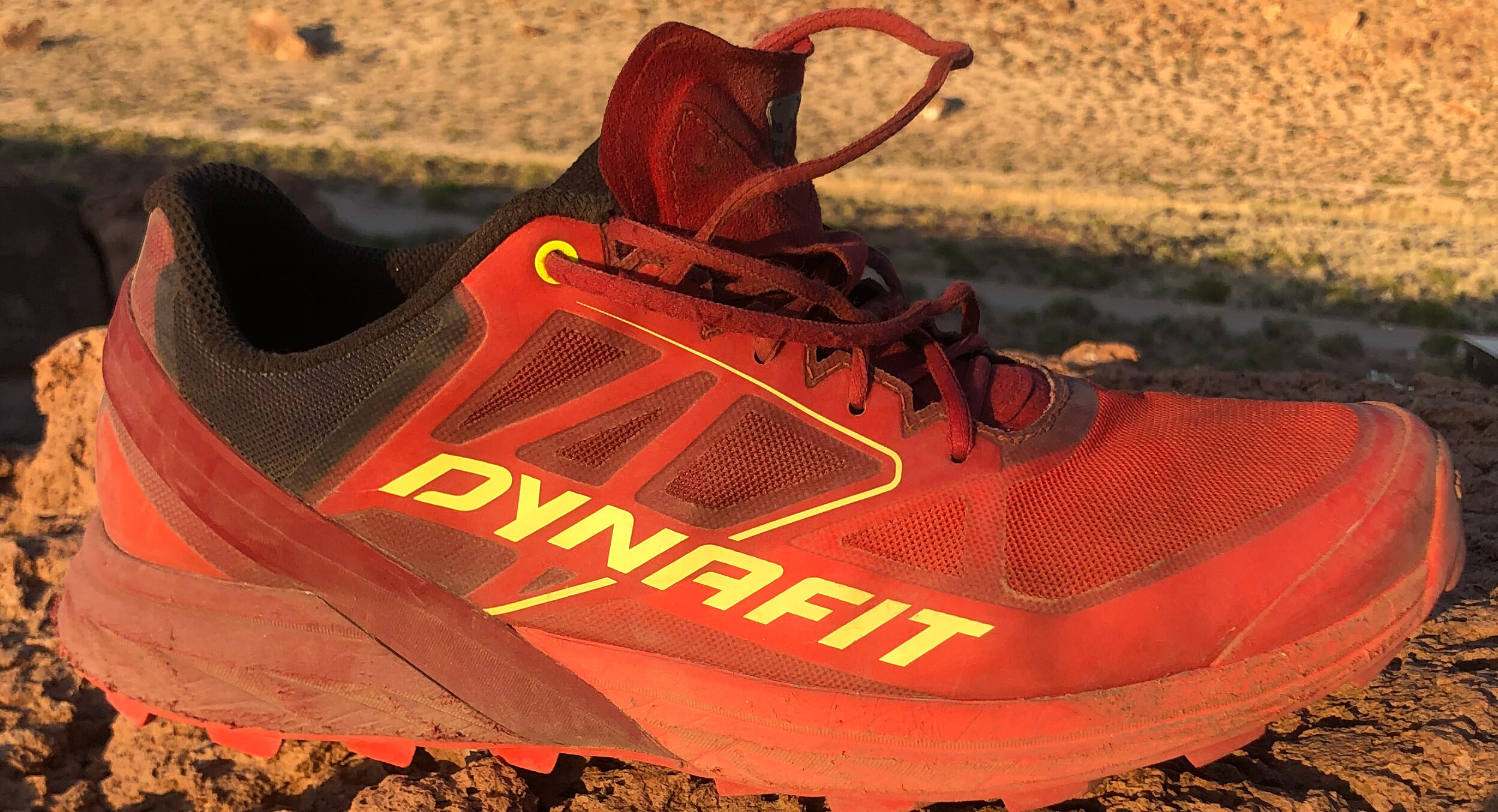 Simply put, the heel preloader is a TPU band that wraps around the Alpine's heel counter just above the calcaneus, resting on the talus (it's the dark red strip in the photo above). Initially, I wasn't sure how this feature affected the performance of the shoe out on trails, but the more I learned about the simplicity of the Alpine's midsole, the more I realized how critical this little band truly is. The heel preloader is another thoughtfully positioned feature that not only works to keep the foot locked into the shoe frame but also plays a crucial role in the shoe's snappy energy return and shoe response. Let me explain:
When the shoe's heel counter is at its maximum stress point just before the upstroke of the stride (while the shoe is flexed), the stress is absorbed by the heel preloader, which accomplishes two things. First, tension keeps the heel locked into place, minimizing slippage. Second, once this tension is released during the upstroke of the stride, the heel preloader does a very good job transferring all that stress into energy return, increasing the snappiness of how the Alpine feels in action. The heel preloader is a perfect example of Dynafit's dedication to simple design and high performance. Once I understood what was going on underneath me, my mind was blown.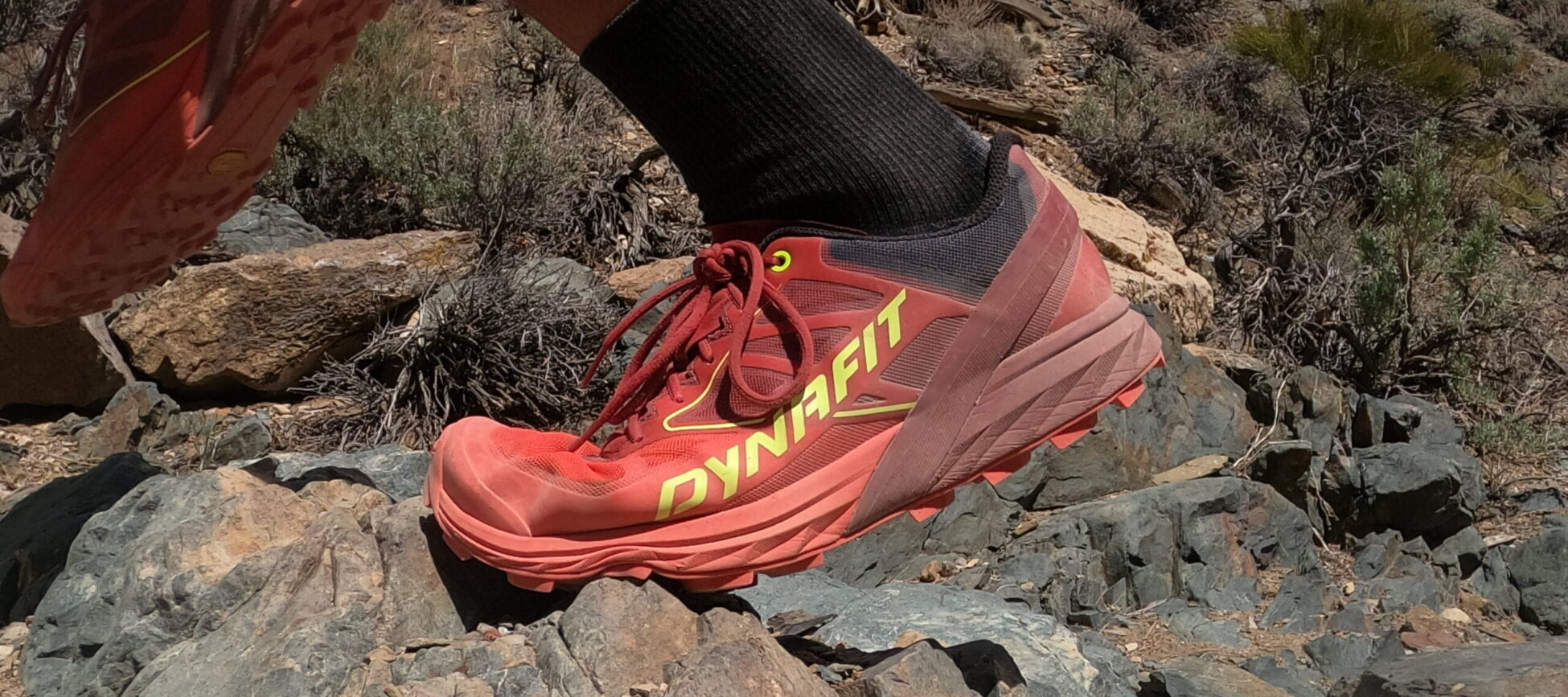 My only true grievances with the shoe's upper are minute. First, the laces are way too long. I'd love to see Dynafit shorten them or offer a lace garage in future iterations. My current workaround is pretty simple though — the ol' lace tuck seems to do the trick. Second, it'd be really nice to have an additional eyelet for backlacing to remedy heel slip. Third, a more rounded toe cap would make for an even more accommodating fit. The shape of a shoe's upper is just as important to its performance as both volume and width.
It's difficult to pin down one particular aspect of the Alpine's upper that impressed me the most, and I think that's noteworthy. It's a shoe that is truly the sum of its parts. The Alpine offered great protection, security, and ventilation on many technical and exposed runs in temps above 80°F with no issues; its integrated tongue has padding placed strategically in high-use areas; and the upper's classic 3D mesh wicks moisture very well, filtering out fine 'Sierra Moondust' better than most models I've tested. Add in the benefits of Dynafit's heel preloader and I'd be hard pressed to find a trail shoe with a more well-rounded, adaptable upper.
Midsole
With a stack height of 26 mm at the heel and a 6 mm drop, the Alpine provides substantial protection and cushioning for its weight and class. The duo-density EVA midsole delivers impressive energy return, great stability, and underfoot protection.
Relative to some high-performance trail shoes with additional materials inserted to enhance performance, such as carbon, TPU, or Pebax plates, the Alpine's construction is pretty basic. Here's why that can be beneficial: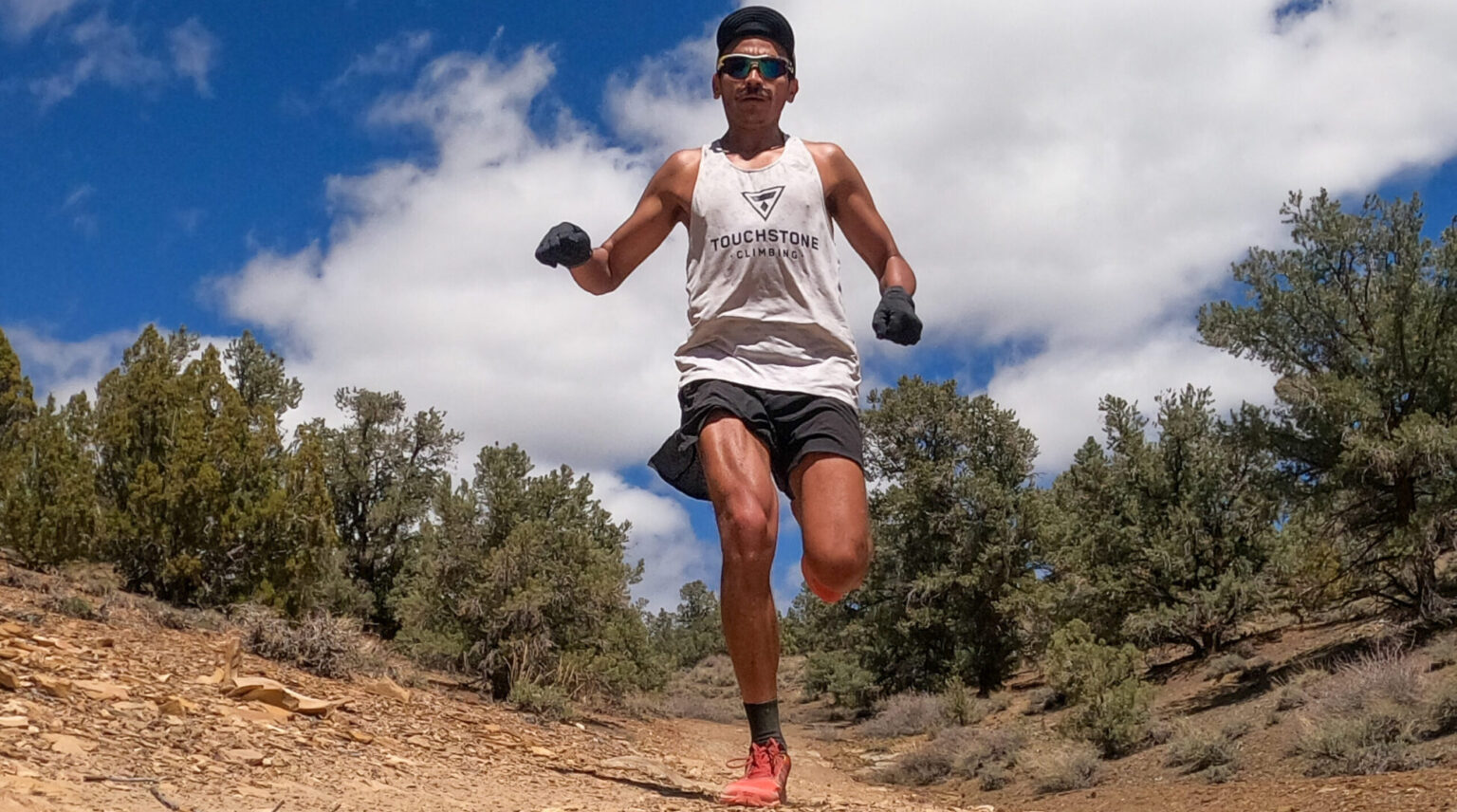 Simplicity allows for sensitivity, and the Alpine's phenomenal ground feel is a testament to that. Some might have reservations about the Alpine's 26 mm stack height, which could seem a tad tall for a shoe designed for off-trail environments. But as I mentioned in the previous section, the Alpine derives a ton of energy return and transfer from the heel preloader and rockered geometry, which put less of a demand on the midsole to both absorb impact and propel the foot forward. Taking the demand off the midsole allows for the strategic placement of a denser EVA foam to provide more than enough stability and protection needed for alpine scrambling and technical trails.
In my opinion, the Dynafit Alpine's combination of energy return, stability, groundfeel, protection, and rockered geometry make it an ideal option for fast workouts on rough trails, all-day mountain adventures over scree fields, and everything in between. One of my hopes in writing this review is to prevent the Alpine from being pigeonholed as "just" a technical mountain shoe, because it's a lot more than that.
Outsole
For a brand with such a rich history of producing high-end equipment for the world's best mountain athletes, it's no surprise Dynafit elected to use Vibram Megagrip for the Alpine's outsole. It's the gold standard when it comes to traction and durability and an obvious choice for a true mountain shoe. 4 mm chevron lugs run the length of the outsole in what can be called a simple and stout pattern. Grooved multi-directional lugging throughout the outsole's centerline allows for dynamic engagement and drainage. This subtle design adjustment is really interesting; in most other models, drainage is grooved between the lugs, not directly on them. The Alpine benefits from this slight difference on smooth, wet surfaces where nearly every other model struggles.
On trails, the Dynafit Alpine's outsole thrives on a vast array of surface types, but seems to truly shine in the Eastern Sierra's harsh high alpine environment. Grip from the 4 mm lugs and ground feel from the midsole gave me confidence running up and down steep and/or loose sections of singletrack. The outsole also smears fantastically on exposed 3rd-class slab (for you climbers, I'd liken the rubber's stickiness to La Sportiva's FriXion Red for context). While there are better options for really swampy environments, I'd still reach for the Alpine with rain and mud in the forecast. Its outsole is on par with grippy, specialized shoes like the La Sportiva Cyclon and Inov-8's X-Talon Ultra 260 V2, but unlike niche models designed for distinct terrain, the Alpine handles non-muddy conditions excellently and can easily slide back into your daily rotation.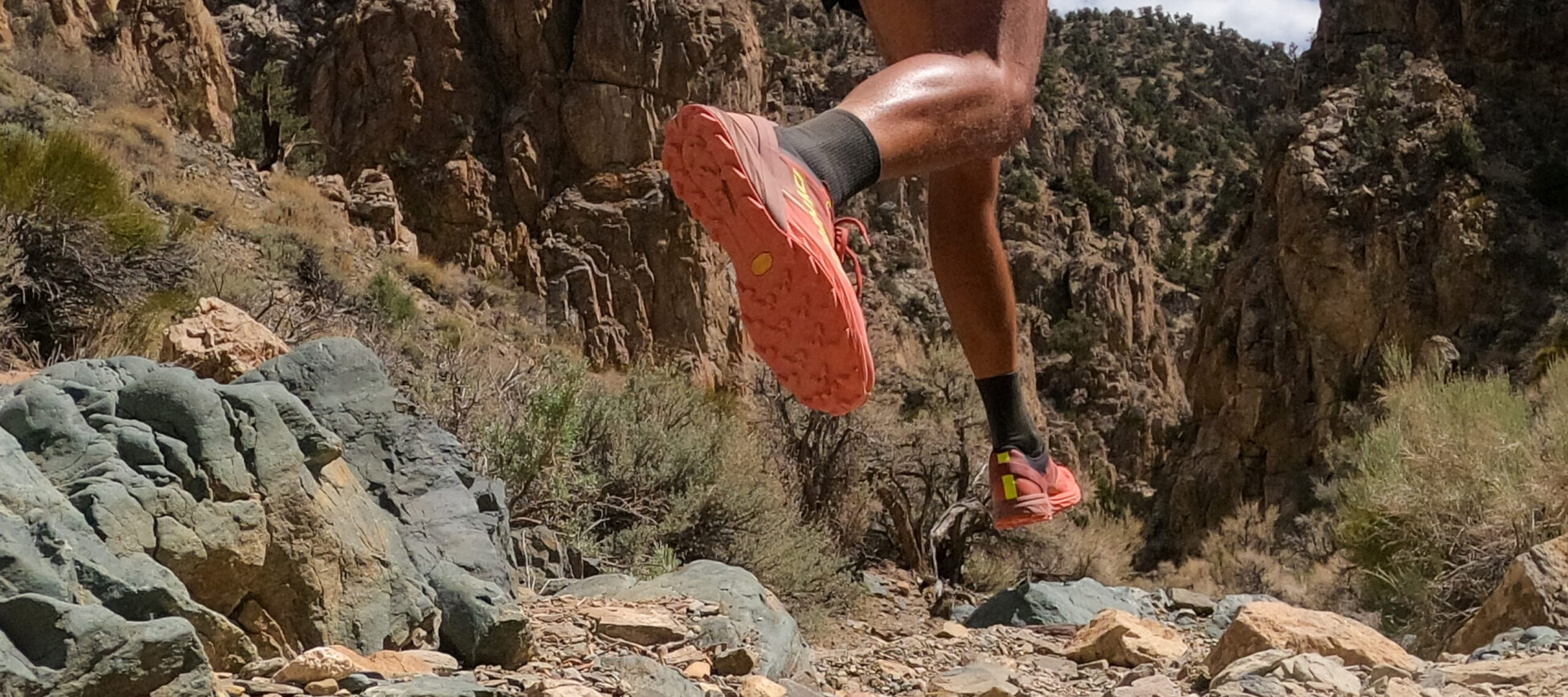 On Trail
I live for alpine running, and for me, ironically, no shoe has tackled the unique demands of mountain environments quite like Dynafit's Alpine. Many of the Eastern Sierra trails I frequent are demanding by virtue of their dichotomy. They often start in the sandy high desert, work their way up through chaparral and subalpine forest, and top out among granite cathedrals. Trail shoes that can transition seamlessly between all three environs are few and far between. Over my 200+ miles in the Alpine, I've used it for everything from shorter, faster intervals up steep fire roads to early season technical mountain adventures on the Eastside (I might have even thrown them on for a track workout or two). My mileage was also accumulated over weekly runs on trails outside of Bishop, CA.
As I said, the Dynafit Alpine checks all the boxes for me. The shoe's simple-but-functional upper and heel preloader combine to enhance fit, security, and performance in a way that I haven't seen before. The Alpine's healthy chunk of duo-density EVA foam and grippy outsole lend it stability on steep, mountainous terrain, making the shoe a comfortable option for longer efforts (100k and up, for me). The Alpine's 6 mm drop works well for a variety of foot-strike styles, too. I tend to land more mid to forefoot when I run, and the shoe does a great job of handling that pattern. That said, I also think the Alpine's rocker geometry should work equally as well for folks who happen to heel strike, though you may feel the shoe work against you on steep descents if your tendency is to lean back to brake.
To sum up my thoughts by offering points of comparison, I'd say the Alpine retains a ground feel most comparable to the Salomon S/Lab Sense 8, but with protection underfoot akin to something like the La Sportiva Akasha. I still can't believe there isn't a rock plate somewhere in its midsole.
Durability
I did my best to beat the hell out of these shoes over my first ~200 miles. During my testing period, I took the Alpine on just about every surface and up just about every grade I can take a running shoe. This ranged from sharp, chossy, 3rd-class terrain to sandy desert scrubland. After 200 demanding miles, the Alpine's durability is impressive. Working my way around the shoe, the upper is still pretty much intact, with only the smallest signs of abrasions across the 3D mesh, likely incurred during the 60 hours I spent off trail above treeline. The midsole is still energetic and protective, and the lugging on the outsole is still intact (I'd expect nothing less from Vibram Megagrip).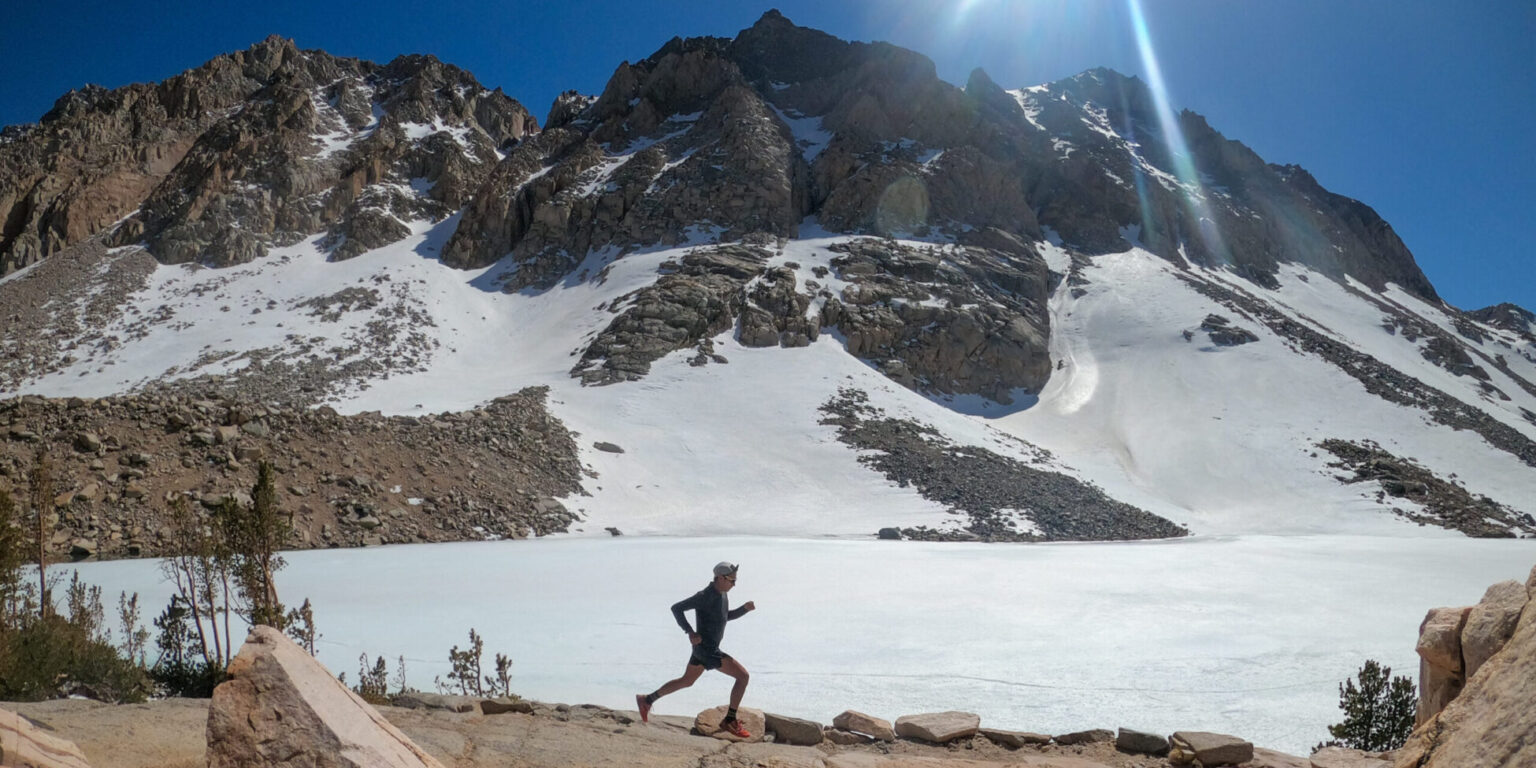 While I don't see any issues with the structural integrity of the Dynafit Alpine so far, I think a potential weak point that could cause durability issues to arise down the line may be at the upper's medial and lateral flexion points. The 3D mesh at these locations is asked to handle a lot of tension thousands of times during a run, so extensive use could eventually lead to blow outs. That being said, I suspect the midsole would pack out long before any type of mechanical failure could occur. Conservatively, I'd say the Alpine should last most runners between 400-500 miles. I'll report back if I notice any unusual durability issues down the line.
Who's It For?
If I had to distill the Dynafit Alpine down to one word, I'd go with versatile. It can fit a wide range of foot types — despite being intended for folks with mid-volume feet — and is a shoe that performs well across a broad spectrum of off-road terrain. I also recommend the Alpine for runners on the heavier side who might need more cushioning/protection than most mountain-running shoes provide, but who still want sensitive ground feel and stability. If you have fairly square-shaped feet, the shape of the Alpine's toe cap might not be the best fit for you, and it could be overkill if you exclusively run on smooth, pavement-adjacent trail surfaces.
A brief but important aside: the Dynafit Alpine is a true off-road shoe, meaning it's designed with the demands of technical terrain in mind. While mountain running and trail running are often used interchangeably, they are not synonymous. I'd encourage runners inexperienced in rugged, off-trail environments to start conservatively with their efforts, not only in the Alpine, but in any shoe. All too often our confidence gets the best of us, especially when we're tired, and we blame our shoes when we fail to meet the demands of our terrain. So keep the movement controlled, the mind focused, and you're sure to have a good time out there!
Bottom Line
Linking together points made in this review, I think the best way to sum up the Dynafit Alpine is to praise its versatility by virtue of its simplicity. By not over-engineering their shoe, Dynafit has crafted an incredibly durable model for runners who plan on (or end up) covering any and all terrain. While definitely designed with rugged mountain conditions in mind (and ideal for them), the Alpine still performs very well on milder surfaces and its adaptive fit should suit a very wide range of foot types. The Dynafit Alpine is one of, if not the best "master of all" trail shoes I've used, making it a great potential addition to many runners' shoe quivers … or a good excuse to trim down your quiver to a single pair.