Salomon S/Lab Sense 8
Test Locations: Gunnison-Crested Butte Valley, Colorado
Test Duration: 136 miles
Stack Height: 20 mm (heel) / 16 mm (forefoot)
Drop: 4 mm
Stated Features:
Contagrip MA Outsole delivers confidence on wet, dry, hard or loose surfaces, and offers long-term durability
Profeel Film forefoot rockplate
Stitch-free single layer welded mesh upper for a smooth, glove-like fit and feel
Dual density midsole with EnergyCell EVA foam for superior cushioning, stability, and motion control
Water Repellant upper material
Quicklace system with lace pocket
SensiFit system cradles the foot from the midsole to the lacing system to provide a secure fit
MSRP: $180.00
Size Tested: US Men's 11.5
Stated Weight per Shoe (US Men's Size 9): 195 g / 6.9 oz
Blister Measured Weight per Shoe (US Men's Size 11.5): 223 g / 7.9 oz
Reviewer: 6'1", 145 lbs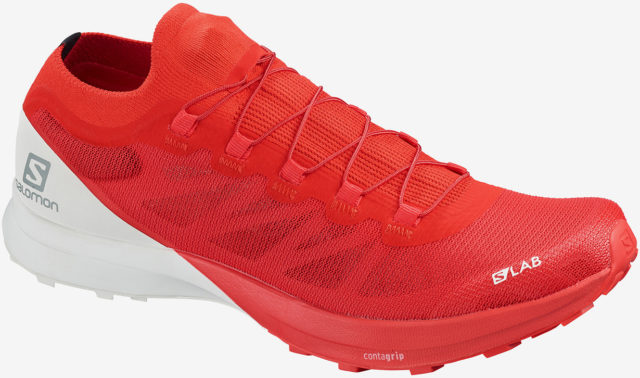 Share on facebook
Share on twitter
Share on pinterest
Share on reddit
Share on email
Review Navigation:
Specs //
Intro //
Fit //
Weight //
Upper //
Midsole & Cushioning //
Outsole //
Performance //
Bottom Line
Intro
The Salomon S/Lab Sense 8 is designed to go fast, it's bright red, and pretty darn expensive. If we want to make a tired analogy, saying it's like the Ferrari of trail shoes is actually pretty accurate. It's Salomon's lightest, most minimal race-specific shoe. The S/Lab Sense series first showed up on the market in 2012 as a low-drop race shoe designed with input from Kilian Jornet, who's arguably the best mountain trail runner in the world. While some aspects of the S/Lab Sense's design have changed over the years, it's basic purpose remains the same: providing a light, fast ride for shorter trail races.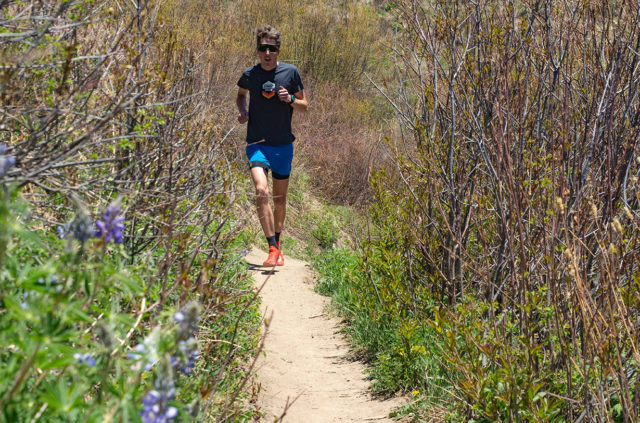 The S/Lab Sense 8 might be the most minimal version of the shoe yet, and it's got some unique features that set it apart from pretty much every other shoe I've run in. I've run in a few different versions of the S/Lab Sense over the last few years, and I've always thought that it's a great shoe for short, fast interval workouts and trail races. But it's also always been a pretty niche shoe because it is so minimal, so I've always struggled to justify its $180.00 price tag. So does the 8th version of the shoe make more sense for more people, and is it still as good for its specific intended purpose?
I was also curious to see how the S/Lab Sense 8 compares to the Salomon Sense 4 /Pro, which is a slightly more affordable and protective version of the shoe. After about 135 miles in the S/Lab Sense 8 across a variety of settings, here's my take:
Previous Versions
As I alluded to in the intro, the different versions of the S/Lab Sense have pretty much been slight variations on the same theme for the past eight years. I had a pair of the original S/Lab Sense when they first came out, and they honestly feel pretty similar to the S/Lab Sense 8. With that said, the S/Lab Sense 8 is a fairly substantial update from more recent versions of the shoe. The original Sense was almost as minimal as the Sense 8, but versions 2 through 6 generally got gradually more protective with the addition of extra traction, slightly more midsole cushioning, and slightly burlier uppers.
By the time the S/Lab Sense 6 came out, it was almost the same shoe as the Sense 3 Pro, which is Salomon's more protective, "everyday" version of the S/Lab. The Sense 3 Pro and the S/Lab Sense 6 had the same amount of cushioning, with the only difference being a more minimal rock plate and upper in the S/Lab version of the shoe. Salomon seemed to realize that the S/Lab and non-S/Lab versions of the Sense were getting too similar, as the S/Lab Sense 7 started to go back to the shoe's super minimal, race-oriented roots. The S/Lab Sense 8 continues this trend with an even more minimal upper that reportedly sheds 14 g / 0.5 oz per shoe relative to the previous version.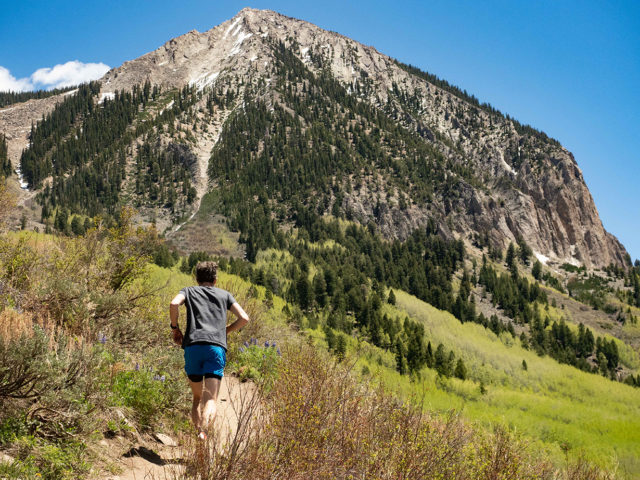 While every previous version of the S/Lab Sense has featured Salomon's two-layer "EndoFit" upper with an internal elastic sleeve to hold the foot in place, the S/Lab Sense 8 replaces this technology with an extremely thin single-layer mesh, minimal welded "SensiFit" reinforcements, and overall sock-like construction. So if you've run in previous versions of the S/Lab Sense, you can expect the new version to feel even more unstructured and minimal. Aside from that, the Sense 8's outsole remains unchanged from version 7, while the midsole has gained an extra 2 mm of cushioning.
It's also worth noting that Salomon makes a "SoftGround" (SG) version of the S/Lab Sense 8, which has the same stack height and fit but with larger outsole lugs and an integrated sock-like gaiter.
Fit
As with any shoe, it's best to try the S/Lab Sense 8 out in person if you can — especially since it's a pretty significant investment. With that in mind, I can provide some thoughts on how the shoe fits my foot. I've got fairly narrow feet with low arches, and prefer shoes with a securely fitting midfoot / heel that still have some space in the toe box.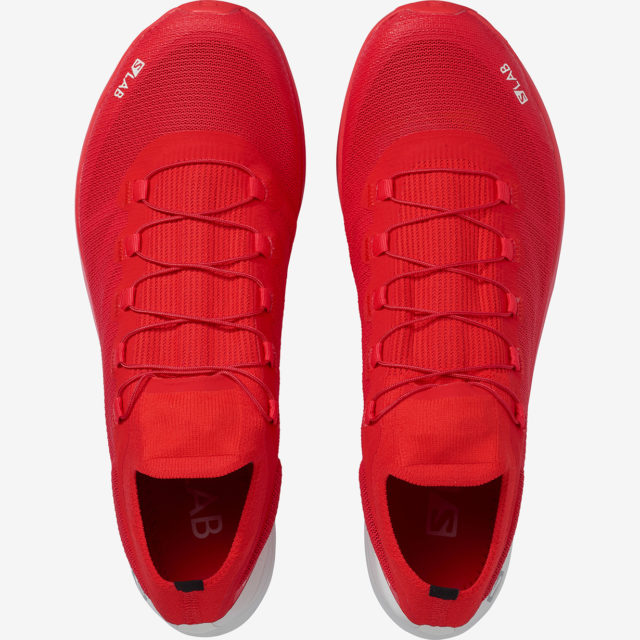 Salomon describes the S/Lab Sense's fit as "glove-like," and they're not kidding. The ankle collar uses a stretchy, softer knit material that conforms to my foot almost as well as most socks when I put on the shoe. The tongue uses the same material, which allows the midfoot to stretch to the shape and size of your foot as well. The best compliment that I can give the S/Lab Sense 8 as far as fit goes is that it really doesn't feel like you're wearing shoes when you've got them on — the fit feels more like a pair of socks with some midsole foam on the bottom. The Quicklace system makes it extremely easy to tighten the shoes up once they're on your feet, and I haven't had any issues with it slipping or loosening during runs. As with the Sense 4/Pro, the Quicklaces do limit your ability to customize the shoe's fit by tightening / loosening specific parts of the lacing system, but I think the tradeoff for the added convenience is well worth it.
The heel cup and midfoot are fairly narrow, but they're also pretty stretchy. For my feet, this makes for a very secure fit. The stretchy nature of the upper should allow it to accommodate people with slightly wider feet as well, but if you've got particularly wide feet the S/Lab Sense 8 might feel a bit confining. The toebox is also fairly narrow, but again, the mesh material used for the upper allows it to stretch enough to allow for just enough toe-splay. Unsurprisingly, the S/Lab Sense 8's fit feels most similar to the Salomon Sense 4/Pro, just slightly narrower / more precise in every area.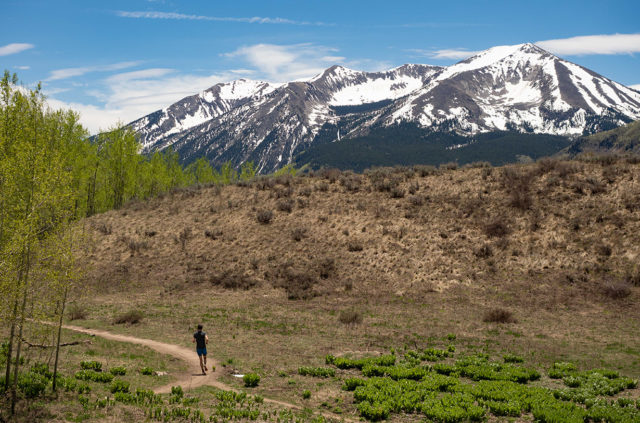 For my preferences, the S/Lab Sense 8 fits extremely well. The heel and midfoot are secure without being too rigid and uncomfortable, while the stretchy forefoot provides enough space to keep my toes from getting smashed together. With that said, I did get blisters from the Sense 8 on the inside of my arches during a particularly hot interval workout. I think the cause was the small crease that forms in the upper in that area when I tighten up the laces. As I said at the top, my feet are pretty narrow / low volume, so there's a little bit of extra material in that part of the upper when I tighten the shoe. I've only had issues with this on one run, and it probably won't be a problem at all for people with slightly wider feet and / or higher arches. But if you do have narrow feet and low arches, it's something to be aware of.
Weight
You'd be pretty hard-pressed to find a trail shoe that's much lighter than the S/Lab Sense 8. There honestly aren't that many trail shoes on the market today that are quite as minimal / light as the Sense 8, but here are the stated weights (based on a US Men's Size 9) for some models from other brands that come close:
185 g / 6.5 oz — Arc'teryx Norvan SL
195 g / 6.9 oz — Salomon S/Lab Sense 8
204 g / 7.2 oz — Hoka One One Evo Jawz
209 g / 7.4 oz — La Sportiva Helios III
227 g / 8.0 oz — The North Face Flight RKT
241 g / 8.5 oz — Altra Superior 4.0
So really the only trail shoe that I'm aware of that offers a similar amount of cushion at a lower weight is the Arc'teryx Norvan SL. I haven't run in the Norvan SL, but the S/Lab Sense 8 does feel significantly lighter on-trail than the Hoka Evo Jawz, even though it's only slightly lighter on paper (likely due to most of the Evo Jawz's weight being in its far more aggressive outsole). Regardless, the S/Lab Sense 8 is light enough and fits well enough that it's pretty easy to forget you're wearing it at all, which is pretty awesome if you're after a minimal shoe for hard / fast runs.
Upper
I've already talked about the upper quite a bit in the Fit section, so I'll keep this quick. With the exception of the tongue and ankle collar, the S/Lab Sense 8's upper uses the same knit material found on the Sense 4/Pro. This material feels more "plastic-y" than most knits and has welded "SensiFit" reinforcements that basically feel like part of the single-layer knit. As with the Sense 4/Pro, the S/Lab Sense 8's upper breathes very well, doesn't absorb any water, and seems reasonably durable so far. Salomon does market the Sense 8's upper as "water repellant," which again is not the same as being waterproof— the upper materials don't keep water out of the shoe, but they also don't absorb any water, which helps the shoe drain and dry extremely fast.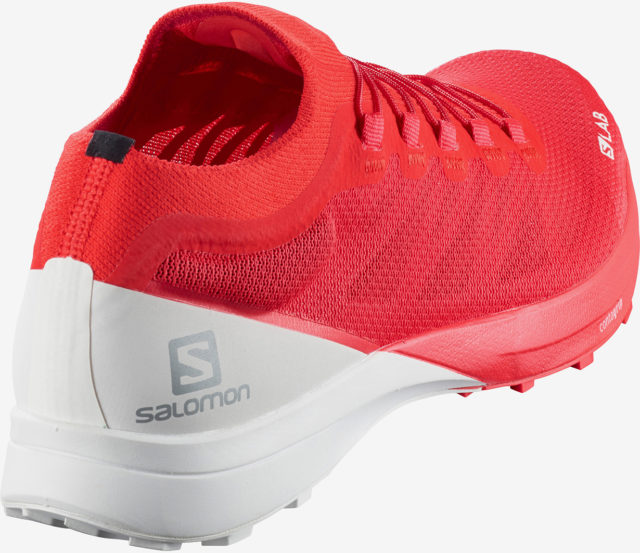 The ankle collar and tongue use a stretchier knit fabric that conforms to the ankle and midfoot when you put on the shoe. I love the precise, almost custom fit that this provides — it's the best combination of security and comfort of any shoe I've used. Like the rest of the shoe, this knit material breathes well and dries very fast. My one complaint about the S/Lab Sense 8's upper is that the tongue is very thin, so there's not much to keep the Quicklaces from digging into the top of your feet. I've found that I can get an excellent fit without tightening the laces so much that this becomes an issue, but you do have to be a bit more careful about how much you tighten the shoe than with most other shoes with more substantial tongues.
Midsole
The S/Lab Sense 8 has a dual-density EnergyCell EVA midsole that's supposedly slightly softer than the cushioning in the previous version of the shoe. I haven't run in the S/Lab Sense 7, but I have run in the Sense 6 SG, which has fairly similar cushioning to the 7. If the cushioning in the Sense 8 is softer, it must not be by much — the Sense 8's midsole feels very firm relative to most other shoes I've been running in recently and seems pretty similar to the cushioning in the Sense 6 SG.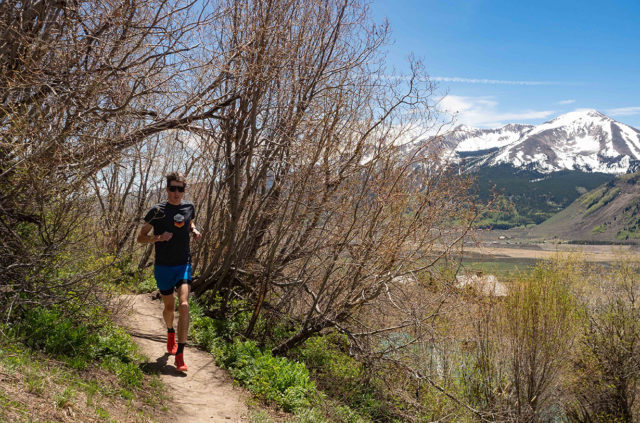 When combined with the S/Lab Sense 8's low stack height (20 mm heel / 16 mm forefoot) and forefoot-only rock plate, the S/Lab Sense 8's firm midsole makes for a very fast-feeling ride, but it's definitely not super comfortable or protective. That doesn't come as a surprise for a race-oriented shoe, but it does limit what I can use the S/Lab Sense 8 for. The midsole does provide excellent energy return, which helps the shoe feel fast and efficient during hard runs. But if I wear the S/Lab Sense 8 for any runs longer than about an hour and a half, it leaves my calves and shins feeling pretty beat up.
For shorter runs, the S/Lab Sense 8's firm cushioning and forefoot rock plate do provide decent protection on technical terrain. I've done several runs on rocky, technical trails in the Sense 8 and haven't had any issues with my feet getting beat up by rocks and roots. Even on longer runs, it's not necessarily a lack of protection from rocks below me that makes the Sense 8 less comfortable, it's just that the minimal, unforgiving cushioning leads to more muscle fatigue than I've experienced in other shoes.
Outsole
The S/Lab Sense 8 uses Salomon's Contagrip MA outsole rubber with fairly small, moderately spaced lugs. In most settings, I've found the Sense 8's traction to be adequate but not awesome. The shoe is primarily designed for hard-packed, rocky trails, and on that kind of terrain, it's got plenty of grip. It does better than the Nike Terra Kiger 5 on wet rocks (which basically felt like a pair of ice skates on wet rock), but the Sense 8's traction isn't quite as confidence inspiring as a shoe with a stickier rubber outsole like the La Sportiva Bushido II.

Where the Sense 8's outsole really struggles is on anything loose or muddy. The lugs just aren't big enough to provide traction in loose sand / gravel or mud. Then again, Salomon makes a "SoftGround" version of the Sense 8 for that kind of terrain, so it's not too much of a surprise that the Sense 8 doesn't feel quite as good on it. But still, the Sense 8's somewhat limited traction does lessen the shoe's versatility slightly more — and I didn't think it was particularly versatile to begin with. Still, if you're just using the Sense 8 on hard-packed, rocky trails without much loose stuff, the traction it's outsole provides should be fine. And given that it's a race-specific shoe for people who want specific gear for when it matters, I think it makes sense that Salomon chose to make two specific versions for different conditions, rather than potentially compromising with a single version.
On Trail
I've run about 135 miles in the S/Lab Sense 8 on a variety of terrain, with most of those miles being in an interval-workout setting. At this point, I think Salomon is pretty much spot-on when they market the Sense 8 as a high-end, race shoe. When you pick up the pace on a hard run, the Sense 8 feels nimble, light, and fast. It's also got enough protection from sharp rocks / roots that I feel confident running fast over technical terrain in the shoe. The shoe's precise, sock-like fit definitely helps with its performance on technical terrain as well — my feet never slide around inside the shoe once I've got it laced up, even on off-camber terrain.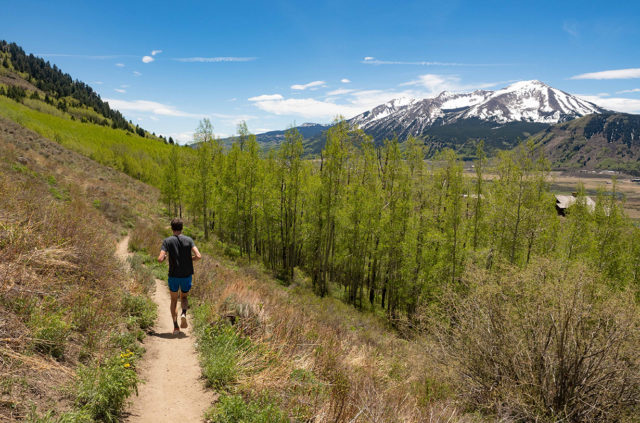 I started doing all of my interval workouts in the Sense 8 in mid-March and haven't looked back since. It just feels faster than any of the other shoes I've been running in, including light, race-oriented options like the Hoka Evo Jawz or Nike Terra Kiger 5. Plus, the Sense 8 makes you look a little bit more like Kilian, which has got to be worth a few seconds per mile at the very least.
As I've discussed previously, the Sense 8 is an extremely firm, unforgiving shoe, so I wouldn't want to wear it for anything longer than about an hour and a half. But for interval sessions and races shorter than that, it's a pretty great shoe.
That's all well and good, but interval workouts and short races only make up a very small percentage of most people's running regimens, myself included. And the Sense 8 is fairly unique in that I actually think it feels worse at more normal paces than shoes like the Salomon Sense 4 /Pro or Nike Terra Kiger 5. I think this is mostly a result of the Sense 8's midsole geometry. I raced Cross Country in High School, and when I first put on the S/Lab Sense 8, I felt like I was wearing a Cross Country racing flat rather than a trail running shoe.
While the Sense 8 technically has a 4mm heel-to-toe drop, it almost feels like the forefoot is higher off the ground than the heel because the front of the midsole curves upwards fairly aggressively. At faster paces, this makes the shoe feel extremely quick and smooth when forefoot striking. But when running at slower paces, the Sense 8's rockered shape + minimal, firm cushioning makes for a slightly awkward ride. To go back to my Ferrari analogy, the Sense 8 clearly wasn't designed to be comfortable and plush while driving around the neighborhood at 20 mph, it's designed for precision and efficiency at speed.
Durability
For any race-specific shoe with a stated weight of less than 200 g / 7 oz per shoe, durability will always be a concern to me. So far after ~135 miles, the S/Lab Sense 8 is holding up pretty well, but it is starting to show a few concerning signs of wear. The upper looks about the same as it did when it came out of the box, which is impressive for how thin it is. So far, the plastic-like mesh that Salomon's using seems to be plenty durable. With that said, it does seem like it would rip pretty easily if you caught a toe on a sharp rock or stick because it is so thin. It hasn't happened yet, but it's something I'm wary of. The midsole material hasn't packed out much either, and still feels just as firm and energetic as it did when the shoe was new.
At this point, it looks like the S/Lab Sense 8's weakest link will be the outsole. While the lugs aren't wearing down overly fast, a few of them have ripped completely off on both shoes, primarily the outside lugs. There are still plenty of lugs left after ~135 miles, but I have noticed that the shoe's traction isn't quite as good as it used to be and 135 miles isn't a huge distance.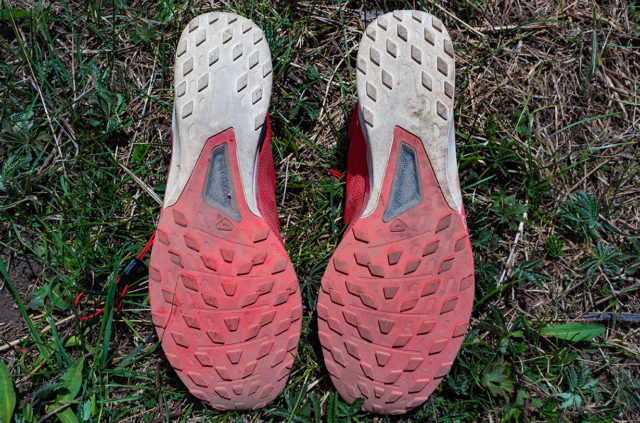 I can still run in the Sense 8 without this wear causing any major problems, but it seems like the outsoles will be pretty trashed within another 100-200 miles of use. I'd be a lot less worried about that if the Sense 8 didn't cost $180 — if I'm going to spend that much on a pair of shoes, I'd hope to get much more than 250-350 miles out of it. Once again, this is where it's going to be important to consider just how much you want the specific benefits of a minimal shoe like this.
Who's It For?
If you're on the market for a dependable, all-round pair of trail running shoes that can handle a wide variety of terrain and paces, you probably shouldn't buy the S/Lab Sense 8. A shoe like the Salomon Sense 4 /Pro or Nike Terra Kiger 5 would make a much better everyday training shoe than the Sense 8, as both are still light enough for faster workouts but feel much smoother and more comfortable at slower paces than the Sense 8 does.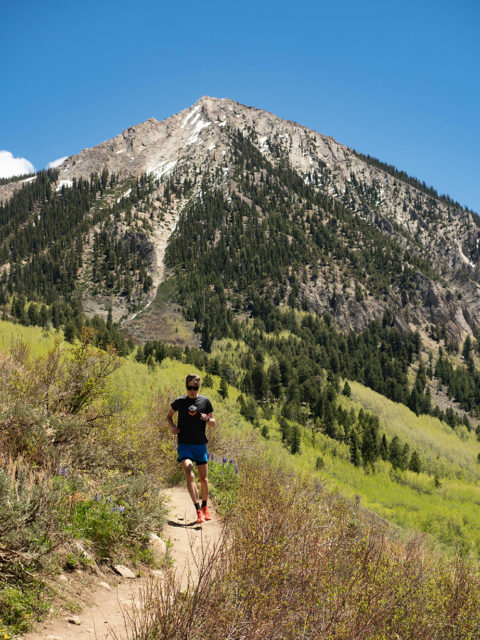 But if you're looking for a shoe to add to your lineup for short, hard workouts and races on hard-packed or rocky trails, the Sense 8 is undoubtedly one of the best options around. You do get what you pay for to an extent, and the S/Lab Sense 8 is a shoe that does what it's designed to do very well. For a serious trail runner who prioritizes performance over price and durability and is looking for a shoe in this category, the S/Lab Sense 8 is excellent.
Bottom Line
Salomon's S/Lab series is their way to make no-compromise tools for people who want the best gear for specific scenarios. The S/Lab Sense 8 is a perfect example of this.
Just about every part of the Salomon S/Lab Sense 8 limits the shoe's versatility. The firm, fairly minimal cushioning and precise fit are awesome for short, fast runs, but make the shoe uncomfortable (for me anyway) on runs over an hour-and-a-half or at slower paces. The outsole provides solid traction on hardpack and rocks, but doesn't have much bite on loose or muddy terrain. The shoe's extremely low weight adds to a nimble, fast ride, but also means that it won't last as long as many other slightly heavier shoes.
So is it worth dropping $180 on a pair of shoes that's only good for short, fast runs on hard surfaces and won't last super long? For most runners, probably not. The S/Lab Sense 8 is great for doing exactly what it's designed for, but it's so expensive and so niche that I doubt many runners will be able to justify it. With that said, if a fast-workout / race-specific shoe is what you're after, the Salomon S/Lab Sense 8 is a great example of a product that fulfills a very particular end-use extremely well.
Share this post:
Share on facebook
Share on twitter
Share on pinterest
Share on reddit
Share on email