Ski: 2020-2021 Salomon Stance 90, 176 cm
Available Lengths: 168, 176, 182, 188 cm
Blister's Measured Tip-to-Tail Length: 174.1 cm
Stated Weight per Ski: 1775 grams
Blister's Measured Weight per Ski: 1801 & 1839 grams
Stated Dimensions: 126-90-108 mm
Blister's Measured Dimensions: 126.0-90.0-108.1 mm
Stated Sidecut Radius (176 cm): 18 meters
Measured Tip & Tail Splay (ski decambered): 56 mm / 13.5 mm
Measured Traditional Camber Underfoot: 4.5 mm
Core: poplar + titanal (2 layers) + CFX inserts + fiberglass laminate
Base: sintered
Factory Recommended Mount Point: -9.55 cm from center; 77.5 cm from tail

Intro
A few months ago we posted our First Look and Flash Review of one of Salomon's new all-mountain skis, the Stance 96. The Stance series of men's and women's skis are a pretty big move for the brand, since they fill a metal-laminate-shaped hole that's been in their all-mountain lineup for several years.
Right as everything was shutting down due to COVID-19, we also got the Stance 90 and women's Stance 88, which we'll be reviewing once we can get some significant time with them on snow. But for now, we'll dive into the Stance 90 and why we think it stands out in its class, and potentially even more so than its wider siblings.
Construction
The Stance 90 shares the same construction as the Stance 96 and Stance 102, which warrants a quick explanation.
The men's Stance skis start with a full poplar wood core, and that wood core is sandwiched between two titanal layers and finished with a fiberglass laminate. But while the bottom titanal layer is pretty typical (runs nearly the entire length and width of the ski), the top layer features cutouts in front of and behind the bindings. Those cutouts are then filled with Salomon's CFX fiber, which is essentially a blend of carbon and flax fibers. CFX was first introduced in Salomon's touring skis, reportedly due to its ability to make for a more damp feel without adding much weight. Salomon then added it to their QST skis, and now the Stance skis are the latest to feature CFX.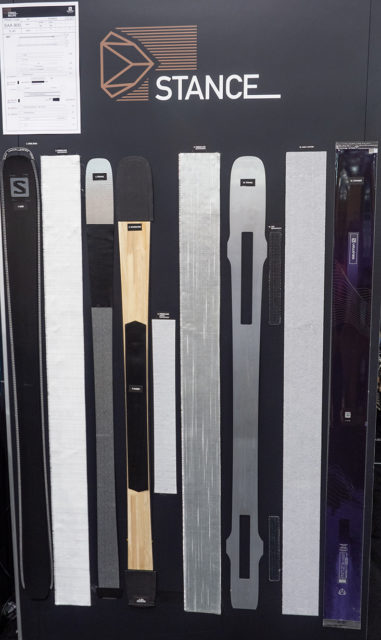 The women's Stance skis feature a nearly identical construction, with the exception of a lighter poplar / karuba wood core instead of full poplar.
Shape / Rocker Profile
There are many ~96mm-wide all-mountain skis that look fairly similar to the Stance 96, but the Stance 90 stands out a bit more when compared to other ~90mm-wide skis.
Many skis in this width, such as the Blizzard Brahma 88, Head Monster 88 Ti, and Liberty Evolv 90, basically look like wide carving skis. This can be great for carving performance — many of the modern ~90mm-wide skis are excellent carvers, so if you spend most of your time on piste with the occasional off-trail run, there are lots of good options out there. But those more traditional shapes can also detract from off-piste performance as those wide tips and tails often want to hook up and pull you across the fall line when you might not want that to happen.
Like the Nordica Enforcer 88, Armada Declivity 92Ti, Folsom Spar 88, and Head Kore 93, the Stance 90's shape looks much more similar to a lot of wider all-mountain skis. The Stance 90's widest points are still pretty close to the ends of the ski so it should still offer a long effective edge, but its "straighter," slightly more tapered tips and tails make it look like it won't be super hooky in off-piste conditions and terrain.
The Stance 90's rocker profile is more traditional. Its tip rocker line is pretty shallow and average, while its tail rocker line is a little bit deeper than average but its tail is still pretty flat.
Flex Pattern
Here's how we'd characterize the flex pattern of the Stance 90:
Tips: 7
Shovels: 6.5-7.5
In Front of Toe Piece: 8-9.5
Underfoot: 9.5
Behind the Heel Piece: 9.5-9
Tails: 8-7
The 176 cm Stance 90's flex pattern feels extremely similar to the flex pattern of the 182 cm Stance 96. Both skis are strong around the middle, but are not super stiff at the ends. And while the Stance 90 is a directional ski, its flex pattern doesn't feel super directional — the area behind its bindings is not drastically stiffer than the area in front of them. Personally, I really like the feel of this flex pattern — seems strong enough underfoot, but its somewhat softer areas outside of the bindings make me think it could be easy to bend and not feel extremely punishing if you end up backseat.
Overall, the flex pattern of the Stance 90 feels quite similar to the new Armada Declivity 92Ti.
Compared to the 20/21 Blizzard Brahma 88 and Nordica Enforcer 88, the Stance 90 is a bit softer at both ends and similar in the middle.
Compared to the Folsom Spar 88 that we tested, the Stance 90 is pretty similar in the front half while the Spar 88 finishes with a slightly stronger tail.
Compared to the Head Monster 88 Ti and Head Kore 93, the Stance 90 is notably softer overall.
Weight
As with the Stance 96, the Stance 90 comes in at a pretty moderate, if not slightly lower-than-average weight. At an average measured weight of 1820 grams per ski for the 176 cm length, the Stance 90 isn't nearly as light as the Salomon XDR 88 Ti (especially keeping in the length differences below), but the Stance 90 is notably lighter than some metal-laminate skis in this class like the Blizzard Brahma 88 and Nordica Enforcer 88.
For reference, here are a number of our measured weights (per ski in grams) for some notable skis. Keep in mind the length differences to try to keep things apples-to-apples.
1758 & 1758 Head Kore 93, 180 cm (18/19–20/21)
1784 & 1800 Liberty V82, 179 cm (19/20–20/21)
1790 & 1828 Black Crows Orb, 179.1 cm (19/20–20/21)
1790 & 1831 Salomon XDR 88 Ti, 186 cm (17/18–19/20)
1801 & 1839 Salomon Stance 90, 176 cm (20/21)
1864 & 1882 Armada Invictus 89 Ti, 187 cm (18/19–19/20)
1869 & 1894 Atomic Vantage 90 Ti, 184 cm (18/19–20/21)
1911 & 1917 K2 Disruption 82Ti, 177 cm (20/21)
1931 & 1932 DPS Foundation Cassiar 94, 185 cm (18/19–19/20)
1947 & 2022 Liberty V92, 186 cm (19/20–20/21)
1936 & 2013 Salomon Stance 96, 182 cm (20/21)
1959 & 1985 Renoun Z-Line 90, 180 cm (17/18–19/20)
1990 & 2036 Blizzard Brahma 88, 177 cm (20/21)
1997 & 2001 Blizzard Brahma 88, 180 cm (17/18–19/20)
2008 & 2015 Folsom Spar 88, 182 cm (18/19–20/21)
2049 & 2065 Volkl Mantra M5, 177 cm (18/19–20/21)
2062 & 2063 Rossignol Experience 94 Ti, 187 cm (18/19–20/21)
2077 & 2092 K2 Ikonic 84 Ti, 177 cm – weight includes binding plates (17/18–19/20)
2098 & 2105 Nordica Enforcer 88, 179 cm (19/20–20/21)
2115 & 2149 J Skis Masterblaster, 181 cm (16/17–20/21)
2171 & 2176 Head Monster 88 Ti, 184 cm (18/19–19/20)
Some Questions / Things We're Curious About
(1) The Stance 90 looks like it could be easier to ski in variable, off-piste conditions and terrain than some other skis of a similar width, so … will it be?
(2) On the other hand, will the Stance 90's slightly more tapered shape make it notably worse in terms of pure carving performance compared to those skis?
(3) The Stance 90 is neither super light nor super heavy, so how well it absorb and mute out the harsher, firmer conditions on which many people would use a ~90mm-wide ski?
(4) There seems to be an increasing number of skis in this width that look similar to the Stance 90, so how will it compare to skis such as the Nordica Enforcer 88, Armada Declivity 92Ti, and Folsom Spar 88?
Bottom Line (For Now)
The Salomon Stance 90 looks like another, exciting addition to the ~90mm-wide all-mountain category. Its shape is more reminiscent of wider all-mountain skis, which makes us excited about its performance off piste. At the same time, its more traditional rocker profile and not-extremely-light weight make us think it could potentially still do just fine when you want to stick to groomed trails. We'll be getting it (and the women's Stance 88) on snow as soon as we can, so keep an eye out for updates.
Flash Review
Blister Members can now check out our Flash Review of the Stance 90 for our initial impressions. Become a Blister member now to check out this and all of our Flash Reviews, plus get exclusive deals and discounts on skis, and personalized gear recommendations from us.