Ski: 2021-2022 Salomon Stance 96, 182 cm
Test Location: Mt. Crested Butte, Colorado
Days Skied: ~10
Available Lengths: 168, 176, 182, 188 cm
Blister's Measured Tip-to-Tail Length: 181.0 cm
Stated Weight per Ski: 1940 grams
Blister's Measured Weight per Ski: 1936 & 2013 grams
Stated Dimensions: 132-96-114 mm
Blister's Measured Dimensions: 132.0-96.1-113.9 mm
Stated Sidecut Radius (181 cm): 19.5 meters
Measured Tip & Tail Splay (ski decambered): 60 mm / 14 mm
Measured Traditional Camber Underfoot: 3 mm
Core: poplar + titanal (2 layers) + CFX inserts + fiberglass laminate
Base: sintered
Factory Recommended Mount Point: -10 cm from center; 80.5 cm from tail
Boots / Bindings: Head Raptor 140 RS, Tecnica Mach1 130 MV, Atomic Hawx Ultra Professional 130 / Salomon Warden MNC 13
[Note: Our review was conducted on the 20/21 Stance 96, which returns unchanged for 21/22.]

Intro
It's been a long time since Salomon has made very directional, metal-laminate all-mountain skis. They've always had race- and piste-oriented skis, and their more freeride-focused QST series has seen a lot of success, but it's been a while since Salomon went after the stable, directional, metal-laminate market.
That changed for 20/21 with the introduction of the brand-new Stance series (which returns unchanged for 21/22). Consisting of the men's Stance 90, 96, and 102, as well as the women's Stance 88 and 94 (which we've also been testing). These skis serve as the more directional, less playful counterparts to the QST series, and we were pretty dang excited about them when we first saw them last year.
We've now spent time on the Stance 96 over the course of two seasons, and you can check out our full review below. First, we'll discuss the design of this ski:
Construction
It's worth quickly touching on the Stance skis' construction, since they're not exactly your typical metal-laminate skis.
The men's Stance skis start with a full poplar wood core, and that wood core is sandwiched between two titanal layers and finished with a fiberglass laminate. But while the bottom titanal layer is pretty typical (runs nearly the entire length and width of the ski), the top layer features cutouts in front of and behind the bindings. Those cutouts are then filled with Salomon's CFX fiber, which is essentially a blend of carbon and flax fibers. CFX was first introduced in Salomon's touring skis, reportedly due to its ability to make for a more damp feel without adding much weight. Salomon then added it to their QST skis, and now the Stance skis are the latest to feature CFX.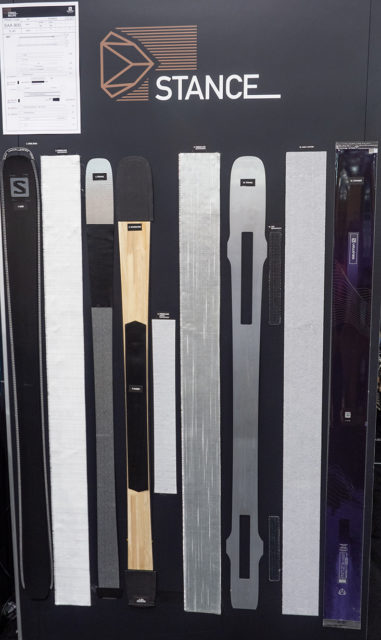 The women's Stance skis feature the same construction but with one change — a poplar / karuba wood core instead of full poplar, with the goal of creating slightly lighter women's options.
Shape / Rocker Profile
The Stance 96 has a fairly traditional shape, but it does not simply look like a carving ski. It's less tapered (particularly in the shovel) than the Salomon QST 99, but more tapered than skis like the Volkl Mantra M5, Blizzard Bonafide, and Rossignol Experience 94 Ti. Overall, the shape of the Stance 96 isn't super far off from the Nordica Enforcer 94, J Skis Masterblaster, K2 Mindbender 99Ti, and Fischer Ranger 99 Ti.
The Stance 96 has a similarly moderate rocker / camber / rocker profile. It has shallower rocker lines than the Mantra M5, ON3P Wrenegade 96, QST 99, and Masterblaster, but the Stance 96's rocker lines aren't quite as shallow as those on the Atomic Vantage 97 Ti and Rossignol Experience 94 Ti. Overall, the Stance 96's rocker profile is fairly similar to the Fischer Ranger 99 Ti and Nordica Enforcer 94, though the Stance 96's tail is a bit flatter / has lower tail splay.
Flex Pattern
Here's how we'd characterize the flex pattern of the Stance 96:
Tips: 6.5
Shovels: 6.5-7.5
In Front of Toe Piece: 8-10
Underfoot: 10
Behind the Heel Piece: 10-9
Tails: 8-7.5
Jonathan Ellsworth and I really like the feel of this flex pattern. It's not crazy stiff, nor is it super soft, and the tails of the Stance 96 don't feel drastically stiffer than the tips. While there are plenty of people who get along with skis with really stiff tails and soft tips, many of us at Blister find skis like the Stance 96 with more "round" flex patterns to feel more intuitive.
This is one area where the Stance 96 differs from much of its metal-laminate competition. The Mantra M5, Bonafide, Enforcer 94, Experience 94 Ti, Ranger 99 Ti, and Vantage 97 Ti all have much stiffer tails. Overall, the flex pattern of the Stance 96 feels pretty similar to the J Skis Masterblaster, and we're not at all mad about that.
Mount Point
It's pretty standard for a ski in this category — the Stance 96's mount point measures exactly -10 cm from true center on our pair. That's a pretty traditional mount point, and we're curious to try it with the bindings a bit forward, especially given the round flex pattern of the ski.
Weight
The Stance 96 is around the middle of the pack when it comes to weight. At an average weight of ~1975 grams per ski for our 182 cm length, the Stance 96 is notably lighter than the Nordica Enforcer 94, J Skis Masterblaster, and Blizzard Bonafide, but it's also notably heavier than some of the more playful options in this category like the Blizzard Rustler 9, Elan Ripstick 96, and Atomic Bent Chetler 100. Interestingly, our pair of the 182 cm Stance 96 is coming in a bit lighter than our pair of the 181 cm QST 99, though it's likely heavier for its size than the new-for-21/22 Salomon QST 98.
For reference, here are a number of our measured weights (per ski in grams) for some notable skis. Keep in mind the length differences to try to keep things apples-to-apples.
1734 & 1750 Renoun Endurance 98, 184 cm (18/19–20/21)
1807 & 1840 Atomic Bent Chetler 100, 188 cm (18/19–21/22)
1810 & 1828 Armada Declivity 92 Ti, 180 cm (20/21–21/22)
1863 & 1894 Blizzard Rustler 9, 180 cm (18/19–21/22)
1883 & 1906 Season Aero, 180 cm (20/21–21/22)
1921 & 1968 Head Kore 99, 188 cm (18/19–20/21)
1925 & 1937 Liberty Helix 98, 186 cm (18/19–21/22)
1935 & 1964 DPS Pagoda 100 RP, 184 cm (21/22)
1936 & 2013 Salomon Stance 96, 182 cm (20/21–21/22)
1937 & 1945 Fischer Ranger 94 FR, 184 cm (19/20–21/22)
1966 & 1973 Liberty Origin 96, 187 cm (18/19–20/21)
1976 & 2028 Parlor Cardinal Pro, 182 cm (19/20–20/21)
1985 & 2006 Parlor Cardinal 100, 185 cm (16/17–20/21)
1994 & 2011 Fischer Ranger 99 Ti, 181 cm (19/20–21/22)
1998 & 2044 4FRNT MSP 99, 181 cm (17/18–21/22)
1999 & 2060 Line Blade, 181 cm (20/21–21/22)
2010 & 2023 Moment Commander 98, 182 cm (20/21–21/22)
2024 & 2112 Dynastar M-Free 99, 185 cm (21/22)
2043 & 2089 Volkl M6 Mantra, 177 cm (21/22)
2049 & 2065 Volkl Mantra M5, 177 cm (18/19–20/21)
2054 & 2063 Salomon QST 98, 189 cm (21/22)
2055 & 2080 Salomon QST 99, 181 cm (19/20–20/21)
2078 & 2138 Black Crows Justis, 183 cm (20/21–21/22)
2085 & 2096 Dynastar Menace 98, 181 cm (19/20–20/21)
2089 & 2105 Nordica Soul Rider 97, 185 cm (15/16–21/22)
2115 & 2149 J Skis Masterblaster, 181 cm (16/17–20/21)
2178 & 2195 Volkl M6 Mantra, 184 cm (21/22)
2256 & 2284 Nordica Enforcer 94, 186 cm (20/21–21/22)
2281 & 2284 Blizzard Bonafide 97, 177 cm (20/21–21/22)
2311 & 2342 K2 Mindbender 99Ti, 184 cm (19/20–21/22)
2326 & 2336 Nordica Enforcer 100, 186 cm (20/21–21/22)
Some Questions / Things We're Curious About
(1) The Stance 96 is a bit more tapered than some of the skis in its class, so how will it do on very firm, smooth snow?
(2) The Stance 96 is fairly heavy and doesn't have super deep rocker lines, but it also has a pretty accessible flex pattern. So how demanding will it feel in tight terrain, and how technically proficient do you need to be to enjoy it?
(3) While their constructions are very different, the Stance 96 doesn't look extremely different compared to the Salomon QST 99, so how will the two compare and what types of skiers will get along best with them?
(4) What about other reference points in this category like the Volkl Mantra M5, J Skis Masterblaster, and Nordica Enforcer 94? How does the Stance 96 compare to those skis?
(4) How damp and stable will the Stance 96 feel on really rough, firm, off-piste conditions, given its moderate weight?
Bottom Line (For Now)
We're excited to see Salomon re-enter into the metal-laminate all-mountain category, and now having the Stance 96 in hand, we're no less excited. It stands out, on paper at least, from its competition due to its moderate, fairly round flex pattern, middle-of-the-road weight, and slightly more modern, tapered shape. But it still has two sheets of metal and a pretty minimal rocker profile, so we're eager to spend more time on it here in Crested Butte and see how it stacks up. Blister Members can check out our Flash Review for our initial on-snow impressions, then stay tuned for our full review.
Flash Review
Blister Members can now check out our Flash Review of the Stance 96 for our initial impressions. Become a Blister member now to check out this and all of our Flash Reviews, plus get exclusive deals and discounts on skis, and personalized gear recommendations from us.
FULL REVIEW
Jonathan Ellsworth (5'10", ~175 lbs / 178 cm, 79.4 kg): One of the reasons that Crested Butte Mountain Resort is such a fantastic place to test the true versatility of allegedly "all-mountain" skis is that we can almost always find some line or run that will end up making a ski — and the skier — feel uncomfortable.
But from my very first day on the Stance 96 to my last day on it (which was this closing weekend in Crested Butte), my overarching opinion of the Stance 96 hasn't changed: I find it to be a really versatile all-mountain ski that a pretty wide range of skiers are going to be able to get along with.
And in the right conditions, it's a ski that I have happily skied across all of Crested Butte's terrain, from steep, wide-open groomers like International, to tighter mogul lines like Crystal and Sylvanite, to techy steeps like the entrance of Staircase and the exit of Cesspool, etc., etc.
So let's flesh this out.
Steep Chalk
Jonathan: For many skis, steep chalk is not a terribly difficult or demanding test. But steep, off-piste chalk tends to be a good indicator of how good — or poor — a ski's suspension is. And for (in my view) a relatively lightweight inbounds ski like the Stance 96, its suspension is quite good, especially given how maneuverable the ski still feels. It's neither the most plush ski out there nor the quickest, but the balance of those two attributes is good.
And relatedly, this ski feels really good when carving hard on off-piste chalk, while also feeling very easy to release its tails to break out of a turn. Again, it's neither the most locked-in carver nor the loosest ski … but I personally don't want my ~96mm-wide ski to feel overly locked-in or overly loose if we're going to be skiing all over the mountain and (typically) in a mix of firm to variable conditions.
Luke Koppa (5'8", 155 lbs / 173 cm, 70 kg): Yep, I'd say the Stance 96's overall performance envelope falls right around the middle of the pack of all-mountain skis. And while that hasn't made it the most exciting ski for how I personally ski, it's also why I think it could work for a lot of people.
It's not the most damp, nor the most sluggish. It's not the easiest to pivot nor the most forgiving of sloppy technique, but it's also not particularly difficult to throw sideways and will let me get a little sloppy at times, particularly in terrain like Crested Butte's Headwall, where I'm not navigating a ton of super tight bumps. All in all, I have no complaints about how the Stance 96 performs on chalky steeps.
Soft Chop
Jonathan: In shallow, soft chop the Stance 96 works quite well. It's not some chop bulldozer, but it's also not overly twitchy to the point where I need to exert a lot of energy trying to keep its tips from deflecting.
That said, the deeper the chop gets (let's say, the deeper things get above 6 inches of cut-up, soft snow), the more I could see someone wanting either a heavier ski that will just steamroll its way through that chop, or a ski with more tip and tail rocker that will plane up and out of the chop more than the Stance 96 will. So if you tend to ski in places that have a lot of really deep, trenched-out chop or in places with a lot of very thick, wet, dense snow, you might want to consider a different ~96mm-wide ski if you're committed to using a ski of this width in such conditions. Because this Stance 96 is probably better suited for shallower chop or the conditions in our next section.
Luke: Interestingly, my very first day on the Stance 96 was the day following a 14" / 35 cm storm, so I did end up skiing it in some pretty deep chop in Mt. CB's Spellbound & Phoenix Bowl. And while I totally agree with what Jonathan said (i.e., it wouldn't be my first pick for these conditions), I was impressed by how well the Stance 96 handled deep, soft chop. It doesn't blow through the snow the way that heavier, slightly wider skis can (e.g., the Stance 102), but it gets knocked around considerably less than the numerous lighter options in this width. And while it doesn't have a lot of tip or tail rocker, I didn't feel like it was truly getting bogged down in the deep snow.
I definitely had to focus on driving the shovels of the ski to get its tails to release, but doing that, it offered a nice blend of stability, suspension, and quickness. But yes, if you're looking at a ski around this width and performance in deeper chop is a priority, I agree that something heavier and / or with more tip rocker would make skiing these conditions easier.
Firm Chop / Crud
Jonathan: In really firm chop, the Stance 96 is still quite comfortable. Again, it's not a bulldozer of a ski, but the firmer and crudier the snow, the more I would try to ski with a lighter-on-my-feet and more centered style, and doing so makes these conditions really fun on the Stance 96, and the ski permits such adjustments to skiing style quite willingly.
And if things really turn south on you and you end up skiing nasty refrozen coral reef, one nice thing about the Stance 96 is that it works pretty well at slower speeds, so you can take your time and pick your way carefully down sections of crappy snow. Advanced, aggressive skiers will also be able to still just bomb through this stuff, but if you're going to make me do that, I'd prefer to be on a heavier ski with even more plush suspension to smooth out the conditions and make me (personally) feel more comfortable at speed.
Luke: Yep. I'd say the Stance 96 falls slightly on the more damp and stable end of the spectrum, but there are better options out there if you want an ultra-smooth, planted ride in really nasty conditions.
On that note about the Stance 96 accommodating a variety of skiing styles, I'd agree, but I'd throw in the caveat that there are lots of better choices if you pretty much always like to ski with a centered stance, or are someone who often ends up skiing from the backseat. While I could ski the Stance 96 pretty centered in more open terrain, there were several times in bumps (e.g., Mt. CB's Resurrection) and trees where I got a bit too far back on my heels and the area behind the heel piece of the binding felt pretty dang stiff to me. Not as punishing as, say, the Blizzard Bonafide 97 or Salomon Stance 102, but I would not recommend the 182 cm Stance 96 to those who primarily ski with a pretty centered, upright, or backseat stance. To me, it feels best when driven fairly hard through the shovels.
Moguls, Trees, & Tight Terrain
Jonathan: While I really appreciate how comfortable the Stance 96 is in steep, techy terrain (so long as the snow isn't really punchy, where I would prefer a wider ski and / or a ski with more tail rocker), I probably like the Stance 96 most in moguls — any type of moguls. Finding a nice line down Crystal or Twister or Jokerville, the Stance 96 feels quite at home, whether the snow is super soft and forgiving, or quite firm and fast.
Now, that said, the Stance 96 does have a fairly powerful tail, and I have a hunch that Luke Koppa might want to talk about that tail in this section. But I think I generally tend to like slightly stronger tails than Luke does in moguls, and I really love how solid and supportive the tails of the Stance 96 feel in moguls. You can get a bit backseat and do some tailgunning in bumps; the Stance 96 will permit this. But get too far back, and the Stance 96 will remind you that it isn't some noodle, and it would like you to get back to a centered stance or to start really driving the tongues of your boots and work those shovels through the bumps.
And speaking of the shovels of the Stance 96, I think they're a damn-near-perfect shape for mogul skiing. When driving the shovels in bumps, the ski never feels overly hooky — which is a feeling that I hate when mogul-skiing, and why skis with massive shovels and a lot of sidecut are not the most fun in bumps (and are the exact opposite of the shape of competition mogul skis).
So yeah, of all the skis I've reviewed in the last year or two, the Stance 96 is among my favorites for skiing moguls across a broad range of snow conditions.
Luke: Well, I guess I already talked about the Stance 96's tails in the section above, so I don't have a whole lot to add here.
For reference, I rarely find myself thinking a ski's tail is too soft or unsupportive. At times, I wished that the area behind the bindings of the Stance 96 was a bit softer. With that said, and as I noted above, it's not an extremely punishing ski — I think most advanced and expert skiers will get along just fine with it (or, like Jonathan, love it). But if you primarily want a very maneuverable or very forgiving ski for bumps and trees, there are lots of skis that are softer, lighter, and / or more rockered that will make things easier. Apart from really tight bumps lines that require lots of awkward, last-minute adjustments, though, I got along quite well with the Stance 96 in tighter terrain.
Groomers
Jonathan: Get the Stance 96 on groomers that are the least bit soft — or very soft — and these things are an absolute blast to carve. I found the ski to provide good high-speed stability and very good energy out of the turn (thanks in part to its traditional camber underfoot and its fairly strong tails).
On softer groomers, the ski initiates turns pretty well. Now compared to skis that have less tip taper than the Stance 96, that turn initiation is not nearly as immediate. But on softer groomers where you can tip the ski over and get the tapered tips of the Stance 96 to dig in a bit, the result is some exhilarating carving.
One other caveat here: the more bulletproof the snow, the less the Stance 96 will just bite in and carve hard. It will still do it, but you'll need to have the courage to commit to getting that ski on edge and engaging those shovels.
So if you love carving extremely firm groomers and do that frequently, this probably isn't the best ski of this width for you. But the skis that are better in this particular area will almost always be less versatile around the rest of the mountain than the Stance 96.
Luke: Yep, agreed on all fronts. While it doesn't strike me as the most exciting or snappy carver, I was consistently impressed by how hard I could lay this ski over once I got some speed going and focused on really driving its shovels. And, it's just as happy to casually skid and feather turns when things are super firm, too.
Who's It For?
Jonathan: Quite a few skiers, actually.
The Stance 96 is not the most playful ski out there. It isn't the loosest ski out there. It isn't the most locked-in carver. It isn't the lightest ski, nor the heaviest, ski, nor the stiffest ski out there.
But I would say that it is one of the most versatile inbounds skis out there. So if you are not entirely sure what type of "all-mountain" ski you really want — or if you often have to line up your ski days weeks or month in advance, and can't really know what conditions you'll encounter, then the Stance 96 could be a very good choice.
I'd say it excels in slightly firm snow to 4-6" of fresh snow. And so on any days when the terrain isn't rock hard or the snow isn't fairly deep, I can be quite happy exploring the entire mountain on the Stance 96, and I think most higher-level intermediate to expert skiers will feel the same way.
Luke: It's funny — looking at what Jonathan wrote here, I feel like you could have swapped "Stance 96" out for "QST 99." We go into more detail in our Deep Dive comparisons, but I think it's worth highlighting that Salomon has made two very versatile skis around the same width, and in my mind, the Stance 96 makes more sense for folks who prioritize precision and firm-snow stability, while the QST 99 is a bit better for those who want a more maneuverable, forgiving ride.
With that said, for the 21/22 season, Salomon is replacing their QST 99 with the new QST 98, and the new QST 98 is a pretty different ski than the QST 99.
So in this sense, we'd suggest that you think of the Stance 96 as the replacement for the QST 99.
Bottom Line
If you're looking for a versatile, all-mountain multi-tool and you don't have very specific (i.e., very niche) attributes that you want out of your ~95mm-wide ski, then the Stance 96 is a great option that will work well for a pretty broad range of skiers.
Deep Dive Comparisons
Become a Blister Member or Deep Dive subscriber to check out our Deep Dive comparisons of the Stance 96 to see how it compares to the Stance 102, Stance 90, Blizzard Bonafide 97, Volkl M6 Mantra, J Skis Masterblaster, Nordica Enforcer 94, Nordica Enforcer 100, Moment Commander 98, Fischer Ranger 102 FR, Fischer Ranger 99 Ti, Dynastar M-Pro 99, Salomon QST 99, K2 Mindbender 99Ti, & 4FRNT MSP 99.