Ski: 2021-2022 Blizzard Bonafide 97, 177 cm
Test Locations: Mt Crested Butte, CO; Jackson Hole, WY
Days Skied: 15+
Available Lengths: 165, 171, 177, 183, 189 cm
Blister's Measured Tip-to-Tail Length: 175.9 cm
Stated Weight per Ski: 2200 grams
Blister's Measured Weight per Ski: 2281 & 2284 grams
Stated Dimensions: 136.5-97-118.5 mm
Blister's Measured Dimensions: 135.6-96.2-118.1 mm
Stated Sidecut Radius (177 cm): 17 meters
Measured Tip & Tail Splay (ski decambered): 56 mm / 9 mm
Measured Traditional Camber Underfoot: 4.5 mm
Core: poplar/beech + titanal (2 layers) + carbon tips + fiberglass laminate
Base: sintered
Factory Recommended Mount Point: -11 cm from center; 76.9 cm from tail
Boots / Bindings: HEAD Raptor 140 RS; Tecnica Mach1 130 LV; Atomic Redster CS 130; Tecnica Mach1 130 LV / Tyrolia Attack2 13 AT
[Note: Our review was conducted on the 20/21 Bonafide 97, which returns unchanged for 21/22.]

Intro
Since its introduction in 2012, the Blizzard Bonafide has become one of the reference points in the ~100mm-wide, all-mountain category.
While the name has stayed the same for more than 8 years now, the Bonafide's construction has changed a bit over that time span, and that's once again the case for the 20/21 season.
I spent two days on the overhauled Bonafide 97 last winter, and we were planning to get a lot more time on it throughout last year. But of course, in the bizarro year 2020, there was a stupid shipping mixup and we weren't able to get back on the ski.
The good news is that we have now spent a lot of time on it this season at Mt. Crested Butte, and it's now time for the full review. But first, we're going to dive deeper into the design of this new Bonafide.
Quick Note on the Different Iterations of the Blizzard Bonafide
While the graphics have changed each year, in terms of construction, there have been four different versions of the Bonafide:
11/12–14/15: the original version. We'll call this the "v1" Bonafide.
15/16–16/17: the "v2" Bonafide got carbon added to its tips and slightly shallower rocker lines.
17/18–19/20: the "v3" Bonafide had a tighter sidecut radius than past iterations and notably deeper rocker lines.
20/21–21/22: the "v4" Bonafide that we're discussing in this article, which features a lot of changes compared to the previous versions.
What Blizzard says about the Bonafide 97
"The iconic Bonafide, long-praised for its masterful combination of technical performance and all-mountain versatility, has gone ahead and one-upped itself. Introducing the all new Bonafide: made to attack the mountain with grace and precision. From crushing through crud, to laying it down on hard pack, to navigating your way through untouched pow in the trees, they're the ultimate all-conditions daily driver for committed skiers. The new TrueBlend Woodcore specifically targets the flex throughout the ski, with a softer tip and tail that keep you nimble. Denser wood underfoot acts like a gas pedal, giving you the power and drive when you want to charge. Combined with a versatile sidecut and a reduced rocker profile, the Bonafide is the perfect blend of Austrian engineering and real-world testing that'll keep you skiing confidently, even on those less-than-perfect days."
This seems like a sensible description, given what we'll cover below. But first, here's what we said about the Bonafide 97 in our 20/21 Winter Buyer's Guide, based on our initial time on the ski:
What we said about the Bonafide 97 in our 20/21 Winter Buyer's Guide:
"Blizzard fully overhauled their "all-mountain freeride" lineup for 20/21, and we are very excited about the new Bonafide 97. We need to get more time on it (due to a shipping mixup, sigh) but our initial impressions are very, very positive, and we will definitely be skiing it a lot this year. The new Bonafide 97 feels more similar to the pre-17/18 iterations of the ski. It is damp, powerful, and precise. And especially now that many skis in this section are so light, the Bonafide 97 stands out due to its smooth suspension on firm, rough snow, and it brings back a level of on- and off-piste precision that we thought was lacking in the previous (17/18–19/20) model. This ski is not surfy, and you need to have good technique to really enjoy it. But we think advanced and expert skiers who appreciate a strong, damp, and stable all-mountain ski are going to get along very well with the Bonafide 97. Stay tuned for more info this season."
With that background in mind, let's dive into how Blizzard went about improving the Bonafide.
Construction
As we discussed in our First Look of the 20/21 Blizzard Brahma 88, the big change Blizzard made to the 20/21 versions of the Brahma 88, Black Pearl 88, Black Pearl 97 (review coming this year), and Bonafide 97 was a switch to what they're calling "TrueBlend Flipcore."
Essentially, the beech/poplar wood core in these new Blizzard skis consists of dozens of small strips of wood assembled in a grid-like structure. While the vast majority of skis on the market use wood cores with multiple wood "stringers," those stringers typically run along the entire length of the ski and they're usually wider than the wood strips used in the TrueBlend Blizzard skis. Here's an image of a TrueBlend wood core to give you an idea of what we're discussing: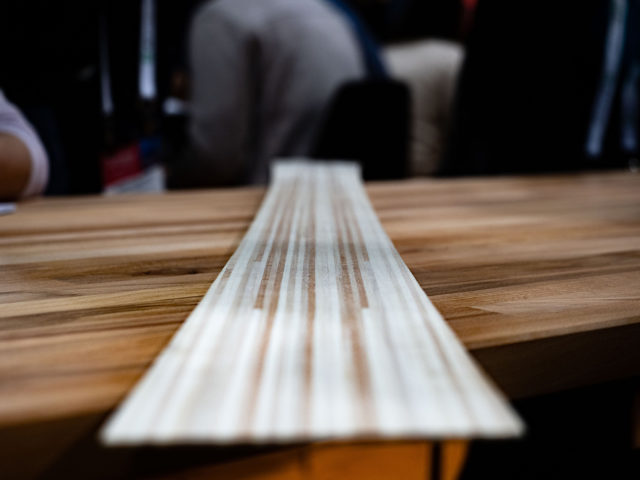 The end goal with this complex construction is a more finely tuned flex pattern, since Blizzard has greater control over where they put the higher-density beech strips and lower-density poplar strips. The idea is that you get stiffness and power where you need it, but a more accessible / forgiving flex pattern where you don't.
Like the v2 and V3 Bonafides, the new Bonafide 97 still features two layers of titanal, carbon fiber in the tips, and a fiberglass laminate.
Rocker Profile
This is a substantial change.
The 17/18–19/20 Bonafide had pretty deep rocker lines for a ~100mm-wide ski, though they were pretty low-slung and didn't rise much until near the ends of the tips and tails.
The 20/21 Bonafide 97 has much shallower rocker lines. Its rocker lines are shallower than the majority of ~100mm-wide skis we've reviewed, with the Atomic Vantage 97 Ti being one of the few exceptions.
Looking at the Bonafide 97's rocker profile, my initial thoughts about it feeling more precise than the previous iteration make sense.
Shape & Dimensions
The general shape of the Bonafide 97 isn't drastically different than the previous v3 Bonafide.
The v4 Bonafide 97's tips and tails might be a tiny bit more tapered than the older Bonafides, but it's a really subtle difference. And the Bonafide 97 still has very little tip or tail taper compared to many other skis in its class like the Dynastar M-Pro 99, Salomon QST 99, and Salomon Stance 96.
The new Bonafide 97's dimensions are slightly different compared to the previous, v3 Bonafide. Here's how the 177 cm Bonafide 97's stated dimensions (tip width, waist width, tail width) compare to the 180 cm v3 Bonafide:
177 cm 20/21 Bonafide 97: 136.5-97-118.5 mm
180 cm 17/18–19/20 Bonafide: 135-98-119 mm
Flex Pattern
Here's how we'd characterize the flex pattern of the Bonafide 97:
Tips: 7.5
Shovels: 7.5-8
In Front of Toe Piece: 8-9
Underfoot: 9.5
Behind the Heel Piece: 9.5-9
Tails: 8.5-9
Overall, the new Bonafide 97 is still a very strong ski. Compared to the v3 Bonafide, the Bonafide 97's tips are a bit stiffer, it feels slightly stronger behind the heel piece, but it's also a bit softer in the area in front of the toe piece.
While it is a pretty stout ski, the Bonafide 97's flex pattern doesn't ramp up extremely fast as you move from the shovels to the underfoot section. The transitions in its flex pattern are nice and smooth.
Overall, the new Bonafide 97's flex pattern feels fairly similar to the Volkl Mantra M5. The Bonafide 97's flex pattern is also pretty similar to the 20/21 Nordica Enforcer 100, but the Bonafide 97's tips are notably stiffer and its flex pattern doesn't stiffen up as quickly as you move from the shovels to the middle of the ski.
Sidecut Radius
The 177 cm Bonafide 97's stated sidecut radius is 17 meters, while the 183 cm version's is 18.5 meters. Those radii are slightly on the shorter side compared to other metal-laminate skis in this class, though the Bonafide 97's stated sidecut radius is not very out of the ordinary.
The 180 cm v3 Bonafide's stated sidecut radius was 18 meters, so there isn't a massive change with the new ski in this regard.
Mount Point
No real change here: the new Bonafide 97 still has a very traditional mount point of -11 cm from true center.
Available Lengths
The available lengths had never changed for the previous (v1, v2, & v3) Bonafides. They were all available in 166, 173, 180, and 187 cm lengths.
The 20/21 Bonafide 97 is available in 165, 171, 177, 183, and 189 cm lengths.
Weight
If you were worried that Blizzard made the new Bonafide 97 some ultralight, twitchy, unstable ski, don't be.
At an average measured weight of 2282 grams per ski for the 177 cm length, the Bonafide 97 is not particularly light. In fact, it's quite heavy for its size. And as we've stated so many times before, we are very happy about this. Because if you're going to make a ski that's supposed to "crush crud" and let you ski confidently on "less-than-perfect days," weight is your friend, not your enemy.
The Bonafide 97's heavier weight puts it in line with some other metal-laminate skis like the 20/21 Nordica Enforcer 94 and Enforcer 100, while it's notably heavier than some others like the Volkl Mantra M5, Fischer Ranger 99 Ti, and 4FRNT MSP 99.
For reference, here are a number of our measured weights (per ski in grams) for some notable skis. Keep in mind the length differences to try to keep things apples-to-apples.
1734 & 1750 Renoun Endurance 98, 184 cm (18/19–20/21)
1807 & 1840 Atomic Bent Chetler 100, 188 cm (18/19–20/21)
1863 & 1894 Blizzard Rustler 9, 180 cm (18/19–20/21)
1921 & 1968 Head Kore 99, 188 cm (18/19–20/21)
1925 & 1937 Liberty Helix 98, 186 cm (18/19–20/21)
1936 & 2013 Salomon Stance 96, 182 cm (20/21)
1937 & 1945 Fischer Ranger 94 FR, 184 cm (19/20–20/21)
1966 & 1973 Liberty Origin 96, 187 cm (18/19–20/21)
1976 & 2028 Parlor Cardinal Pro, 182 cm (19/20–20/21)
1985 & 2006 Parlor Cardinal 100, 185 cm (16/17–20/21)
1994 & 2011 Fischer Ranger 99 Ti, 181 cm (19/20–20/21)
1998 & 2041 K2 Mindbender 99 Ti, 177 cm (19/20–20/21)
1998 & 2044 4FRNT MSP 99, 181 cm (17/18–19/20)
2041 (avg.) DPS Pagoda Piste 100 C2, 189 cm (20/21)
2049 & 2065 Volkl Mantra M5, 177 cm (18/19–20/21)
2053 & 2057 Atomic Vantage 97 Ti, 188 cm (18/19–20/21)
2062 & 2063 Rossignol Experience 94 Ti, 187 cm (18/19–20/21)
2078 & 2138 Black Crows Justis, 183 cm (20/21)
2085 & 2088 Blizzard Bonafide, 180 cm (11/12–14/15)
2085 & 2096 Dynastar Menace 98, 181 cm (19/20–20/21)
2097 & 2113 DPS Alchemist Wailer 106 C2, 189 cm (19/20–20/21)
2101 & 2104 Fischer Ranger 102 FR, 184 cm (18/19–20/21)
2114 & 2133 Nordica Enforcer 93, 185 cm (16/17–19/20)
2115 & 2149 J Skis Masterblaster, 181 cm (16/17–20/21)
2124 & 2137 Blizzard Bonafide, 180 cm (17/18–19/20)
2131 & 2189 Nordica Enforcer 100, 185 cm (15/16–19/20)
2167 & 2199 Blizzard Bonafide, 180 cm (15/16–16/17)
2218 & 2244 Volkl Mantra 102, 184 cm (19/20–20/21)
2222 & 2229 Dynastar Menace 98, 187 cm (19/20–20/21)
2233 & 2255 Nordica Enforcer 104 Free, 186 cm (19/20–20/21)
2256 & 2284 Nordica Enforcer 94, 186 cm (20/21)
2281 & 2284 Blizzard Bonafide 97, 177 cm (20/21)
2311 & 2342 K2 Mindbender 99Ti, 184 cm (19/20–20/21)
2324 & 2359 Kastle MX99, 184 cm (18/19–19/20)
2325 & 2352 Folsom Blister Pro 104, 186 cm (19/20)
2326 & 2336 Nordica Enforcer 100, 186 cm (20/21)
Bottom Line (For Now)
The new Blizzard Bonafide 97 is a strong, minimally rockered ski that's neither super light nor super tapered. All of those things make sense for a ski that's supposed to be "the ultimate all-conditions daily driver for committed skiers" and "keep you skiing confidently, even on those less-than-perfect days."
Blister Members can check out my Flash Review linked below for my initial thoughts on this ski, and then stay tuned for a full review this season.
Flash Review
Blister Members can read our Flash Review of the Bonafide 97 for our initial on-snow impressions. Become a Blister member now to check out this and all of our Flash Reviews, plus get exclusive deals and discounts on skis, and personalized gear recommendations from us.
FULL REVIEW
I've been skiing the Bonafide 97 off and on all season, and Luke Koppa and Drew Kelly have also been getting days on this ski (Drew will be adding his thoughts in the future).
And if you read our First Look (above), Flash Review, and our Winter Buyer's Guide to see what we've said about the ski, well, there aren't going to be many surprises from me, but we'll see what Luke and Drew have to say.
That said, I think everyone considering this ski ought to read our Deep Dive Comparisons for it, because I've been answering a ton of questions about how the Bonafide 97 compares to a bunch of other skis, and some of the skis I'm being asked to compare the Bonafide to are truly apples-to-oranges.
So don't just guess, do yourself a favor and read before you buy.
Groomers
Jonathan Ellsworth (5'10", ~175 lbs / 178 cm, 79 kg): When it comes to edge hold and stability-at-speed on groomers, of all the currently available ~98mm-wide skis on the market that we've reviewed, the 177 cm Bonafide 97 is very near the top of the list for me.
Given the sheer weight of this ski — coupled with a strong flex pattern, its tip shape that is easy to roll on edge and engage the length of the ski, and a sidecut that makes it comfortable to arc big turns — well, if you like the sound of all of that, then you'll get along well with this ski.
And the Bonafide 97's composure at speed really should not be underestimated when compared to so many of the lighter skis in this category. The laws of physics still set the rules, weight still matters, and on the hefty Bonafide 97, I've looked forward to the days when I get to ski down steeper groomers on Mt CB, like International. The Bonafide 97 makes going very fast on firm snow way, way less scary than lighter skis do.
Now, that said, I would not call the Bonafide some very playful ski with a lot of pop — that's where lighter, softer carvers would get the advantage, especially when skiing on softer groomers where edge hold is good and the snow provides the suspension, rather than the ski.
But the firmer and / or the more roughed-up the groomers get, the more I'd like to be on the Bonafide 97.
And just to be clear, it does not provide the edge hold on ice like a good, heavy, ~75mm-wide dedicated carver does. But then again, those dedicated carvers would likely get you killed if you took them into steep, off-piste terrain where the Bonafide feels quite at home.
Luke Koppa (5'8", 155 lbs / 173 cm, 70 kg): I'm in agreement for the most part here. The Bonafide 97 clearly stands out among the rest of the market when it comes to suspension and general stability at speed. If the groomers are nice and smooth, that's a bit less noticeable when switching to lighter skis. But at the end of the day, when you're navigating tons of pushed-around piles of snow and still want to make big, fast turns — that's where the Bonafide 97 starts to really separate itself.
One thing I'll note is that I didn't find the 177 cm Bonafide 97 to be very easy to bend. While it initiates carved turns predictably and pretty easily, I didn't feel like I was engaging or bending its shovels as much as, say, the much lighter and softer Armada Declivity 92 Ti. The Bonafide 97's edge hold is still quite good and feels better than most skis in this class when it comes to arcing big turns at high speeds, but it is not what I'd call a snappy carver that I'm able to easily force into smaller, high-edge-angle turns. Rather, it just feels calm to me.
On that note, the 177 cm Bonafide 97's stated 17-meter sidecut radius feels notably longer on snow (to me) than I would've expected. Some skis that have a stated 17-meter sidecut radius feel very snappy and like they're begging you to just lay them over harder and carve tighter turns. Not so with the 177 cm Bonafide 97. If you told me to guess what its sidecut radius was, I would've said something around 19-22 meters. But as I noted in our review of the Blizzard Cochise 106, sidecut radius numbers are just some big deep-state conspiracy, so who really cares…
Jonathan: I totally agree with everything Luke just said.
Trees & Tight Terrain
Jonathan Ellsworth: The Bonafide is a strong ski, full stop. But if you are a physically strong skier with solid technique and you like to drive the shovels of your ski, then I think many of you will quite like the Bonafide in trees and in tighter terrain.
And here, sharpening your edges or detuning them to your particular taste will allow you to dial in just how loose or grippy this ski feels.
Moguls
Jonathan Ellsworth: This is a slightly more complicated story. When skiing well-laid-out mogul lines — where you can easily pick your line (e.g. the moguls under the Paradise lift in Mt. CB; see below) — I love how strong and stable the Bonafide 97 is. Go fast, you have plenty of time to set up your next turn, and with that bit of speed, the Bonafide feels both strong and pretty maneuverable.
But even in "nice" moguls, the Bonafide really doesn't want you hanging out in the backseat, and can get a bit punishing if you try to relax on the back half of the ski or start tail gunning too hard. Still, I think strong skiers will like the performance of the Bonafide 97 in good bump lines.
In zombie-apocalypse bump lines (e.g., what you'll find sometimes on Mt CB's Sylvanite, which, for some reason, our masochistic friends seem to only want to ski for the final 1 or 2 runs of the day, exactly when your legs are most shot), the Bonafide 97 can be a handful, because you'll now need to provide really strong input and ski really dynamically to try to force a line where one doesn't really exist.
But most of you are probably smart enough not to chase fast friends through really messed-up, firm moguls at the very end of the day. And if that's true of you, then you do not need to worry about the Bonafide. Still, there are definitely easier, more forgiving mogul skis out there if "easy and forgiving" is a top priority for you when it comes to moguls.
Luke Koppa: Yep, not much new to add here. Particularly after lightly detuning the tails with a gummy stone, the Bonafide 97 does not feel like a really locked-in ski that refuses to release and slide. But it's still a heavy, strong ski, and consequently rewards good technique and requires more physical effort to flick around compared to the loads of lighter options on the market.
Firm, Cruddy Conditions
Jonathan Ellsworth: The weight and suspension of the Bonafide make it a very, very good option when skiing off-piste at the ski area when it hasn't snowed in a few weeks. And this is where lighter skis can often end up feeling more fatiguing than a heavier ski like the Bonafide.
Another important thing here is that, while the stated sidecut radius of the 177 cm Bonafide is a fairly tight 17-meters, the Bonafide has never felt hooky to me in off-piste crud. Now, we all know now that sidecut radius numbers are pretty much fake news (and wait till you listen to our Blister Summit Panel on Ski Design), but the lack of hookiness that the Bonafide exhibits in cruddy-off piste conditions — while still carving so well on groomers — is notable.
Luke Koppa: Agreed again. The Bonafide 97 clearly stands out as a ski that does a better job than most when it comes to making cruddy snow feel less cruddy than it is. Even if I'm not skiing these sort of conditions particularly fast, the Bonafide 97 still makes for a more comfortable, predictable ride when compared to lighter alternatives.
Soft Chop
Jonathan Ellsworth: On the Bonafide 97, soft chop just feels like you're cheating. It's a soft-chop destroyer — well, unless you're talking about deep chop (~8-12 inches or more), where a strong, wider ski that has more tip and tail rocker will plane better than the Bonafide while still feeling stable.
But in less than 8" of chop, the Bonafide will just blow through everything. It's cheating.
Luke Koppa: In soft, not-deep chop, it's tough for me to find the speed limit on this ski. With that said, if skiing soft chop for you means skiing fast but also getting in the air at every opportunity, there are definitely better skis out there. The Bonafide 97 wants to cut / blow through chop, rather than bounce off it. And that shouldn't come as a surprise, given that this is a heavy ski with a rearward mount point. But as someone who tends to prefer more playful skis, I often found myself wishing the Bonafide was a little more lively and less awkward-feeling in the air.
Steeps
Jonathan Ellsworth: In steep terrain — especially the firmer the conditions are in steep terrain — there are few skis that I would rather be on than the Bonafide 97. If the conditions are softer and / or deeper (say, 6-10" of variable snow), then the more I would personally be tempted to reach for the Bonafide's wider brother, the very good Cochise 106. But firm steeps? The Bonafide offers more precision than the Cochise while still being maneuverable enough. In short, it's a very confidence-inspiring ski that offers a very stable platform.
Luke Koppa: Agreed. The more forgiving the conditions (e.g., nice chalk or some fresh snow), the more I'd personally opt for a lighter, softer ski that would let me ski with a more dynamic style (i.e., lots of hop turns and slashes). But the firmer the conditions — and consequently, the more planted I want my skis to be — the more I like the Bonafide 97. It's smooth, but still fairly easy to pivot and slide through steep terrain.
Powder
Jonathan Ellsworth: I'll have to defer to Luke here, as I didn't ski the Bonafide in pow. (Nor would I be looking to break it out on a day where 6 inches or more of new snow just fell.) But we'll see what Luke has to say.
Luke Koppa: I got the Bonafide 97 in about 6" of fresh snow and it performed about as well or better than I expected. There are plenty of skis around this width with more tip and tail rocker that I think will float better and feel easier to pivot / slash in deeper snow. But for its width, and for how well it performs on firm conditions, I thought the Bonafide 97 was perfectly serviceable in some fresh snow. Once the snow gets deeper than about 6", I'd prefer something wider, but I'd say the same for most <100mm-wide skis.
Length
Jonathan Ellsworth: I think it's really critical to get the Bonafide in a length that is right for you. Get the wrong length, and you might really dislike this ski. (Or, if you are someone who really likes a lighter, more tip- and tail-rockered ski like the Blizzard Rustler 9 or Rustler 10, then you will also dislike the Bonafide.)
But I would really caution against sizing up on this ski — especially if you ski at a mountain with steeper, techier terrain. And one of the things that I really like about the 177 cm Bonafide 97 we've been skiing is that it offers a really stable platform in a relatively short length — which I find to be pretty ideal at a steeper, techier mountain like Mt CB, where I want a lot of stability, but I don't want a lot of length.
And while we haven't skied the 183 cm Bonafide, I honestly don't have any interest in doing so here in Mt CB. The 177 cm Bonafide has never felt lacking or unstable.
Of course, if you're primarily skiing fast and making big turns in a place that has a lot of open terrain, then there's probably less reason to worry about going too long. All I can say is that I personally have yet to need more stability out of the 177 cm Bonafide 97.
And this is where I would encourage all of you to check out our Deep Dive Comparisons, or, if you're still unsure about what length you ought to go with, become a Blister Member and send us a note.
Luke Koppa: Depending on the particular model, I typically get along with skis in this class in the 180–186 cm length range. But with the Bonafide 97, the 177 cm length felt like the right one for me — plenty stable at higher speeds, but I wouldn't want to go any longer in the tight terrain we ski here. I don't think everyone needs to size down on this ski, but especially if you're caught between sizes and ski a lot of bumps, trees, steeps, etc., going down in length is likely the right call.
Who's It For?
Jonathan Ellsworth: If you're skiing all around the mountain in various terrain, then the Bonafide 97 is best suited for physically strong skiers with advanced or expert technique. If you will mostly be sticking to groomers, then I think that intermediate skiers who weigh anywhere from 175–250+ lbs will find this ski (in the appropriate length) to be manageable and plenty stable.
But if you're not sure that you really want or need a strong ski — but instead put a high priority on a forgiving ski that will let you get away with lazier skiing — then there are better options out there. But few (and maybe none) of those other options will offer the stability, precision, and power that the Bonafide 97 does.
Luke Koppa: The Bonafide 97 seems most appealing for technically proficient skiers who prioritize suspension, stability, and precision. Those who like a low swing weight, who ski centered or often get backseat, or who prefer a looser ski that's really easy to slash and pivot should look elsewhere (see our Buyer's Guide). But the Bonafide 97 clearly stands out for folks who like to ski hard and fast, or who just often find most skis these days to feel too light and twitchy when conditions are firm.
Bottom Line
This latest Blizzard Bonafide is still very much a Bonafide. There has been absolutely no dumbing down here. This is a strong ski that is deserving of the Bonafide name and lineage. Just be sure you get the right length, and if you are in between lengths, we'd encourage you to err on going shorter vs. going longer.
Deep Dive Comparisons
Become a Blister Member or Deep Dive subscriber to check out our Deep Dive comparisons of the Bonafide 97 to see how it compares to the previous Bonafide, Head Monster 98, Blizzard Cochise 106, Salomon Stance 96, Nordica Enforcer 100, Nordica Enforcer 94, Volkl M5 Mantra, J Skis Masterblaster, Fischer Ranger 102 FR, Fischer Ranger 99 Ti, Dynastar M-Pro 99, K2 Mindbender 99Ti, Salomon QST 99, Blizzard Rustler 9, & 4FRNT MSP 99.