Ski: 2020-2021 DPS Pagoda Piste 100 C2, 189 cm
Available Lengths: 157, 165, 171, 179, 184, 189 cm
Blister's Measured Tip-to-Tail Length: 187.9 cm
Stated Weight per Ski: 2005 grams
Blister's Measured Weight per Ski: ~2041 grams (avg)
Stated Dimensions: 135-100-118 mm
Blister's Measured Dimensions: 135.1-100.3-117.8 mm
Stated Sidecut Radius (189 cm): 19 meters
Measured Tip & Tail Splay (ski decambered): 60 mm / 31 mm
Measured Traditional Camber Underfoot: 5 mm
Core: aspen/ash + pre-preg carbon laminate (more info below)
Base: sintered "world cup race base"
Factory Recommended Mount Point: -11.25 cm from center; 82.7 cm from tail

Intro
In addition to creating some very influential ski shapes, DPS is arguably best known for experimenting with a lot of different ski constructions.
From Pure to Pure 3 to Alchemist to Tour1 to Foundation … over the years they've come up with a wide variety of ways to construct skis, many of them utilizing carbon fiber in some form or another.
The two latest constructions from the brand are called Pagoda Piste and Pagoda Tour, and they're being rolled out on several new skis for the 20/21 season (many of which will be available August 3 at a discount through their "Dreamtime" event).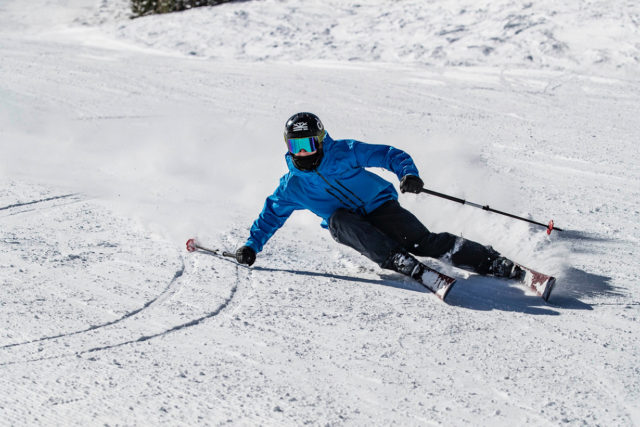 We got our hands on the Pagoda Piste 100 C2 right as everything shut down due to COVID-19, so our on-snow testing will have to wait till the snow starts falling again. But for now, we wanted to dive into both this new construction, and the new ski itself.
What DPS says about their Pagoda Piste construction
"Pagoda Piste: hard and mixed snow conditions are easily tamed with our all-new method of integrating core, sidewall, and laminates into one cohesive element that optimizes overall performance.
Fabricated with two hard wood species of disparate densities and grain orientations, along with innovative new sidewall technology, our R+D team engineered an inventive new method of horizontally combining these elements to produce a supremely damp and stable platform. With 15 years of learnings to draw upon, we created a momentous breakthrough in on-snow feel that combines both excitement and liveliness, with simultaneous dampness and control. High-speed carbon ski technology is here."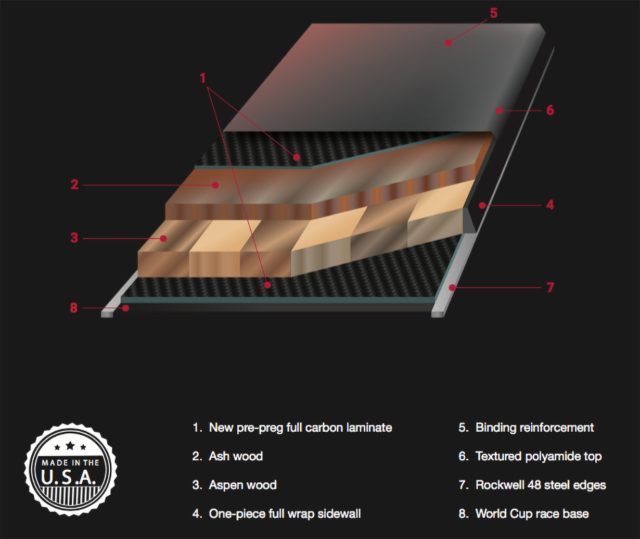 There's a lot to digest here, but for starters, it's worth quickly going over how most ski's wood cores are traditionally constructed. For all the skis that I know of, their wood cores consist of a series of vertically laminated wood "stringers." I.e., going from one edge of the ski to the other edge, you'd pass over multiple different stringers that are laminated together, with just about every stringer running the full length of the ski (this sort of construction is shown in the bottom layer of the wood core in the graphic above).
The Pagoda Piste (and Pagoda Tour) construction literally adds another level to the wood core. The bottom layer consists of traditionally vertically laminated aspen and ash stringers, but then there's a sheet of ash that's horizontally laminated over those stringers. The name "Pagoda" stems from the Pagoda building design of Asia, which features multiple tiers of horizontal roofs.
On paper at least, the very interesting thing about this approach is simply that I haven't seen it used on other skis, so I'm very curious how it affects the on-snow feel. DPS says that the two layers of the wood core help dissipate vibrations between the top and bottom carbon layers that sandwich the wood cores. We at Blister are notoriously skeptical of bold claims about any sort of new tech, but at the very least, I'm excited to try it.
On that note about carbon, the Pagoda Piste skis feature what DPS calls a "new pre-preg full carbon laminate" above and below the wood core. DPS has been using a variety of pre-preg carbon laminates over the years, so they definitely have some experience with those.
DPS also used a 1-piece, full-wrap sidewall in the Pagoda Piste skis that's reportedly "fully integrated into the core" to add more stability and damping. The skis also feature the brand's standard 48 Rockwell steel edges, sintered "world cup race base," and textured polyamide top sheet. All of the Pagoda Piste and Pagoda Tour skis are made in the USA.
As for what DPS is actually claiming about the Pagoda Piste, well, they're some big claims. The new construction is supposed to make the skis both lively and damp, two qualities that are not always, but often mutually exclusive to a certain degree. The Pagoda Piste construction is also supposed to be more damp than the brand's previous top-end construction, Alchemist. While these skis have a lot to live up to, we have been impressed by DPS's previous carbon constructions in the past, so we're always curious to see how far they can push the performance of lighter-weight, carbon-laminate skis.
It's also worth noting that many of their Alchemist and Foundation skis are returning for 20/21, in addition to the new Pagoda Piste and Pagoda Tour skis.
What DPS says about the Pagoda Piste 100 C2
"While the 100 C2's wider platform shows an obvious bias towards soft snow, the longer effective edge (than that found on its RP counterparts) provides excellent stability in a full range of conditions. Whether taking on a few inches of early morning fresh powder or late day resort chop, this reliable tool provides a blend of power and control."
Like most ~100mm-wide skis, DPS is emphasizing the versatility of Pagoda Piste 100 C2, which makes sense, given the waist width and overall design. Nothing really out of the ordinary here.
As for their notes about C2 vs. RP, for reference, DPS's "C2" skis feature longer effective edges, longer sidecut radii, and shallower rocker lines to create more of an emphasis on high-speed stability. The "RP" skis (e.g., the classic DPS Wailer 112) feature shorter effective edges / deeper taper lines, deeper rocker lines, and shorter sidecut radii, to create skis that emphasize maneuverability and playfulness.
Shape / Rocker Profile
Particularly compared to the dramatically tapered "RP" skis in DPS's lineup, the Pagoda Piste 100 C2 has a fairly moderate overall shape. It features more tip and tail taper than some other 100mm-wide skis like the Volkl Mantra 102 and Nordica Enforcer 100, but its shape is in line with several other skis in this class like the Salomon QST 99, 4FRNT MSP 99, and Liberty Origin 96.
The Pagoda Piste 100 C2 has a fairly shallow tip rocker line, a pretty average tail rocker line, and slightly higher-than-average tail splay for a directional ski of this width.
Overall, the Pagoda Piste 100 C2's shape and rocker profile make us excited about its firm- and soft-snow versatility, particularly given our positive experiences with the similar-looking DPS Foundation Cassiar 94 C2.
Flex Pattern
Here's how we'd characterize the flex pattern of the 189 cm Pagoda Piste 100 C2:
Tips: 8.5
Shovels: 8-8.5
In Front of Toe Piece: 9-9.5
Underfoot: 10
Behind the Heel Piece: 10-9
Tails: 8.5-9
Many of DPS's recent Alchemist skis that we've tested have been very, very stiff. The 189 cm Pagoda Piste 100 C2 is also a very stiff ski, though its shovels and tails are just a tiny bit softer than, say, the 189 cm DPS Alchemist Wailer 106 C2.
Overall, the Pagoda Piste 100 C2 is stiffer than many of its competitors, with a flex pattern that's fairly similar to the Volkl Mantra 102, Fischer Ranger 99 Ti, and Fischer Ranger 102 FR. While the stiff Alchemist skis we tested were not the most forgiving of mistakes, since their flex patterns were consistently stiff (i.e., not soft in front and super stiff just in back), we did find them more forgiving and intuitive than we would've guessed simply by hand-flexing them.
Sidecut Radius
DPS talks about their C2 skis featuring longer sidecut radii, though it's worth noting that they're not extremely long. The 189 cm Pagoda Piste 100 C2's stated sidecut radius is 19 meters, which is pretty middle-of-the-road for a ski in this class, and should equate to pretty good turn-shape versatility.
Mount Point
Like many of DPS's recent skis, the Pagoda Piste 100 C2 has a very traditional, rearward mount point of a little over 11 cm behind true center. As such, we expect it to encourage a more traditional, forward, driving-the-shovels stance.
Weight
Like most of DPS's skis (apart from the Foundation Koala 119), the Pagoda Piste 100 C2 is pretty lightweight. It's not absurdly light by any means, given that many skis these days are coming in similarly light. At an average measured weight of 2041 g per ski for the 189 cm version, the Pagoda Piste 100 C2 comes in at a similar weight to the Head Kore 99, Dynastar M-Pro 99, and Liberty Origin 96. On the other end of the spectrum, there are far heavier skis like the Volkl Mantra 102 and Nordica Enforcer 100, so we're curious to see where the Pagoda Piste 100 C2 slots in terms of damping and stability.
[Note: The pair of the Pagoda Piste 100 C2 we got was a pre-production sample, so we had DPS weigh a few production pairs to get the average measured weight. Before we get on snow, we'll be getting a production pair and will add our own measured weight.]
For reference, here are a number of our measured weights (per ski in grams) for some notable skis. Keep in mind the length differences to try to keep things apples-to-apples.
1629 & 1684 Elan Ripstick 96, 180 cm (17/18–19/20)
1734 & 1750 Renoun Endurance 98, 184 cm (18/19–19/20)
1807 & 1840 Atomic Bent Chetler 100, 188 cm (18/19–20/21)
1863 & 1894 Blizzard Rustler 9, 180 cm (18/19–20/21)
1894 & 1980 Black Crows Daemon, 183.6 cm (17/18–19/20)
1896 & 1919 Dynastar Legend X96, 186 cm (18/19–19/20)
1921 & 1968 Head Kore 99, 188 cm (18/19–19/20)
1925 & 1937 Liberty Helix 98, 186 cm (18/19–19/20)
1928 & 1933 Moment Commander 98, 178 cm (19/20)
1931 & 1932 DPS Foundation Cassiar 94, 185 cm (18/19–19/20)
1936 & 2013 Salomon Stance 96, 182 cm (20/21)
1937 & 1945 Fischer Ranger 94 FR, 184 cm (19/20–20/21)
1966 & 1973 Liberty Origin 96, 187 cm (18/19–19/20)
1976 & 2028 Parlor Cardinal Pro, 182 cm (19/20)
1985 & 2006 Parlor Cardinal 100, 185 cm (16/17–19/20)
1994 & 2011 Fischer Ranger 99 Ti, 181 cm (19/20–20/21)
1998 & 2044 4FRNT MSP 99, 181 cm (17/18–19/20)
2007 & 2029 Armada Invictus 99 Ti, 187 cm (18/19–19/20)
2041 (avg.) DPS Pagoda Piste 100 C2, 189 cm (20/21)
2049 & 2065 Volkl Mantra M5, 177 cm (18/19–20/21)
2050 & 2080 ON3P Wrenegade 96, 184 cm (18/19–19/20)
2053 & 2057 Atomic Vantage 97 Ti, 188 cm (18/19–19/20)
2062 & 2063 Rossignol Experience 94 Ti, 187 cm (18/19–20/21)
2078 & 2138 Black Crows Justis, 183 cm (20/21)
2085 & 2096 Dynastar Menace 98, 181 cm (19/20–20/21)
2097 & 2113 DPS Alchemist Wailer 106 C2, 189 cm (19/20–20/21)
2101 & 2104 Fischer Ranger 102 FR, 184 cm (18/19–20/21)
2114 & 2133 Nordica Enforcer 93, 185 cm (16/17–19/20)
2115 & 2149 J Skis Masterblaster, 181 cm (16/17–19/20)
2124 & 2137 Blizzard Bonafide, 180 cm (17/18–19/20)
2131 & 2189 Nordica Enforcer 100, 185 cm (15/16–19/20)
2218 & 2244 Volkl Mantra 102, 184 cm (19/20–20/21)
2222 & 2229 Dynastar Menace 98, 187 cm (19/20–20/21)
2233 & 2255 Nordica Enforcer 104 Free, 186 cm (19/20–20/21)
2256 & 2284 Nordica Enforcer 94, 186 cm (20/21)
2311 & 2342 K2 Mindbender 99Ti, 184 cm (19/20–20/21)
2324 & 2359 Kastle MX99, 184 cm (18/19-19/20)
2325 & 2352 Folsom Blister Pro 104, 186 cm (19/20)
2326 & 2336 Nordica Enforcer 100, 186 cm (20/21)
Some Questions / Things We're Curious About
(1) DPS is making some big claims about the performance benefits of their new Pagoda Piste construction, so our main question is how it'll actually feel on snow, and how much more damp and stable it'll be compared to similarly lightweight skis.
(2) On that note, how will the Pagoda Piste construction feel when compared to DPS's Alchemist construction?
(2) The Pagoda Piste 100 C2's shape and rocker profile look like they could help it perform well on both firm and softer snow, so will it feel like it has a strong preference between the two?
(3) Given its stout flex pattern, how demanding / punishing will the Pagoda Piste 100 C2 feel when you make a mistake?
Bottom Line (For Now)
Between the entirely new construction and new shapes, we're excited about DPS's 20/21 lineup. The Pagoda Piste 100 C2 looks like it has the potential to be a versatile all-mountain ski, with a construction that has a lot of hype behind it. We're planning on testing several of the new Pagoda Piste and Pagoda Tour skis during the upcoming North American winter, so stay tuned for updates.