Ski: 2021-2022 M-Pro 99, 186 cm
Test Location: Crested Butte, Colorado
Days Skied: 7
Available Lengths: 162, 170, 178, 186 cm
Blister's Measured Tip-to-Tail Length: 184.6 cm
Stated Weight per Ski: 2000 grams
Blister's Measured Weight per Ski: 2042 & 2062 grams
Stated Dimensions: 127-99-117 mm
Blister's Measured Dimensions: 126.7-97.4-116.3 mm
Stated Sidecut Radius (186 cm): 22 meters
Measured Tip & Tail Splay (ski decambered): 68 mm / 19 mm
Measured Traditional Camber Underfoot: 2.5 mm
Core: poplar/PU + partial titanal layer + fiberglass laminate
Base: sintered
Factory Recommended Mount Point: -12.2 cm from center; 80.1 cm from tail
Boots: Dalbello Lupo Pro HD, Head Raptor 140 RS, Nordica Strider 120
Bindings: Tyrolia AAAttack2 13 AT
[Note: our review was conducted on the 20/21 M-Pro 99, which was not changed for 21/22.]

Intro
In addition to their new, freeride-oriented M-Free line, Dynastar is launching an accompanying line of skis, the M-Pro line.
The M-Pro series serves as the more directional counterpart to the twin-tipped M-Free line, and follows a very long and storied history of Dynastar's directional all-mountain and big-mountain skis.
Many years ago, the Dynastar Legend skis had tons of fans (and still do) due to their excellent stability at speed. Dynastar maintained a version of those Legend skis, dubbed the Pro Rider, then the Legend Pro Rider, and now the M-Pro 105. Yep, the Pro Rider is back for 20/21, just with a new name and top sheet. But the Pro Rider's availability was very limited over the past few years, and Dynastar's "Legend X" series took over. The Legend X skis were very different — way more tapered, much lighter, and didn't really bear many similarities to the old Legend skis. For 20/21, Dynastar is ditching the Legend X skis in exchange for their new M-Pro line.
And Dynastar isn't just re-making their old skis. Apart from the M-Pro 105, the rest of the M-Pro lineup is brand-new and includes men's and women's versions of the M-Pro 84, M-Pro 90, and the ski we're reviewing, the M-Pro 99.
So, how similar is the new M-Pro 99 to the old, burly Dynastar skis, the recent, lightweight Legend X skis, and the rest of the market?
Construction
Just like the M-Free skis, the M-Pro 99 features an interesting construction. While it has a poplar wood core in the middle, a substantial portion of its core is made of polyurethane (PU). We've seen an increasing number of skis with PU sidewalls, claiming that it makes for a more damp ride, but few where this much of their core is comprised of PU.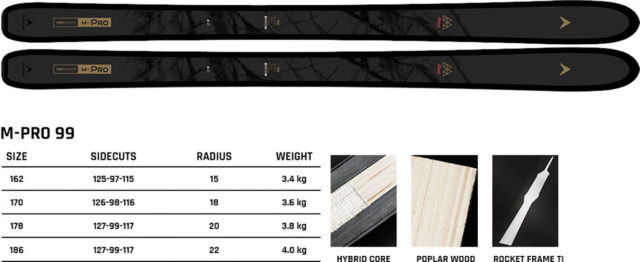 Unlike the M-Free skis, the M-Pro 99 adds a partial layer of titanal to its poplar / PU core. The titanal layer in the M-Pro 99 is somewhat reminiscent of those used in the Blizzard Rustler and K2 Mindbender series. The metal layer in the M-Pro 99 extends edge-to-edge around the bindings, but tapers as you move to the ends of the ski. Unlike the Rustlers, the M-Pro 99's metal sheet is asymmetrical — the M-Pro 99's titanal layer tapers to a sharp point in front of the bindings, but stays much wider behind the bindings. While several companies are now tweaking how they use metal in their skis to maximize the upsides of metal while minimizing the downsides, it's interesting that Dynastar's approach is essentially the opposite of K2's.
K2's Mindbender skis feature a very tapered section of metal behind the bindings, with the goal of making the tails easier to release. Dynastar does the opposite, with a wider sheet of metal behind the bindings and a narrow strip in front. We're curious to see how this plays out on snow, especially when it comes to how forgiving and loose the M-Pro 99's tail feels, and how precise its shovels feel.
Shape / Rocker Profile
When it comes to shape and rocker profile, the M-Pro 99 looks more similar to the Pro Rider than it does to the Legend X96. The M-Pro 99 is not nearly as tapered as the Legend X96, especially in the tail. The M-Pro 99 does have a more tapered shovel and tip than many of the directional skis in its class like the Volkl Mantra 102, Nordica Enforcer 100, and Blizzard Bonafide, but the M-Pro 99's shape is not as extreme as the Legend X96.
The M-Pro 99's rocker profile is fairly average these days. It has a moderately deep tip rocker line that splays out pretty abruptly (i.e., starts rising dramatically starting right at the contact point). The M-Pro 99's tip rocker looks very similar to the Nordica Enforcer 100.
The Legend X96 had a fairly shallow and quite flat tail rocker line, while the M-Pro 99 has a similarly shallow tail rocker line, but its tail "kicks up" a bit more at the end. As with the tip, the M-Pro 99's tail rocker line looks very similar to the Enforcer 100's.
Flex Pattern
Here's how we'd characterize the flex pattern of the M-Pro 99:
Tips: 6
Shovels: 6-7
In Front of Toe Piece: 8-9.5
Underfoot: 10
Behind the Heel Piece: 10-9
Tails: 9-8.5
This is one area where the M-Pro 99 isn't that similar to either the Pro Rider / M-Pro 105 or the Legend X96.
The Legend X96 was just super stiff throughout the entire ski. On the other hand, the Pro Rider's flex pattern is pretty moderate, with fairly soft shovels and a back-half that wasn't extremely stiff (especially for how stable that ski is).
The M-Pro 99 feels fairly similar to the Pro Rider in the tips and shovels, though the M-Pro 99's shovels don't stiffen up quite as quickly. Conversely, the M-Pro 99 is stiffer behind the bindings vs. the Pro Rider. The M-Pro 99 is softer just about everywhere when you compare it to the Legend X96.
The flex pattern of the M-Pro 99 is fairly similar to the 20/21 Nordica Enforcer 100, with the Enforcer 100 having slightly stiffer shovels and a slightly softer section behind the bindings. Overall, the M-Pro 99 is a ski with pretty accessible tips and shovels that are contrasted by a significantly stiffer area around and behind the bindings.
Mount Point
This is one thing that's stayed pretty consistent over the years across most of Dynastar's directional skis. Like the Legend X96 and Pro Rider, the M-Pro 99 has a very rearward mount point of around -12 cm from true center. While we've seen many companies push the mount points forward on their directional skis, Dynastar is not hopping aboard that train with the M-Pro 99.
Weight
The Legend X96 was a pretty light ski, the Pro Rider / M-Pro 105 is an extremely heavy ski, and the M-Pro 99 falls between.
The M-Pro 99 is significantly lighter than some of the more traditionally constructed skis in its class such as the Enforcer 100, Mantra 102, and Bonafide. But the M-Pro 99 is also a bit heavier than some of the lightweight, playful skis like the Atomic Bent Chetler 100, Liberty Origin 96, and Moment Commander 98.
So, while Dynastar hasn't made their new M-Pro skis monster trucks like the Pro Rider, they have moved slightly further away from the lightweight trend.
For reference, here are a number of our measured weights (per ski in grams) for some notable skis. Keep in mind the length differences to try to keep things apples-to-apples.
1629 & 1684 Elan Ripstick 96, 180 cm (17/18–19/20)
1734 & 1750 Renoun Endurance 98, 184 cm (18/19–19/20)
1807 & 1840 Atomic Bent Chetler 100, 188 cm (18/19–20/21)
1863 & 1894 Blizzard Rustler 9, 180 cm (18/19–20/21)
1894 & 1980 Black Crows Daemon, 183.6 cm (17/18–19/20)
1896 & 1919 Dynastar Legend X96, 186 cm (18/19–19/20)
1921 & 1968 Head Kore 99, 188 cm (18/19–20/21)
1925 & 1937 Liberty Helix 98, 186 cm (18/19–20/21)
1928 & 1933 Moment Commander 98, 178 cm (19/20)
1931 & 1932 DPS Foundation Cassiar 94, 185 cm (18/19–19/20)
1937 & 1945 Fischer Ranger 94 FR, 184 cm (19/20–20/21)
1966 & 1973 Liberty Origin 96, 187 cm (18/19–20/21)
1976 & 2028 Parlor Cardinal Pro, 182 cm (19/20–20/21)
1985 & 2006 Parlor Cardinal 100, 185 cm (16/17–20/21)
1994 & 2011 Fischer Ranger 99 Ti, 181 cm (19/20–20/21)
1998 & 2044 4FRNT MSP 99, 181 cm (17/18–19/20)
2007 & 2029 Armada Invictus 99 Ti, 187 cm (18/19–19/20)
2042 & 2062 Dynastar M-Pro 99, 186 cm (20/21)
2049 & 2065 Volkl Mantra M5, 177 cm (18/19–20/21)
2050 & 2080 ON3P Wrenegade 96, 184 cm (18/19–19/20)
2053 & 2057 Atomic Vantage 97 Ti, 188 cm (18/19–20/21)
2062 & 2063 Rossignol Experience 94 Ti, 187 cm (18/19–20/21)
2078 & 2138 Black Crows Justis, 183 cm (20/21)
2085 & 2096 Dynastar Menace 98, 181 cm (19/20–20/21)
2101 & 2104 Fischer Ranger 102 FR, 184 cm (18/19–20/21)
2114 & 2133 Nordica Enforcer 93, 185 cm (16/17–19/20)
2115 & 2149 J Skis Masterblaster, 181 cm (16/17–19/20)
2124 & 2137 Blizzard Bonafide, 180 cm (17/18–19/20)
2131 & 2189 Nordica Enforcer 100, 185 cm (15/16–19/20)
2170 & 2180 Dynastar M-Free 108, 182 cm (20/21)
2218 & 2244 Volkl Mantra 102, 184 cm (19/20–20/21)
2311 & 2342 K2 Mindbender 99Ti, 184 cm (19/20–20/21)
2324 & 2359 Kastle MX99, 184 cm (18/19-19/20)
2325 & 2352 Folsom Blister Pro 104, 186 cm (19/20)
2326 & 2336 Nordica Enforcer 100, 186 cm (20/21)
2603 & 2604 Dynastar M-Pro 105, 192 cm (16/17–20/21)
Some Questions / Things We're Curious About
(1) Given its very rearward mount point of -12 cm from center, should the M-Pro 99 only be considered by very directional skiers with good technique, or could less aggressive skiers get along with it?
(2) On that note, what happens when you move the bindings forward of the M-Pro 99's recommended line?
(3) The M-Pro 99 is not super heavy nor super light, but it does use an interesting construction. So how damp and stable will it feel vs. heavier and lighter options?
(4) While their weights and constructions are drastically different, the rest of the M-Pro 99's design looks fairly similar to the Pro Rider / M-Pro 105, so how similar will they feel? Is the M-Pro 99 a lighter, easier Pro Rider?
Bottom Line (For Now)
The Dynastar M-Pro 99 looks like a blend of Dynastar's classic and more modern all-mountain skis. The result is a more moderate design, with fairly subtle tail rocker and taper and a middle-of-the-road weight. But the M-Pro 99 also features a unique construction, so we're eager to spend more time on it comparing it to its competitors. Blister Members can check out our initial on-snow impressions in our Flash Review linked below, then stay tuned for our full review.
Flash Review
Blister Members can now check out our Flash Review of the M-Pro 99 for our initial impressions. Become a Blister member now to check out this and all of our Flash Reviews, plus get exclusive deals and discounts on skis, and personalized gear recommendations from us.
FULL REVIEW
The 2020-2021 season is an exciting one for Dynastar. Their new M-Free series has so far proven to fill a unique slot in the market of playful freeride skis, with the M-Free 108 being one of the most maneuverable and surfy skis we got on last season. The directional M-Pro skis are very interesting in their own right, and we think they could appeal to a pretty wide range of skiers. Jonathan Ellsworth and I both spent time on the new M-Pro 99 at Crested Butte this past season, so here we'll each add our thoughts on this versatile all-mountain ski.
Quick Note on Mount Point
Luke Koppa: I want to briefly provide some context about this ski's mount point. The M-Pro 99's recommended mount point is about -12.2 cm behind true center, which is quite far back compared to many skis today. As always, we started on the recommended line. But as someone who tends to like skis with more forward mount points, I soon tried the ski with the bindings at +2 cm and even +4 cm in front of the recommended line (about -10 cm and -8 cm from true center, respectively). The good news is that the ski still felt good overall from -12 to -8 cm, so if you're worried about having too much ski in front of you on this ski's recommended line, don't worry about messing up the ski by moving the bindings a few cm forward of that line.
Now let's dive into how it handled specific conditions:
Chalky Steeps
Luke (5'8", 155 lbs): I'm just gonna start with where I most enjoyed this ski — Crested Butte's steep, chalky terrain, in zones like the Headwall, Big Chute, and The Last Steep.
There are a lot of factors that go into what makes a great "steeps" ski, and lots of people have their particular preferences. For me, I look for skis with good suspension that don't feel harsh when I hit some snow that isn't quite perfect chalk. But I also like skis that are poppy and fairly nimble so that I can quickly hack my way down the mountain, making lots of shorter turns without feeling like I'm hauling around a pair of I-beams on my feet.
Despite being a more directional ski than I typically prefer, I had a ton of fun skiing the M-Pro 99 in steep terrain. I think that, for its weight, its suspension is definitely above average, to the point that I only really wanted to be on a heavier ski when the snow was fully refrozen and brutally firm. But this ski also produces a lot of energy and pop when you bend it, which made it easy to make a ton of shorter, yet aggressive turns down CB's Headwall — really driving the ski into each turn, spraying up a ton of snow, and often catching a bit of air at the exit of the turn.
I also liked that, despite the M-Pro 99 having a fairly stiff tail, I rarely found myself getting caught off guard and taken for a ride when I got backseat. This is by no means the ski I'd recommend to beginners looking to explore some steep terrain (I'd recommend something softer with more tip and tail rocker), but I think most directional skiers with decent technique will appreciate its blend of support and a relatively forgiving feel when they occasionally get off balance.
The final thing that I think makes the M-Pro 99 more appealing to me in steeps than many other skis in its class is its fairly tapered, rockered shovel. Personally, I don't love skis that aggressively pull me across the fall line when the terrain is steep, and those skis often have very wide, minimally tapered tips. The M-Pro 99 doesn't do that, and while it's not remotely close to the pivot-machine that the M-Free 108 is, I never once felt like the M-Pro 99 was "hooky" or yanking me into a turn more than I wanted.
Jonathan Ellsworth (5'10", ~175 lbs): The steeper the terrain, the less I personally care about a ski feeling "poppy" — instead, I'll go for "planted" and solid, in part because the steeper the terrain, the less energy I have to exert making hop turns, so I just want to know that when I do land / weight the ski, it's going to feel solid. (So, for me, it's actually on lower-angle lines where I like having a poppier, more rebound-producing ski.)
So while I don't think the M-Pro 99 offers best-in-class stability, I would say that it hits a pretty nice sweet spot for people who neither want a ski that feels too heavy or too light. These skis do not require a lot of input, and as Luke said, those tapered shovels never feel stuck in a turn or pull you harder into a turn than you might want.
For some reason, I keep thinking about the (now deceased) Rossignol Soul 7. Now to be clear, the Soul7 and the M-Pro 99 don't have a whole lot in common, and they aren't in the same category of ski. But their weight is similar. And if you asked me which of these two skis I would want to be on in steep terrain, I'd take the M-Pro 99 for sure since it offers that more solid-feeling platform than the Soul 7 without requiring a lot more energy and input to initiate turns.
Chop & Crud
Luke: I liked the M-Pro 99 in any sort of soft conditions for many of the same reasons I liked it in steep, chalky terrain. It's not hooky, it's stable at speed for its weight, and when there's a firm base I could reach under the softer snow, it was still easy to get some pop and life out of this ski when I was pushing it hard.
Now, to be clear, the M-Pro 99 is not a narrower M-Pro 105 (the ski formerly known as the Pro Rider). The M-Pro 105 uses a totally different construction, only comes in a 192 cm length, and is basically one of the very few current skis in this class that we'd unequivocally call a "charger."
The M-Pro 105 is a great ski for those who want something that blows through everything in its path, while the M-Pro 99 makes more sense for those of us who don't need a 2600g+ ski and would rather have something that's much quicker and more manageable at slower speeds.
In soft, low-density chop that wasn't super deep (<6"), I rarely found myself needing to hold back on the M-Pro 99. It tracked well, its tapered tips sliced through the snow, and I could drive it through the soft chop without noticing the ski deflecting very much.
If the chop was deeper or had settled to the point that it was nearing the "crud" designation, that's where I started to notice the M-Pro 99's lower weight and tapered tips. Unlike the M-Pro 105 or the numerous skis in this class that are heavier than the M-Pro 99, the M-Pro 99 does require a more strategic, calculated approach to ski fast in those more challenging conditions. If I tried to make big, fast turns through a field of dense chop / crud, I had a fairly hard time keeping the ski planted and tracking through the snow. Instead, like many skis this light, the M-Pro 99 felt better suited to skiing fast in the smoother sections of snow and then quickly shedding some speed before running into the more variable patches of snow.
As I noted above, I think the M-Pro 99's suspension is quite good for its weight — this ski does not feel "harsh" or particularly jarring on really nasty conditions. But there's no getting around the fact that it's not very heavy (~2052 g per ski for the 186 cm length), so it's far from the bulldozer of a ski that the M-Pro 105 is. But unlike the M-Pro 105, the M-Pro 99 is pretty easy to flick around when you do want to take it slow, particularly when you move the bindings a few cm in front of its recommended line.
Jonathan: Yep, I agree with all of this. And so if you get on this ski and then come back and complain that it isn't some total bulldozer, I swear that I'm going to come back and yell at you for your shitty reading comprehension.
The M-Pro 99 is not a straight-up charger. But if you'll forgive me for referencing the Soul 7 again, it wouldn't be terribly misleading to think of the M-Pro 99 as a narrower Soul 7 with a more directional mount point and more stability.
Luke: FWIW, I never once thought of the Soul 7 while skiing the M-Pro 99. While they're similar in terms of weight, the M-Pro 99 feels a lot more secure / precise on edge, not nearly as dead-easy to throw sideways, and overall like a more substantial ski. I do agree with Jonathan in that the M-Pro 99 is not a charger, but the Soul 7's looser, even quicker feel vs. the M-Pro 99 meant that it never came to mind while I was skiing the M-Pro 99.
Groomers
Luke: This was one of the bigger surprises for me. While the M-Pro 99 does not pull you into a turn like, say, the Volkl Mantra M5, the M-Pro 99 felt really solid and powerful on edge. The 186 cm version's 22-meter stated sidecut radius feels pretty accurate, so once I got enough speed going to make GS-sized turns, I was very impressed by how hard I could lay over this ski and how much I could trust it to not wash out on me. And, once again, it managed to do a good job of smoothing out the rougher, more cut-up snow on groomers while still creating some rebound out of a turn.
The M-Pro 99 does not feel like a fat carving ski in terms of turn initiation, but it is by no means bad or boring on groomers and I definitely prefer carving it vs. the previous Dynastar Legend X96.
Jonathan: Agreed.
Moguls, Trees, & Tight Terrain
Luke: A lot of what I said about steeps applies here. The M-Pro 99 is a fairly manageable ski in tight spots and can be a really fun, exciting one if you've got pretty good technique.
It came as no surprise to me, looking at its mount point, that the M-Pro 99 required a more forward stance to quickly work through tight bump lines and trees. I didn't have to put quite as much pressure on its shovels when I had it mounted at -10 or -8 cm from true center, but the M-Pro 99 is not a ski that you can easily pivot from a centered stance (e.g., M-Free 108). With a good, forward stance though, the M-Pro 99 feels very easy to pivot compared to many of its similarly directional counterparts.
While you don't need to be skiing super hard on this ski to enjoy it in tight spots, I do think the M-Pro 99 becomes more fun the harder you ski it and the more you take advantage of its fairly lively flex pattern. Similar to what I've said about the Kastle FX106 HP and K2 Mindbender 116C, the M-Pro 99 inspired me to ski with what I'd describe as an "aggressive, dynamic style;" ram its shovels into the trough, bend and load up the ski, and air into the next mogul.
Who's It For?
Luke: Directional skiers with decent technique who like to spend a lot of time off piste and who prioritize maneuverability, quickness, and energy over maximum high-speed stability.
If you loved the old Dynastar Legend skis (or similarly heavy chargers) for their extremely damp, composed feel at speed, you'd be much better off on the M-Pro 105 than the M-Pro 99. And if you want your all-mountain skis to offer the instant turn initiation and edge hold of narrower carving skis, I'd look to skis with less tapered shapes (see the "All-Mountain – More Stable" section of our Winter Buyer's Guide). And then if you like to ski with a centered stance, throw tricks, or otherwise want a very playful ski, there are tons of skis that will work better (including the Dynastar M-Free 108 and Menace 98).
But if you tend to do a good job of keeping your weight over the front of your skis, the M-Pro 99 is a versatile all-mountain ski that rarely feels out of place and offers a very nice blend of stability, suspension, and maneuverability. It's not the most damp ski, but it does a good job of smoothing out rough snow for its weight and it's still pretty stable compared to the whole market of all-mountain skis. And while it's not as nimble as some of the much lighter skis of today, the M-Pro 99 feels notably less sluggish than its heavier, more stable counterparts.
The people that I think will appreciate the M-Pro 99 the most are those technically proficient skiers who like to push their skis hard, but who also like to occasionally get their skis off the ground or otherwise ski in fairly dynamic / active style.
Jonathan: Yep. Which is to say, if you ski with more power than precision, more force than finesse, the less confident I am that you will love this ski — and especially the heavier you are. (I.e., if you love strong skis and you weigh 210 – 250+ lbs, I think you should be looking elsewhere.)
But bigger guys who like a livelier ski should not rule the M-Pro 99 out. And the lighter you are, the more I think this is true if the other attributes of this ski sound compelling to you.
Bottom Line
Dynastar's directional freeride skis from the past few years had been suited to a fairly niche market, but the new M-Pro 99 is a ski that we think many people could enjoy. It's pretty damp, yet also lively and not sluggish. It holds an edge very well, yet it is easier to pivot and slide through tight spots than several skis in its class. You can push it hard, but it's not very demanding. If you're a directional skier who likes the sound of it, we'd definitely recommend trying a pair.
Deep Dive Comparisons
Become a Blister Member or Deep Dive subscriber to check out our Deep Dive comparisons of the M-Pro 99 to see how it compares to the Dynastar M-Pro 105 / Pro Rider, Dynastar M-Free 108, Dynastar Legend X96, Salomon QST 99, Moment Commander 98, Nordica Enforcer 100, Blizzard Bonafide, Volkl Mantra M5, 4FRNT MSP 99, Fischer Ranger 99 Ti, Volkl Mantra 102, Fischer Ranger 102 FR, Liberty Origin 96, K2 Mindbender 99Ti, J Skis Masterblaster, & Blizzard Rustler 9.