Ski: 2019-2020 Moment Commander 98, 178 cm
Test Location: Crested Butte, Colorado
Days Skied: ~18
Available Lengths: 168, 178, 188 cm
Blister's Measured Tip-to-Tail Length: 177.1 cm
Blister's Measured Weight per Ski: 1928 & 1933 grams
Stated Dimensions: 128-98-113 mm
Blister's Measured Dimensions: 127.7-98.0-114.6 mm
Stated Sidecut Radius (178 cm): 19.5 meters
Measured Tip & Tail Splay (ski decambered): 62 mm / 26 mm
Measured Traditional Camber Underfoot: 5 mm
Core: aspen/ash + titanal (2-layers) + carbon stringers + fiberglass laminate
Base: sintered 4001 Durasurf
Factory Recommended Mount Point: -7.85 cm from center; 80.7 cm from tail
Boots / Bindings: Dalbello Lupo Pro HD, Dalbello Lupo SP I.D., Atomic Hawx Ultra 130S / Tyrolia AAAttack2 13 AT

Intro
Last year we reviewed the first iteration of the Moment Commander 98. The Commander series makes up Moment's "Freeride" skis, with more directional designs than many of their other skis. The Commander 98, 108, and 118 also have two layers of titanal included in their construction.
We found the first Commander 98 to be a lively, strong, and fairly playful ski — especially for a directional, metal-laminate ski. I really liked the first Commander 98, but there was also room for improvement, on our minds.
Moment decided to tweak the Commander 98 & Commander 108 for the 19/20 season, and we've been spending time on the 19/20 versions of both skis (as well as the big Commander 118). Blister Members can check out our Flash Review of the Commander 98 for our initial on-snow impressions, and then here we're going over the design of the new Commander 98, how it compares to the old version, and how it slots into the current market.
What Moment says about the Commander 98
"The Commander 98 is here to fill your void. Not that void. We mean the void that can only be filled with velocity—the kind that first drains your adrenal gland, then sends you back out on the street to sell your body for more. And with a full aspen/ash core sandwiched between two sheets of top-grade Austrian Titanal, there's no question this ski can handle as much speed as you can. Get caught in the trees, and you'll understand why we gave the Commander a versatile, dual-radius sidecut—it lets this would-be straightline machine slash and twist out of almost any situation. But be warned: when it comes to getting your passholder privileges back, that's on you."
Moment's description of the Commander 98 hasn't changed too much since last year — the Commander 98 is still supposed to be quite stable at speed, yet also nimble in tighter terrain. The old Commander 98 was definitely a quick ski, but its lack of weight meant that it was not all that damp (particularly compared to other metal-laminate skis in this category). But some of the changes made to the 19/20 Commander 98 make it look like it could better fit Moment's description.
Shape / Rocker Profile
The changes here are quite subtle. The shape of the Commander 98 is nearly identical to the previous version — the ski still has a lot of tip and tail taper compared to other directional skis.
The rocker profile of the Commander 98 saw more substantial changes. The tip rocker line is similarly deep, and still quite deep for a directional ski in this width. The new Commander 98's tail rocker line is a bit shallower, and the 19/20 Commander 98 now has more tip splay and less tail splay. I'm on board with all of those changes.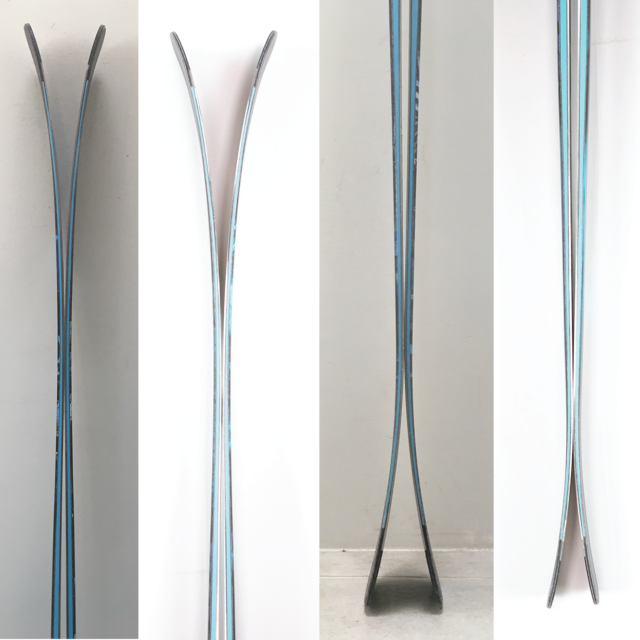 The first Commander 98 had a pretty low tip and a fairly high tail. The tail rocker & tail splay made the ski quite easy to pivot, but the lower tail on the new version should help it finish turns slightly more powerfully. And then the new Commander 98's higher tip should help it plane in soft snow slightly better, which would be a plus since the old Commander 98 did not do great in deeper conditions.
Moment's CEO, Luke Jacobson, also said on our GEAR:30 podcast that they added a bit more camber to the 19/20 Commander 98 & 108, and our pair of the 19/20 Commander 98 has slightly more camber (5 mm vs. 4 mm).
For reference, here are our measured specs for the tip splay / camber underfoot / tail splay for the old and new Commander 98:
18/19 Commander 98, 178 cm: 48 mm / 4 mm / 35 mm
19/20 Commander 98, 178 cm: 62 mm / 5 mm / 26 mm
All in all, the Commander 98 is still one of the more rockered and more tapered skis in the ~98mm-wide, directional category.
Flex Pattern
Here's how we'd characterize the flex pattern of the Commander 98:
Tips: 8.5
Shovels: 9
In Front of Toe Piece: 9-9.5
Underfoot: 9.5
Behind the Heel Piece: 9.5-9
Tails: 9-8.5
Not a whole lot of change here. The new Commander 98's shovel and some of its tail feel slightly stiffer than the first version of the ski, but the difference feels very subtle during our hand flex.
The new Commander 98 is still a very strong ski, but is also still has a very round, almost symmetrical flex pattern. The tips and tails feel just about identical in terms of stiffness, and there's a smooth ramp up to the middle of the ski where it gets a bit stiffer. But there's no part of the Commander 98 that's particularly soft.
I really liked the flex pattern of the first Commander 98, so I'm excited to see that they didn't move very far from that flex pattern with the new version of the ski.
Mount Point
Our pair of the new Commander 98 still has a recommended mount point of around -8 cm from true center, though Moment told us we should definitely try it mounted around -6 cm. They said most people have been liking it at -6, so we'll be skiing it at a variety of mount points.
Both of those lines are fairly far forward for a directional, metal-laminate ski, and particularly the -6 cm line. We found that we could ski the old Commander 98 forward or centered, and we expect the same of the new version.
Weight
This is one of the most notable changes for the 19/20 Commander 98. The new ski is heavier — about 160 grams heavier per ski on our pairs of the 178 cm versions. The old Commander 98 was very, very light for its size and construction (i.e., two layers of metal). The new Commander 98 is still far from some heavy tank of a ski, but its weight doesn't stand out nearly as much as the old ski's did. There are plenty of heavier skis in its class, but with its heavier weight, the Commander 98 is now heavier than some of its competition.
For reference, here are a number of our measured weights (per ski in grams) for some notable skis. Keep in mind the length differences to try to keep things apples-to-apples.
1629 & 1684 Elan Ripstick 96, 180 cm (17/18–19/20)
1734 & 1750 Renoun Endurance 98, 184 cm (18/19–19/20)
1758 & 1774 Moment Commander 98, 178 cm (18/19)
1807 & 1840 Atomic Bent Chetler 100, 188 cm (18/19–19/20)
1863 & 1894 Blizzard Rustler 9, 180 cm (18/19–19/20)
1894 & 1980 Black Crows Daemon, 183.6 cm (17/18–19/20)
1896 & 1919 Dynastar Legend X96, 186 cm (18/19–19/20)
1921 & 1968 Head Kore 99, 188 cm (18/19–19/20)
1925 & 1937 Liberty Helix 98, 186 cm (18/19–19/20)
1928 & 1933 Moment Commander 98, 178 cm (19/20)
1931 & 1932 DPS Foundation Cassiar 94, 185 cm (18/19–19/20)
1937 & 1945 Fischer Ranger 94 FR, 184 cm (19/20)
1966 & 1973 Liberty Origin 96, 187 cm (18/19–19/20)
1985 & 2006 Parlor Cardinal 100, 185 cm (16/17–19/20)
1994 & 2011 Fischer Ranger 99 Ti, 181 cm (19/20)
1998 & 2044 4FRNT MSP 99, 181 cm (17/18–19/20)
2007 & 2029 Armada Invictus 99 Ti, 187 cm (18/19–19/20)
2049 & 2065 Volkl Mantra M5, 177 cm (18/19–19/20)
2050 & 2080 ON3P Wrenegade 96, 184 cm (18/19–19/20)
2053 & 2057 Atomic Vantage 97 Ti, 188 cm (18/19–19/20)
2062 & 2063 Rossignol Experience 94 Ti, 187 cm (18/19–19/20)
2085 & 2096 Dynastar Menace 98, 181 cm (19/20)
2101 & 2104 Fischer Ranger 102 FR, 184 cm (18/19–19/20)
2114 & 2133 Nordica Enforcer 93, 185 cm (16/17–19/20)
2115 & 2149 J Skis Masterblaster, 181 cm (16/17–18/19)
2124 & 2137 Blizzard Bonafide, 180 cm (17/18–19/20)
2131 & 2189 Nordica Enforcer 100, 185 cm (15/16–19/20)
2218 & 2244 Volkl Mantra 102, 184 cm (19/20)
2233 & 2255 Nordica Enforcer 104 Free, 186 cm (19/20)
2311 & 2342 K2 Mindbender 99Ti, 184 cm (19/20)
2324 & 2359 Kastle MX99, 184 cm (18/19-19/20)
Bottom Line (For Now)
The new Moment Commander 98 is still a pretty tapered, rockered, and strong 98mm-wide ski, but its heavier weight and tweaked rocker profile look like they could make the new ski more versatile than the previous iteration. Blister Members can check out Flash Review for our initial on-snow impressions, and then stay tuned for our full review later this season.
Flash Review
Blister Members can now check out our Flash Review of the Commander 98 for our initial impressions. Become a Blister member now to check out this and all of our Flash Reviews, plus get exclusive deals and discounts on skis, personalized gear recommendations from us, and much more.
FULL REVIEW
Luke Koppa (5'8", 155 lbs): I've now spent several days on the updated 178 cm Commander 98, and we've had a few other reviewers hopping on it as well. Personally, I really liked the old Commander 98, but found it a bit lacking in terms damping and stability for a ~98mm-wide, metal-laminate ski, so I was excited to see if Moment's updates addressed that — without losing much of what I loved about the previous version. And overall, I'd say they accomplished that.
Firm Chop / Crud
Luke: At Crested Butte, when we ski off piste and it hasn't snowed in a while, we usually encounter a very variable mix of firm and soft — consistently inconsistent snow. And personally, this is where I really love the Commander 98.
To be clear, it wouldn't be my top pick for truly awful, refrozen crud; I'd opt for something much heavier and less tapered in that scenario. But for firmer, edgeable snow that's not brutally rock-solid, I really like this ski.
A big part of this is due to the Commander 98's combination of suspension and maneuverability. This ski does a pretty good job of smoothing out rough snow, but it's also a very quick and nimble ski. Since I rarely find myself skiing super fast in these conditions, I love how the Commander 98 lets me make last-second adjustments mid-line while still not feeling terribly harsh when the snow is cruddy. Usually, I can find one of these characteristics in a single ski, but the Commander 98 gives me a bit of both. Compared to the previous version, I'd say there is a noticeable, positive difference in the suspension / damping of the new Commander 98.
To be clear — those who mostly want a ski that's going to blow right through everything should look to heavier, less tapered and rockered skis. There are plenty of skis in this class that are better for that than the Commander 98, especially if you prefer to carve through these conditions rather than slash and slide your way through them. But if your tactic for when conditions suck is to make a lot of smaller, quicker turns, the Commander 98 is really good at that. And especially for when Crested Butte's steeps get chalky — snow that's easy to dig into but also supportive and not punchy — there are few skis I'd personally rather be on than the Commander 98.
Jonathan Ellsworth (5'10", ~175 lbs): So while Luke really likes this ski … I really hate it. And I suspect that will make this review quite helpful for all of you reading this.
Now Luke Koppa already knows that I dislike this ski, so I see that he's done a particularly good job in defining what this ski does and does not do. So my work here will be pretty easy.
And a lot of my dislike boils down to the fact that I just don't want this much tip and tail taper in a ski that's this light and this narrow (~98 mm). For me, if I'm going sub-100mm-wide, I will be using this ski when conditions are not terribly forgiving, but generally pretty tricky. And of all the ~98-mm-wide skis on the market, there are many better options for this, in my opinion.
Now, that said, I really don't disagree with anything that Luke wrote above. So you can take what he has to say and what I have to say and then (drumroll, please…) you need to Know Thyself, and figure out where you want your 98mm-wide ski to shine.
So to take this a bit further: the more forgiving and smooth the snow is, the more I like this ski. So on softer, smooth groomers? Sure! Good chalk? Sure! Soft moguls? These are as quick as Luke says they are.
So if you tend to be on much skinnier skis when skiing off piste in very firm conditions, and your 98mm-wide ski is actually your "good" conditions ski … then the more attention you should pay to what Luke has to say rather than me.
But especially in firm crud and chop, give me more weight, more length, and less tip and tail taper, por favor.
Soft Chop
Luke: The old Commander 98 struggled a bit in chop due to a few things. It was very lightweight, it had a very tapered shape, and it did not have much tip splay. The new Commander 98 is different in two of those regards, but similar in the other.
The new Commander 98, with its higher tip, planes better in softer snow than the older version and I've found myself feeling more confident on it when skiing fast through deeper, soft chop. The new version feels less inclined to get bogged down in soft snow. The new version's heavier weight also helps a little bit in soft chop in that the ski feels slightly less prone to get knocked off track at speed.
[Jonathan: Agreed.]
But the Commander 98 is still a pretty tapered ski and, especially in the 178 cm length we've been reviewing, I've found myself having to focus more on pressuring its tips to keep them from getting knocked across the fall line when skiing through softer, deep snow. I've noticed this on many of the looser and lighter skis I've been on recently — more tapered skis like the Commander 98 don't do as good of a job of tracking true through inconsistent snow as their less tapered counterparts. Instead, they feel like they want to go sideways in softer, denser snow, so I find myself having to concentrate more on driving them down the fall line, rather than across it.
[Jonathan: I find myself just getting angry.]
This is something I've adjusted to and I can still comfortably ski through soft chop quite fast on the Commander 98, but I tend to make more turns and slashing and burning speed more often than I would on something with a longer effective edge (or just longer length in general). So again, if you want your skis to be able to just blast through crud and chop with little input needed on your end, the Commander 98 is probably not for you. But if you prefer to be the pilot, rather than your skis handling that job the Commander 98 is much more appealing. Bouncing from patch of snow to patch of snow on this ski is a blast since it feels so quick and maneuverable, and as long as I stay over the front and drive it, the Commander 98 can be pushed quite hard in soft snow.
Jonathan: Yep, I agree with all of this. And just to underscore the point, to ski these hard and fast in chopped-up snow, you just really need to have a very active and dynamic style. And such a style can definitely be fun, but for me personally, this particular ski feels a bit short for this type of skiing … even though there are a number of ~178-182 cm long skis of this width that I really like in soft chop.
Groomers
Luke: The new Commander 98 feels very similar to the old version on piste, with the main difference being stability and damping.
Like the previous version, the new Commander 98 does not pull you into a turn and across the fall line. Instead, it just wants you to get some speed going and you can then lay it over from a fairly centered stance. There are lots of skis in this class that are better for actually carving ice, but the Commander 98's edge hold is predictable on very firm snow, and it can be really fun when the groomers are somewhat soft.
One thing I love with the new Commander 98 is that, while it's more damp than the previous version, it definitely hasn't lost all of its energy. On fresh corduroy or soft-ish groomers, I can still get a ton of pop out of this ski when carving it. And at least for me, I find it super fun when I can get some life and rebound out of a ski without having to focus entirely on bending the crap out of its shovels. While it's pretty stiff, I found myself pretty easily bending the Commander 98 on piste from a fairly neutral stance. And when I did, the ski predictably pushed back and sent me rocketing into the next turn.
The Commander 98 is also still quite versatile when it comes to turn shapes. I can bend it into turns smaller than GS size, but I've never felt like it was fighting me (i.e., hooking up and pulling across the fall line) when making Super G turns. And switching between turn shapes is intuitive and easy — all it takes is a bit of pressure on my toes to release the tail, shed some speed, and get the ski into some tighter turns.
So, in summary, the Commander 98 is not the best ski in its class for extremely firm conditions, but it can be a ton of fun on edgeable groomers, especially if you like to feather your turns and appreciate a ski with some pop.
Moguls, Trees, & Tight Terrain
Luke: I love the Commander 98 in tight spots. It's super easy to pivot and slide, it's light and quick, and it's strong without feeling super punishing.
Especially compared to other metal-laminate skis in this class, I think this is a big area where the Commander 98 stands out. What makes it less stable in rough conditions makes it much more maneuverable in tight terrain.
The Commander 98 is a pretty stiff ski and I wouldn't recommend it to beginners or intermediate skiers who are prone to backseat skiing in bumps. But for those who like to ski bumps and trees quickly, the Commander 98 can be really fun. It's super easy to release the tails and shed speed, it has a really low swing weight, and I think its pretty-stiff-but round, symmetrical flex pattern could feel great to more experienced skiers who appreciate a strong ski but who also frequently shift their stance around in tight spots (i.e., me).
On crazy firm bumps, I'd opt for something a bit heavier and less tapered that's less prone to getting knocked around. And in bumps and trees with very deep snow, I'd want something bigger overall. But for everything in between, the Commander 98 encourages an aggressive-yet-active style. Very easy to flick around and slarve, but strong enough to push hard.
Jonathan: Mostly, for bump skiing, I think I'm a bit caught between lengths for this ski. The 178 feels a bit too short, but for really tight bumps, I don't always (or often) want to deal with a stiffer, 188cm-long, 98mm-wide ski. But if one of the Commander 98's sizes looks or feels like a good fit for you, well then lucky you.
Playfulness
Luke: The Commander 98 is far from a freestyle ski (Moment makes a bunch of skis for that purpose), but it is very playful for a directional, metal-laminate ski. And, as with the last version, that's a big part of why I like it much more than most of its competition.
The Commander 98 is a pretty loose ski, it's super poppy, it's very light in the air, and you can ski it pretty centered. All of that makes it much more playful than its metal-laminate compadres.
That said, this ski does not have a very symmetrical shape or rocker profile, it lacks a true twin tip, and it's pretty strong. Those who are trying to maximize performance in the air and when going backward have much better options (see the "All-Mountain Freestyle" section of our Winter Buyer's Guide). But for directional skiers who like to slash their way around the mountain, get in the air often, and who often find most directional, metal-laminate skis too boring, the Commander 98 warrants your attention.
Mount Point
Luke: I've spent most of my time on the Commander 98 with it mounted on the recommended line (around -8 cm from true center) and that's become my favorite mount point. But since many of Moment's athletes and employees are skiing it mounted at -6 cm, I've also tried it there.
At -6 (2 cm in front of the recommended line), the Commander 98 feels more balanced in the air and more playful overall. But it also feels a bit shorter (there's obviously less ski in front of you) and the strong tail is more noticeable. Given that the 178 cm version is already on the shorter end of the spectrum for me and I just really like it mounted on the line, I'm — surprisingly — finding myself sticking to the recommended line. But if you're coming from more center-mounted skis, just know that the Commander 98 skis fine with the bindings a bit in front of its line.
Who's It For?
Advanced and expert skiers who prioritize quickness and playfulness over high-speed stability and precision.
The Commander 98 is not for those people who love skis that really pull them into a turn, skis that just blow through everything in their path, or skis that feel like they want to carve through everything. If that sounds like you, I'd recommend checking out the "All-Mountain More Stable" and "All-Mountain Chargers" sections of our Winter Buyer's Guide.
But if you want a pretty strong and fairly damp ski, don't care too much about those things in the paragraph above, and instead want a ski that lets you quickly adjust to changing terrain and speeds, the Commander 98 deserves a look. It's a pretty damp ski, but it's also super easy to flick and slash around. It's strong, but its flex pattern is pretty symmetrical and you can ski it neutral when you want.
In the end, I think (and Jonathan agrees) that the ideal skier for the Commander 98 is the person who has an "aggressive yet dynamic style." It really comes alive when you push it, but it's very far from a ski that only wants to make big turns all the time.
Bottom Line
The current Moment Commander 98 takes much of what some of us liked about the previous version and adds some stability and versatility. While it lacks the inherent stability of some of the other ~98mm-wide, metal-laminate skis out there, the Commander 98 beats many of them when it comes to quickness and maneuverability, making it an interesting option in this category.
Deep Dive Comparisons
Become a Blister Member or Deep Dive subscriber to check out our Deep Dive comparisons of the Commander 98 to see how it compares to the Fischer Ranger 99 Ti, Nordica Enforcer 100, Fischer Ranger 102 FR, Salomon QST 99, K2 Mindbender 99Ti, Volkl Mantra M5, Blizzard Bonafide, Volkl Mantra 102, 4FRNT MSP 99, J Skis Masterblaster, Blizzard Rustler 9, Liberty Origin 96, ON3P Wrenegade 96, Atomic Vantage 97 Ti, Renoun Endurance 98, & Dynastar Legend X96.