La Sportiva Kaptiva
Test Locations: Gunnison-Crested Butte Valley & Boulder, Colorado
Test Duration: ~500 miles
Stated Heel to Toe Drop: 6 mm
Stack Height: 17 mm (heel); 11 mm (forefoot)
Stated Features:
TRUST-FIT® shape cradles your foot for a precise and comfortable fit while reducing foot slippage.
SLIP-ON construction with knit fabric reduces the overall volume for an optimized and performance oriented fit and super-clean look.
Flex-Grooves in the outsole facilitate the perfect flex while the 1.5mm EVA rock-guard in the forefoot & heel protect from rocks and roots.
STB control inserts provide torsional stability regardless of the technical terrain you may encounter.
MSRP: $139.00
Reviewer: 5'9", 115 lbs (see running profile)
Size Tested: US Women's 8 / EU 39.5
Stated weight per shoe (EU size 38.5): 225 g / 7.9 oz
Blister's Measured weight per shoe (EU 39.5): 247 g / 8.7 oz
Intro
La Sportiva is well known for designing shoes and products with mountain athletes in mind. Since the company originated in a small town at the base of the Dolomites, this is only fitting; those Italian mountains are extremely rugged with very technical terrain and lots of potential for days with tons of vert. The Kaptiva is one of La Sportiva's newest models, designed for "medium and long distance races."
I tested the Kaptiva on a wide variety of trails, including the High Lonesome Loop outside of Nederland, Colorado and the many varied trails around Gunnison & Crested Butte, Colorado. I also ran two different races in these shoes to see how they would perform when speed was a priority. So while Sportiva markets the Kaptiva as a race shoe, I used it for a bit of everything.
After all that, here's my take on its general performance, and how it compares to other options in this category.
Fit
As with any shoe, we highly recommend trying on a shoe before buying, if possible. That said, I can talk about how the Kaptiva fits my feet. For reference, I have bunions and due to the shape of my pinky toes, my pinky toes often get large blisters during longer runs. I look for shoes with some space around my toes, but that still hug my otherwise-narrow feet. I tend to prefer shoes with a heel-to-toe drop ranging from 5-9 mm.
When I first slid my foot into the Kaptiva, I was surprised by how snug the fit was. The Kaptiva utilizes a sock-like upper and a knit wrap-around tongue, which is integrated into the upper rather than being a separate piece, to securely lock your foot into place.
At first, I thought the Kaptiva felt too tight. But after my first run in it, the upper had relaxed a bit thanks to movement and some foot sweat, making it feel tightly secured in place without being too tight. For those who have a high-volume foot, there's a good chance that this shoe will be too tight, since it is a snug fit on my low-volume foot.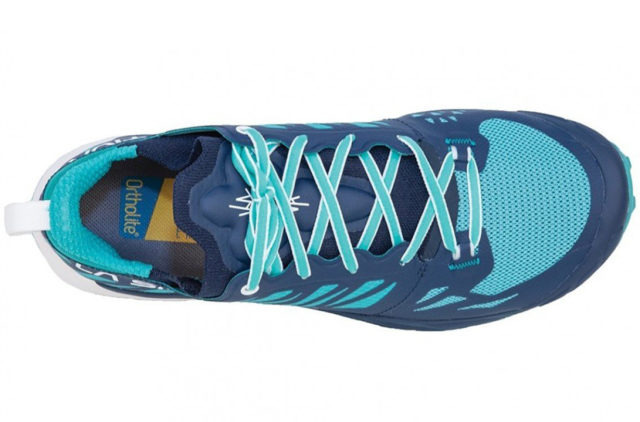 While the Kaptiva is tight, the stretchy sock-like upper allowed my foot to flex easily, regardless of the angle of the terrain. The whole point of the design of the Kaptiva is to hold your foot snugly in place without much empty space, and the shoe does just that.
Even during steep ascents and descents on the technical terrain of the High Lonesome Loop in Nederland, Colorado, my foot stayed securely in place in the shoe without compromising my foot's comfort. I ran through deep, wet mud in the Kaptiva, and thanks to the snug fit, I had no blisters, even though my foot was wet for several hours.
While the Kaptiva's midfoot is very tight against my narrow foot, the toe box allowed for plenty of room to splay my toes, which is great for my feet. I also felt that the Kaptiva offered more arch support than most other shoes I've used. While this initially caused a bit of concern for me due to how tight the shoe initially felt on the arches of my foot, it turned out to be a perk of the shoe once it softened a bit after several runs (more on that later).
Bearing all this in mind, if you have a high-volume foot or prefer more space in the uppers of your shoes, the Kaptiva is probably not the best shoe for you.
Drop
The Kaptiva has a 6 mm heel-to-toe drop. This middle-of-the-road drop, paired with a 17 mm heel stack, helps the shoe to feel close to the ground and stable. The lower drop helped this shoe to feel quick and light while still providing some support to aid in the heel-to-toe transition.
Weight (and comparisons)
The Kaptiva feels light and agile. It was designed for racing, so its weight is minimal. Compared to the other La Sportiva shoes I have tried, the Kaptiva is one of the lightest. For reference, here are the stated weights for some notable shoes in this class (all for the women's versions).
189 g Altra Superior 4.0
205 g Salomon S/Lab Sense 7 SG (unisex)
225 g La Sportiva Kaptiva
235 g Nike Pegasus Trail 36
Upper
As mentioned earlier, the Kaptiva's upper has a tight fit that provides a bit of compression against the foot. The tongue of the Kaptiva is built into the upper and utilizes a knit material for a comfortable fit. The thermoplastic polyurethane top cap aims to keep your toes safe against any rocks that may get in your way. I experienced no issues with stubbed toes, even after glissading down snowfields into a rock field on the High Lonesome loop. The sock-like upper is wrapped with a synthetic layer with several overlays for added support and protection, and a mesh panel above the toes for a bit of breathability.
The compression of the upper quickly became one of my favorite aspects of the Kaptiva. The sock-like-fit made the shoe feel very snug, allowing me to not need to spend much time carefully and tightly lacing the shoe. After just one run, my uncertainty about the shoe being too snug diminished, leaving me very content with the overall feel of the upper.
Overall, I thought the Kaptiva felt decently breathable — not amazing, but not terrible. When I slipped in a river along the Deer Creek Trail in Crested Butte (thanks, slippery rock!), my foot proceeded to stay wet for the remaining two hours of running. While the "squishing" water inside my shoe did eventually diminish, my foot was still very wet when I finally took my shoes off. The additional material through the midfoot of the Kaptiva made it so that water could really only drain from the front of the shoe, meaning some water is bound to get trapped and take longer to drain out. With that said, I have still yet to get a blister in these shoes, even when my feet were wet for several hours. The snug fit has done a great job of eliminating room for rubbing.
It's also worth noting that Sportiva makes a Gore-Tex version of the Kaptiva for those who want to use this shoe in a lot of wet and / or cold weather. The Kaptiva GTX is the same as the regular Kaptiva, apart from the upper.
Midsole and Cushioning
The Kaptiva has a 17 mm (heel) /11 mm (forefoot) stack height and a 1.5 mm, dual-density EVA rock guard in the forefoot & heel. There are also inserts in the midsole that are designed to provide increased torsional rigidity and keep your foot from twisting while running. The Kaptiva has what I'd call moderately supportive midsole cushioning, without overdoing it (especially for a racing-oriented shoe). This is not a plush shoe, but as someone who doesn't need or want super-cushioned shoes, its level of cushioning has been good for me on a variety of runs.
The rock guard was a big perk for me personally, especially since the Kaptiva doesn't have a very high stack height and I've been using it on some rocky trails. The rock guard provided enough of a defense for my foot on technical, rocky trails so that I did not worry about foot placement regardless of the terrain. I never experienced any pain during rock strikes while running in the Kaptivas, even when attempting to run fast down more technical, rocky terrain. As I noted above, the Kaptiva is a stiff shoe in terms of both longitudinal stiffness as well as torsional stiffness. The cushioning material itself on the Kaptiva is also relatively stiff. The Kaptiva is not as stiff as the Bushido II, but is considerably stiffer than some shoes in generally the same category, such as the Salomon S/Lab Sense 7 SG or the Altra Superior 4.0.
If you like a super plush shoe, the Kaptiva is not for you. But if you like many of Salomon's less-cushioned shoes, such as the S/Lab series, the Kaptiva has a similar feel. I ran the Crested Butte 55k in the Kaptiva and did not have any issues with the shoe feeling too stiff or not providing enough cushion (though, again, I do prefer more moderately and minimally cushioned shoes). I finished the run with my legs tired but not in pain, and feet feeling comfortable without any blisters or hot spots. Even when I stepped on sharper rocks, I didn't get any notable pain in my feet
When I first put on the Kaptiva, I noted that the insole felt like it provided a lot of support for my arches. The tight upper, paired with this supportive feel, initially felt like it had the potential to cause discomfort as I do not have very high arches. I normally do not have a preference regarding arch support in shoes, but do gravitate towards shoes with a more neutral footbed. After two runs, it felt like the Kaptiva's insole had softened and formed to my foot and provided a good amount of support but was not uncomfortable.
Outsole
The outsole on the Kaptiva features pretty large lugs, Sportiva's grippiest "FriXion White" rubber compound, and their "Impact Brake System," which consists of lugs at various angles to grip both on the uphills and downhills and absorb some of the impact when descending. All of this makes the Kaptiva great for mountain running on technical terrain.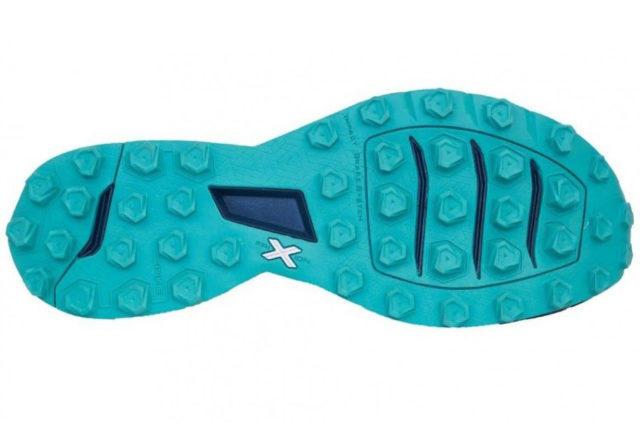 That said, I think the Kaptiva's outsole is more versatile than many of the other La Sportiva shoes I have tried in the past. With lugs varying from 3.5 mm to 4.5 mm, I did not feel slowed down by the Kaptiva's lugs when I was using the shoe on packed dirt roads. The tread always gripped very well when I was running on slick rock, through streams, or loose terrain thanks to the grippy FriXion White rubber and fairly widely spaced lugs. The strong grip on all terrain made the Kaptiva one of the better shoes I have used when it comes to traction.
While running downhill, the Kaptiva's "Impact Brake System" (IBS) did a good job of preventing slipping while running downhill. Sportiva says that "IBS soles are designed to reduce up to 20% of the impact forces acting on the feet, legs, hips, and back with each step while walking on hard ground. The slanted and opposing angles of the lugs deform upon impact to absorb 20% of the shock."
I felt the IBS sole played a large role in keeping my body feeling fresh during longer efforts in the shoe, especially after lots of descents and given the minimal cushioning of the Kaptiva. If you like to run from your house and have to hit some pavement before the trails, or are a fan of dirt roads, the Kaptiva will keep you moving pretty efficiently on different terrain (though there are plenty of options with more minimal outsoles if most of your running is spent on smooth trails / pavement). While many other La Sportiva shoes are very specifically designed for the most technical terrain, the Kaptiva has proven to work well in a very wide range of terrain.
On the Trail
The Kaptiva kept me feeling light and fast, quickly becoming my go-to shoe for faster runs and racing. From the more technical trails outside of Boulder to the steep mountains in Crested Butte and varied trails around Gunnison, I really enjoyed the feel and performance of the Kaptiva. The Kaptiva is a great mountain shoe without being too aggressive for mellower trails, making it a solid choice for racing and faster running across a variety of trails. The snug-fitting upper added a level of confidence on rocky and technical trails, especially combined with the shoe's grippy outsole and rock guard.
Although I have not run in a ton of racing-oriented shoes, I felt the Kaptiva was a stiffer, more mountain-oriented shoe than some other shoes in the category, such as the Salomon S/Lab Sense 7 SG or regular S/Lab Sense 7 I've used, as well as the Nike Pegasus Trail 36 (review coming soon).
The Kaptiva is far stiffer longitudinally than any of the S/Lab designs I've used and provides a firmer feel. The Nike Pegasus Trail 36 has a much higher drop than the Kaptiva and the Pegasus's cushioning is far softer. To me, the Kaptiva feels more oriented toward mountain racing (thanks to its stiffer, more protective midsole and aggressive outsole), while still feeling quick and light enough for less technical terrain.
If I was looking in my closet to grab an everyday training shoe, I usually tend to go for a shoe with a bit more cushion, like the Nike Pegasus Trail 36 or the Salomon Sense Ride. But I found that, even though the Kaptiva is a stiffer shoe with more minimal cushioning, I really enjoyed it for my training runs as well, slow runs included. I have never been a person who has shoes that I use only for racing, and for me, the Kaptiva has been a practical shoe for my training as well as when I am racing. That said, your mileage may vary as I doubt most people will want a shoe that's this close-fitting and firm for their more casual training runs.
Durability
After a few hundred miles of training in these shoes and 2 races in them (Crested Butte 55k and the Sage Burner 28k), the Kaptiva is holding up very well. Other than being much dirtier, the upper of the shoe shows very few signs of heavy wear; there are no tears and the upper is still snug (it has not stretched too much, apart from the initial break-in).
The lugs on the Kaptiva's outsole are still nearly the same size as when I first got the shoe, which is pretty impressive given the FriXion White rubber's excellent grip. As you can see below, some of the lugs have started to wear down and don't have the same texture as before, but this is to be expected given that I've put around 500 miles on these shoes. I have spent at least 100 of those miles on dirt roads or asphalt to link trails together, and yet the outsole still looks like it could handle several hundred more miles at least — very impressive.
The cushioning on the Kaptiva has not compressed very much over the course of those 500 miles. I tend to heel strike, especially when I get tired, but even with lots of tired running in these shoes and many miles spent running downhill, they only show slight signs of the cushioning beginning to compress. This can be seen inside the shoe, as there is a more obvious indent where my foot has been sitting, as well as the heel area looking a bit more compressed than when I got the shoe. Compared to when the shoe was new, the insole has also started to feel a bit softer and molded to my foot.
All in all, the Kaptiva has held up very well, especially given that it's a fairly minimal, lightweight, racing-oriented shoe.
Who's It For?
The Kaptiva is designed to "help you unleash your speed" during racing, training, and longer mountain runs, regardless of the distance you will be covering, and I think that's actually a pretty good description.
If you have a lower-volume foot and / or prefer a snugger fit, the Kaptiva warrants strong consideration. The snug fit and sock-like upper have made for reduced blisters and hot spots for me, while keeping my foot in place during fast and technical ascents and descents. While part of this will depend on how the Kaptiva fits your feet, I think this is a big part of what makes the Kaptiva stand out.
If you dislike a more snug-fitting upper, the Kaptiva may not be the best shoe for you. If you prefer shoes with very roomy toe boxes (e.g., Altra shoes), the Kaptiva may be a bit too low-volume for you. And if you know you like a plush feel and don't mind a higher stack height and a heftier weight, you have plenty of better options.
But if you like the sound of the fit, the Kaptiva is great for faster running, whether that be in the mountains, on flatter trails, or on sandy desert routes. It can also work for mellower runs if you prefer the aspects of a racing-oriented shoe (i.e., snug fit, low weight, firm feel) for those runs. It's not a super plush shoe, but it is precise, light, efficient, and fast. It also performs well, like most Sportiva shoes do, on mountain routes with technical terrain and lots of ascending. All in all, the Kaptiva is a great racing shoe for a variety of terrain, or a more minimal, faster all-round shoe.
Bottom Line
If you are already a fan of some of La Sportiva's other running shoes, the Kaptiva is a strong contender for a faster, more racing-oriented option. The Kaptiva still offers much of the mountain capabilities of other Sportiva shoes like the Bushido II, but with much less bulk and weight.
The Kaptiva's fairly low-volume fit and snug upper won't be for everyone, but if you like a tighter-fitting shoe, the Kaptiva's fit offers just that and does a great job of eliminating rubbing and hot spots (again, if it fits). Even with river crossings and many hours of wet socks, I never got any blisters from the Kaptiva. After running two races in these shoes, both a 55K and a faster 28K, I've found that the Kaptiva works really well both for extended races and everyday, faster trail runs. If you do not prefer shoes with a lot of cushion, these shoes may even be a good fit for longer ultras (Sportiva's athletes have definitely proven that it's possible). As a faster, lightweight training or racing shoe, the Kaptiva is a great option.