La Sportiva Akasha II
Test Locations: Logan, Utah and Moab, UT
Test Duration: 65 miles
Stated Stack Height: 31 mm (heel) / 25 mm (forefoot)
Stated Heel-to-Toe Drop: 6 mm
Stated Features:
Highly breathable 3D AirMesh upper is very accommodating and snugs up to any volume foot

Dynamic ProTechTion™ HF overlays on the forefoot provide lightweight, flexible protection

Dual-injection MEMlex EVA reduces shock as you run over rocky, tough terrain, while the cushion platform assures a springy feel underfoot mile after mile

FriXion® XT outsole and trail rocker not only provide traction but also promote a smooth and rolling heel-to-toe motion for an unimpeded stride

STB stabilization technology on both sides of the midsole reduces torsion and increases stability for precise control on any terrain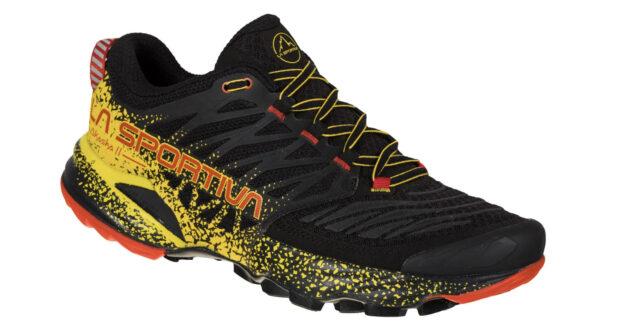 MSRP: $150.00
Size Tested: US Men's 12.5
Stated Weight per Shoe (US Men's Size 9): 310 g / 10.9 oz
Blister Measured Weight per Shoe (US Men's Size 12.5):
Shoes + Laces: 342 g (left) & 356 g (right)
Insoles: 24 g (left) & 26 g (right)
Total: 366 g (left) & 382 g (right)
Reviewer: 6'1", 145 lbs / 185 cm, 67 kg
Intro
When the original Akasha came out back in the mid-2010s, it was one of La Sportiva's first shots at a high-cushion, long-distance trail shoe. The Akasha was pretty well received by the trail running community, but it was discontinued in the US as La Sportiva pumped out other long-distance trail shoes like the Lycan and Jackal. I actually had a pair of Akashas when they first came out, and I was sad to see them go — I remember being impressed with the shoe's prowess on long, technical mountain runs. So when La Sportiva re-introduced the Akasha II to the US this year, I was excited to get my feet in a pair and see if my positive impressions of the original held true for version two.
So how does the Akasha II compare to the original version of the shoe, and how does it stack up to the rest of the expansive long-distance trail shoe market? After about 65 miles in the Akasha II, I'm happy to report that it performs just as well as its predecessor (in fact, they're pretty much the exact same shoe — more on that below). In this review, I'll break down where the Akasha II shines, where it leaves a bit to be desired, and who might want to consider snagging a pair.
La Sportiva Akasha II vs. Akasha
For former Akasha fans, I have good news — the Akasha II is essentially the same as the original version of the shoe. The midsole construction, upper materials, and outsole are all unchanged. In fact, the only visual difference I can find between the Akasha II and original Akasha is the "II" after the shoe's name on the new version. According to La Sportiva, the differences are an updated heel counter and lacing system harness (more on that in the "Upper" section), which supposedly give the shoe a more precise fit that'll also accommodate a wider variety of foot shapes. Regrettably, my original pair of Akashas are long gone, so I can't do any side-by-side comparisons — but I can't feel any noticeable differences based on what I recall from the original version.
Fit
As always, you should go try on the Akasha II's in person if at all possible before making any decisions, since my foot shape / fit preferences will likely be different from yours. With that said, I'll provide some context on how the Akasha II fits my fairly narrow, low-volume feet. I generally prefer shoes with a secure-fitting midfoot and heel, but enough toe box width to allow for some toe-splay.
First off, a note on sizing — La Sportiva does their conversion from European to US sizes slightly differently than most other brands, and I always have to size up a half to full size as a result. The same holds true on the Akasha II — I usually wear a US Men's 11.5 in shoes from Altra, Topo, Salomon, and Hoka, but I had to go all the way up to a 12.5 in the Akasha II. I've been able to get away with a US 12 in most other La Sportiva shoes (Lycan II, Blizzard GTX, Cyklon), so the Akasha II seems to run small even for Sportiva standards. So, bottom line — try them on in person if you're able, and order a half or full size up if you're not.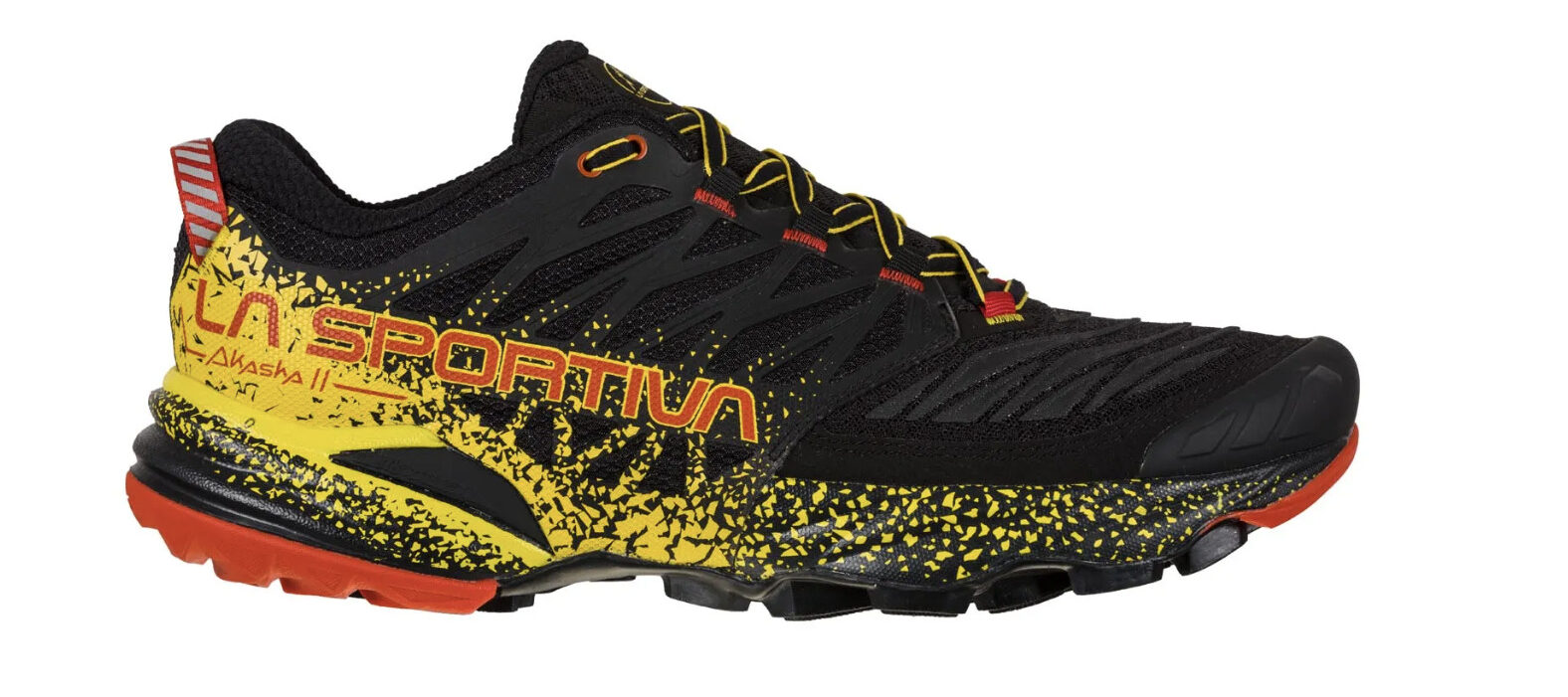 Aside from sizing, the Akasha II's fit is exactly what I'd expect from a long-distance La Sportiva shoe. The Akasha II isn't nearly as roomy in the toe box as shoes like the Altra Timp or Topo Mtn Racer, but it does have a wider, more rounded toebox than the Hoka EVO Speedgoat or Scarpa Spin Infinity. The midfoot and heel cup are characteristically precise and secure — once I get the Akasha II cinched down, my feet feel extremely well locked down without feeling overly constricted. It's worth noting that that's great for runners like me who have fairly narrow / low-volume feet — but if you have wider / higher-volume feet, the Akasha II might feel a little constrictive. For my preferences though, the Akasha II's fit is pretty much ideal. I still prefer shoes with wider toe boxes (e.g., Topo Mtn Racer 2) for super long runs (4+ hours), but the Akasha's more precise fit makes it feel much more at home on technical terrain than many of its competitors in the high-cushion category.
Weight
The Akasha II is fairly middle-of-the-road when it comes to weight. It isn't the lightest high-cushion trail shoe around by any means, but its stated weight of 310 g / 10.9 oz puts it on the same level as many of its competitors from other brands. For reference, here's how the Akasha II's stated weight compares to some of those competitors (all stated weights are based on a US Men's size 9):
260 g / 9.2 oz — Salomon Ultra Glide
278 g / 9.8 oz — Hoka One One Challenger ATR 6
283 g / 10.0 oz — Topo Athletic Ultraventure 2
306 g / 10.8 oz — Scarpa Spin Infinity
306 g / 10.8 oz — Hoka One One Speedgoat 4
306 g / 10.8 oz — ON Running Cloudultra
306 g / 10.8 oz — Brooks Caldera 5
310 g / 10.9 oz — La Sportiva Akasha II
310 g / 10.9 oz — The North Face VECTIV Infinite
320 g / 11.3 oz — Altra Olympus 4.0
329 g / 11.6 oz — adidas TERREX Agravic Ultra
So yeah, the Akasha II is right in the mix when it comes to weight. With that said, it's worth remembering that the Akasha II also runs a half to a full size small — so the stated weight for a US Men's 9 is probably more akin to a US Men's 8-8.5 in shoes from other brands, which makes direct weight comparisons with shoes from other brands a little tricky. What I can say with certainty is that the Akasha doesn't feel any more heavy / cumbersome than other similar shoes in its category out on the trails — it doesn't have the lightweight feel of shoes like the Salomon Ultra Glide, but it also doesn't feel like I'm running around with bricks on my feet by any means. The Akasha II definitely prioritizes protection, stability, and traction over minimizing weight, but I think that makes good sense for the shoe's intended purpose.
Upper
The Akasha II has a fairly straightforward upper that consists of an open dual-layer mesh material and a set of fairly substantial overlays. The Akasha II also has a burly rubber toe-bumper and a generously padded tongue and heel cup. As previously mentioned, the subtle differences between the original Akasha and version two are in the shoe's heel counter and lacing system. I'm not entirely sure what Sportiva changed about the heel counter, but the Akasha II's heel cup is plenty secure and comfortable for my foot shape and fit preferences. The updates to the lacing system harness are a little more obvious — the Akasha II has more substantial rubber overlays that anchor the lacing system to the top of the midsole than the original version did. Whether or not these thicker overlays actually make for a more secure fit relative to version one is hard to say, but the Akasha II's lacing system definitely provides excellent lock-down — which I guess is all that really matters.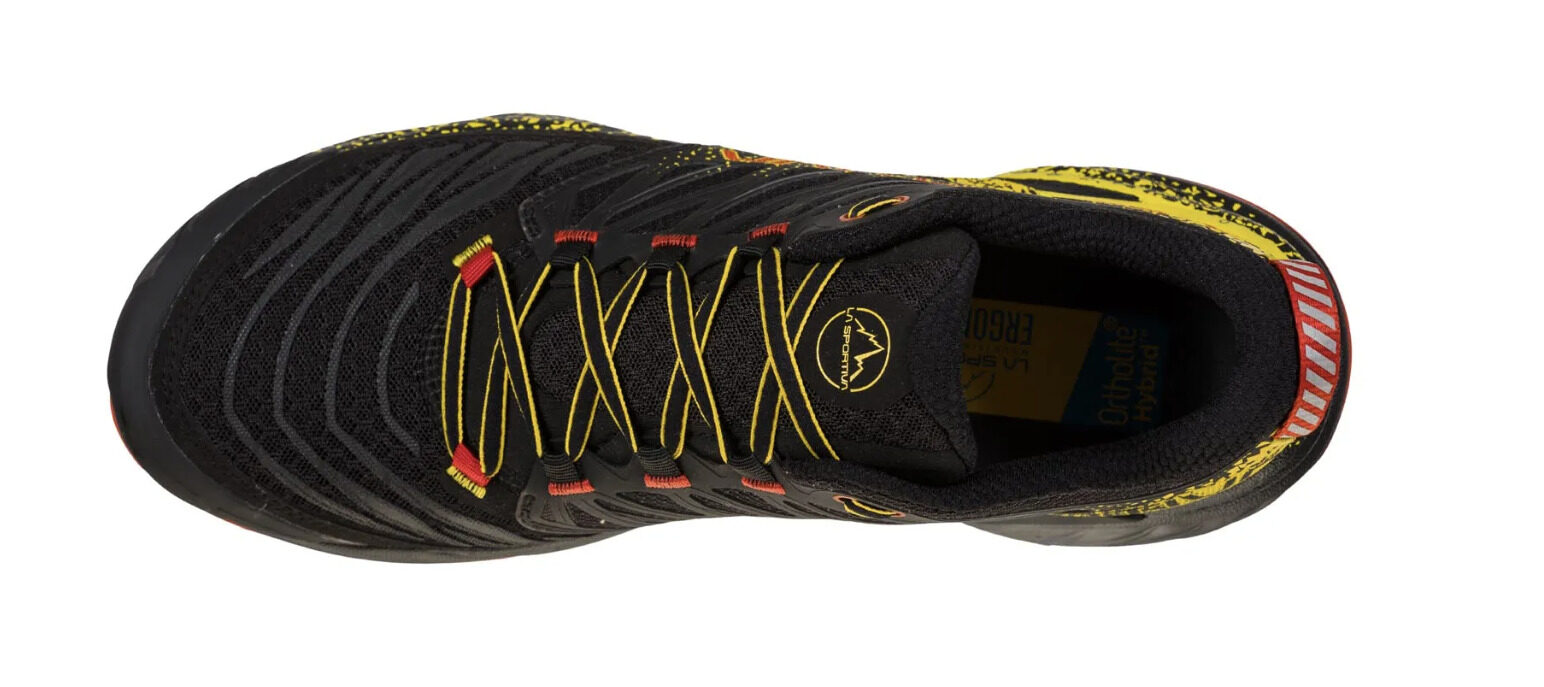 Aside from the lacing system and heel, the Akasha II's upper performs very well. It's very comfortable thanks to the padded tongue and soft mesh material, and I haven't had any issues with blisters or hot spots in the shoe thus far. My only minor critique is that the dual-layer mesh and burly overlays make the Akasha II slightly less breathable than shoes with more minimal uppers (e.g. Salomon Ultra Glide). It's not a deal-breaker by any means, but it's worth keeping in mind if you live in a particularly warm climate.
Midsole
You can always count on La Sportiva shoes to have lots of fancy (or just weird) sounding midsole technologies, and the same holds true for the Akasha II. Its midsole features a 3 mm layer of "LaSpEVA" on top of a thicker layer of "Dual-Injection Shock Absorbing MEMlex EVA," along with a "Cushion Platform" and a set of "TPU STB inserts." Confused? Yeah, me too. The good news is that, from a performance perspective, the Akasha's cushioning is actually pretty straightforward. The midsole foams La Sportiva's using in the Akasha II (those are the LaSpEVA and MEMlex EVA for those following along) are relatively firm in the world of high-cushion trail shoes — the Akasha II's feel much less soft / pillowy than the Hoka Speedgoat or Salomon Ultra Glide. Instead, the Akasha II feels fairly rigid and extremely protective underfoot. They also provide decent energy return, but their shock absorption capabilities are noticeably less than those of softer, more flexible shoes (e.g. Ultra Glide, Speedgoat, adidas TERREX Two Ultra).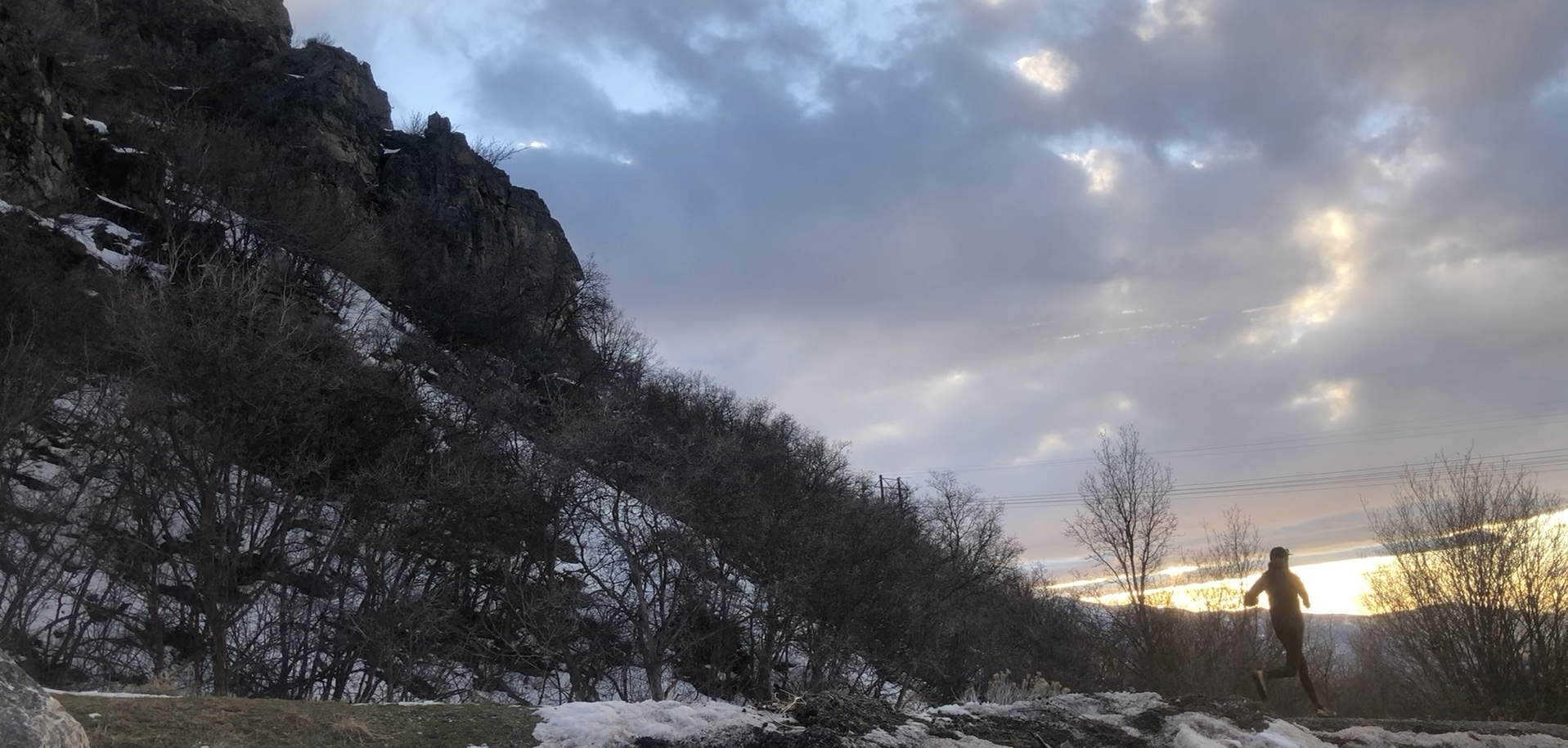 The protective feel of the Akasha II's midsole is further enhanced by the TPU STB Inserts, which are essentially just hard plastic pieces under the arch that provide extra support / stability. Taken together, the Akasha II's various midsole features make for a shoe that feels extremely supportive and protective, but definitely lacks the plush / pillowy feel of many other high-cushion trail shoes with similar stack heights. For my preferences, that makes the Akasha II a great option for long runs on rocky trails where I don't want to feel every pointy rock I land on, but it also makes the shoe slightly less comfortable on long runs (2+ hours) on hard surfaces.
Outsole
I'm usually impressed by the traction provided by La Sportiva's trail shoes, and the Akasha II continues that trend. The Akasha II uses Sportiva's moderately sticky FriXion XT 2.0 rubber compound, which is designed to balance durability and grip. Based on my experience in the shoe so far, the Akasha II's outsole definitely seems to be plenty grippy — the moderately sticky rubber compound and 4.5mm-deep chevron-shaped lugs grip well on both hard-packed trails and on soft / loose surfaces. The Akasha II also grips pretty well on wet rocks and in shallow mud, although its 4.5 mm lugs aren't quite substantial enough to do a whole lot of good in deep mud or snow.
Overall, I'd say the Akasha II provides equal or superior traction to other long-distance-oriented shoes like the Salomon Ultra Glide or Hoka Evo Speedgoat, which further expands its versatility. With that said, it isn't nearly as grippy as a mud-specific shoe like the Hoka EVO Jawz or Inov-8 X-Talon 212. Still, unless you're slogging through deep mud and snow on a daily basis, the Akasha should provide plenty of grip.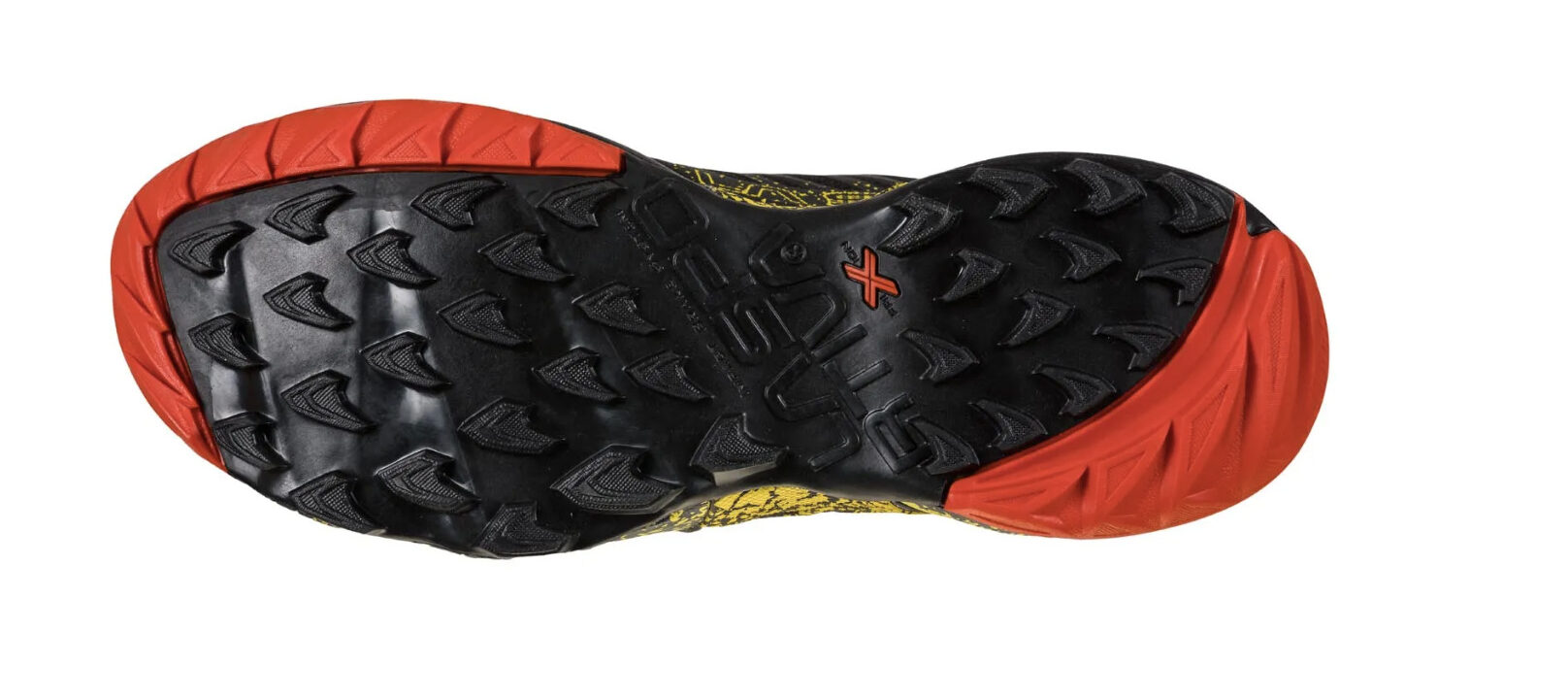 On Trail
After 65 miles in the Akasha II, it has definitely secured a spot in my regular trail shoe rotation — but it also isn't a "quiver of one" shoe, at least for my preferences. I've put the Akasha II to the test on everything from short winter road runs to longer outings on technical, rocky desert trails. It performs pretty well across the board, but in my opinion, it's really best suited for long (2+ hour) runs on technical / rocky terrain.
As I've discussed throughout the review, the Akasha II is a very secure and protective-feeling shoe — and it definitely sacrifices a little bit of agility to deliver that feeling. The Akasha's fairly firm / rigid midsole and moderate weight make the shoe feel noticeably less nimble than a lighter, more flexible shoe like the Salomon Ultra Glide. For my preferences, that usually means I choose a lighter / softer shoe for both shorter up-tempo runs and longer runs (2+ hours) on non-technical terrain over the Akasha II. The Akasha II just feels like overkill in those settings — which isn't surprising, considering that Sportiva designed it for "trail runners seeking technical terrain."
But when I am seeking technical terrain, the Akasha II is as good as or better than the other long-distance trail shoes in my lineup. I generally prefer lighter, softer high-cushion shoes with better proprioception for my long runs (e.g. adidas TERREX Speed Ultra, Topo Mtn Racer 2, Salomon Ultra Glide) — but if I'm running lots of super rocky, technical terrain, those softer shoes often leave my feet feeling a little beat up. The Akasha II might feel a bit cumbersome on non-technical terrain, but it does an excellent job of protecting my feet on long outings on rocky terrain. Paired with the shoe's solid grip and comfortable upper, that protective feel has kept me coming back to the Akasha II any time the going gets technical.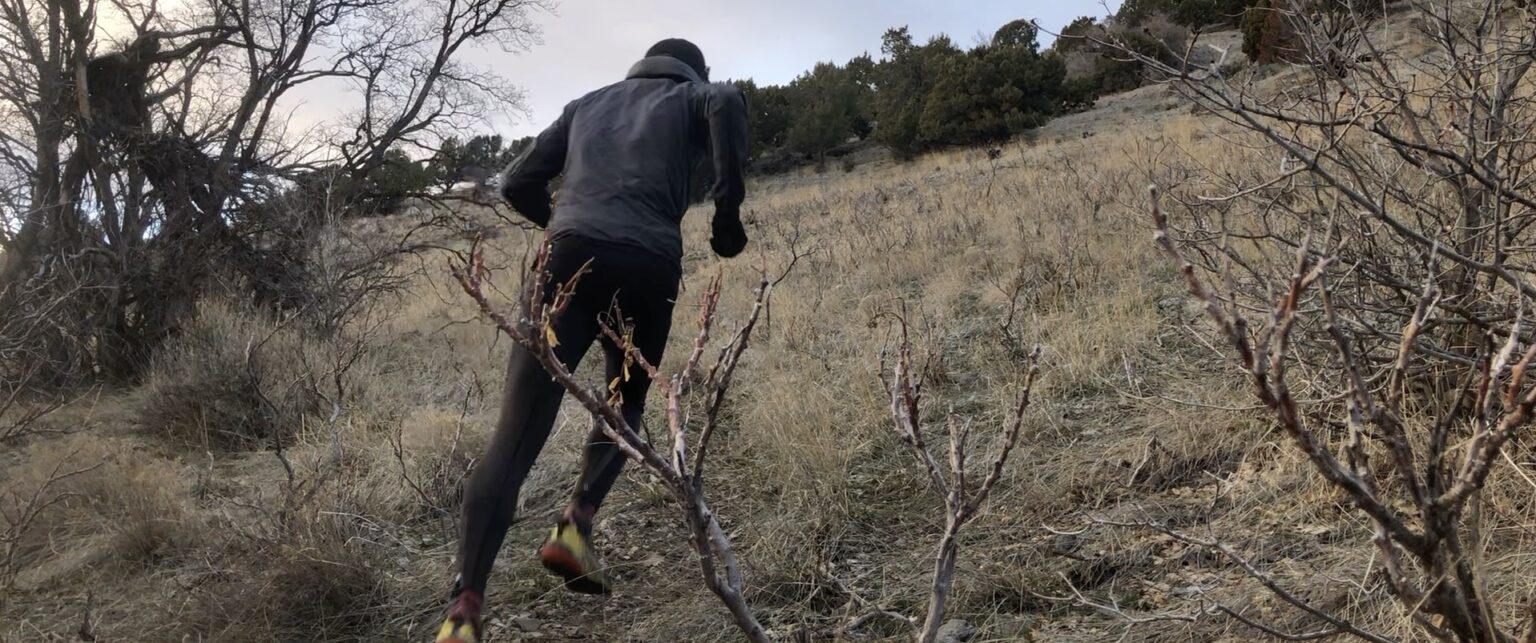 Durability
I've only put about 65 miles on the Akasha II so far, so obviously any conclusions on long-term durability will have to wait. So far, the only signs of wear are in the lugs at the front of the toe, which are slightly abraded. Aside from that, the Akasha II's look pretty much the same as they did out of the box. My pair of the original Akasha lasted well over 500 miles, and so far the Akasha II seems to be on track to do the same. If that changes down the line, I'll be back with updates.
Who's It For?
I think the Akasha II would be a solid option for runners looking for a protective, high-cushion shoe for long runs on technical terrain. In my opinion, the Akasha II feels a little stiff and clunky on smooth trails — so if you're a big fan of shoes that provide lots of ground-feel or you don't run technical trails on a regular basis, you might want to look elsewhere. But once you get off non-technical terrain and onto rockier trails, I've found that the Akasha II does a much better job of protecting my feet over the course of long runs than otherwise similar shoes with softer cushioning. The Akasha II also fits more securely than many long-distance-specific shoes, so it could also be a solid option for runners with narrower feet. I wouldn't necessarily recommend the Akasha II as your one pair of "do it all" trail shoes, but if you can afford to add a shoe to your quiver specifically for technical / rocky long runs and races, I think the Akasha II is definitely a worthy option.
Bottom Line
As I had hoped, the La Sportiva Akasha II reaffirmed the good memories I had of version one. It might not be the lightest or plushest long-distance trail shoe on the market, but it does stand out from the competition as soon as you get into the technical terrain that it was designed for. If you're looking for a shoe to keep your feet free of rock bruises on your long, rocky runs this spring and summer, I'd definitely recommend giving the Akasha II a closer look.