Altra Timp 4
Test Location: Marin, CA and Bishop, CA
Test Duration: 250 miles
Stated Stack Height (Men's): 30 mm (heel) / 30 mm (forefoot)
Stated Heel-to-Toe Drop: 0 mm
Stated Features:
Original Footshape™ Fit designed to address biological differences between men's and women's feet
Balanced Cushioning™ Platform
Altra EGO™ MAX midsole for comfort and support
MaxTrac™ outsole with aggressive, multi-directional lug pattern
Gaitertrap™ heel tab
A quick-dry air mesh upper
InnerFlex midsole technology to increase flexibility
Stated Weight per Shoe (US Men's Size 9): 303 g / 10.7 oz
Blister Measured Weight per Shoe (US Men's Size 8.5):
Shoes + Laces: 279 g (left) & 265 g (right)
Insoles: 18 g (left) & 17 g (right)
Total: 297 g (left) & 282 g (right)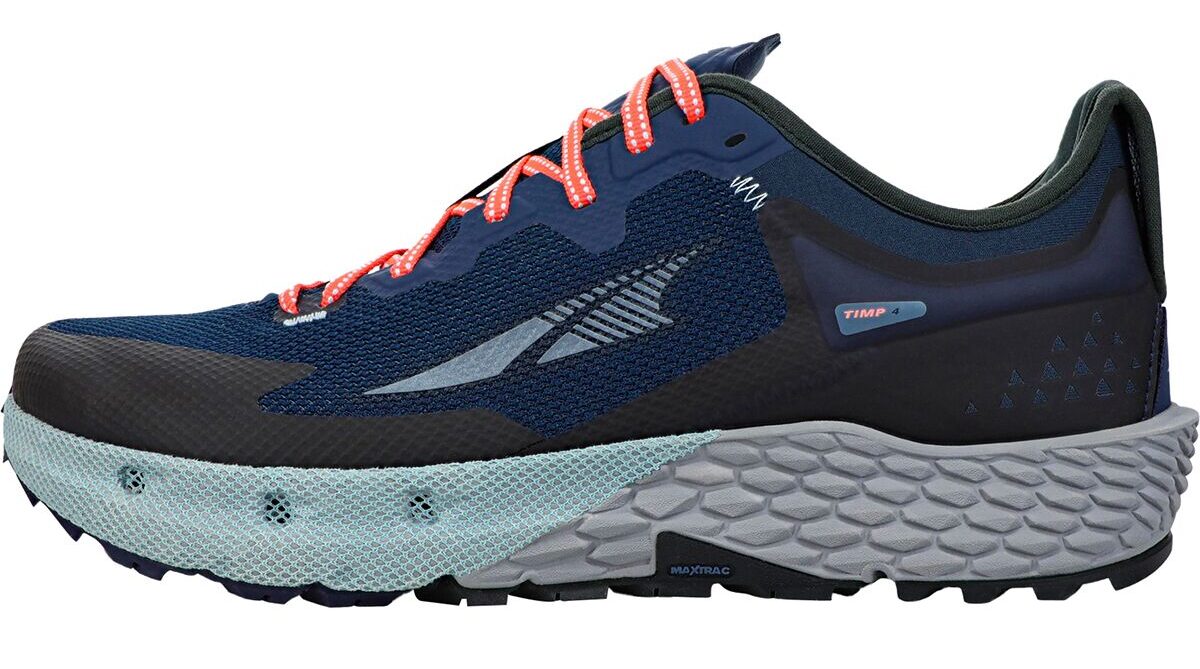 MSRP: $160
Size Tested: US Men's 8.5 / EU 42
Reviewer: 5'9", 150 lbs / 175 cm, 68 kg
Intro
Out of any major outdoor sport, trail running feels like it makes the most room for idiosyncrasies, and barefoot running is definitely one of them. Despite major advancements in footwear technology, training methodologies, and mainstream adoption, all of which have helped the sport progress, parts of trail running's character are still tied to a romanticized sense of the natural, the primitive, the organic. Books like Born to Run and the barefoot shoe movement of the early aughts implicitly indicted modern footwear for the raging injury rates across the sport and advocated for a return to a minimalistic style of shoe to cure our woes. In response to the success of this narrative, footwear brands catered to a large subsection of runners convinced progress had led us astray. Models like the New Balance Minimus and Vibram FiveFingers offered next to nothing in the way of cushioning and abandoned a heel-to-toe drop — and their sales spiked.
But, as it turns out, wearing modern supportive footwear for your entire life and then abruptly deciding to run long distances practically unshod creates its own set of problems. Instead of mitigating injury rates, swinging too far to the minimalist extreme just changed their composition. Lower leg issues like stress fractures, Achilles tendonosis, and plantar fasciitis predominated (a podiatrist I spoke to said he's never been as busy) and barefoot-style shoes were subordinated to a niche corner of the trail shoe space. However, the general principles behind their design — namely, a conviction that shoes that allow the feet to function anatomically promote healthier running — recycled themselves in different ways.
In 2011, Altra Running emerged as the latest brand to embrace aspects of minimalist running in their footwear design. Golden Harper, the company's founder, began modifying shoes by removing excess heel padding while working at his family's running store. Convinced that modern shoe geometry was inhibiting natural movement patterns, Harper removed his shoes' heel-to-toe drops so they'd sit flush to the ground and widened their toe box. In effect, he reincorporated elements from the barefoot running movement into existing models. These two principles — zero heel-to-toe drop paired with a wide toe box — Altra still follows for every shoe they make. Where the brand diverges from the minimalist camp is at the midsole. The stack heights of Altra models vary in thickness, but as of late, they've been following the current trend toward more maximal amounts of cushioning. Marriage between an openness to new styles, like taller stack heights, and a staunch commitment to the principles of barefoot running has helped grow Altra into one of trail runnings' most popular brands.
For the past few years, the Timp has served as one of Altra's more (but not most) maximal models designed with this in mind, and I've spent the past few months in the latest version, the Timp 4. Here, we'll dive into what the Timp 4 does well, the compromises it brings with it, and who I think should have it on their list.
Altra Timp 4 vs. Timp 3
Altra debuted the original Timp in 2018 and positioned the shoe as a versatile option "ready to tackle any distance or trail condition." While that mission has remained largely unchanged, the evolution of the Timp through its now 4 iterations certainly has. We reviewed the Timp 2 back in 2020 and lauded it for blending cushioning with flexibility. The second version of the Timp also demonstrated improvements in fit security on technical terrain. From there, the somewhat disappointing third installment of the Timp in 2021 saw marginal updates from its predecessor, retaining the same 29 mm stack height, "Quantic Foam" midsole compound, and "Maxtrack" outsole. The Timp 3 was also marred by various durability issues with the upper and outsole. Despite the shoe performing to the same standards as the Timp 2, runners were quick to pan the underwhelming Timp 3 as just a nominal update. After a pretty public dip in the model's reputation, Altra responded in kind with plans for a completely overhauled Timp 4 in 2022.
To call the Timp 4 an "updated" version of its predecessor is a misnomer. The Timp 4's features represent just about every new piece of technology Altra plans on using across their lineup moving forward. This includes a more cushioned "Ego Max" midsole, a reconfigured upper with protective TPU overlays, and a reconfigured "Maxtrac" outsole. Altra also attempted to amend some of the durability issues they were rightly criticized for after the release of the Timp 3. To meet the demands of technical trails and harsh weather conditions, Altra outfitted the Timp 4 with gaiter attachments, encased sections of the midsole's foam near the forefoot with a protective mesh webbing, and added drainage ports along both sides of the shoe.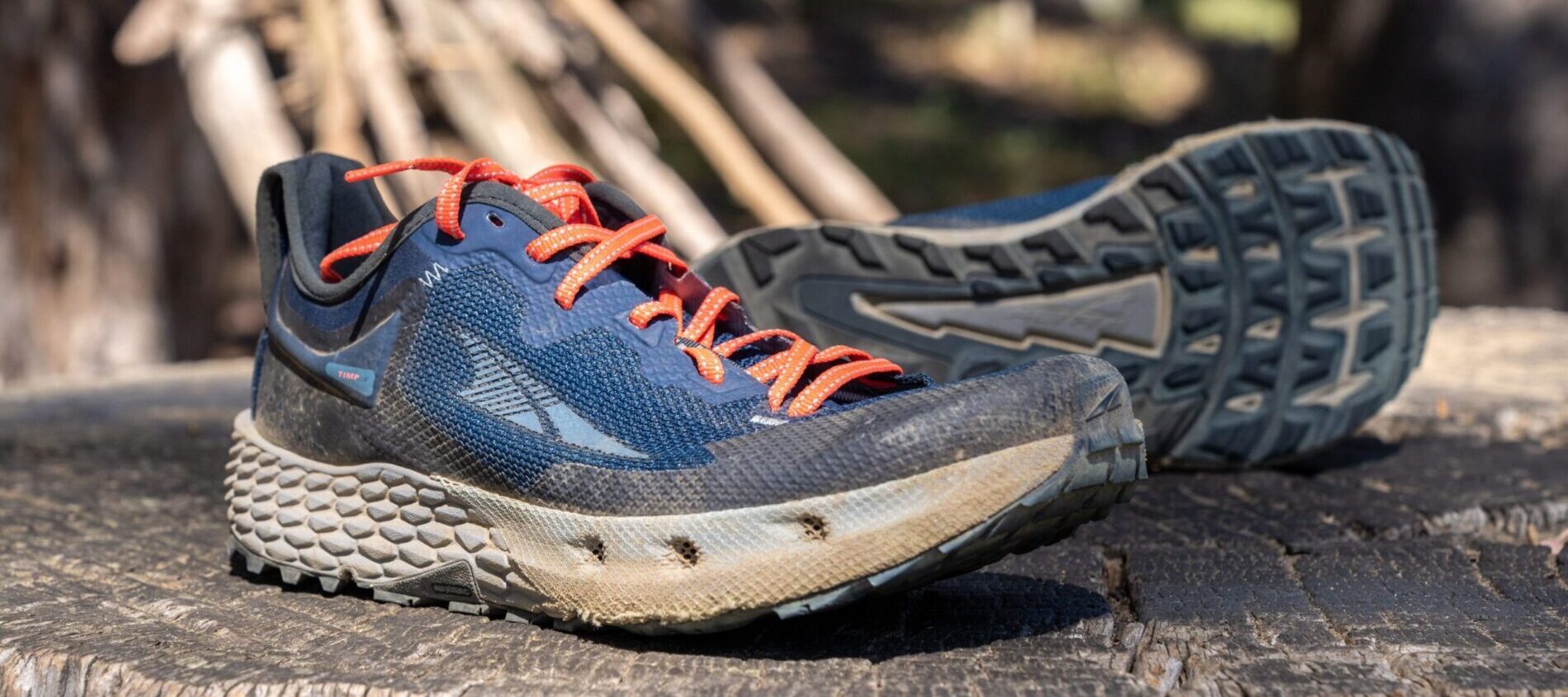 I was a big fan of the first Timp, and while its 4th iteration feels like a wholly different shoe, it still retains a certain semblance to the original. Both place a premium on cushioning and comfort. The EVA "A-Bound" foam in the first Timp was extremely plush, and while Ego Max is slightly firmer, the Timp 4's taller stack height helps soften the ride. The two models are also built on similar lasts, with the Timp 4 landing in the middle of Altra's 3 offerings; out of the box, I can already tell it's quite a bit roomier in the forefoot than the Timp 2.
Altra (from the Latin "altera") means, "to mend something that is broken." The new Timp 4 definitely feels like the brand's attempt to rectify their longer-distance trail shoe model. So, is the direction in which Altra steered the Timp the right one? Or is the shoe still limited by the durability issues haunting its past? In this review, I'll break down where the Timp 4 shines, where it falters, and who might want to consider snagging a pair.
Fit
It bears repeating that you should go try on the Timp 4 in person if possible before shelling out money for a pair. While the goal of this review is to provide an informed assessment of who the shoe should work well for, my foot shape / fit preferences will always bias my opinion to a certain extent. I generally prefer shoes built on broader lasts with a secure-fitting midfoot and ample amounts of cushioning to accommodate my slightly wide, high-volume feet. On paper, the Timp 4 looked to be a great match.
As I mentioned in the intro, the two features that undergird Altra's approach to design are a "FootShape" toe box and "ZeroDrop" geometry. Without expanding too much on the minutiae of both, this effectively means that all Altra models have more rounded toe caps than you'd see on most shoes from other brands and their midsoles hold the same stack height from heel to toe. While there's no variation in drop, Altra does use three different lasts across their lineup, and the Timp 4 is built on their "standard" last. The shoe is more spacious than its predecessor — especially through the forefoot — and fits similarly to Altra's ultra-distance model, the Olympus 5. I benefited from the Timp 4's extra room on longer runs when my feet swelled. The extra room in the toe box also allowed me to better splay my toes to improve ground feel, which helped me stabilize on technical terrain.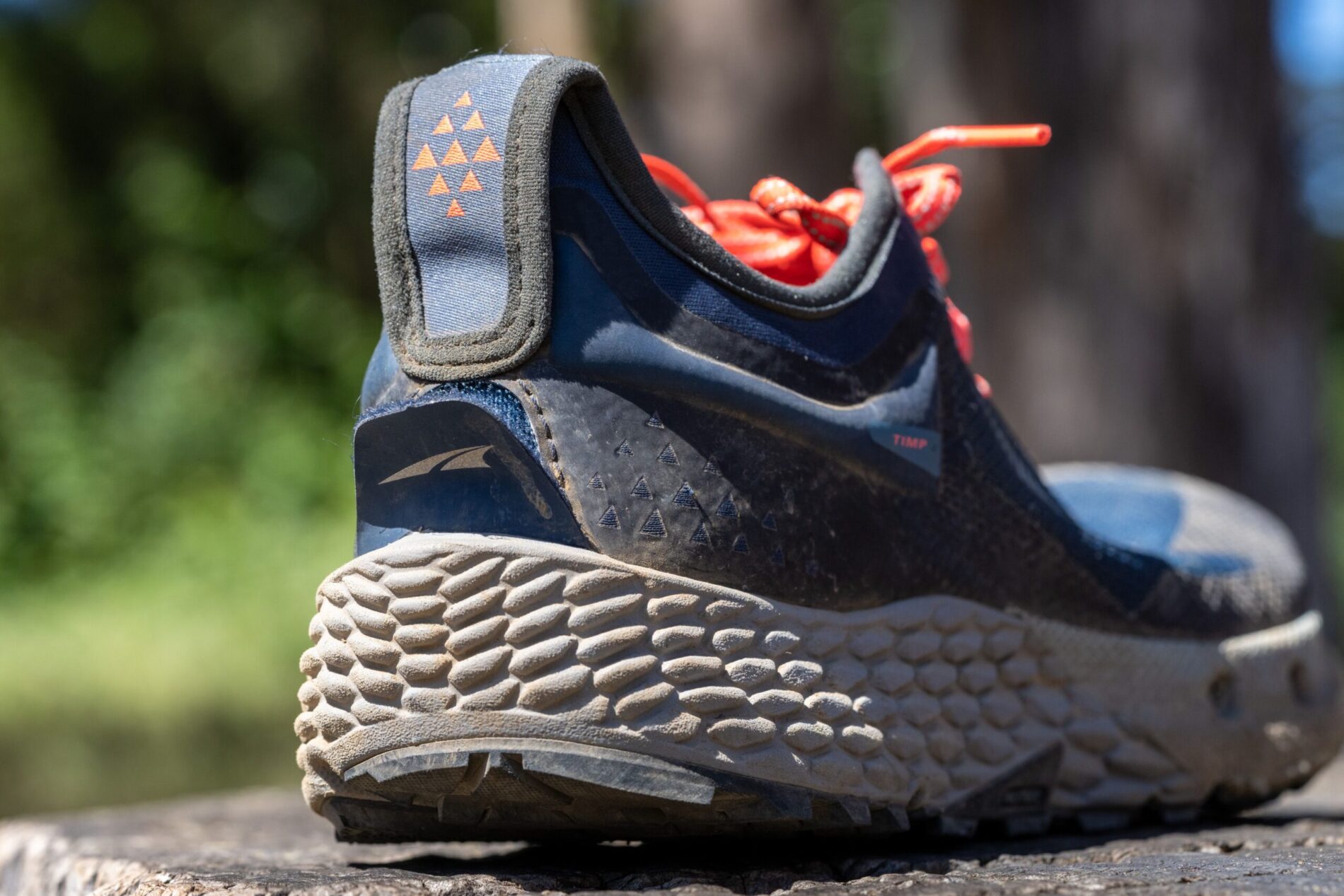 In past models from Altra, like the Lone Peak 4, the shoe's width was not counterbalanced by enough heel and midfoot security to keep my foot from sliding around. The Timp 4's redesigned heel collar did a great job locking down my hind foot. I'm pleased to see Altra paying a bit more attention to this area of their shoes. Models without a heel-to-toe drop put an increased amount of stress on the muscles and tendons of the lower leg, and adding a bit more support to the heel collar can go a long way in making sure those structures are loaded properly. More lightweight padding was also implemented in the Timp 4's tongue to prevent lace bite. Altra shoes generally demand I put a lot of tension on my laces to achieve a secure fit, so I appreciated how Altra anticipated and corrected for this issue. Despite how roomy the rest of the upper is, I largely avoided issues with toe jamming or blisters on sharp descents. That's a credit to how well the Timp 4 held my foot while moving quickly over technical terrain.
Altra shoes are unconventional by nature, and I imagine issues with fit are the main deterrent for most folks who walk out of running stores empty handed. While I'm a believer in the merits of a more rounded toe box, I've also found that they often come at the expense of precision. The Timp 4 doesn't escape this generalization. It also happens to have a higher-volume last overall than both the Timp 2 and the Timp 3, so if you have narrow feet and typically enjoy the compact fit customary to brands like Salomon, I'm not sure the Timp 4 should be on your list. Again, trying on shoes is the best approach, whenever possible.
Weight
Typically, the first thing a brand does when updating a shoe is trim excess weight. Going with a more streamlined upper or shaving off a few grams from the midsole is fairly easy to do considering the proliferation of new lightweight materials available. Reducing a shoe's weight is low-hanging fruit and, if nothing else, acts as an immediate selling point. While the Timp 4 technically did lose a tenth of an ounce over the Timp 3, that's probably not enough to have much of an impact on foot. To be fair, the two models are so drastically different that I think we can cut Altra a bit of slack for not improving in this category much. For reference, here's how the Timp 4's stated weight compares to the stated weights for some other similar models. All weights are based on a US Men's Size 9.
260 g / 9.2 oz — Salomon Ultra Glide
278 g / 9.8 oz — Hoka One One Challenger ATR 6
283 g / 10.0 oz — Topo Athletic Ultraventure 2
306 g / 10.8 oz — Scarpa Spin Infinity
306 g / 10.8 oz — ON Running Cloudultra
303 g / 10.9 oz – Altra Timp 4
310 g / 10.9 oz — La Sportiva Akasha II
310 g / 10.9 oz — The North Face VECTIV Infinite
311 g / 11 oz – Altra Timp 3
Despite the Timp 4's proximity to the Timp 3, it's still on the lighter end of the "high-cushioned" shoe category. Though well over 10 ounces, the Timp 4 carries its weight well and I never felt like it affected the shoe's performance. In our review of the Timp 2, we noted how its flexible cushioning enhanced how light the shoe felt on foot compared to models of similar weights. The same can be said for the Timp 4, even with its additional millimeter of stack height. An ounce here or there won't make or break most trail shoes intended for running long distances, and I think Altra smartly prioritized other areas of the Timp 4 over a fixation with slipping under an arbitrary weight.
Upper
After years of sticking with standard mesh uppers draped with synthetic overlays on most of their trail shoes (including the Timp 3), Altra outfitted the Timp 4 with a more interesting knit upper. They also changed the orientation of their lightweight TPU overlays to line the junction between the upper and midsole. The result is a single piece of durable fabric that runs from the toe cap to the vamp. It's constructed loosely enough to remain breathable and the TPU overlays help protect the upper from debris while supporting its overall structure. My feet felt well ventilated on runs in dry climates lasting up to 4 hours and the fabric still shows no signs of pinching or creasing at the shoe's flex points (more on durability farther down).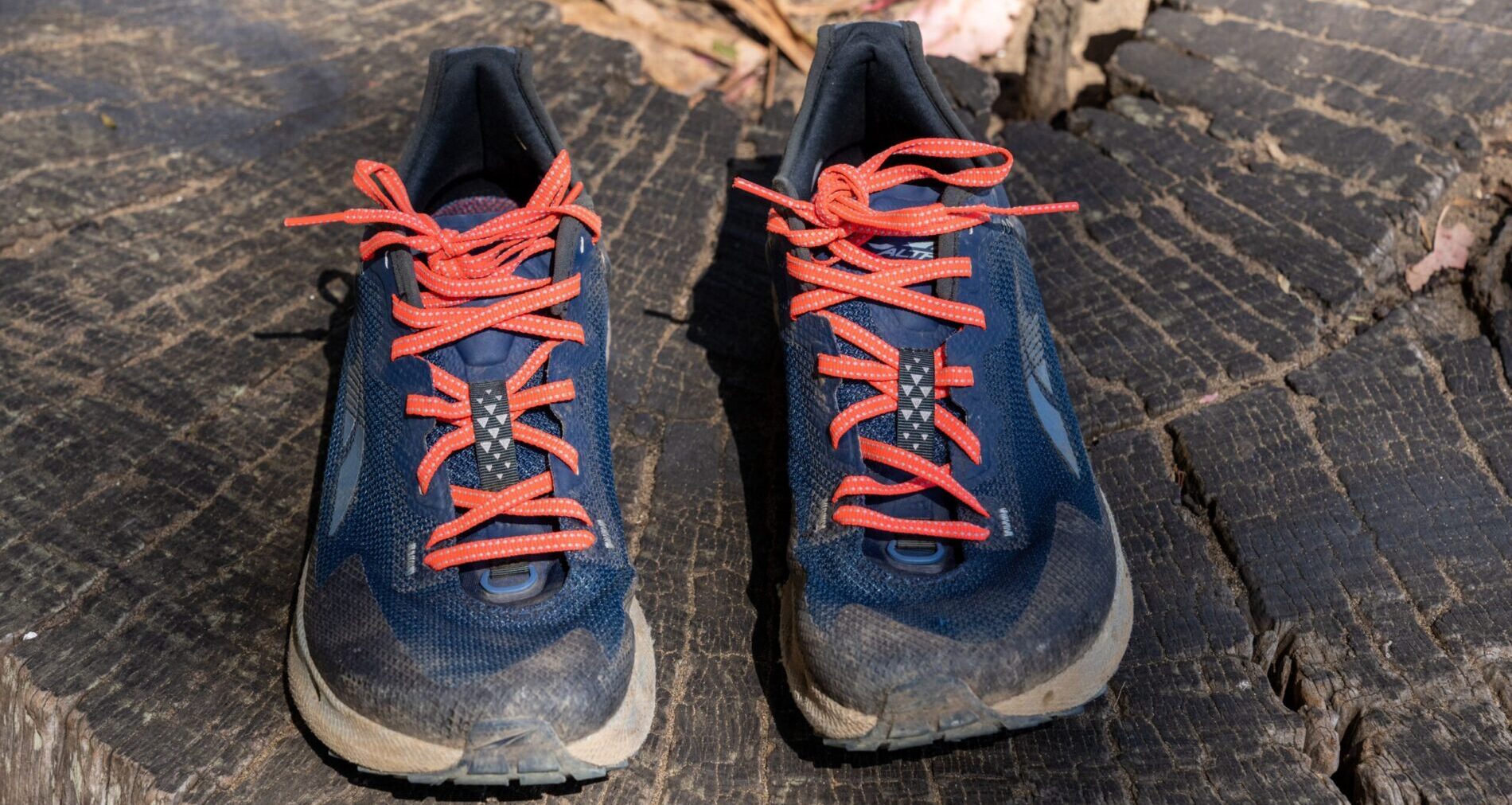 Moving to the back of the shoe, I applauded Altra for placing an emphasis on restructuring the Timp 4's heel collar to meet the demands of zero-drop geometry, and I'll continue to do so here. The heel counter feels more supportive than what's on models like the Lone Peak 6. The addition of TPU overlays on the exterior and raised panels of cushioning along the ankle collar help to make up for any instability felt from the shoe's wider toe box. In the past, I've struggled with heel slippage while climbing in Altras, but the Timp 4's beefed-up heel collar gripped the back of my foot comfortably on the steepest grades I could find.
While I want to continue singing the praises of the Timp 4's upper, two issues prevent me from fully breaking out in song and dance. While the extra padding Altra added to the shoe's tongue helps the Timp 4 fit more comfortably, the tongue is top-welded instead of gusseted, so after a few miles of running, I'd find myself having to pause to uncrumple and reposition the tongue under the laces. Additionally, I almost feel like the fabric Altra uses for the Timp 4's upper has too loose of a composition. It's practically porous, and during runs on loose trails, I'd again have to pause to empty my shoes of sand. Neither of these complaints are deal-breakers though, and overall I think the Timp 4's restructured upper is a massive upgrade over past iterations of the shoe.
Midsole
I'll confess I've felt pretty neutral about Altra midsoles in the past. They've consistently underwhelmed me by packing out quicker than I'd like; never rapidly enough to steer me away from the brand altogether, but enough to give me pause. To be honest, when Altra moved from "Quantic" foam in the Timp 2 to "Altra Ego" foam in the Timp 3, I hardly noticed the difference. Both materials felt energetic and supple underfoot for a good 60 miles or so before sharply dampening. They'd eventually come to rest at a flatter level of cushioning that would see them through the rest of their lifecycle. Ironically, the more I beat up a Quantic or Ego midsole, the better ground feel I had, so for my preferences, I actually came to appreciate the earlier Timps' lack of resilience.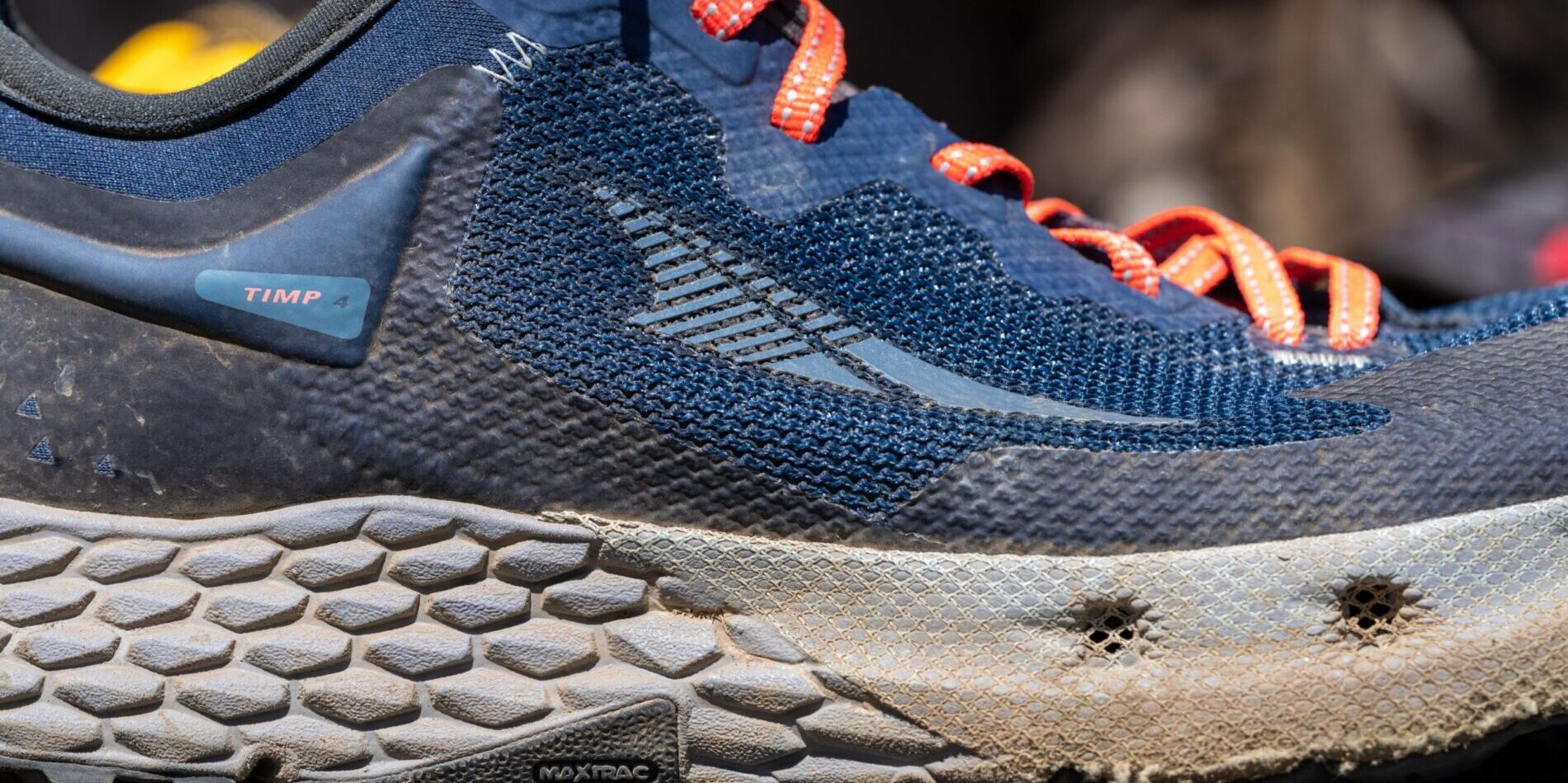 As with the past two iterations of the shoe, updates to the Timp 4 included yet another change in midsole material. Altra swapped out their Ego foam for their premium "Ego Max," which they typically reserved for premium models like the Torin 5 or Mont Blanc. There's also more of it. The Timp 4 gained an extra millimeter of stack height, going from 29 mm to 30 mm. Some may argue that difference is trivial, but in my experience, the Timp 4 felt far more plush and pillowy than its predecessors (whether due to midsole material or that single millimeter). The shoe hasn't gone completely soft on me though. In terms of energy return, Altra's Ego Max feels quite a bit more energetic than both Quantic and Ego foams. It's slightly denser and quicker than the EVA Hoka commonly uses but still a few rungs below Nike's "ZoomX" foam. By virtue of the shoe's zero-drop design, the midsole also feels much more consistent underfoot than models with higher heel-to-toe drops. After testing, I'd liken the Timp 4's ride to the Hoka Challenger ATR 6 and the Topo Athletic Mtn Racer 2, but with slightly better ground feel than both.
Speaking of which, any time you increase a shoe's stack height you inevitably impact its ground feel. That makes sense; the more material you have beneath you, the harder your foot has to work to gain purchase and feel what's underneath it. With the Timp 4, Altra smartly got out ahead of this potential problem by taking measures to add flexibility. A small series of grooves were carved into the top of the shoe's midsole to add pliability to the Ego Max foam, which Altra calls "InnerFlex." There are also three drainage ports drilled into the midsole on both the medial and lateral sides of the shoe near the forefoot. When not emptying water (i.e., most of the time for me), these breaks in the foam allow the midsole to fold more easily during foot strike and toe-off. On top of that, the Timp 4 also lacks any rigidity a rock plate might bring. Collectively, this makes the shoe still feel separate from true maximally cushioned models (like Altra's Olympus 5), which I think is a good thing for most runners. The Timp 4 is protective for runs of just about any distance, but not too overbuilt and lethargic to drastically slow you down during uptempo efforts or on trails that require precise foot placement.
Outsole
"Maxtrac" has been Altra's rubber compound of choice for many years now, and while outsoles made from this material look the part of a tread ready for technical terrain, in my experience they've mostly been more bark than bite. I was secretly hoping Altra would outsource the Timp 4's outsole to a brand like Vibram or Continental. When I heard that Maxtrac would be making a reappearance, albeit with new multidirectional lugs, my expectations for how the shoe would fare on the rough trails I prefer began to spoil.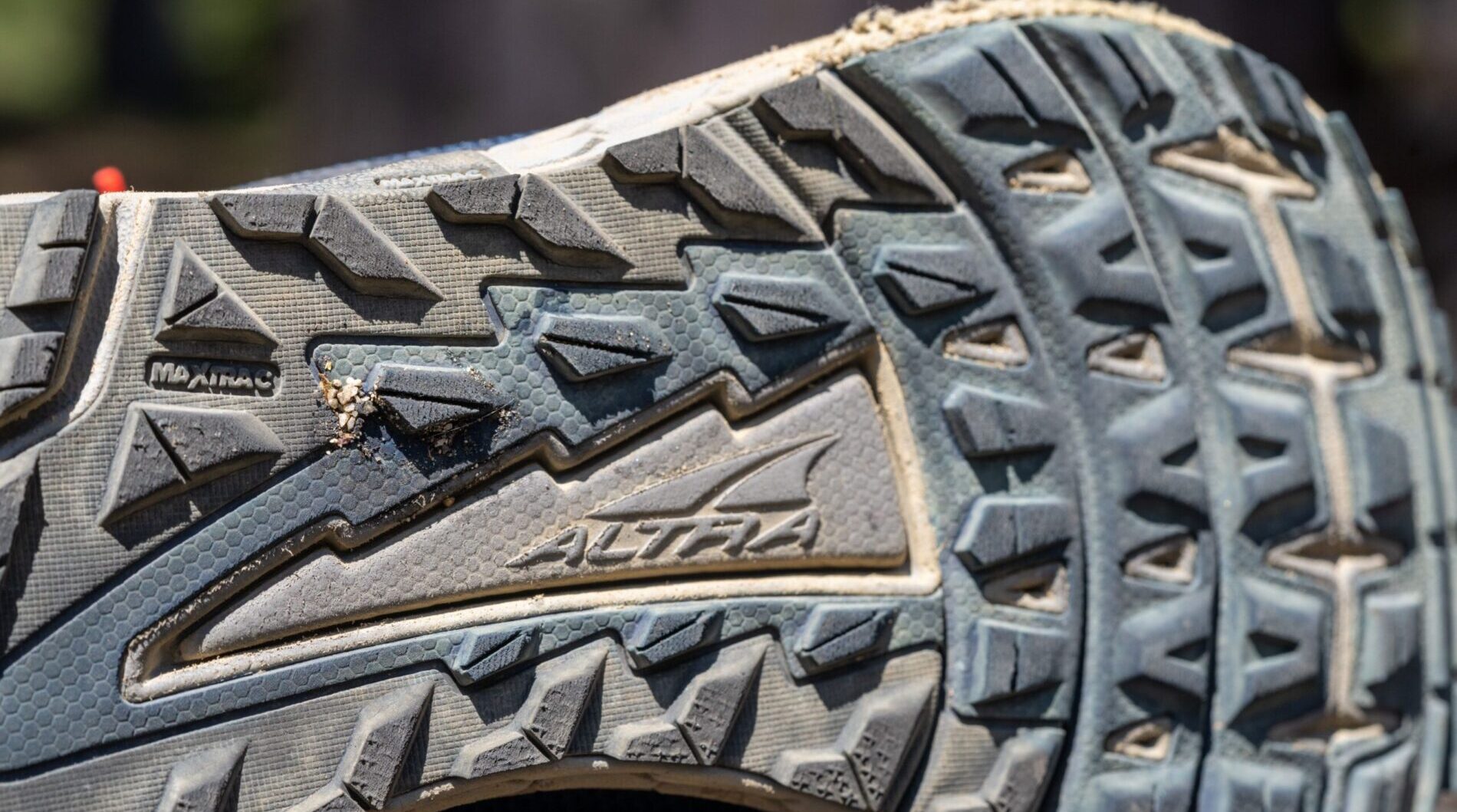 In my opinion, The Timp 4's outsole is the shoe's most notable weak point, particularly if your runs take you on trails requiring average to above-average grip. Ostensibly, the shoe's aggressive, full-length lug pattern looks like it'd have no issues smearing well on granite, sinking into kitty-litter, or planting in mud. In practice, the Maxtrac rubber compound is far too soft to hold onto loose surfaces and the lugs are much shallower than they appear. Of course, the shoe's exceptional ground feel helps to ameliorate some of the Timp 4's poor traction, but only up to a point. I can't help but think the decision to add so much give to the outsole material was informed by Altra's consuming fixation on flexibility. This might have been a step too far (sorry). That said, if you do most of your running on buffed-out trails, bike paths, or roads where loose surfaces are rarer, the Timp 4's outsole shouldn't be a limitation.
On Trail
For whatever reason, I've been a little late getting around to writing a review of the Timp 4. However, my dawdling has allowed me to run more miles in the shoe than I typically would before dropping a review. The 250 miles I've put on the Timp 4 came in the form of shakeouts, interval workouts, and long runs on terrain ranging from flowy coastal singletrack to mountainous high-alpine scree. I prefer to keep my shoe rotation trimmed to 3 or 4 pairs at any given time, and for the last couple of months, the Timp 4 has been a mainstay within that group.
While I'd wear the Timp 4 for just about any type of run when pressed, I think it thrives during longer efforts on gentler trails. The shoe's (relative) weight prevents it from being a great option for faster paced runs, where I'd much rather wear a stiffer model with a lower stack height, like the Salomon S/Lab Sense 8 or the Arc'teryx Norvan SL 2. The Timp 4's Maxtrac outsole also limits the amount of confidence I have in taking it on anything technical, where a model like the Dynafit Alpine or La Sportiva Lycan II would make more sense. But for more moderate-paced long runs on dry trails, the Timp 4 is one of the first shoes I reach for.
While I wish Altra had shown some restraint with how much flexibility they applied to the Timp 4, stopping short of compromising its outsole, I do think the superb ground feel conferred as a result is completely worth it. I've yet to run in a shoe with a similar stack height that's as stable as the Timp 4. A sense of balance on off-camber trails ties back directly to the shoe's suppleness and the toe splay afforded by its wide platform. Stability also depends quite a bit on the upper's ability to lock down the midfoot / heel, and the changes Altra made to the heel collar help accomplish this. In the wider context of trail shoes, the Timp 4 is still a looser-fitting model, so some forefoot play is inevitable as the shoe ages. It might take some fine-tuning to dial in a precise fit, especially if your feet are on the narrow side. Wide toe boxes work for me, so once I landed on how I wanted to tension my laces, the Timp 4's hold on my foot remained unchanged.
Durability
Altra has been rightly criticized for their build quality in the past. Many of the trail shoes I've owned from them were beset with glaring cosmetic flaws, like delaminated overlays, fraying at the heel collar, blown-out sidewalls, and/or prematurely packed-out midsoles. I'd be lucky to milk 200 miles out of an earlier version of the Timp or Lone Peak before running them threadbare. For a brand that markets itself as a purveyor of some of the most capable trail shoes on the market, watching its models get mangled within mere weeks felt discouraging.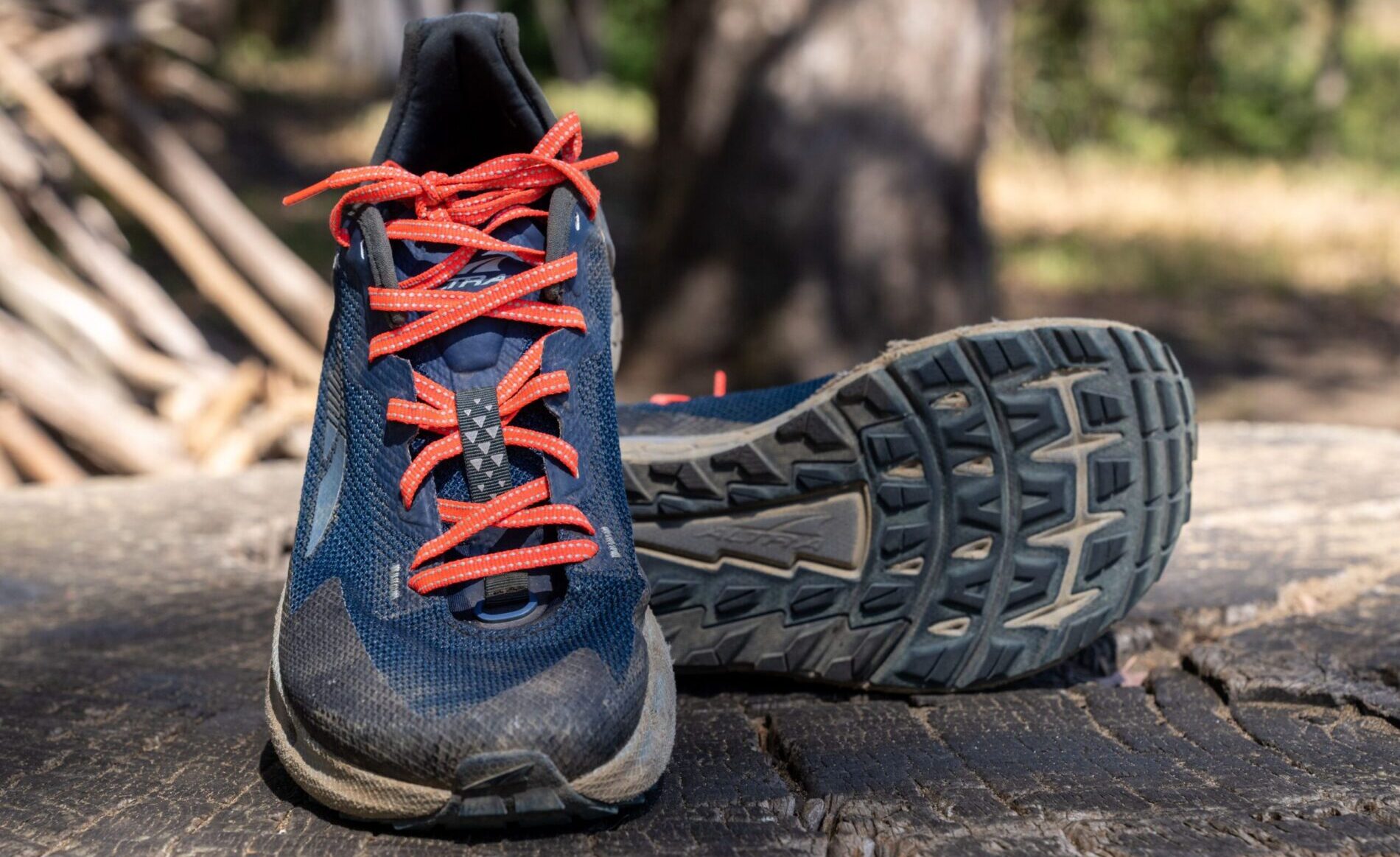 All that said, the Timp 4 mostly upsets this trend. Now revamped with (seemingly) higher-quality materials and a simpler design, the Timp 4 has held up well over the 250 miles I've put on it. The upper is still intact and its TPU overlays show no signs of delaminating. The fabric has stretched a bit, causing the upper to wear slightly baggier than it did out of the box, but that hasn't yet negatively affected its fit. The Ego Max midsole has settled some, but it's still pretty lively and protective. I was initially concerned that, as the Timp 4 aged, a lack of a rock plate would leave the bottoms of my feet bruised, but that hasn't been the case. Finally, Altra wrapped sections of the Timp's midsole near the forefoot in a protective mesh webbing to hem in their exposed Ego Max foam, and tufts of that material are starting to fray, but that has no bearing on the performance of the shoe.
What does pose an issue is the Maxtrac outsole's inability to hold up against wear. After eclipsing the 60-mile mark or so, the Timp 4's lugs smoothed to the touch like rubber erasers. Their texture reminded me of the Pink Pearls I kept at my desk as a kid, and sure enough, the Maxtrac lugs quickly ground down like them, too. The Timp 4 has more than enough virtues to compensate for a substandard outsole, I just wish they would have traded in Maxtrac for the Vibram Megagrip they use on the Olympus 5. As always, if anything changes down the line I'll be back with updates.
Who's It For?
Though I think the Timp 4 shares a likeness to its predecessors almost only in name, I don't think the audience for the shoe has actually changed all that much. It's still a great option for runners who enjoy ample cushioning on longer runs but don't want to sacrifice ground feel for it; or, those not yet ready to commit to models with stack heights exceeding 30 mm, like the Altra Olympus 5 or Hoka Speedgoat 5. The Timp 4 performs well on just about every type of trail sparring loose gravel, and while there are plenty of better models for technical scrambling, I'd still feel comfortable taking them off trail above treeline. The shoe's heft makes it less ideal on race day, but it's worth its weight as a daily trainer or long-distance option. Altra's ZeroDrop geometry and FootShape Fit will definitely put off some people (and draw in others), but if you enjoy shoes with a spacious toe box and are used to models with minimal heel-to-toe drops, the Timp 4 should feel familiar. So, if you're enticed by the idea of maximal trail shoes with pillowy midsoles but you fear surrendering too much ground feel, I think the Timp 4 is worth a look.
Bottom Line
It would have been easy for Altra to ride the backs of successful models like the Lone Peak and Olympus instead of committing to a full overhaul of the Timp 4. Like the minor tweaks the brand made between the shoe's second and third iteration, the fourth version of the Timp could have gotten away with a mere cosmetic update. Most people would have been just fine with that. Instead, Altra delivered a brand new, more capable shoe. The Timp 4 corrects most of the durability issues of past models by incorporating premium materials into a simple design. Its flexible-yet-cushioned feel is ideal for longer runs and the shoe's improved upper keeps the foot in place at faster paces. While the Timp 4's outsole is a slight disappointment, particularly on loose surfaces and in terms of durability, it shouldn't be a deterrent for most folks. Whether you're already a fan of the Timp or you're just in search of a cushioned trail shoe with great flexibility and ground feel, I'd say the Timp 4 is worth kicking the tires on.