Altra Lone Peak 6
Test Location: Gunnison & Crested Butte, Colorado
Test Duration: 55 miles
Stated Stack Height (Men's): 25 mm (heel) / 25 mm (forefoot)
Stated Heel-to-Toe Drop: 0 mm
Stated Features:
Original Footshape™ Fit
Balanced Cushioning™ Platform
Altra EGO™ foam midsole
Trailclaw™ metatarsal lug pattern
MaxTrac™ outsole rubber
Gaitertrap™ heel tab
Stated Weight: 300 g (Men, size 9) / 248 g (Women, size 8)
Blister's Measured Weight (US Men's size 10.5):
Shoes w/o insoles: 278 & 280 grams
Insoles: 24 & 26 grams
Total: 302 g & 306 g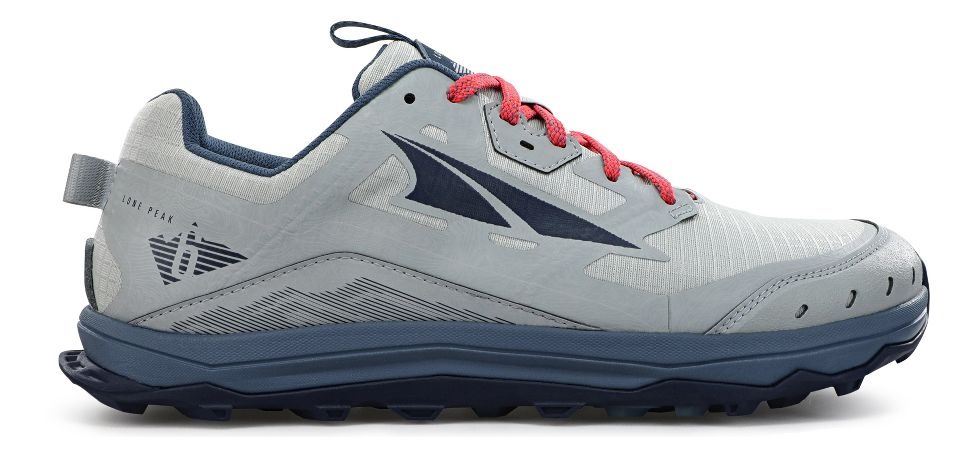 MSRP: $140
Size Tested: US Men's 10.5 / EU 44.5
Reviewer: 5'11", 165 lbs / 180 cm, 75 kg
Intro
The original Altra Lone Peak entered the trail running world around 8 years ago as Altra's flagship trail shoe. Named after the rugged Lone Peak found in the Wasatch Range, the shoe instantly became popular as an all-round option for everything from trail races to ultra marathons to long thru-hikes. Perhaps more importantly, it helped legitimize Altra's unique approach to footwear design, namely their decision to pair zero-drop midsoles with wide toeboxes across all of their models. Now in its 6th iteration, Altra refers to the Lone Peak as their versatile "legend."
Like so many of Altra's shoes, the Lone Peak has undergone many revisions over the years (and additions; they now offer waterproof and mid-cut versions). However, the current Lone Peak 6 has a few significant updates that may change the feel and appropriate usage of the shoe altogether.
In 2022, Altra debuted a new composition of midsole foam, and the Lone Peak 6 was one of the first models to receive it. Additionally, Altra chose to leave out their proprietary removable rockplate they call a "StoneGuard," which I'll touch more on later. In 2020, our reviewer Kieran Nay concluded in his review of the Lone Peak 4.5 that it was a good option for runs on moderate-to-technical terrain when you're not as highly prioritizing a shoe's weight or its rebound qualities. Given the updates Altra made, I was curious to see whether his conclusions still held true for the Lone Peak 6, or if the shoe should be considered for other uses. And in this review, I'll explain why Altra's Lone Peak 6 might be a shoe best used for more reserved running efforts compared to its previous versions.
Fit
Without first trying on a shoe in person, getting the right size for my feet always gives me a bit of trepidation. But I figured, given the touted high-volume toebox of the Lone Peak 6, I would be fine with my usual size, US Men's 10.5. And lengthwise, this shoe fit perfectly for what I would describe as a long-distance or "comfort" fit — meaning it had just enough room in the toebox for my feet to swell without sacrificing security in the heel cup.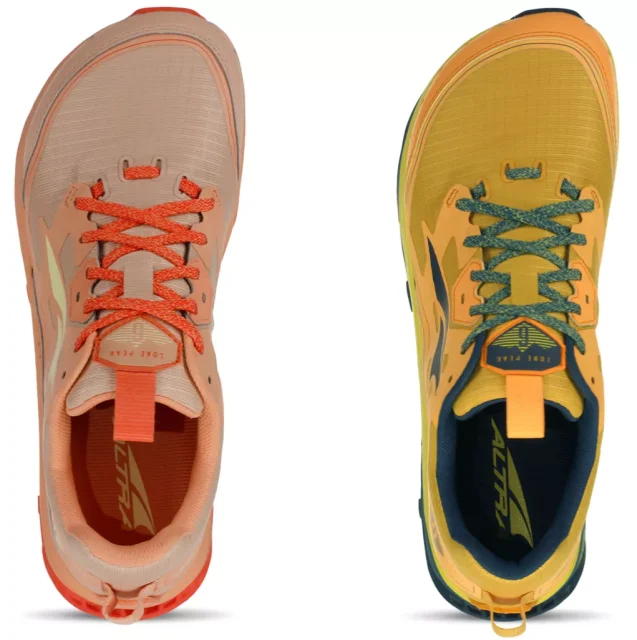 Despite the length fitting perfectly, I wondered if Altra's "Original Footshape" fit — their widest-profile shoe — would end up being too wide for my foot, and possibly affect the stability of the shoe or heighten the torque on some part of my lower limbs. Out of the box, the toebox is quite spacious, both in respect to width and height, but the laces extend far enough forward that I was able to cinch down the forefoot enough to condense the excess room for a secure fit there. Despite the width being slightly overkill for my narrower feet, I was still very willing to give this shoe a try because, while I think of my feet as medium-to-low volume, the potential benefits from a wider toebox on longer runs seemed appealing, especially considering how my feet seem to swell almost a full size after a few hours of running.
Aside from feeling somewhat roomy, the Lone Peak 6 felt comfortable and precise with little break-in. I would classify the height of the heel collar as average, and despite the low-rising, flexible heel counter and the minimal cushion lining the upper, it still provided a good level of heel hold. The vamp over the midfoot felt just a touch below average in height, which for my high instep often causes numbness, but to my surprise, I had no issues with it, even after running up to two hours.
By virtue of their foot-shaped toebox and zero drop, the fit of Altra shoes tend to be pretty distinct, which often makes comparison difficult. That said, within this wider genre of versatile medium-cushioned shoes, I would say the Lone Peak 6's fit is similar to the Salomon X Alpine Pro or the Salomon Ultra Pro (with the caveat that neither have anything close to Altra's foot shape toebox). Given the distinct flexibility of its upper, I think the Lone Peak 6 will conform to and fit a wide variety of foot widths and heights. It's a common misconception that Altra just makes shoes for runners with extremely broad feet, and my enjoyment of the Lone Peak 6 is a testament to that.
Weight
I'll be clear: weight isn't something I obsess over when deciding what kind of shoes to run in. On most of my outings, I find myself on slow-moving terrain where a couple grams either way isn't particularly noticeable. And while it feels great to be in something light and agile, I like to think of wearing a heavier training shoe as an added bit of strength training. Over the years I've tested running equipment and ski equipment, and I've found that how heavy a piece of gear feels is inextricably linked to what you've gotten used to, or even to what you most recently had been using. So while our reviewer Kieran Nay, in his review of the Lone Peak 4.5, says that that model's weight became one of his main complaints, I would say that in the case of the Lone Peak 6, its heft didn't bother me or contribute to any ungainliness. In fact, on trail, the shoe felt deceptively lightweight compared to the pair of Salomon Ultra /Pros I had been running in previously.
On foot, most of the Lone Peak 6's mass feels concentrated around the forefoot. This makes sense when you look at how the entire shoe is structured. A minimal heel counter paired with a large leathery toe rand on the opposite end, combined with evenly distributed midsole foam across the zero-drop platform and a larger forefoot design, all mean that the shoe is front heavy. For me, this lent the Lone Peak 6 an unbalanced sensation that detracted slightly from how agile it felt on technical terrain (more on that later).
As Kieran incisively pointed out, the Lone Peak's stockiness is at odds with how modest its stack height and protection are, and I'm not sure it fits within Altra's lineup the way they intend it to. That said, I should note that Altra actually overstates the Lone Peak 6's true weight: their stated weight for a size US Men's size 9 is 300 grams, while my US Men's size 10.5 also weighed about 300 grams, so I'd guess the stated weight should be closer to 280 grams.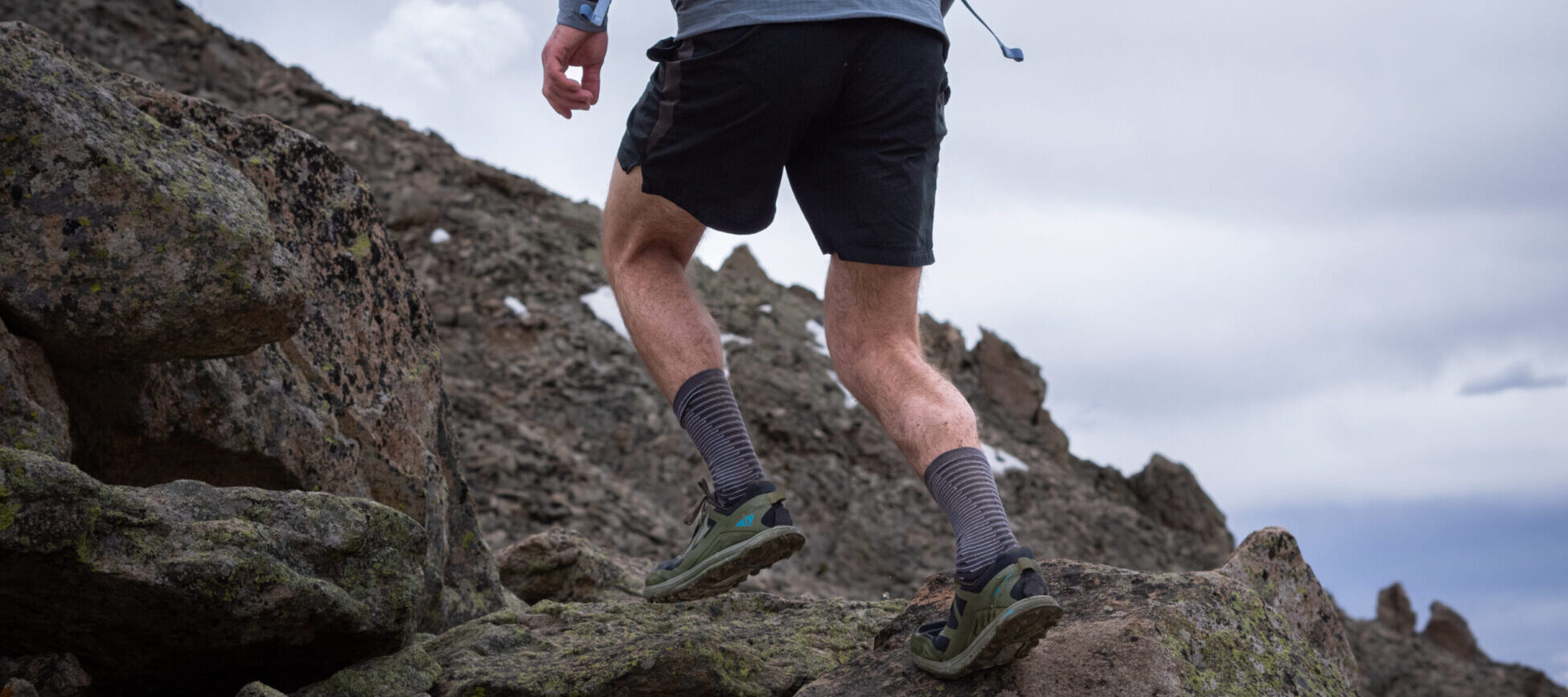 For reference, here are the stated weights of some notable shoes in the Lone Peak 6's category (all stated weights based on a US Men's size 9):
264 g / 9.3 oz — Hoka Torrent 2
265 g / 9.3 oz — Arc'teryx Norvan LD 3
270 g / 9.5 oz — Salomon Ultra /Pro
275 g / 9.7 oz — Saucony Peregrine 12
289 g / 10.2 oz — La Sportiva Lycan II
289 g / 10.2 oz — Topo Athletic Terraventure 3
290 g / 10.2 oz — Salomon Sense Ride 4
298 g / 10.5 oz — Altra Lone Peak 4.5
300 g / 10.6 oz — Altra Lone Peak 6
312 g / 11.0 oz — Nike Wildhorse 7
315 g / 11.1 oz — Altra Lone Peak 5
Among its competitors, the Lone Peak 6 sits on the heavier end of the spectrum, but as I'll explain, it both feels much lighter and is capable of less (in certain regards) than many of these shoes.
Upper
Shoes with intentionally wide toeboxes depend on the integrity of their uppers more so than more traditionally cut models, and what stands out to me about the Lone Peak 6's upper is how well it balances flexibility with control. Beginning at the rear of the shoe, the heel is the stiffest part, though still quite flexible relative to other models I've tested. The addition of a smartly placed pull tab is particularly helpful in getting the Lone Peak 6 on because the shoe's heel cup is so pliable that it tends to crumple under duress.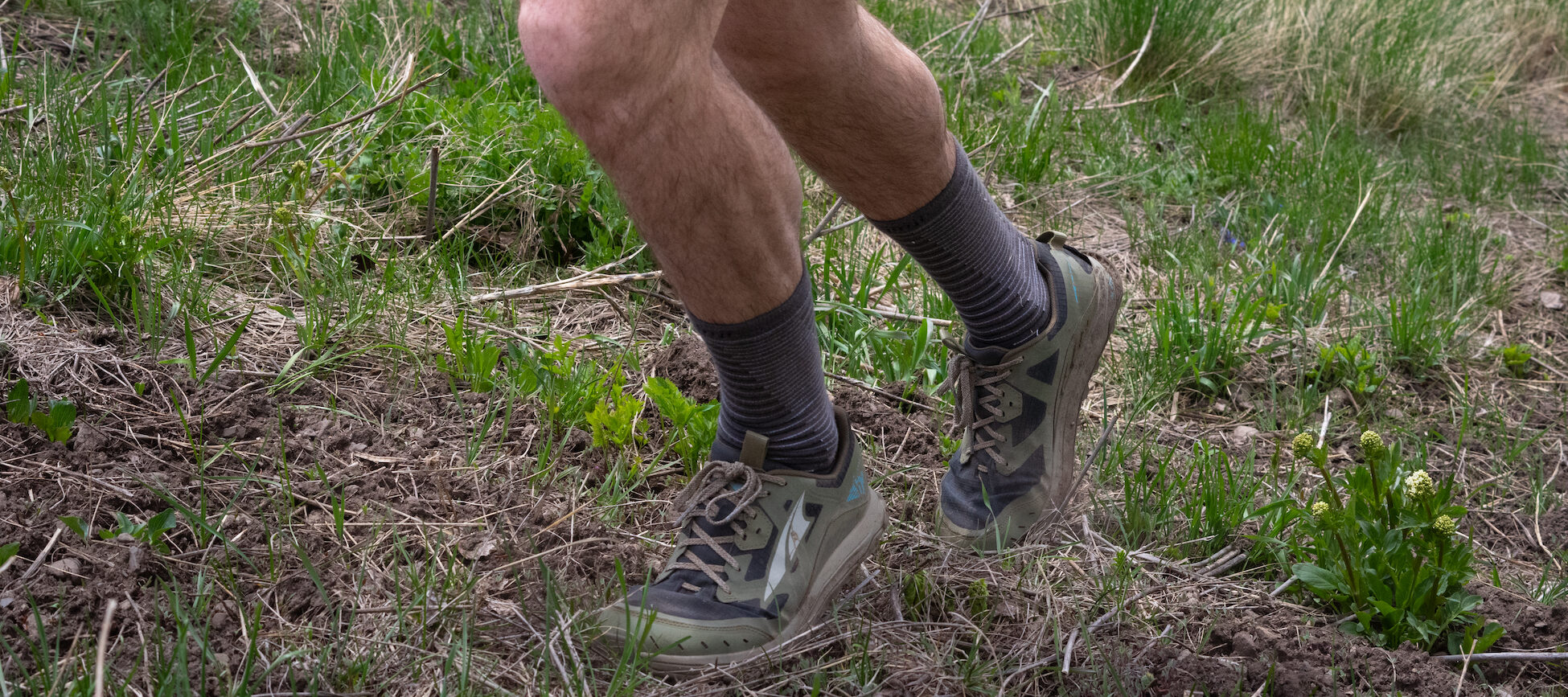 Moving up the Lone Peak 6, leathery plastic overlays on the medial and lateral midfoot and toebox add some stability and protection to the vamp, but are still quite thin. Heat-welded overlays like these potentially add some durability — after about 50 miles on mostly moderate trails, the upper still shows minimal sign of wear, but I'm dubious about their long-term sturdiness.
Tightly knit nylon mesh spans the shoe and holds everything together, and though very thin, has proved to be quite durable so far. Despite the scarcity of overlays and thickness of materials you might expect from a shoe that purports to be the go-to option for thru-hikers and serious trail runners, the Lone Peak 6's upper has actually felt pretty stable and durable on the trail. Off trail, though, I do think the shoe has some limitations, so if you're interested in scrambling or cross-country excursions, I'd probably look to something more robust like the La Sportiva Bushido II or the Scarpa Ribelle Run.
Ultimately, the Lone Peak's upper seems to have been designed with breathability and fit-accessibility in mind, and overall, I think it succeeds in those goals. Consistently, this is a shoe that has felt very airy, and its flexibility has allowed me to cinch down a precise fit onto my otherwise ill-matched feet. What's important to note is that, despite the Lone Peak 6's above-average flexibility, I think little stability has been sacrificed. In my opinion, that's a winning combo.
Midsole
Let me start by saying that, up until running in the Lone Peak 6, I had never worn a zero-drop shoe. Typically, I prefer models with a drop between 5 mm and 8 mm, but after hearing so much about the virtues of zero-drop geometry and the positive outcomes it can have on running form and fitness, I felt it was something I should try. I also review shoes after all, so getting my feet in a pair of Altras would at the very least make me a more well-rounded critic. After the first few weeks of adjusting to the absence of a built-up heel, I felt I was able to start forming an opinion on the Lone Peak's "Altra Ego" midsole.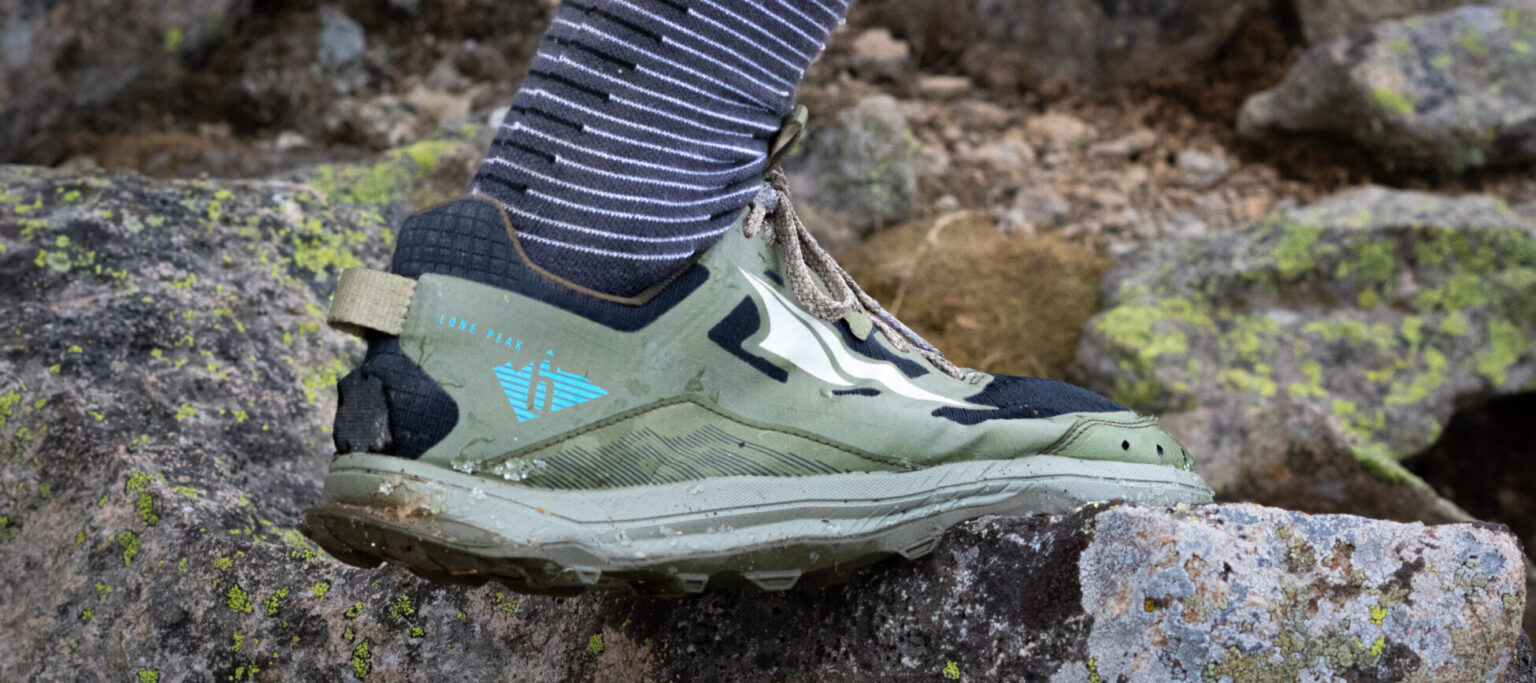 Over my testing period, I have (so far) put about 55 miles in the Lone Peak 6 on almost exclusively singletrack trails, varying from loose sand to hard-packed dirt, with an occasional rocky section requiring jumping, precise foot placement, flow, and speed management. For the first 25 miles or so, the Altra Ego midsole felt quite energetic compared to the "EnergyCell+" midsole in the Salomon Speedcross 5 I had been using most recently on similar trails. And while the Lone Peak 6's zero-drop construction and minimal rocker prevented it from feeling precise or particularly fast, running in the Lone Peak 6 for my daily 10-mile outings was pretty enjoyable. I think the key ingredient here is ground feel. The ability to sense the texture of the surface I was running on allowed me to mine efficiency out of each stride, aside from just being outright fun.
The back half of the 55 miles I've put in my pair of the Lone Peak 6 told a different story. The Altra Ego midsole lost a lot of its energy and what was once enjoyable running morphed into something turbulent. On similar terrain as the first 25 miles, I now felt like I was bottoming out the midsole, which made the shoe lose stability when combined with how inherently flexible it is. Foot strikes started feeling more akin to flat-footed slapping — no rolling gait, no spring. Adapting to a slightly more forefoot-centric foot strike felt harsh, and the shoe's strict geometry was unwilling to accommodate different running styles. Given the Lone Peak 6's already low stack height, a packed-out midsole meant I had to unnaturally shorten my strides quite a bit.
Outsole
As I alluded to earlier, most of my runs in the Lone Peak 6 were roughly 10 miles long and didn't include too much climbing; a loop at Hartman Rocks, Gunnison's local trail system, usually nets a gentle ~1,200 ft of ascent. The shoe's midsole seemed perfect for distances of about this length, so I refrained from pushing the Lone Peak 6 much farther. The outsole, on the other hand, felt like it wanted to be challenged. Altra uses a tread pattern they call "TrailClaw" for increased traction, and I found that it far outperformed similar models I've tested that share the Lone Peak 6's modest 4mm-deep lugs. Paired with Altra's long-standing rubber compound of choice, "MaxTrac," the shoe's outsole performed impressively on aggressive terrain, never once losing purchase on loose sand, mud, or rock. I can't help but think the Lone Peak 6's flexibility – which I've applauded heavily throughout this review – enhances the shoe's traction as well. Coupled with the excess surface area granted by Altra's foot shape toebox, my ability to articulate the grippy outsole over different surfaces kept me firmly rubber side down on all of my runs.
Durability-wise, Altra's MaxTrac rubber compound has held up quite well for what I've asked from it. After 55 miles, my wear pattern reflects a shift toward more of a forefoot strike, so some of the lugs near the shoe's toecap are beginning to thin. That's common though, and I'd expect as much out of any outsole with nearly 60 miles on it. As I continue to run in the Lone Peak 6, I'll be eager to test it in wet conditions but, as with much of the high desert across the American West, rain seems like an impossibility. Once I'm able to slide around in some mud, I'll check back in with my impressions of how the shoe fares on sloppy surfaces.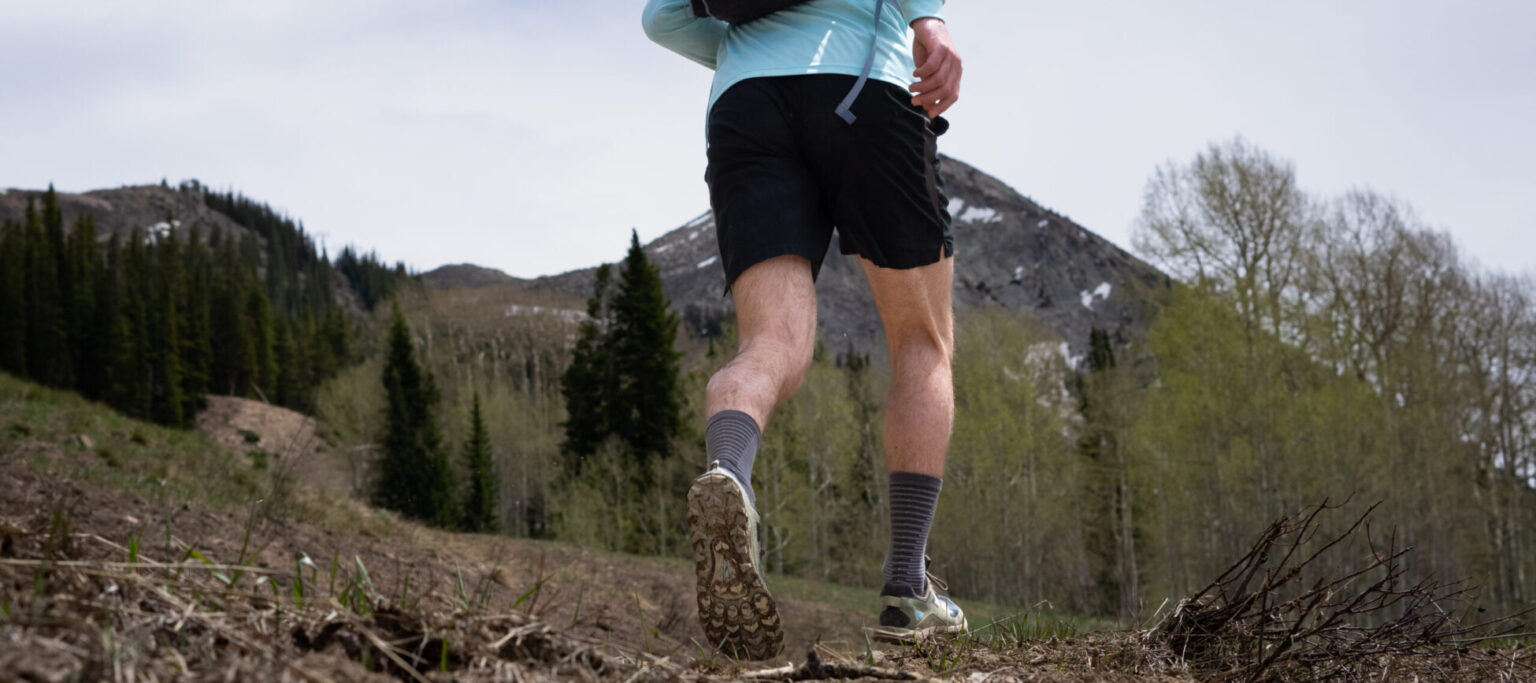 On Trail
Initially, I had a lot of fun in the Lone Peak 6. It felt light and energetic on trail, with great grip and ground feel that allowed me to push technical descents and scamper up the kinds of exposed rocky sections I normally try to seek out. But by 30 miles or so, my enjoyment of the shoe began to taper off. As soon as the perkiness started to fade from the Altra Ego midsole, evaluating textures and smearing across off-camber rock ledges degraded to cautious, protective strides, and a feeling of the shoe bottoming out.
While fluctuations in how the Lone Peak 6 felt over its first 55 miles did leave me slightly let down, I do think it won a spot in my trail shoe rotation after all. For times when I'm traveling to places where I will have limited running time, and where there are flatter, hard-packed trails, the Lone Peak 6 could be a good choice of footwear. I think I'd also reach for it on runs when my general pace is going to be slower (e.g., Moab, UT, where rough trails often limit speed).
I also think there's something to be said about occasionally wearing shoes with a zero-drop platform. Switching up how impact is dispersed across different muscle groups helped my balance and likely reduced the risk of developing an overuse injury, so I'm inclined to use this shoe as a sort of "cross-trainer" as well.
Durability
Again, I've only put between 50 and 60 miles on the Lone Peak 6, mostly in the form of undulating singletrack composed of compacted sandy dirt, with a few short technical rocky sections thrown in. Despite the midsole packing out quickly, the rest of the shoe appears nearly pristine, even the lightweight and flexible upper. Really, the only noticeable sign of wear is confined to the lugs under my forefoot – given the tendency for zero-drop shoes to bias toward a forefoot strike, this makes total sense. As the Lone Peak 6 continues to age in my rotation, I'll be monitoring two areas in particular: the longevity of the Altra Ego midsole and the shoe's flimsy heel cup area, which takes on a ton of torque. As always, I'll update this review if I run into any unusual durability issues down the line.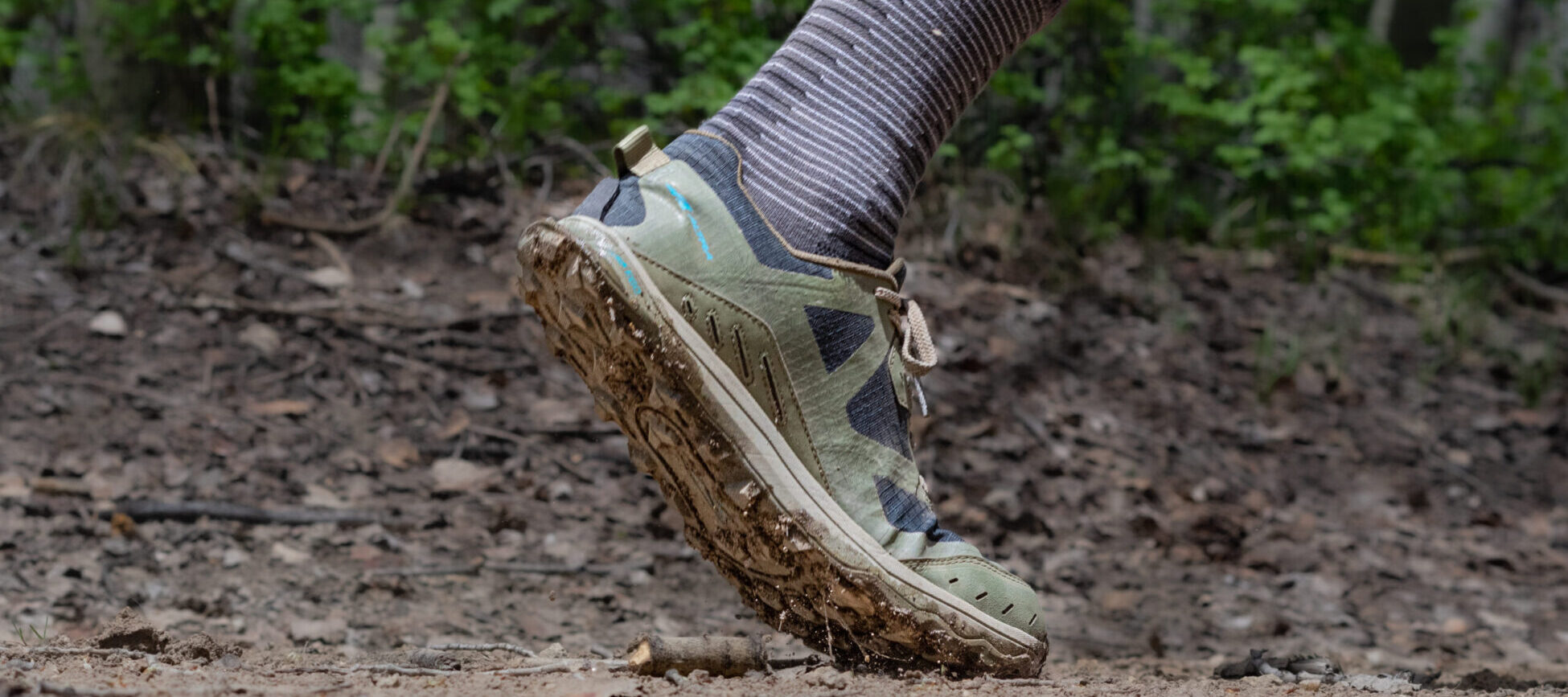 Who's It For?
From a fit perspective, the Lone Peak 6 is an incredibly versatile shoe. It will work well for people with wide feet who need a bit more real estate in the toebox and for folks with average foot types who prefer fits that allow their toes to splay. The workability of the upper will also give some runners with average-to-narrow width feet like myself the option to cinch down the shoe quite securely as well (though if you know you love a very consistently narrow fit, including through the toebox, you should at the very least try it on before buying).
From a usage standpoint, I think the Lone Peak 6 is a good option for short- to medium-length flatter runs on just about any surface. And given the shoe's mid-to-high weight, I think it works best as a daily trainer, especially in warmer temperatures, rather than something reserved for faster-paced runs. And if you're looking for a shoe that produces a lot of rebound, I'd look elsewhere.
While I didn't struggle while transitioning into zero-drop shoes, I know doing so can cause problems for some people if not done gradually. Because your foot sits completely flat in models without a heel-to-toe drop, muscles and tendons in your lower leg (e.g., gastroc, Achilles, and soleus) are asked to do more work. If you combine this added demand with a lot of intensity and/or vert in your training before your body fully adjusts to different loading patterns, injuries can crop up in a hurry. So, if you're curious about switching to zero-drop shoes, make sure to do so slowly.
Bottom Line
In its 6th iteration, Altra's Lone Peak is still a venerable model that mostly succeeds in holding up its legacy in the trail space. It's a highly breathable, flexible, and generously fitting zero-drop option that is surprisingly lightweight feeling on trail. Traction and ground feel are categories the shoe absolutely nails, and while the Lone Peak 6 isn't as protective or supportive as some of its predecessors — especially on steep descents — it thrives on flatter trails, even if they are quite rocky. And while I think referring to the Lone Peak 6 as a "legend" might be a stretch, it's still a shoe that can be quite fun to run in, and one that I think will work well for a wide range of foot types belonging to trail runners who typically stick to medium distances and below.