La Sportiva Cyklon
Test Locations: Logan, Utah
Test Duration: 83 miles
Stated Stack Height (Midsole + Outsole): 28 mm (heel) / 20 mm (forefoot)
Stated Heel-to-Toe Drop: 8 mm
Stated Features:
Perfect for races and medium distance trail runs with major elevation gains where precision matters
Quick lacing BOA Fit System, aggressive traction, and a precise fit for technical terrain
Dynamic Cage Construction for uncompromising fit and stability on uphills and downhill running
Spyral Tongue EVO provides homogeneous pressure for a perfect fit
Shockproof TPU toe cap for extra protection
FriXion XF 2.0 (White "X") with "Mudguard" outsole is super sticky for impressive grip on all types of terrain
Dual-density Memlex EVA midsole is lightweight and has medial/lateral stabilizing inserts
Reviewer: 6'1″, 145 lbs / 185 cm, 67 kg
Size Tested: US Men's 12
Stated Weight per shoe (US Men's Size 9): 330 g / 11.6 oz
Blister's Measured Weight (US Men's 10.5):
Shoes + Laces: 337 g (left) & 342 g (right)
Insoles: 21g (left) & 24 g (right)
Total: 358 g (left) & 366 g (right)
MSRP: $160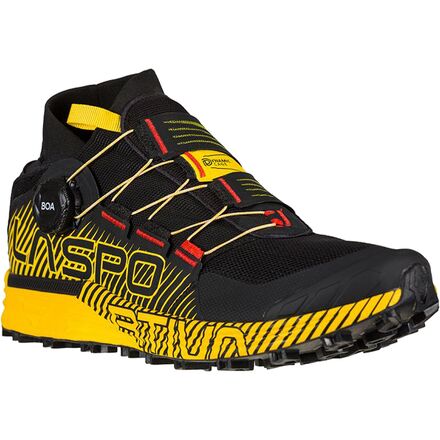 Intro
I've been pretty impressed by La Sportiva's recent forays into the world of longer-distance, moderate-terrain-oriented shoes — shoes like the Jackal and Lycan II definitely compared well against similar shoes from other brands, in my opinion. Still, while La Sportiva has certainly branched out into the broader trail running market in recent years, they're still a "mountain running" brand at heart — and the La Sportiva Cyklon is certainly a clear representation of that fact.
La Sportiva has a storied history of making precise-fitting, grippy shoes for tackling rough, mountainous terrain. The Cyklon fits into that same general mold, but with a few new features that set it apart from more established shoes like the Sportiva Bushido II or Mutant — the most obvious of which is the Cyklon's BOA lacing system. I've had fairly hit-or-miss experiences with shoes with BOA lacing systems in the past, but I've also been continuously impressed by the quality and design of most of La Sportiva's shoes, so I was pretty excited to see how the Cyklon compared to similar shoes with more traditional designs.

After a little over 80 miles in the Cyklon, I think it's easily the best BOA-equipped shoe I've tested. I also think it's a strong contender for the best shoe I've used for steep, technical terrain — but it does still have its limitations. In this review, I'll dive into what makes the Cyklon stand out, where it excels, and where I think other shoes have an edge over the Cyklon.
Fit
As always, we recommend trying on any shoe in person before buying — particularly for brands like La Sportiva that often have slightly different sizing than other major brands like Altra, Hoka, or Salomon. With that said, I'll provide some context on how the Cyklon fits my fairly narrow, low-volume feet relative to similar shoes from Sportiva and other brands.
Like every other La Sportiva shoe I've tested, I had to size up from my usual US Men's 11.5 in the Cyklon. Depending on the model, I usually go up to either a 12 or 12.5 in La Sportiva's shoes. In the Cyklon, a US Men's 12 was just barely long enough for the medium-distance, technical runs that the shoe is designed for — though if I was planning to use the Cyklon for longer runs (over 2 hours), I'd be tempted to go all the way up to a 12.5. Relative to other La Sportiva shoes I've tested, I'd say the Cyklon fits similarly to the Jackal and Lycan II length-wise (I tested a US Men's 12 in both of those shoes as well). So moral of the story — go try on the Cyklon in person to make sure you're getting the right size (if at all possible), especially if you haven't run in other Sportiva shoes. If for some reason you absolutely can't, I'd recommend sizing up at least a half size from your usual US size.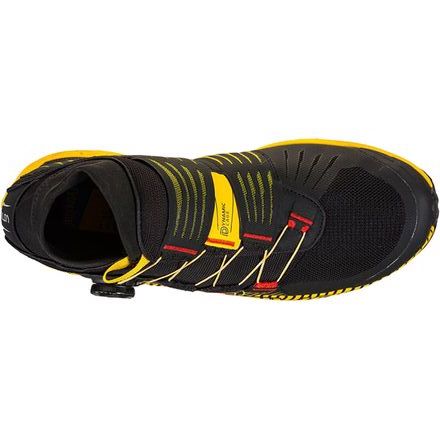 Sizing aside, the Cyklon's fit is pretty much exactly what I'd expect from a La Sportiva shoe designed for steep, technical terrain. The Cyklon is narrow, precise, and secure, but isn't necessarily the most comfortable shoe for longer runs (at least for my preferences). The forefoot is both narrower and lower volume than a shoe like the Lycan II — the Cyklon feels fairly similar to the Salomon S/Lab Sense 8 and Sportiva Bushido II in that regard. That comes as no surprise for a shoe designed for technical running, but it's worth keeping in mind if you usually prefer shoes with wider toe boxes. I'm a big fan of having some space for toe splay, so the Cyklon definitely felt a little constricting relative to shoes like the Topo Athletic Mtn Racer 2 and adidas Terrex Speed Ultra.
The bright side of the Cyklon's narrow fit is that it feels extremely secure on uneven terrain — thanks in no small part to the shoe's BOA Fit System. The Cyklon has a lot going on here, so bear with me. Instead of a traditional lacing system, the Cyklon has a sock-like upper with a series of three fairly rigid "wings" that wrap over the top of the foot. The BOA lacing system pulls these wings tight across the top of the shoe. Rather than pulling the two sides of the shoe together like a traditional lacing system, the Cyklon's BOA Fit System basically pulls the top of the shoe down toward the outside edge of the midsole — that might sound a little unconventional, but it works surprisingly well.
As La Sportiva advertises, this approach does a way better job of providing "homogenous pressure" than a traditional lacing system, which makes it much easier to get a secure yet comfortable fit in the Cyklon than in other similar shoes with traditional lacing systems. I'll use the Hoka One One Evo Jawz as an example — the Evo Jawz is also designed for technical, muddy terrain and has a fairly precise, narrow fit. But the Evo Jawz also has a traditional lacing system, which means the shoe only fits securely if the laces are cinched down fairly tight, and that creates a series of pressure points across the top of the foot under the laces. The net result is a secure but not particularly comfortable fit.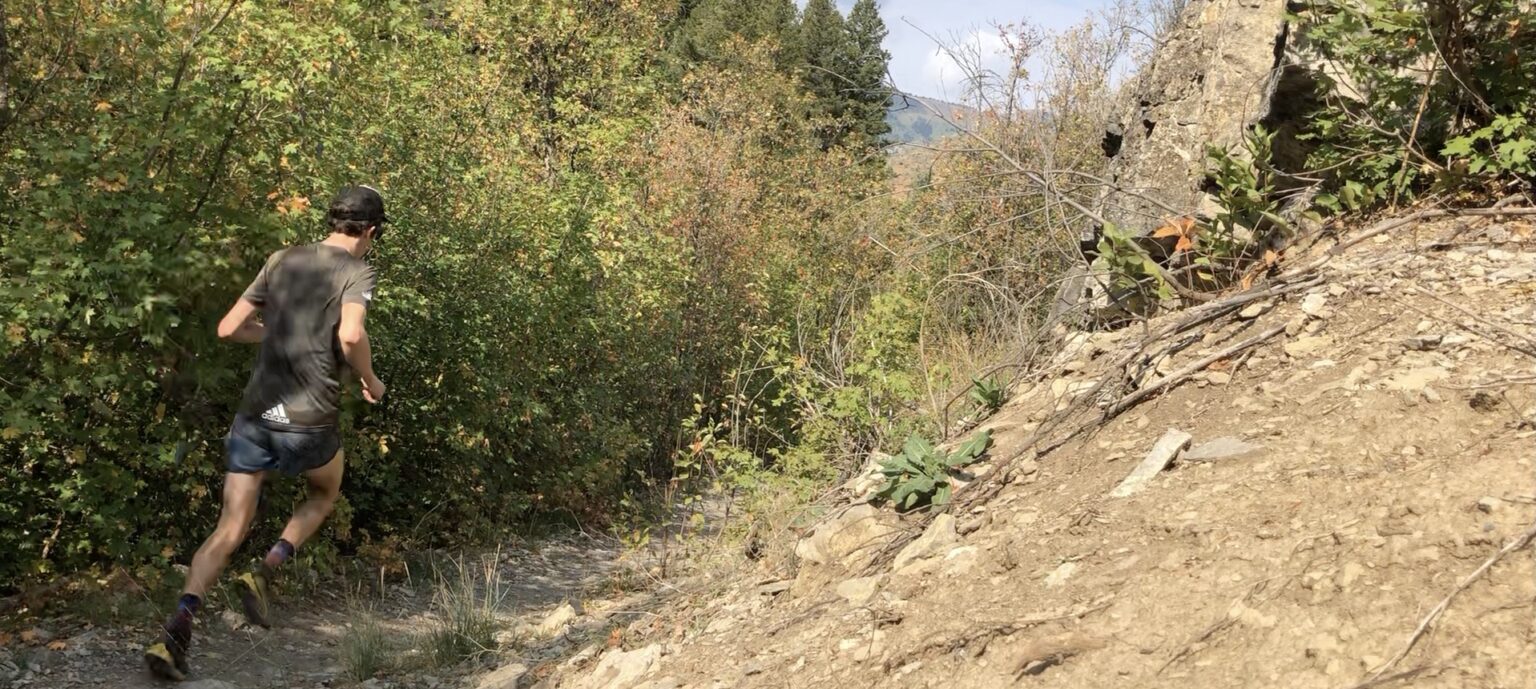 Now compare that to the Cyklon, where the pressure across the top of the foot is widely distributed throughout the three "wings," which are way wider than traditional laces. The net result is that I can crank down the Cyklon as tight as I want to without compromising on comfort, which is a total game-changer for me. I also think that the BOA Fit System's downward pull locks down the midfoot more securely than a traditional lacing system, which is a big part of what makes the Cyklon such a good shoe for technical running (more on that later).
The short version of all of this is that the Cyklon fits like many other shoes designed for technical terrain — narrow and secure — but with an even more locked-down feel through the midfoot and significantly more even pressure across the top of the foot. That doesn't change the fact that the Cyklon will feel pretty narrow for runners with wider feet and/or runners who prefer a little more space for toe-splay. But for a locked-down, technical mountain running shoe, I think the Cyklon's fit is about as good as it gets.
Weight
One potential downside of the Cyklon's unique upper construction is that all of those overlays and BOA dials do add a bit of extra weight. As a result, the Cyklon is among the heavier "technical running" shoes on the market. Here's how its stated weight compares to a handful of other technical-running-oriented shoes from other brands (all stated weights are based on a US Men's size 9):
204 g / 7.2 oz — Hoka One One Evo Jawz
235 g / 8.3 oz — Salomon S-Lab Cross
260 g / 9.2 oz — Inov-8 X-Talon Ultra 260
290 g / 10.2 oz — Salomon Cross /Pro
303 g / 10.7 oz — La Sportiva Mutant
320 g / 11.3 oz — Salomon Speedcross 5
330 g / 11.6 oz — La Sportiva Cyklon
So obviously, there are much lighter shoes designed for technical terrain. But in my opinion, technical terrain is one of the areas in which overall performance matters a whole lot more than weight alone — and it's important to keep in mind that most of the Cyklon's extra weight is probably in the upper, and in the BOA Fit System more specifically. I've already ranted and raved about how great I think the Cyklon's BOA system is, so it should come as no surprise that I think the Cyklon's heavier weight is totally worth it. Sure, it's heavier than a race-oriented shoe like the Hoka Evo Jawz, but if I'm descending a gnarly scree chute, I'm much more concerned about how precise a shoe feels than with how much it weighs. And by that metric, the Cyklon definitely outperforms the other shoes on this list that I've tested. Still, if minimum weight is a priority for you, you might want to look elsewhere.
Upper
I've already talked about the Cyklon's upper quite a bit in the "Fit" section, so I'll keep this fairly brief. As previously mentioned, the Cyklon has a somewhat non-traditional upper — it uses a sock-like construction in place of a regular tongue, and obviously a BOA lacing system in place of traditional layers. As far as materials go, most of the upper is made using a fairly thick mesh, with stretchy spandex-like material around the top of the heel cup. The Cyklon also has a series of fairly thick synthetic overlays that wrap around the bottom of the midfoot and heel. These overlays also act as the anchor points for the BOA lacing system and as the aforementioned "wings" that wrap across the top of the shoe. Lastly, the Cyklon has a fairly burly rubber toe bumper around the front of the toe box that does a great job of protecting against the occasional toe-stub, in my experience.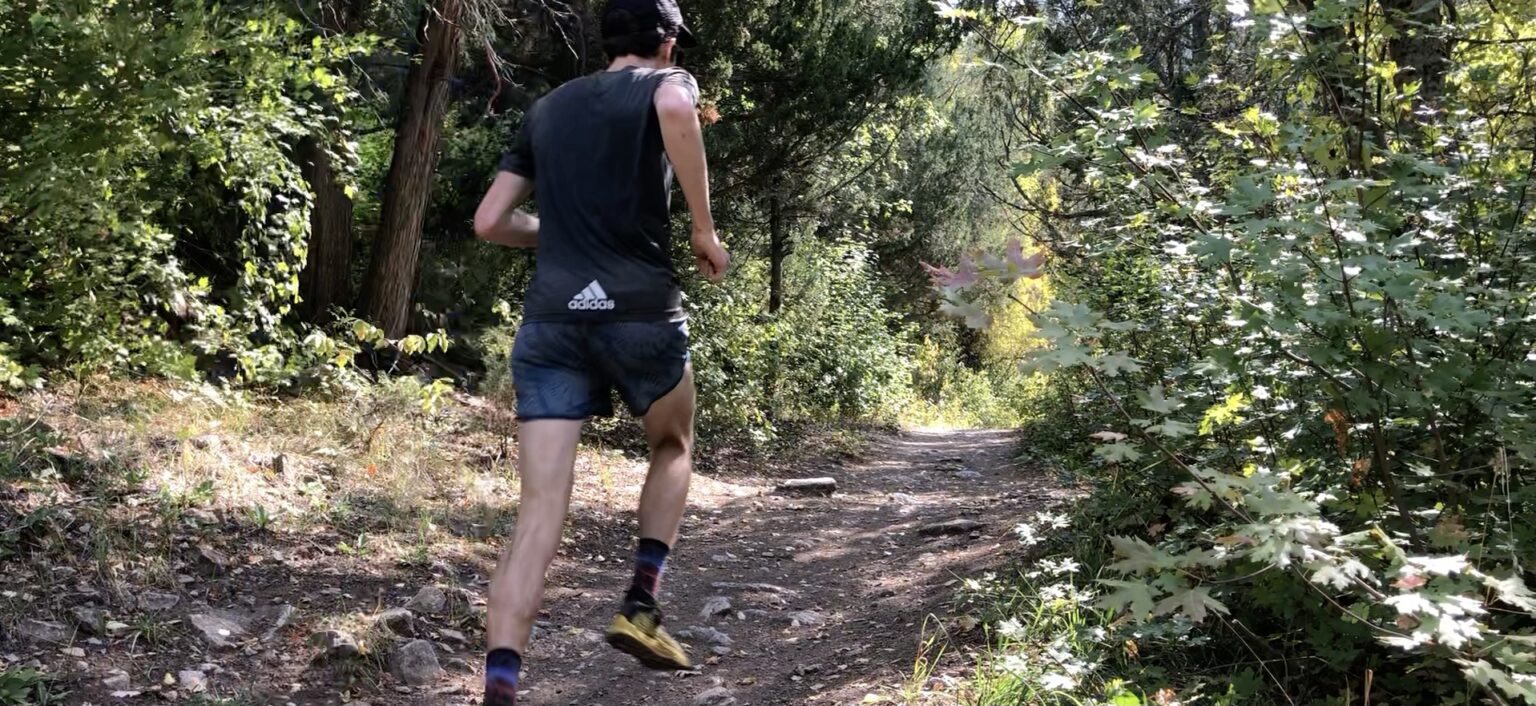 Overall, the Cyklon's upper works well for the shoe's intended purpose. The thicker mesh and large overlays provide a bit more protection against sharp rocks or sticks than the relatively thin uppers on a shoe like the Hoka EVO Jawz. The Cyklon's upper materials also seem very durable, although I'll have to put more miles on the Cyklon before I can come to any definite conclusions about that. I also really like the stretchy material around the heel cup — it does a nice job of conforming to my ankle, which helps keep debris out of the shoe. All of that is great for durability and functionality on technical terrain, but all of those thick materials do make the Cyklon a fairly warm shoe — my feet definitely sweat a bit more in the Cyklon than in shoes with thinner, more breathable upper materials. Still, I think the Cyklon's slightly reduced breathability is a pretty good tradeoff for the improvements in durability and performance that come from using thicker materials.
Midsole
The Cyklon's midsole features La Sportiva's lightweight Memlex EVA cushioning, along with a set of rigid stabilizer inserts on either side of the shoe, which I think provide a nimble and stable but not overly protective ride. Unlike many of La Sportiva's other shoes designed specifically for technical terrain (e.g., Bushido II and Kaptiva), the Cyklon is fairly flexible and lacks a rock plate. Pair that with the shoe's softer EVA cushioning, and you get a very different feel relative to other La Sportiva shoes, as far as cushioning is concerned.
On the bright side, the Memlex EVA cushioning that La Sportiva uses in the Cyklon's midsole feels much softer and springier than the fairly firm, rigid midsoles on the Bushido II and Kaptiva. That gives the Cyklon a feel much more akin to a shoe like the Hoka One One EVO Jawz than the Bushido II or Kaptiva, which I really like in most settings. The Cyklon's excellent flexibility also makes the shoe feel more nimble on steep, technical terrain than more rigid shoes like the Bushido II, at least for my preferences.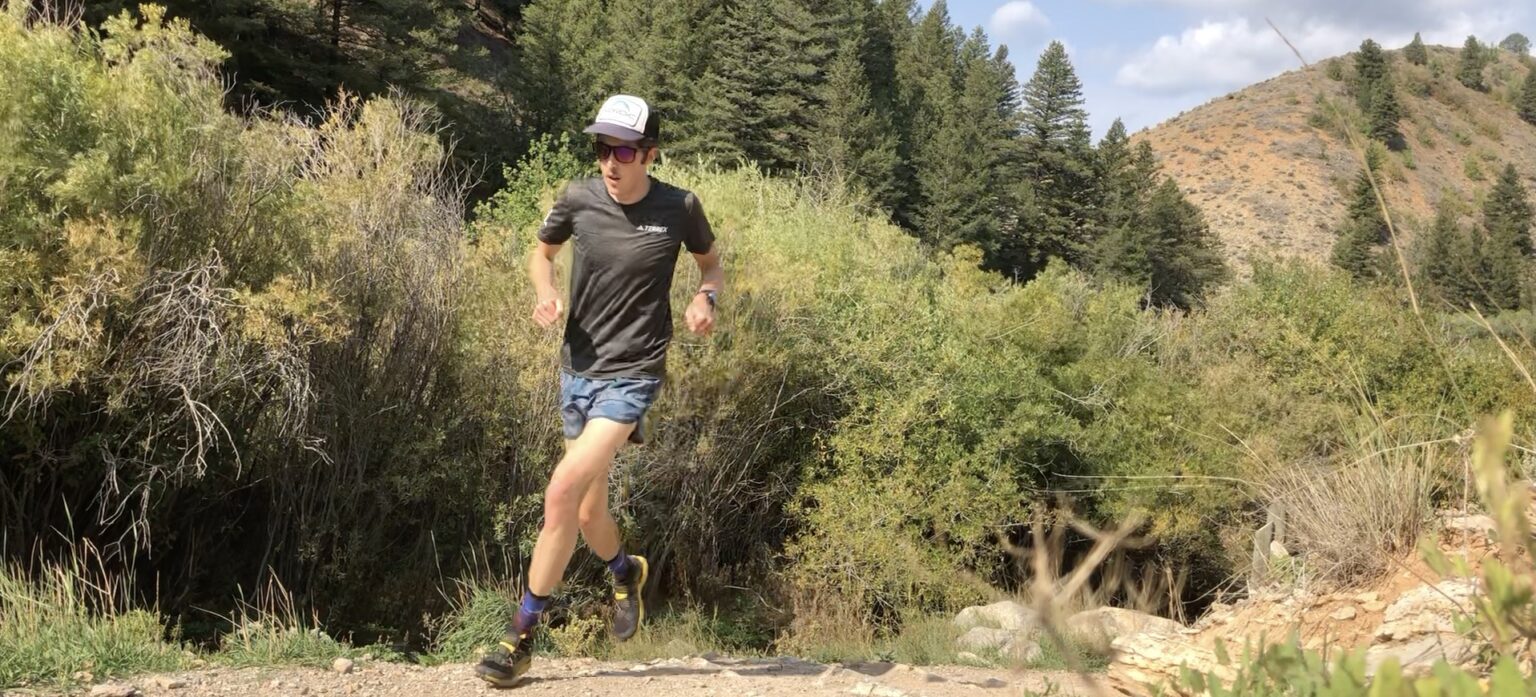 The flip side is that the Cyklon's midsole doesn't feel nearly as protective as a shoe like the Bushido II. I can definitely feel rocks poking through the Cyklon's midsole on particularly sharp / rocky terrain, which isn't the case for a shoe like the Bushido II. Personally, I'm quite happy to sacrifice a little protection for the Cyklon's softer, more nimble ride, but if you prefer a more protective shoe for your technical running endeavors, you might have better luck with a shoe like the Bushido II.
Outsole
For the Cyklon's outsole, La Sportiva used their softest, stickiest FriXion XF (aka, FriXion "White") rubber with fairly aggressive, widely spaced, 7mm-deep lugs — and its performance is pretty much exactly what I'd expect from a soft, sticky outsole with big lugs. The Cyklon provides excellent grip on just about every surface I've thrown at it so far, from steep, loose scree and gravel to moderately deep mud. I'd say the Cyklon's traction is comparable to a shoe like the Hoka EVO Jawz, and possibly even better on wet, rocky terrain.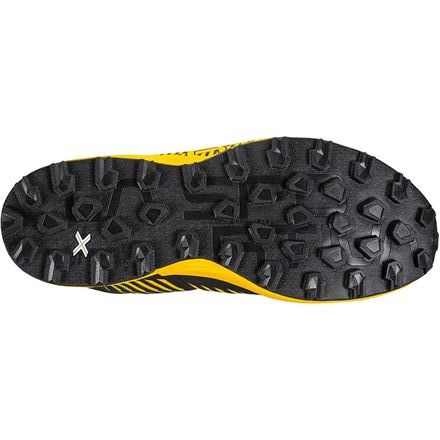 Of course, the tradeoff for all that traction is that the Cyklon's outsole isn't particularly durable — after only 83 miles, I'm definitely seeing some wear on the lugs in high-abrasion areas. Still, the Cyklon's traction hasn't been compromised at all so far, and prioritizing grip over durability does make pretty good sense for a shoe designed for mid-distance, extremely steep / technical runs and races. This isn't some sort of long-distance daily trainer.
On Trail
La Sportiva describes the Cyklon as a fairly niche shoe designed specifically for "offroad technical terrain for short to medium distances," and I think that description is pretty accurate. Over my first 83 miles in the Cyklon, I've tested the shoe both on the short, technical runs that it's designed for and on a few longer, less technical outings. While I've been pretty happy with the Cyklon's performance across the board, it definitely stands out the most on shorter runs (under 2 hours) with lots of steep, technical terrain.
As I said earlier in the review, the Cyklon's BOA Fit System is a huge contributor to the shoe's performance in technical terrain. It provides a much more secure and comfortable fit than a traditional lacing system, which is way more confidence-inspiring for bombing down the steep, loose ridges around Logan, Utah. The Cyklon's flexible, nimble-feeling midsole and bomber traction also boost the shoe's performance on steep, off-camber terrain. Of the shoes I've tested recently, the Cyklon feels most similar to the Hoka EVO Jawz, but with an even more secure-feeling fit on variable, rough, and/or extremely steep terrain.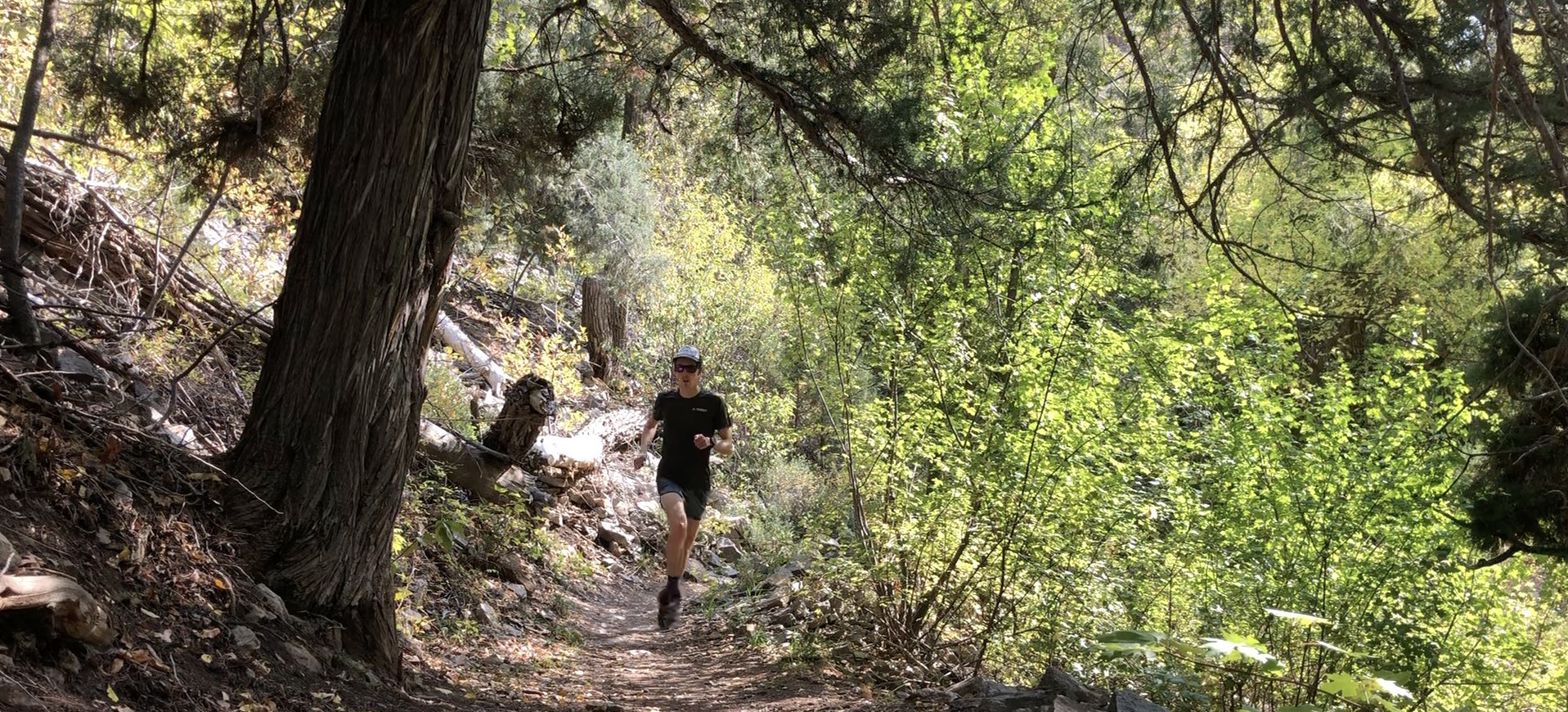 With that said, the Cyklon does have some limitations when it comes to longer runs (over 2 hours) and less technical terrain (at least for my preferences). First and foremost, the Cyklon's flexible, relatively soft cushioning does leave my feet feeling a little beat up after extremely rocky runs. That's fine for shorter outings, but if I know I'm going to spend all day rock-hopping and scrambling, I'd probably choose a more protective shoe like the Bushido II. The Cyklon also can't compare to the comfort of a shoe like the adidas Terrex Speed Ultra on less technical terrain, which isn't really much of a surprise since the Cyklon is very clearly designed for steep mountain running. Still, I think it's important to clarify that I definitely don't see the Cyklon as a particularly versatile shoe — if you're looking for an all-round shoe that can still handle rough mountain trails pretty well, I think something like the Terrex Speed Ultra, which offers more cushioning and a wider, more accommodating fit, might be a better option. And if you don't encounter steep / technical terrain much at all on your runs, I'd definitely recommend looking elsewhere.
My only other critique of the Cyklon is that the shoe's 8 mm heel-to-toe drop feels a little high for my preferences — especially for a shoe designed specifically for steep terrain. This is definitely just personal preference, but I've always thought that shoes with a 0-4 mm drop (e.g., Hoka EVO Jawz and Inov-8 Terraultra G 270) feel much more nimble and stable on steep, technical downhills than shoes with higher drops. The Cyklon still feels solid on technical descents, but I can definitely feel the shoe's slightly higher heel, and I think the shoe would feel even more confidence-inspiring with a lower drop.
In spite of those critiques, I think that the Cyklon does really excel at its intended purpose. This shoe's locked-in fit, excellent traction, and flexible midsole make short work of technical terrain, and the Cyklon has definitely become my go-to shoe for short- to moderate-length mountain runs this summer and fall.
Durability
With the exception of its outsole, the Cyklon seems like an extremely durable shoe so far. Of course, any conclusions about long-term durability will have to wait until I've put more miles on the shoe, but so far the uppers are completely unscathed — which is pretty impressive for how much abuse I've put them through over my first 83 miles in the shoe. The midsole also feels just as resilient as it did out of the box, and certainly feels like it has plenty of life left in it.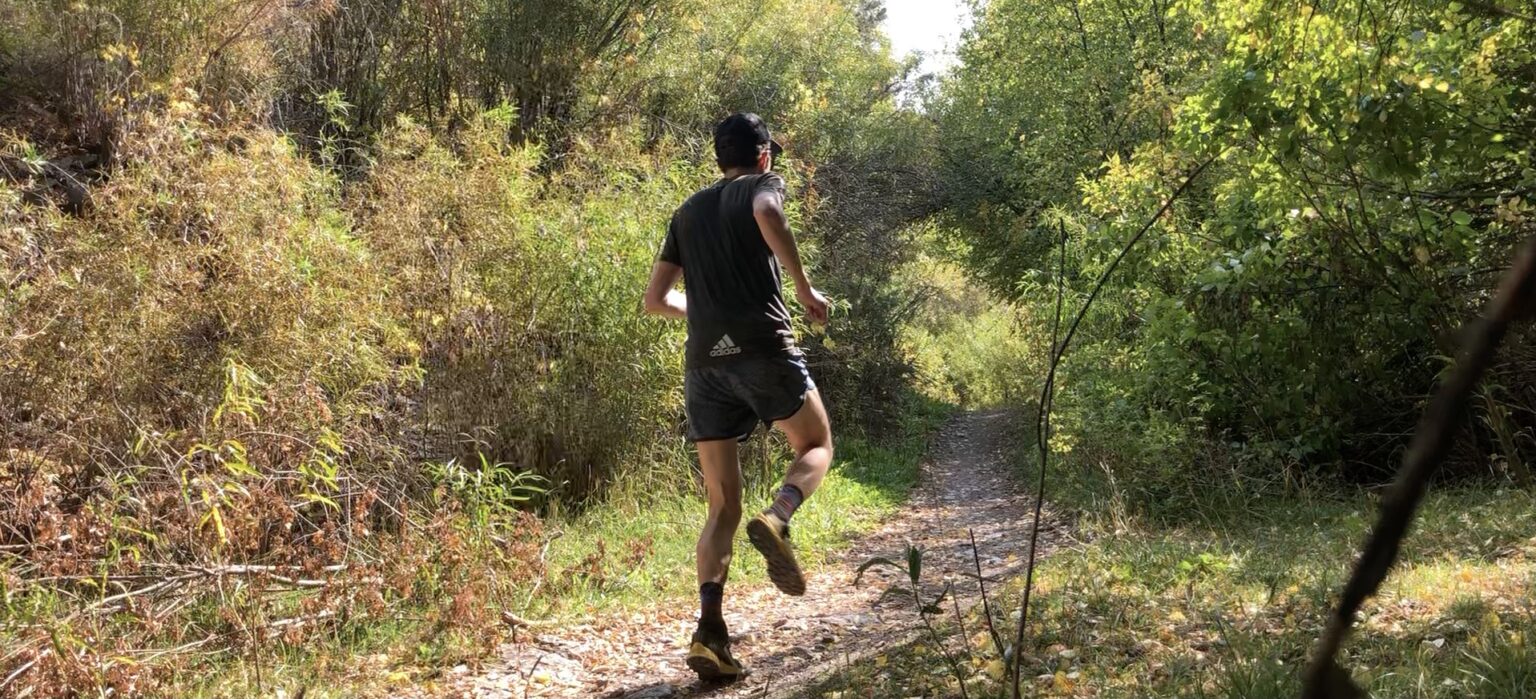 However, as I touched on earlier, the Cyklon's soft, sticky outsole is already showing some signs of wear. Again, not surprising for a soft outsole compound with big, exposed lugs, but at this point, it does seem like the outsole will be the Cyklon's main limiting factor as far as durability is concerned. There's still plenty of life left in the outsole after 83 miles, but I'll be curious to see how it holds up in the long term. My only other concern about the Cyklon's longevity is the BOA lacing system. On the other shoes I've tested that use BOA dials instead of laces (e.g., adidas Terrex Agravic BOA), I've run into problems with the dial getting clogged up with dust and dirt after a few hundred miles. So far, the Cyklon's dials are still working smoothly, but I'll be keeping an eye on them as I continue to spend more time in the shoe. If I encounter any unexpected issues with the outsole, BOA dials, or other aspects of the shoe down the road, I'll be sure to provide updates to this section.
Who's It For?
I think the Cyklon fits squarely into the category it's designed for — short- to medium-distance runs full of steep, technical terrain. If you're looking for a shoe for medium-distance mountain runs and want an extremely secure, confidence-inspiring fit, I think the Cyklon is a pretty compelling option — especially if you generally enjoy shoes with slightly higher heel-to-toe drops. With that said, if you prefer a shoe that offers more protection on rocky terrain or more cushion for longer runs, I'd recommend checking out shoes like the Sportiva Bushido II or adidas Terrex Speed Ultra, respectively.
Bottom Line
Overall, I think the La Sportiva Cyklon does a great job of filling the shorter-distance, technical, mountain-running niche for which it was designed. Sure, there are other shoes on the market that provide better protection or more comfort on longer technical runs, but none of them can match the Cyklon's precision and stability on the steepest, gnarliest terrain (in my opinion). So while the Cyklon probably won't be your next "do it all," single-shoe-quiver trail shoe, I think it's a pretty great option for anyone looking for uncompromising performance over moderate distances on true mountain terrain.