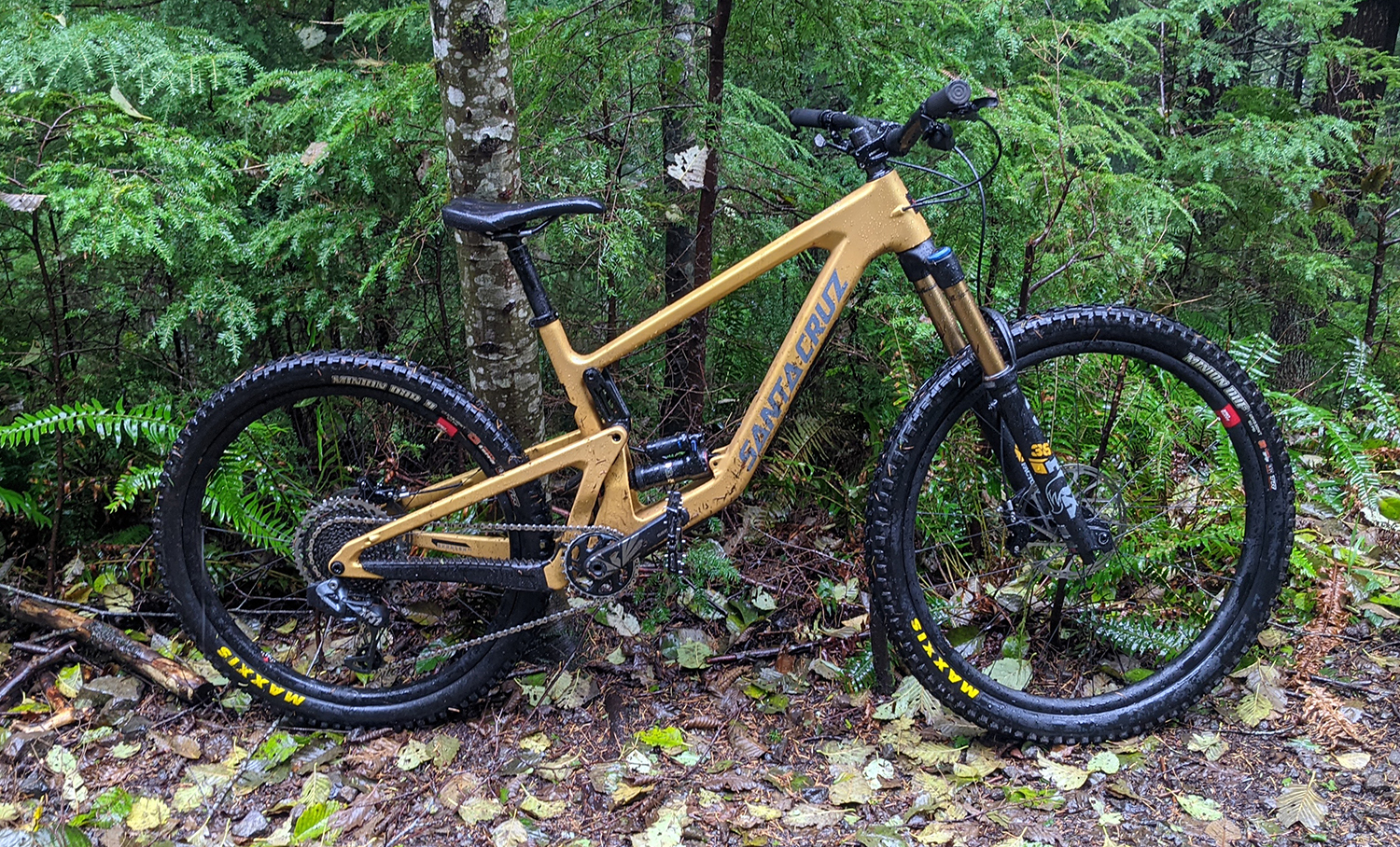 David Golay (6', 165 lb / 183 cm, 74.8 kg): I've just started spending time on the newly-mulleted Santa Cruz Bronson (in the X01 AXS Reserve build) and can weigh in with some early impressions.
Santa Cruz heavily emphasizes the versatility of the Bronson in their description of the bike, and they're right to do so — for a bike with 150 mm rear / 160 mm front travel, the Bronson feels particularly engaging in mellower terrain and when the aggression dial isn't turned up to 11. The bike's handling is quick without feeling twitchy, and pedaling performance is quite impressive. It doesn't hurt that our test bike (granted, with a very high-end build) comes in at just 30.6 lb / 13.9 kg (size Large, without pedals). I haven't yet done too much technical climbing on the Bronson, but my early hunch is that it's really going to excel there. Its combination of quite-efficient pedaling plus good compliance and traction under power is impressive, and the not-crazy-aggressive geometry of the Bronson should make it easy to maneuver in tighter spots. I'll make sure to get the Bronson on some more awkward, technical climbs soon and report back in the full review, but I've got high hopes there.
Something I've recently found while experimenting with mullet setups on several different bikes is that, in general, they tend to be notably quick to initiate a turn, especially at medium speeds where you're going fast enough to be mostly initiating a turn by leaning the bike (instead of turning the bars) but not so fast that you're making more subtle inputs and going into a big, sweeping turn. That's definitely true of the Bronson as well, but on some (generally longer, slacker) bikes, that sensation can result in the front end feeling floppy and twitchy, and there's none of that on the Bronson. My hunch is that the mullet combination is just a bit quicker to lean over than a full 29er, and that pairing mixed wheel sizes with a very slack headtube angle (and correspondingly slower steering) makes it harder to "catch" that lean-in and countersteer out to finish the corner. And so I think it makes a lot of sense that Santa Cruz has gone not-crazy-slack on the Bronson. Its headtube angle sits at 64.5° in the low geometry setting (where I've had it for the duration of the test so far; the "high" position bumps it up a modest 0.2°) and while that's not what we'd call steep, it is a bit more moderate than a lot of other bikes with similar travel numbers. The result seems to be a really nicely balanced, fairly quick-handling bike that I can see working well for people who want a healthy amount of suspension travel and compliance, but find many bikes in that travel range to be a bit too sluggish for their tastes.
The flip side of all that is that the Bronson is definitely a bit less stable at speed than some other (generally longer, slacker) bikes in the same sort of class, but that's a tradeoff that I think plenty of people will be happy to make. And while the Bronson's handling isn't ultra-calm and stable, its suspension does a great job of being quite compliant and forgiving, while still also being fairly supportive and able to be pushed hard without feeling wallowy. I like it a lot, and the tuning feels nicely matched to the bike's performance as a whole.
I'll be spending a lot more time on the Bronson in the next couple of months (and Dylan Wood should get a turn on it soon, too) so we'll have a lot more to report on in the full review. But so far it's shaping up to be a very fun, super versatile longer-travel Trail bike that I can see working really well for people who want a forgiving, capable ride but find full-blown Enduro bikes to be too sluggish and ponderous at lower speeds. Stay tuned for a full review to come.