Intro
Most of our reviews are pretty long — and take a long time to produce — because we want to provide enough info for you to actually determine whether the gear we tested will work well for you.
But we get asked to check out an increasingly wide range of products, and sometimes, we just want to tell you about something we've been using and loving lately.
So we're rolling out a new monthly series — Stuff We Like — to keep you current on a broad range of stuff we're currently digging.
And if there's something you love that you think we ought to check out, drop us a note in the comment section below.
MSRP: $129.95
Kristin & Linden Sinnott: Lift-served ski season might be over for most people, but spring touring is still in play in many areas. My son and I have been testing kids ski helmets, and while that article won't be published until late summer / early fall, one helmet we've really been enjoying is the POC Pocito Obex Spin Helmet. It's one of the smallest helmets on the market with a head circumference that ranges from 48-52 cm in the XXS size. My 2.5-year-old son started the season with a 47.5 cm head, but thanks to the easy dial-style adjustment in the back, I was able to create a snug fit on his head all winter long.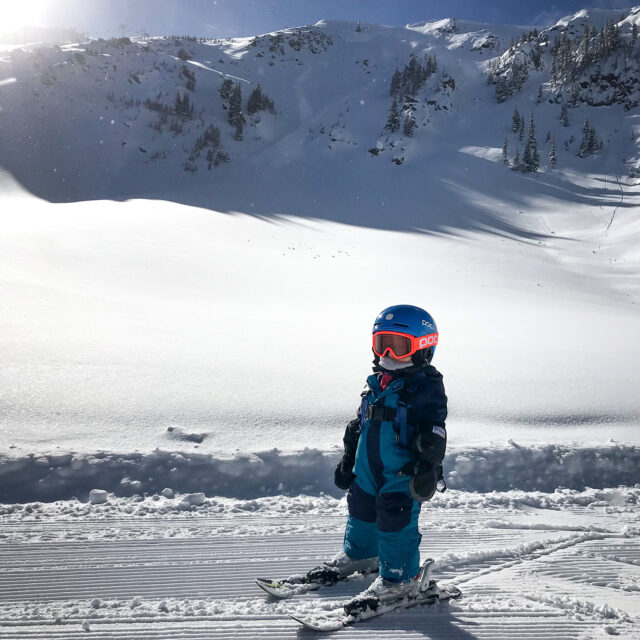 The helmet pairs perfectly with the Pocito Opsin Goggles. And by perfectly, I mean no gapping at the forehead, they don't fall down his nose, and there's a google loop in the back to securely attach the strap. My son was more than happy to wear the goggles whenever he was on the slopes … or even out for a wagon ride in a mini snow squall.
On top of the sizing and goggle compatibility, another reason I love the Obex Spin Helmet are the earpads. The earpads are soft and thick around the outside of the ear but they have a hollow center that provides plenty of space for one's ears. As someone who finds helmets with flat earpads extremely uncomfortable, I was happy to have my son experience this design. In addition to the comfortable design, the earpads are also removable, which has proven to be ideal for warmer spring skiing. I know skiing with earpads provides more protection to the wearer, but when it's really warm on the slopes I cannot resist putting my son in sunglasses. With the earpads in place, his somewhat long-armed sunnies made the fit uncomfortable. Removing them not only made the combination more comfortable for him, it also provided better ventilation. On top of that, during our mellow spring tours, the more streamlined, earpad-less helmet packs down a bit better when attached to our backpack for the hike up.
MSRP: $99
Luke Koppa: I typically run hot and consequently opt for shorts while biking through most of the summer (and really, most of the bike season). That said, this spring in the Gunnison Valley we've been having a bit of everything in terms of weather, and I'm continually amazed by how poorly every weather app is able to accurately predict what the sky is going to actually look like on a given day.
So a lot of my rides this spring have involved a mix of warm sun, gusty winds, pea-sized hail, full-on snow, and brief rain showers. There have been several where I got all of that within a 30-minute period. And for these days, I've really, really been liking Fox's Ranger Pants.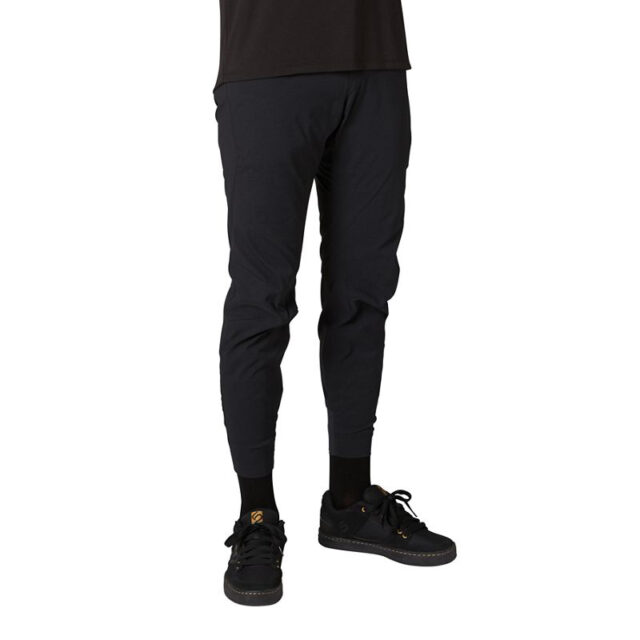 The Ranger collection is Fox's sort of "crossover" line, designed to perform on a bike but without the "let's see how many logos and neon colors we can put on this piece" look. I've been using a few pieces from the line (henley, shorts, & gloves), but the pant has been the standout so far. It uses a pretty typical softshell-like stretch-woven fabric that's on the lighter side, and the fabric breathes about as well as any of my MTB shorts. That's made me more and more inclined to bring out the Ranger Pant, even when it's around 50°F / 10°C and sunny.
The fabric is also quite stretchy, but I think what's really made this pant my go-to is its fit. The patterning is really well done, with no noticeable restriction while pedalling, yet it doesn't look or feel overtly bike-oriented when walking / standing. The fit is roomy through the thighs and knees and then significantly tapers to the ankle to avoid getting sucked into your chain. Personally, I'm a big fan of this style, though the off-the-bike look may not be for everyone if you prefer roomier-fitting casual clothes.
I figured I'd like riding in the Ranger Pant, but its subtle aesthetics, versatile fit, and three pockets have all meant that I've been wearing it a whole lot just around my house and when running errands. My friends have far more flexible schedules than I do and rides are consequently often arranged at the last minute, so it's been nice to have the Ranger for when I think there's any chance of needing to sneak out for a quick lap at some point in the day.
MSRP: $399
Kristin: I've been a fan of GoPro cameras for a long time — but not for POV or videos. Rather, I've always loved them for the quality of their still photos and for their compact size. With 95% of my GoPro footage being photos, not videos, I never considered the need for the GoPro's 360° camera, the MAX. But after spending some time watching my brother's and Ted Ligety's videos featuring their children, I really wanted to get one to document my son's ski and bike adventures.
I must say, it has not disappointed, and having only owned one for the past 5 months, it's already seen plenty of use and captured some amazing moments. From single-track Mac-Ride bike rides to skiing down our local mountain, I will forever cherish these videos.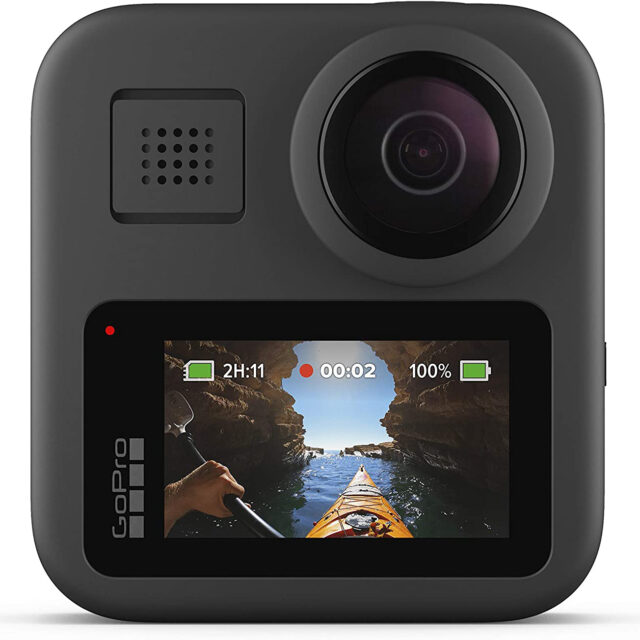 If you're not familiar with the MAX, what makes it so great is that, when using the proper attachment (think selfie stick) you can completely erase the object holding the camera and you only need to have it pointed in the vicinity of what you're shooting. No need to worry about whether or not the subject is in or out of the picture as long as you are using the 360° setting. The real key to making the videos work is in the editing. Editing does take some time and I had to watch a few tutorials to understand the basics, but it's worth the time and energy.
If you were to ask me what my favorite toddler products are right now, the GoPro MAX would be number one or two on my list.

MSRP: $24.95
David Golay: I'd almost forgotten how much I like Brendan Fairclough's signature grip, the DMR DeathGrip. Recently, I've been spending a lot of time on a whole bunch of different bikes with a variety of grips, and by and large, they're all fine. I can get used to most grips and not be too mad about them, but then I got back on a bike with DeathGrips, and it felt like I was back home.
The DeathGrips are available in a dizzying array of options, with two different diameters (29.8 and 31.1 mm), three different rubber compounds, flanged and flangeless versions, as well as a ton of different colors. I'm particularly fond of the thin, extra-soft "Race Day" version, which admittedly doesn't last terribly long, but strikes an outstanding balance of being soft and comfortable, without feeling squirmy and vague. They work great with or without gloves and have just the right amount of texture to manage sweaty hands without turning impossibly slick.
Despite a single-clamp design, I've never had one slip, due to a tapered core that forms a slight press fit on the handlebar at the outside end of the grip. The clamps are even reversible, so you can orient the bolt whichever direction gives better access and is more out of the way of your controls. And while the Race Day version is only available in black (which suits me just fine) the standard rubber compound comes in a ton of colors if you're inclined to coordinate. They're outstanding.
MSRP: $55
Rebecca Chow: I bought these slippers four years ago for a backcountry lodge trip in Canada, and since then, have used them much more than expected. I even got a pair of the more "sneaker" styled ones for my boyfriend, who I think has been as surprised as me by how handy they are to have. Much of the usefulness is due to the bottoms having a rubber, ribbed sole that provides more traction than most other slippers. They're what I ended up grabbing most days after taking my ski boots off this winter. And because of their packability and weight, they've also become a staple for cold nights while camping, even backpacking. Four years later, I'm still digging them.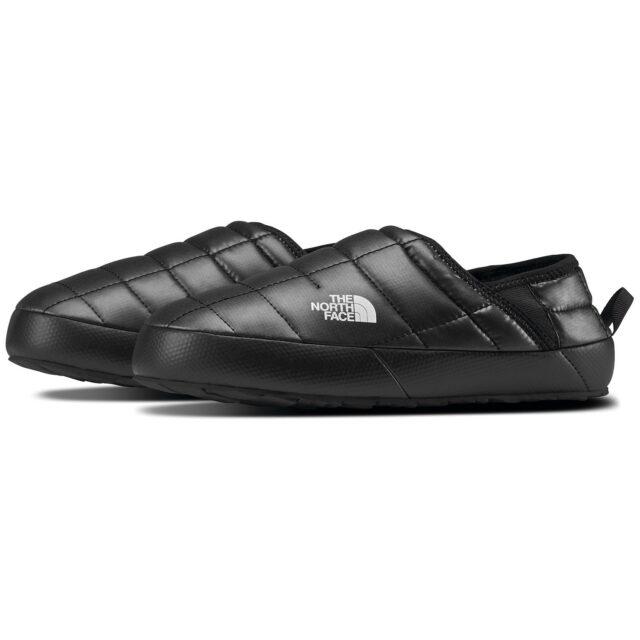 Materials:
92% polyester / 8% elastane
polyurethane lamination
Oeko-Tex Standard 100, Class I
Fluorocarbon-free water and dirt repellent finish Teflon EcoElite®
Size Tested: 18-24 M
MSRP: $59.95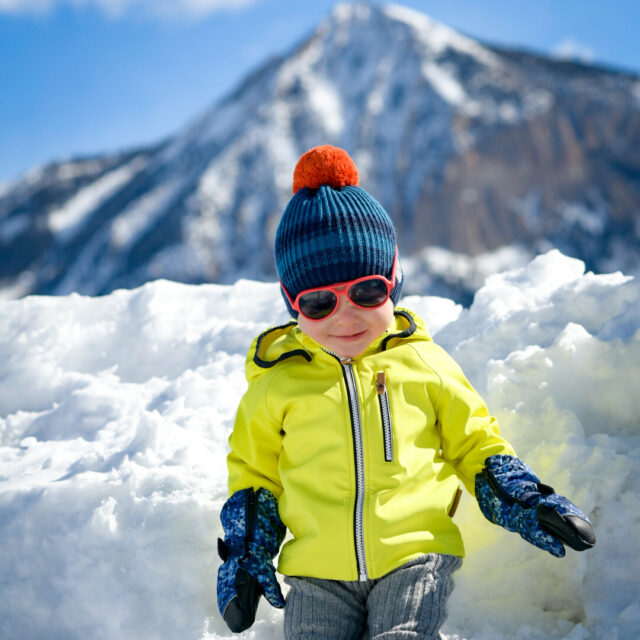 Kristin & Linden: We've been pretty lucky in the hand-me-down department thanks to my older brother and some good friends generously loaning us some amazing toddler jackets. From Patagonia puffies to L.L. Bean raincoats, my son is pretty much covered for most weather conditions. But for the fall and spring, I was looking for something that was very weather resistant and insulated, yet still relatively lightweight and breathable. We've had this jacket from Reima since last fall and have used the jacket on many adventures, where it has proven to be an ideal layer.
The Vantti's fleece-lined interior provides a soft layer of warmth on a cool day but it's also not so thick that my son overheats. Reima's outerwear is all rated for breathability and water resistance and I find their guides handy when comparing different jackets on their site. The Vantti has the lowest breathability rating, which Reima describes as being "suitable for everyday outings and light rain." This description is pretty accurate, based on our experience and the tight weave of the fleece lining and the softshell exterior design.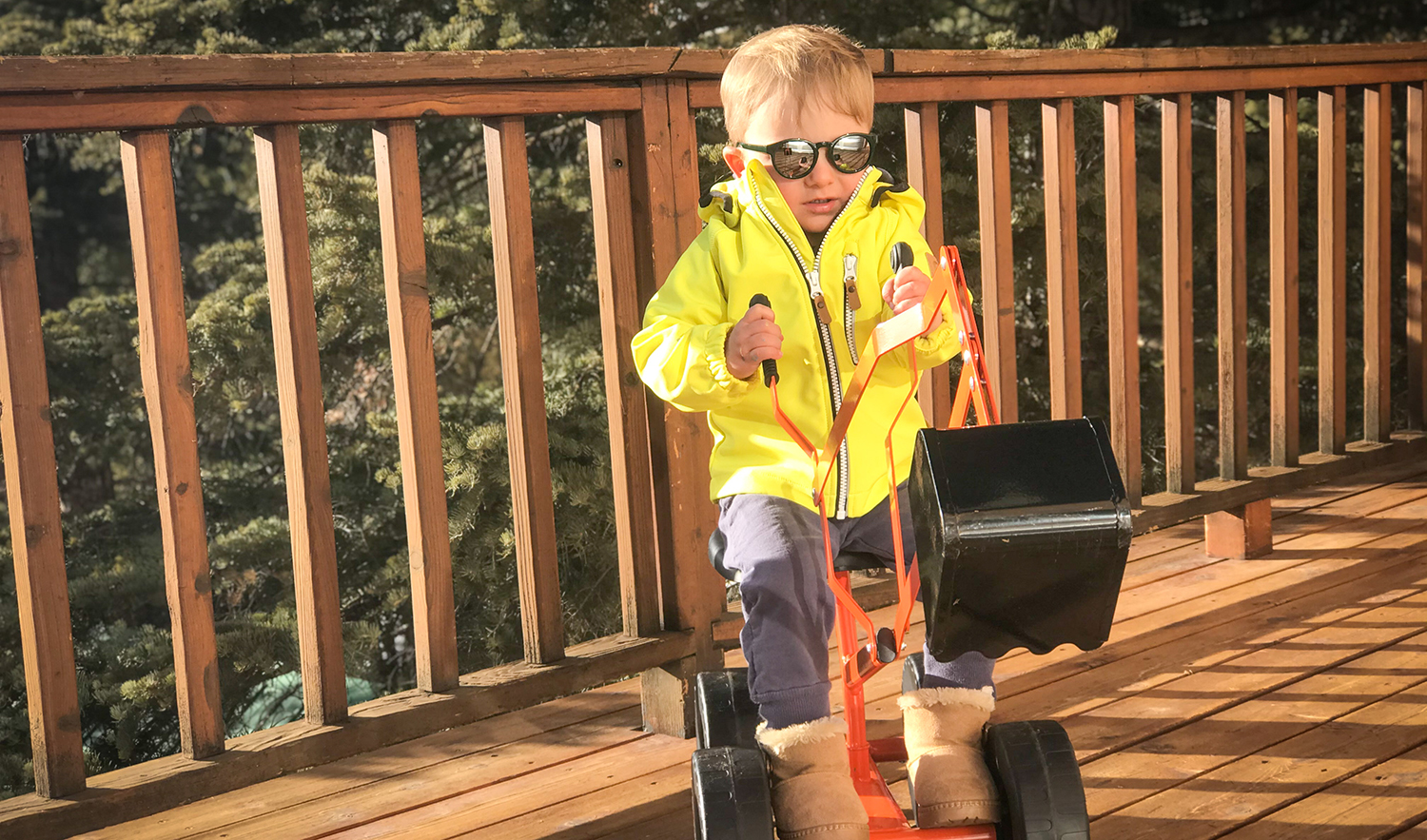 The weather resistance level of this jacket is rated for a water column over 10,000 mm, which Reima describes as "for extreme conditions. Protects in active outings in wet surroundings and in heavy rain, all-day. Extremely waterproof." This is the highest waterproof rating for Reima, but for most outdoor-apparel companies, a 10,000 mm rating would be considered more of a baseline for labeling a piece as "waterproof." Regardless, my son has worn it in light rain and on cool days and we have been happy with its performance. If there's a chance of heavy rain, I always pack a more specific rain jacket as I don't trust that the Vitti softshell would keep him dry for extended periods of time in a serious rainstorm.
Over the past 10 months, my son has thoroughly tested this jacket's dirt repellency by repeatedly falling into mud puddles, and even though we have it in a bright yellow color, the darkest and most rubbed-in dirt stains have still come clean in the wash. So clean, in fact, that we still get compliments on the 'new' jacket all the time. I do think it's my son's nicest-looking jacket.
My son is 2.5 years old but is quite petite (in terms of height and weight) and he has been wearing the size 18-24-month since last fall. The slim fit and elastic cuffs keep my son from swimming in the jacket, even when it was a bit big last fall. From bike rides to cool weather hikes to spring skiing, the Vantti has been a great jacket for us.
Materials: 66% Nylon / 17% Polyester / 14% Olefin / 3% Spandex
MSRP: $23.99
Gordon Gianniny: I've said it before, but I think that having a great (not just "fine") pair of socks is totally underrated. I'm just as guilty of overlooking socks as anyone else — I'll regularly spend lots of time trying to find the best running shoe for my next race / long run or favorite pair of cleats for my next bike ride, and then just throw on whatever pair of socks happen to be at the top of my sock drawer. But the Swiftwick Flite XT Five has changed that — and definitely for the better.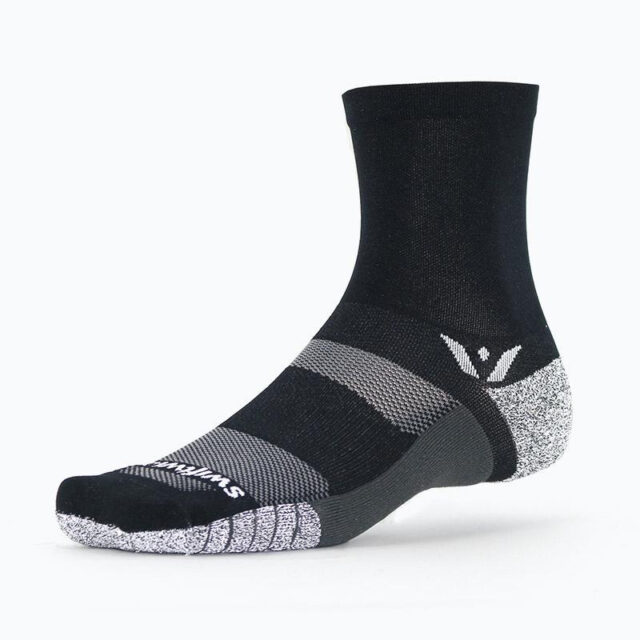 The Flite XT Five has patches of "GripDry" fibers in the heel and toe, which basically "stick" to the inside of whatever pair of shoes you're wearing to keep your feet from sliding around. I never would've guessed that swapping out a regular pair of socks for a pair of the Flite XT 5 would improve how secure / locked-down my shoes feel, but that's exactly what happened.
Aside from the GripDry fabric in the heel and toe, the rest of the socks are light, breathable, and provide just the right amount of compression for my preferences. If you're gonna invest in a fancy pair of running shoes (or really any other kind of performance footwear), I definitely think it's worth picking up a good pair of socks to go with them — and at the moment, my favorite sock option is the Swiftwick Flite XT Five, hands down.
MSRP: $499
Luke: I've already written a full review on this piece, but I'm bringing it up again here because it's been in my pack for every spring touring day I've had this year. It's very light and packable, it's reliably waterproof, and it breathes well enough to leave on longer than any similarly lightweight, waterproof jacket I've used. I'll be curious to see if anything is able to best it in the future, but I haven't found it yet and I don't have any problem with that.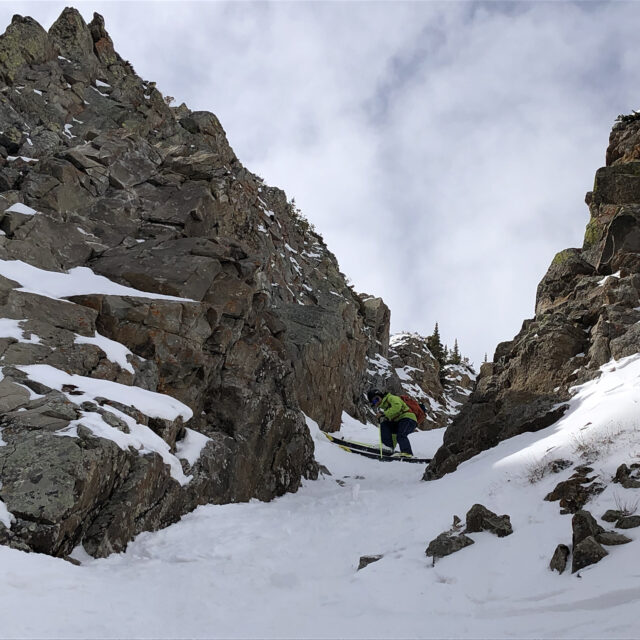 MSRP: $50.00
Kristie Robson: Ski season isn't quite over for me, so I don't have to pack away my Flylow Ridge gloves just yet (and it's still somewhat timely to write about them!). After years of patrolling in leather winter work gloves that I used to buy at the local gas station, my circulation isn't as good as it used to be and I have little patience for cold fingers. At the same time, I love the dexterity and grip of leather ski gloves.
I bought my first pair of Ridge gloves a couple years ago when Flylow did a collab with Protect Our Winters. I figured I had nothing to lose: a new pair of gloves stamped with the POW logo, my money would stay local, and I got to support climate advocacy through an organization I believe in — win, win, win. The unexpected win was how much I love the performance of these gloves.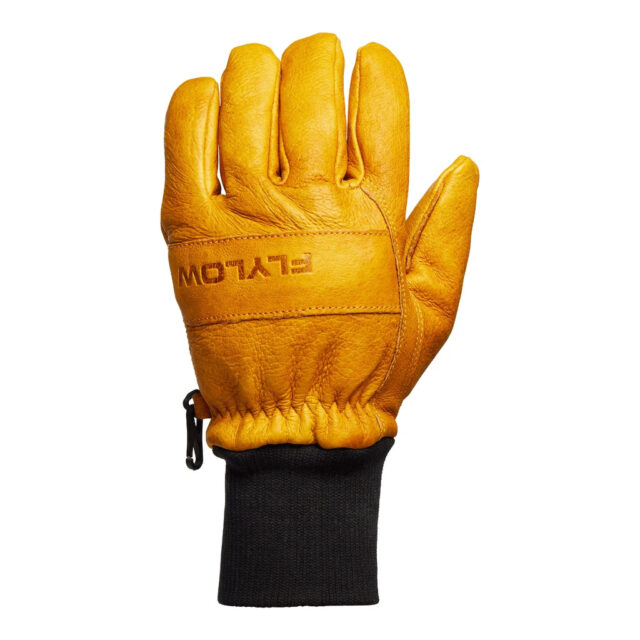 The fit is perfect for me, with no constrictions, no dead space, and good grip and finger mobility. The insulation provides just the right amount of warmth so that my fingers stay comfortable riding lifts on all but the coldest days, but they aren't too warm for touring. In the winter, my hands rarely sweat in the Ridge gloves, meaning I can skin and ski without changing gloves or having to put on bulky mitts to warm up frosty fingertips. Like all leather gloves, the Ridge gloves benefit from regular treatment with Sno-Seal or similar wax, and mine have held up nicely. As they aged and lost warmth, I transitioned my original pair to spring skiing gloves, camping gloves, and finally, yard-work gloves, demonstrating another benefit of selecting leather gloves over less durable cloth or mittens. This year, it's finally time to buy another pair of Ridge gloves, and while I'm at it, I think I'll buy the four-finger version, the Oven Mitt, so I can stay out longer on those really chilly days next season.
Materials: 100% recycled polyester
MSRP: $108
Size Tested: Medium
Kristin (5'8", 125lbs / 172 cm, 56.7kg): The Tahita Grid Pullover arrived right as a cold front rolled into town and shifted the weather from unseasonably warm to unseasonably cold and wet. I pulled the Tahita on and have been wearing it for the better part of the last 5 days. I've been a big fan of Patagonia's R1 series since it was first introduced to me ~20 years ago, and I find the Tahita Grid Pullover to share many similarities with it.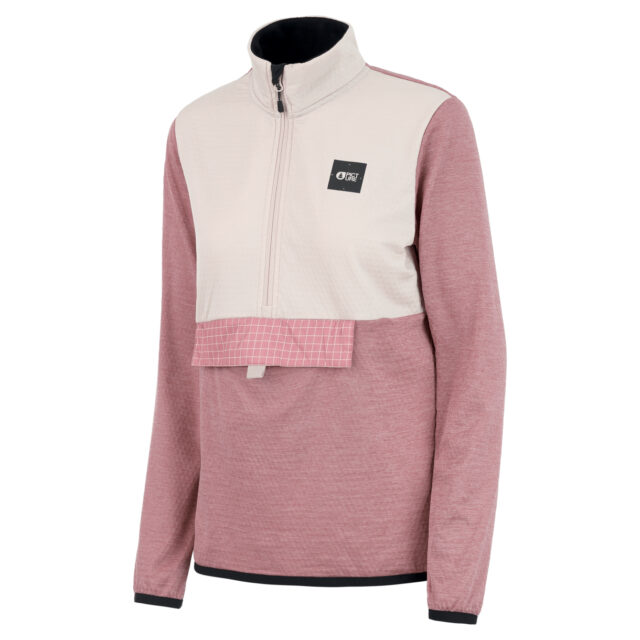 This top gets its name from the fleecy grid on its interior, but unlike the R1's square grid, the Tahita has a hexagonal or honeycomb pattern to it. This structure provides nice breathability and the 4-way-stretch fabric is extremely comfortable and fairly lightweight. I've used the Tahita around the house as loungewear and outdoors as an outer layer when the temps warmed up a little and it stopped snowing. The Tahita uses "Dry Now" fabric, which is a blend of hydrophilic and hydrophobic fibers, with the goal of wicking moisture away from the skin and letting it evaporate. I haven't yet had a chance to put this piece's moisture-wicking abilities to the test, but I expect it to work similarly to the R1 in that regard.
The Tahita has one pocket: a kangaroo-style pouch on the front that is secured by three snaps and a flap. The pocket fits a cell phone horizontally, and in a pinch, I will place my phone in there, but it does weigh it down and makes the shape a bit less flattering. The pocket is designed and definitely functions better when used with smaller and lighter items.
The Tahita's front zipper extends 12 in / 30 cm, making it long enough for easy on and off. And if I were still a nursing mom, I'd be very happy with the length of the zipper since I consider it to be nursing-friendly, which is fairly rare for technical tops. When fully zipped up, the microfleece-lined collar has enough structure to stand on its own and is wide enough to comfortably tuck one's chin inside.
Beyond the features, the size Medium has proven to be a great fit. One of my fellow reviewers has struggled with the fit of Picture Organics Jackets in the past, but I think they nailed the sizing of the Tahita Grid Pullover. The sleeves extend to the palm of my hands when my arms are fully outstretched and the torso extends about ⅓ of the way down my rear. The cuffs and torso have elastic bands that provide stretch when needed and a more tapered look when you don't.
What really makes this top stand out from other technical midlayers I've used is that it's made by Picture. When Picture launched in 2008, their goal was to make an "environmentally and socially responsible clothing brand." From pioneering new materials to creating their own plastic recycling machines, Picture has become a leader in the outdoor industry when it comes to sustainability. Their goal to eliminate fossil fuel use within their company is admirable and they look to be on the right trajectory to accomplishing it. The Tahita Grid Pullover is made of 100% recycled polyester and even uses TOPGREEN ® recycled yarn, which is rare. While most brands these days are at least taking some steps to reduce their environmental impact, Picture is a standout in terms of the comprehensiveness and transparency of their approach.
If you're in need of a layering piece that you can wear year-round and that has a reduced impact on the environment, the Tahita Grid Pullover is a nice option.
MSRP: $49.99
Luke: I've been a fan of non-metal flat pedals in the past, so when Deity came out with their modestly priced Deftrap, I figured I'd give it a shot and bought a pair last summer. It's been awesome. The grip is significantly better than my old Race Face Chesters and even some of the far more expensive options I've been testing lately. The Deftrap's grip is actually a big part of why the slightly less-tacky Ride Concepts Powerline has become my go-to shoe over my old Five Ten Sleuth DLX (Five Ten's rubber felt almost too grippy on the Deftrap).
My main complaint with the Deftrap is that its thick, squared-off edges mean it gets hung up on rocks a little bit more often than some of the fancier, thinner ones. Still, and despite the fact that I apparently never know where my feet / pedals are while riding through chunky terrain, it's holding up great after a full season of use. I'll be curious to see if any of the other pedals that recently showed up for testing replace it as my favorite, but I'm still super happy with the Deftrap — especially given that it costs less than half the price of a lot of alternatives.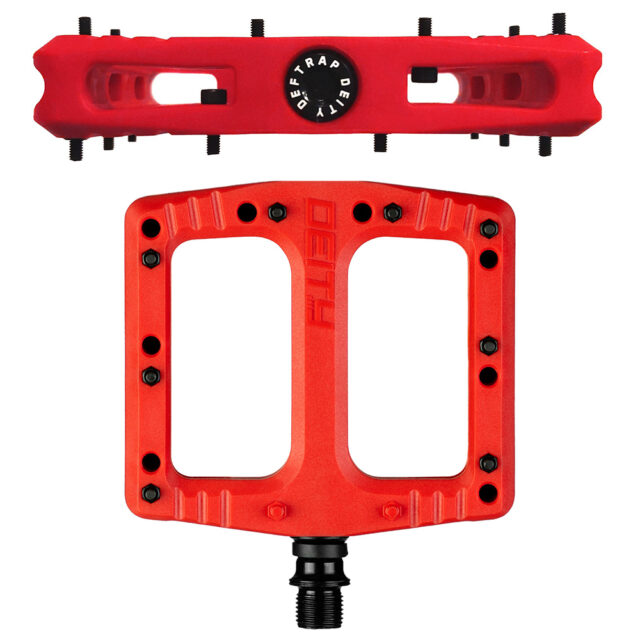 A truck (or really, anything with a proper tailgate)
Kristin: Tailgating is much more fun when there is an actual tailgate involved. This is likely not news to anyone, but with both spring skiing and biking being options right now, my family's new-to-us truck has helped facilitate a lot of quality snacking in the sun (and out of the mud). Last month we purchased a used Ford F-150 and we absolutely love it. If you're not a Ford person, that's fine, as most of what I'm about to say applies to any pickup.
We love how easy it is to load and unload ski gear but we also love that our toddler is obsessed with the bed. If we had any idea that a truck bed was basically an industrial playpen, we would have sold our old Forester long ago.
We have been keeping a bag with some Helinox chairs, a small Helinox table, a toddler camo chair, and a 4FRNT chair in the back and have found the arrangement to be a perfect setup for us. In lieu of a cab or an open bed, we opted for a roll-up-style "truxedo" topper. The truxedo keeps our skis hidden and it's easy to roll it up when we want to lounge in the back.
MSRP: $179–$449
Luke: During the summer I spend a lot of my time riding a bike or taking my skis for a walk, but fishing is my way to really relax and it's a nice counter to white-knuckling down a rock garden or icy, sun-cupped couloir.
Last year my 10-year-old cheap-o Cabelas fly rod finally kicked the bucket, so I figured it was time to invest in something a little bit nicer, and from a smaller brand. Personally, I don't think spending several hundreds of dollars on a rod is worth it (totally fine if you do, just not my thing). Still, I wanted something a bit more modern, that would ideally last longer than my previous $70 rod, and that was going to support some folks who were making their rods in the U.S.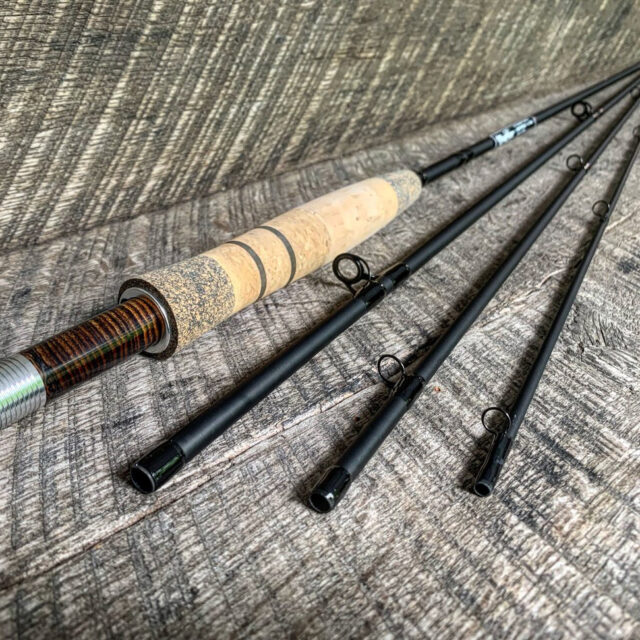 That's what brought me to Moonshine. They make their rods in Virginia and they offer a lifetime warranty, which means I can hopefully repair, rather than replace my rod in the future when I hook into some super massive fish (i.e., inevitably slam a car door on it). I have their 6wt Midnight Special ($319), and I have zero complaints so far. Its fast action is a huge upgrade for me and the 6wt is pretty ideal as a 1-rod quiver here, from small-stream dries to slinging pretty big streamers in the wind when I'm going after the pike in Taylor Park Reservoir. It's also beautiful, and it's been durable so far. I haven't tried enough rods to try to make a conclusive statement on how it compares to those that cost more than double, but it's been great to me and I look forward to many, many more years with it.
MSRP: $130
Jonathan Ellsworth: Alright, I confess: love these things.
These KO-Z Slides I've been wearing for months have been a rather controversial product among Blister reviewers and my friends, with some of those people (who shall go unnamed here), giving me a lot of grief for the look of the KO-Z slides.
But then I make those naysayers try them on … and when they do, they pretty much all agree that they're the most comfortable things they've ever had on their feet. Crazy comfortable.
And having just broken four ribs while mountain biking this past weekend, I can tell you that if you happen to break ribs #2 – 5, you will wish you had these. Of all the sandals, shoes, and miscellaneous footwear I have, these have allowed me to go on walks — pain free — every day since I busted myself up quite violently.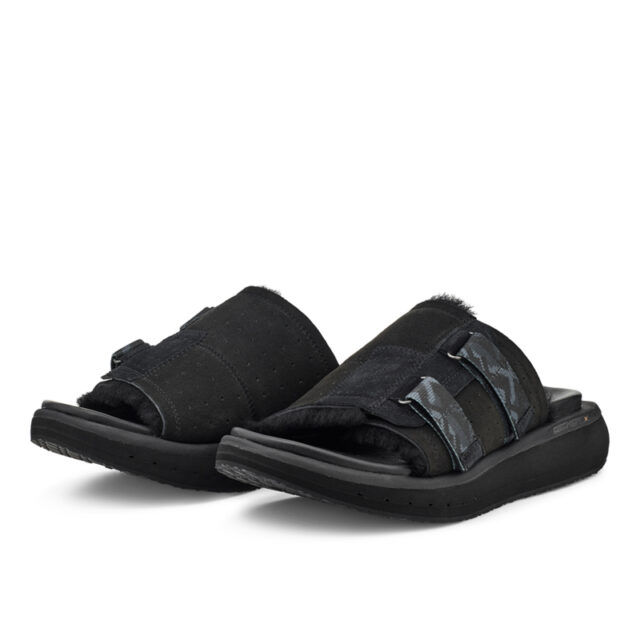 My advice: I have the KO-Z slides in the white & grey colorway, but I would suggest going all black. I think the black might make them look a bit more conventional.
Also, I won't restate it all here, but please read the "Details" section on the KO-Z slides product page. It's all true. These might be the most over-designed slides in the history of earth … and the results are glorious.
Another bit of advice: the more walking you intend to do in the KO-Zs, the more I suggest going with the KO-Z Slide or KO-Z GLDTR3, because those have the memory foam layers right next to your foot, and while I can't confirm this yet, I think those will hold up better to lots and lots of miles.
But, if you are looking for something that you'll use more for lounging around than logging lots of miles … then check these next ones out:
MSRP: $130
Jonathan: These are also stupid comfortable, and I promise you, when the temps start to drop again here in Crested Butte, these will be on my feet at home.
In addition to being close-toed, these have 5 mm of looped wool on top of that memory foam (found on the KO-Z slide) and it's a very cozy combination.
And if you want to hear more from the man behind these products, you should listen to our podcast conversations with one of our favorite people to talk to — who also happens to be one of the most important product designers in the modern outdoor industry — Jean-Luc Diard.
Off The Couch Episode 73 w/ Jean-Luc Diard