Transition TransAM
Wheel Size: 29''
Fork Travel: 150 mm
Geometry Highlights:
Sizes offered: S, M, L, XL
Headtube angle: 64°
Seat tube angle: 76.5°
Reach: 485 mm (size Large)
Chainstay length: 425 mm
Frame Material: Steel
Price:
Frame: $799 (blue) or $899 (chrome)
Complete bikes: $2,599 (blue) or $2,699 (chrome)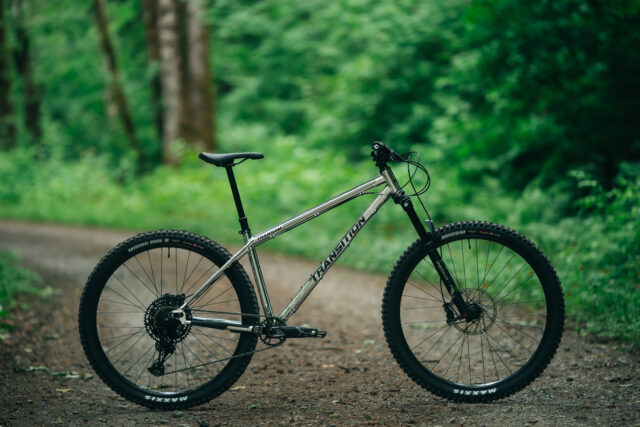 Intro
Nobody was all that surprised when Transition resurrected the Smuggler earlier this year — the earlier iterations had been wildly popular and there was a notable hole in their lineup between the Spur and the Sentinel, which the new Smuggler fills quite nicely.
However, I didn't see a new TransAM coming. Transition hasn't had a TransAM in their lineup for quite a while now, and while I'm personally a huge fan of aggressive hardtails, they don't seem to be quite as en vogue these days as they were a few years back.
I knew a ton of people who owned TransAMs in the mid-2010s, and they had a great reputation as a simple, well-built hardtail that was aggressive enough to handle some more technical trails, while still being a blast on mellow, rolling terrain, too. The new TransAM looks to be a modernized take on that lineage, and Transition says it's "ready for the core rider looking to get back to their roots."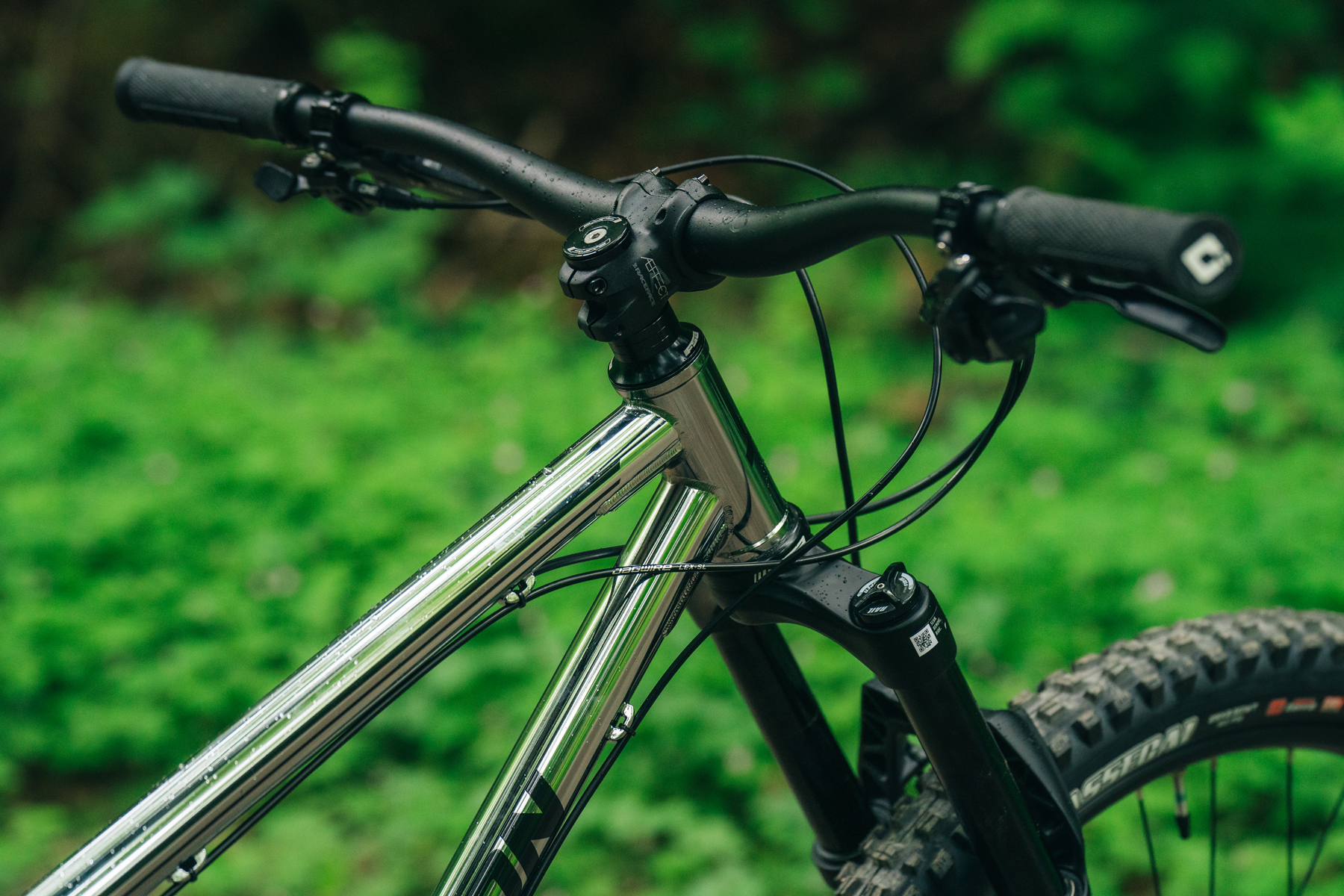 The Frame
Like the earlier iterations of the TransAM, the new one is offered with a steel frame only, and Transition has kept the features appropriately simple while throwing in a few bonus ones, too. The cable routing is fully external, and the TransAM gets a straight 44 mm headtube, threaded bottom bracket shell with ISCG tabs, and Boost rear hub spacing. The dropouts are on sliders for adjustable chainstay length and/or to simplify a single-speed setup if you want to go that route; they also feature a UDH on top of the sliding mechanism. There's a rubber chainstay guard and a series of mounting bolts on the downtube for water bottle(s) or other accessories that you might want to stick on there. There's clearance for up to a 34-tooth round chainring and up to a 223 mm brake rotor (on a 160 mm IS mount); tire clearance is stated as topping out at 29 x 2.5''.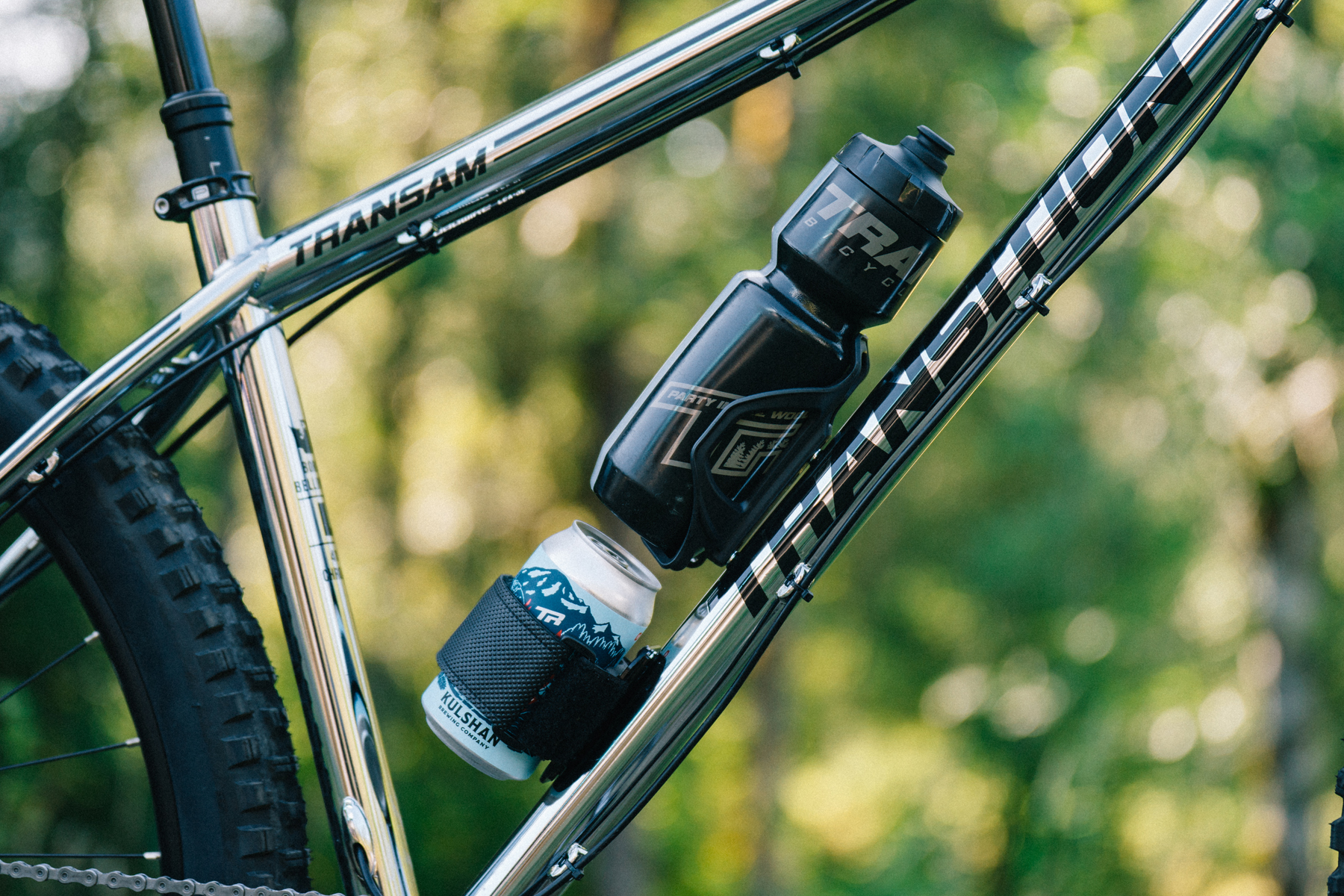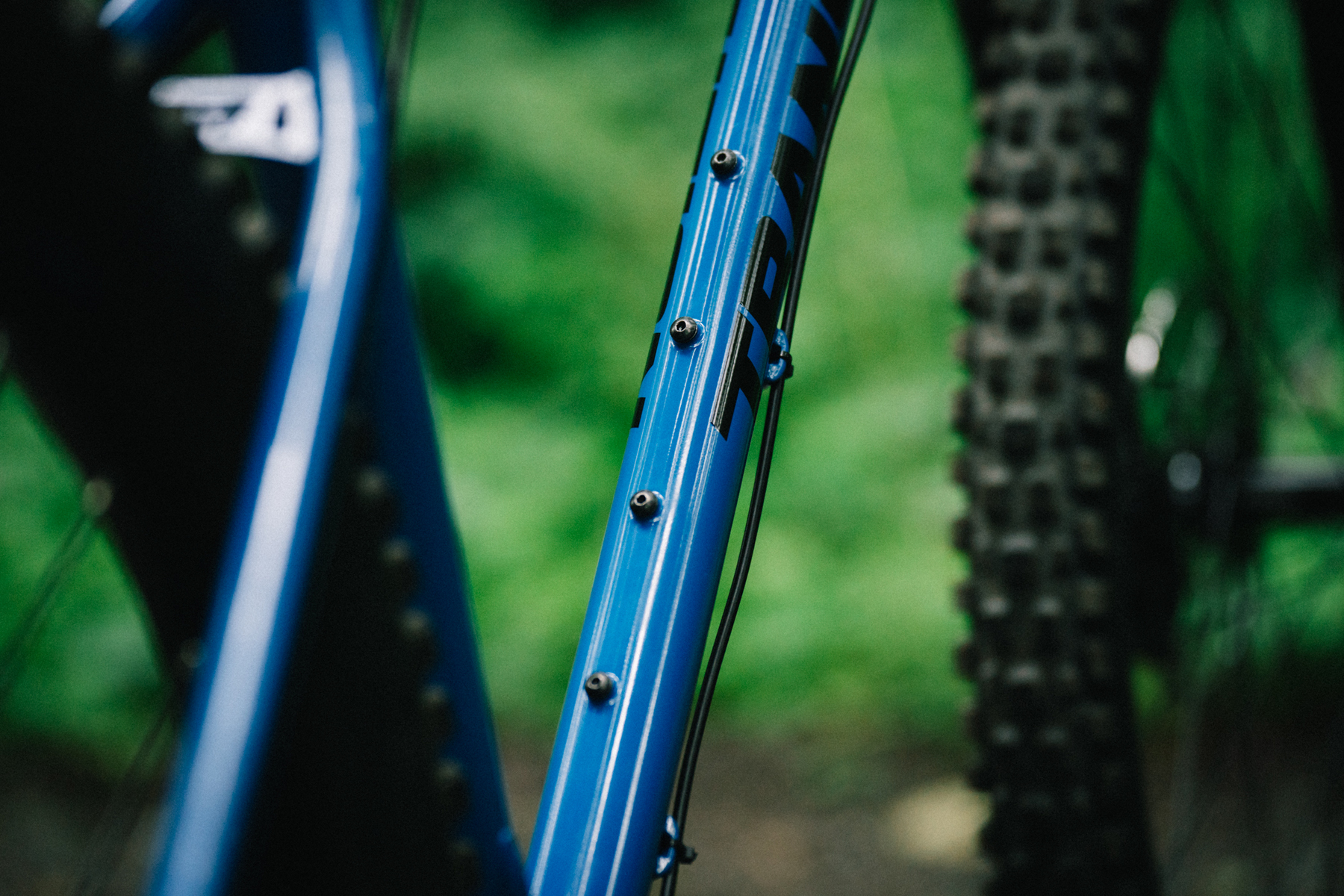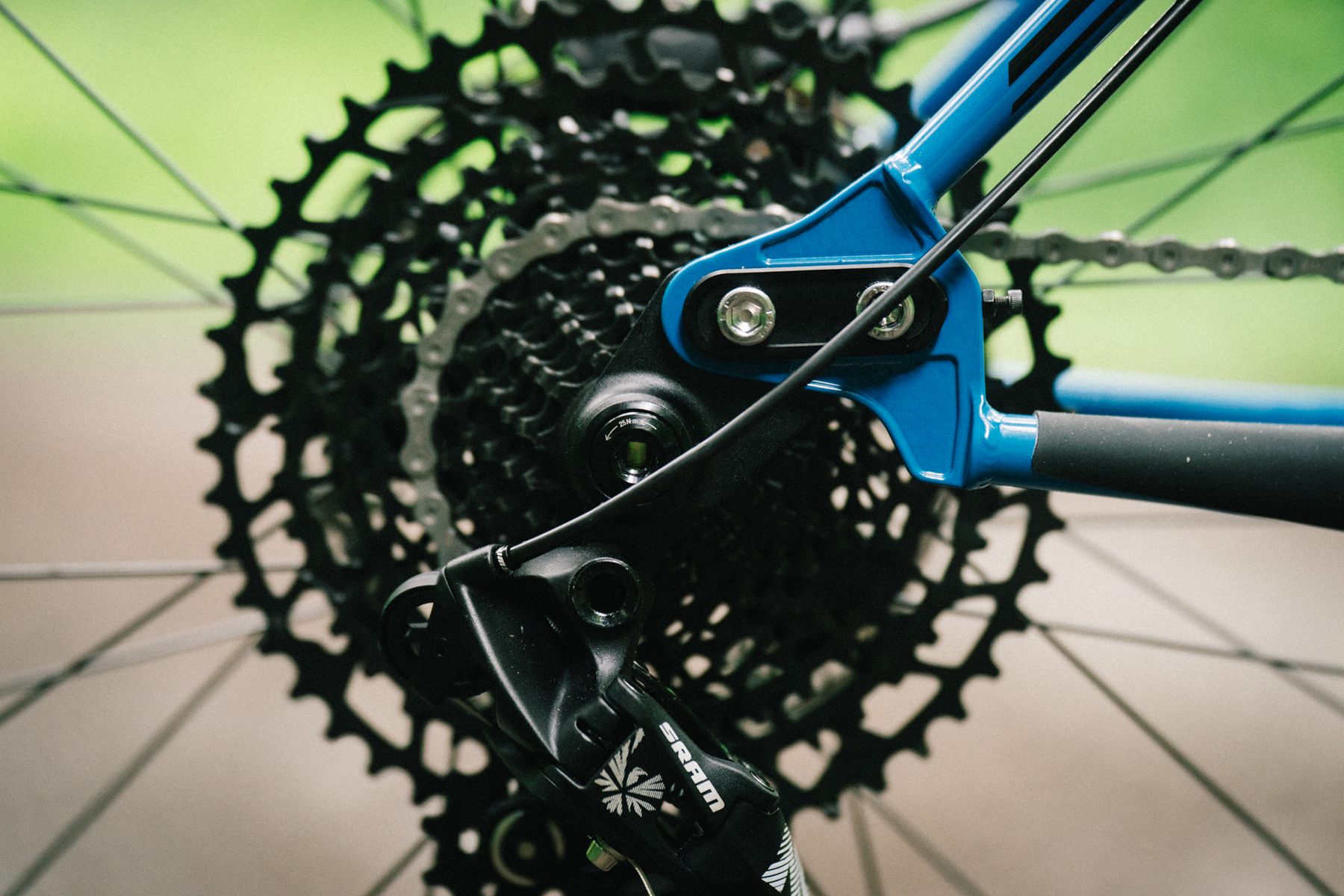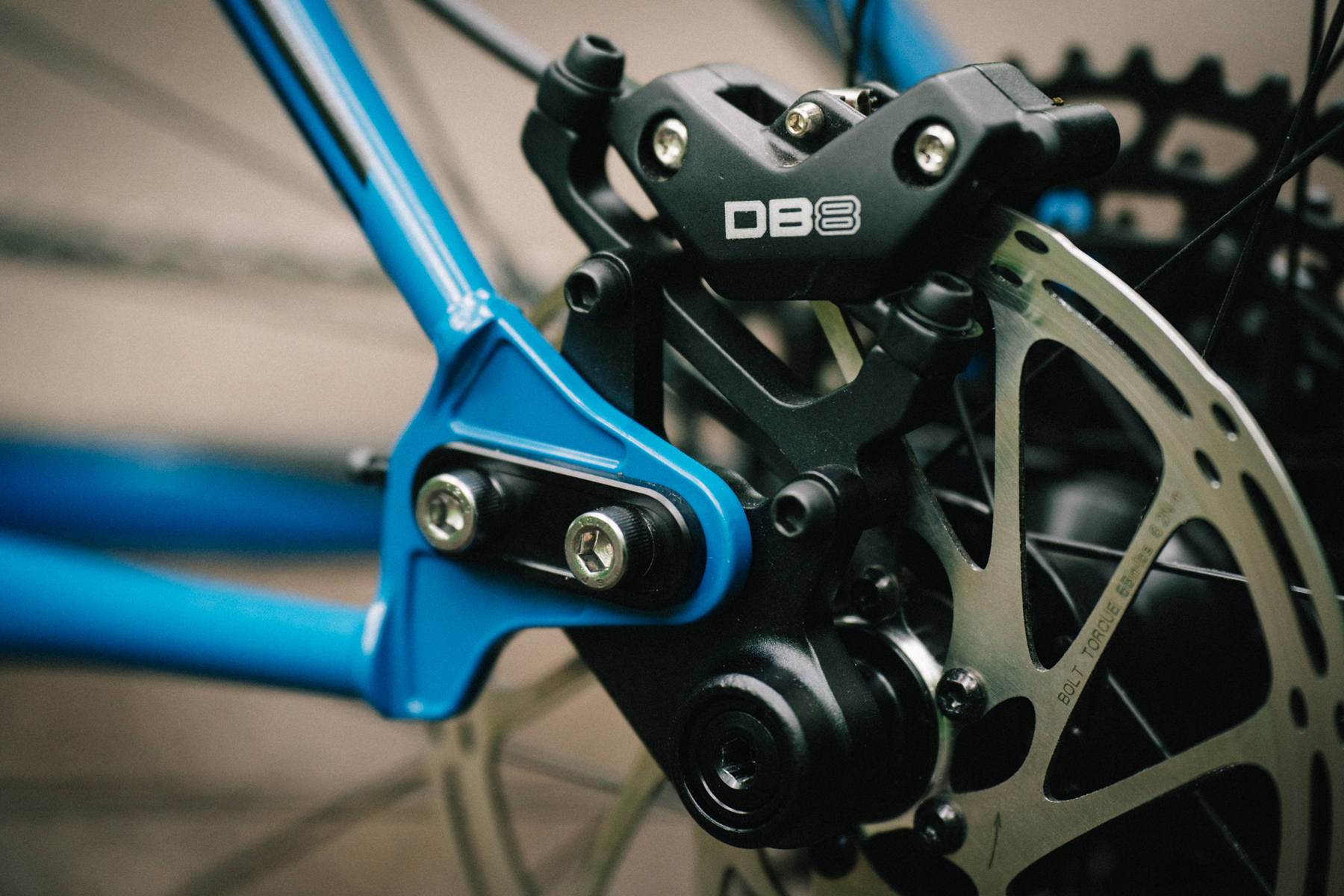 Fit & Geometry
The TransAM was always an aggressive-ish hardtail that was still meant to be pretty versatile and well-rounded. While that's still true of the new one, what that means from a geometry perspective has changed a whole lot since the last TransAM came out in 2016. The new TransAM is offered in the same four sizes, Small, Medium, Large, and XL, but the new one is, unsurprisingly, dramatically longer and slacker. The headtube angle is now 64° across the whole size range, paired with a 76.5° seat tube angle and reach ranging from 430 mm to 510 mm (with the Medium coming in at 460 mm and the Large at 485 mm). All four sizes get the same 425 mm chainstay length (though where in the adjustment range that number falls isn't stated) and a 50 mm bottom bracket drop.
Those are nice looking numbers for a modern Trail hardtail — much longer and slacker than a typical XC bike, but not wildly aggressive, either. It looks like a nice recipe for a bike that should be up for a fairly wide variety of riding, with geometry that's more well-rounded than it is oriented toward one end of the spectrum or the other.
Transition also says that you can run 27.5'' wheels on the TransAM if you're so inclined, and given the not-wildly-low (for a hardtail) 50 mm bottom bracket drop, that seems plenty reasonable. A mixed-wheel configuration should work fine, too, though it'll of course be a bit lower and slacker than the standard 29'' setup.
The Build
Transition offers the TransAM as a frame-only or in a single complete build, the highlights of which are listed below. The frame retails for $799 and the complete bike for $2,599 in the blue paint option; going to the chrome finish adds $100 to the price tag for both.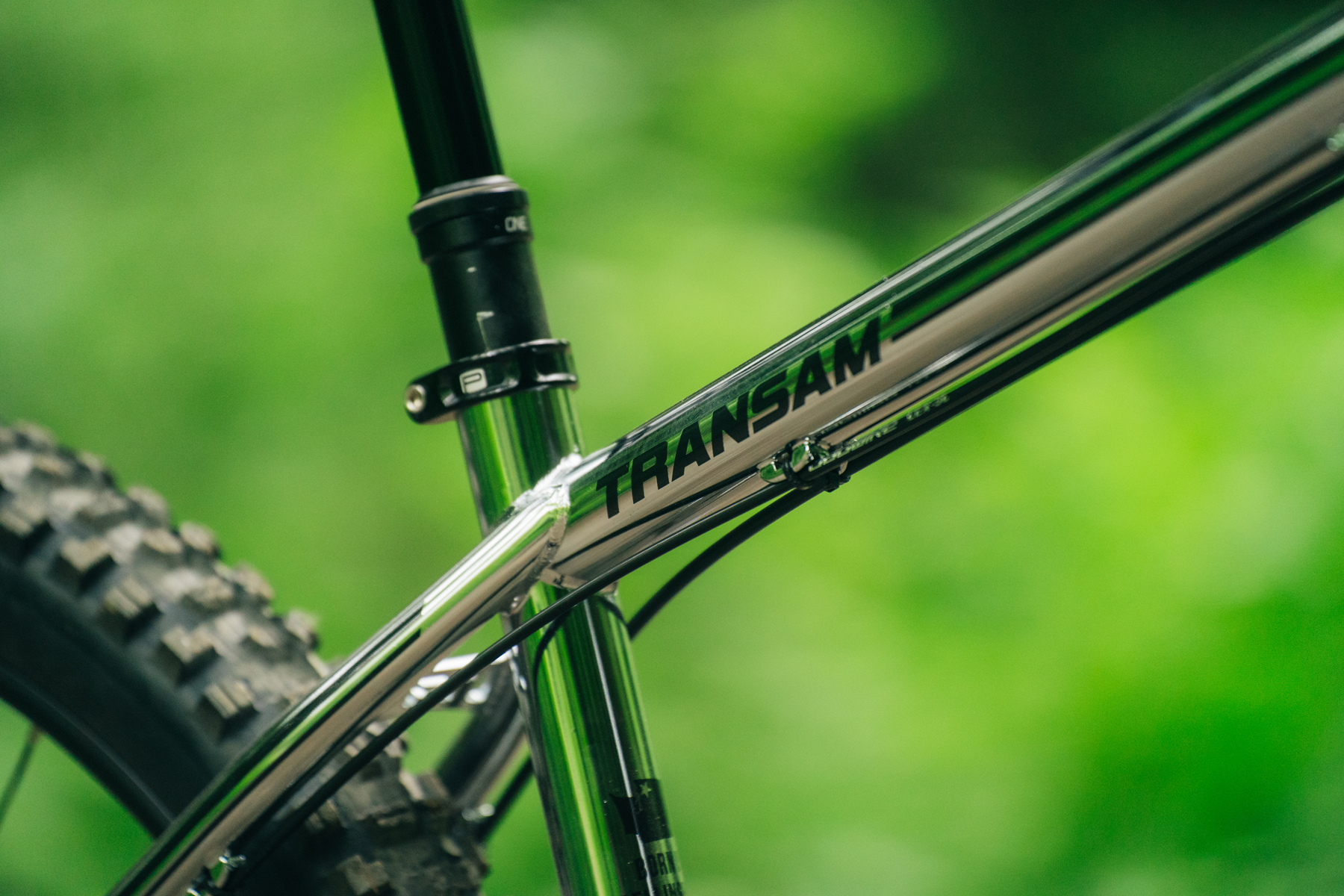 Drivetrain: SRAM NX
Brakes: SRAM DB8 (200 mm front / 180 mm rotors)
Fork: Marzocchi Z2
Wheels: WTB ST i30 w/ Novatech hubs
Dropper Post: OneUp (S: 150 mm; M: 180 mm; L–XL: 210 mm)
Some Questions / Things We're Curious About
(1) The TransAM looks like a great option for a simple, versatile hardtail bike, but on the trail, does it have any particular strengths or weaknesses?
(2) Does the TransAM feel like it could be an everyday bike for the right folks? Or is it better situated as an option in a bigger quiver to mix things up and bring some excitement back to trails that have gotten a little stale?
Bottom Line (For Now)
Aggressive hardtails can be a ton of fun, and Transition has brought back the TransAM just in time for prime hardtail season in the Pacific Northwest — i.e., the cold, wet winter months when higher-elevation trails are under snow, muddy conditions take their toll on pivot bearings and suspension components, and it can take a little extra motivation to get outside in sub-optimal weather. The new TransAM looks to pick up right where the old one left off seven years ago as a versatile bike that can handle a little bit of everything, and we're glad to see Transition filling that niche in the bike landscape again. We're hoping to be able to get on the TransAM this winter, so stay tuned for more to come.