Arc'teryx Alpha SK 32
Reviewer: 5',10", 145 lbs
Available Size: One Size
Stated Volume: 32 Liters
Blister's Measured Weight: 994 grams
Stated Features:
Weatherproof, lightweight, durable AC² construction
Modular ski carry options
Separate front pocket with organized storage for snow tools, skins and wet gear
WaterTight™ side zipper for easy main compartment access
Helmet compatible lid
Internally laminated HD80 foam frame sheet back panel
Forward pull waistbelt adjustment
Minimizes potential snagging by eliminating excess straps
MSRP: $335
Test Locations: Front Range, CO
Days Tested: 5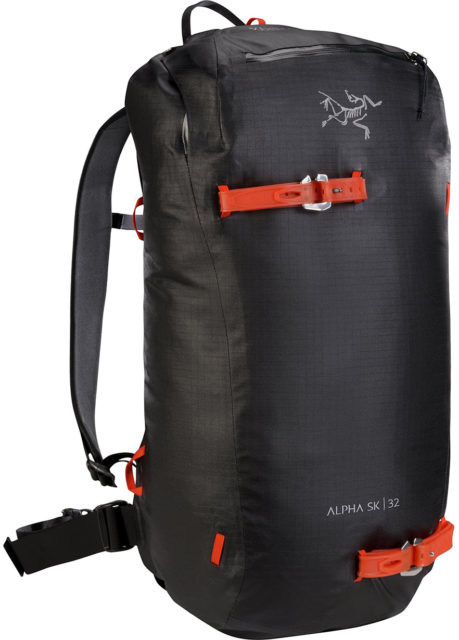 Intro
More people are going into the backcountry — that's not news at this point. But along with the rise of general backcountry touring, we're also seeing a notable rise in light and fast ski-mountaineering gear.
A few years ago, skiers started buying the very minimalist, climbing-oriented Arc'teryx Alpha FL pack and threading ski straps through its external loops to create a makeshift ski carry and use this incredibly lightweight pack for ski-mountaineering missions.
Arc'teryx took notice, and this year they released the Alpha SK 32 — a ski-specific pack that uses the same super-lightweight construction as the Alpha FL but with a more ski-friendly set of features.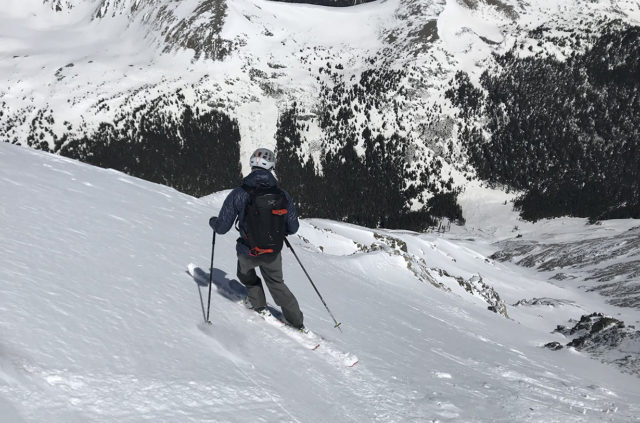 So, what happens when you turn a minimalist climbing pack into a minimalist ski pack? What do you gain, and what do you lose? After using the Alpha SK 32, I think there are noteworthy aspects on both ends of that last question.
Suspension / Fit
The Alpha SK 32 only comes in one size and has a thin bit of padding laminated to the outside of the back of the pack. This same piece of thin padding also makes up the shoulder straps. The back panel is also laminated on the inside with another layer of thin, dense padding. These two layers of padding are both quite thin and not very soft. The hip belt consists of a simple piece of 38mm-wide (1.5") unpadded webbing.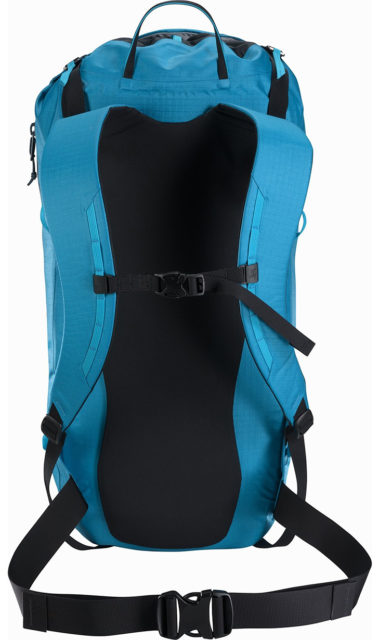 All this adds up to a suspension system that is clearly designed for simplicity and cutting weight over absolute comfort. This is definitely a very minimal suspension system. (If you haven't picked up on it already, you'll be hearing the words "minimal" and "minimalist" a lot in this review.)
When carrying a full load with a pair of skis on the pack, the Alpha SK 32's suspension system isn't all that comfortable. But for most other loading scenarios, I have been pleasantly surprised by how well the SK 32 carries. This a pack designed for light and fast travel. So with a light and fast load, it feels very good. But if your packing strategy trends more toward comfort and versatility rather than minimizing weight (and you therefore end up carrying a lot of heavy gear), I'd definitely get a different pack. The Mystery Ranch Saddle Peak is a great alternative for heavier loads.
Materials
The materials on this pack are what allow it to come in at such a low weight (the pack we tested weighs 994 grams with the two included 50-cm ski straps). The SK 32 uses what Arc'teryx calls "AC2," or Advanced Composite, construction. This construction consists of durable fabrics laminated to other durable fabrics with taped seams throughout. The result is a stiff, light, burly fabric that is very water-resistant with a unique hand feel.
I've been very pleased with the performance of the fabric on the SK 32. After several days that included lots of time using the diagonal ski carry, there are a few marks on the fabric, but no cuts, scrapes, holes, or other noteworthy damage.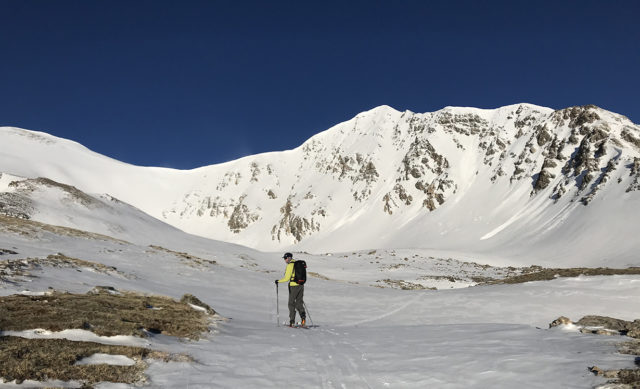 The laminated construction of the fabric also allows for the unique attachment points used on the pack. Because there are several layers of fabric laminated together, the attachment points for the ski / snowboard carry and the top closure can be fixed inside this laminate. This results in a very low profile, seemingly strong construction with very little sewing, potential points for water to get in, or potential areas for mechanical failure.
I've been very impressed with the laminated fabrics and the way that Arc'teryx uses this technique to build a very robust, simple pack with clean lines and a bomber construction. I have no durability issues to report so far, but as always, we'll update this review if anything comes up down the line.
Weight
The Alpha SK 32 is very light, particularly for a ski pack. It's a lot lighter than more all-round ski-touring packs like the Mystery Ranch Saddle Peak and Gregory Targhee 32, though not quite as light as some minimalist climbing / skimo packs like the ME Tupilak 37+ and Patagonia Descensionist 40L.
For reference, here are our measured weights for some notable packs.
820 g — Mountain Equipment Tupilak 37L+
972 g — Patagonia Descensionist 40L
994 g — Arc'teryx Alpha SK 32
1392 g — Thule Upslope 35L
1638 g — Mystery Ranch Saddle Peak 21L
1720 g — Gregory Targhee 32L
Storage & Features
This where it becomes very important to keep in mind how minimalist this pack really is. The Alpha SK 32 has hardly any features. Many of the features found on ski packs that a lot of us take for granted are absent on the SK 32. Most notably, there is no external helmet carry or ice-axe-specific attachment system.
The Alpha SK 32 has one main compartment and a separate avalanche-safety-gear pocket. The avy-gear pocket has sleeves for a shovel shaft, probe, snow saw, etc., but you still need to open to main top lid to access it or the main compartment.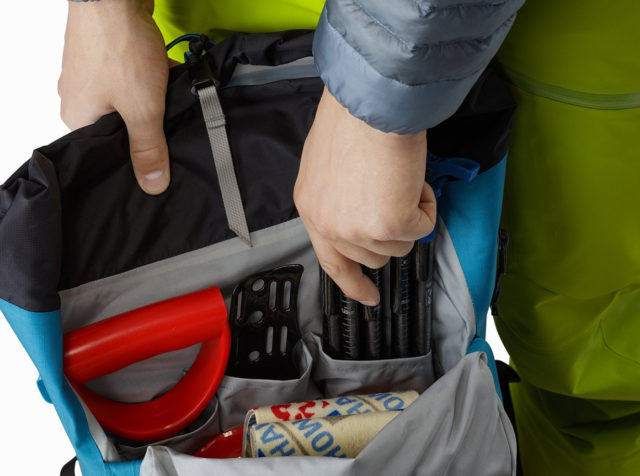 For helmet carry, Arc'teryx recommends folding the lid over the helmet to store it like you would a rope. This method works ok, but because the helmet needs to sit rather low in the pack to let the lid fold over it, the pack can't be filled very full with the helmet on top. When the pack has enough room in it for this style of helmet carry, I find it to be generally easier and more secure to just put the helmet in the main compartment rather than trying to stash it under the lid.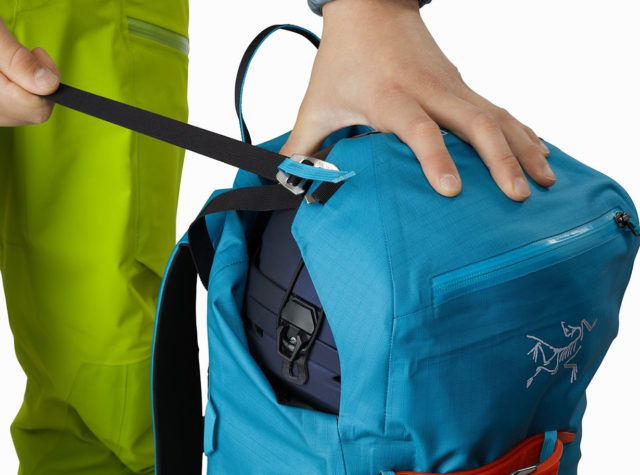 The features that the pack does have are designed to maintain the clean lines of the pack and minimize weight. As a result, the pack has a few quirks.
For example, the main compartment lid closure uses two small metal hooks to close the lid of the pack. These hooks are small and difficult to fit into the loops they interface with on the lid. The design of the lid is very streamlined and eliminates many seams, straps, and clips seen in other packs, but the lid on the SK 32 is more difficult to close. It also doesn't keep snow out of the main compartment as well as a traditional floating pack lid.
The lid on the Alpha SK 32 has a small zippered pocket that is great for storing things like car keys, a few bars, or a pair of sunglasses. This pocket is deceptively large and I always keep several bars and some quick-access items in it.
The ski carry that comes standard with the pack uses two fairly traditional ski straps to hold skis in a diagnonal setup (it can be adjusted to go diagonal either way). Arc'teryx sells additional straps to accommodate A-frame and vertical snowboard carry, too. Or you can just buy standard ski straps, though, for snowboard carry, Arc'teryx says that the pack needs straps that are at least 65 cm long (the two included straps are 50 cm).
In practice, the Alpha SK 32's diagonal-ski-carry system works pretty well. I haven't had issues with ski security and it is relatively easy to setup. One feature I like is that the straps can be removed to maintain the streamlined nature of the pack if I know I won't need to boot pack on a specific day.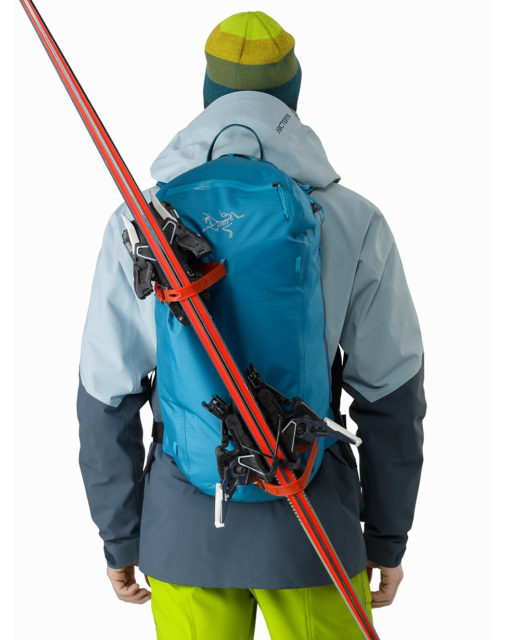 One of my favorite features on the Alpha SK 32 is the water-resistant side-access zipper that runs almost the full height of the pack. I find myself accessing the inside of the pack through this zipper far more often than the finicky top lid. It's simple and effective for getting at everything in the main compartment, though it doesn't offer access to the snow-safety compartment.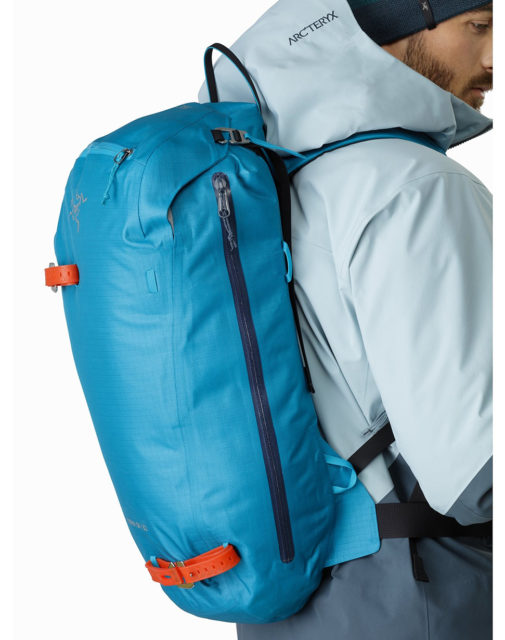 General Performance
This is a light pack and it excels in light and fast missions. If you often find yourself thinking "what can I leave out to save weight?" when packing for a ski day, then this might be a good pack for you. I used it on a huge mission this spring and it performed excellently. But for days when I really need to bring a more comprehensive ski-mountaineering load, there are features that the SK 32 lacks.
The lack of an ice-axe carrying system and helmet carrier seems like a huge oversight on a pack like this. Every time I used this pack this spring, I wanted to carry both a helmet and an axe. I wasn't able to use the ski-strap system to carry an axe but I was able to rig up an ice-axe carry by tying a loop of cord through one of the lower attachment loops and stealing a hook-&-loop axe-handle strap from another pack and putting in the upper attachment loops. It works fine, but this pack would be improved greatly with a included option for carrying an axe.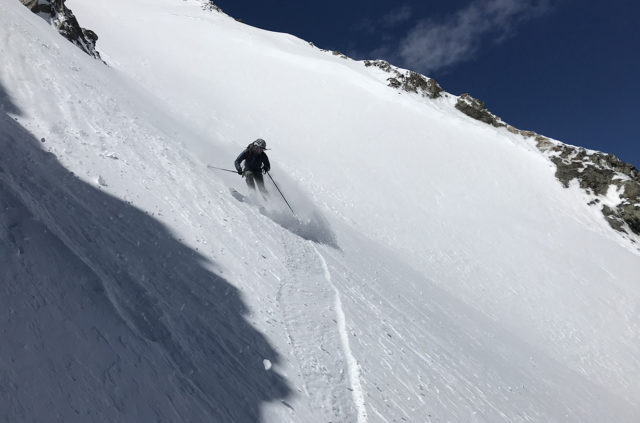 I am able to fit a helmet inside the pack, but this is really inconvenient. It takes up tons of space and makes accessing the rest of the pack a challenge. If you're reading this, Arc'teryx, I think the Alpha SK 32 needs an option for carrying both a helmet and an ice axe.
In its current form, this is a minimalist pack for minimal-minded skiers. And despite the omission of some essential features, I find myself really liking this pack. The design is smart, simple (arguably too simple), burly, and streamlined. With the addition of a helmet and ice-axe carry, this would hands-down be my favorite ski-mountaineering pack. But as it is now, I think the lack of those features may leave it out of contention for some people.
Price
Apart from its unique fabric and minimalist design, the Alpha SK 32's price also stands out. With an MSRP of $335 USD, this pack is very expensive. Combined with its performance and minimal feature set, that makes the demographic for the pack pretty niche. Arc'teryx does have an excellent warranty and repair program, but we suspect that the price tag on the Alpha SK 32 will be dealbreaker for some people.
Bottom Line
The Arc'teryx SK 32 pack uses a unique construction and design to create a very minimalistic ski-mountaineering pack that is very light, surprisingly burly, and very streamlined. It's definitely not for everyone (there are plenty of more versatile, heavier packs), but if you value low weight in your backcountry kit and you don't need an ice axe or external helmet carry on your pack, then this pack is worth a look. And if Arc'teryx chooses to make some of the aforementioned tweaks to its feature set, we could easily see this becoming one of our favorite ski-mountaineering packs.