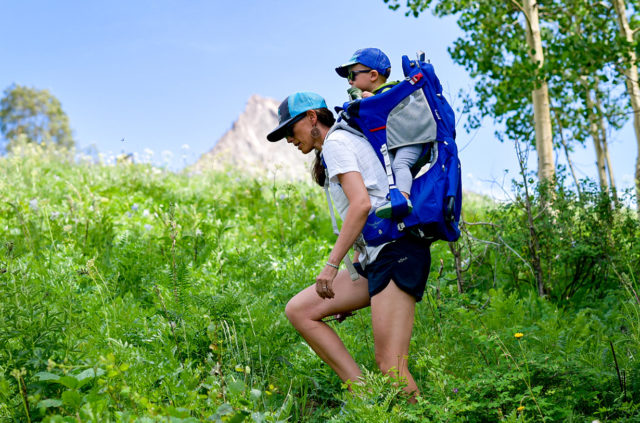 Review Navigation:
Intro //
Soft-Structured Carriers //
Baby Backpacks
Intro
To some, becoming a parent means giving up one's old way of life, and yes, to some extent, that is true. But thanks to the right gear, a little extra energy, and some motivation, one's lifestyle needs only to be adjusted — not completely overhauled.
This article is meant to introduce parents to some of the best outdoor-oriented baby gear, and particularly ways to bring your little one with you on your outdoor adventures. With the right gear, parents can stay active and happy while the little one safely and comfortably enjoys the fresh air. And as you will undoubtedly hear — start them young.
When my husband and I became parents, we started from zero. We had seen our friends transition into parenthood while maintaining an active lifestyle but we really had no idea what products would be best to facilitate doing so. It is my hope that this list will save new parents some time and energy when it comes to finding the right gear to keep them staying active outside.
In this article, the term "baby carrier" is used pretty loosely as it refers to a variety of gear used to get the baby from point A to point B. This review will be in 3-4 parts and will include the following types of baby carriers (you can skip to each section using the nav bar at the top):
Soft-Structured Carriers
Baby Backpacks
Jogging Strollers
Kid Trailers (for bikes)
Note: This list is not meant to be all inclusive. There are a lot of carriers on the market and, logistically, it would be extremely challenging to test them all. Included in this review are hand-selected products that seemed to best fit an active lifestyle. Please feel free to leave a comment or suggestion if there are any products that you have found useful or that you're curious about.
First up — soft-structured carriers:
Soft-Structured Carriers
The term "soft structured" refers to the fact that these carriers are made of fabric (usually cotton or mesh) and lack an internal or external rigid frame. If you've ever seen The Hangover, Zach Galifianakis was using an Original BabyBjorn (reviewed below) to carry "baby Carlos." Thanks to Zach, the Original BabyBjorn might just be the most recognizable baby carrier on the market. Soft-structured baby carriers tend to be lightweight, packable, machine washable, easy to get on / off, and can be used to carry the baby in a variety of different positions (e.g., facing forward or facing backwards).
In my opinion, soft-structured carriers are great for the following activities (among others):
carrying a newborn
running errands when you don't want a stroller (e.g., grocery shopping)
housework such as cooking or gardening
singing karaoke
nursing while hiking
Hiking / ski touring when the baby is too young for a backpack or when you don't have a backpack (e.g., on vacation)
mushroom hunting
… and many more
When the baby is young and unable to hold his / her head up, these carriers provide the necessary support for the neck and head. For infants, skin-to-skin contact is highly recommended by pediatricians and caregivers and soft-structured carriers are a good way to attain that while keeping one's hands free. When your child is too young to use a baby backpack, these soft-structured carriers are your best bet for adventures. But even now, when my son is old / strong enough for a baby backpack, I continue to use a soft-structured carrier almost daily.
For me, the best part of soft-structured carriers is that the baby can be worn in a variety of different positions. Most carriers have at least a couple of options but some have more than others. When searching for a carrier, I strongly recommend one that has the option for the baby to be in a forward-facing position. The first carrier I received did not allow for this and once my baby hit 5 months, all he wanted to do was look around. A carrier with a forward-facing option definitely kept my baby entertained and limited the amount of neck straining as he tried to take in everything around him.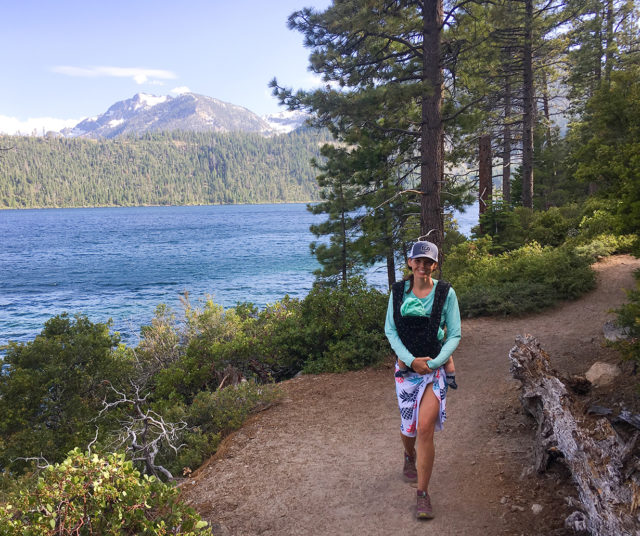 When shopping for soft-structured carriers, you'll likely encounter references to hip Dysplasia. According to the International Hip Dysplasia Institute, "Hip dysplasia is the most common abnormality in newborn infants." I won't go into the details of Hip Dysplasia here as I am not an expert (you can visit the IHDI page for more), but it is something that one should consider when choosing a carrier. If you've ever been to a well-baby checkup you've likely noticed the caregiver moving the baby's legs up and down with bent knees to check for signs of Hip Dysplasia.
As Hip Dysplasia is thought to be developmental, choosing a carrier that safeguards your baby against unwanted stresses to their joints is important. The International Hip Dysplasia Institute provides certification to products used in the first 6 months of a baby's life. To check if a baby carrier is certified by the International Hip Dysplasia Institute go to this website. All the soft-structured baby carriers reviewed below, with the exception of BabyBjorn Baby Carrier Original, are certified by the International Hip Dysplasia Institute.
Not all soft-structured carriers are infant (<1 year old) compatible, while others are designed specifically for newborns (around 2 months old or younger). Ones that are newborn compatible may require an infant insert that is sold separately (I'll not that below when relevant). Many of the carriers in this review can accommodate newborns to toddlers.
With all that said, here are some of the soft-structured baby carriers my husband and I have been using:
Baby Tula Explore Baby Carrier
Fabric: 100% Cotton
Blister Measured Weight: 658 grams w/o hood (77 g for hood)
Baby Positions: front-inward carry (infant-toddler); forward-facing, back carry (baby-toddler)
Stated Weight Range: 7-45 lbs / ~3.17-20.4 kg
Waistband Size: 27"-57" / 68.6-144.8 cm
Infant Compatible: Yes, no insert needed
Days Tested: 10
MSRP: $179
Best For: everyday use and adventuring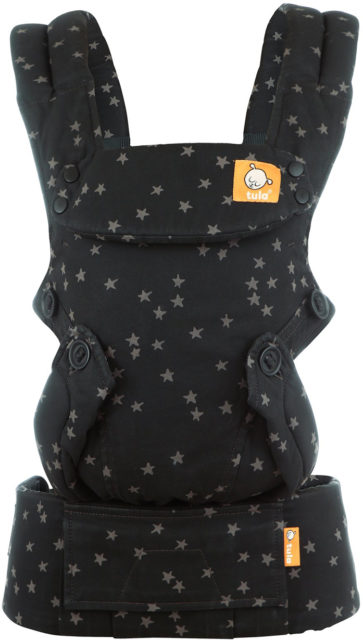 The Tula Explore Baby Carrier is easy to get on and off, packs down nicely for travel, and fits my son better than ErgoBaby Omni since he sits higher when facing forward. By sitting higher, his chin doesn't rub against the fabric, which means less skin irritation. On top of all that, the 100% cotton fabric feels nice and smooth, there are a variety of design and pattern options, and the carrier looks streamlined and attractive. The Explore is great for hiking and everyday use and it doesn't look out of place when exploring a city.
The Tula Explore Baby Carrier arrived when my son was 9 months old, so I was unable to test it with a newborn but Tula lists the Explore as infant compatible without needing an infant insert. The fabric initially felt heavy and I was expecting it to be too warm, but when put to the test, the fabric was sturdy yet thin enough to keep the baby from overheating. If overheating is a concern (e.g., you live in a warmer climate), the Explore is available with a cool mesh panel down the middle to help facilitate airflow.
The Explore's lack of padded lumbar support and the thin-yet-dense shoulder padding mean that the Explore packs down a bit smaller than the other packs here. The lack of a padded lumbar support is noticeable after a few hours of hiking with an 18-lb (~8.2 kg) child, but a lumbar support addition can be purchased separately. The padding in the shoulder straps is about half as thick as the Ergobaby Omni — it is still thick enough to comfortably carry the weight of my baby, but not so thick that it's uncomfortable to wear a backpack on top of the shoulder straps. I spent many hours mushroom hunting with my son in part thanks to the thin padding; when solo hiking, carrying a backpack is extremely helpful if not completely necessary. The shoulder strap, waistband, and leg openings of the Explore all feature some level of padding and kept myself and my son comfortable on long hikes.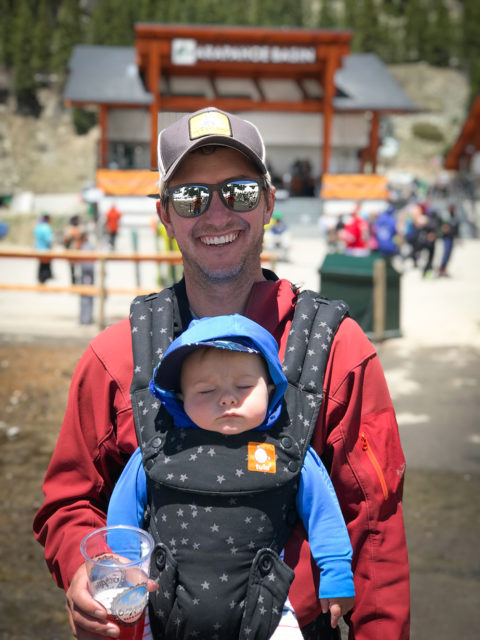 All the soft-structured baby carriers on this list are machine washable and all but the Original BabyBjorn have a sunshade included. The Explore is the only carrier in the group that has a removable sunshade. The idea of a removable hood is somewhat appealing, but I found I never used it since I always forgot it at home.
Changing the baby's position between front inward-facing and front outward-facing simply requires two buttons to be switched. While not as easy to adjust as the sliding bar on the Ergobaby Omni, it's still pretty easy and can be done while the child is in the carrier.
The Explore has one pocket that is located on the waist belt, just under where the child sits. It has a velcro closure, is exceptionally easy to use, and easily fits my large cell phone. Of all the soft-structured carriers and their included pockets, the Explore's pocket has been the easiest to use since there is no zipper to worry about getting stuck (issue with the Ergobaby Omni) and it's not up against the babies body (like it is with the Ergobaby Original). Both my husband and I reach for this carrier more than any of the others.
Ergobaby Original
Fabric: 100% cotton
Blister Measured Weight: 684 grams
Baby Positions: front-inward carry (infant-toddler), hip carry (baby-toddler), back carry (baby-toddler)
Stated Weight Range: 12-45 lbs / ~5.4-20.4 kg (7-12 lbs / 3.17-5.44 kg with Infant Insert)
Waistband Size: not stated
Infant Compatible: Yes, insert needed
Days Tested: 20
MSRP: $120 (+$35 for infant insert)
Best For: thrifty parents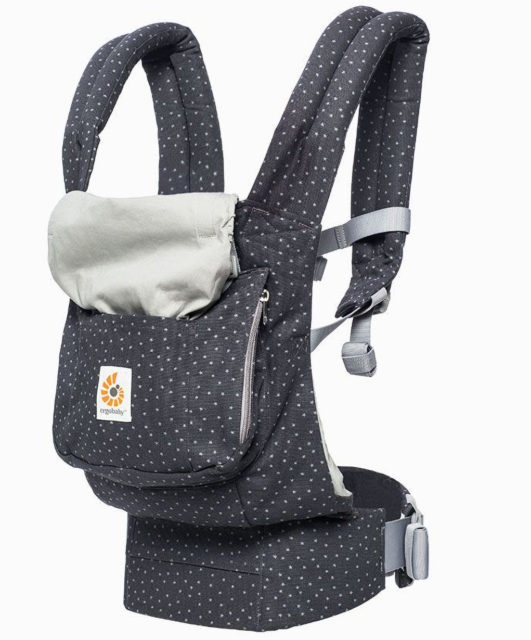 We started using the Ergobaby Original when my son was roughly a week old since it was the only soft-structured baby carrier we owned (thanks to our baby registry). The price point is what initially got my attention since it is at around $60 cheaper than many other carriers on the market. What I failed to realize is that the Ergobaby Original can not be used in the front-outward position. Regardless, we used the Ergobaby Original exclusively for the first 3 months of my son's life. When he was teeny tiny, we used the infant insert (purchased separately) which was easy to install and kept him in the correct body position. Once my son was old enough to face forward, we started using a different carrier since he really wanted to see what was going on around him and I didn't want him to strain his neck while looking around.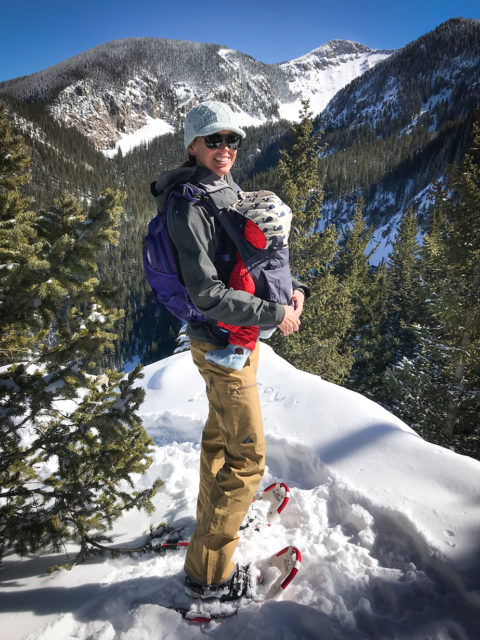 Like all the soft-structured carriers on this list, the Ergobaby Original is breastfeeding compatible and machine washable. It has a non-detachable UPF 50+ sun / privacy hood with multiple snap options to adjust for the baby's size. When not needed, the hood can be tucked into the front pouch pocket. The Ergobaby Original has a large zipper pouch on the main body of the carrier, unlike the Tula Explore and Ergobaby Omni that both have pouches below the carrier on the waist belt. It was easy to access the pocket on the Ergobaby Original but anything placed inside does rub up against the baby. The carrier also has lumbar support and the waist belt can be adjusted from either side, which is great for switching the fit between my husband and I, though the lumbar support is tricky to get positioned perfectly in the middle.
The fleece-lined and water-resistant winter weather cover ($50) and rain cover ($50) accessories seem like great options for keeping the baby warm and dry. I wish I had known about them last winter as my son and I spent many hours in the cold and I was always trying to figure out the best way to keep him warm.
Ergobaby Omni 360 Baby Carrier All-In-One: Cool Air Mesh
Fabric: Mesh
Blister Measured Weight: 826 grams
Baby Positions: front-inward carry (infant-toddler); forward-facing, hip carry, back carry (baby-toddler)
Stated Weight Range: 7-45 lbs / ~3.17-20.4 kg
Waistband Size: not stated
Infant Compatible: Yes, no insert needed
Days Tested: 15
MSRP: $180
Best For: warm-weather adventures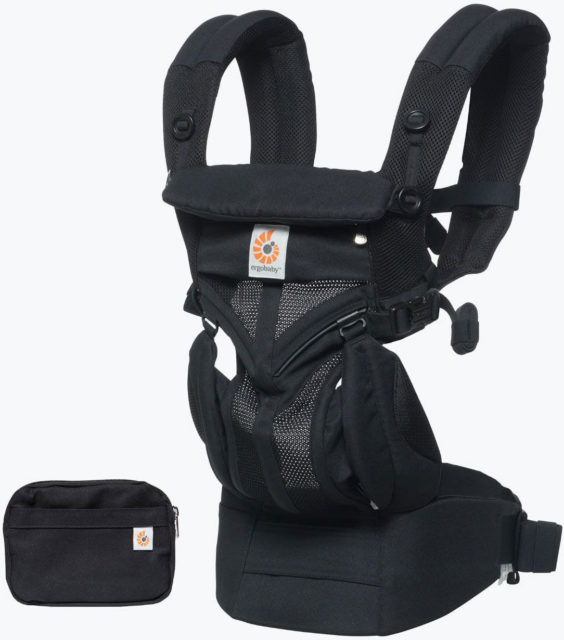 The Ergobaby Omni 360 Baby Carrier All-In-One: Cool Air Mesh is certainly a mouthful but it's one of Ergobaby's newest carriers and is great for warm weather. The Omni features breathable mesh for warm days or sweaty endeavors, lumbar support, a stowable sun / privacy hood, removable pouch, and crossable straps (for potentially more comfortable carry). I purchased this carrier for a Hawaiian vacation where we planned to hike but we didn't want to bring a baby backpack. My son was 9 months old at the time, so still not too heavy. I was specifically looking for a carrier with breathable or lightweight fabric for the warm weather and a forward-facing carry option.
The Omni, like the Original Ergobaby, comes standard with lumbar support. The waist belt can be adjusted on either side and with the lumbar support in the middle it was rare to have the support positioned in the middle of the back — especially for my husband. Whereas the Original Ergobaby and the Tula Explore both have straps in the standard H shape, the Omni's straps can also be worn crossed. It's a little more difficult to get the baby in position when the straps are crossed but it does feel slightly more secure.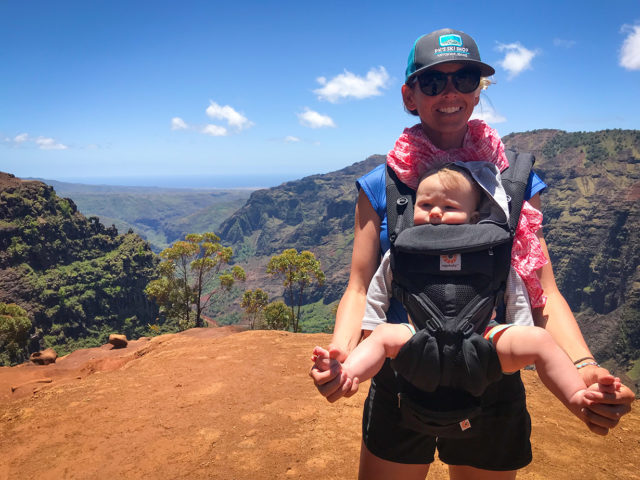 The padded straps on the Omni are slightly thicker than those on the Explore and Original, making it slightly more comfortable to wear. On the flip side, that also makes the Ombi less comfortable when paired with a backpack. The mesh fabric makes the pack more breathable but it also gives the carrier a techy / less-casual look. The best feature of the Omni is the sliders that make changing between front inward and forward-facing a breeze.
BabyBjorn Baby Carrier Original
Fabric: 100% Cotton
Blister Measured Weight: 489 grams
Baby Positions: front-inward carry (infant-baby), forward facing
Weight Range: 8-25 lbs / 3.63-11.34 kg
Waistband Size: no waistband
Infant Compatible: Yes, no insert needed
Days Tested: 30
MSRP: $79.99
Best For: newborns and short periods of carrying time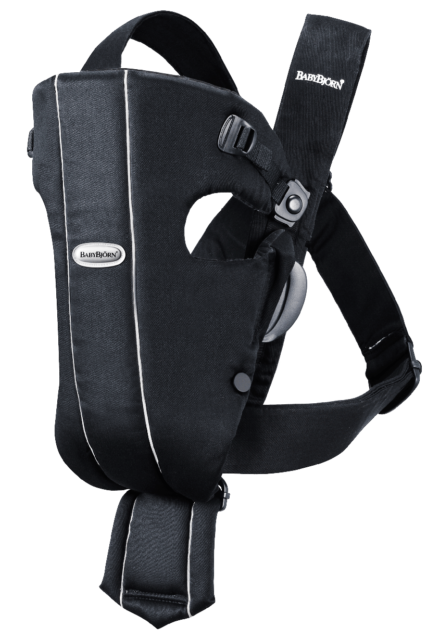 The BabyBjorn Original is the lightest and simplest of the soft-structured carriers on this list. Its lack of a waist belt means all the weight will be on your shoulders, but as this carrier is designed with the littlest ones in mind, it's not an issue if that's how you plan to use it. Once the baby starts to get heavy, the lack of a waist belt takes a toll on my back and shoulders. The carrier comes in two pieces, has a crisscrossed back, unpadded straps, and a padded front piece. After a little practice, I found this carrier to be the easiest to get on and off. A nice feature of this carrier is that, if the baby falls asleep, the carrier can be completely unbuckled and the baby can be laid down on the padded part.
I used this carrier a lot when my son was 8-12 lbs. But even at 12 lbs, I could only use it for short periods of time before my neck and shoulders started hurting. As mentioned above, this carrier is not certified by the International Hip Dysplasia Institute, though BabyBjorn recommends that this carrier only be used for short periods of time anyway.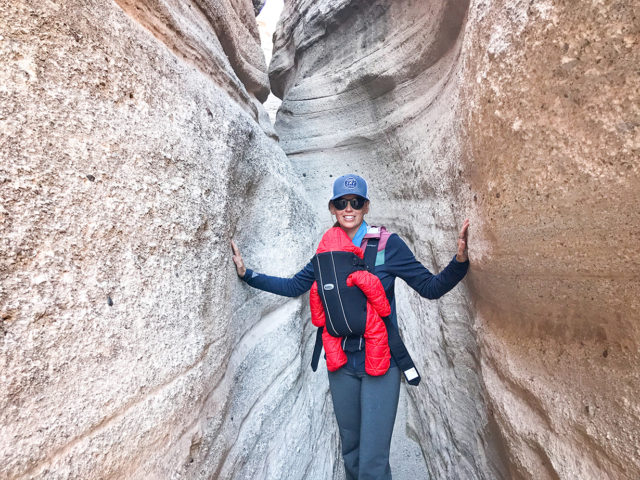 Another reason to love this carrier is that, when used with the baby facing out, the baby sits high enough that there's no chaffing on the chin. And in this position, the baby's arms are out, unlike the other carriers where the baby's arms go through the same space as yours. I used this carrier many times for short tours up the mountain and while nordic skiing. My son loved it — or at least he seemed to love the arm mobility more than the other carriers with the forward facing position. I do wish I had known about and had purchased the windproof cover since that would have made winter explorations a bit easier. The Baby Carrier Original is a fairly simple carrier but that's what makes it so great.
Baby Backpacks
Baby backpacks don't come into play until the baby can safely hold his / her head up (typically 5-6 months old), but the heavier the child and the longer the hike, the more you'll appreciate a good backpack. In my experience, the best baby-carrier packs are built just like a high-end trekking backpack with a padded hip belt, adjustable sternum strap, storage compartments, and load-adjustment straps. If you have a little one and plan to hike, ski, or spend long periods of time in non-stroller-friendly terrain, a backpack is a must.
One of the best uses I found for a baby backpack is ski touring. Manufacturers do not recommend skiing as one of the appropriate uses and I'm not advocating for anyone to do this, but ski-touring days with my son were some of my favorite days last spring. I loved taking my son on mellow tours around our local ski hill and the Deuter and Kelty packs made these adventures considerably more fun for my son and me.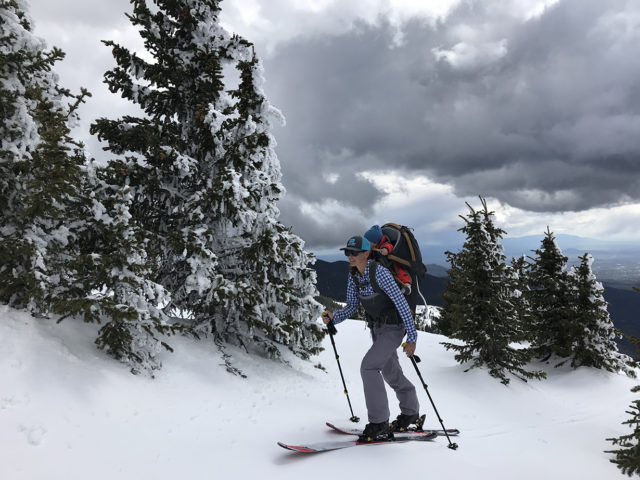 Update 7.6.20: When we originally published this article, the Osprey Poco Plus had not yet been released. We were able to get our hands on the new model in February and have been testing it ever since.
Osprey Poco Plus
Fabric: Poly 210D Nylon Diamond
Frame Material: Aluminum
Stated Weight: 3579 g / 7.89 lbs
Blister Measured Weight: 3629 g / 8 lbs
Stated Size (height x width x depth): 73 x 40 x 48 cm / 28.74 x 15.75 x 18.9 inches
Stated Storage Volume: 26 liters / 1587 cubic inches
Maximum Weight Load (Child + Gear + Pack): 22 kg / 48.5 lbs
Hydration Compatible: yes
Sunshade Included: yes
Days Tested: 30+
MSRP: $330
Best For: hiking & backpacking
Osprey makes some of the most popular kid carrier backpacks on the market today. Despite the success, they decided to overhaul their lineup for 2020, improving upon the already popular Poco AG series. Osprey didn't just alter some bells and whistles, they took a stab at reconfiguring the entire child cockpit design, and the results stand out.
For the uninitiated, the Poco Plus's new, "Double Halo" child harness might seem like no big deal but if you've ever wrestled your toddler into a child carrier, the new design is very much appreciated. Unlike the Deuter Kid Comfort Pro and Kelty Journey PerfectFIT Elite, which both feature harnesses you put over your child's shoulders from back to front, the Osprey Double Halo system is set up from front to back. So your child's arms reach out in front and the harness is secured behind their back with two buckles and two quick cinches. It is quick and easy to secure and my son never refuses or has to contort himself to put his arms through — overall, the front-to-back approach seems better in my experience. The buckles are hidden by padding so they don't rub against the back or create an uncomfortable bulge, which is ideal. In addition to the ease of the Double Halo harness, the waist area does not require any cinching. So just lift your child in, thread their feet through, and secure the Double Halo harness with two clicks. Both the Deuter and Kelty require cinching at the waist and while it's not hard to do, it's nice to eliminate this step.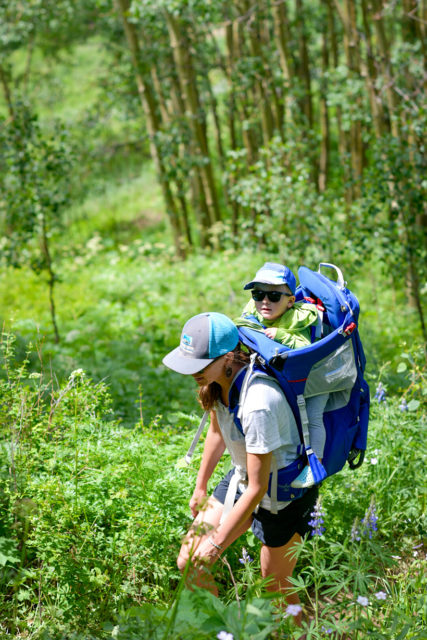 The area in the Poco Plus where your child sits (i.e., the cockpit) is fully padded and framed, meaning it won't collapse on your child, and the sides are made of mesh, like the Kelty, for added ventilation.
The pocket design of the Poco Plus is very well thought out with mesh drop-in pockets that are within my son's reach for his snacks and two lower drop-in pockets located on the pack that I'm able to access, even with my lack of shoulder flexibility. I usually keep some snacks and water for my son in those pockets so I can access them when hiking solo or hiking with a friend but maintaining social distance. I've found that hiking with a baby is easier compared to with a toddler as toddlers are more mobile and have a lot more "opinions," so anything I can reach to help distract my now toddler-aged son from wanting out of the pack is extremely helpful.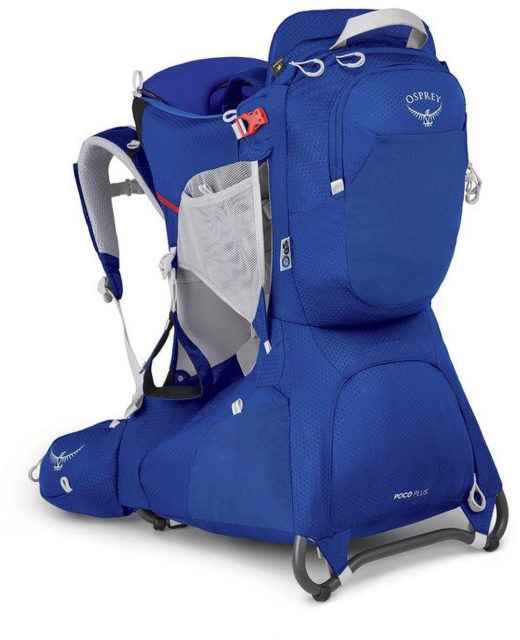 In a similar vein, there are also a few loops on the Poco Plus on which you can hang toys or pacifiers, and they also double as a cinch to keep the pack compressed for storage or travel. I always keep a little toy attached to any baby carrier and, on the Kelty and Deuter packs, there isn't an easy spot to attach a toy that also keeps it from ending up under my shoulder strap whenever I put on those pack. The Osprey loops are out of my way and yet still close enough for my son to see and easily grab whatever is attached to them. For the past 10 months, the toy of choice has been a Simpl Dimpl, which I highly recommend.
The Poco Plus's stirrups, a feature that seems to come standard with all quality child-carrier backpacks, are detachable and easy to adjust. In previous reviews, I noted that my son wasn't a fan of using the stirrups but this has changed as he's gotten older. Now that he is a full-blown toddler, he uses them during every hike and enjoys kicking his feet around while in them. Because the Poco Plus's stirrups pivot / bounce with him, his feet have stayed in along miles of trail.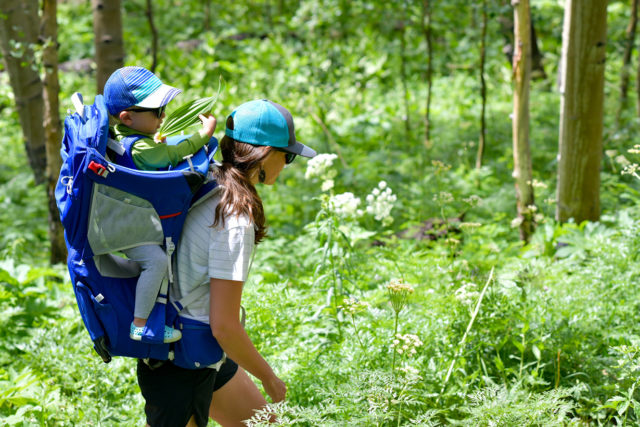 The Poco Plus comes with a sunshade that is stored in a zippered pocket behind the child. This design is similar to the Kelty and Deuter packs and I highly recommend purchasing a backpack with a sunshade if you live / hike in a place that's consistently sunny. The Poco Plus sunshade is easy to access, and once removed from the pocket, it's secured not with buckles, but with an "envelope-style" design where the bottom is inserted into a small pocket on either side of the pack. Overall, this design is easy to secure.
The Poco Plus sunshade has mesh wings that allow for good visibility for the child and features a nylon top that's rated at 50+ UPF. In New Mexico, I use the sunshade all the time due to its sun protection but also because it provides a bit of extra head support when my son falls asleep with his head to the side. He seems to enjoy the comfort of the stretchy fabric. I haven't tested the sunshade in the rain yet, but I figure it would offer at least some protection — not as good as the Deuter sunshade (which proved to be very water resistant with good sun protection and visibility), but potentially a bit better than the Kelty, which offered almost no protection from the rain.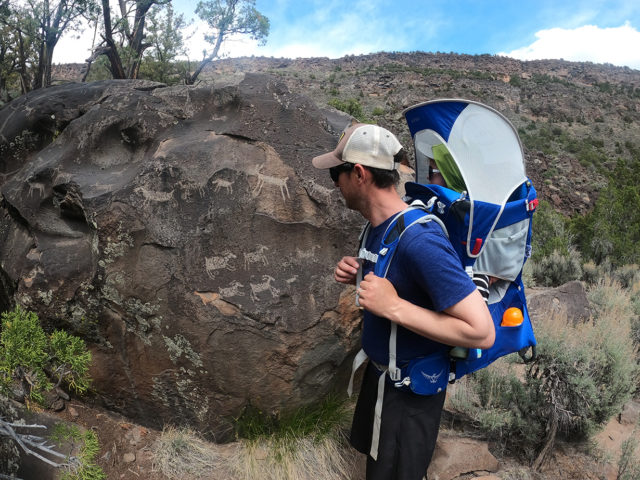 For the adult, the Poco Plus's ventilated, tensioned-mesh backpanel helps to keep you cool and comfortable. The torso length has up to 6 in /15 cm of torso adjustability and is easily adjusted by pulling the shoulder harness up or down when the buckle is in the open position. The buckle is located behind the mesh backpanel and there are handy size guides to help determine the best fit. It does take some trial and error to get it right though, as the guides are simply Extra Small to Medium, with a lot of variation in between. At 5'8" with a "normal length" torso, I have the pack set to just below the Medium setting but I know folks much taller than me who were able to get a very comfortable fit in this pack.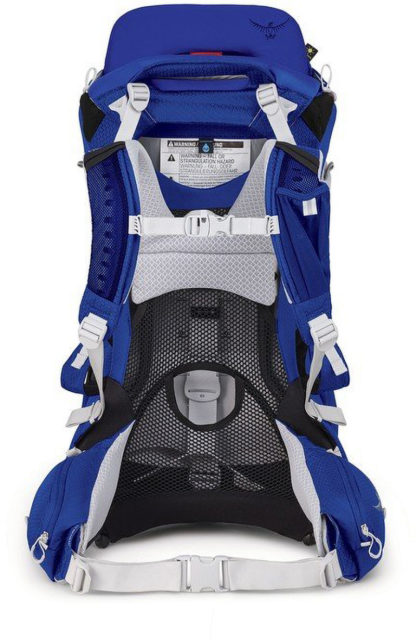 The Poco Plus's stated 26 liters / 1587 cubic inches of storage volume means there is plenty of space to pack all the necessities and then some. Of the backpacks I tested, the Poco Plus offers more volume than the Deuter Kid Comfort Pro (22 liters) and the same volume as the Kelty Journey PerfectFIT Elite.
Numbers aside, the pocket design of the Poco Plus makes it feel like there is more storage than the other two, thanks to the Poco Plus's large bottom compartment. It's easy to store large and / or bulky items in this space, though, when it's full or even half-full, the pack's kickstand doesn't close. The open kickstand makes for a large footprint and I definitely bump into trees and such more often in this pack, but in general, I don't notice it unless I'm in a tight area. And, for me, having the ability to put ice packs and other large items in the bottom compartment while also having 3 additional smaller pockets on the back to keep things organized outweigh any negative effects of an open kickstand. With a total of 10 pockets, the Poco Plus helps me keep things organized but I also don't have to dig through all the pockets to find an item since each pocket serves a different purpose. Plus, it gives the pack a streamlined look with its lack of excessive straps and buckles. Everything is tight and clean looking.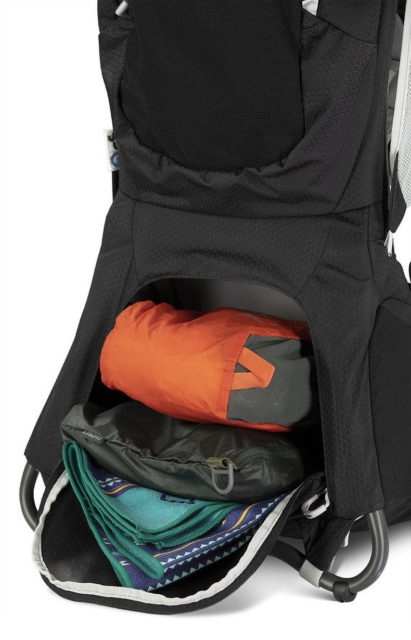 For me, the biggest downside to the Poco Plus is the lack of padding around the lower back. When hiking for a few miles, the pack is fine, but the longer the hike, the more I feel the pressure on my lower back. I've searched the bag multiple times trying to figure out the problem, thinking I didn't have the pack adjusted correctly or that there was a poorly placed metal bar somewhere. But after a lot of consideration, I've determined it's just the unpadded, tension system that hits my slim frame when the hip belt is fully cinched down. My husband, who is also 5'8" but who is a bit heavier than me, has never had a problem with the pack. Given that, I think the majority of people will have zero problems with the hip belt, especially if you have a little meat on your bones. But with that said, this is a good reason to try on the Poco Plus at a local store before purchasing.
The two grab handles on the Poco Plus aren't as conveniently located as those on the Kelty Journey PerfectFIT Elite, but the Kelty has 6 handles so it makes sense that they're easier to find and use when hiking solo. But even with only 2 of them, the Poco Plus's handles are easy to use and I've never had an issue getting the pack on / off. The handle I use most often on all the packs is the one located behind my neck. The problem with the Poco Plus's handle is that it sticks out a little and ever so slightly pushes my neck forward. It can be tucked under the removable drool pad, but since I use the handle every time I put on / take off the pack, it doesn't really make sense to tuck it away. My husband has used the pack a number of times and hasn't had an issue with the handle rubbing against his neck. I tend to have a sensitive neck and am not surprised my husband had no problem with it. If you don't have a sensitive neck, I don't think you'll have any issues with the handle design.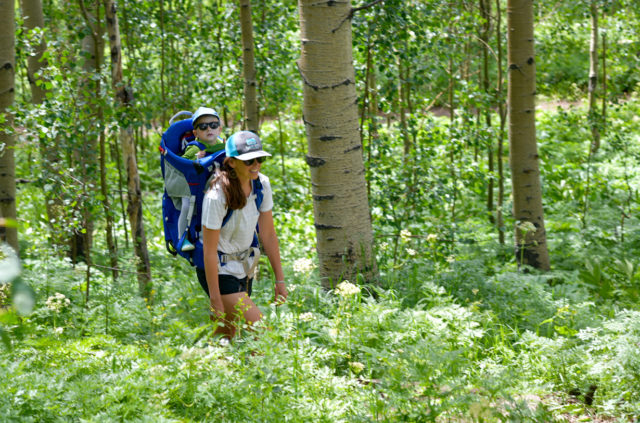 One of the best features of the Poco Plus is also one of the most frustrating. The Poco Plus child-carrier frame has rigid arms, like the Kelty, which keeps the pack from collapsing in on the child. But the Poco Plus can be unbuckled and the pack can be compressed down (like the Deuter) for more compact transportation. While this is great in theory, buckling the frame's arms back together is extremely difficult and my husband and I are still trying to figure out the best method to tackle this issue. The more we use it, the more the material seems to stretch, making it slightly easier each time. But generally, I just leave the frame buckled, which works fine as I can usually spare the space in the trunk. For travel, it is nice to have the option though. When in use, the upper back is 13.5" deep (not including the shoulder straps or hip belt) and when compressed, the same area is 6.5" deep. Osprey also sells a Poco Carrying Case ($40) for travel and storage.
I do a lot of solo hiking with my son and even when I am on a family hike, I like to be the one carrying him. After spending the last 3 months using the Poco Plus, I can say it's a great pack with a lot of useful features. For most people, the fit will be quite comfortable to wear (as long as you aren't too narrow / thin) and my son always seems to enjoy the ride. I love that there's enough room in the pack for everything I could need and there are just enough compartments to keep me organized without losing track of items.
Deuter Kid Comfort Pro
Fabric: 210D PA nylon
Frame Material: spring steel
Stated Weight: 3550 g / 8.25 lbs
Blister Measured Weight: 3629 g / 8 lbs (not including the mini-daypack)
Stated Size (height x width x depth): 80 x 43 x 34 cm / 31 x 17 x 13 inches
Stated Storage Volume: 22 liters total (12L main pack, 10L mini-daypack)
Fits Torso Size: 38–53 cm / 15–21 inches
Stated Maximum Weight Load (Child + Gear + Pack): 22 kg / 48.5 lbs
Stated Child Weight Range: 7.3–18.1 kg / 16-40 lbs
Hydration Compatible: yes
Sunshade Included: yes
Days Tested: 30+
MSRP: $330
Best For: hiking, especially rainy hikes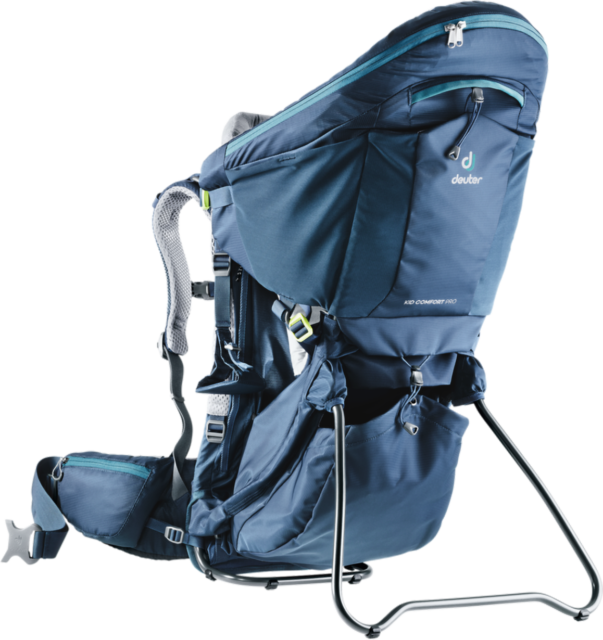 Deuter is considered by many to be the gold standard for backpacks (especially trekking packs) and the Kid Comfort (KC) Pro is no exception. The pack is designed with comfort and convenience in mind but its German design also makes for a streamlined and aesthetically pleasing pack. No big bulky pockets or excessive straps — just the necessities, and even those are hard to see at first glance as they blend in so well to the pack's overall design. Deuter has a whole line of Kid Comfort packs, of which the Pro is the heaviest but it also has the most pockets, includes an integrated rain / sun cover and removable daypack, and has the largest storage volume. With all the extra features, I found it to be worth the few extra pounds.
Backpacks are great for any hike no matter the length, but are especially nice on warm days when you don't have to resort to strapping an oven (aka, your child) directly to your chest or back. The KC line of packs features an Aircomfort mesh net back system that allows air to circulate between you and your child. Within the KC line, the Aircomfort system design seems to vary slightly, but the KC Pro's mesh net back system and breathable padding make for an exceptionally well-ventilated setup, even when compared to the Kelty.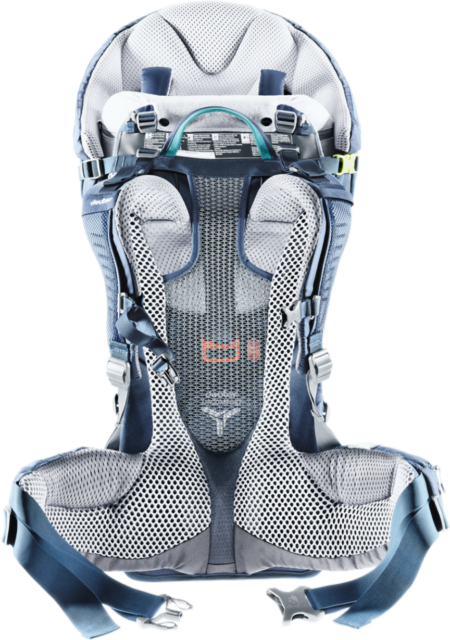 Over the summer, my son and I escaped the heat many days by driving up into the mountains. Even up high, there were still some hot days and I was happy to have my son in the pack away from my sweaty self. In the pack, it's easier to regulate his temperature since I'm not heating him up with my own body temperature on the ascent, making his clothes wet from my perspiration, than cooling him off on the inevitable descent. Fewer wardrobe changes for both of us (since we both end up less sweaty) means we are both much happier.
For me, the best feature of the KC Pro is the side access that makes it exceptionally easy to load and unload the baby. Instead of having to thread your child's legs through a waist belt, you can slide him or her in from the side (the little one still straddles the seat but it's easy to move one leg over) and then just put their arms through the shoulder straps. Four buckles and a few quick pulls of the straps later, and you are ready to go. The side access allows the buckles and straps to be accessed more easily and once everything is locked down, you just buckle and tighten the side. Height adjustments for your child are easy to make and the stirrups keep him or her in a good body position.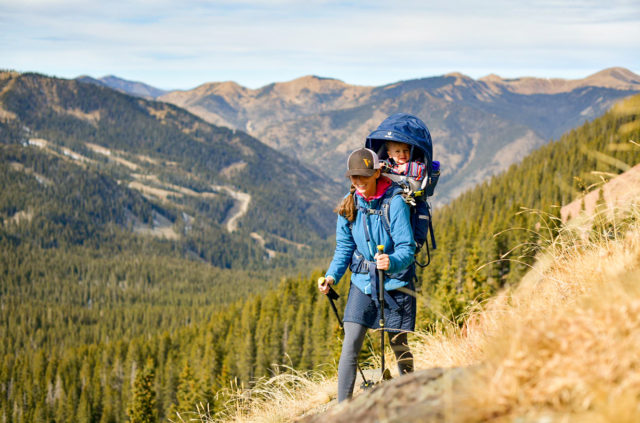 The child-carrier portion of the pack is completely soft-sided — it's padded but it lacks metal or other rigid materials that would keep the pack from collapsing in the event of a fall. The pack does maintain its shape and doesn't collapse in on my son when using it for normal activity. I've never fallen while wearing either pack, but I imagine a rigid frame that surrounds the child like that on the Kelty PerfectFit Elite would do a better job of protecting my son than a soft-sided one. The lack of a rigid frame combined with the collapsible kickstand does make it easier to pack.
The Kid Comfort Pro's integrated sunshade provides great coverage and is water resistant. It has a higher clearance than the Kelty and doesn't interfere as much with my son's sunhat. It also works well as a rain cover, which we tested on multiple occasions. In late fall we got caught in rain storms just about every weekend. We were usually prepared for them but the sunshade was key to keeping my son's upper body dry, comfortable, and happy — even in a downpour. The canopy funneled the rain off him and down the back of my neck … but at least he was happy. If you need a full-body rain cover for the pack, Deuter does sell one.
With a stated storage volume of 22 liters, the KC Pro has 4 liters less carrying capacity than the Kelty, but I never felt like I needed more space, especially since more space would inevitably mean I would have to carry more weight. When I hike solo with my son, I carry an extra change of clothes and extra layers for him, diaper supplies, an extra layer for me, and food and water for both of us — all of, which fits easily into the compartment. The Kid Comfort Pro's two main compartments are secured with a cinch and a hook. The lower and larger of the two compartments is big enough to store a small pack (included) but I never felt the need to use the small pack. The small pack can be attached via clips to the front shoulder straps for use while hiking, and while I never used it in this fashion, I can see it being useful in the future when I need to keep my son more entertained while hiking. Having the daypack attached to my front would put more items like food, water, toys, etc. within my reach and if needed, I could hand items over my shoulder to my son. Fortunately, at 15 months, he's still plenty interested in looking around and pointing out birds and occasionally petting a tree.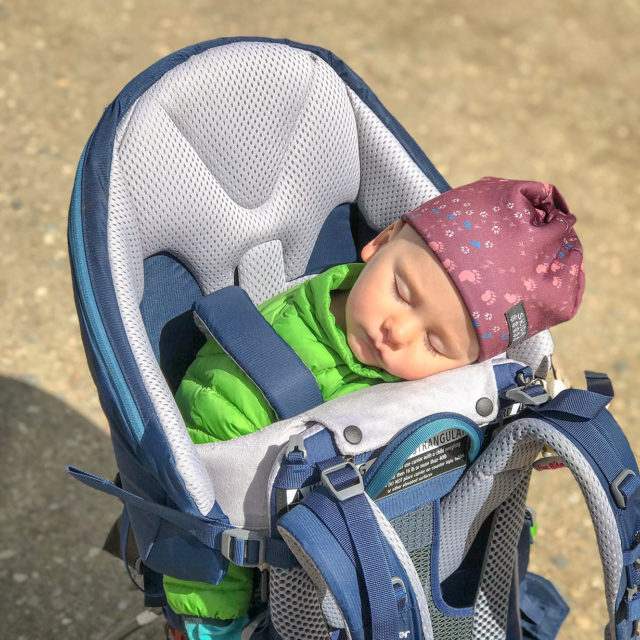 The Kid Comfort Pro also has two smaller lycra pockets located on the sides for water bottles, sunscreen, or similarly sized objects, though they're difficult to reach with the pack on my back. It also has a reservoir sleeve tucked into the lower half of the bag. When hiking solo, a water reservoir with an easy-to-access bite valve is key to not taking the pack on and off to grab your water bottle. Whenever I took off the pack, my son thought he was about to get out, so the more I could avoid this the better.
The Kid Comfort Pro's padded waist belt has zippered pockets on each side. While not large enough to store a large cell phone (at least not for me, though I have the belt cinched down to the point of curving the pockets), they easily fit keys, a wallet, and the small mirror that Deuter thoughtfully included in the pack. When hiking solo, I found the mirror to be quite handy for checking on my son, even though I have a cell phone with a mirrored case. The included mirror is small enough to easily access — no stuffing or finagling required.
Designed as a unisex pack with a single available size, I found it fit my 5'8", 125 lb frame comfortably but I did have the waist belt cinched down to almost the smallest setting. With the hip belt's long webbing straps and lack of a way to corral them, I had to tie them up in several cascading knots to keep them from slapping my legs the whole time. If you are more petite than I, I would recommend checking out the Deuter Kid Comfort Active SL. It's 2 lbs 12 ounces lighter and designed specifically for women — so smaller waists will be better accommodated. You do lose 10 liters of storage volume but if you're not planning on overnight trips, you should be fine.
If you tend to hike no matter the conditions, the Kid Comfort Pro is a great option. Even after hours on the trail, I never felt the need to remove the pack due to discomfort and my son never fussed for lack of comfort, either. After the initial excitement of the hike wore off, my son would typically rest his head on the padded front and fall asleep. The KC Pro doesn't have as many features as the Kelty PerfectFit Elite, but it is a comfortable, breathable, and well-designed pack that should withstand years of adventures.
Kelty Journey PerfectFIT Elite
Fabric: Poly 420D Small Back Stafford, 75D Poly x 140D Nylon Blend
Frame Material: Aluminum
Stated Weight: 3360 g / 7.25 lbs
Blister Measured Weight: 3538 g / 7.8 lbs
Stated Size (height x width x depth): 71 x 39 x 56 cm / 28 x 15.5 x 22 inches
Stated Storage Volume: 26 liters / 1587 cubic inches
Fits Torso Size: 39–53 cm / 15.5–21 inches
Maximum Weight Load (Child + Gear + Pack): 22 kg / 48.5 lbs
Stated Child Weight Range: 7.25–18 kg / 16–40 lbs
Hydration Compatible: yes
Sunshade Included: yes
Days Tested: 20+
MSRP: $299.95
Best For: hiking & backpacking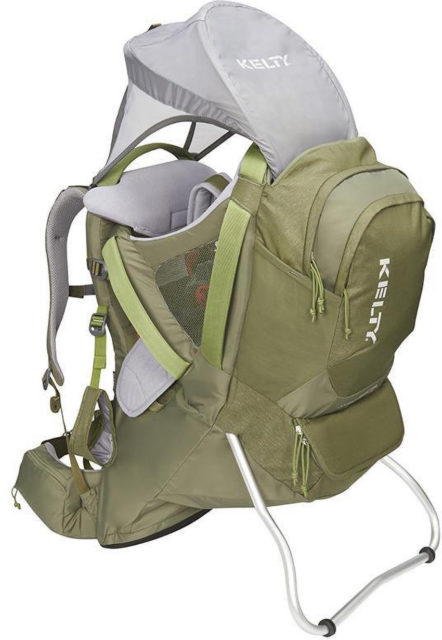 The PerfectFit Elite is a pound lighter than the Deuter Kid Comfort Pro, but you wouldn't know it by looking at it since it looks and feels quite substantial. With a reservoir sleeve, zippered dirty compartment (that easily wipes clean), strap that let you roll up extra webbing, and 6 handles for hoisting / lowering the pack, the Elite is heavy on features. On top of all those features, there's Kelty's PerfectFIT™ Suspension System that makes it easy to dial in the fit every time you put on the pack (it only comes in one size). By easy, I mean all you have to do is loosen all the straps, pop the pack on before loading the child, and pull everything into place — great for parents who find themselves taking turns with the carrier mid-hike. While it's not hard to adjust the Kid Comfort Pro, it's not as easy as the PerfectFit Elite, so I tend to throw on the KC Pro and just tighten the waist belt. My husband and I are of similar height so it works. But there's no reason not to take an extra second or two to adjust the torso on the Kelty.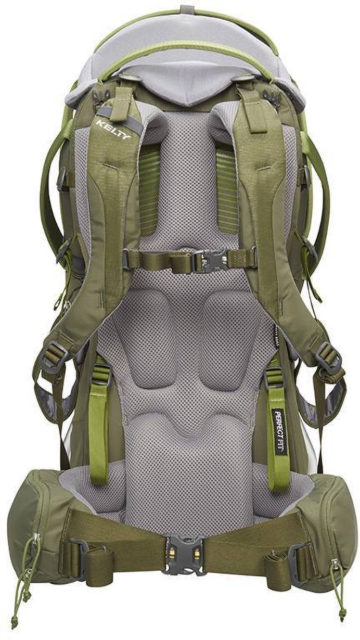 Unlike the KC Pro, the PerfectFit Elite does not have side-entry access, so getting your child in and out is a little trickier. To get them into the pack, the waist harness must be loosened and the little one's legs must be placed through the harness. This can be tricky with a cranky or wriggly baby, especially since the lack of a side entry means its difficult to expand the seat area, which in turn makes it hard to adjust the waist straps and buckles. Thankfully, the PerfectFit Elite's shoulder straps for the child are easy to lock down since the buckle completely detaches them and you just need to place them over the little one's shoulder and buckle.
The lack of side access is due to the PerfectFit Elite's padded aluminum roll cage around the child, which makes the PerfectFit Elite more rigid than the KC Pro. The rigidity keeps the pack from collapsing or tightening in on my son, but it also means it doesn't compress down for travel or storage. The PerfectFit Elite's built-in sunshade provides more ventilation than the KC Pro but offers much less in the way of protection from the rain and its lower-profile design means my son has a tendency to hit his brimmed hat on it — when he actually keeps the hat on, that is. Unlike the KC Pro, there is no option to purchase a rain cover for the pack, so if you tend to hike in wet weather this might not be the best option for you.
The number and variety of pockets on the PerfectFit Elite is impressive, and what makes this pack stand out in my opinion. The hip belt has a pocket on each side with the right side having a zipper on the underside that allows it to expand large enough to hold a water bottle — the bottom-half of a water bottle, that is. I was able to easily fit my large cell phone and a pair of lightweight gloves in the pocket when the pocket was expanded.
Like the KC Pro, the PerfectFit Elite has two side pockets for water bottles or other like-sized items. I found it impossible to access these pockets while wearing the pack but it is a nice storage option. There are also three fairly large zippered pockets (the wet / dry storage is one of them) with one including internal mesh pockets for valuables or small items you want to keep corralled. There is a zippered hydration sleeve located at the bottom of the pack with an opening for the hose to be threaded through, which is great for easy access to water.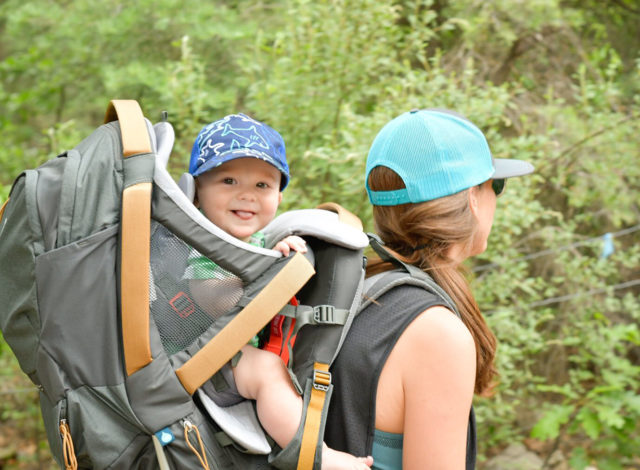 Like the KC Pro, the PerfectFit Elite is comfortable enough to wear for long hikes but you'll need to be a bit more prepared if rain is in the forecast as the sunshade does not work as a rain cover. It is a feature-heavy bag that was thoughtfully designed with parents' needs in mind. I can certainly tell you the wet / dry compartment saved us from a few messy (you don't want to know the details) situations. If you're looking for a pack with a bit more volume than is offered with the KC Pro and like to keep items organized while on the trail, this pack is a great option.
MiniMeis G4
Fabric: nylon
Frame Material: E-coated steel frame with molded PA 6 recyclable shoulder support
Stated Weight: 1451 g / 3.2 lbs
Blister Measured Weight: 1543 g / 3.4 lbs
Stated Size: 40×30×12 cm / 15×12×5 inches (folded)
Stated Child Weight: 6 months – 5 years (max 44 lbs)
Days Tested: 6
MSRP: $149
Best For: exploring, traveling, & light activity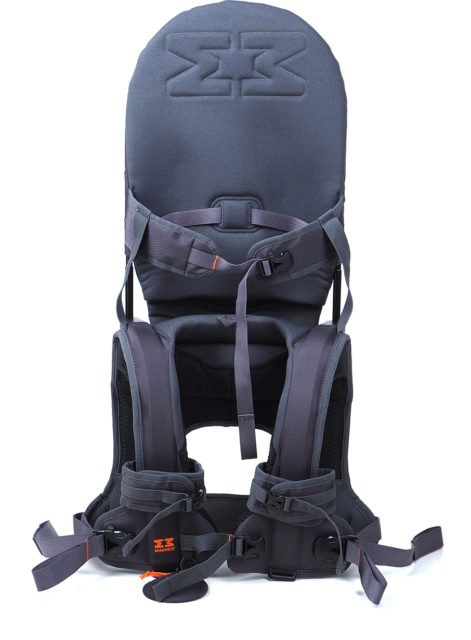 The G4 isn't a traditional baby backpack and it really is a bit of a stretch to lump it with the Kelty and Deuter, but for lack of a better place, here it is. It's definitely a unique carrier on this list and the one I get asked about most often. Designed by Norwegian dads, the G4 is a travel-ready carrier that allows the baby or child to sit comfortably and safely on one's shoulders. The G4 is the latest iteration of the MiniMeis and was released in the fall of 2019.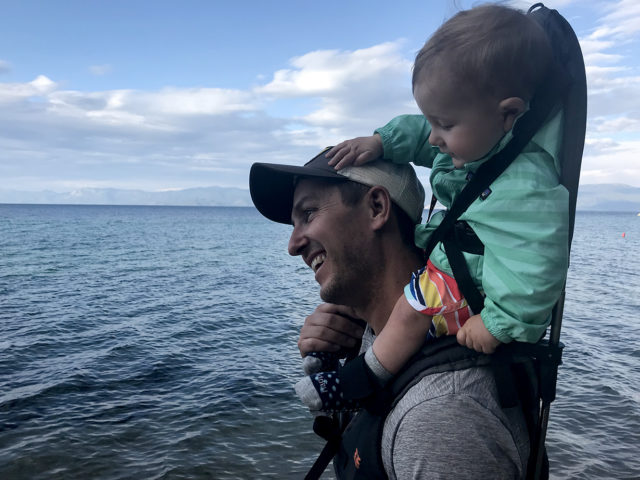 You might be thinking that a carrier designed for kids to sit on one's shoulders is a bit unnecessary, but I loved that I could use the carrier with my 6-month-old before he was ready to hold on unassisted in that position. With legs secured via a velcro strap and buckle and another buckle and strap combo securing the baby's waist, you can be hands-free while your child enjoys 180° views (and full access to your hair). My son has always been happy in the forward-facing position in the soft-structured carrier but I had no idea how much happier he'd be above my shoulders. My son loves the G4 so much that every time I get it out he squeals with delight. Considering that he always has the best seat in the house when he's in it, I understand his excitement.
In addition to the leg and waist straps, there's also a V-shaped harness that is specifically designed to keep the smallest children secured. MiniMeis recommends that babies 6-10 months old use the V-strap and that this age group is secured into the carrier prior to putting it on one's shoulders. Older babies and children don't need to use the V-strap, and not using the V-strap makes getting little ones in and out of the pack easier, in my opinion. If you don't plan on using the V-strap, detach it from the seat because if you leave it attached, it will push your child too far forward. If your child is too far forward in the seat it will be extremely uncomfortable for you as all the weight will be put on your shoulders via the metal shoulder harness — trust me, I learned this the hard way. In this position, you'll be cursing the carrier almost immediately, but if you take the time to push the little one's butt against the backrest, you will be much happier.
For me, the G4 is not the most intuitive pack to use due to its unique design. I found myself watching online videos and scouring MiniMeis social media posts to learn how to use it as the instruction manual was fairly limited. For all the carriers in this review (and in previous and future reviews), I highly recommend reading the instruction manuals, or even better, watching an instructional video.
The best thing about the G4 is that it is ideal for travel. It can be collapsed down to a 15×12×5" unit and the V-strap can be used as a shoulder strap to easily transport it when not in use. For me, the perfect application for the G4 is for a child who wants to split his or her time between walking and being carried. With a large backpack or soft-structured carrier, wearing an empty carrier isn't always comfortable and it's hard to pack the carriers into another bag. With the G4, you can go back and forth quickly and easily and you aren't left lugging a bulky carrier when your child decides it's time to walk.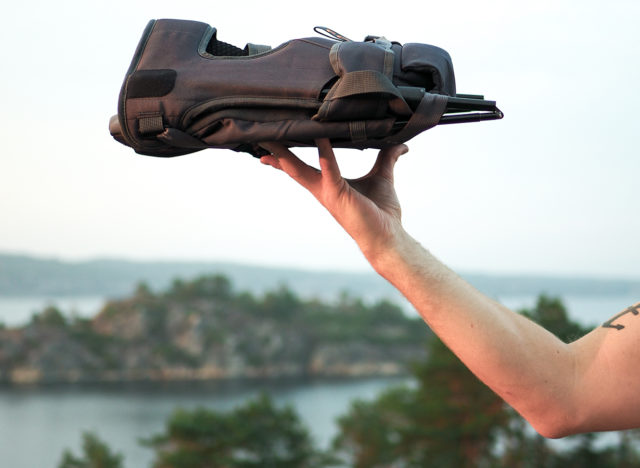 Going to a festival or exploring a city — perfect. Going for a long trek — not ideal (that's where the more traditional packs are better). But when walking through a crowd, it's hard to beat since our son loves the view and we love having our hands free. Every time I put the G4 on my shoulders, my son gets excited as he knows he's about to go on my shoulders for some sort of adventure.
Share this post:
Share on facebook
Share on twitter
Share on pinterest
Share on reddit
Share on email