Intro
Wool is ideal for regulating body temperature, keeping you warm even when wet, and it does a great job of resisting odor buildup. This is common knowledge for many adults, but all of this also applies to kids' clothes, and it is arguably even more useful in their case.
I think kids are far more likely to get their base layers wet than adults; from jumping into the snow and rolling around, to the occasional wet-through from the diaper-clad or newly potty trained little ones, wet clothes are a reality when playing outside for any amount of time. So, when trying to dress your child for a full-day adventure, it's nice to start with a layer that you know will keep them warm even when they aren't dry.
Toddlers and babies aren't known for their communication, but one way to avert a meltdown of unknown origin is to make sure their clothes are not the problem. Wearing uncomfortable, cold, and/or soggy layers while exploring outside would surely make me grumpy, and I would expect the same reaction from my son — he just wouldn't be able to isolate the issue.
Wool base layers tend to be a bit more expensive than cotton or other non-technical apparel for both adults and children. But as is typical in most cases, you get what you pay for, whether it's a better design, better quality material, and/or more sustainable practices. Many high-quality products are worth the investment, and a brand's commitment to quality means you can often pass down or resell the pieces once your child outgrows them.
If you still think of all wool as being itchy, then you might be buying the wrong wool base layers. I regularly wear wool base layers, and while I consider them soft and they certainly aren't itchy, some of the ones my son tested are far softer than my own. For wool to be soft and comfortable enough for our children, the wool fibers need to be fine. In general, the finer the wool, the softer it will feel. The diameter of wool is measured in microns and the smallest diameter wool in our roundup is 17.5 microns and it happens to be the softest 100% merino wool base layer I've ever felt. For a more in-depth discussion regarding wool, check our Gear:30 podcast that's all about wool.
With that said, we've rounded up our favorite wool base layers for babies/toddlers, all of which were tested over the past 15+ months. When I first became a mom, I had no idea how to find wool base layers for my son. But after a few years of searching, I now know where to look, and I hope this will be helpful to some other outdoorsy parents. And of course, if you have a favorite that we missed, please let us know in the comment section below.
*Waist measurements are based on the flat measurement across the waistband and torso length is measured from the hem of the collar to the bottom hem on the backside.
Material: 100% merino wool
Size Range: 9-18M to 5-7Y
Size Tested: 18M – 3Y
Inseam: 13 in /
Waist: 7.5 in / 19.5cm
Features:

Ribbing for extra stretch
Fold over cuffs
Long torso/waist

Child Age/Size: 2 yrs old (24 mos), 32 in / 81 cm, 22 lbs 10/ kg to 3 yrs old, 36 in, 27 lbs
MSRP: $59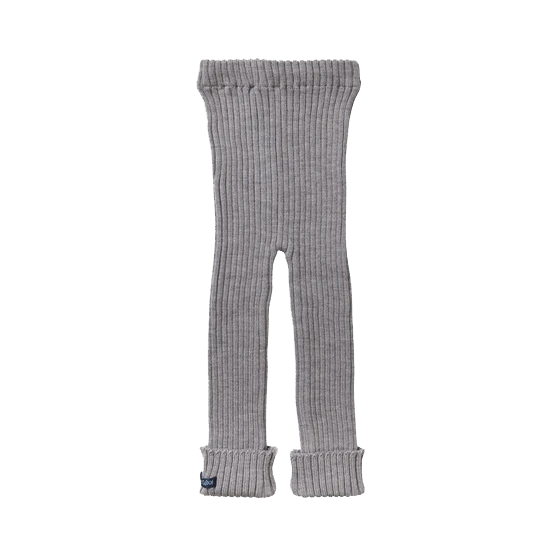 Kristin / Linden: Ella's Wool Tubes are unlike any other toddler clothing I've come across. The Tubes are 100% wool and ribbed from waist to hem, allowing them to be thick, stretchy, and warm all at the same time.
The founder of Ella's Wool noticed the lack of kids on playgrounds one winter and realized that this Scandinavian staple didn't exist in the US. While the price might seem steep, the tubes are designed to be worn for multiple years thanks to their rolled cuffs, stretchy design, and long waist. Beyond their multi-year use, they are also extremely versatile since they can be worn as a base layer, midlayer, or outer layer.
The fit is a bit different from other children's clothes, in part because they are designed to last multiple seasons and therefore the torso and legs are very long. Yes, these pants have a "torso," not a waist, but it keeps the pants up and provides extra warmth to the torso since the top of the pants can be pulled up to the armpits. They can be worn high or rolled down around the hips, but I tend to keep them pulled high on my son since they seem to stay in place better and there's no weird bunching around the waist.
The cuffs have a reverse seam at the bottom and can be folded up very easily. I love the extra length in the legs since it makes it easy to pull my son's pant legs down over his boots, and if he's in the stroller or backpack, I don't have to worry about his pants riding up and exposing his ankles. The ribbing also helps to make the Tubes stretchy enough to fit over even wide snow boots, which isn't the case with most pants. As your child grows, the waist will eventually fit like any other pants and the fold in the cuff will get shorter and shorter. More than a year after first receiving the pants, they still fit my now 3yo son.
When my son first got them, he enjoyed pulling the pants up to his armpits, but he was also okay when I rolled them down to his waist. When rolled, they are a bit wide and can be hard to pull a shirt over. I prefer to tuck in his shirt and hike them up. This method adds some extra warmth to his torso and I never have to worry about a drafty waistline. Also, my son is not at all particular about clothes — he happily wears just about anything. But the novelty of having pants that go up to his armpits seems to make the Tubes more enjoyable for him to wear than other pants.
The Tubes are thick and definitely not as soft as other wool layers in this roundup, but they are still soft overall. The thicker wool also makes them more durable and I have no problems letting my son loose in the woods while wearing them. On a few hiking adventures, the Tubes got covered in dust, dirt, sticks, and twigs, but it was surprisingly easy to brush off everything. And once home, after running them through the washer and dryer, they looked as good as new. On those same hiking adventures, I changed my son's top multiple times by adding and subtracting layers, as a hike in the mountains often necessitates, but I never once worried if his legs were too hot or too cold.
The Tubes' thicker wool requires longer drying times but it also means they don't wet out too quickly. My son is potty trained but when he first started wearing these he still had an occasional accident. On one hiking adventure, we didn't get him out of the backpack quick enough and he ended up wetting through his underwear but it did not wet the Tubes. Instead, it ran down his leg. Not necessarily ideal, but it made cleaning up fairly easy and after we changed his underwear, we put the still-dry Tubes back on him. The natural water resistance of wool kept the Tubes dry to the touch. If instead of an accident, he had submerged his legs in a giant puddle (not unheard of, really) or played in wet snow and the Tubes had gotten wet, the wool would have still kept him warm.
These Tubes might just be the most versatile item on this list. While they aren't a traditional base layer, they can be worn as one or as a mid or outer layer. If your child plays outside in cool or cold weather, you will certainly find plenty of days when you want to dress them in the Ella's Wool Tubes.
Material: 100% ZQ Certified merino wool, Bluesign® approved; 200 gsm / 18.9 micron
Size Range: 2T – 12Y
Size Tested: 2T
Inseam: 13.5 in / 34.5 cm
Waist: 8.5 in / 21.5 cm
Torso Length: 15 in / 38 cm
Sleeve Length:10.5 in / 24 cm
Features:
Thumbhole loops
Long arm and leg cuffs
Flat seams
Removable tag on shirt
Raglan sleeves
Child Age/Size: 2 yrs old (24 mos), 32 in / 81 cm, 22 lbs 10/ kg
MSRP: $109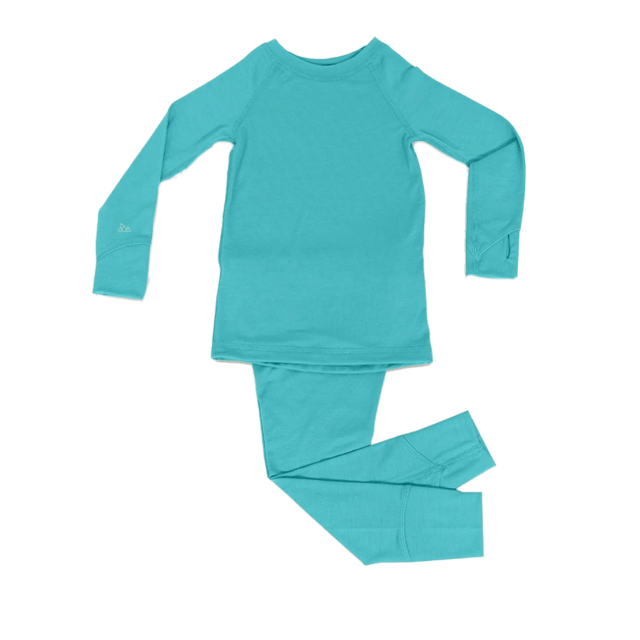 Kristin / Linden: What first attracted me to the Jackson Hole, WY company, Iksplor, was their colorways. Their 100% merino wool fabrics come in such happy colors that you can't help but be drawn to one of the more vibrant options. But Iksplor wool has more to offer than just bright, beautiful colors. They use 18.9-micron wool and their set is the only base layer on this list to include sleeve thumbholes, all of which make for a soft and practical base layer. Honestly, I have no idea why all base layers designed for kids don't have thumbholes. My son loves using them and I love when he does since it saves me the trouble of fishing for his sleeves when adding layers.
My son is petite (he's in the 1% for weight / height) and it can be challenging to know what size to order him. Fortunately, Iksplor has a chat option that makes finding the right size a breeze. After a few simple exchanges, I felt good with the 2T size and when it showed up, I was delighted by just how well it fit my son. The waist actually stays up on his diaper-less body without needing to be rolled. This is fairly uncommon for him, especially for "age appropriate" sizes like a 2T. The fit is still somewhat roomy, so while it fits him comfortably now, I know it will fit him all winter since the sleeves and legs have extra length to them and the material has a bit of stretch to it. And after a full year of wear, the set still fits him. It's a little more form-fitting, but they should fit all winter.
If for some reason, the Iksplor set doesn't fit well or it doesn't live up to your expectations, Iksplor has a great return policy. In their own words:
"You and your little explorer's happiness is our priority. If you're not a happy camper by day 30, you can return/exchange your Iksplor items for free, even if your wild one has already worn it, no questions asked!"
The Iksplorer set maintains its shape even after a full 24 hours of wear, from skiing to sleeping. It washes well and has come away mostly unscathed (there's a tiny hole in one knee) from my son's outdoor explorations where he sometimes wears them without an outer layer. The fit is fairly slim and is more reminiscent of the way adult base layers tend to fit — it hugs the body but isn't too tight. The torso is long enough to stay tucked in and to keep out drafts but not so long that he swims in it.
Iksplor uses wool that is not only soft but also 100% ZQ Certified, which means the wool is sustainable, ethical, and traceable. Between the colors, design, and soft wool, the Ikslpor set will keep your child comfortable, warm, and photogenic (those colors!) while leaving you happy knowing that you supported sustainable practices.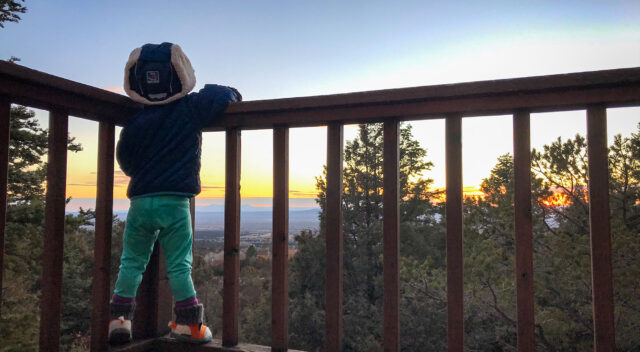 Material: 100% merino wool
Size Tested: 3T
Size Range: 2Y-10Y
Child Age/Size: 4 yrs old, in / cm, 28 lbs/ 12.7kg
Inseam: 38.5 cm
Torso Length: 37.5 cm (shoulder to bottom seam), 33 cm (neckline to bottom seam)
Sleeve Length: 30 cm (cuff to axilla)
Features:

Comes in various sizes from 2-10 years
Made from 100% Merino Wool
Doesn't lose shape or shrink after drying in the dryer

MSRP: $70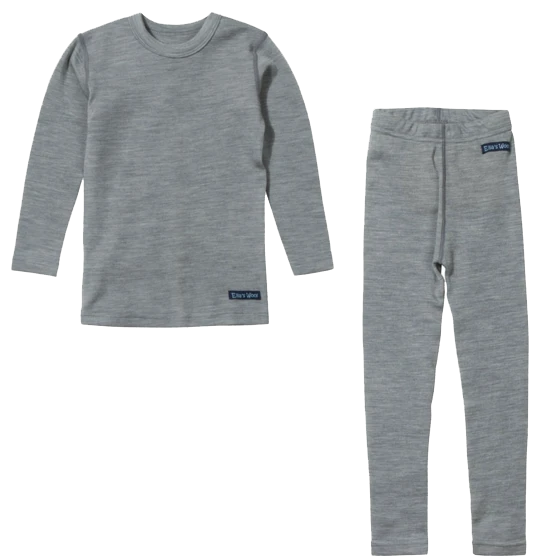 Sascha / Rory: In my experience, finding merino wool base layers for the little ones has been quite the parental undertaking. A few years ago, when my son had just turned one, we had stumbled across a 100% merino wool toddler top while traveling through Iceland. My husband and I were pretty sure we had found the unicorn of all toddler clothes — so much so that we had our friends visiting Iceland the following month pick us up another top for a whopping $70 (top only).
Given that, when I opened this Ella's Wool baselayer set (my son is now four y/o and no longer fits into his beloved Iceland top), I was thrilled to have found a merino wool top replacement and merino wool bottoms that fit his now long and lean physique.
The fabric consists of 100% merino wool and feels incredibly soft — it's even softer than his Iceland top. My son calls this top "his softie one" and asks to wear it when getting dressed in the morning. I find myself grabbing this set for PJs since it feels softer than any of his fleece PJs. Both the top and bottom fit snug, which is a big plus for my son since he has a skinny waist and long legs and arms. The elastic waistband hugs his waist enough to keep the bottoms in place but is not overly tight to cause discomfort. The fine wool feels thin and is non-restrictive but plenty warm enough as a baselayer under his snow clothes. We most often pair the top with a down vest (usually his Patagonia Down Sweater Vest) and have found this to be our fall go-to kit since we can shed layers and roll up the sleeves when the afternoons warm up or add a hat to the outfit if the wind picks up.
My son has worn this top at least 2 or 3 times a week for the past few months and we have not noticed any breakdown of the fabric (and have washed the top many times). Initially, I made substantial efforts to keep the set out of the dryer, but after accidentally drying it a few times, I was relieved to see that the set did not shrink. While $70 is a significant amount to spend on toddler wear, I am excited to have found a wool baselayer set that is so versatile and fits so perfectly. This would be an excellent Christmas present option for Grandma/Grandpas or Aunts/Uncles to gift to their grandchildren or nieces/nephews.
Material: Merino Wool 70% / Polyester 30%
Size Range: 2T to 13-16
Size Tested: 2T
Child Age/Size: 2 yrs old (24 mos), 32 in / 81 cm, 22 lbs 10/ kg
Torso Length: 14in / 35.5cm
Sleeve Length: 11in / 28cm
Features:

Flat seams (except at collar)
Removable tags
Raglan sleeves
Long cuff

MSRP: $39.99 (currently and perhaps always on sale for $21.99)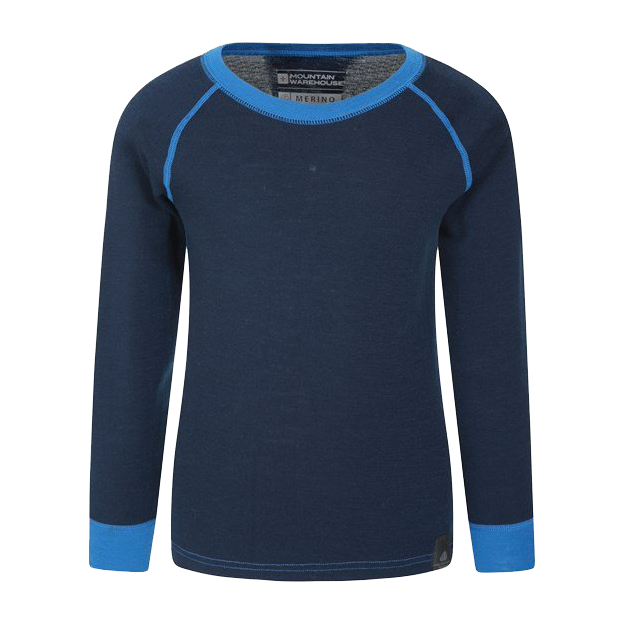 Kristin / Linden: I'm a pretty frugal person and when I do purchase expensive items, I coddle them. So when I saw this wool-blend top discounted from $39.99 down to $21.99, I purchased it. Don't get me wrong, $20 for a toddler top isn't necessarily cheap, especially in the world of fast fashion, but it is less expensive than other wool base layers and I was able to purchase the top without bottoms.
My son is a dirt magnet and I wash his clothes all the time. He typically goes through multiple wardrobe changes a day, which results in a lot of wear and tear from him playing hard and all the subsequent washings. With his outdoor preschool requiring wool base layers in the cold months, I bought the Round Neck Base Layer Top so I wouldn't need to worry about him losing or destroying one of his nicer (i.e., my preferred) base layer tops.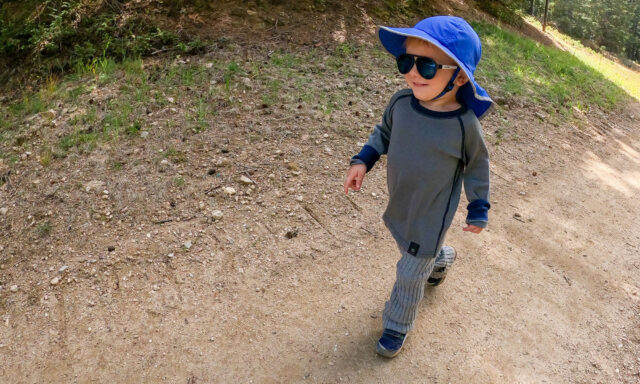 This Mountain Warehouse top's fabric uses a wool blend of 70% merino wool and 30% polyester. It's soft to the touch but it's definitely not the softest on this list. I am not sure how thick the wool fibers in it are since Mountain Warehouse never responded to my email about that. What I can tell you is the handfeel is not as soft as the Nui Organic and Iksplor base layers in this roundup. This doesn't mean the Mountain Warehouse top is itchy, though. It is still quite soft overall and is a perfectly fine top, especially compared to other pieces in its price range.
My son has the Mountain Warehouse top in a 2T and it is longer in the torso and sleeves than the other base layers we tested. Despite the extra-large sizing, my son is now able to wear it without it getting in his way. And it will likely fit him through the summer, thanks to the generous sizing.
This piece's seams are flat except for the collar, which has a slight ridge, and the fairly large tag in the seam can be removed. Overall, this top is comfortable, soft enough, runs on the large size, holds up well over many washings, and is a good option especially if you can catch a sale. I tend to reach for this top when dressing my son for daycare since I'm not sure what he'll get up to while away and I don't need to worry about it getting stained or ripped.
Fabric: 70% Organic Merino Wool / 30% Silk; GOTS, Bluesign and Okeo-Tex certified
Size Range:

Infant: 0-3 mos (56/62) to 18-24 mos (86/88)
Toddler: 2Y (92) to 10Y (140)

Size Tested: 2Y (92)
Inseam: 13.5in / 34.5cm
Waist: 7.75in / 20cm
Torso Length: 14.5in / 37cm
Sleeve Length: 9in / 23cm
Features:

Extra fabric in knees
Wide cuffs

MSRP: $89 ($68 for infant set)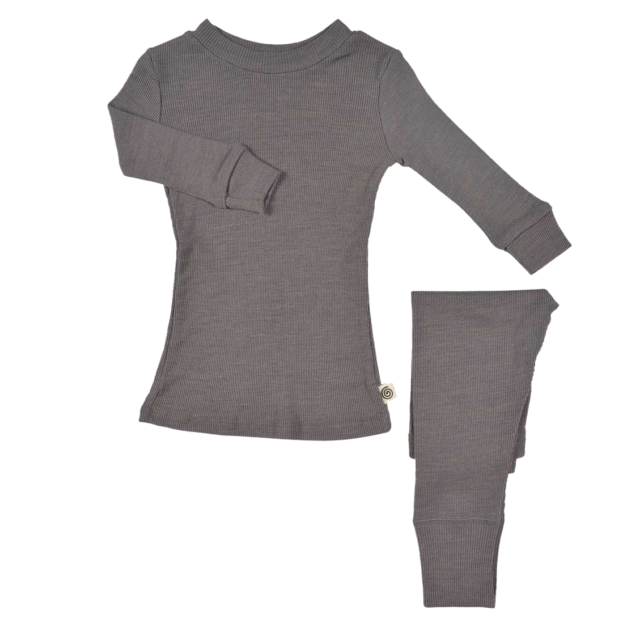 [Editor's Note: this set is currently unavailable but we wanted to include it for when it is available again — or check second-hand shops because this set is quite versatile.]
Kristin / Linden: The Nui Organics Loungewear set is unique in this roundup because it is designed for sleep or light activity, such as indoor play. But the 70% organic merino wool content means it can be used to keep little ones warm, regardless of where they are playing (or sleeping). If you're reading this roundup, you probably know how stubborn toddlers can be. There are many days when getting out the door is a feat unto itself, and if we can skip one step, like changing out of pjs, then we have a slightly better chance of success. This loungewear set has saved us on a number of mornings, and since it keeps my son warm while exploring outside, I don't have to worry about keeping the outing short or his base layers dry.
Nui Organic uses a slightly thicker wool on the Loungewear set than they use for their Thermal set (18.5 micron vs 17.5 micron), but combined with the silk in its blended fabric, the Loungewear set is still extremely soft. The silk adds some sheen and strength to the material, while the fine ribbed design gives it some added stretch. Despite the use of a thicker-diameter wool, the Loungewear set is lightweight, soft, and it seems exceptionally comfortable on my son. I would happily wear the same set all the time, if given the option.
The overall fit is good on my 2-year-old son. The waistband is loose but not so large that the bottoms fall down and the cuffs are tapered enough that they keep the pants from slipping over his heels. The pant legs are surprisingly long — they are an inch longer than the same size in the Nui Organic Thermal set. But the Loungewear top fits my son perfectly. The torso length is shorter than the Ikslpor (which has the longest torso in the roundup), but shorter than the Nui Organics Thermal set. And full disclosure, Nui recommends washing in cold water and laying them flat to dry. I followed these instructions for the first few washings but after that, I started throwing them into the dryer on low heat with all the other base layers. With that in mind, the fit might be slightly different than when it first arrived. If anything, I think the sleeves might have shrunk a little due to my lazy washing habits.
The Loungewear set also stands out from the other items tested in that it does not have raglan sleeves or flat seams. I find the lack of flat seams strange, considering Nui Organics' Thermal set has them. Also, the tags on the Loungewear top and bottom are sewn into the seams and therefore aren't removable.
Nui Organics is a New-Zealand-based company and they take the 'Organic' part of their name very seriously. From their compostable bag packaging to their organic cotton tags, care of the sheep, and processing of the wool, no part of their production is overlooked. Their products are GOTS, Bluesign, and Oeko-Tex certified and their yarn has been treated with chlorine-free plasma for machine washability. In addition, Nui is not interested in disposable fashion and has partnered with the Kidizen REWEAR Collective to allow customers to more easily resell clothes.
If you're looking for a lightweight and soft wool blend set that works well for sleeping, indoor play, or as a baselayer, the Nui Organics Loungewear set is worth a close look. If the price is more than you want to pay, keep an eye on Kidizen since gently used products turn up there fairly often.
Fabric: 100% Wool
Size Range: Infant: 0-1 mos to 3-4Y
Size Tested: 1 1/2-2Y
Inseam: 13in / 33cm
Waist: 9.25in / 23.5 cm
MSRP: $19.99
Kristin / Linden: The fact that H&M carries a whole lineup of wool clothing for babies and toddlers surprised me, but it really shouldn't have. H&M is a Swedish company, and if I've learned anything in the last few years, it's that (1) Scandinavian countries take their wool layers seriously and (2) Swedes advocate for children to spend time outdoors, regardless of the weather. That being said, H&M is best known for its fast-fashion apparel and not necessarily for long-lasting garments.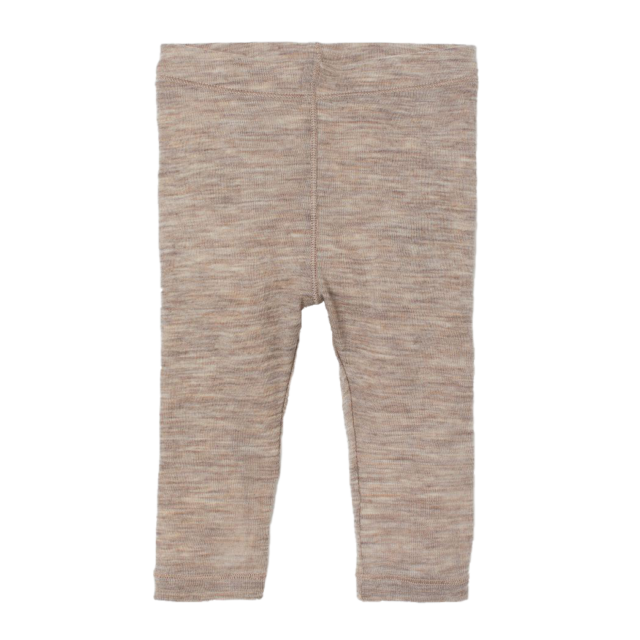 I've purchased a few baby-related items from them in the past, and I've found them to all run large. The H&M Wool leggings here are no exception. The size I purchased, 1 ½ -2 yo, won't stay up on my son. He is petite and diaper-free and the waistband is fairly narrow, which means rolling them at the top doesn't help much. H&M calls these pants leggings and I think that name suits them since the wool is thin and the cuffs are narrow at the waist and bottom hem. The narrow cuff at the bottom hem means they are prone to slipping over my son's feet and it's next to impossible to roll them up in a way that they will stay rolled. These pants were too large for my son to wear last winter when he was 2, and I only dressed him in them when I knew he wouldn't be spending much time walking. This fall, at age 3 (37 in / 94 cm, 30 lbs / 13.6 kg), the pants are still a little too big in the waist and too long but unlike last winter, he is able to wear them and run around without them immediately falling off.
The merino wool used on these leggings isn't scratchy, but it is definitely not the softest in this roundup. It is the least expensive, so it's not too surprising that the wool is so thin that it's almost see-through. While a number of companies on this list have organic or ZQ certified wool, the only thing I was able to find out about H&M's wool is that it was produced in China and that they set a goal of having "all wool used in their products be supplied from farms certified to the Responsible Wool Standard." Not sure how close they are to realizing that goal, but it is good to see they are working towards it.
Also, something interesting about H&M is that you don't need to shop at H&M to participate in — they promote fashion recycling. Basically, you can bring any "unwanted clothes or home textiles to any H&M store and they will be re-worn, reused, or recycled." I haven't tried this yet, but I hope to at some point.
If you're looking for a very lightweight pair of wool leggings, the H&M Wool Leggings are an affordable option. They lack a technical design and aren't the most refined in terms of the details or fit, but they are 100% wool and will perform better than most cotton alternatives.
Fabric: 48% Merino Wool / 43% viscose / 9% polyamide
Size Range: 12-18 mo to 13-14 Y
Size Tested: 12-18 mo (80 cm)
Inseam: 10in / 25.5cm
Waist: 9in / 22.5cm
Torso Length: 12.5in / 32cm
Sleeve Length: 9.25in / 23.5cm
Features:

Layflat seams
Removable tags
Raglan sleeves

MSRP: $74.95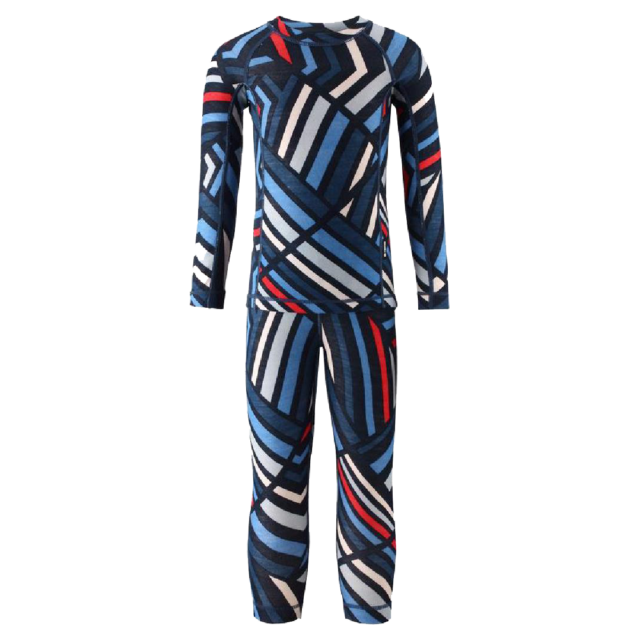 Kristin / Linden: Reima is a Scandinavian company that focuses solely on children's clothing and accessories. I've tested a number of their products over the past few years, and their hats, base layers, and outerwear have been some of my favorites for my son. And thanks to their generous sizing and quality material and design, most items are still being used a year later.
Reima has a number of wool (and synthetic) base layer options, from 100% wool to wool blends and from one-pieces to sets. This is one of the reasons I like Reima — lots of options. What drew me to this particular style was the colorful patterns, which is not something I have been able to find in most other wool base layers for kids. The Taitoa version is not 100% wool (43% viscose, 9% polyamide) and that is perhaps the reason they can offer fun patterns.
This Reima base layer features a double-face knit with a merino wool exterior and a bamboo interior. The viscose (from bamboo) interior has a soft hand feel and is comfortable next to the skin, while the exterior is wool and not nearly as soft as the other wool base layers on this list. It's not scratchy but it tends to capture lint more easily. I accidentally washed the Taitoa set with a bathrobe that sheds fibers and I now need to use a sweater shaver to make it look new.
Reima clothes are designed to be a size larger. This is clearly stated on their website and for all the products I have tested, I have found this to be true. So when I ordered the 12-18 mo (80 cm) size, which is the same size as my son's Reima Kids Baselayer Lani Set (which is still a little large on him), I figured it would fit my son. Unfortunately and surprisingly, this was not the case. Both the top and bottoms of the Wool-Bamboo set are shorter in the torso, sleeves, and legs; the waist is the same size if not larger. The Taitoa set fits my son, but it will definitely be the first item in this roundup that he outgrows. Although, after a year, he does still fit in it. I think the design of the bottom is more for diaper-clad toddlers, or at least in this size, since the crotch is fairly long even a year later.
The Taitoa set features flat-seam construction and tags that are removable via a seam ripper or sharp knife. The bottoms are the only pants we tested where the tags were easily removable. For clothing, not just kids clothing, I really like going tagless. And with the sizing printed on the inside, there's really no reason not to remove the tags.
With it's soft, next-to-skin layer and colorful designs, the Reima Taitoa set is a good choice if you're looking for something warm and a little different. The double-face knit makes the Taitoa a little thicker than the other base layer tops on this list, which has me reaching for it on colder days. If you've purchased Reima apparel previously, take into consideration that the Taitoa runs more true to size, rather than large, so order accordingly.
Fabric: 100% Organic Merino Wool, GOTS; 17.5 micron merino
Size Range:

Infant: 0-3 mos (56/62) to 18-24 mos (86/88)
Toddler: 3Y (92) to 10Y (140)

Size Tested: 2Y (92 cm)
Inseam: 13in / 33cm
Waist: 8.25in / 21cm
Torso Length: 12.75in / 32.5cm
Sleeve Length: 9in / 23cm
Features:

Raglan sleeves
Extra fabric on knees
Long cuffs

MSRP: $94 ($74 for infant set)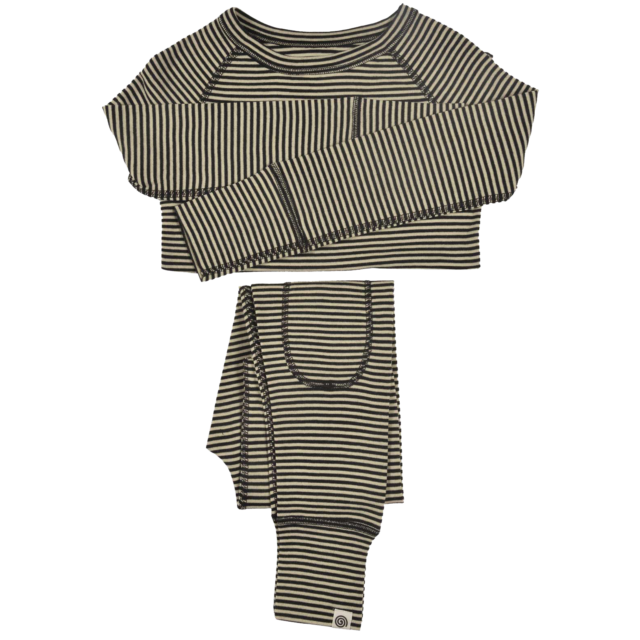 Kristin / Linden: Until I came across the Nui Organic Merino Thermal Set, I knew 100% merino wool could be pretty soft, but despite that, I never looked forward to lounging around the house in any of my own wool base layers.
But the wool Nui Organics used on this Thermal set (reportedly 17.5 micron) is the softest 100% merino wool apparel I have ever felt. The next softest of the kid's base layers my son tested is the Ikslpor set, which is also very soft, but with its slightly thicker fibers (18.9 micron), it doesn't have the same cozy factor. My son happily wears all of the wool base layers, but if I was wearing them, my first choice would be the Thermal Set, followed closely by the Iksplor.
The fit of the Thermal Set is more relaxed than the Iksplorer set. Where the Iksplorer seems designed for long, lean toddlers, the Thermal set seems to fit the kiddos with a bit more meat on their bones. Both sets fit my son well (and he is neither long nor meaty), but the Nui Organics Thermal set has a more relaxed fit and it stretches out slightly between washings. It's long, slightly tapered, cuffs make it easy to shorten the sleeves and legs by folding the cuffs. Like the Nui Organic Loungewear set, the Thermal Set has an extra layer of fabric on the knees to provide added durability.
Nui Organics also makes balaclavas with the same wool and they are our go-to for under my son's ski and bike helmets. My son, who was initially hesitant to wear it, is now eager to put it on every time we go skiing and even asks for it by name.
As mentioned in the Loungewear Set writeup, Nui Organics takes their name very seriously and they try to have a small environmental footprint. Everything is packed in compostable garment bags and orders are all shipped in compostable courier bags.
Between the relaxed fit and it being the softest wool in this roundup, this is the set I would reach for if I was wearing them. If you're going to splurge on one set of wool base layers, the Nui Organic is an excellent option.
Upcycled Wool Pants
Material: any large old wool / cashmere sweater
MSRP: time and maybe a little bit of money
Kristin / Linden: In the fall of 2020, my son and I participated in a Waldorf school class. We met weekly in a park and spent 2 hours singing songs, eating magic porridge, drinking lemon tea, playing, and doing handwork. One of the projects our wonderful teacher introduced to the group was upcycled wool pants. While I was initially skeptical that I could make a pair of pants, especially outside at a park while supervising a toddler, I was surprised at how easy it was to make them. With an old sweater, a sewing machine, and a little determination, you too can easily make your child a pair of warm, soft, and adorable pants.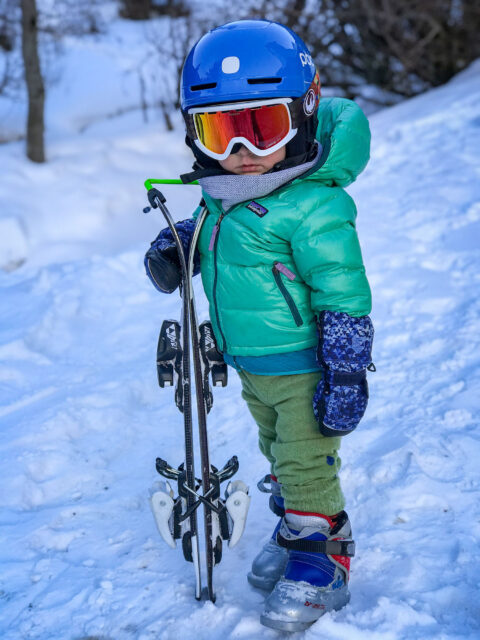 For my son's pair, I used an old cashmere sweater that was riddled with moth holes. In the course of less than an hour, we were able to transform it into a pair of toddler pants. I consider myself to be crafty, but not skilled at anything like sewing. I have owned a sewing machine for years, but my use of it is sporadic and typically Halloween-costume-focused. All this is to say that it is an easy project and one that I am most proud of.
I won't go into too many details on the actual process (our teacher, Miss Erin, created a video that provides details. Search Youtube: "Up-cycled sweater pants for little ones" by Seeds and Stones Studio) but I do want to tell you that perhaps the most important step involves your freezer — especially if you just purchased a wool sweater from the thrift store. To ensure I wasn't bringing moths eggs into the house, the first thing I did with the sweater was put it in a sealable bag and stick it in the freezer for a week. Once I was sure the potential moths and their eggs were all dead, it was fairly quick work to cut out the material and sew up some pants. My son was involved / aware of the process and was extremely pleased to have a new pair of cashmere pants that we made together.
My final task with the pants was to darn the moth holes. I somewhat poorly stitched / embroidered them into blue blobs that my son generously calls polka dots. The best part of these pants is that the legs are long (a size women's medium sweater converted to a 16 in / 41 cm inseam) and my son has worn them for more than a year. My son wears these as a baselayer, midlayer, and outer layer. They are soft and durable and I don't care if they get trashed or stained although somehow neither of these has happened.
These upcycled pants have all the benefits of warm wool in the softest, coziest pants you could imagine while not being 'nice' pants that you fear staining or abusing. I dress my son in these all the time for preschool and everyday wear when the temperature starts to drop. He also wears them occasionally as a mid-layer when skiing or as an outer layer when out exploring on warmer (and muddy) days.