The key to staying warm, whether in the dead of winter or on a cold summer day, is all about having the right apparel and the right apparel starts with great layers. If you've spent time in the mountains you most likely know this and all you parents out there know or will learn, the same is true for your little ones. From midlayers to baselayers, everyone, including your baby / toddler, can appreciate quality products that are comfortable, warm, and breathable.
With that in mind, we've rounded up some of our favorites that my 18-month-old son has been "testing" for the past several months. I'd love to hear what items you love to layer your little one in so please do comment below if I've missed any must-haves.
Fabric: 100% polyester
Size Range: 0-3 months to 12-18 months
Size Tested: 12-18 months
MSRP: $34.95
Best For: versatile warmth and breathability
If non-cotton base layers are important to you, there's no reason they shouldn't be a consideration for your child. Patagonia makes a great Baby Capilene collection but the L.L.Bean Infants Wicked Warm Underwear is a lighter, more breathable alternative. The knit fabric has a perforated look to it which makes it highly breathable. The one piece is great for winter outings as there's no need to worry about drafts and it's exceptionally easy to get on and off thanks to the leg and collar snaps. On top of that, the leg snaps make diaper changes a breeze and simultaneously not breezy at all as you don't have to remove pants in the process. A nice detail is that the crotch center snap is a different color to help keep everything aligned which is great as there's nothing more annoying than getting to the last snap and realizing you were off by one the entire time. If you or your child prefers two-piece styles, L.L.Bean has you covered as they make a top / bottom combo in the same fabric.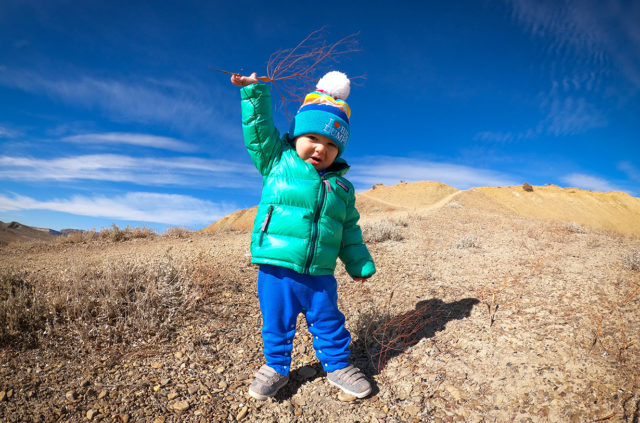 The 12-18 month size is a bit large on my petite 18-month-old (30.5 inches, 20.5 lbs / 77.5 cm, 9.3 kg) but it's easy to roll the bottom cuffs up and push or roll up the sleeves. On a recent 8-hour drive with my son, I dressed him in the Wicked Warm Underwear and never worried about him getting too hot, cold, or sweaty in his car seat as the warm, breathable fabric handled the temperature shifts easily. It also made quick work of gas-station diaper changes because it easily slips on and off (yuck) and was a great piece for our impromptu visitor-center hike. I also reach for the Wicked Warm Underwear when we're headed out for a skin or some snow play as it makes for an easy and warm baselayer.
Fabric: 78% cotton / 20% nylon / 2% spandex
Size Range: 0-6 months to 2-3 yrs
Size Tested: 12-18 months
MSRP: $21
Best For: cold weather casual wear or as a baselayer under a snowsuit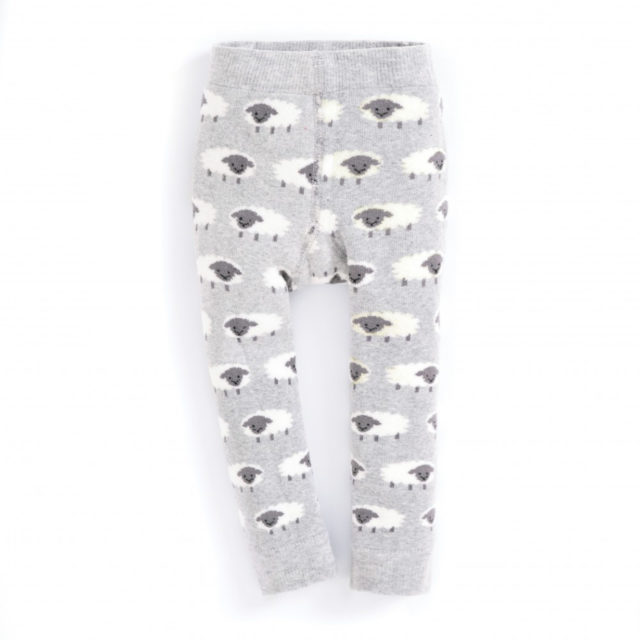 The Extra Thick Baby Leggings are my new go-to winter pants for my son as they are form fitting, comfortable, and warm. From stroller rides in the 50s F (10-15°C) to a travel day where we'll be in and out of a cold car to a baselayer for cold-weather activities, these leggings are fantastic. The gusseted rear fits over a disposable or cloth diaper easily and the design helps keep the pants in place. The smooth knit with a touch of spandex makes them easy on / off and the form-fitting design makes them great for under snowsuits. No need to worry about the pant legs riding up when putting on a snowsuit or going into a baby carrier since the leggings fit snugly but they're also not so tight that they are uncomfortable. The legs run a bit long but it's easy to scrunch them into place and the extra length means my son won't outgrow them too quickly.
Fabric: 43% polyester THERMOLITE® / 53% polyester / 4% sorona
Size Range: 12-18 months to 10 Y or XL
Size Tested: 12-18 months
MSRP: $59.95
Best For: breathable baselayer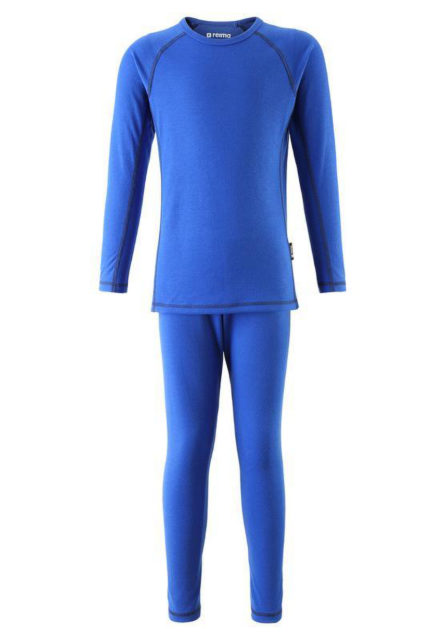 Reima makes products exclusively for children and with that type of focus, they know how to do it right across an impressive spectrum of items. From rain gear to arctic snowsuits to swimsuits, Reima has something for every lifestyle. The Lani is a synthetic baselayer made of a knit, grid-like fabric that is stretchy, soft, and breathable. A little thicker than the L.L.Bean Infants Wicked Warm Underwear and a little more breathable than the Baby Capilene, the Lani is a great option for cold-weather pursuits with your little one.
The inch-wide elastic waistband keeps the pants in place and the fabric around their waist to a minimum. The flatlock seams make for a comfortable pant that your little one won't have much reason to complain about. My petite 18-month-old (30.5 inches, 20.5 lbs / 77.5 cm, 9.3 kg) son is still too small to fit in the 12-18 months size pants as the waist is still a bit large for him and rolling them up doesn't work well. Reima designs their clothes to be a size larger than traditional US sizes so it's not surprising that the 12-18 month size is too large. He has worn the top several times and while it too is a bit big, it's easy to roll up the sleeves and the torso isn't so long as to be obtrusive. The shirt keeps him warm without overheating whether he's in the backpack or running around the ball field.
Between the woven fabric design and wide elastic waistband, the Lani is one of the best technical pieces my son has tested. If they made this in adult sizes, it would rival some of my favorite baselayers. I look forward to my son growing into the bottoms as I'm sure he is going to love the feel of them.
Fabric: 89% cotton / 11% polyester
Size Range: 12-18 months to 4T
Size Tested: 12-18 months
MSRP: $39.95
Best For: layering as midlayer or light jacket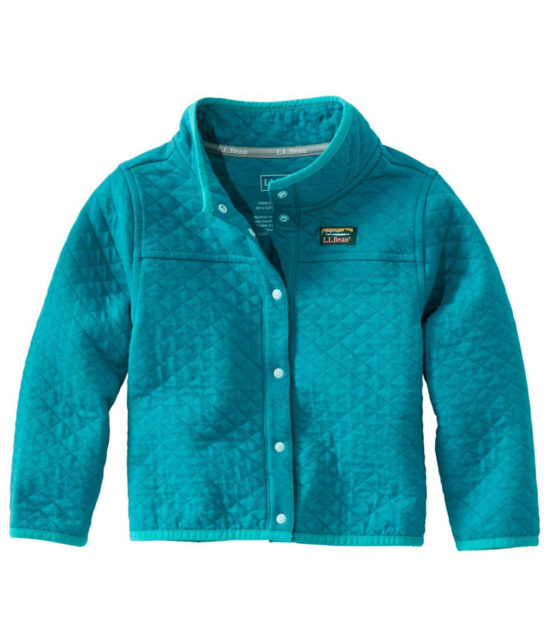 One of the trickiest things for me to figure out this winter has been how to dress my son for cold weather while also riding in his car seat. Bulky layers aren't recommended for use with child or infant car seats and as we don't have a garage, the car is usually cold when we load up. Blankets, unfortunately, are a no-go as my son refuses to keep them on. Thankfully, we found the L.L.Bean Infant Quilted Snap Sweatshirt. The quilted fabric of the Snap Sweatshirt is soft, supple, and warm and your little one just might love wearing it as much as you love dressing him or her in it. It's warm enough to wear in a cool car but not so thick that it gets in the way of the car seat shoulder harness. A great sweatshirt to layer under jackets and one-pieces, but it also works well as an outer layer for warmer winter days. The quilted style is not only warm, it's also great for absorbing spills, drool, and other toddler "stuff" without wetting through to the interior.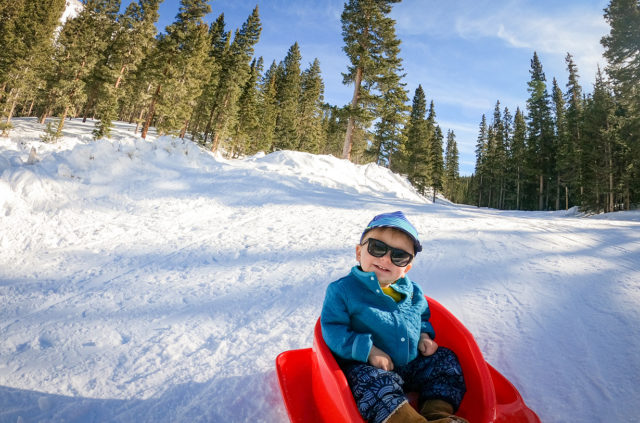 While the 12-18 month size is a little long in the torso and arms on my son, it's easy to roll up the sleeves without losing any mobility. The mock turtleneck stand collar is a great height — short enough to not annoy my son by getting in his face but tall enough to keep his neck warm. It also gives the Quilted Snap Sweatshirt a nice look, so nice that I would happily wear one if it came in adult sizes. The plastic snaps are easy to open and close and are especially convenient when my son wants out of his clothes immediately as the snaps and fabric are durable enough to yank apart.
The Quilted Snap Sweatshirt is a versatile piece that is and will continue to be worn often — no matter the season. From winter to cool summer evenings, the Quilted Snap Sweatshirt provides warmth without being stuffy or uncomfortable.
Fabric: 93% polyester / 7% elastane
Size Range: 6-12 months to 4 T
Size Tested: 12-18 months
MSRP: $34.95
Best For: babes and tots prone to finding dirt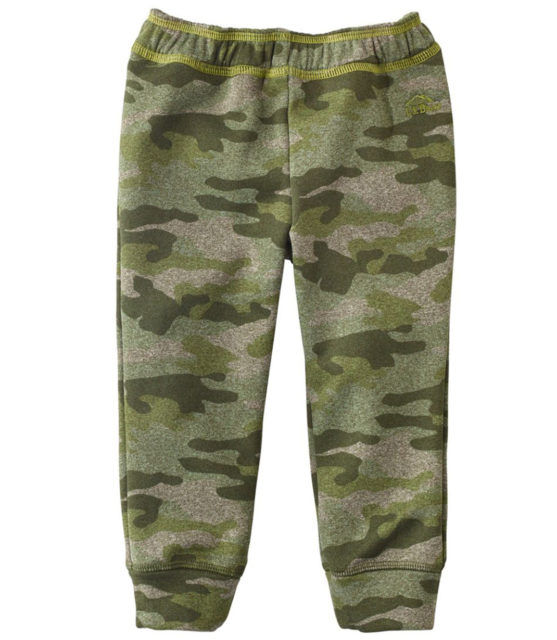 With a smooth exterior and soft, fleece interior, the Infants Mountain Fleece Pants work great as an outer layer, as a midlayer, or as standalone pants. The medium-weight fleece has kept my son warm and dry in most conditions and they have been durable enough to withstand any level of play. At 18 months, 30.5 inches, 20.5 lbs / 77.5 cm, 9.3 kg, the 12-18 Months size is rather long in the legs and wide in the waist for my son but as long as I roll the waistband down, he happily wears them.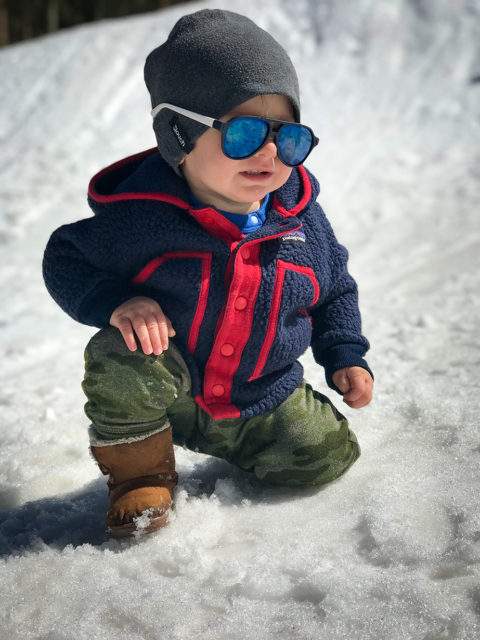 On a 30°F (-1.1°C) day, my son was wearing the Mountain Fleece Pants as an outer layer (no baselayer underneath) and spent a good hour playing in the snow. While he spent most of his time on his feet, there were plenty of occasions when his legs were covered and even buried in snow. I was amazed by how easy it was to brush off the snow and I was even happier to see that his pants were still dry and his legs were warm. The bottom banded cuffs easily tuck into his boots to keep snow out and help the pants stay around his ankles instead of over his feet when you inevitably buy too large of a size. Great for cold car rides, hikes, or even snow play on warm days, the Mountain Fleece Pants are a great item for any cold-weather-loving toddler.
Fabric: 100% Polyester
Size Range: 6-9 months to 18-24 months
Size Tested: 12-18 months
MSRP: $45
Best For: stroller rides or cool, dry adventures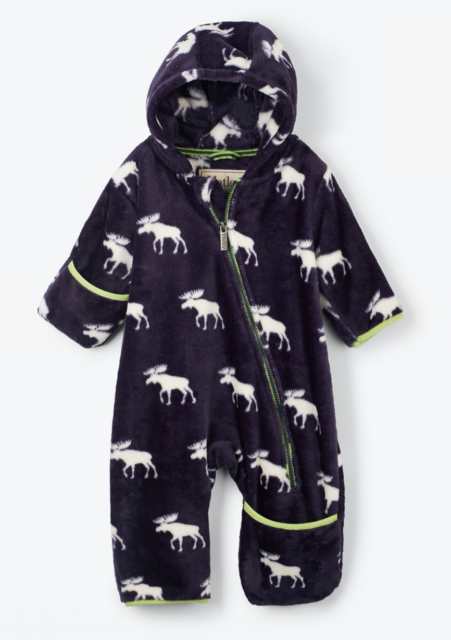 I've seen and owned a fair number of one-piece fleece buntings but the Hatley Fuzzy Fleece Baby Bundler is by far the softest. After many washings it's as soft as day 1, has zero pilling, and looks as good as new. My son has worn it as a baselayer and as outerwear, and while it's a bit wider than others I've seen and used (Patagonia Micro D Bunting & Zutano Elf Suit), it still works great under the right piece. On cold days, the extra layer of fleece provides a nice layer of insulation and can be paired with any of the one-pieces or with an uninsulated piece like the Oaki. Also great for warm winter days when you don't need wind- or water-resistant fabric but you need something more than just a pair of pants and top. The 12-18 months size fits my son perfectly.
In Santa Fe, New Mexico we get many dry-but-cool winter days where the Baby Bundler works perfectly. I bundle my son in it for a stroll and I don't have to worry about him when he inevitably wants to walk and somehow finds himself in a dirt pile as it's so easy to clean the Bundler. Cleaning is as simple as throwing it in the washer and after washing 5 or so times, the Baby Bundler still looks like it did when I got it. The foldover cuffs will keep your little one's hands and feet a bit warmer — that is, if they allow you to use them that way. My son stopped appreciating those types of cuffs when he was about 8 months old but thankfully the cuffs easily fit over his boots and gloves so he still stays warm.
Fabric: 4.7-oz 100% recycled microdenier polyester fleece
Size Range: 3-6 months to 5T
Size Tested: 6-12 months
MSRP: $35 (crew) / $35 (bottoms)
Best For: warm everyday wear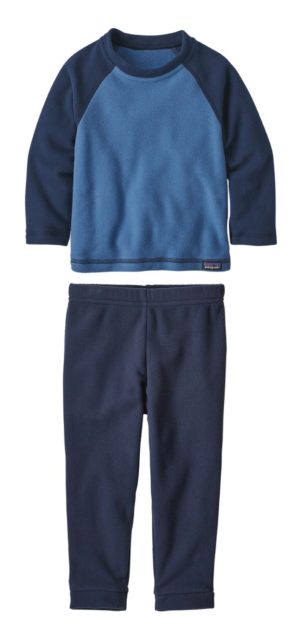 The lightweight but tightly knit fleece used in the Micro D Crew and Bottoms makes for a warm midlayer that is also soft and not overly thick or bulky. Whether layering the Micro D over a tee or one of the baselayers listed above, the Micro D fabric is soft and comfortable for little ones. The 6-12 month size perfectly fits my (petite) 18-month-old. The Bottoms are a great length for him and the waist fits him nicely without being too tight or too loose. The sleeve and torso length of the Crew is great too as both are just long enough to keep him covered no matter if he's snoozing, crawling, or racing around on foot. The only issue I have is that it is a struggle to get the Crew over my son's head as the collar isn't overly stretchy and the neck isn't as wide as most of his other tops. But once on, the fit is perfect — not too tight around the neck.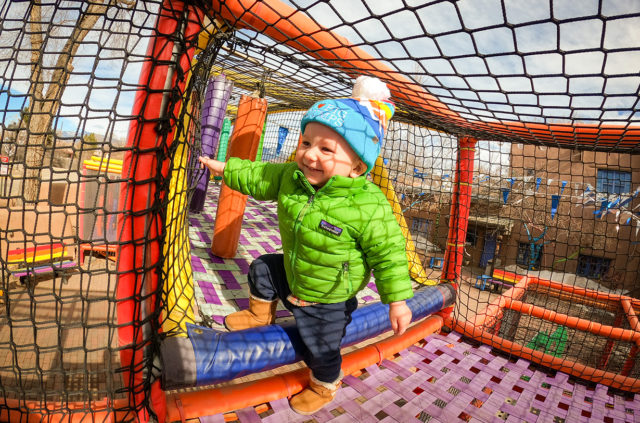 My son wears the Crew as a sweatshirt for cool days and as a midlayer on cold days. The lack of bulk means it's easy to throw on under any piece of outerwear. The Bottoms he wears almost daily on cold days as they fit similarly to his cotton, non-technical pants but the fleece of the Micro D doesn't stretch out over time. If you're looking for a warm layer that can be worn daily, the Micro D collection is a great option.
Fabric:
Shell: 1.6-oz 30-denier 100% recycled polyester mini-ripstop w/ DWR finish
Lining: 2.2-oz 100% recycled polyester plain weave w/ DWR finish
Insulation: 700-fill-power 100% Recycled Down (duck and goose down reclaimed from down products).
Shell and lining fabrics are certified as bluesign® approved
Size Range: 3-6 months to 5T
Size Tested: 6-12 months
MSRP: $79
Best For: everyday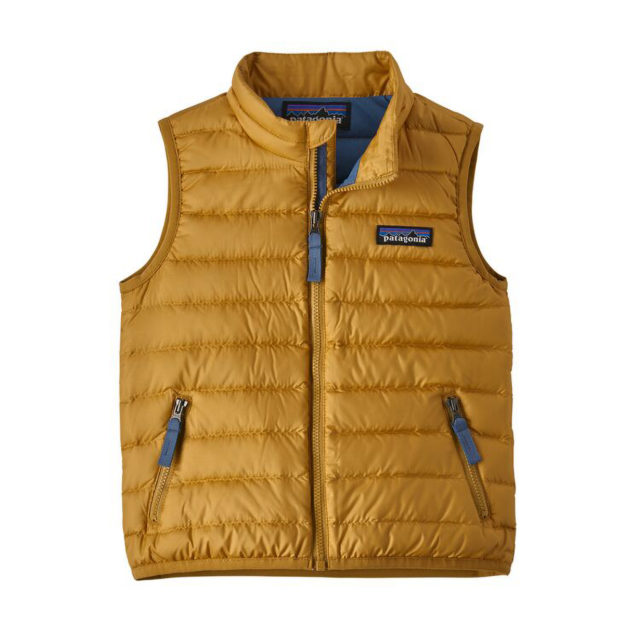 A down vest and flannel combo is considered a uniform of sorts for outdoorsy folks and Patagonia makes a great down vest for the little ones. The Baby Down Sweater Vest is every bit as good as its adult counterpart although it's hard to get much cuter than seeing your little one in a pint-sized version. The vest provides a bit of extra warmth in the torso when worn as a midlayer but can also be worn as outerwear on warmer winter days. When the weather starts to warm up and I start reaching for my vest, I do the same for my son.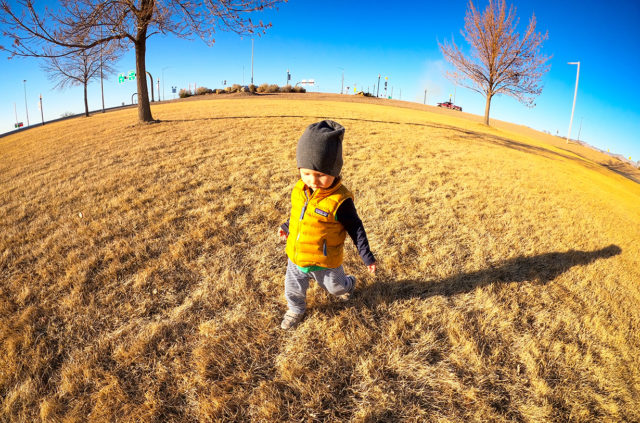 On exceptionally cold days, he wears the vest around the house and as a midlayer. In fact, whenever my son sees the vests he asks to wear it. It's a cozy layer to wear around the house and adds a bit of extra warmth on cool winter days. He currently fits in the 6-12 month and 3-6 month sizes but if I was buying just one, I'd go with the larger size.
Fabric: 45% Rayon / 40% Nylon / 12% Wool / 3% Cashmere
Size Range: 0-3 months to 12-18 months
Size Tested: 12-18 months
MSRP: $49
Best For: winter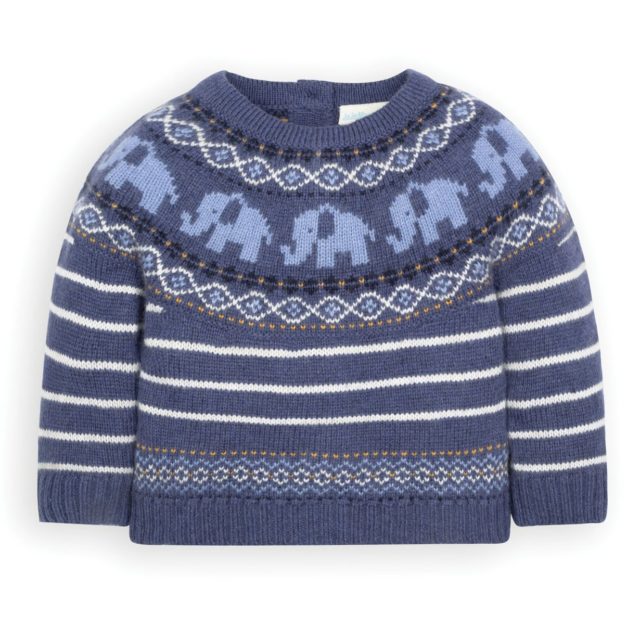 A thick, soft sweater that looks good is always high on my list for winter attire and one that comes in infant and baby sizes are even better. The wool / synthetic blend Baby Sweater is soft, machine washable, and seemingly comfortable on my son (he never fights wearing it). After first feeling the sweater, I was surprised to learn that only 3% of the fabric was cashmere. The sweater is incredibly soft and looks and feels like a cashmere sweater. The three buttons on the upper back make the sweater easy to get on / off while also keeping it close to my son's neck when buttoned up. The 12-18-month size is a bit large for my son but it looks good and the sleeves can easily be rolled up so they don't get in his way.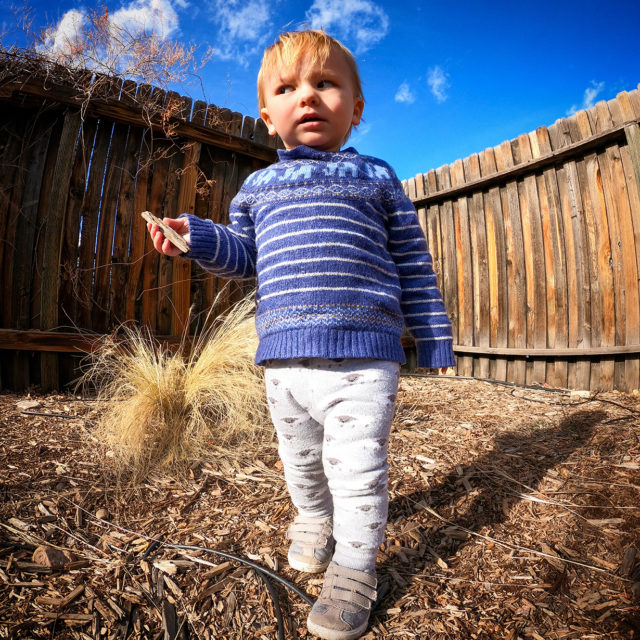 My son has worn this sweater to holiday gatherings, a wedding, as a midlayer on ski days, as an outer layer on cool days, and to run errands with me on cold days. After machine washing and hang-drying the sweater 7 or more times, there is a little pilling but it's not noticeable. JoJo Maman Bebe does recommend a sweater comb to combat pilling and eventually I'll get one — or at least recommend it to the next owner. When paired with the Down Vest and Extra Thick Baby Leggings, it's a great outfit for staying warm while getting into and out of a cold car over and over again. The Baby Sweater is a versatile top that will keep your little one comfy no matter how it's worn.
Fabric: 94% polyester / 6% elastane
Size Range: 9-12 months to 3T
Size Tested: 12-18 months
MSRP: $49.95
Best For: any day it's cool or cold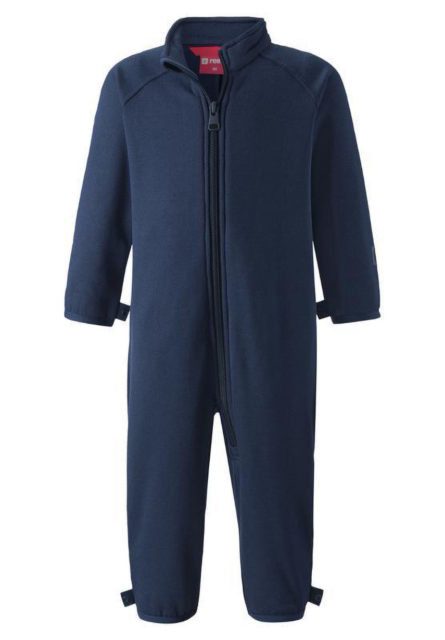 In the parenting world, Finland is known for two things: advising parents to have their children nap outside no matter the temperature and for providing expectant mothers with a box filled with baby supplies. While the former practice seems fairly common across Scandinavia, the latter is a bit rarer. All this is to say that a Finnish children's clothing company seems like the perfect place to find products to help keep your little one warm. Reima does exactly that with their plethora of well-designed product offerings. The coverall design of the Vuoro combined with the velour fabric makes for a great piece for cool to cold days.
The smooth exterior and fleecy interior of the Vuoro make it a comfortable and practical piece for layering or for stand-alone wear. The fabric of the Vuoro is very similar (very similar fiber content) to that of the LLBean Infants Mountain Fleece Pant and both are extremely versatile but the Vuoro isn't as water resistant as the Mountain Fleece Pants. I dress my son in this as an outer layer for cool car rides, outdoor play on cool days (with or without baselayers), or as a midlayer under his snowsuits on cold days. Reima claims the material is as warm as fleece but more breathable and moisture wicking. Testing these claims is somewhat tricky as my son can't articulate too much but I have noticed he doesn't overheat in it. On a recent spring hike, temps were between 35–40°F (1.7–4.4°C), and partly sunny. A snowsuit would have been overkill for the backpack hike but dressing my son in the Vuoro on top of the Patagonia Infant Capilene Set and adding the Patagonia Baby High Sun Jacket was perfect. Not too bulky and just the right amount of warmth.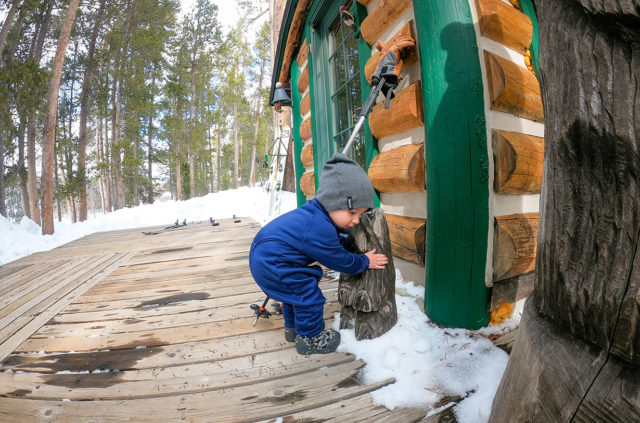 Sizing on Reima apparel is based on what they call "room to grow" as all their products "run about one size larger than traditional US sizes so ordering your child's current size is like ordering a size up." The size 12-18-months fits my son (18 months, 30.5 inches, 20.5 lbs / 77.5 cm, 9.3 kg) nicely now but there's enough extra length and width that it should fit him for the next 6 months or so. The elastic bindings at the arm and leg cuffs create enough taper to keep them in place while the long zipper that extends partway down the left leg makes the one-piece easy to get on / off. There is also elastic along the lower back to give the Vuoro more of a fitted look. After several washings and some fairly robust testing, the Vuoro still looks new — no pilling or snags. If you have other Reima outerwear items, the Vuoro has snaps that easily attach the playsuit to the outerwear.