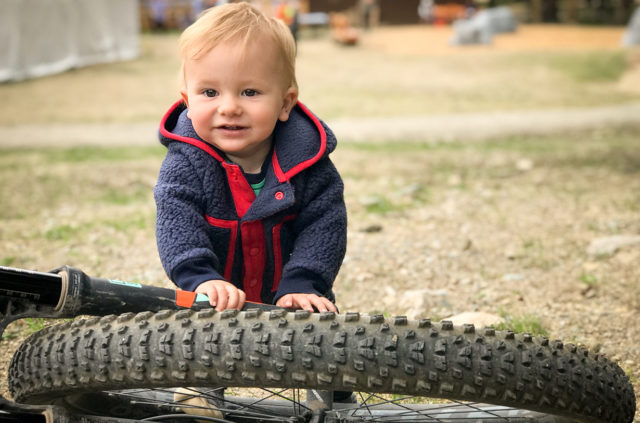 By the time you're ready to become a parent, you probably know your own limits — how cold, wet, and tired you can get before a complete meltdown. But when you add a baby into the equation, everything changes. Those type-2 adventures need to be better planned, and while you can still play with the best of them, you have a big responsibility that can't be ignored.
This roundup covers cool- to cold-weather apparel for babies and toddlers. From surprise rainstorms to hot, sweaty days hiking to the top of a frigid mountain, having the right gear for your baby is essential, especially in the fall when temperatures can vary a lot.
Today we're posting some of the apparel my 13-month-old son has been using this year, and we'll soon be updating this roundup with some cool-weather accessories and footwear for babies.
Outerwear
Oaki Trail One Piece Rain Suit
Fabric: Nylon Taslon PU coated fabric
Size Range: 12 months to 8/9
Size Tested: 12 months
MSRP: $69.99 (on sale for $59.99)
Best For: rainy days where full-coverage is key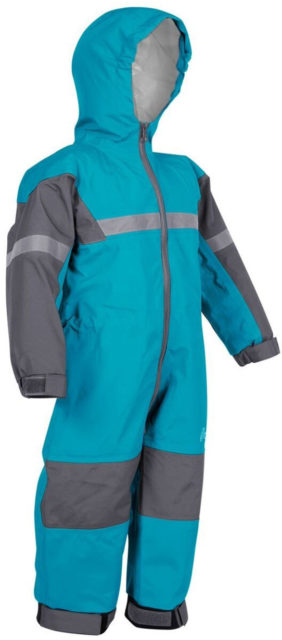 On a trip back East this past August we woke up to a heavy drizzle — and a 100% chance of rain for the entire day. Instead of spending our vacation holed up inside, we threw Oaki's Trail One Piece Rain Suit on our son and went out to play. At 12-months-old, he was still crawling, but thanks to the one-piece design, we didn't have to worry about water dripping down his backside. The one-piece's hood is large enough to keep his head covered but can be easily adjusted so it won't collapse over his face. It was a warmish day (high 60°'s F) but as the suit is uninsulated, overheating wasn't an issue.
The smallest size for the Trail One Piece Rain Suit is 12 months, and since my son is small for his age, I was a little concerned that it would be too large. It did look huge when I first saw it, but fortunately it can be easily cinched down at the waist for a customized fit. The velcro cuffs at the wrists and ankles are also easy to adjust and help create a nice tailored look. One of Oaki's customer service representatives told me that her 5-month-old had worn the same size and it's not hard to believe, given the adjustment options on the piece.
The uninsulated Rain Suit is great for warm, rainy days but it's also spacious enough to add lots of layers underneath, making it equally useful in the cooler temps. From playing in the rain to spending a day carrying your child on a wet hike in the mountains, the Trail One Piece Rain Suit is sure to keep your little one dry and happy.
Jojo Maman Bebe Packaway Rain Jacket
Fabric: 100% Recycled polyester with PU coating
Size Range: 12-18 months to 5-6 years
Size Tested: 12-18 mos
MSRP: $59
Best For: rainy days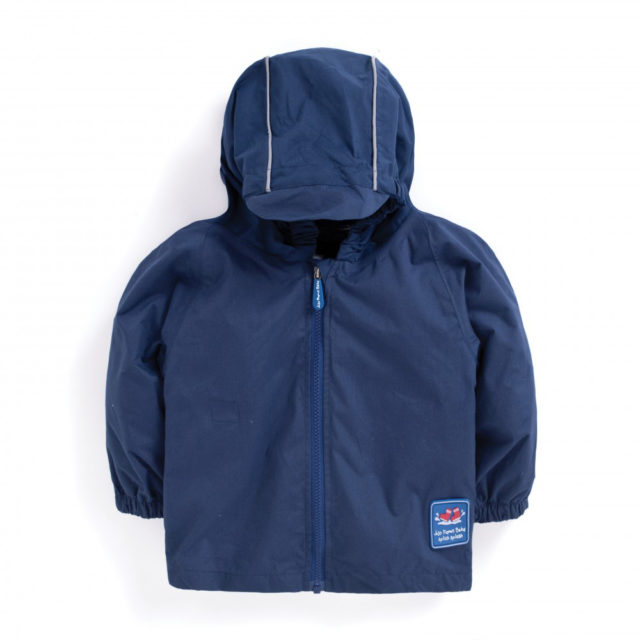 On a recent hike with our son, we were 5 miles out when we hit an earlier-than-expected rainstorm. And while we had packed what we thought we needed, it was stressful. My son had an old hand-me-down raincoat with a cotton liner that was tricky to get over his somewhat-damp top. With no rain hat or pants to keep the rest of him dry, we had to improvise by sitting him in my rain coat inside his baby backpack with the rain cover pulled way down. Everyone got a bit wet, cold, and unhappy and we vowed to be better prepared for next time. While we were lucky to have packed the old raincoat, we realized it wasn't ideal for mountain adventures.
When we got home I immediately started searching for a better rain coat and found the Packaway Rain Jacket. This jacket's lack of insulation is great for fall hiking as it can be worn without adding a lot of unneeded warmth. And by lack of insulation, I mean this jacket does not have a liner and is very much like a traditional polyester raincoat. Water resistant and windproof, but not breathable.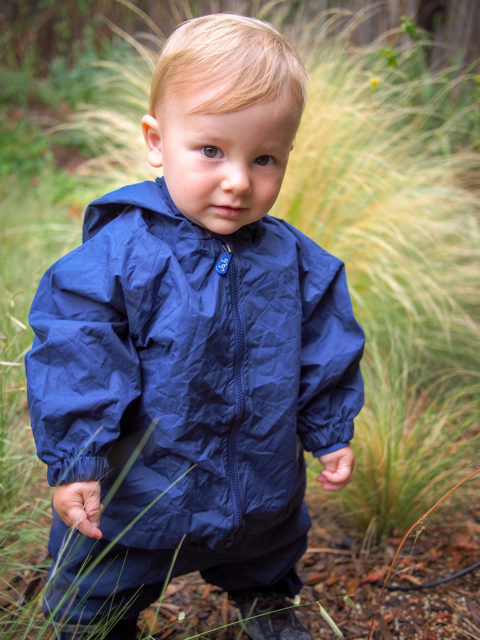 When we had the opportunity to test it in the rain, water beaded up on the PU coating and after a few hours in a drizzle, my son was still dry. My son is small for his age so I wasn't surprised that the "12-18 months" size was big on him. It should easily fit him until he's 2-years-old and right now, the jacket is roomy enough that plenty of warm layers can be added underneath as needed and it's not so big that it falls off him or limits his mobility.
This jacket is also ideal for travel as it can be folded into its own pocket and packed down to a 5" x 5" x 2" pouch. It's hard to imagine a more pack-friendly baby jacket. With its elastic cuffs, visored hood, and unlined fabric, it's easy to put on over any type of layer and keeps baby protected from the wind and rain. That said, the streamlined design that enables it to pack down so well comes at a cost. There are no cinches on the hood or waist, and since the jacket is a bit big for my son, the hood has a tendency to cover his face. When paired with a rain hat, the hood functions much better.
Jojo Maman Bebe Packaway Waterproof Pants
Fabric: 100% Recycled polyester with PU coating
Size Range: 12-18 months to 5-6 years
Size Tested: 12-18 mos
MSRP: $39
Best For: being prepared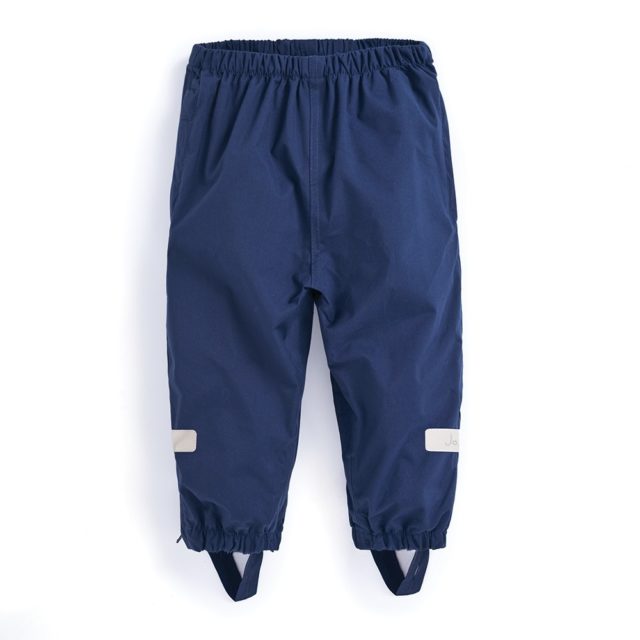 Before becoming a parent, I would never have thought baby rain pants were a thing. Why would a baby need rain pants when they can't even walk? After being caught in a few storms while out hiking with my son, I now know why they exist. And thanks to Jojo Maman's Packaway line of water-resistant gear, being prepared for a sudden rainstorm storm isn't that difficult.
One day while out hiking with our son, we knew there was a high probability of rain. There was also a good chance that he would fall asleep in his backpack. So instead of trying to wake a sleeping baby in a rainstorm, I threw the Waterproof Pants on over his Capilene bottoms and then loaded him back into his backpack. As expected, the rain started when he was asleep but his legs, which dangle beyond the reach of the pack's rain cover, stayed nice and dry even after 2 hours of rain.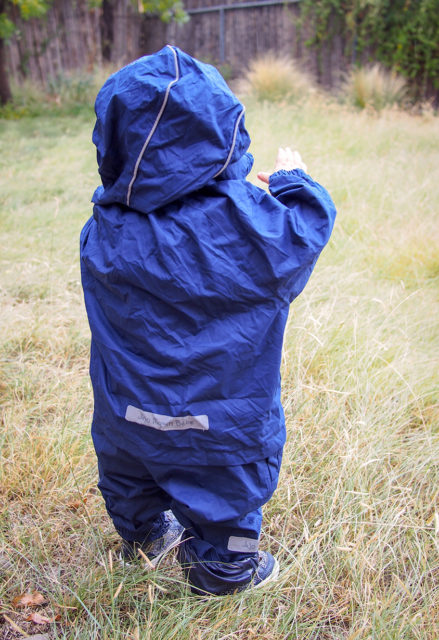 The cuffs on the Packaway Pants are quite narrow, but they have a zipper that, when unzipped, provides a straighter leg fit and can easily be pulled down over booties or other shoes. There's also an adjustable, elastic loop on the cuffs that can be placed under or over boots / shoes, or it can be unbuttoned and tucked inside the pant legs. I've only tested it over shoes but I love that I don't have to worry as much about my son kicking a shoe off or the pant leg riding up. When the pant leg is zipped shut, the narrow leg design would easily fit into a boot. Like the Packaway Jacket, the pants are large on my 13-month-old son. The size hasn't been an issue though since it's easy to roll up the cuffs and the elastic waist isn't so large that it falls off him.
The zipper pocket on the pants also doubles as a compression sack. It's easy to stuff the trousers into the pocket and once zipped up, the pouch (5" x 6" x 2") can be tossed into a bag without a second thought. My son has crawled around on trails in these pants and they've held up surprisingly well. I plan to pack these for any future hikes or travel, especially when there's the slightest chance of precipitation.
Insulation
Zutano Cozie Elf Suit
Fabric: 70% Cotton / 30% Polyester
Size Range: 3-12 months
Size Tested: 12 months
MSRP: $43
Best For: everyday use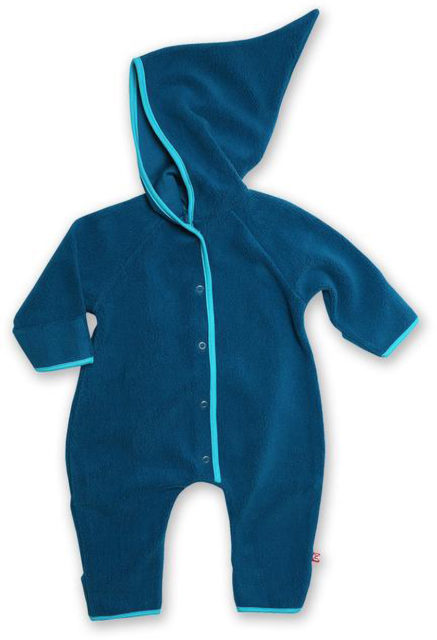 A one-piece fleece suit with an elfin hood might just be the perfect fall outfit for a baby, especially when it comes in such a wonderful array of colors. With 12 months being the largest size Zutano offers it in, you'lll have to snag one before your baby is too big. The Elf Suit features fold-over cuffs for the hands and feet, contrasting piping, easy-to-close snaps, and a large, pointy hood. I initially thought the hood would look costume-y, but I now think it just looks cute and can be folded down (even when the hood is up) to de-emphasize the elfin look. The snaps do not extend down the legs, so diaper changes are a bit tricky and perhaps a bit cold since you might have to remove the sleeves to get the diaper.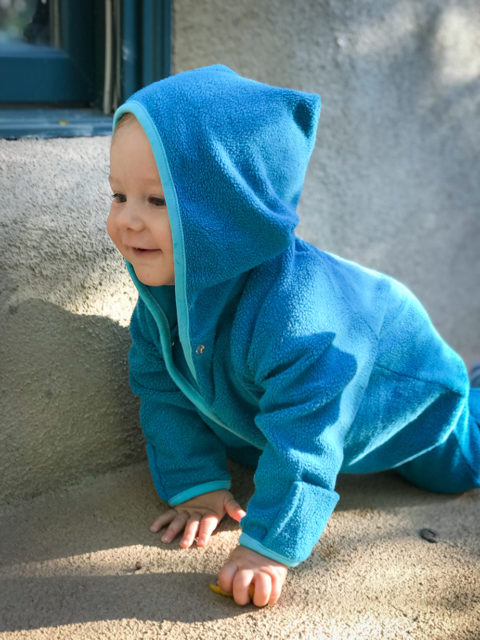 The Elf Suit is a medium-weight fleece —- a great thickness for cool, crisp fall days outside or when you haven't gotten around to turning on the heat indoors. The one-piece design eliminates drafts and the medium-weight fleece is warm enough for a fall day but not so thick or warm that your child will overheat in moderately cool temperatures. My favorite application? Throw it on after a dip in the hot springs.
After about a month of use, the fleece hasn't shown any notable signs of wear and tear. The fleece is piled on the outside, but it's smooth on the inside and is durable and soft. It's not windproof so it can get chilly on blustery days if not paired with something like the Packaway Jacket and Pants. My son has worn the Elf Suit on its own and with layers underneath — having the option to switch it up makes it a very versatile piece.
Patagonia Retro Pile Jacket
Fabric: 8.7-oz 100% recycled polyester double-sided solid shearling (Fair Trade Certified sewn)
Size Range: 3-6 months to 5T
Size Tested: 6-12 months
MSRP: $69
Best For: staying warm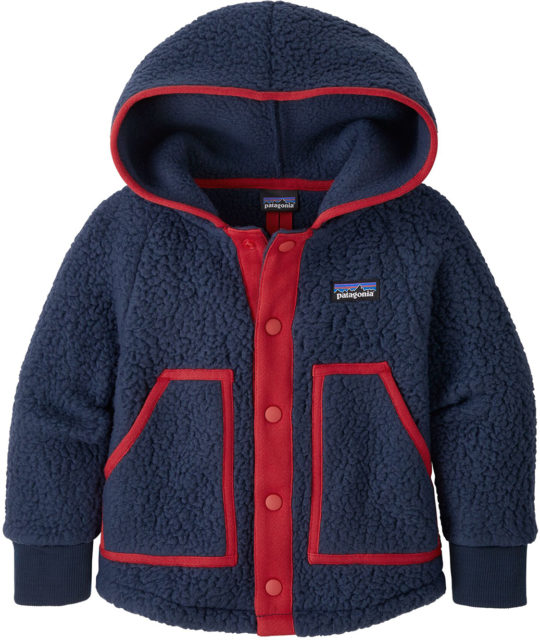 When you get to the top of a mountain and it's suddenly cold and windy, it's hard to beat throwing on a warm cozy sweater — especially when you don't have to lug it up the hill yourself. Thankfully, baby clothes are small and easy to pack. The Retro Pile Jacket is on the bulkier side but I don't mind it taking up extra space in my pack because, whenever he wears it, I know he'll be warm and comfortable.
The pointy-shaped hood is spacious enough that my son doesn't always realize he's wearing it (which is great since his new hobby is removing everything from his head — except peanut butter), yet fitted enough to stay in place. The snap closures on the front of the jacket are large, nicely spaced (not too many), easy to close, and a nice-looking alternative to a traditional zipper.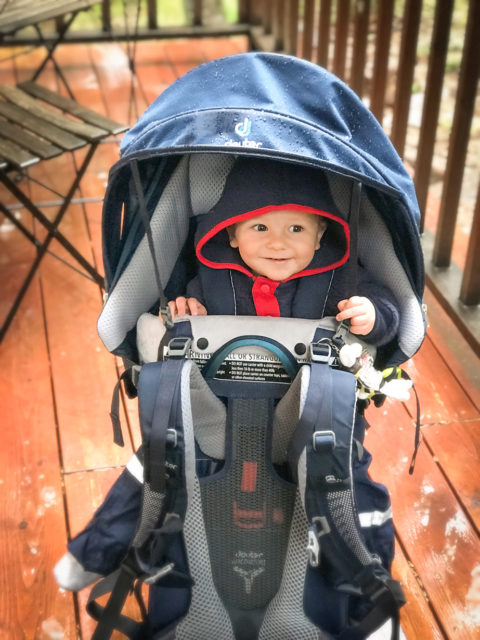 The cuffs do a good job of preventing air from going up his sleeves and help to keep mittens in place. The Retro Pile Jacket is an ideal piece for cool to cold days as it can be worn as an outer layer or as a mid layer. Performance aside, the jacket is super adorable and soft. Every time he wears it I can't stop smiling because the thick fleece and contrasting piping looks so stinking cute on him.
As with all baby clothes, when determining the best size, take a look at the size chart. Patagonia Baby clothes have a tendency to run large, but they do a nice job describing the height and weight range.
Polarn O. Pyret Merino Wool Bodysuit
Fabric: 100% Merino Wool
Size Range: 6-12 months to 1-2 years
Size Tested: 1-2 years
MSRP: $25.99
Best For: everyday adventures and hiking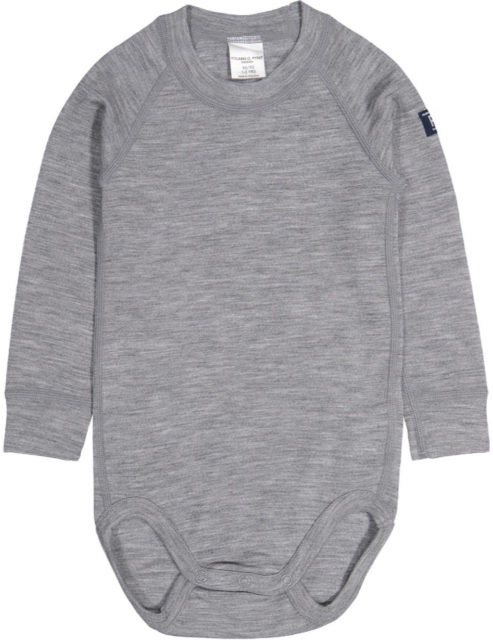 When dressing for cool-weather adventures I almost always reach for a wool shirt. The benefits of wool for babies are the same as for adults — it is breathable, odor resistant, and even when damp, wool will keep you warm. The 100% Merino Wool Bodysuit is soft (zero itch), stretchy, fairly thin, and great looking. The best part? My son happily wears it.
On a recent mountain adventure, my son wore the Bodysuit all day while we carried him up and down a mountain playing an exceptionally long round of frisbee golf. The adults were constantly adding and shedding layers (we were the ones hiking & sweating) but my son's body temperature remained warm but not too hot the entire time. The Bodysuit has a classic design, and combined with the muted color options, it's nice enough for him to wear around town or even to a fancy dinner post-hiking. To me, this makes for an ideal layer for any outdoor adventure, especially in the fall or winter.
The only downside to the Bodysuit is that the manufacturer recommends it be washed on a "wool setting" (my machine isn't fancy enough to have such a setting), inside-out, and line dried. I've been washing the Bodysuit on the normal setting with cold water and line drying and have had zero issues. This is a bit higher-maintenance than I typically prefer for apparel, but as long as I keep food and blowouts at bay, the Bodysuit doesn't need to be washed too frequently.
Patagonia Infant Capilene Set
Fabric: 5.3-oz 88% polyester/12% spandex sueded jersey with HeiQ® Fresh durable odor control (Bluesign® approved and Fair Trade Certified sewn)
Size Range: NB-7lb to 18-24 months
Size Tested: 6-12 months
MSRP: $45
Best For: layering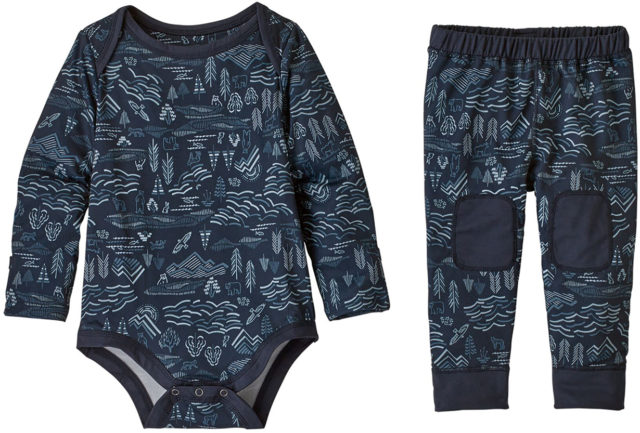 With cooler temps approaching, the sueded / brushed jersey interior and silky smooth exterior of the midweight Infant Capilene set seemed like an ideal layer for the fall. Initially, I thought I'd only use the set for hikes when my son needed a baselayer that could keep him warm when sweaty or damp. In reality, I've been dressing him in the Capilene top or bottoms for various activities — including sedentary ones. My son and I spent many hours in the woods hunting for mushrooms this past August. At 9,000 ft, temps were cool but we both worked up a bit of a sweat with him riding on my chest in a Tula Baby Explore carrier. Inevitably, he wanted to crawl around in the dirt and rocks, and thanks to the smooth exterior of the Capilene fabric, leaves, bark, and soil didn't stick to the clothes.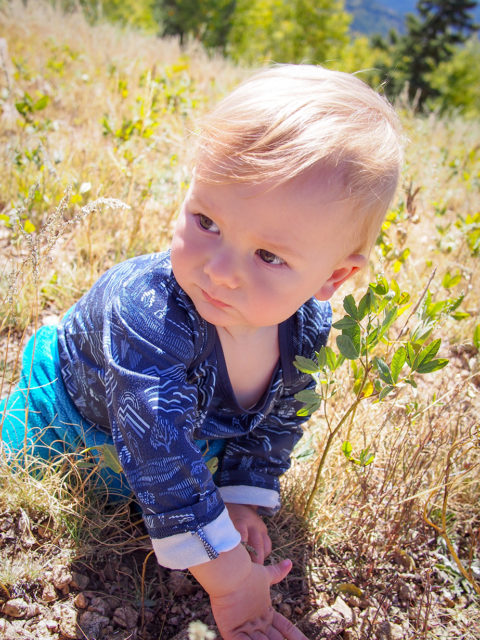 The lap shoulders on the top make changing a blown-out diaper easy (or as easy as it can be) and the typical Patagonia baby sizing means the set is just a little large for my son. The extra length in the arms is great since the sleeves can be rolled up when needed, but when the temps drop and the baby mittens are back at the house, the shirt's built-in, fold-over mitts keep my son's hands warm.
The bottoms have an expanded back gusset for better mobility and are able to accommodate even the biggest of diaper butts. The knee patches give just a bit more protection from wear and tear to the pants and to those chubby baby knees. Like the Patagonia's Silkweight Capilene fabric, the durability of this set is impressive — even after many washings, it still looks as good as new. All in all, this is a soft and well-made set that works for cool and cold temps and it can be passed down for many years.
Bottoms
Zutano Cozie Fleece Cuff Pant
Fabric:
Waistband: 100% Cotton
Fleece: 70% Cotton / 30% Polyester
Size Range: 3 months to 24 months
Size Tested: 18 months
MSRP: $24
Best For: added warmth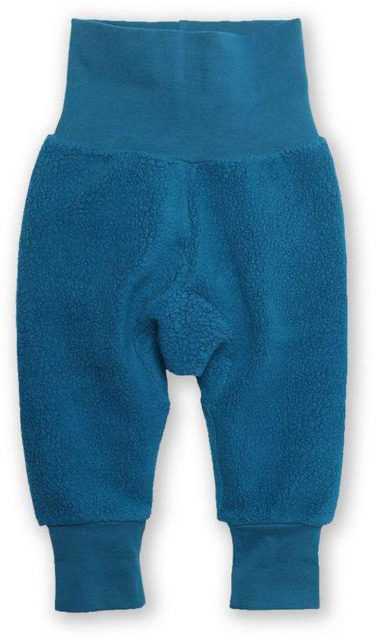 The Cozie Fleece Cuff Pants are a soft, warm, and versatile layer, and if your child is too big for the Elf Suit, this might be the next best option. Worn solo or on top of a base layer (like the Capilene Set), the Cozie Fleece Cuff Pants are a great layer for cool fall days. I find myself reaching for these most often when hiking with my son.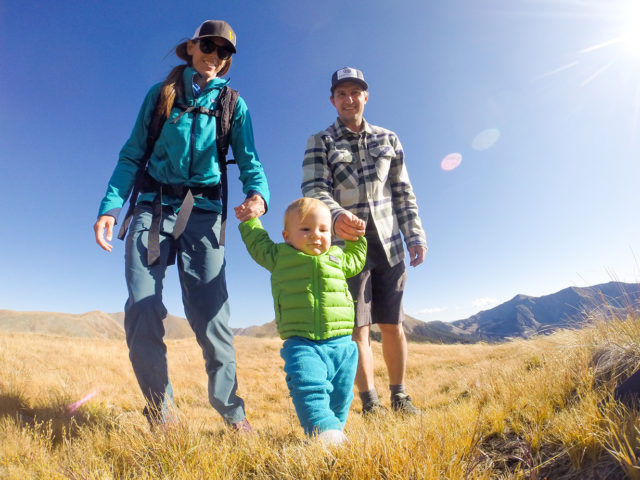 When seated in a backpack, my son's pant legs tend to ride up and expose his ankles, but the Cozie pants' extra-large rear and thick leg cuffs mean the pants can be pulled down easily and will stay in place. The cuffs are made of the same material as the waistband and can be worn tucked into boots while also helping to keep little socks in place. The wide waistband can be worn folded over or can be pulled up to cover half of your child's stomach — great for keeping drafts at bay and adding a little extra warmth to the torso.
The midweight fleece, bottom cuffs, and a wide, ribbed cotton waistband have provided an ideal fit for my son. Warm but not super hot, the Cozie Fleece Cuff Pants are a great layering piece. Like the other items in the Cozie Fleece line, the fabric is soft but not so soft that they deteriorate quickly; after many washings and lots of time being used to crawl over rough surfaces, these pants look as good as new.