The winner of this week's Gear Giveaway will get to pick any ski they want from Line's 19/20 lineup!
You can check out our 19/20 Winter Buyer's Guide to read about a bunch of Line's skis, but their 19/20 collection covers a huge range of end uses. Their Sick Day and Pandora skis are some of the best we've used when it comes to blending low weight with good stability and all-round performance, making for great 50/50 skis or lightweight resort options.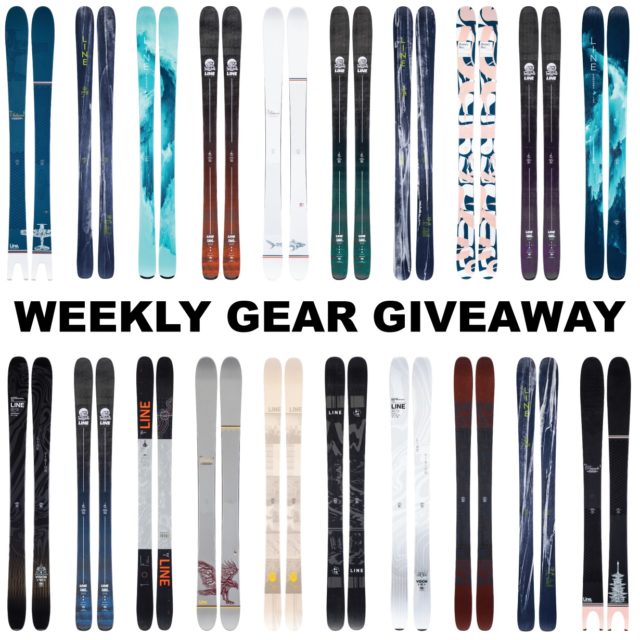 Then there are Eric Pollard's skis — the Sakana & Pescado let you carve and slash your way through any terrain, and if you want maximum playfulness, their new Sir Francis Bacon and Outline are fantastic (winning our "Best Of" award this year). On the topic of playfulness, they also make some excellent park and freestyle skis, including the versatile Tom Wallisch Pro, all-mountain-friendly Chronic, the ultra-buttery Blend, and lightweight Honey Badger & Honey Bee.
Their Supernatural series brings a metal-laminate construction to a more accessible design, ideal for those seeking a damp feel but who also don't want a super burly ski.
Lastly, their new Vision 98 & 108 are excellent options for the backcountry, particularly if you value forgiveness, playfulness, and an intuitive feel.
So enter before Friday, November 1st for your chance to win!
(Winners will be chosen at random. Must be 18 or older.)
By entering, you'll also receive our bi-weekly Blister newsletter, where we'll (a) announce each week the winner of our previous Gear Giveaway, (b) provide a roundup of the news and our highest-profile reviews of the past few days, and (c) offer sneak peeks of the products we're currently reviewing. It's good times for sure, so don't miss out. You'll also be kept up to date on everything from Line.