Beringia Altai Over Hoody
Test Locations: Teton Pass, Grand Teton National Park, Grand Targhee, WY.
Days Tested: ~30
Reviewer: 6'0", 180 lbs
Size Tested: Large
Blister's Measured Weight (size Large): 604 grams
Front Zipper Length (size Large): 78.75 cm
Materials:
Fabric: 12-denier nylon ripstop
Insulation: 240-g PrimaLoft Gold PCR (55% post-consumer recycled)
Stated Features:
Elbow-length arm zips are a functional innovation unique to this piece, and can be opened and closed over gloves.
X-large hood fits over hat or helmet
Highly compressible, packs down into its own pocket
Fast drying Primaloft Gold PCR – 55% Post Consumer Recycled
3D stretch construction for maximum freedom of movement
2 huge mesh inside pockets hold gloves, goggles, skins, and more
Pockets:
2 exterior handwarmer pockets (zippered)
2 internal drop-in mesh pockets
MSRP: $300 USD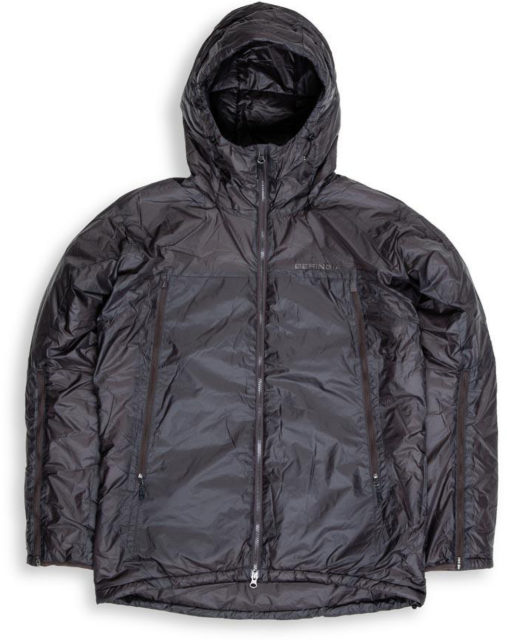 Intro
It's hard to stand out in the insulating layer arena in 2020. Just about everyone is making a good puffy (or several of them) these days, and the main differences seem to come down to things like color, which insulation they choose, and how ethically sourced that insulation is. But Beringia's new foray into the world of performance insulation, the Altai Over Hoody, brings a unique blend of warmth, well-thought-out features, and utility to the mix that help it stand out.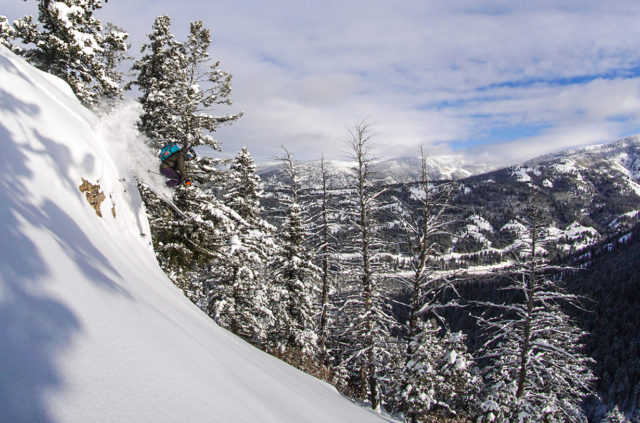 I've spent the last few years frustrated with my insulation options, trying different strategies and technologies in an effort to efficiently stay warm in the backcountry. The Altai Over Hoody is the best solution I've found so far, but it might not be for everyone, so here we'll break down its strengths and weaknesses.
Who is Beringia?
Beringia might not be at the tip of everyone's tongues when it comes to technical outerwear, but they're far from some upshot brand. The folks behind Beringia have actually been producing outerwear for many years.
Some of you may be familiar with the brand Teton Bros. Teton Bros has been making technical outerwear with unique features and fabrics for quite a while, but has only occasionally been available in the US. Beringia is backed by the same people and company as Teton Bros, but functions as their North American arm, with both Teton Bros and Beringia sharing infrastructure. This means that Beringia comes to the US market with the weight of Teton Bros experience behind it, and licenses to use materials like Primaloft insulation and Polartec shell materials.
Jed Doane recently reviewed Beringia's Diomede Merino Wool Snorkel Hoodie and came away very impressed, and we're working on setting up some more reviews of Beringia products in the future.
What is an "Over Hoody?"
Beringia calls the Altai an "Over Hoody." While some people may not be familiar with that term, it just means it's an insulating layer that's designed to be worn over your shell layer (pretty intuitive, right?). The Altai Over Hoody is cut a little larger than your average puffy, so it can just slip over your shell. It also has a more durable face fabric than some of the ultralight, slim-cut puffies meant to live under your shell. Most climbers are probably thinking to themselves, "well, what you're describing is a belay parka." And you're mostly right — the Altai Over Hoody is meant to accomplish similar things as a belay parka, but is a bit more focused on high-output activities like ski touring, and consequently has a slightly different feature set vs. a traditional belay parka.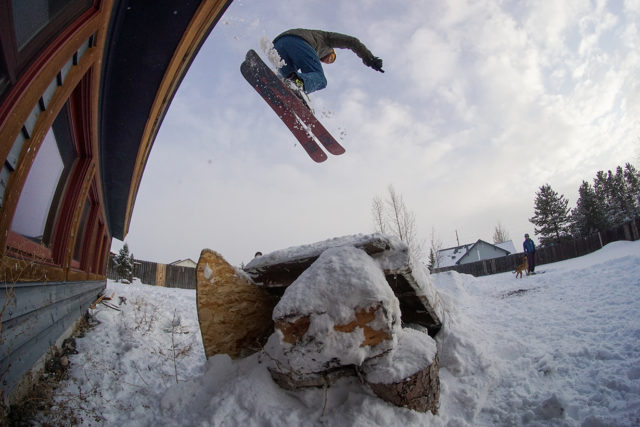 I'm sold on over hoodies. My first experience came with the Mountain Equipment Prophet Jacket. Similar to the Altai, the Prophet is designed to be worn over your shell. I've experimented with the normal baselayer / puffy / shell layering combo, and it just doesn't work that well for me. I run hot, and I can't remember the last time I wanted to have extra insulation while I was skinning or bootpacking. Most of the time, I take off my shell and move uphill in just my base layer. But at the top, I get cold fast, so I need something I can slip on quickly that really keeps me warm. However, I usually don't want any insulating layer on the way down, so that puffy needs to be able to come off fast.
I've tried "active" insulators that use more breathable / lighter insulation and things like mesh panels to help me vent, but I still overheat on the up, and they don't keep me warm enough during transitions. Using a "normal," midlayer-style puffy is also less than optimal because I'm left taking off my shell and putting it on every time I want to change my insulation layer. But with an over hoody, I can just whip it out of my pack and slip it over my shell while we transition, and ditch it for the way back down.
In addition, I really like having an over hoody in my pack for long days with more potential for problems. If I or a member of my group gets stranded, I want to have something in my pack that packs a serious amount of heat, and that's easy to get on over whatever they're wearing.
All that to say, the Mountain Equipment Prophet sold me on this over-hoody concept. When I wore mine out, I flirted with other forms of insulation, but the Altai Over Hoody has won back my heart.
Fit
The fit on the Altai Over Hoody is generous. It fits longer and looser than the Mountain Equipment Prophet, and very similarly to the Patagonia Stretch Nano Storm Jacket. I found that it fit easily even over a big resort shell, and doesn't feel restrictive at all. The arms are long and the cuffs cover my gloves, even when I'm tomahawking.
Because of its generous cut, the Altai doesn't fit very well under a shell — you end up looking a little like the Michelin Man. Which is to be expected; it's literally called an "over hoody," after all. If you're on the smaller end of your size spectrum (e.g., if you can alternate between Large and Medium jackets) you can probably size down. I personally am on the taller end of the "Large" size spectrum and feel like the size Large Altai Over Hoody fits me perfectly, whether over a shell or just over my base layer, as long as there's nothing on top of it.
Hood
If I had to choose one word for this review, it would be "generous." The Altai's hood is nice and big, it fits easily over ski helmets and climbing helmets, and even works over the hood of a shell jacket. It doesn't have any kind of wire brim, but I haven't had any issues with it flopping into my field of view. It's got a cinch adjust on the back and on the sides that are easy to adjust, even with gloves on.
Pockets
The Altai's pockets are — you guessed it — generous. Actually, they're huge and awesome.
The two front hand pockets have swallowed any of my skins with ease (up to 120mm-wide by 185cm-long with no problem). They do a pretty good job of staying out of the way of backpack straps as well, and work well as handwarmer pockets.
The Altai Over Hoody's two inner pockets are also large. They're just simple mesh drop-in pockets but they'd easily fit most skins as well, or your goggles or extra gloves. They're big and easy to use. And I appreciate that the mesh has an elastic band along the top so they're more secure than some drop-in pockets I've used with looser openings.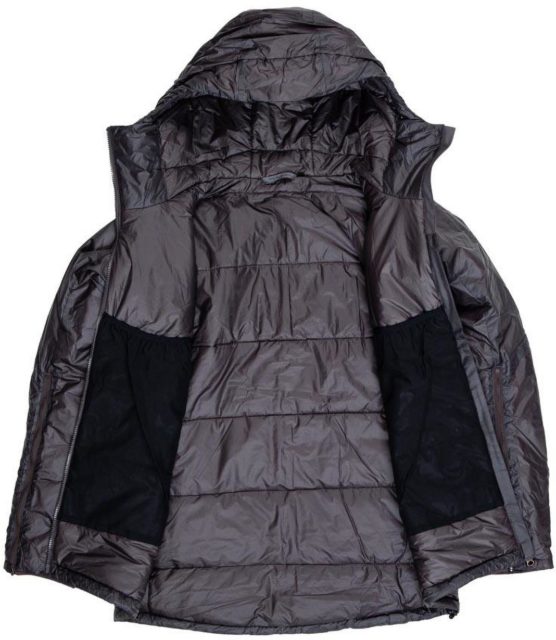 I wouldn't mind the Altai having some sort of small upper pocket, either internal or external. There's not a great place to put your phone in the current layout, and in the outer pockets, a phone has a tendency to slide down to the bottom and get in a fight with my pack's waistband. This is a tiny and generally unimportant complaint, though.
Other Features
The Altai Over Hoody has two other features of note that are pretty uncommon: its thumb loops and sleeve zippers.
The thumb loops are just simple straps across the ends of the sleeves that you can hook a thumb through. They're big enough that it's easy to do, even with gloves. This helps keep the sleeves from riding up. Personally, I don't really use them, but if they're not your jam, they're easy to cut off, and it's nice to have the option.
The Altai's sleeve zippers are unique, at least from the layers I've seen. Each arm has a locking zipper (doesn't randomly come undone) from the cuff to about the elbow. These make it possible to unzip the Altai into, essentially, a short-sleeved coat.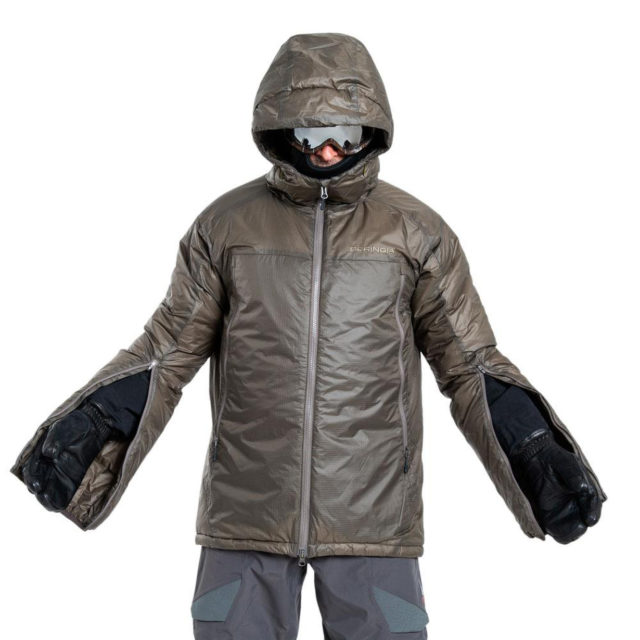 I was skeptical initially since I've never really felt a need to do that, but in practice, it's pretty slick. The sleeve tucks back up and stays out of the way. This allows you to dump a little heat out the arms, but also makes a lot of sense in a camping scenario where you're trying to keep from burning or staining your sleeves while using a stove. I have more than one puffy with melted cuffs. It's nice to know I can just unzip the Altai's arms out of the way.
Weight & Packability
At a measured weight of 604 grams for a size Large, the Altai Over Hoody is quite light, particularly for how much insulation it offers. It's not as light as some down options, or synthetic jackets with lighter-weight insulation, but it's quite light for how warm it is, and the fact that it uses a synthetic insulation.
There are a couple of ways you can pack down the Altai Jacket. It packs into its own hood, and I also found that it's easy to pack it into its own mesh pocket. However, I usually ended up packing it into a stuff sack with my spare gloves and hat. It doesn't pack down quite as small as the Prophet Jacket, but it's much more packable than the Patagonia Stretch Nano Storm. Packed down, I'd say the Altai is about the size of a 32-oz Nalgene bottle.
For reference, here are our measured weights for some notable pieces in this class that we've used. Keep in mind the size differences to try to keep things apples-to-apples.
284 g Rab Zero G Jacket, size Medium
418 g Patagonia Macro Puff Hoody, size Medium
493 g Eddie Bauer BC EverTherm Down Jacket, size Medium
514 g Mountain Equipment Prophet Jacket, size Large
524 g Patagonia Hyper Puff Hoody, size Large
571 g Black Diamond Vision Parka, size Medium
557 g Patagonia DAS Parka (20/21), size Medium
599 g Patagonia Fitz Roy Down Parka, size Large
604 g Beringia Altai Over Hoody, size Large
614 g Patagonia Stretch Nano Storm Jacket, size Large
614 g Patagonia Micro Puff Storm Jacket, size Medium
705 g Arc'teryx Dually Belay Parka (stated weight)
845 g Black Diamond Belay Parka (stated weight)
Materials
The Altai Over Hoody uses a very lightweight, 12-denier ripstop nylon shell fabric and 240-g Primaloft Gold synthetic insulation that's made from 55% post-consumer recycled content.
240-g is quite hefty in the synthetic-insulation world, and Primaloft Gold is one of the best synthetic insulations we've used in terms of warmth-to-weight ratio. The Altai's fabric is pretty typical of lightweight insulators — thin, crinkly, and not breathable. But it's nothing out of the ordinary compared to most options in this class.
Performance / Warmth
All the generous pockets and features in the world don't matter if your insulator doesn't keep you warm. Fortunately, the Altai brings the heat. In my subjective experience, it keeps me warmer than the Mountain Equipment Prophet and the Patagonia Stretch Nano Storm. Even on windy days while waiting at the top of the skin track, I haven't had any complaints. All that warmth does mean that the Altai is overkill for most days, which is the way I'd like it. It's really nice to have a margin for error when it comes to anticipating your insulation needs. Especially when your warm insulator packs down as small as the Altai.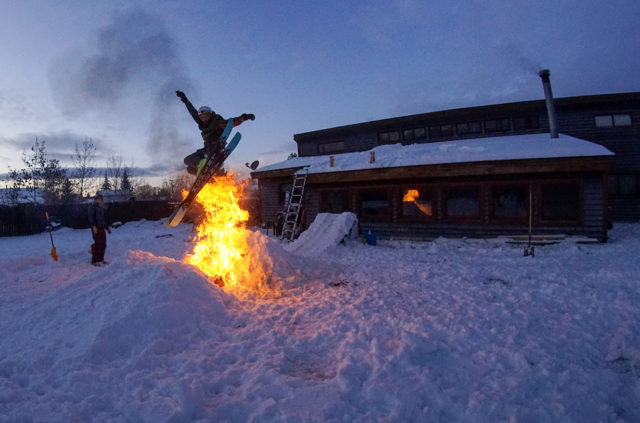 The Altai isn't quite as weatherproof as the Nano Storm or the Prophet, both of which feature a waterproof / water-resistant membrane, while the Altai does not. Water beads on the shell of the Altai and it blocks wind, but it doesn't have any type of membrane, and will wet out if you wear it in a rainstorm. Here in the relatively dry climate of the Tetons, that's not an issue, but if I lived in a really wet climate like the US Pacific Northwest, I would at least be diligent about washing, drying, and re-treating the Altai's DWR coating. The upside of the Altai over down jackets is that it still retains much of its warmth if / when you get it wet.
Comparisons
There are two main comparisons to the Altai Over Hoody from what I've used: Mountain Equipment's Prophet and Patagonia's Stretch Nano Storm. Both are a little more expensive than the Altai, and both are a little more weatherproof, with membranes and sealed seams.
The Prophet packs down a touch smaller than the Altai, but doesn't offer as much heat and doesn't fit over a shell quite so nicely.
The Nano Storm is the least packable of the three, is very weatherproof, but not as warm as the Altai. It's your best choice if you're going to be using this piece without a shell, thanks to the Nano Storm's waterproof membrane.
For most folks, the Prophet or the Altai will do a great job as an over insulator. If you live somewhere wet, the Prophet is a great call thanks to its very water-resistant membrane. But for anywhere with non-rainforest levels of moisture, the Altai is excellent.
Compared to a full-on belay parka like Patagonia's Fitz Roy, the Altai isn't as warm, packs down much smaller, and isn't cut quite so large. You could get away with using the Altai as a belay puffy on warmer climbs, but I think it excels in ski-touring scenarios where you're not stationary for quite as long and don't need the extreme warmth of a super big down parka like the Fitz Roy.
Durability
After spending ~30 days in it, I have zero durability issues to report with the Altai Over Hoody. As with all lightweight apparel, it's important to keep in mind that the Altai is designed with low weight in mind, not extreme abrasion resistance. If you do ski or climb in it, it's not going to hold up as well as a shell with a thick fabric. And then synthetic insulation tends to break down quicker than down, but if you don't leave the Altai compressed all the time, it should offer plenty of warmth for years to come (based on our experience with dozens of other Primaloft jackets). As always, I'll report back if I notice any durability issues down the line.
Bottom Line
Beringia's Altai Over Hoody is a great addition to the world of over-shell insulation. It's got a great feature set, packs down small, looks good, comes in at a good price for its performance, and most importantly, provides a bunch of water-resistant insulation. Anyone who's looking to simplify their backcountry insulation system should give it a look.