Big Sky Mountain Products Nylon Climbing Skins
Plush: 100% Nylon
MSRP: $99 – $151 (depends on hardware and skin width)
Days Tested: 20
Test Locations: Teton Pass & Grand Teton National Park, WY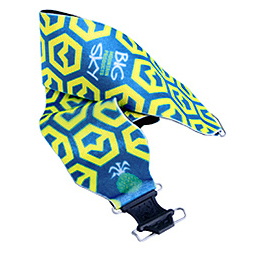 Intro
As more and more people head into the backcountry each year, an oft-overlooked part of their touring kit is climbing skins. Ads for the latest and greatest skis, bindings, and boots abound, but climbing skins don't seem to get the same amount of hype. Thus, "what skin should I buy?" threads pop up on ski-oriented forums all across the internet.
Most of these novice backcountry skiers are focused on value over all else — if you're just getting into a sport that you're not sure you'll do a lot, you don't want to drop $200+ on a pair of skins.
That's where Big Sky Mountain Products comes in. It's a new climbing-skin brand that aims to give beginners and other budget-oriented skiers a high-performing option that's significantly less expensive than the competition, while also being made in the USA.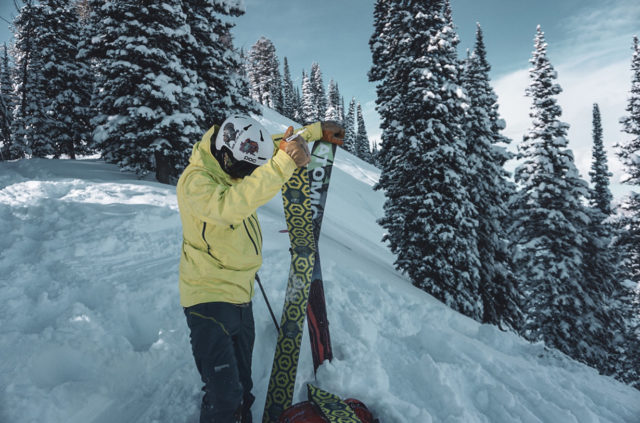 My touring partner and I have each been using a set of the Big Sky Mountain Products (aka, BSMP) nylon skins in a variety of conditions. We were very eager to see if a budget skin could really compete with options from established manufacturers like G3 and Black Diamond.
Big Sky Mountain Products — Background
BSMP was started by Tom Jungst, one of the early freeski icons who, along with Doug Coombs, put down a lot of impressive descents in Montana's Bridger Range. The two guys behind BSMP's day-to-day operations are Jackson Keogh and Eric Haferman, two ski racers turned mountaineers who I've had the pleasure of skiing with in the Beartooths. BSMP is also a distributor for Camp products, including Contour's mohair climbing skins and some of their touring accessories.
On top of manufacturing climbing skins, BSMP also has a lot of useful information about climbing skins' construction and how to use them on their website. Since climbing skins are typically not only expensive but also confusing, we're big fans of more brands putting out useful information for consumers.
Options and Prices
BSMP sells one skin, with a variety of tip and tail connector options.
If you've already got your own connectors, you can just get the skin for $79 for a 115 mm width, $86 for a 130 mm width, and $92 for a 145 mm width. All skins are 200 cm long.
From there you can get the "standard" tip and tail connectors for a $20 upcharge, their "Snap Tail" connectors for a $40 upcharge, and their "Snap Tips and Tails" clips for a $60 upcharge. So that means, for a 115mm-wide skin, that'd come to $99, $119, and $139 for the different hardware options.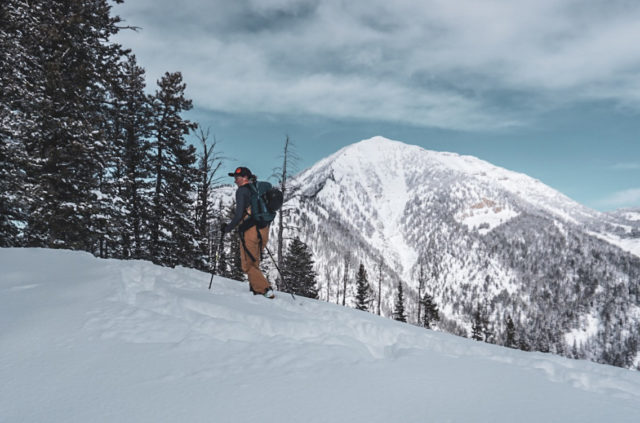 Personally, I love this tiered structure. I have a few tip and tail connector styles that I really like, and when my skins die it's rarely because the clips failed. My glue usually goes bad long before that could happen and I'm left with disgusting, dead skins with perfect clips. But with BSMP, I can just swap my old tip and tail clips onto a new skin and save a bunch of money doing it. I wish more skins were sold as a big 145 mm x 200 cm slice of nylon that gives me the freedom to do whatever I want.
As far as price comparisons go, here's a look at some of the popular options on the market, with all prices reflecting use for a 130 mm x 186 cm ski.
$86 BSMP w/o clips
$106 BSMP w/ "standard" clips
$118 Climbing Skins Direct
$126 BSMP w/ "Snap Tail Connector"
$141 Backcountry x G3 Alpinist
$146 BSMP w/ "Snap Tip and Tail Connectors"
$165 BCA Magic Carpet
$170 Black Diamond Ascension STS
$184 G3 Alpinist+ Universal
The BSMP skins without clips are almost half the price of BCA Magic Carpets, and the BSMP skins are significantly cheaper than anything else available.
As an added bonus, each BSMP skin comes with a block of glop stopper wax. That's awesome. Everyone should always have some in their pack, but it's not at the top of anyone's mind. Big props to BSMP for just including it.
So, the price is most definitely right on these skins, but how do they perform?
Cutting The Skins
The BSMP skins are a little more involved to cut than a typical G3 or Black Diamond option because you have to cut the BSMP skins for length and width. However, BSMP includes a handy template to help you cut your tips and tails to work with their clips, and it took me about three minutes with some scissors to have my tips and tails perfect.
The BSMP skins are not as idiot-proof as G3's skins, but honestly, if you can't figure out how to cut these skins, well, let's just say that you might have bigger things to worry about.
Attaching BSMP's "Standard" tip and tail connectors is easier than Black Diamond's options that require screws and rivets, but not as simple as just setting the tail of your G3's to the right length and skinning off.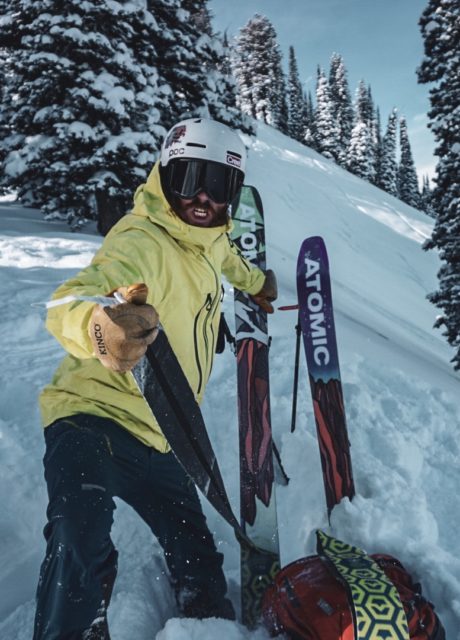 From there, BSMP does include a cutting tool for the edges, but it's terrible. To be fair, almost every skin-cutting tool I've used has been terrible, so the BSMP skins are not unique in this regard.
As I wrote in our holiday gift guide suggestions, go get a hooked blade for your utility knife and stop swearing at crappy skin cutters. It's just not worth it. Even the nicest skin cutters suck compared to a hooked blade. And those hooked blades? They're really, really cheap.
Grip
Judging the grip and glide of climbing skins is always tough and completely qualitative unless you've got some high-tech lab equipment. But the BSMP skins grip as well as any nylon skin I've used, and better than any mohair skin I've used.
I've experienced minimal slippage on the BSMP skins during one icy day when everyone else in my group was having the same issue, and I think I would have been slipping on any skin on the market.
The BSMP skins grip as well as the G3 Alpinist and Black Diamond Ascension nylon skins that have been my daily drivers for the last few years.
Glide
BSMP recommends rubbing on some wax right out of the box to increase glide and water repellency, so I did. With some wax rubbed in, the BSMP skins glide better than the G3 Alpinist, and as well as the Black Diamond Ascension.
The BSMP skins don't glide quite as well as a pure mohair skin like Countour's Pure skins, but the BSMP skins do grip a lot better. In a word I'd say the BSMP skins are exactly average, or a little above when it comes to glide for Nylon skins.
I haven't experienced any real glopping yet, but based on conditions I wouldn't have expected to. If I do run into any issues I'll update here.
Glue
Many a good skin has been ruined by bad glue. Skin glue can get gloppy, lose its stickiness, and generally fall apart. I've most notably run into this issue on several pairs of G3 skins where their glue ended up a disgusting slimy mess, and some Contour skins where the glue just gave up on me halfway through a tour.
So far, I'm happy to report that the glue on the BSMP nylon skins has been awesome. It sticks to the ski well, even when wet. I've had minimal snow creep, and the glue hasn't gotten gross or gloppy.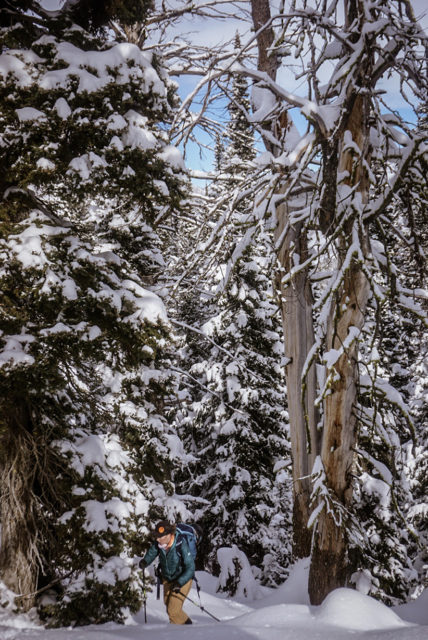 Of course, when the skins are new it's a pain to tear them apart, but that's why you've been hitting the gym all off season, right?
I'll check back in here if I have any glue issues down the road.
Packability
The BSMP skins are thick, nylon skins, and they pack like it. They're not as cumbersome as the G3 Scala with its giant plastic plate, but the BSMP skins will take up more room in your pack than lighter, thinner options like Pomoca's skins, or Contour's mohair skin.
The Elephant in the Room
For those of you who have been jumping up and down with your hand in the air, trying to get a word in edgewise to say that "don't these look awfully similar to BCA's Magic Carpet and Climbing Skins Direct's products?"
Yep, they sure do. Like, almost identical. The BSMP standard tip and tail connectors are the same ones that you'll find on BCA's skins, and the glue and plush seems just about identical to the older Magic Carpet skins.
As far as I'm concerned, that's a great thing. My partner has abused a pair of BCA Magic Carpets for the last few years and they've held up wonderfully with nary a whimper. These BSMP skins share a lot of DNA with those great BCA skins, and that's a very good thing. And as a bonus, the BSMP skins are far less expensive.
Who's It For?
Some folks could be considered skin snobs — they've gotten on board with the glide and packability of high-quality European mohair skins, and they're never going back. The BSMP skins are not for them, or any non-skin-snobs that just prioritize glide over grip and packability over durability. Instead, the BSMP skins are an affordable workhorse for everyone else.
Just getting into backcountry skiing? I'd highly recommend the BSMP skins. They'll save you some money and their excellent grip will come in handy as you learn to skin and kick turn.
Looking for a second set of skins so you can tour on your silly pow skis a few days a year? These won't break the bank, and they'll get you up the hill just fine.
Personally, as a reasonably experienced backcountry skier, I really like these skins. They perform as well or better than the nylon Black Diamond and G3 options I've been using, and they're so much cheaper. I've put some big days on the BSMP skins and have zero complaints. And I love having the ability to replace just the skin and swap my old tip and tail connectors over to a new skin.
Bottom Line
Big Sky Mountain Products might not be the first name you think of when it comes to climbing skins, but I'd argue that they should be up there with the industry leaders. BSMP offers a high-quality product at a lower price than any of their competitors. The BSMP skins offer the most bang for the buck we've found, and are a great option for anyone building their first backcountry setup.