Five Ten Trailcross GTX
Test Location: Washington
Test Duration: 5 months
Reviewer: 6', 170 lb (183 cm, 77.1 kg)
Size Tested: US Men's 10
Blister's Measured Weight per Shoe (size US Men's 10): 447 and 453 g
Upper: Textile w/ neoprene collar
Closure: Lace + velcro
Stated Features:
Lace closure
Textile upper with a neoprene collar
GORE-TEX membrane
Dual-compound Stealth rubber outsole
Toe overlay
Textile lining
Pedals used: Chromag Dagga, North Shore Billet Daemon
MSRP: $200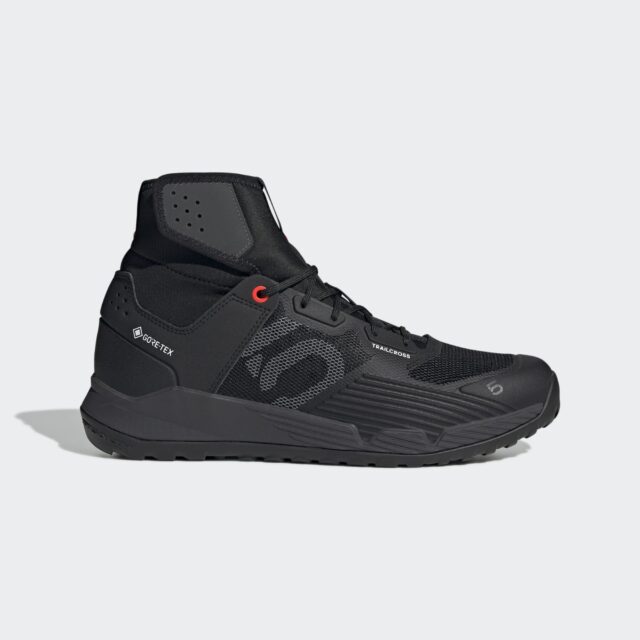 Intro
When Five Ten launched the Traillcross line a few years ago, they also teased an upcoming Gore-Tex model that wasn't quite ready for prime time. And I was hugely excited — I live in the Pacific Northwest, where winter riding is typically not that cold, but often very wet. There are a lot of (mostly clipless) waterproof winter bike shoes out there, but they tend to be heavily insulated — think fat bike riding in Minnesota — which isn't something I have much need for around here. And though I ride both clips and flat pedals fairly regularly, I tend to favor flats in the winter, both to not deal with gummed-up clipless mechanisms and because the metal heat sink that a clipless shoe puts right under the ball of your foot tends to make things a lot colder. So the prospect of a waterproof but not insulated flat pedal shoe — with super-grippy Five Ten rubber — was hugely exciting to me.
And then I waited. And waited. The Trailcross GTX finally materialized last fall and having now spent most of a full winter in them, I'm a huge fan. But as good as the Traillcross GTX is, it's not quite perfect, either. So who is it going to work for, and who is going to be annoyed by the minor issues?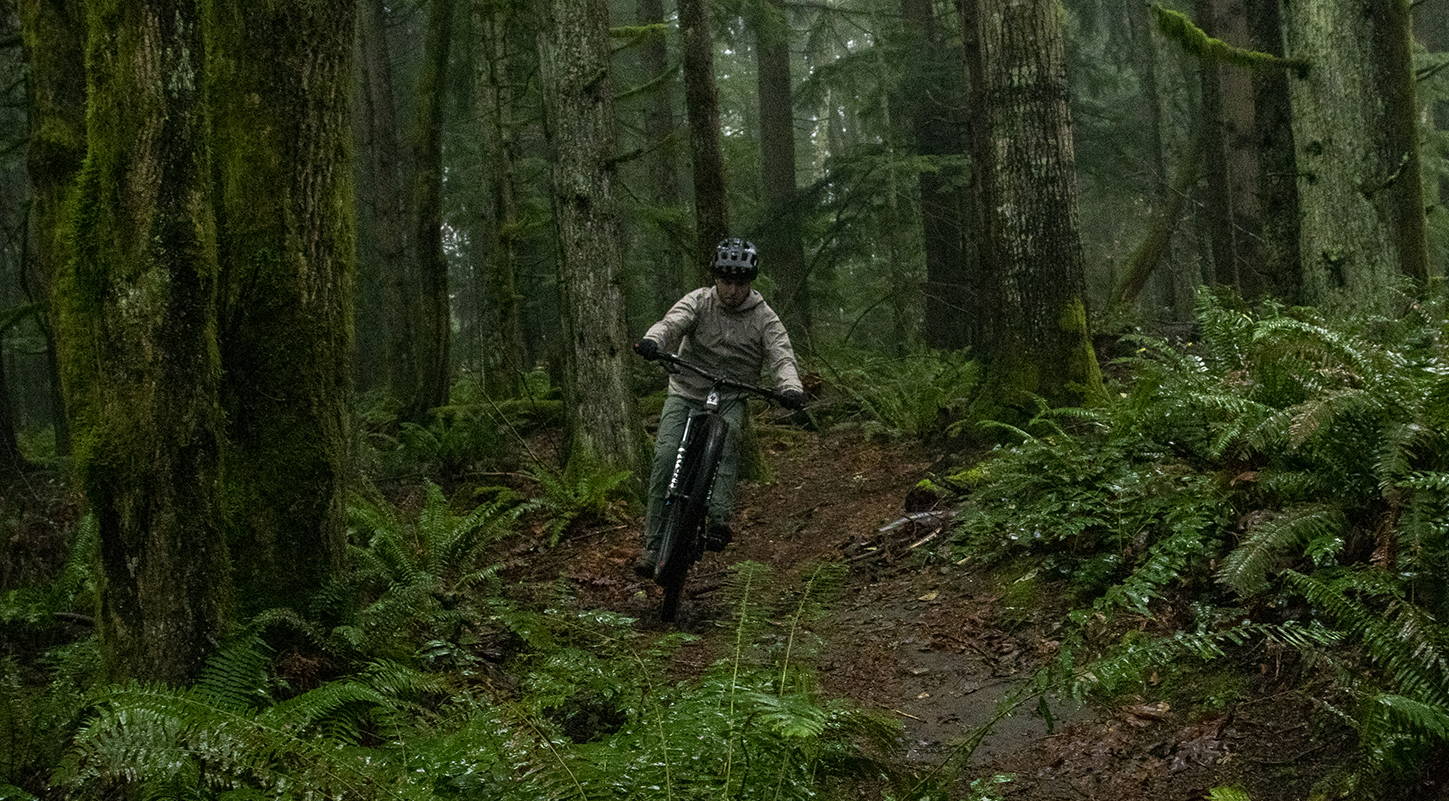 Design
The Five Ten Trailcross line has grown to five models — including a new clipless model that we'll be reviewing soon — all of which are variants on a similar theme, with slightly different features. They're probably best described as something like a hybrid of a bike shoe and a trail running shoe — all feature a fairly thin, lightweight upper mated to a more substantial EVA midsole that's meant to strike a balance between being flexible enough for decent walkability while still being stiff enough to be reasonably supportive on the bike. And then Five Ten's classic Dotty Stealth rubber is applied under the ball of the foot, with a slightly more aggressive tread pattern in the heel and toe for extra traction off the bike.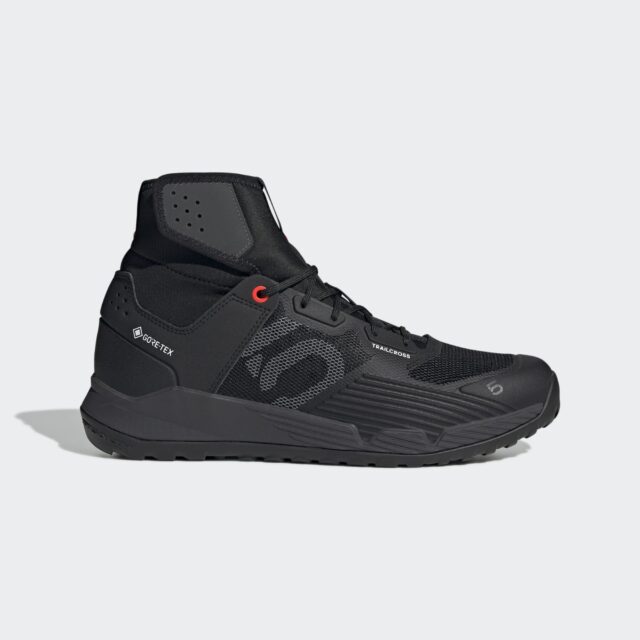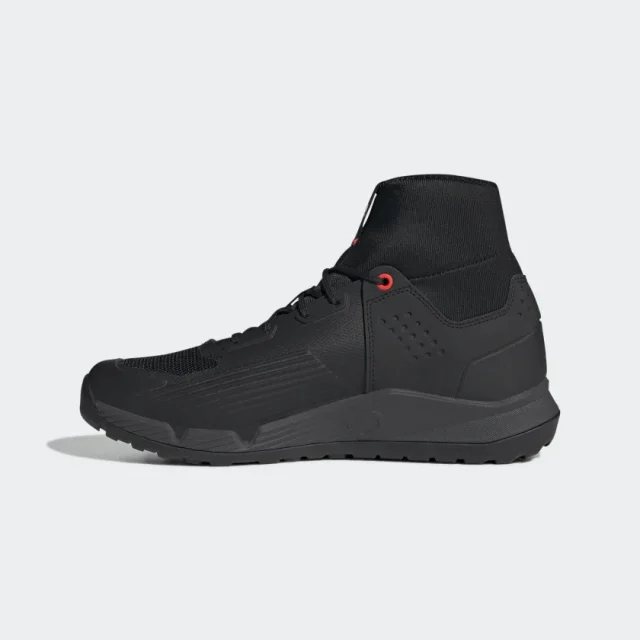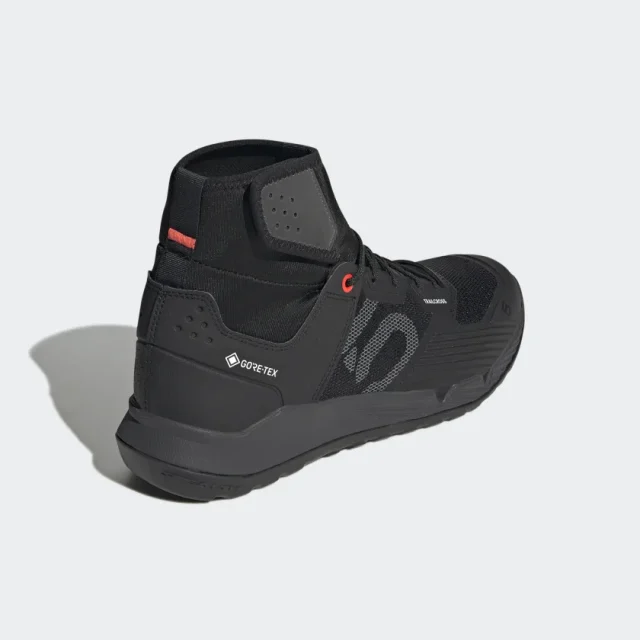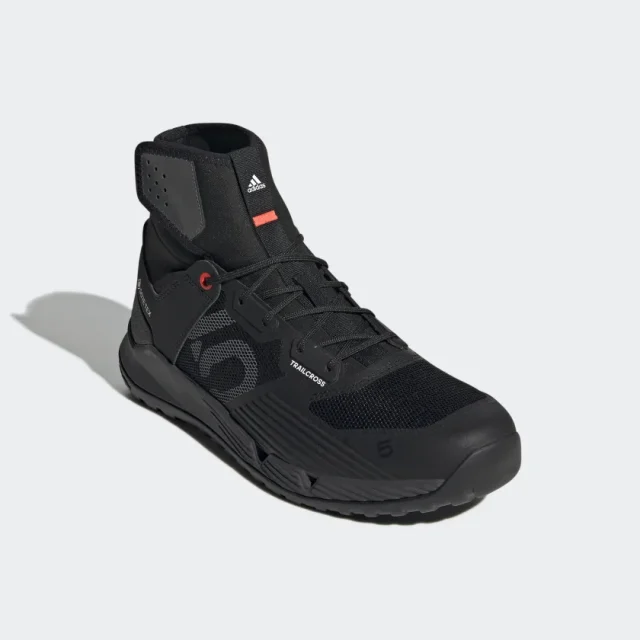 The Trailcross GTX is a mid-height version with a GORE-TEX waterproof membrane and a neoprene ankle gaiter built-in. A standard lace closure snugs things up to the base of the ankle, and then the neoprene gaiter is secured with a velcro flap on the outside of the ankle. There's a very minimal toe cap for a little protection, and some rubber reinforcement of the upper on both sides of the midfoot to keep the upper from getting abraded on rocks and the like, but the construction definitely feels more on the thin and light side of the spectrum.
Fit
The fit of the Trailcross GTX is a bit on the roomier side, especially in the forefoot and toe box. It tapers down to a somewhat narrower (but still not that narrow) heel — it's a wide-ish shoe overall. That shape happens to work well for my feet, especially for a shoe that I'm generally going to wear in inclement weather (and therefore often with thicker, warmer socks) but if you're looking for a slim, low-volume fit, this isn't it.
I've been wearing the Trailcross GTX in my typical US 10 shoe size and am overall happy with the fit, but I wouldn't be surprised if the 9.5 fit me pretty well, too. I haven't yet tried them on to confirm, but (like any shoe), I'd recommend trying them on before you buy, and if you're on the fence, you'll probably want to size down.
That said, the opening through the throat of the ankle isn't huge, and the Trailcross GTX is notably snug when putting it on. The neoprene cuff itself opens up plenty wide, but there's a bit of a choke point where the cuff meets the shoe. At least for my feet, it's not any kind of real problem — I basically notice that I have to tug a little harder than most shoes to get them on, but it's not really hard to do. Folks with very limited ankle mobility might struggle a little, but I think it'll be fine for most people.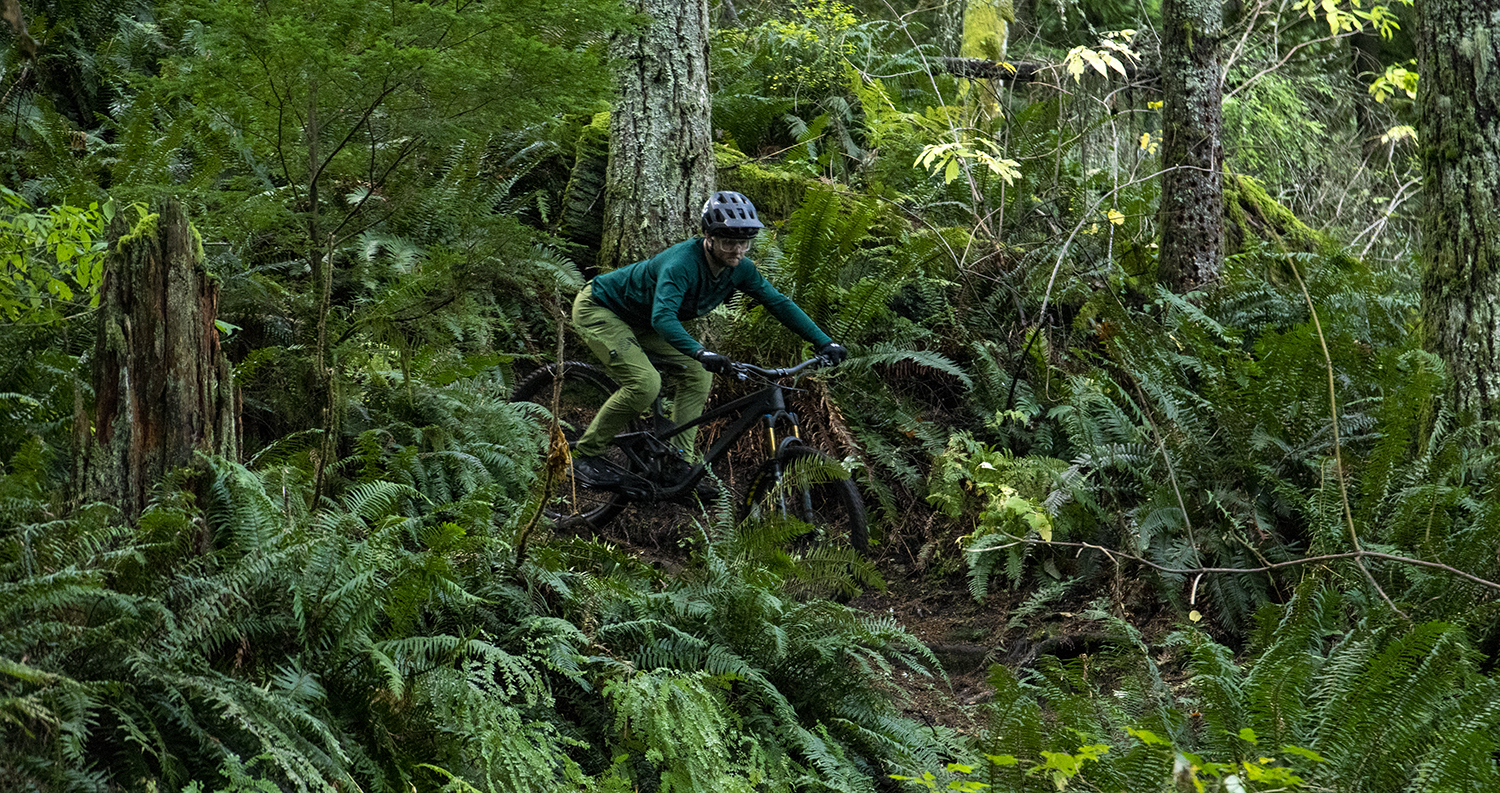 Once you get them on, the Trailcross GTX snugs up pretty normally — to reiterate, there's a standard lace closure over the foot, plus a velcro patch on the outside of the ankle that secures the ankle gaiter. That said, the stock laces are fairly thin and don't distribute pressure very evenly if you really crank down on them, and the tongue is very thin and barely padded, so it's not much help. I've tended to just leave them a touch on the looser side to compensate, and haven't felt like the shoe was unduly loose or sloppy fitting. But if you prefer to get your shoes very tight and/or have a significantly lower-volume foot than I do and need to crank things down more, you might want to try to squeeze in some thicker laces. The eyelets used on the Trailcross GTX aren't huge, but there's at least a little room to go bigger.
On The Trail
As I mentioned up top, I've been dreaming of a waterproof flat pedal shoe with good rubber for a long time, and so I was more than a little excited about the Trailcross GTX. But at the same time, I'd typically gravitate towards slightly burlier, more padded, stiffer-soled shoes, and was a bit worried that the Trailcross GTX was going to let me down by being too minimalist and focused on walkability for my preferences. Given that, I'm very pleased to report that the Trailcross GTX has worked really well for me.
First off, it's legitimately waterproof. I've stepped in puddles up to the bottom of the ankle gasket, and it hasn't let a drop in. Now, the velcro closure at the ankle isn't entirely waterproof if you submerge it that deep, but I've worn the Trailcross GTX on some very long, very wet rides, and the overlap on the ankle gaiter is plenty adequate for just about anything short of full submersion.
The Achilles heel, vis-a-vis waterproofness, is that the ankle gaiter doesn't 100% seal around the top, so if you wear the Trailcross GTX with shorts, you get a bunch of water running down your shin and into the shoe. Wearing pants with a long enough inseam to overlap the top of the gaiter takes care of the issue (and I really don't fault Five Ten for not having a more robust solution — there are just too many convex curves on an ankle for there to be an obviously better way).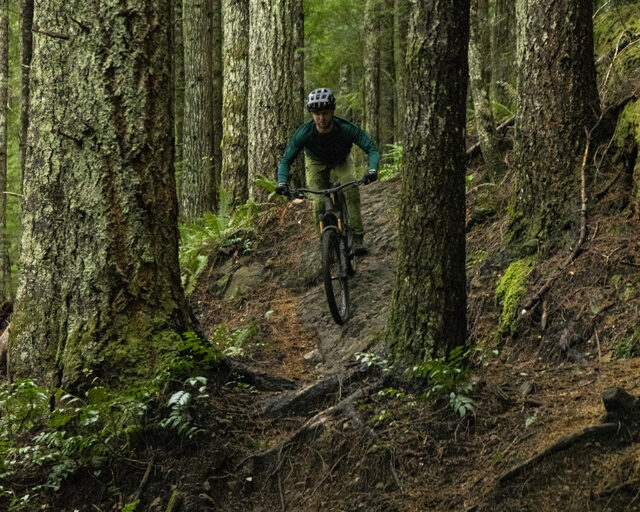 I was also curious how the ankle gaiter would feel while pedaling, but it's completely unobtrusive — range of motion feels essentially unimpeded. You can tell there's a little bit of extra material there if you really pay attention, but I've totally forgotten about it as soon as I started riding. It's a really nice layout that does a great job of keeping water out (once you add pants to the equation) while still being super-functional as a bike shoe.
And on that note, grip is also outstanding — on par with Five Ten's grippiest offerings. The textured dotty sole results in a slightly different feel from the Freerider Contact, but the rubber feels similar in terms of actual grip, and it's clearly a notch above the Freerider Pro or any offering from any other brand that I've tried to date.
The sole of the Trailcross GTX isn't crazy stiff but it's a good bit more so than I expected, given everything Five Ten said about trying to balance walkability and so on. And I think that's a really good thing for on-bike performance. Most DH-oriented shoes, such as the Five Ten Impact or Ride Concepts Powerline, are clearly substantially stiffer. But from everything aft of the toe box (where it does soften up dramatically), the Trailcross GTX is significantly stiffer than a lot of more all-rounder options, including the Freerider Contact, Freerider Pro, Giro Latch, and so on. And so if you're worried about the sole being unduly flexy, I wouldn't be — unless you're a real stickler for the absolute stiffest possible shoe.
Unsurprisingly, the breathability of the Trailcross GTX is hampered a bit by the waterproof membrane as compared to a more conventional shoe, but it's pretty respectable all things considered. The Trailcross GTX isn't a shoe that I want to wear if it's over 70° F (21° C) or so, but that's a whole lot better than most waterproof bike shoes, which tend to also be substantially insulated. That lack of insulation also serves the Trailcross GTX well when it comes to drying times. Any water that does get into the shoe doesn't escape quickly while your foot and ankle are still blocking the cuff opening, but there's also not much spongy material inside to absorb that water, and they dry pretty quickly once you take them off.
I wouldn't mind a slightly beefed-up toe box for a little extra protection, but also acknowledge that would add some weight and likely compromise walkability a little. And despite the overall stiff-ish sole, the Trailcross GTX does walk well. The softer toe portion really helps on that front, as does the extra tread in the heel and (especially) the toe. As is the case with most bike shoes, the tread under the ball of the foot is still pretty shallow and traction there isn't all that great, especially in soft, loose dirt. But making it deeper would presumably increase its thickness and compromise feel on the pedals, so I'm not advocating for a change. Just think of the Trailcross GTX as walking a little better than most flat pedal shoes, rather than some total night-and-day improvement, and your expectations will be reasonable.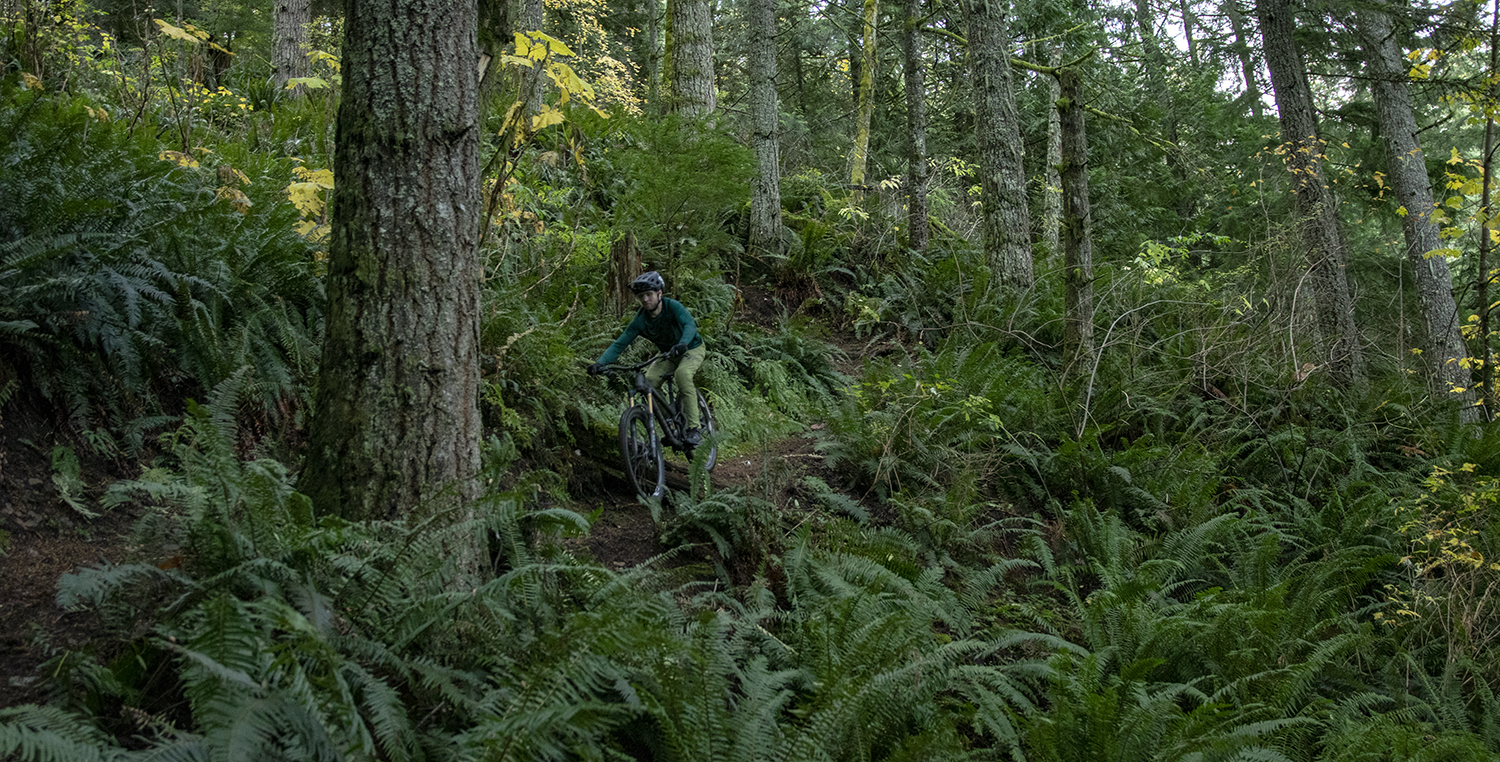 Bottom Line
I've been waiting for a waterproof flat pedal shoe for a long time, and Five Ten has made a good one with the Trailcross GTX. They've kept my feet warm and dry through a lot of very, very wet riding this winter, and perform really well as a bike shoe, too. There are a few details that aren't 100% perfect — the laces are a bit thin and can cause some hot spots, they're a little hard to put on, and you do need to wear them with pants for the waterproofness to be of much value. But none of those are big deals in my book, and everything else about the Trailcross GTX is miles better than any other wet weather shoe I've tried to date. They're a winner.