Canyon Torque:ON CF
Wheel Size: 29'' front / 27.5'' rear
Travel: 175 mm rear / 180 mm front
Stated Weight:
52.2 lb / 23.7 kg (Torque:ON CF9, Medium, w/ 720 Wh battery)
7.4 lb / 3.4 kg (frame only, without battery or motor)
Geometry highlights:
Sizes offered: S, M, L, XL
Headtube angle: 63.5°
Seat tube angle: 77.5º
Reach: 475 mm (size Medium)
Chainstay length: 445 mm
Drive System highlights:
Torque: 85 Nm
Power: 250 Watts continuous
Battery: 720 Wh or 900 Wh
Motor: Shimano EP8
Frame material: Carbon Fiber
Price: Complete bikes $5,499 to $8,499
Blister's Measured Weight: 54.2 lb / 24.6 kg (size L)
Test Locations: Washington, British Columbia
Reviewers:
Zack Henderson: 6', 160 lbs / 183 cm, 72.6 kg
David Golay: 6', 175 lbs / 183 cm, 77.9 kg
Test Duration: 3 months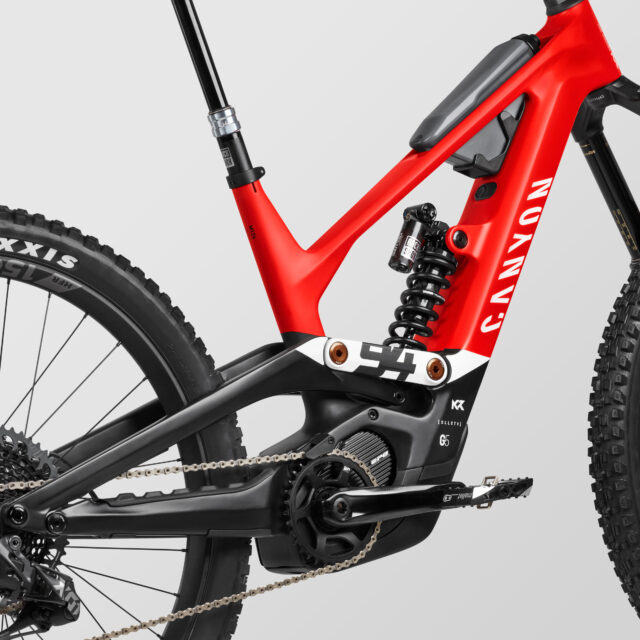 Intro
Canyon's long travel alloy Torque:ON e-MTB gets a new stablemate in the new Torque:ON CF. As to be expected, CF denotes a new carbon fiber frame, but there are also bigger batteries and geometry derived from the non-motorized Torque to set it apart. And apart it is, with Canyon billing it as an uncompromised freeride machine, but there are always compromises — so will the Torque:ON CF fall victim to them, or be the better, more focused machine as a result of them?
The Frame
Canyon is not shy about stating they took inspiration from off-road motorcycles when designing the Torque:ON CF frame — with its low-slung shock, low motor placement, and low BB, it certainly does look the part, not to mention the Ken Roczen edition livery further distinguishes the moto connection. Travel numbers come in at 175 mm for the 27.5" rear wheel and 180 mm for the 29" front, but there's a whole lot more to talk about, so let's dive in.
With a started weight savings of 1.5 kg over the alloy Torque:ON, the new carbon frame — one that Canyon says gets their highest rating (5E) and most abusive testing regimen — is claimed to be 7% stiffer in the front triangle and 25% stiffer in the rear. Aesthetically the suspension looks quite a bit different than the current Torque:ON (and all of their other bikes for that matter), but it still utilizes Canyon's Triple Phase suspension design, which is essentially a four-bar Horst link system. Despite its different appearance, the kinematics remain close to the existing Torque:ON, and in Canyon's own words — "if ain't broke don't fix it". The progressive leverage curve is basically the same as the current Torque:ON, though they did tweak a few things like dialing back the anti-rise, and opted for a slight increase in anti-squat, with the intention of reducing trail chatter and improving braking performance.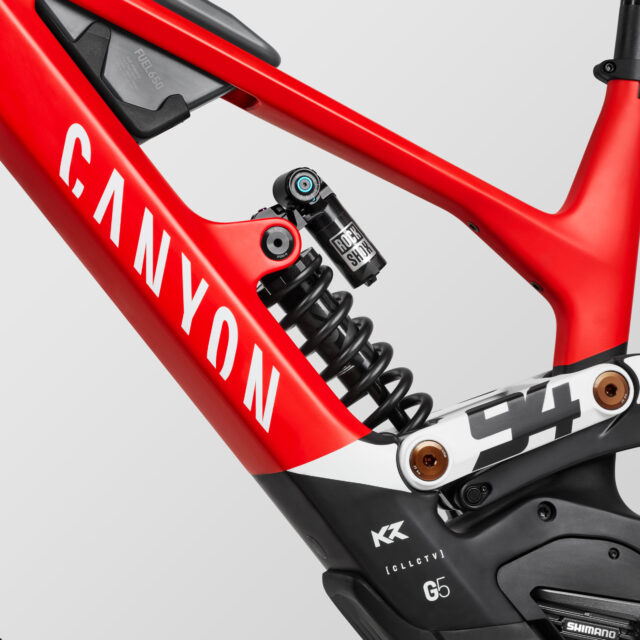 The 175 mm of rear travel can be achieved with either air or coil shocks. Up front, max travel is listed at 190 mm, but before you get excited about dual crown fork possibilities, they are not compatible due to the width of the downtube, which would decrease the turning radius. Canyon has opted to go for a mixed-wheel size design with no flip chips and no provisions for changing the rear wheel size. We think this makes sense due to the Torque:ON CF's freeride focus — this is not a jack-of-all-trades bike, so building in adjustability would likely dilute those intentions.
At first look, It's hard not to notice the cut-out in the top tube for the water bottle. Canyon prioritized a low center of gravity, weight distribution, and ride characteristics first and foremost, which left the poor old water bottle with no place to call home. Understanding the need for hydration, they engineered a split in the top tube and a custom 650 ml water bottle (which will be included with the bike purchase) to slot into it. There's a strap to secure it with the thought that you'll be drinking between laps and not reaching for it while riding.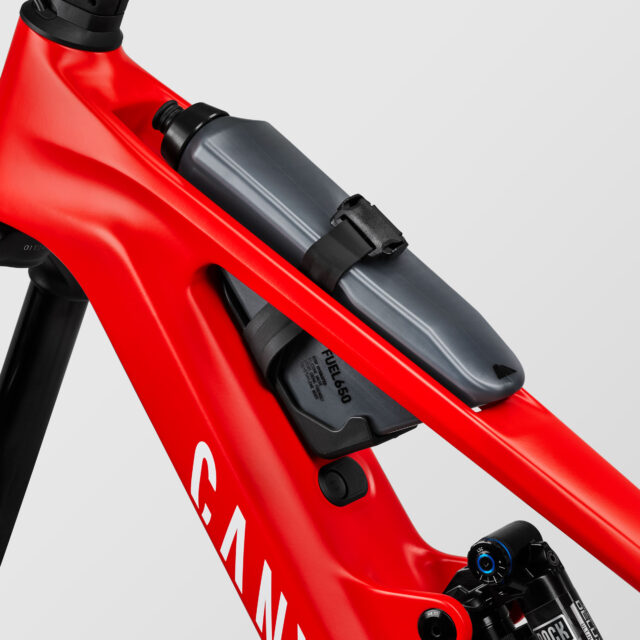 Other noteworthy frame features include internally guided cable routing, room for a 2.6" rear tire, burly frame protection, and available custom front and rear fenders. There are also tool storage/bag mounts on the underside of the toptube back by the seattube junction. On the service side, Canyon implements replaceable threaded inserts at the pivot locations. This is a thoughtful touch, and it doesn't end there, as they've also spec'd double-sealed bearings throughout — an eye on serviceability doesn't go unnoticed.
The Drive System
The Torque:ON CF pairs the Shimano EP8 motor with custom 720 Wh and 900 Wh removable batteries, and are the same ones used on the Spectral:ON. The batteries feature a unique horizontal cell layout and are quite long, the idea being to spread out the weight as much as possible for improved weight distribution. Though they're custom-made for Canyon, warranty support for the batteries will be offered through Shimano's STEPS service program, and Canyon says that any Shimano dealer will be able to help out with warranty issues or order replacement batteries should the need arise.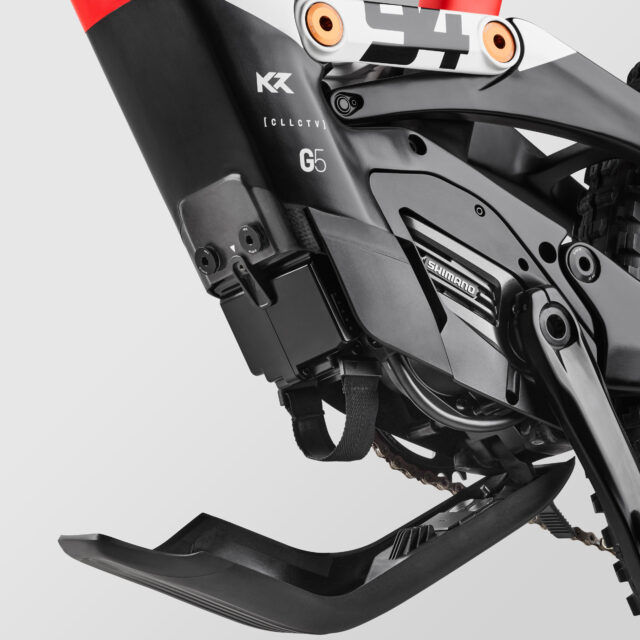 Canyon has also adopted a Rosenberger-style magnetic connector for the battery to drive/charger connection. We've experienced this type of connector on Specialized eMTBs and find them to work exceptionally well, while also simplifying battery removal. The Torque:ON ships with a 4 Amp charger that Canyon says can charge the 720 Wh battery in about 6 hours or the 900 Wh one in about 7.5; a 6 Amp charger is available as an upgrade, which knocks the stated charge times down to about 4.4 and 5.3 hours, respectively. Overall, we like Shimano's EP8 drive system, it offers a competitive 85 nm of torque, it's relatively compact, and has proven reliable so far.
And finally, the bigger 900 Wh battery isn't compatible with size Small frames due to their physically shorter downtube; models that come with the 720 Wh battery can be upgraded to the 900 Wh one for an upcharge in all other sizes.
Fit & Geometry
Canyon is talking a lot about the Torque:ON CF being oriented more toward playful riding than outright speed, but it's still a very long, slack bike. The geometry numbers are a close copy of the non-motorized Torque with the exception of an extra 10 mm added to the chainstays and reach(per size). This, according to Canyon, was done to give more overall stability and extra room to shift weight forward during steep technical climbing. At 657 mm (size L) the stack numbers are quite high, which we are fans of for longer travel full-power e-MTBs. All four sizes get a 63.5° headtube angle and 445 mm chainstays, paired with reach that ranges from 450 to 525 mm in 25 mm increments — so 475 mm on the Medium and 500 mm on the Large — all of which adds up to a quite-long wheelbase, at 1,276 mm on the Medium, or 1,306 mm on the Large frame. A steep 77.5° effective seat tube angle keeps the effective top tube measurements from getting too wild, but at 619 mm for the Medium frame, it's still pretty long too. And the 32 mm bottom bracket drop (relative to the front axle) is notably low for a 175mm-travel e-MTB.
The smaller 27.5'' rear wheel presumably does make the Torque:ON CF a little more nimble than it would be as a full 29er, but between the geometry and the heft of a full-power e-MTB with a huge battery and burly parts, we'd expect the Torque:ON CF to be a very stable, hard-charging bike first and foremost. But Canyon's really emphasizing the playfulness of the Torque:ON CF, so we'll just have to get on one to find out.
The Builds
Canyon is currently offering the Torque:ON CF in three builds, with pricing ranging from $5,499 for the CF8 up to $8,499 for the Ken Roczen pro model. All three get a Shimano EP8 motor, with the CF8 builds coming with the smaller 720 Wh battery, and the CF9 and Roczen getting the bigger 900 Wh one (apart from size Small frames, which only have enough room in the downtube for the 720 Wh version). The CF8 and CF9 builds get Shimano drivetrains and brakes with Fox 38 / Float X2 suspension, and the Roczen build gets a RockShox ZEB / Super Deluxe Ultimate Coil suspension package and a SRAM X01 AXS drivetrain and Code RSC brakes. All builds will get 165 mm cranks, which we're seeing as more of the norm for e-MTBs. And in the case of Torque:ON CF with its relatively low BB, are kind of a necessity, plus they typically raise the pedal cadence, which helps keep the motor in the sweet spot.
Drivetrain: Shimano SLX w/ Deore cassette
Motor: Shimano EP8
Battery: 720 Wh
Brakes: Shimano SLX 4-piston w/ 203 mm rotors
Fork: Fox 38 Performance
Shock: Fox Float X2 Performance
Wheels: Sun Ringle Duroc SD 37/42
Dropper Post: Canyon Iridium
Drivetrain: SRAM X01 AXS
Motor: Shimano EP8
Battery: 900 Wh (720 Wh on Small frames)
Brakes: SRAM Code RSC w/ 220 mm front / 200 mm rear rotors
Fork: RockShox ZEB Ultimate
Wheels: DT Swiss HFR1500
Dropper Post: RockShox Reverb AXS
As per usual for Canyon, the various Torque:ON CF builds are all notably good value for money in terms of their parts specs. The Torque:ON CF8 and CF9 are available now, with the Roczen build coming this summer — and yes, Canyon is aware that Ken Roczen rides a Suzuki, and played with some yellow colorway options, but in the end, Ken just likes red more. A less-expensive Torque:ON CF7 is also slated for this summer, but we don't yet have the full details on the build for that one.
Some Questions / Things We're Curious About
(1) Canyon is describing the Torque:ON CF as a playful, freeride-oriented bike first and foremost, but it's notably long and slack, features burly builds, and generally looks like a big, stable bike. So how will that all pan out on the trail?
(2) The Torque:ON CF also looks like an especially good value for money in terms of the parts spec. Does it feel like there are any corners cut in the frame or anywhere else to make up for that?
(3) Granted, the Torque:ON CF is clearly oriented toward going downhill first and foremost, but the whole point of an eMTB is to climb to get there, and a low BB coupled with long travel often results in poor technical climbing with lots of pedal/crank strikes — will this be the case with the Torque:ON CF?
(4) Will the lack of compatibility with dual crown DH forks hold the Torque:ON CF back?
FULL REVIEW
With more and more sub-categories emerging in the eMTB space, Canyon has added the new Torque:ON as a bike solidly on the heavyweight side of the spectrum. With a massive 900 Wh battery, mixed wheels, and a 180 mm front / 175 mm rear travel configuration, Canyon is not shy about the Torque:ON's intentions, describing it as "a full-blown freeride eMTB." We spent a lot of hours onboard the Torque:ON this summer and fall and now it's time to weigh in on its performance.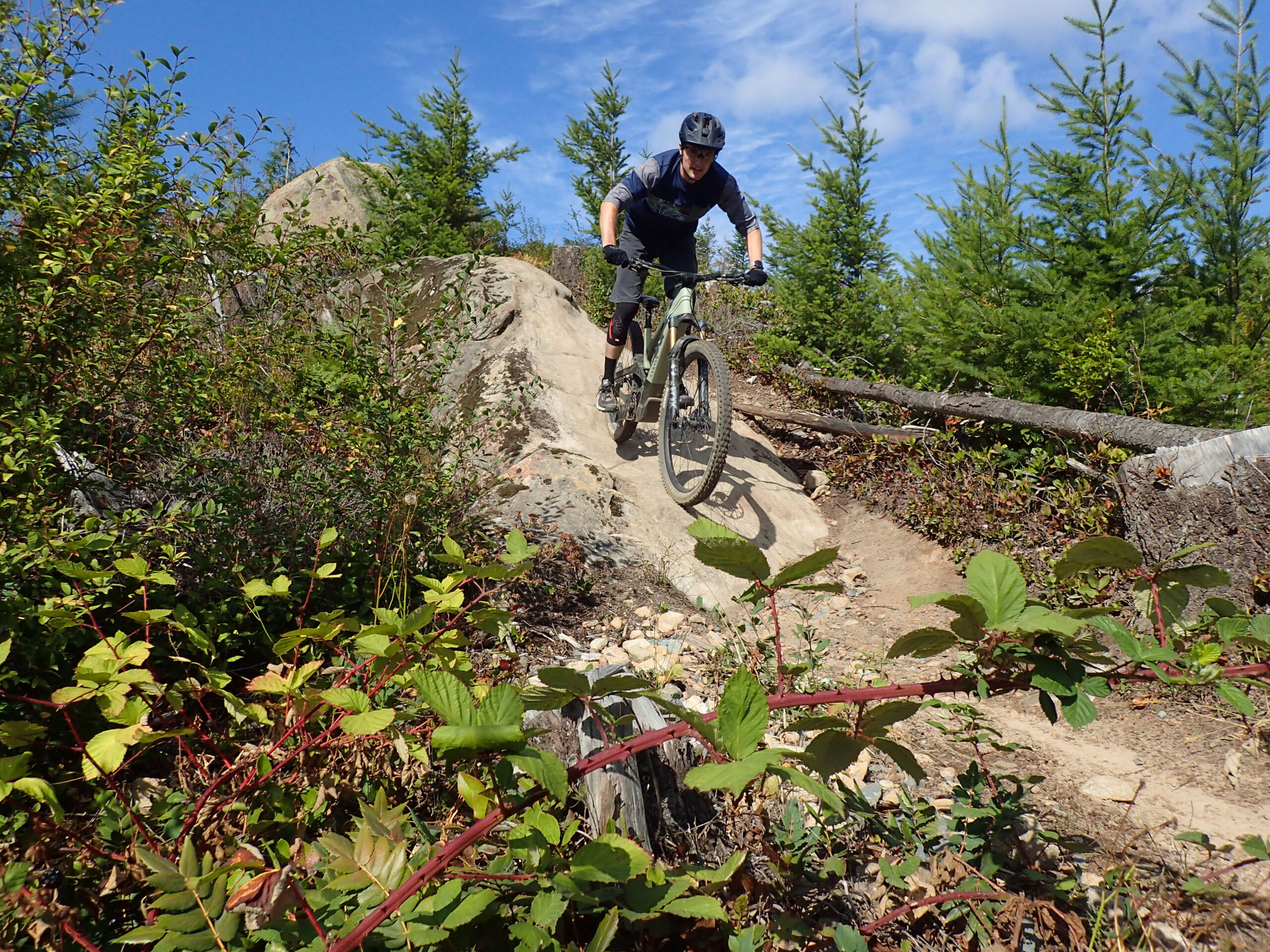 Fit & Sizing
Zack Henderson (6', 160 lbs / 183 cm, 72.6 kg): Sometimes looks can be deceiving, but in the case of the Torque:ON's imposing stature, they are not — this is a big bike in every sense. Our size Large review bike has a 500 mm reach, 657 mm stack, and 645.6 mm top tube length, while the 63.5° head angle kicked the wheelbase up to 1306 mm — all numbers that measure a bit larger than my typical fit preferences. Per Canyon's online fit guide, I fall in the "M/L" camp, meaning I could go with either a Medium or a Large, but I found myself pretty content with the longer reach of the Large.
The one measurement I didn't quite get along with was the tall 657 mm stack height. Despite the Torque:ON's bars measuring the same distance from the floor as my personal Specialized Enduro, the bigger BB drop on the Torque:ON meant a taller stack measurement and a more upright feel. The shorter 648 mm stack of the size Medium Torque:ON might have helped this, but I would lose nearly 30 mm in top tube length and 25 mm in reach, which would likely have felt a bit short. I ended up messing with spacers quite a bit, and another solution down the line could have been some lower-rise bars than the 30 mm rise option that ships with the bike. I did get used to the upright riding position and came to appreciate it in the steeps, but the fit of the Torque:ON does create a notably upright body position.
All in all, the Large was the right call, but large gaps in Canyon's sizing measurements can make it a bit tricky for folks falling in between sizes. Given the weight of the bike, sizing down could be a worthwhile consideration if you are looking for more playfulness out of the Torque:ON.
[Have a look at the geometry sections in our Mountain Bike Buyer's Guide for a refresher on how all of these geometry numbers relate to each other.]
David Golay (6', 175 lbs / 183 cm, 77.9 kg): I only took a single ride on the Torque:ON before handing it off to Zack to review, but I quickly felt comfortable on the Large frame, and am quite confident that I wouldn't want to size down to the Medium. It's an undeniably big bike, but I appreciated the tall stack height for helping to manage the added heft of the motor and battery — being more centered and upright on the bike makes it easier to loft the front wheel and so on. Though the effective top tube is longer than I'd generally prefer, I didn't feel too badly stretched out on the Torque:ON. But again, I didn't spend a ton of time on it, so consider those thoughts rather preliminary on my part.
Climbing
Zack: Hopping aboard the Torque:ON, the upright position is comfortable for just pedaling along, if not perhaps almost too relaxed — it was oddly reminiscent of some of the dirt bikes I spent time on in my youth. Like a dirt bike, the big green Canyon absolutely loved to fly up fire roads, begging you to take just one more lap. Setting the bike into Boost mode, I regularly found myself ascending relatively steep grades at 10-13 mph. This proclivity toward fire road blasting worked well on my local trails, where heinously steep and long fire road climbs are a necessary evil to get to the best descents.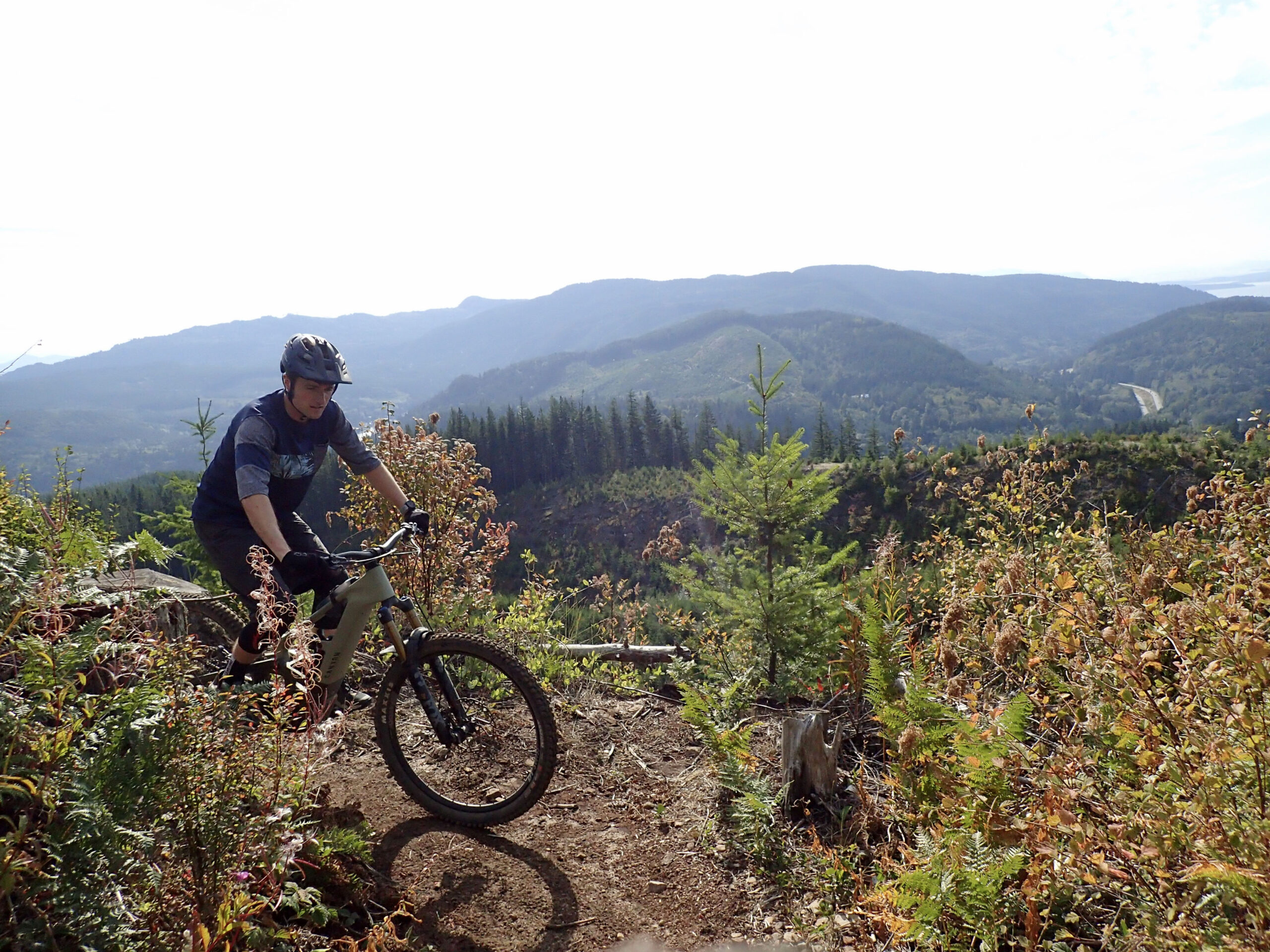 On less wide-open climbs, that body position paired with the bike's slack head angle and sheer length make for some headaches in switchbacks and tighter terrain, with the low bottom bracket also resulting in quite a lot of pedal striking. I found that the 27.5'' rear wheel offered a bit less grip than I typically expect from full 29'' bikes that I typically spend time on, though the huge volume of the 2.6'' Maxxis Minion DHRII rear tire may also be to blame; it seemed to want to float on top of loose terrain rather than digging in. A narrower tire with slightly taller knobs could be the ticket to unlocking some extra climbing traction on steep, loose climbs.
The Shimano EP8 motor seems to be happier to deliver power at a higher cadence, sometimes feeling like it doesn't want to match rider output in low-cadence, high-power efforts. That tendency paired with the low bottom bracket height of the Torque:ON made for some frustrating attempts at climbing irrationally steep or technical bits of trail, but it wasn't nearly as much of an issue on more typical climbs. I also learned to attack steeper terrain in a lower gear than I might otherwise, which mitigated the issue to some extent.
The stock tuning of the motor's "Trail" mode in particular was quite aggressive. While Eco mode provided an expectedly lighter assist, Trail mode was a huge jump in power delivery, and frankly almost indiscernible from Boost mode, aside from Boost offering a bit more over-run (i.e., continued assist once you stop pedaling). This made steep, tight climbs a bit of a challenge, since I found Eco to offer too little help, but Trail to offer too much, with the motor readily overpowering and spinning the rear wheel. Fortunately, Shimano now offers their E-Tube app, which allows customized motor profiles for each of the three modes. Using that, I was able to detune the Trail mode to temper its acceleration and peak power, creating more differentiation between it and Boost mode, and in turn increasing its usability in typical riding scenarios.
David: I don't have much to add to Zack's take here. I didn't do any real technical climbing on the Torque:ON, but its pedaling position felt comfortable on more open fire road climbs, despite the pretty long effective top tube, relative to my typical preferences. The not-super long (for an eMTB, anyway) 445 mm chainstays did require a little care to keep the front wheel planted on very steep climbs, especially when taking a hard pedal stroke and getting a big power surge from the motor, but I was able to adapt pretty quickly and manage that aspect of the Torque:ON's climbing performance.
I'll just echo what he said about climbing traction and the differing assist modes — my lone ride on the Torque:ON consisted of a bunch of climbing on a steep, loose, rocky fire road, and I also struggled with the power delivery of the motor at times, with Eco mode taking a big effort to get restarted on the steeper bits, but Trail mode tending to just spin the rear wheel and dig a hole when I stopped and needed to get going again. My eMTB climbing technique is definitely far from polished — I don't spend much time on them, relative to our other bike reviewers — but it was clear that some re-tuning of the Trail mode would help there, and it's nice to hear that Zack found it to be effective.
Descending
Zack: The Torque:ON is quite obviously designed to thrive when the trail turns downhill, but it wasn't quite the monster that I expected. The riding stance is tall and confident while standing, bordering on overly so for me, due to the rather high stack, but that confident body positioning was initially met with a vague and sluggish suspension feel. While it muted trail impacts well, it wasn't exactly engaging to ride. So, I turned my sights to the suspension setup to see if I could unlock some more of its potential.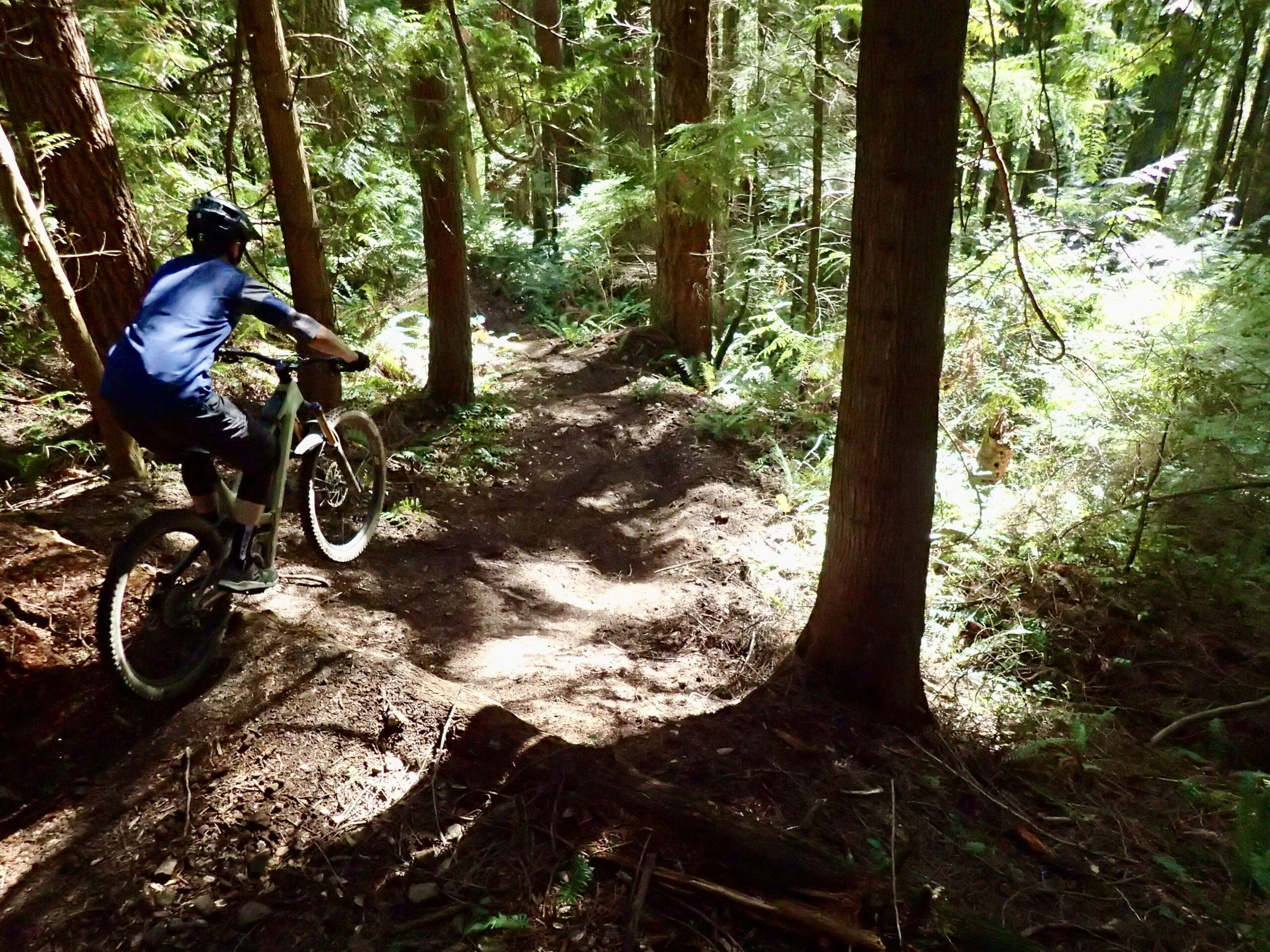 Despite being a familiar sight on many test bikes, the Torque:ON CF 9's Fox 38 Factory and Float X2 Factory proved to need some extra attention from a setup standpoint. This can likely be blamed on my lack of extensive familiarity with eMTBs, but I found that the extra chassis heft required some special tuning considerations compared to my regular setup. For my 160-pound self, I ended up running 91 PSI in the fork and 166 PSI in the shock while also keeping the low-speed rebound quite open on both. This helped to keep the suspension riding fairly high while the fast rebound improved the bike's ability to pop out of corners and recover from impacts. I ended up running quite a bit of low-speed compression damping as well to help further stabilize the chassis and maxed out the high-speed compression on the fork, but I still wished for more support on the roughest trails. I've complained about the lack of compression support on the Fox 38 Factory before, and that lack of damping is further exaggerated by the heft of an eMTB (especially a big-battery, long-travel one like the Torque:ON).
This suspension puzzling yielded vast improvements in the Torque:ON's on-trail personality. Suddenly the bike liked to jump, and the rear suspension proved particularly impressive in its ability to mute impacts while still returning a lot of energy when pumping or pressing into jump lips. The impressively supple-yet-supportive suspension made the bike more fun than expected at lower speeds, though the long, slack, and upright geometry made it clear that the bike wanted to go fast — it's not a bike I'd choose for locales lacking in elevation. The length and mass of the bike lent massive amounts of stability in really rough terrain and often felt like a benefit more than a hindrance when monster trucking through flat, fast, and rough sections. Styling a 54-pound bike in the air is never going to be easy, especially for someone devoid of style (me), but the solid feel and predictable suspension had me sending sizeable gaps quite quickly and confidently, and the mass helps to maintain speed through choppy terrain that typically bogs down lighter bikes. The Torque:ON's low bottom bracket and low center of gravity lent a locked-in feel on long, sweeping corners, despite some unwanted squirm from the EXO+ casing tires (more on that in the Build section below). On the right trails, the bike was a hoot.
Once I was more comfortable, I started seeking out steeper terrain. Again, the bike's preferred upright body positioning lent a lot of confidence when creeping up to the edge of a steep chute, and the smaller rear wheel was easy to tuck into deep rutted turns that often follow a nasty chute or rock roll. Despite these promising characteristics, exploring this more serious terrain is when I started to find some limits of the Torque:ON.
The biggest limitation that reared its head quite quickly and violently was the exceedingly low bottom bracket. The Torque:ON has a published bottom bracket drop of 32 mm, which would be substantial for a 29er with this much suspension travel, but take into account the mullet configuration, and the bottom bracket height is remarkably low. I measured it at 330 mm, a full 10 mm lower than my Specialized Enduro. This is further exacerbated by the fact that the motor and battery packaging push the downtube forward and below where the bottom bracket would wind up on a regular bike, and you end up with just 265 mm of ground clearance — a number that drops even lower when accounting for sag, not to mention on-trail use of its generous 175 mm of travel.
Given the added heft of a huge 900 Wh battery and motor, keeping that mass low in the frame makes a ton of sense to preserve handling. Unfortunately, Canyon seems to have taken that a bit too far. I actually received the bike from David with the skid plate zip-tied on after already having been ripped off on the first ride, breaking the rubber retaining clip. Over the subsequent months of testing, I managed to rip the cover off not one, not two, but six times, and all on trails I know well and ride without issue on my other bikes. The frequency with which this happened had me adjust my riding to compensate, often avoiding steep rollover chutes and drops where motor and/or pedal strikes might be possible.
I will caveat this commentary by mentioning that I do live in a place with particularly rough, steep, and obstacle-laden trails. In an environment with fewer fall-line trails and more open, bike-park-like terrain, the low bottom bracket could likely prove a non-issue. But for all of its monster truck ride characteristics, the low bottom bracket limits the terrain where the Torque:ON feels truly carefree.
David: My lone ride on the Torque:ON took place in Squamish, BC, where there is no shortage of rock rolls and other such moves, and the motor cover took quite a beating in a small amount of time. The bottom of the downtube (where the motor cover resides) sits very low and very far forward, and between that and the heft of the Torque:ON, I found myself struggling to pre-jump into rock rolls cleanly enough to not smash the hell out of it. This came to a head after the fourth or fifth big strike I induced, where the motor cover fully ripped off at the apex of a roll and I found myself committed and needing to finish the move with the cover hanging down and scraping its way down the rock, which was rather alarming.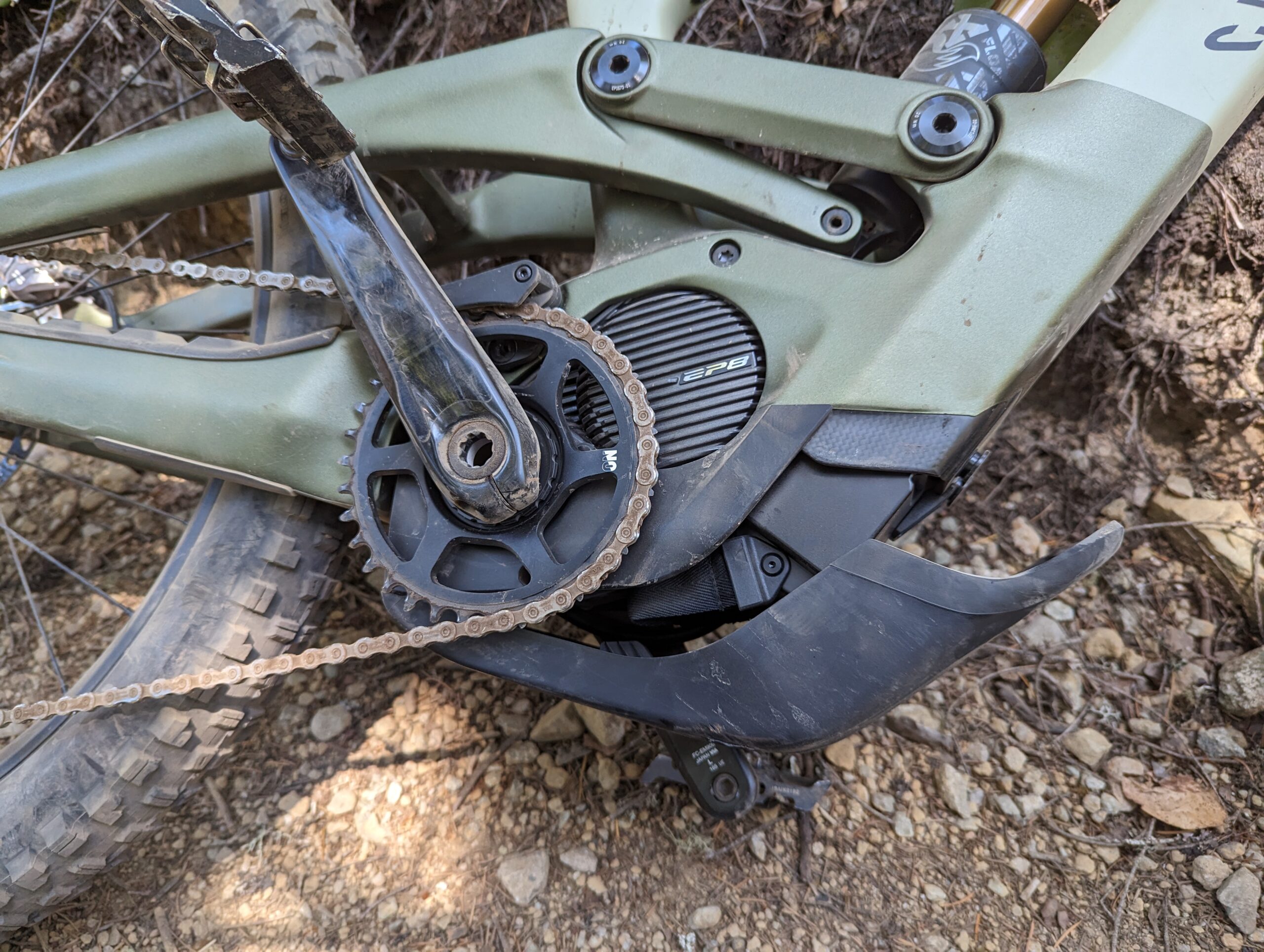 Granted, I was riding the Torque:ON in terrain that would be quick to expose such issues, but that skidplate and its mounting hardware could really stand to be beefed up — I both damaged the rubber strap that secures it and cracked the skidplate itself on the first ride. Many folks won't ride the Torque:ON on the same sorts of rock rolls all the time, but the motor is still very exposed and is liable to take quite a few strikes on all but the smoothest trails.
I do think that the Torque:ON's low bottom bracket and center of gravity help it feel relatively natural and easy to manage on bits of trail where the lack of clearance doesn't pose a challenge, despite its considerable weight. It's not super easy to flick around, exactly, but the weight feels nicely centralized and the Torque:ON corners really, really well in better-supported, more open corners when you're able to carry a bit of speed and don't need the bike to change direction super quickly. It's really easy to load up through the pedals — all that low-slung weight helps — and rail through a turn. It does feel like Canyon's on to something in describing the Torque:ON as a Freeride e-bike: it's got ample suspension travel to soak up big landings and the like, but feels better oriented toward flowier jump lines and the like than steep, rocky tech and so on.
The Build
Zack: Canyon does a great job of packing a ton of value into their builds, and the Torque:ON CF 9 build we tested represents a pretty incredible value for a carbon fiber eMTB. By shelling out $6,499, you get Fox Factory suspension, DT Swiss HFR1500 wheels, and a full Shimano XT M8100 build. Contact points and the dropper remain Canyon's in-house offerings, and while I might upgrade grips and bars based on personal preference, everything was perfectly solid through the test period. I also applaud Canyon for putting a 200 mm dropper on the bike.
[Note: the stock Canyon bar and stem route the wire for the bar-mounted display under the grip, through a hole in the bar, and out underneath the stem, but you could just run it externally if you sub in a different one.]
Note to all eMTB manufacturers: please stop skimping out on tire spec to save weight and/or cost. Most eMTBs, let alone a heavy hitter like the Torque:ON, deserve a burly tire spec, and despite being some of my favorite tread patterns, Exo+ casings on the Maxxis Assegai 2.5'' / DHRII 2.6'' tires were a letdown. I didn't experience any punctures, but the 54-pound Torque:ON put a lot of force into the tires and casing squirm was very noticeable. Additionally, the 2.6'' DHRII rear tire was an odd choice, adding to the squirming sensation and tending to float on top of softer dirt rather than digging in for grip. I did appreciate the MaxxGrip compound on the Assegai up front, but if this were my bike, I'd be stepping up to DoubleDown or DH casings pretty much immediately.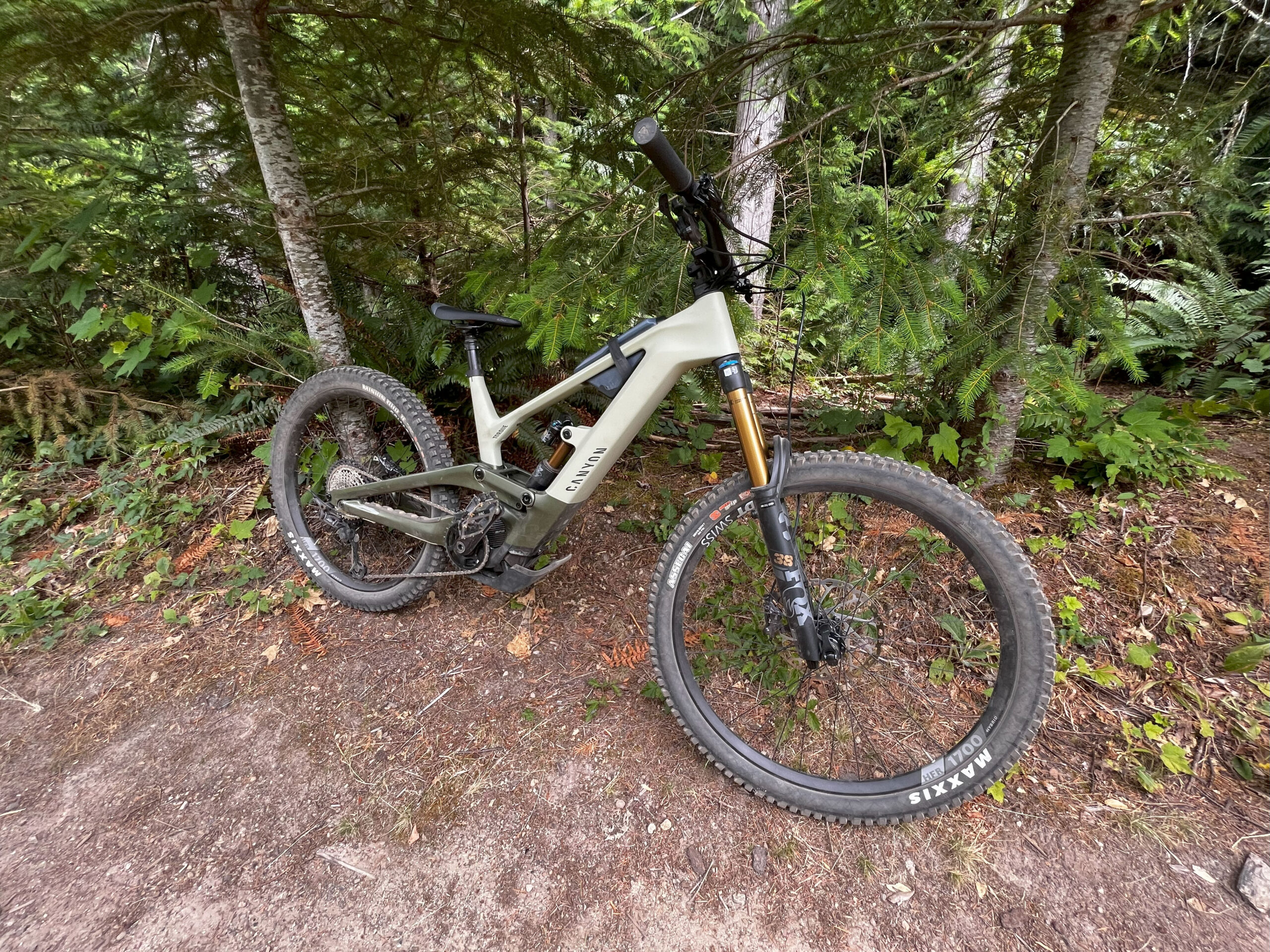 Another small but nagging issue was the brakes. While they avoided the disconcerting wandering bite-point issue that some Shimano brakes can exhibit, I would have expected a bit more power out of the Torque:ON CF 9's 4-piston XT brakes and 220 mm rotor up front. The culprit seemed to be the pad compound and rotor combination — resin pads on standard 1.8 mm rotors didn't manage heat well and tended to glaze over. While they were workable, I would encourage buyers to step up to a sintered pad and consider a 2 mm or thicker rotor for better heat management.
Fox's Float X2 has a mixed track record with reliability to say the least, and unfortunately, this one met the same fate as several others I've ridden lately. After just 10-15 rides I was met with loud squelching noises indicating that air had made its way into the damper. Fox has reportedly implemented a fix in their 2024 iteration of the ever-popular X2, which is retrofittable to older shocks as well — if true, that would make it easier to recommend the X2 once again, since it does perform well when working properly.
Ignoring the battery cover woes that I mentioned above, the Torque:ON frame itself held up well without any bolts loosening or any unexpected noise. The absolutely gigantic downtube is a magnet for flying rocks and trail debris, but aside from the odd hollow knock from a flying object, it remained unscathed. Yes, there is headset cable routing, and yes, it is annoying even for the mechanically inclined, but I didn't have issues with rough bearings during my admittedly relatively dry testing period — winter riding would be the real trial for those headset bearings. Canyon still uses custom-shaped headset spacers on most of their bikes, which match the shape of the in-house stem, and while they do create a streamlined look, swapping to an aftermarket stem would likely warrant picking up some standard headset spacers. As a final note, the rubber grommet for the brake and speed sensor routing on the chainstay consistently popped out, and I'd recommend securing it with some caulk or glue.
I'm sure many of you who got this far were waiting for some complaints about the custom, gas tank-like water bottle. It's definitely a love / hate thing, and while some of my riding buddies liked the look, there's no denying it's a bit of a pain. The plastic is quite rigid and hard to squeeze, the integrated strap in the frame makes it a pain to use while riding, and the top leaked a little. I still used it, but I'd typically wait until the top of a climb and unscrew the top to drink. The thought crossed my mind to remove the mounting plate and use it as a tool storage location instead, but I was hesitant to throw a bottle in a fanny pack. Ultimately, the bottle works, but it does make me wonder if Canyon could have come up with a non-proprietary water-carry solution.
Unfortunately, this $6,499 CF 9 model is no longer available at the time of publishing this review, but Canyon still offers a CF 8 ($5,499 USD) and the top-of-the-range CF Roczen ($8,199 USD).
Drive System and Range
The Shimano EP8 motor is perhaps the most common motor out there these days, at least in the US, and it's a dependable option with plenty of service support. Canyon opted for Shimano's standard bar-mounted display, which is simple, intuitive, and offers helpful details like an odometer, expected battery range, and speed. The EP8 motor's typical 3 modes (Eco, Trail, and Boost) are easily toggled using the typical left-hand thumb remote, but as discussed in the Climbing section, the stock tuning of the motor needed some work. Once I ironed things out via the E-Tube app, the mode differentiation felt much more natural and offered a more usable range for different terrain.
Modes aside, the EP8's power delivery remains a bit binary, feeling slightly more on/off compared to the more subtle delivery of some more recent competitor motors (Bosch, Specialized). It isn't the quietest motor either, but hardly a racket.
The big story in the case of the Torque:ON is the 900 Wh battery, which to my knowledge, only Norco can currently compete with in terms of capacity. Range anxiety was never a thing with this amount of juice packed into the downtube, and I never once managed to kill the battery in a single ride, only finally hitting empty after 2 consecutive rides totaling over 10,000 feet of climbing and 30 miles in very steep terrain. In fact, the battery offered so much range that I couldn't help but wonder if I would instead prefer the weight and cost savings of something a bit smaller.
It is important to note that the 900 Wh battery comes stock on the CF 9 and CF Roczen models, but is available as an upgrade on the lower-spec models of the Torque:ON as well — the exception being that size Small bikes max out at the 720 Wh due to space constraints. I don't weigh much at 160 lbs so the bike is working a bit less hard to winch my mass up the hill, but for a ~2-pound weight savings and presumed cost decrease as well, I'd happily opt for the 720 Wh battery, given the choice.
Who's It For?
Experienced riders looking for a burly eMTB that will haul them to the top comfortably and quickly and hold up to lots of speed and rough terrain on the way down will find a confident partner in the Torque:ON. Its stout feel and impressive performance on fast, chunky, and jump-filled trails make it a great option for riders who love bike park-like trails. The issue of the bottom bracket height poses some notable limitations for riders who prefer steeper natural trails with lots of obstacles to roll over.
Bottom Line
Canyon managed to pack a ton of battery life, suspension travel, and value into their Torque:ON. The result is a bike that wants to go fast and remains composed and confident while doing so. Its low-slung design that contributes to that stability does hinder its trail manners and ground clearance in steeper and rougher terrain, but for riders seeking a forgiving ride that can blast countless laps in bike-park-like settings, the Torque:ON is a very compelling option.