Canyon Torque:ON CF
Wheel Size: 29'' front / 27.5'' rear
Travel: 175 mm rear / 180 mm front
Stated Weight:
52.2 lb / 23.7 kg (Torque:ON CF9, Medium, w/ 720 Wh battery)
7.4 lb / 3.4 kg (frame only, without battery or motor)
Geometry highlights:
Sizes offered: S, M, L, XL
Headtube angle: 63.5°
Seat tube angle: 77.5º
Reach: 475 mm (size Medium)
Chainstay length: 445 mm
Drive System highlights:
Torque: 85 Nm
Power: 250 Watts continuous
Battery: 720 Wh or 900 Wh
Motor: Shimano EP8
Frame material: Carbon Fiber
Price: Complete bikes $5,499 to $8,499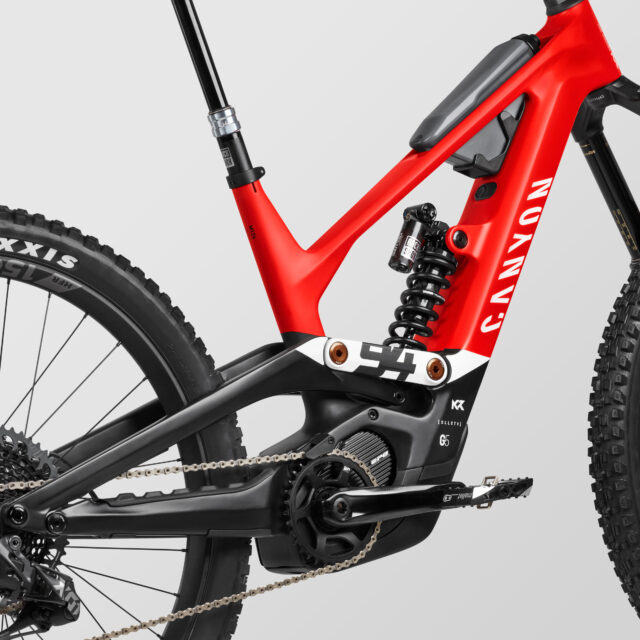 Intro
Canyon's long travel alloy Torque:ON e-MTB gets a new stablemate in the new Torque:ON CF. As to be expected, CF denotes a new carbon fiber frame, but there are also bigger batteries and geometry derived from the non-motorized Torque to set it apart. And apart it is, with Canyon billing it as an uncompromised freeride machine, but there are always compromises — so will the Torque:ON CF fall victim to them, or be the better, more focused machine as a result of them?
The Frame
Canyon is not shy about stating they took inspiration from off-road motorcycles when designing the Torque:ON CF frame — with its low-slung shock, low motor placement, and low BB, it certainly does look the part, not to mention the Ken Roczen edition livery further distinguishes the moto connection. Travel numbers come in at 175 mm for the 27.5" rear wheel and 180 mm for the 29" front, but there's a whole lot more to talk about, so let's dive in.
With a started weight savings of 1.5 kg over the alloy Torque:ON, the new carbon frame — one that Canyon says gets their highest rating (5E) and most abusive testing regimen — is claimed to be 7% stiffer in the front triangle and 25% stiffer in the rear. Aesthetically the suspension looks quite a bit different than the current Torque:ON (and all of their other bikes for that matter), but it still utilizes Canyon's Triple Phase suspension design, which is essentially a four-bar Horst link system. Despite its different appearance, the kinematics remain close to the existing Torque:ON, and in Canyon's own words — "if ain't broke don't fix it". The progressive leverage curve is basically the same as the current Torque:ON, though they did tweak a few things like dialing back the anti-rise, and opted for a slight increase in anti-squat, with the intention of reducing trail chatter and improving braking performance.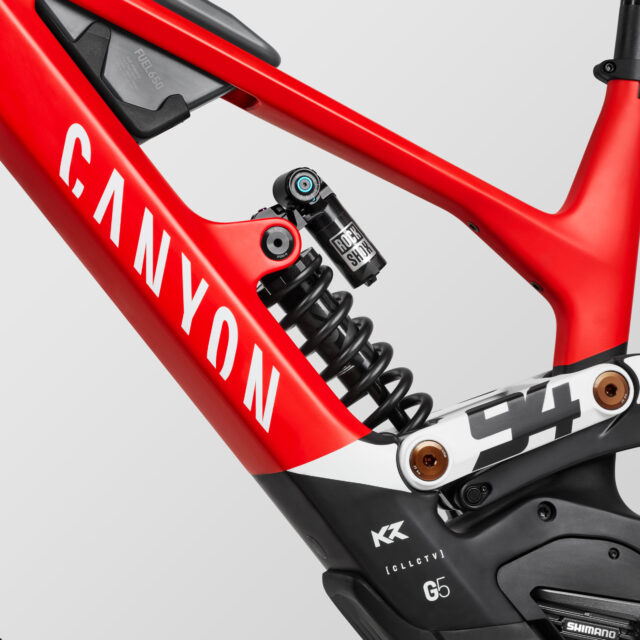 The 175 mm of rear travel can be achieved with either air or coil shocks. Up front, max travel is listed at 190 mm, but before you get excited about dual crown fork possibilities, they are not compatible due to the width of the downtube, which would decrease the turning radius. Canyon has opted to go for a mixed-wheel size design with no flip chips and no provisions for changing the rear wheel size. We think this makes sense due to the Torque:ON CF's freeride focus — this is not a jack-of-all-trades bike, so building in adjustability would likely dilute those intentions.
At first look, It's hard not to notice the cut-out in the top tube for the water bottle. Canyon prioritized a low center of gravity, weight distribution, and ride characteristics first and foremost, which left the poor old water bottle with no place to call home. Understanding the need for hydration, they engineered a split in the top tube and a custom 650 ml water bottle (which will be included with the bike purchase) to slot into it. There's a strap to secure it with the thought that you'll be drinking between laps and not reaching for it while riding.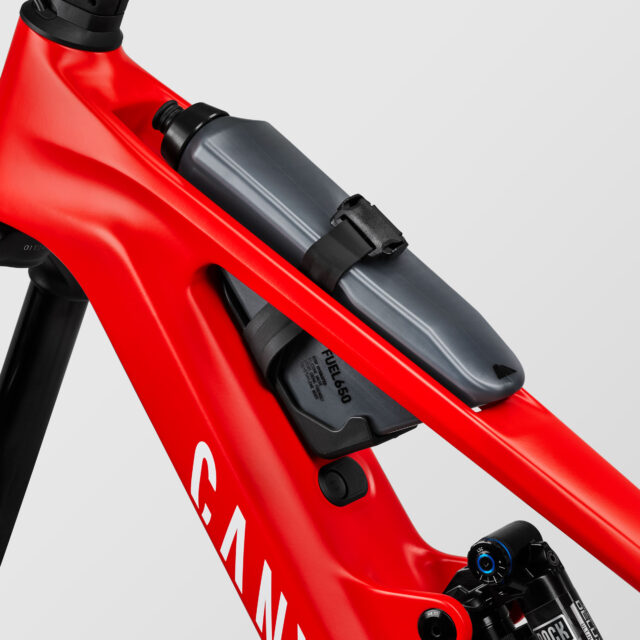 Other noteworthy frame features include internally guided cable routing, room for a 2.6" rear tire, burly frame protection, and available custom front and rear fenders. There are also tool storage/bag mounts on the underside of the toptube back by the seattube junction. On the service side, Canyon implements replaceable threaded inserts at the pivot locations. This is a thoughtful touch, and it doesn't end there, as they've also spec'd double-sealed bearings throughout — an eye on serviceability doesn't go unnoticed.
The Drive System
The Torque:ON CF pairs the Shimano EP8 motor with custom 720 Wh and 900 Wh removable batteries, and are the same ones used on the Spectral:ON. The batteries feature a unique horizontal cell layout and are quite long, the idea being to spread out the weight as much as possible for improved weight distribution. Though they're custom-made for Canyon, warranty support for the batteries will be offered through Shimano's STEPS service program, and Canyon says that any Shimano dealer will be able to help out with warranty issues or order replacement batteries should the need arise.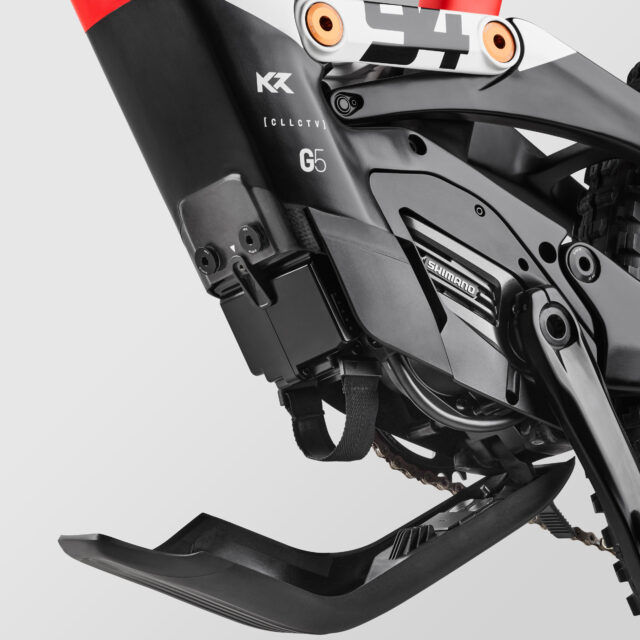 Canyon has also adopted a Rosenberger-style magnetic connector for the battery to drive/charger connection. We've experienced this type of connector on Specialized eMTBs and find them to work exceptionally well, while also simplifying battery removal. The Torque:ON ships with a 4 Amp charger that Canyon says can charge the 720 Wh battery in about 6 hours or the 900 Wh one in about 7.5; a 6 Amp charger is available as an upgrade, which knocks the stated charge times down to about 4.4 and 5.3 hours, respectively. Overall, we like Shimano's EP8 drive system, it offers a competitive 85 nm of torque, it's relatively compact, and has proven reliable so far.
And finally, the bigger 900 Wh battery isn't compatible with size Small frames due to their physically shorter downtube; models that come with the 720 Wh battery can be upgraded to the 900 Wh one for an upcharge in all other sizes.
Fit & Geometry
Canyon is talking a lot about the Torque:ON CF being oriented more toward playful riding than outright speed, but it's still a very long, slack bike. The geometry numbers are a close copy of the non-motorized Torque with the exception of an extra 10 mm added to the chainstays and reach(per size). This, according to Canyon, was done to give more overall stability and extra room to shift weight forward during steep technical climbing. At 657 mm (size L) the stack numbers are quite high, which we are fans of for longer travel full-power e-MTBs. All four sizes get a 63.5° headtube angle and 445 mm chainstays, paired with reach that ranges from 450 to 525 mm in 25 mm increments — so 475 mm on the Medium and 500 mm on the Large — all of which adds up to a quite-long wheelbase, at 1,276 mm on the Medium, or 1,306 mm on the Large frame. A steep 77.5° effective seat tube angle keeps the effective top tube measurements from getting too wild, but at 619 mm for the Medium frame, it's still pretty long too. And the 32 mm bottom bracket drop (relative to the front axle) is notably low for a 175mm-travel e-MTB.
The smaller 27.5'' rear wheel presumably does make the Torque:ON CF a little more nimble than it would be as a full 29er, but between the geometry and the heft of a full-power e-MTB with a huge battery and burly parts, we'd expect the Torque:ON CF to be a very stable, hard-charging bike first and foremost. But Canyon's really emphasizing the playfulness of the Torque:ON CF, so we'll just have to get on one to find out.
The Builds
Canyon is currently offering the Torque:ON CF in three builds, with pricing ranging from $5,499 for the CF8 up to $8,499 for the Ken Roczen pro model. All three get a Shimano EP8 motor, with the CF8 builds coming with the smaller 720 Wh battery, and the CF9 and Roczen getting the bigger 900 Wh one (apart from size Small frames, which only have enough room in the downtube for the 720 Wh version). The CF8 and CF9 builds get Shimano drivetrains and brakes with Fox 38 / Float X2 suspension, and the Roczen build gets a RockShox ZEB / Super Deluxe Ultimate Coil suspension package and a SRAM X01 AXS drivetrain and Code RSC brakes. All builds will get 165 mm cranks, which we're seeing as more of the norm for e-MTBs. And in the case of Torque:ON CF with its relatively low BB, are kind of a necessity, plus they typically raise the pedal cadence, which helps keep the motor in the sweet spot.
Drivetrain: Shimano SLX w/ Deore cassette
Motor: Shimano EP8
Battery: 720 Wh
Brakes: Shimano SLX 4-piston w/ 203 mm rotors
Fork: Fox 38 Performance
Shock: Fox Float X2 Performance
Wheels: Sun Ringle Duroc SD 37/42
Dropper Post: Canyon Iridium
Drivetrain: SRAM X01 AXS
Motor: Shimano EP8
Battery: 900 Wh (720 Wh on Small frames)
Brakes: SRAM Code RSC w/ 220 mm front / 200 mm rear rotors
Fork: RockShox ZEB Ultimate
Wheels: DT Swiss HFR1500
Dropper Post: RockShox Reverb AXS
As per usual for Canyon, the various Torque:ON CF builds are all notably good value for money in terms of their parts specs. The Torque:ON CF8 and CF9 are available now, with the Roczen build coming this summer — and yes, Canyon is aware that Ken Roczen rides a Suzuki, and played with some yellow colorway options, but in the end, Ken just likes red more. A less-expensive Torque:ON CF7 is also slated for this summer, but we don't yet have the full details on the build for that one.
Some Questions / Things We're Curious About
(1) Canyon is describing the Torque:ON CF as a playful, freeride-oriented bike first and foremost, but it's notably long and slack, features burly builds, and generally looks like a big, stable bike. So how will that all pan out on the trail?
(2) The Torque:ON CF also looks like an especially good value for money in terms of the parts spec. Does it feel like there are any corners cut in the frame or anywhere else to make up for that?
(3) Granted, the Torque:ON CF is clearly oriented toward going downhill first and foremost, but the whole point of an eMTB is to climb to get there, and a low BB coupled with long travel often results in poor technical climbing with lots of pedal/crank strikes — will this be the case with the Torque:ON CF?
(4) Will the lack of compatibility with dual crown DH forks hold the Torque:ON CF back?
Bottom Line (For Now)
On paper it looks like the Torque:ON CF is aimed squarely at the rider who lives in an area with gnarly downhill trails that dictate shuttling, and no, or limited lift access. It's an interestingly narrow focus, but also one that also makes a whole lot of sense. The question is, are there enough riders out there who fit that small niche — it would seem Canyon believes there are, and we hope they're right because this thing looks to be a whole heap of fun. We've got a Torque:ON CF on the way for testing, so stay tuned for more to come soon.