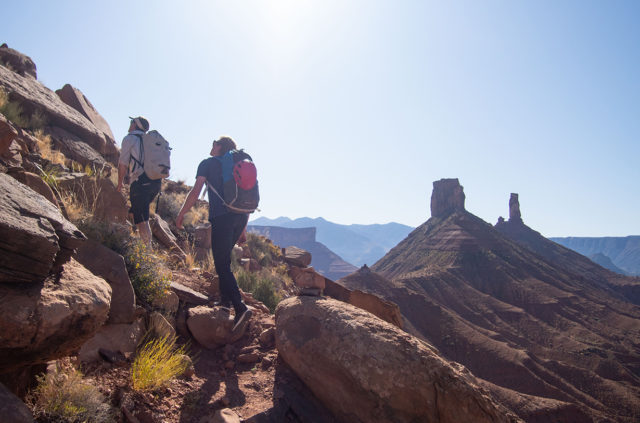 One of the most notable trends in apparel over the last few years has been the blending of casual apparel with performance fabrics, treatments, and features. This has spread across basically every apparel category, and nowadays, you can find a lot of great pants that not only look good, but also stretch, breathe, repel moisture, and / or just generally perform much better than your old cotton pants.
So here we've gathered several men's and women's pants in that category, from options that could serve as dedicated hiking and climbing pants to others that wouldn't look out of place at formal events. We've detailed what sets each one apart in order to help you figure out which one would be best for you.
A quick note on sizing: We've included measurements for our reviewers' "true waist" and "true hip" sizes. For the waist, we measured the narrowest point, just above the belly button. For the hip measurement, we measured the widest point.
KAVU Winterton Pant
Fabric: 60% cotton / 32% polyester / 8% spandex corduroy knit velour
Size Tested: Small
Reviewer's Waist Size: 26"
Reviewer's Hip Size: 31.5"
MSRP: $65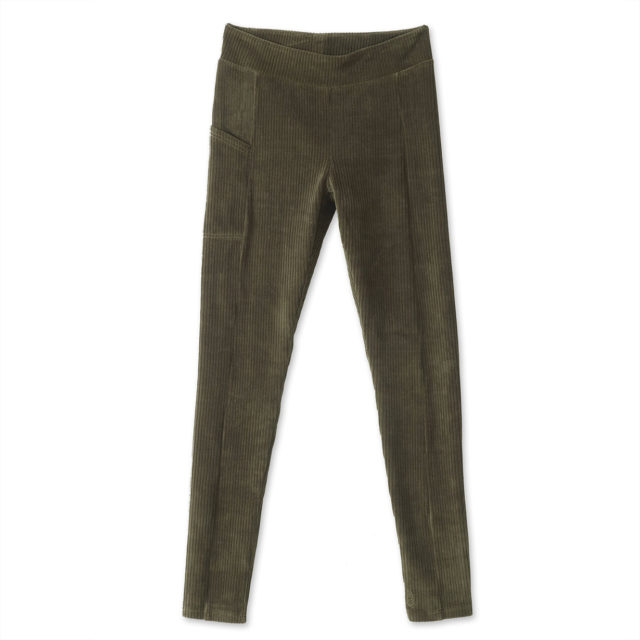 Kristin Sinnott: When temperatures start dropping, I find myself gravitating toward leggings — most of which are thin, black, and loosen / bag-out if you neglect to wash them after each use. The Winterton Pant is a bit of a hybrid — a cross between a legging and a skinny-leg pant. With its 10-oz corduroy knit velour fabric, it's as comfortable as my favorite pair of leggings but warmer, more substantial, and less "techy" in terms of appearance. The slightly stretchy and surprisingly durable corduroy fabric makes these pants great for hiking or even climbing, while not looking out of place off the trail or wall.
The Winterton Pants are long (34" inseam) but when scrunched at the ankle, they still look good and not frumpy. High waisted with a drop-in, cell-phone-sized pocket on the right outer thigh, the pants are warm enough for those transitional fall days when temps are starting to cool off.
Title Nine Clamberista Pant
Fabric: ClambR™ (93% nylon / 7% spandex with DWR finish)
Size Tested: 4
Reviewer's Waist Size: 26"
Reviewer's Hip Size: 31.5"
MSRP: $89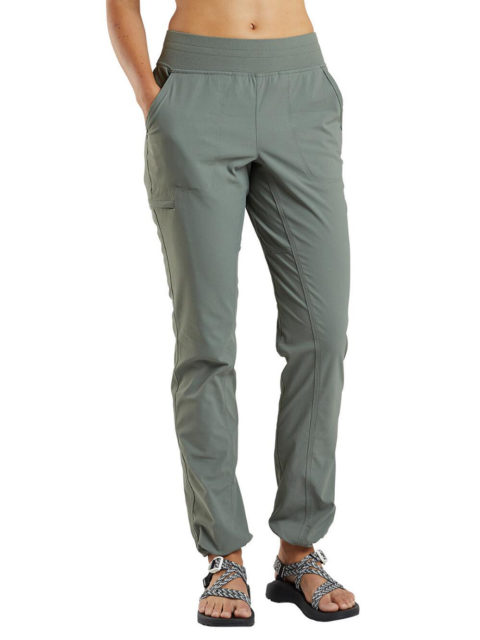 Kristin: The Clamberista Pants are about as multifunctional as pants can be. Their nylon / spandex blend fabric has a soft hand feel and the mid-rise elastic waistband (with an internal drawstring) is almost 2" wide and feels very comfortable, but not overly tight. The fabric is stretchy enough to allow plenty of mobility but not so stretchy that it looks or feels like some ultra-techy spandex pant. Thick enough to withstand minor abrasions, the fabric has a DWR finish that does a pretty good job of repelling light rain, spilled beverages, etc.
The Clamberista Pants have 5 pockets, all of which are micro-fleece lined. The two hand pockets are deep enough for your hands or a large cell phone and their angled opening keeps them from sticking out. A zippered pocket on the right outer thigh is the perfect size for a cell phone and the two smaller back pockets fit a wallet or other similarly sized items. The slightly tapered legs have an elastic cinch at the cuff — great for bike commuting as the underside of the cuff has some reflective tape. I've found myself shortening the pant legs by rolling up the cuffs rather than cinching them, but it's nice to have options. From biking to rock climbing to hiking, these pants are ideal for just about any activity. And even with their elastic waist, I don't feel weird wearing them around town.
RedThread Essential Ankle Pant
Fabric: Cotton, Polyester, Tencel, and Lycra
Size Tested: NA (custom)
Reviewer's Waist Size: 26"
Reviewer's Hip Size: 31.5"
MSRP: $128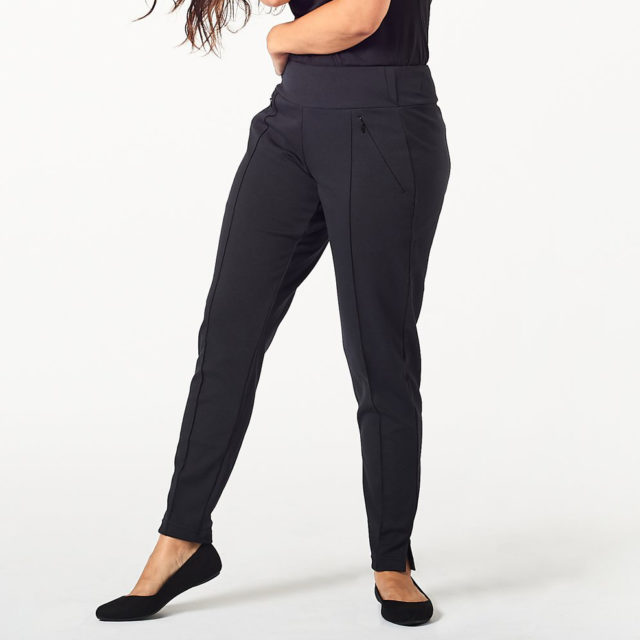 Kristin: Launched in October of 2018, RedThread is a custom clothing company with the lofty goal of eliminating sizing. As someone who doesn't typically struggle with fit issues or sizing constraints, I assumed I wasn't the target audience, but admittedly, I enjoyed the process and I love the finished product.
Having had custom clothes made on a trip to Vietnam, I was curious to see how it could be done online without any face-to-face meetings with a seamstress and his / her measuring tape. But I think RedThread has the process pretty dialed, and it all starts with a fit quiz. The quiz, which includes questions related to how other pants typically fit you, is quick. Afterward, you are instructed to take four selfies standing within a specific outline. The whole process takes about 10 minutes and the final product is shipped to the customer in less than a week.
RedThread uses the selfies to create a 3D body model. Each item RedThread makes is individually tailored to your measurements in South San Francisco. When my pants arrived, I immediately noticed an issue with the fit (the left hip area bowed out just a little) and after a quick email, I had a free return shipping label and clear instructions on how the alterations would proceed. I can't emphasize enough how good RedThread's customer service was — efficient and friendly (I went through the standard customer-service process that any customer would use).
The next package arrived with zero issues and I love the fit, feel, and look of the Essential Ankle Pants. Soft and slightly stretchy, the fabric is what I'd call a medium weight; thick enough that there is zero transparency, but not so thick that they're overly warm. With two hidden zippered pockets, a high waistband, and subtly pleated seams on the front and back, these pants are functional and they look good … really good.
As someone who is typically happy with traditional sizing on pants, I am extremely impressed by how much better a custom pair of pants looks. And the fact that these work for activities like hiking and yoga but are nice enough for a day at the office or a night out makes them even more impressive. With a guaranteed fit for life and great customer service, these pants are a great investment (and they come in at a pretty moderate price, given the customizable fit).
Mission Workshop Division Chino: Storm Cotton
Fabric: 98% cotton / 2% elastane plain weave with DWR finish
Size Tested: 29
Reviewer's Waist Size: 29.5"
Reviewer's Hip Size: 35.5"
MSRP: $205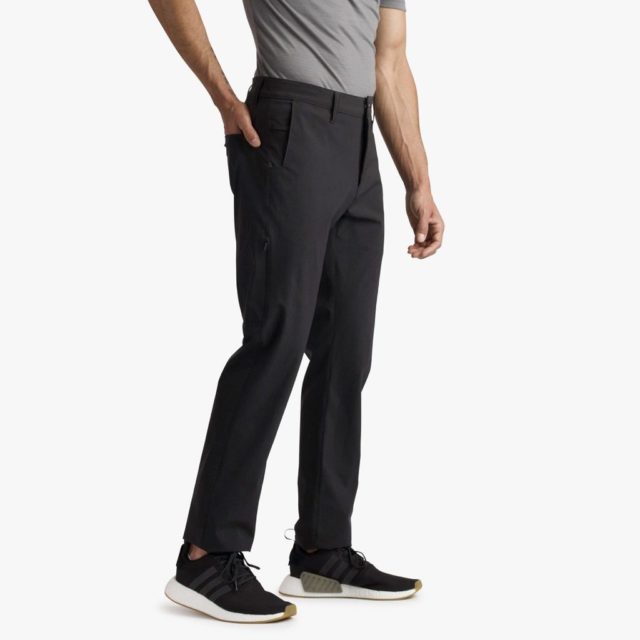 Sam Shaheen: Though not quite as extremely stretchy as some of the other offerings we've tested from Mission Workshop (e.g., their Mission Jean), the Storm Cotton Division Chino is an exceptionally comfortable pant that strikes a great balance of clean, tailored style and functionality.
This is one of the skinniest pants in this roundup, and it only comes in one inseam length (measured ~36"), so most people will need to hem or cuff this pant. It has a standard chino pocket layout but ads a discrete "invisible zip" pocket on the right leg to hold valuables. The "Storm Cotton" version of the Division Chino has a DWR finish that Mission Workshop claims is more effective and longer-lasting than traditional water repellent finishes, though to me, it seems fairly average (which is probably due to the cotton fabric to which the DWR is applied).
Overall, this is one of the most formal-looking pants in this roundup (apart from the next pant). I feel just as comfortable wearing them while bike commuting as I would at a Michelin Star restaurant (that is, if I ever went to one…). This might just be my new favorite pair of pants.
Everlane Performance Chino
Fabric: 94% cotton / 6% elastane twill weave
Size Tested: 29 (slim fit)
Reviewer's Waist Size: 29.5"
Reviewer's Hip Size: 35.5"
MSRP: $68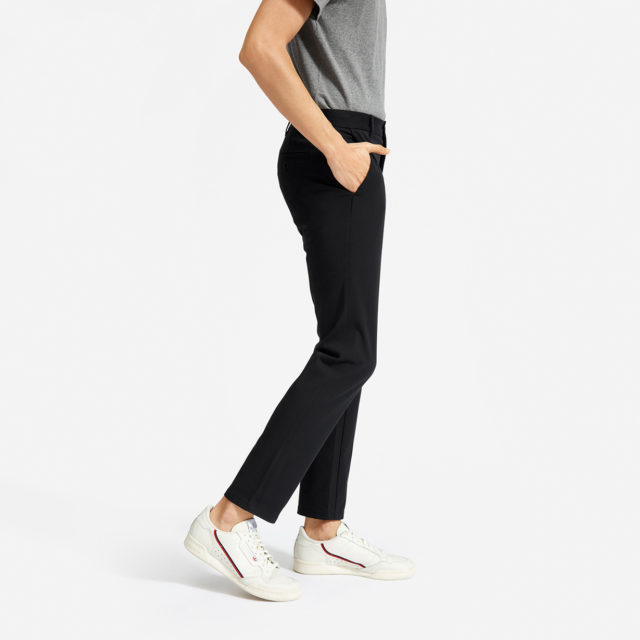 Sam: The Everlane Performance Chino is my first choice on this list for a more formal look and feel — I'd be comfortable in these on first dates, weddings, etc. The fabric has a great hand feel and stretches easily, making this one of the most comfortable pants in this group.
I have been testing a size 29 and it is a hair too small for me in the waist. I tend to fall in between a 29 and a 30 waist size, and in this case, I would have been more comfortable in the size 30. The Performance Chino's leg is cut quite slim and the inseam is a touch shorter than the waist — both of which give this pant a more modern, tailored fit.
There are better options here for climbing, hiking, biking, etc. But if you're seeking a nice looking pair of pants that are extremely comfortable, well priced, and don't need to be ironed or dry cleaned, the Performance Chino is easy to recommend.
Black Diamond Forged Denim Pants
Fabric: Cordura Stretch Denim (75% Cotton / 10% Nylon / 13% Polyester / 2% Elastane)
Size Tested: 30 x 32
Reviewer's Waist Size: 29.5"
Reviewer's Hip Size: 35.5"
MSRP: $125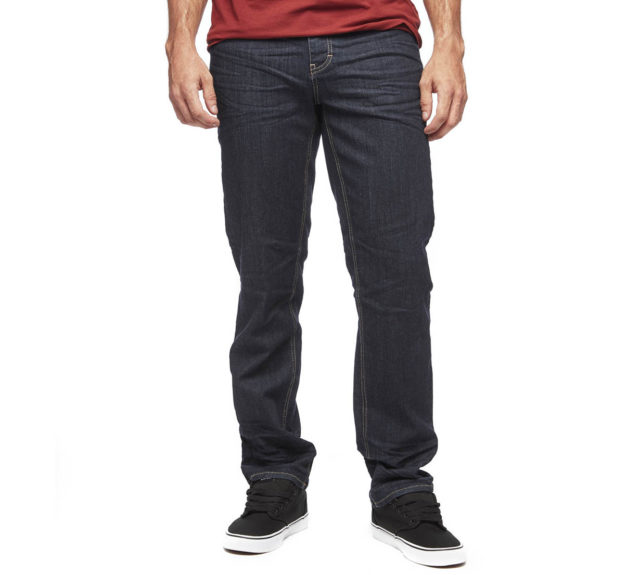 Sam: The first thing you'll notice when you put on the Forged Denim Pants is just how easily and how far they stretch — it is astounding. The Cordura Stretch Denim that Black Diamond uses in these pants is not only extremely hardwearing, but stretches more than any pant I've ever worn. The midweight 339 g/m2 fabric doesn't exactly match the softness and hand feel of cotton denim (this difference is only really noticeable in the slightly synthetic sound they make while walking) but the huge amounts of stretch more than make up for it.
The fit on these pants is much more relaxed than the previous two pants to help offer an unhindered range of motion. I find myself cuffing them several rolls when I climb so that I can easily see my feet, but if you're looking for a slim-fitting pant, there are better options here. But for a jean that in no way feels out of place at the climbing gym or crag, these are excellent.
Patagonia Lightweight All-Wear Hemp Pants
Fabric: 76% organic cotton / 24% hemp plain weave with an anti-pilling finish.
Size Tested: 30
Reviewer's Waist Size: 29.5"
Reviewer's Hip Size: 35.5"
MSRP: $89 (currently on sale for $53)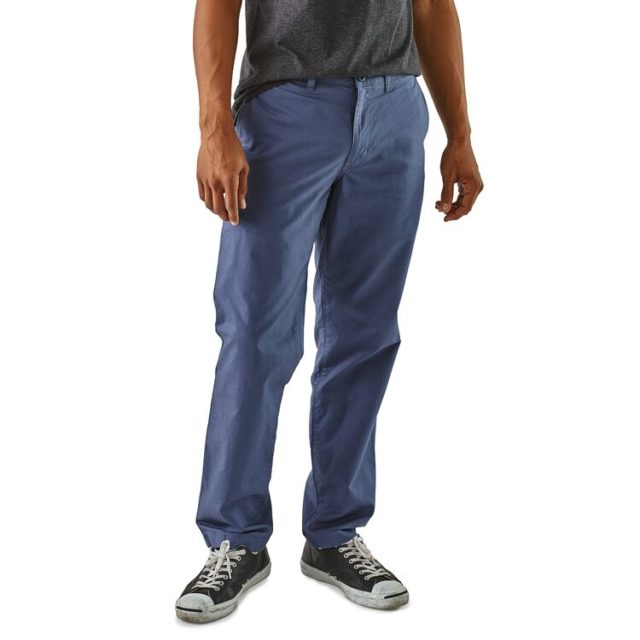 Sam: These lightweight, airy pants are made with a cotton / hemp blend that is very soft (as soft, or softer than any of the other men's pants here) and drapes very well. This is by far the most relaxed-fitting pant in this roundup, and that loose fit definitely adds to the lightweight and breezy feeling of wearing these pants. The 4.5-oz fabric isn't stretchy, but the roomy cut provides good range of motion.
The fabric looks quite nice which, combined with the relaxed fit, make the Lightweight All-Wear Hemp Pants surprisingly versatile. I often wear them cuffed in the summer with sandals or sneakers, or uncuffed with boots in colder weather. Unlike many of the pants here, the Lightweight All-Wear Hemp Pants feel most at home in warmer weather, and they have been quite a welcome addition to my closet.
Toad & Co 5 Pocket Mission Ridge Lean Pant
Fabric: 77% Organic Cotton / 21% Polyester / 2% Spandex twill weave
Size Tested: 30 x 30
Reviewer's Waist Size: 29.5"
Reviewer's Hip Size: 35.5"
MSRP: $75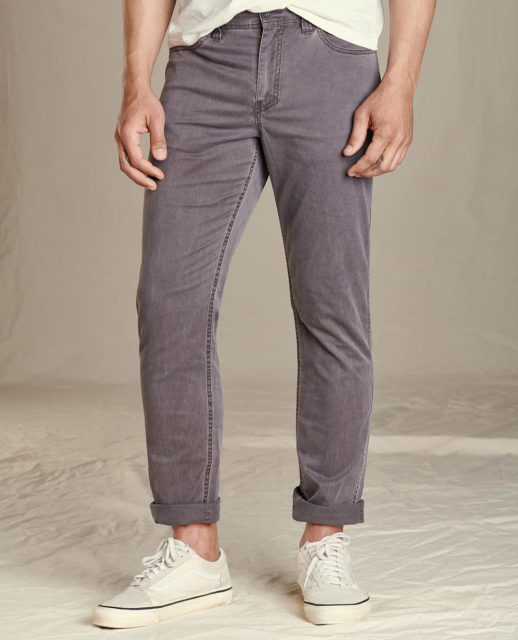 Sam: The Mission Ridge Pant is the flagship men's pant from Toad & Co and it comes in every varietal you could want in your closet: the standard version uses a classic khaki silhouette, there is a "lean" version with a more tailored fit, and a 5-pocket version, too. After testing out the 5-pocket "lean" version of the Mission Ridge, I've come away quite impressed.
The fabric is an excellent medium-weight cotton / polyester / spandex blend that is heavy enough to feel substantial without needlessly weighing you down or making you overheat in fairly warm weather. It has a bit of stretch and a very soft hand feel. The "lean" fit is still pretty relaxed (much more so than the Mission Workshop Division or Everlane Performance Chinos above) and I find myself cuffing this pant often as the 30" inseam feels a bit long for its stated length. The other thing I've noticed is that, in the "Buffalo" colorway I tested, the dye rather easily rubbed off on things like upholstery, bike saddles, and my fingers (when you're using the pockets often). This decreased after a couple of washes, but is definitely something to keep in mind. If you're looking for an all-around pant that doesn't feel out of place in just about any setting, find the Mission Ridge variety that best suits your needs and give it serious consideration.
Mission Workshop Mission Jean
Fabric: 55% cotton / 35% polyamide / 10% elastane twill weave w/ DWR finish
Size Tested: 31 (slim)
Reviewer's Waist Size: 30.5"
Reviewer's Hip Size: 36"
MSRP: $285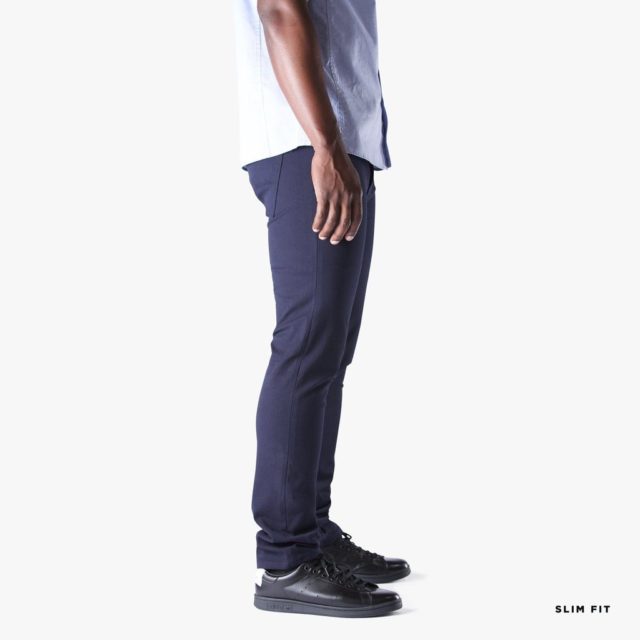 Luke Koppa: When I first got the Mission Jean, I thought it was extremely cool and impressive, but probably not something I'd personally buy due to its exceptionally high price.
But after 2.5 years of use (I'd guess I've worn them for ~350 days), I can now say that I would definitely spend my own money on them. In short, they're the most impressive pair of pants I've ever used. The first thing that's immediately apparent with these pants is their incredible amount of stretch. These are by far the stretchiest pants I have, and that's factoring in dedicated climbing and ski-touring softshell pants. The Mission Jeans' unique fabric just keeps stretching — it's unlike any fabric I've used (which usually restrict further stretching after you lift your leg up a bit). I find them a bit warm for gym climbing and they're not super water resistant, but in terms of stretch, they leave nothing to be desired.
And the really impressive thing is that the Mission Jeans look like, well, a regular jean. Despite the stretch, they drape exactly like medium-weight denim, which is something I've never found with pants that are similarly stretchy. The really, really impressive thing? These pants still fit, function, and look almost exactly the same as when I first got them. Normally, stretchy pants tend to "bag out" over time, but that has not at all been the case with the Mission Jean. The only minor thing that's changed after a few years of use is some very subtle fading of the dye at high-wear areas like the fly, crotch seam, and the back pocket where the corners of my wallet sit. In terms of colorfastness, the Mission Jean's black fabric is definitely better than any denim I've used.
Apart from its exceptional fabric, the Mission Jean has a traditional 5-pocket layout, which I prefer since I have a totally subjective preference against most thigh pockets on my casual pants. It comes in "slim" and "straight" fits; I have the slim version, and I'd say it fits pretty similarly to Levi's 511 fit. The straight fit version is cut the same in the thigh, but doesn't taper as much below the knee compared to the slim version.
The Mission Jean is definitely not for everyone, mostly due to its very high price. But if you want a pant that looks like a regular 5-pocket jean, stretches more than most dedicated climbing pants, and that does all of that while being exceptionally hard-wearing, I believe that the Mission Jean is a worthy investment.
Foehn Brise Pants
Fabric: 96% nylon / 4% spandex twill weave w/ DWR finish (Bluesign approved)
Size Tested: 32
Reviewer's Waist Size: 30.5"
Reviewer's Hip Size: 36"
MSRP: $129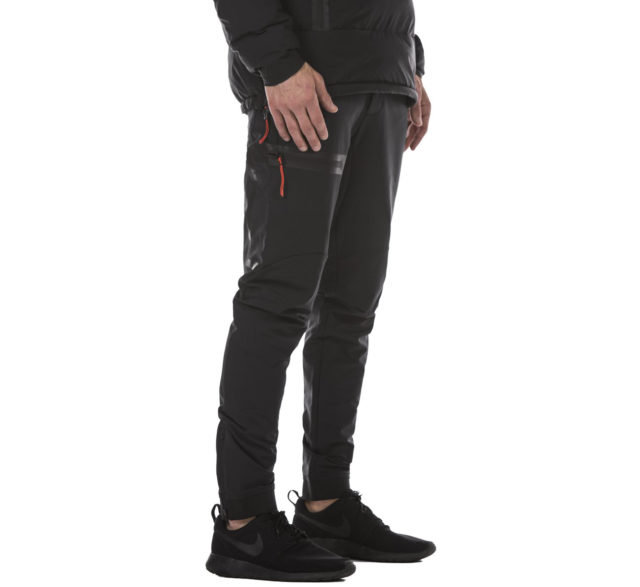 Luke: Foehn is a fairly new company, and one that I'm really excited about (their Robson Down Hoody is the most comfortable down piece I've ever worn). They market their clothes toward climbing and everyday use, and I'd say that's definitely where their Brise Pants excel. That said, I've also come to love them for cold-weather or lift-accessed mountain biking, as well as hiking and fishing.
The Brise Pants use a nylon / spandex fabric that's pretty light (claimed weight of 220 g/m2), very breathable, water resistant, and quite stretchy. It's light and airy enough that I used them for warmer (<70°F) mountain-biking days, but it's substantial enough that I haven't managed to tear it during a few bike crashes and some climbing. And the stretch of the fabric, gusseted crotch, and articulated knees make for plenty of range of motion.
The cut on the Brise Pant is very tapered — I'd call it pretty roomy in the butt and thighs, but it narrows significantly from the knee to the ankle. The silhouette is somewhat similar to a jogger, but the twill-weave fabric drapes more similarly to lightweight denim, which makes the Brise Pant look less like loungewear and more appropriate out in town. It also has a 6.5" / 16.5 cm zipper at the cuffs, which let you expand the elastic cuff for a less tapered look, or cinch them down to keep them out of the way while climbing or biking.
I'd say the Brise Pant runs a bit wide in the waist, but with a belt I have no issues with the size 32, and it features an elastic waistband that's really comfortable. The size 32 has a ~32.5" / 82 cm inseam that's a bit long on me, but the tapered fit means that the pant doesn't look all that baggy or weird, even with a bit of bunching around the cuffs.
The Brise Pants' zippered thigh pocket is great for a phone (there's an internal mesh sleeve that keeps it from bouncing around) while climbing or riding. I initially thought I'd hate the pocket because of its glossy seam tape and bright-red zipper pull, but in reality, it's less noticeable than I figured, and I personally really like the red accents on the black version of the Brise Pant. Apart from the thigh pocket, the Brise has a standard 5-pocket layout.
I think the look of the Brise may be a bit polarizing, but if you like it, the Brise is a great option for an everyday pant that can easily serve double (or triple) duty for climbing, hiking, or biking.
Topo Design Tech Pant
Fabric: 96% nylon / 4% spandex twill weave w/ DWR finish (Bluesign approved)
Size Tested: Medium
Reviewer's Waist Size: 30.5"
Reviewer's Hip Size: 36"
MSRP: $119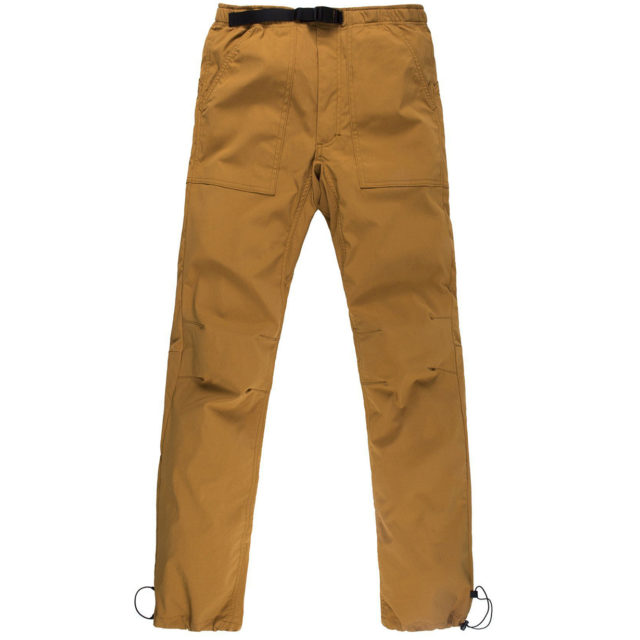 Luke: The Topo Designs Tech Pants use one of the lightest fabrics in this roundup. The Tech Pant's fabric is very stretchy and comfortable, but is lighter and much more breathable than most of the pants here. This increase in breathability comes at a price — the Tech Pants provide very little water resistance. They'll repel some spilled coffee, but extended exposure to rain (especially while biking) will lead to the fabric soaking through. That said, the Tech Pants were also the quickest drying of all the pants. After being completely saturated on the bike ride to work, the pants dried completely after only about thirty minutes inside at room temperature. Given that almost every non-waterproof pant I've used will eventually soak through during a rainy bike ride, the quick-drying fabric on the Tech Pants is a big plus.
The Tech pants are slim through the thigh while tapering from the knee to the ankle, more so than the Mission Jeans, and less so than the Brise Pants. The Tech Pants' knees have two articulation darts that give the pants more range of motion, and this is noticeable while climbing and biking. Despite the darts, the Tech Pants still have a clean look.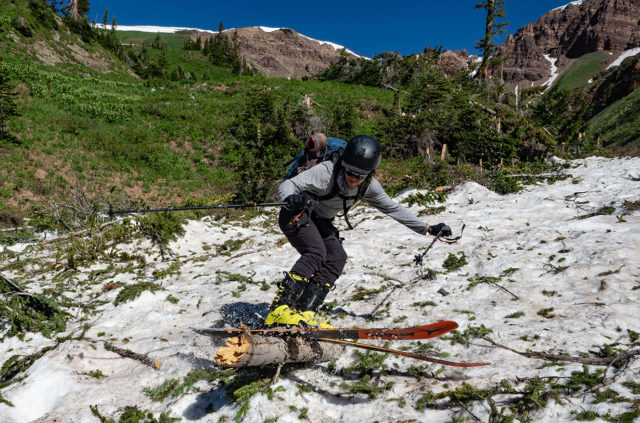 The Tech Pants have deep, topstitched slant front and back pockets and one zippered back pocket. They also have an integrated belt and elastic in the waistband. Personally, I like having the option to use my own belt, but some might prefer the Tech Pant's belt. One issue I have noticed with the pants is the use of a snap closure at the top of the fly, which has come undone on a few occasions (though the belt and elastic keep the waist from dropping down).
The Tech Pants also have a drawcord at the hem of the ankle opening, allowing you to cinch it over or above your footwear. Initially, I was going to just snip the cord right away as I thought I wouldn't use it and it seemed out of place on a pant that I'd be using often in town. However, after cinching the cords over my boots while on a hike that involved a depressing amount of postholing, I was impressed by how well they prevented snow from getting into my boots, so I have held off on removing them (they're also useful for cinching pant cuffs while biking).
I would recommend the Tech Pants to people that favor breathability over water resistance, or who are looking for a pant to use in warmer, drier environments. Since receiving the Tech Pants, they've become my go-to for nearly everything that the summer climate in Colorado offers.
Share this post:
Share on facebook
Share on twitter
Share on pinterest
Share on reddit
Share on email