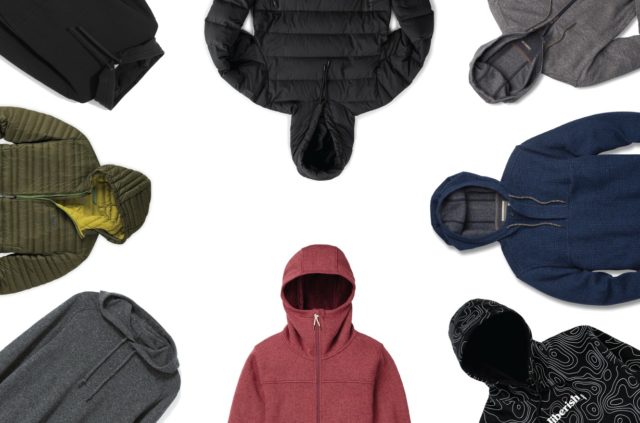 Hoodies are nothing new. In fact, they've probably been around for thousands of years. It was probably only a matter of time before some cavemen thought to themselves "You know what would be nice? Having a shirt that covered my head."
But a lot of us are still always in search of that perfect hoodie — that one you never want to take off, whether you're relaxing at home or heading out with friends.
So in order to help you find the hoodie that's just right, we've put in the time to rigorously test a bunch of hoodies by doing super gnarly stuff in them like:
Sitting on the couch
Watching Netflix
Sitting on a bed
Sleeping
Sitting in the car
Drinking beer at the bars
Sitting in the airport
Occasionally skiing / biking / climbing / running / etc.
And after all of this testing, what we have here are some awesome hoodies — there are high-end Cashmere options, minimal cotton ones, and even a couple insulated hoodies that could replace your technical mid layers. So have at it, and see which ones are right up your alley.
Everlane 365 Fleece Hoodie
Fabric: 82% cotton, 18% polyester
Reviewer: 5'8", 155 lbs
Size Tested: Medium
MSRP: $65
Best For: Minimalism, done right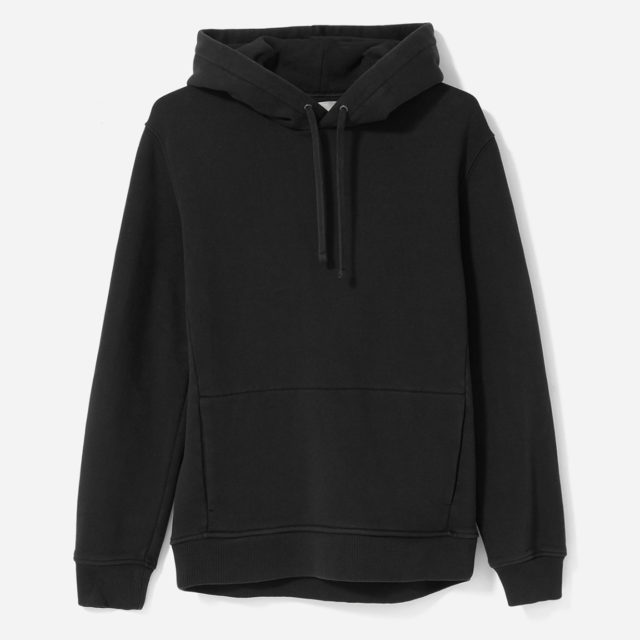 Luke Koppa (5'8", 155 lbs): There's nothing flashy about the 365 Fleece Hoodie, and that's what I love about it. It's simple, understated, and very comfortable. The fabric is a bit lighter than the Jiberish hoodies, but the 365 Fleece Hoodie still falls on the heavier end of the spectrum.
In terms of fit, the 365 Fleece Hoodie is roomy without looking overly baggy or sloppy. It's not as slim as the Jiberish hoodies, but the 365 Fleece Hoodie's minimalistic look means I have no qualms about wearing it out.
All of the Everlane products I've used have a high-quality feel, and the 365 Fleece Hoodie sticks with this trend. The fabric has a nice heft to it, the interior is soft, and all the fine details like the cuffs and seam placements just make sense.
If you just want a nice, simple hoodie for lounging at home and hitting the bars, I highly recommend the Everlane 365 Fleece Hoodie.
Everlane Heavyweight Cashmere Hoodie
Fabric: Body: 100% Cashmere; Trimmings: 90% Cashmere, 9% Nylon, 1% Elastane
Reviewer: 5'8", 155 lbs
Size Tested: Medium
MSRP: $160
Best For: Luxurious comfort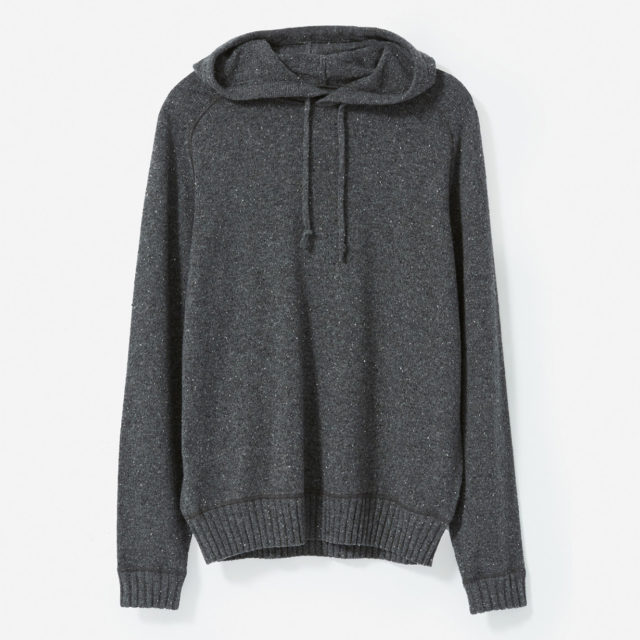 Luke: Ever wanted to feel like a rich person but don't want to shell out $300 for cashmere? If so, Everlane's Heavyweight Cashmere Hoodie is worth a good look. It's far from cheap compared to cotton hoodies, but the Heavyweight Cashmere Hoodie is one of the softest things I've ever worn.
The fit on the Heavyweight Cashmere Hoodie is on the baggier side, which is magnified by the light, flowy drape of the fabric. So if a slim and short look is what you're after, I'd suggest sizing down. But in terms of overall comfort, the Heavyweight Cashmere Hoodie is phenomenal. Its fabric is thinner and lighter than the Everlane 365 Fleece Hoodie and Jiberish Transitions Hoodie, but the Heavyweight Cashmere Hoodie is still quite warm.
For feeling classy and comfortable without shelling out hundreds of dollars, the Heavyweight Cashmere Hoodie is an excellent option.
Jiberish Transitions Hoodie
Fabric: 80% cotton, 20% polyester
Reviewer: 5'8", 155 lbs
Size Tested: Medium
MSRP: $88
Best For: Standing out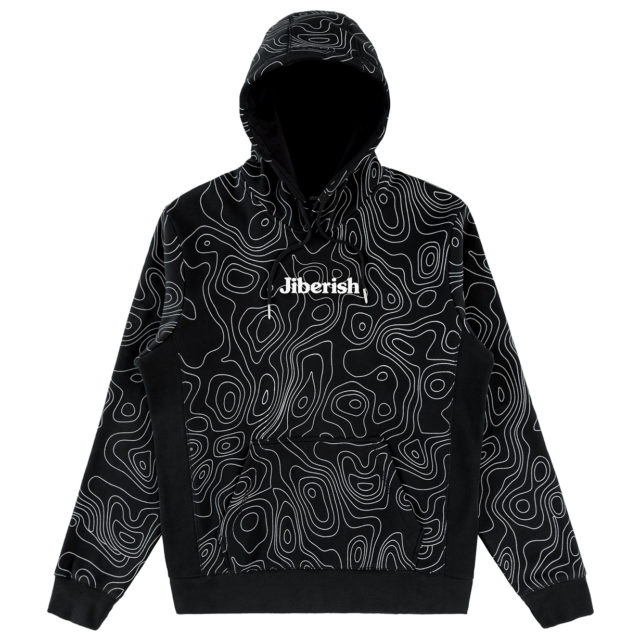 Luke: In the freestyle ski scene, the words "Jiberish" and "hoodie" are almost intrinsically related. Jiberish has been making their signature, heavyweight hoodies for years, and it shows.
The fabric is hefty and substantial, but the interior is still super soft. The hood, trims, and construction are all excellent. And the fit is on the shorter and trimmer side, making it a great option for people like me who have shorter torsos and appreciate a slimmer look.
Jiberish makes their hoodies in a bunch of different prints and colors, but the "Transitions" hoodie is my favorite from this season. It definitely stands out, but the black and white topographic map print still isn't obnoxious, in my opinion (it looks a bit more subtle in person). If you just want a minimal, understated, heavyweight hoodie, check out the rest of Jiberish's line. But if you want something unique, check out the Transitions Hoodie.
Stio Pinion Down Pullover
Fabric: 20-denier nylon Pertex Quantum face fabric and lining
Insulation: 800-fill-power down
Reviewer: 5'8", 155 lbs
Size Tested: Medium
MSRP: $249
Best For: Backcountry and at-home use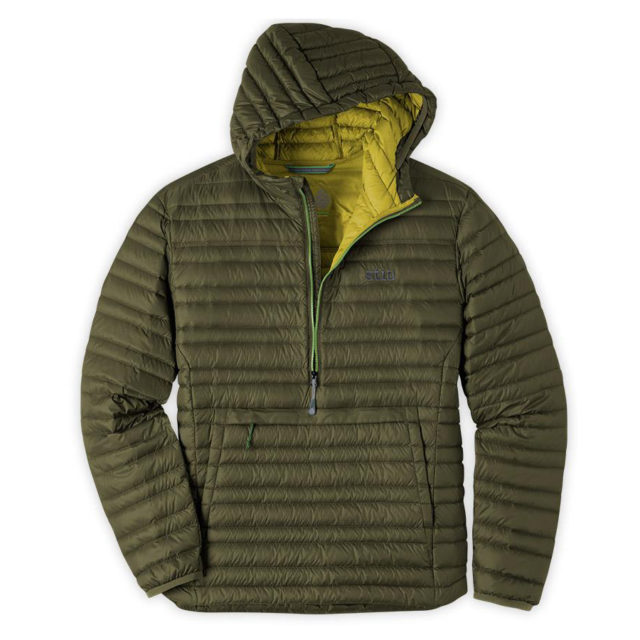 Luke: The Pinion Down Pullover is a solid option if you're looking for a light, warm mid layer, but you don't love the look of more traditional down puffies. The Pinion uses high-quality, 800-fill-power down and a very lightweight Pertex Quantum face fabric and lining like you typically find on technical puffy jackets. This means that it's super light (297 g for the Medium).
But the Pinion's anorak silhouette also gives it just enough style to stand out from the sea of down puffies you'll typically see around town. The Pinion's ripstop fabric isn't as comfortable as the Foehn Robson Down Hoody's, but the Pinion is a lot lighter, and it's far warmer than any of the non-down options here.
Foehn Robson Down Hoody
Fabric: nylon face fabric and lining
Insulation: 800-fill-power down
Reviewer: 5'8", 155 lbs
Size Tested: Medium
MSRP: $259.95
Best For: Cozy warmth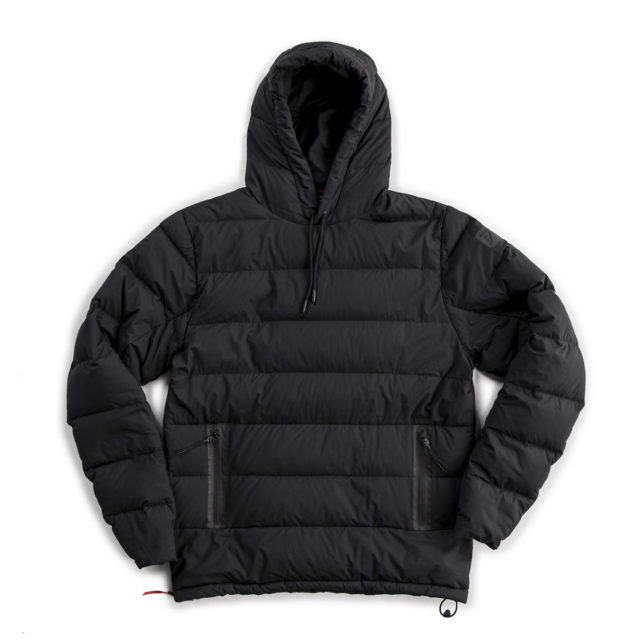 Luke: The Foehn Robson Down Hoody is the most comfortable down piece I've ever worn. Typically, down garments use crinkly, smooth ripstop fabrics that are very light, but that can feel sticky on skin.
The Robson instead uses a very soft, plain-weave nylon fabric that's also super stretchy. But just because it uses a more comfortable fabric doesn't mean it skimps on performance — the Robson still uses 800-fill-power down, and it has a lot of it. As a result, it's super warm, and I've been happy with just it and a t-shirt in temps down to around 25°F.
In terms of fit, the Robson is a bit roomier than the Everlane and Jiberish hoodies, but is a bit more fitted than the Pinion Down Pullover. The Robson is still fairly bulky just because of how much down it has stuffed inside, but for a down piece, the Robson still looks pretty clean and not Michelin-Man-y.
Want a very warm hoodie but don't want something super bulky or uncomfortable? The Foehn Robson Down Hoody is the best solution I can think of.
Toad & Co Breithorn Henley Sweater
Fabric: 43% Polyester 38% Recycled Wool 17% Nylon 2% Other Fibers
Reviewer: 5'10", 140 lbs
Size Tested: Medium
MSRP: $99 (currently on sale for $74.25)
Best For: Hitting the town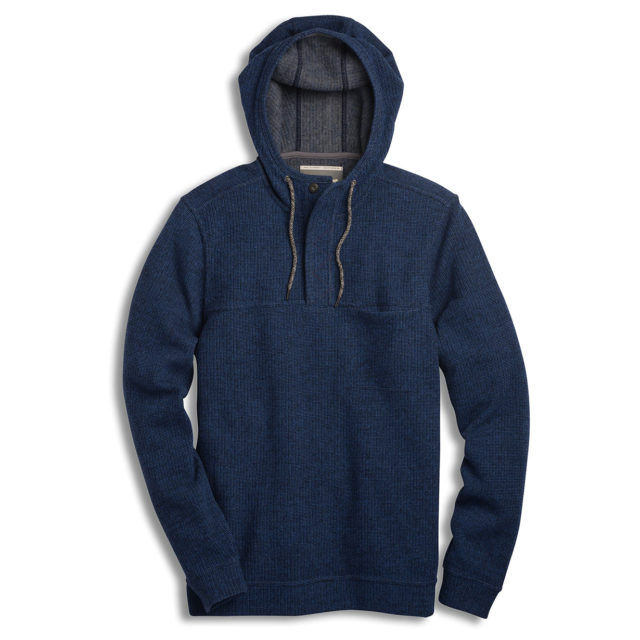 Sam Shaheen (5'10", 140 lbs): The Breithorn Henley Sweater is both of those things — a henley and a sweater — but it is also a hoodie, hence its inclusion on this list. It has a ribbed recycled wool fabric that has a great texture on the face of the fabric with a soft brushed interior to stay cozy against the skin.
With a sweater-like face fabric and without a kangaroo pocket or ribbing on the hem and cuffs, the Breithorn definitely feels more formal than most of the hoodies on this list. I'm very comfortable wearing it out on the town or even on a date.
The only thing that keeps me from wearing this hoodie 24/7 is that the recycled wool blend fabric isn't quite as soft on the skin as some of the other options here. For wool, it is very soft, but it's hard to make wool as soft and comfy and high quality, brushed organic cotton. That said, this one of my current favorite cold-weather layering pieces.
Toad & Co Epique Full Zip Hoodie
Fabric: 55% Hemp 45% Recycled Polyester
Reviewer: 5'10", 140 lbs
Size Tested: Medium
MSRP: $95
Best For: Saving the planet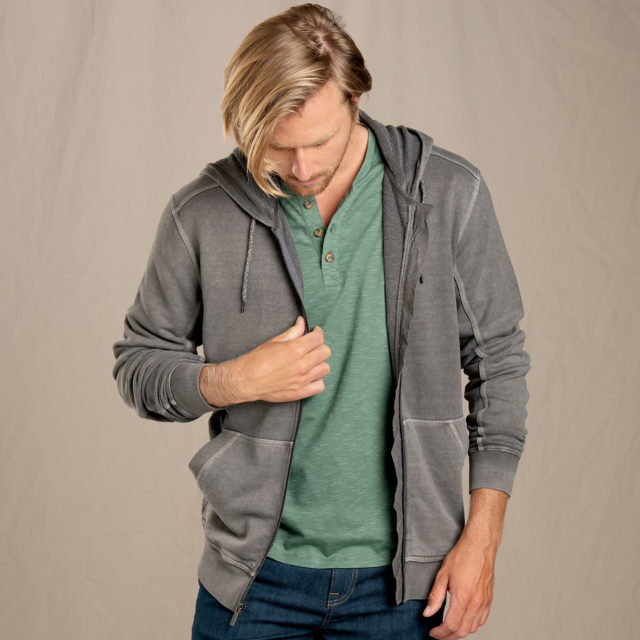 Sam: The Epique Full Zip Hoodie is made from a hemp / recycled polyester blend that has an incredible drape. The fabric isn't all that thick or warm, but it is heavy and feels like a familiar hug when you put it on. The face of the fabric is beautifully heathered and the interior is lightly brushed. It's quite comfortable on the skin — though it isn't pillowy soft like some of the other options here.
With subtle contrast ribbing on the hem, cuffs, and hand pockets, the Epique draws style from classic aesthetics. One thing that isn't classic about this hoodie though, is the environmentally friendly fabric. The hemp and recycled polyester blend decreases the garment's environmental impact (compared to traditional cotton) while still making for a comfy lounge piece. If you're into zip hoodies and the environment, the Epique is a great option.
Women's Burton Minxy Fleece
Fabric: 100% Polyester
Reviewer: 5'6", 110 lbs
Size Tested: XS
MSRP: $99.95 (currently on sale for 69.96)
Best For: Everything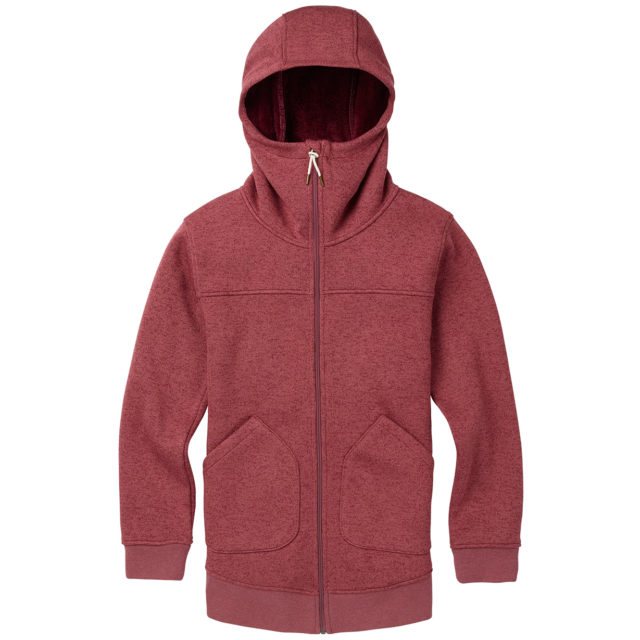 Nicole Riehl: The Burton Minxy Fleece is my go-to hoodie. I have been a huge fan of Burton's women's clothing for years now, and the Minxy Fleece is no exception. That said, of the six or seven Burton hoodies I have owned, I did have an issue with the zipper breaking on two of my favorites. but I've used this Minxy Fleece hoodie almost every day for the last few months and so far, everything is holding strong.
The Minxy's large hood and collar are perfectly designed — both the materials and the size. It's large enough to fit over a size Small ski/snowboard helmet, yet the hood isn't so large that it looks ridiculous without a helmet. The collar zips up past my chin, the material is stiff enough to stay in place and keep me warm, and the zipper is covered at the top so it won't freeze to your face.
I didn't initially love the look of the side pockets, but I have since fallen in the love with how large they are and the depth of the hand warmer pockets. I can carry everything from keys, cash, and my phone all while staying active and nothing falls out! Perfect. (I hate how small and basically useless women's pockets often are, so I am pretty thrilled with the Minxy's.)
Technically, Burton is calling the Minxy Fleece material, "100% Polyester Dryride Thermex sweater knit fleece bonded to High Pile Teddy Fleece Backer." That's certainly a mouthful, but the outside material does seem to a bit water resistant which is nice while snowboarding when you're having to sit often; the bottom of the hoodie doesn't get soaked. The inside fleece runs throughout the whole hoodie — including the sleeves and the hood — keeping you extremely warm. The hoodie doesn't have thumb holes and I happen to be a huge thumb hole fans. But if it did have thumb holes, I would probably never take it off.
Share this post:
Share on facebook
Share on twitter
Share on pinterest
Share on reddit
Share on email