Product: Crank Brothers Mallet 3
Price: $120
Weight: 435 grams
Intended use: Enduro, DH race, all mountain
Test location: Winter Park, Jackson
Duration of test: 20-25 rides, 5 races
Bike: 2008 Giant Reign X, 170mm travel, XT/X9 level build
Cleats: High float position
Shoes: Shimano DX
Rider: Raced bikes in one form or another for 10 years, used to be fast, now just pretends to be fast. Smooth, but I pedal in spots I shouldn't.
Platform style clipless pedals aren't new; they've been around in some form or another since clipless became a mainstay in the mountain bike world quite some time ago. The idea is simple: provide a more stable platform for the rider, clipped in or not.
To someone who never seems to unclip unexpectedly, or has never done any sort of gravity racing, the larger pedal and increase in weight likely doesn't make much sense. But to anybody who has ever come off a pedal 1/3 of the way through a technical portion of a race course and is unable to clip back in, these pedals can offer significant advantages.
Crank Brothers recently updated their pedal lineup, including their platform style pedal, the Mallet. As before, the Mallet comes in 3 iterations, with "1" being their most basic, "3" being their top end, and "2" falling somewhere in between. The updated Mallet 1 is more or less a replacement of the Acid pedal, which is being dropped from the Crank Brothers line. The "2" and "3" are both more directly comparable to the Mallet of old, and are the focus of this review.
The updated Mallet 2 and 3 pedals still feature Crank Brothers tried and true 4 sided entry and adjustable traction pins. Changes to the 2 and 3 include a new pedal body, a reduced weight across the line, two fewer traction pins per side (six as opposed to eight) and a lower price point. For instance, Crank Brothers' highest end pedal, the Mallet 3, is now five grams lighter and retails for less than half the price of the older version of the 3.
With an enduro style race looming in the near distance and no platform style clipless pedals on hand, I ordered the new Mallet 3s. They arrived a day before the start of the Trestle Enduro at Winter Park, CO. To my dismay, the company had sent two pedals threaded for the drive side. Bummer. Thankfully, I had a pair of new Candys that I was able to swap over the spindle from.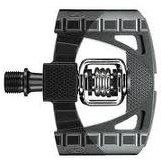 My first complaint about the pedal was already clear (well, aside from receiving two drive side pedals): the dust cap that must be removed to take the pedal apart is very prone to stripping, since it's made of plastic and loctited in place. I'd suggest no loctite, or better, make the dust cap out of aluminum.
Ride:
After getting the Mallet 3s on my bike and adjusting the pins to my preferred height, I did a few practice runs at Winter Park. Although plenty of fast DH guys are able to run full-on XC race shoes, I am not one of them (neither fast nor running XC shoes). More to the point, I see very little use of a platform style clipless pedal if I'm mating it to some carbon soled, quasi-road shoe. I chose my Shimano DX model, since it has a soft rubber sole, and, for whatever reason, I'm able to clip in much more easily in tricky spots with this shoe.
A couple things I noticed immediately about the Mallet 3s:
(1) They feel very similar to all the other Crank Brothers pedals I've used in the past. This should be no surprise to anyone, but in case you've never run a Crank Brothers pedal, here is my take:
They are easy to get in and out of; they clear mud well; they are simple; and they offer two float settings depending on cleat setup. Unlike most Shimano pedals, this allows the rider to run enough float to articulate his or her foot while riding, without the risk of accidently unclipping.
This really comes into play in flat or off camber corners, where the rider is pushing the bike away from his body and often naturally turns his foot to do so.
(2) The adjustable pins did not hinder my getting in or out of the pedal at all, no matter what height I had them at. I had worried that they might get in the way, but nope.