Intro
Everyone could use a good everyday backpack, whether you're using it to carry a laptop and files for work, shoes and clothes for hitting the gym, or water and extra layers for a hike. But because backpacks can be used for so many different things, there's a massive number of options and variations out there.
So we've rounded up a few of our favorites for everyday use — i.e., these packs are not intended for technical climbing, backcountry skiing, multi-day backpacking, etc. We've outlined here where each one excels to help you figure out which might work best for you.
So check out the options below, and let us know if you have any other suggestions or products you'd like us to review in the future.
Black Diamond Street Creek 24
Stated Volume: 24L
Measured Weight: 781 grams
MSRP: $89.95
Best For: carrying smaller loads around town with haul-bag style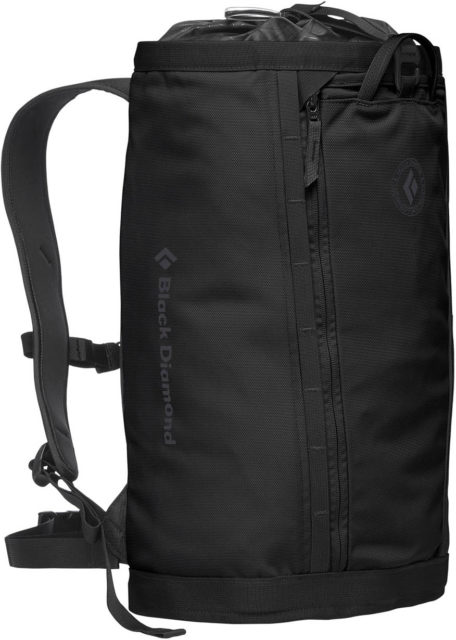 Sam Shaheen: The Black Diamond Street Creek 24 takes many of the design elements from Black Diamond's haul bags and puts them into a smaller, lighter package designed to cart your shoes and harness to the gym or haul your laptop to a coffee shop.
My favorite part of this pack is that it almost always stands up on its own (if it isn't empty), which is really nice when I'm working at a coffee shop or when packing and unpacking. The laptop sleeve is a bit smaller than some of the other options here but my 13" MacBook fits no problem — and I appreciate that I can access my laptop without having to open the top, main compartment of the pack.
And if you're looking for a bigger, burlier version with a very similar design, keep an eye out for the yet-to-be-released Mountain Hardwear Tuolumne 35, which offers more volume and a slightly burlier construction.
Seal Line Urban Dry Daypack
Stated Volume: 26L
Measured Weight: 1306 grams
MSRP: $169.95
Best For: maximum weather protection in a clean look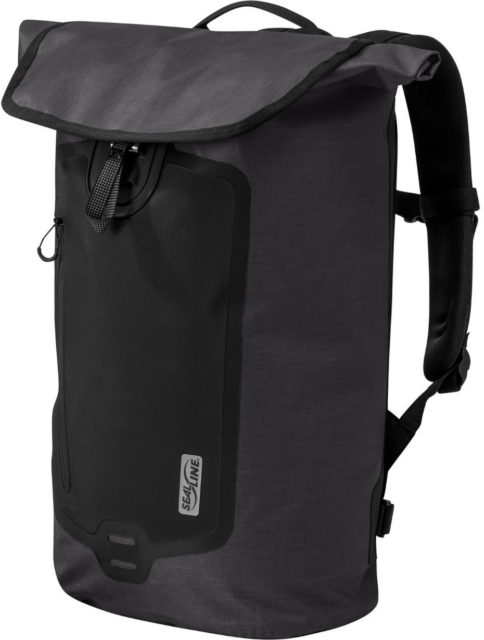 Sam: This pack is just plain cool. Featuring a very rugged waterproof outer material, a dry-bag-esque roll-top closure, and fully welded seams, this pack has a unique silhouette and is fully waterproof. While its waterproof construction clearly makes it stand out, aesthetically, I really like this pack. The lines on it are super clean and simple still offering some contrasting elements.
Making a waterproof pack isn't easy, which is one of the reasons why this pack is pretty slim on the features. A large laptop sleeve inside and two small zip pockets (one internal and one external) accompany a surprisingly heavy-duty suspension system with a breathable back panel. The roll-top main compartment on the Urban Dry Daypack has one of the sleekest closure systems I've seen, with an elastic hook and molded rubber lugs on the main pack body to make getting stuff in and out of the pack easier than most roll-top bags. If you don't need many features, need a pack that can keep your gear dry in a downpour, or just dig the look, this Seal Line pack should be on your radar.
Mystery Ranch Urban Assault 24
Stated Volume: 24L
Measured Weight: 1,253 g
MSRP: $165
Best For: burly everyday carry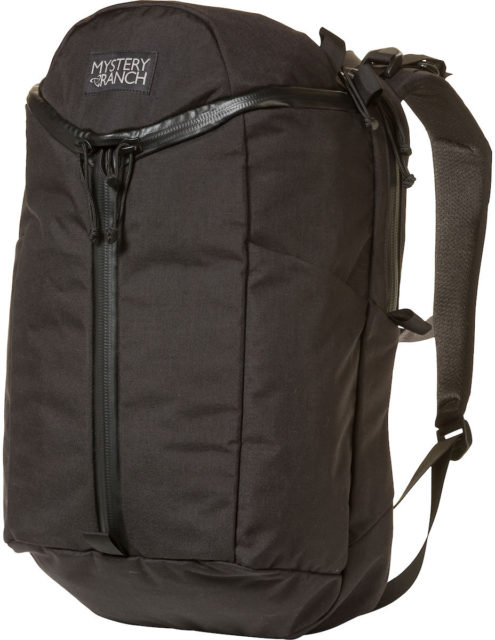 Sam: In true Mystery Ranch fashion, the Urban Assault 24 is anything but minimal. Burly fabrics, oversized zippers, and overbuilt design features abound on this pack. It's one of the only 24L packs on the market with load-lifter straps (and actually warrants them), and its reverse-coil waterproof zippers are massive.
The 3-zip main compartment opening is certainly unique. The idea is that you can grab the lid at the juncture of the zips and just yank it open. It definitely works, but due to the burly zippers it uses, it definitely takes a fair amount of effort to open the pack in this way. I've gotten used to it, but I think most people will either love or hate this feature.
My favorite part of the Urban Assault 24 is the laptop sleeve. It is large (fitting a 15" laptop), easy to access, and well-padded — it's my favorite laptop sleeve of all the packs in this group. If you want a pack that will last for years and appreciate the military / tactical Mystery Ranch aesthetic, the Urban Assault 24 won't disappoint.
Fjallraven Totepack No. 2
Stated Volume: 16L
Measured Weight: 760 grams
MSRP: $175
Best For: everyday use with versatile carrying options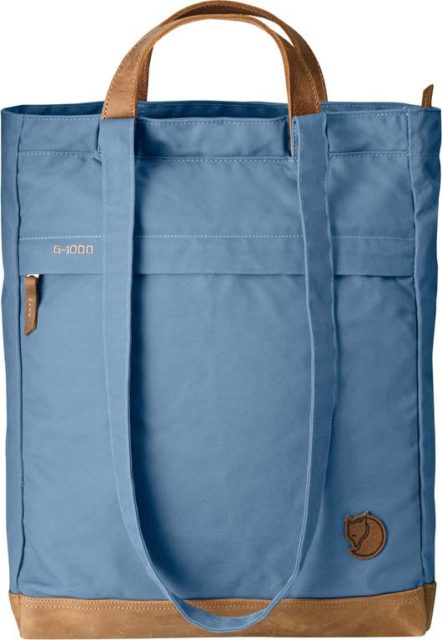 Kristin Sinnott: I'm a big fan of tote bags but never have I found one to be as versatile as the Totepack No. 2. The bag has 3 different carrying styles — by hand, over the shoulder, or as a backpack (thanks to the pull-through design of one of the long handles).
The G-1000 Heavy Duty fabric (65% polyester, 35% cotton), combined with the short leather straps, leather zipper pull, and leather base give the bag a classic look that works well for men or women. My husband and I both use the Totepack No. 2 as our go-to diaper bag. It is perfectly sized to fit a changing pad, extra clothes, diapers, wipes, a small blanket, and some toys. The water-resistant fabric is great at keeping the moderate precipitation out of the bag, and when used as a diaper bag, it is also great for keeping anything wet inside from seeping through. At 16L it fits enough for most days, but not so much that it turns into a black hole where all your little items seem to disappear forever.
The Totepack No. 2's main compartment is zippered and can easily accommodate a tablet or small laptop and some extra layers (though there isn't a dedicated laptop sleeve). An internal zipper pocket keeps smaller items safe and out of the way and a keyring on a fabric strap inside the large, main compartment keeps you from having to dig through the bag. There is also an exterior zippered pocket for larger items that you want to keep organized and easy to grab.
While we are currently using the bag for baby- and diaper-related items, we know the bag will be useful long after the baby has outgrown diapers (we are really looking forward to that day). With its classic design and quality build, there's a good chance we will be handing the tote down to our son one day.
KAVU Rope Sling
Stated Volume: 10L
Measured Weight: 360 grams
MSRP: $50
Best For: everyday use for smaller and lighter loads
Kristin: I might be the last person to discover the KAVU line of Rope Bags and Slings — once someone pointed one out to me, I started to notice them everywhere. Turns out, there are plenty of good reasons for this bag's popularity.
The ropes that form the shoulder strap and give the bag its name also make them stand out among other similarly designed bags. The Rope bags and slings come in a variety of fabrics (cotton canvas, polyester, polyester / spandex knit, and polyester / cotton / acrylic blend) and different designs. And with over 40 different prints to choose from (in just one season's lineup) it's easy to see why people love this bag. Quick tip — if you see a design you like, you'll probably want to buy it soon as there's a chance it won't be there next time you look. Kavu has a reputation for creating fun prints and the Rope Bags and Slings are no exception.
The Rope Sling I tested is made of polyester fabric and is water resistant and easy to clean. The large main compartment is the same width as the bag, has a vertical zipper, and can fit an iPad, rain jacket, and other smallish items. There's also an internal zippered pocket to safely store a wallet, large phone, or any other small-sized valuables.
There are three other exterior pockets including a small cell-phone-sized one, medium-sized zippered pocket, and a small Velcro pocket. The ropes essentially create a padded strap, making the Sling surprisingly comfortable to wear. When tightened down, the bag tends to stay tight against one's back, and thanks to the padded back, you don't feel anything poking through. The Rope Sling is ideal for travel or anytime you need to carry a few items, don't want to load up your pockets, and don't need a bulkier backpack.
Gregory Border 18
Stated Volume: 18L
Measured Weight: 822 grams
MSRP: $99.95
Best For: travel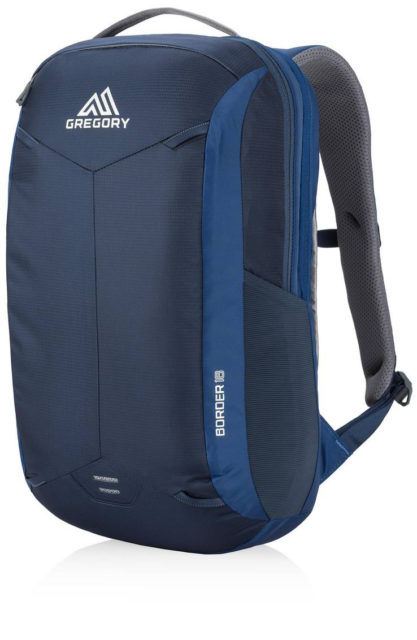 Kristin: Honestly, my first impression of the Border 18 was … meh. It's a pretty streamlined bag and as a result of that, nothing really stood out to me at first. But I was wrong — very wrong.
This is a workhorse of a bag and I have used it many many times for a variety of applications. Designed for travel, the back panel features a luggage handle pass-through strap that is snug enough to remain correctly positioned, even on a 2-wheeled roller bag. While the bag has an external-access, padded laptop sleeve (compatible with laptops up to 15"), I have been using the bag more for diapers than for electronics. Yup, another daypack used as a diaper bag.
The Border 18 is the perfect size to use as a personal item when traveling. The small "soft touch" pocket keeps sunglasses, cell phones, and / or a wallet easy to find and safe. An interior vertical-zip pocket features an internal mesh zippered pocket where I tend to keep my son's birth certificate, car keys, or any especially valuable items that don't need to be accessed quickly. The main compartment is large enough for a change of clothes or two and anything else you might need on a plane. What I like most about the bag is that there are a lot of pockets but they are all different enough that I can easily keep track of my items without having to resort to digging through the bag every time I need something.
The bag features "airmesh" on the padded shoulder harnesses and on the foam back panel, creating a comfortable and breathable pack. I used the pack many times this fall when mushroom hunting with my son. I found the best way to carry a 12-month-old when trying to search and pick mushrooms was on my chest in a soft structured carrier (the Tula Baby Explore to be exact). The baby carrier has a fairly significant waist belt so a pack like the Border 18 with just a sternum strap was ideal. On hot days, the mesh shoulder straps and back panel kept me from overheating. The Border is also available in 25L and 35L sizes.
Gregory Maya 16
Stated Volume: 16L
Measured Weight: 744 grams
MSRP: $99.95
Best For: day hikes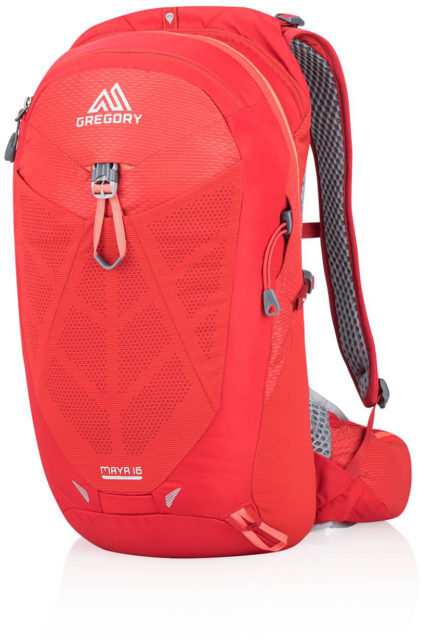 Kristin: I always carry sunglasses — always. So when looking at daypacks the Maya stood out thanks to its Sunglass QuickStow system. A fairly simple concept, the system is located on the left shoulder harness and includes an elastic cord and a molded rubber pull tab that keeps the sunglasses safe, secure, and easily accessible. Attention to details like this is what this bag is all about.
The Maya is a daypack that's better suited for hiking than many of the options here, but its lightly padded waist belt can be tucked behind the back if needed. The Maya is part of the women's line of Gregory packs and is designed with a woman's body in mind. For a small pack, the Maya 18 has quite a few pockets, including a dedicated hydration pocket with another handy detail — a "SpeedClip" hydration hanger (compatible with Gregory's 3D Hydro reservoir).
Other pockets include the small zippered hip-belt pockets (too small for a phone but they fit keys or a mushroom knife nicely); a small, lined "soft touch" zippered pocket; stretchy mesh side pockets that accommodate water bottles; a stretchy, mesh front pocket with a buckle closure; and a large main compartment with an interior mesh pocket for valuables.
The velcro-adjustable torso height (something that's pretty rare for daypacks) makes the pack comfortable for women of a variety of heights, and the trekking-pole bungee attachment system is a nice bonus. If you're looking for a day-hiking bag that can pull double-duty as an everyday bag, I recommend taking a look at the Maya 16.
Patagonia Black Hole Pack 25L
Stated Volume: 25L
Measured Weight: 655 grams
MSRP: $129
Best For: weather resistance & durability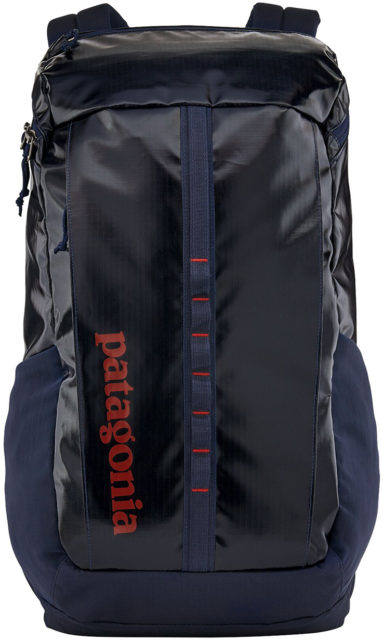 Luke Koppa: Patagonia's Black Hole bags need little introduction — thousands of people have become lifelong fans due to the line's reputation for excellent durability, weather resistance, and long-term reliability.
Patagonia continues to push the envelope when it comes to sustainability, and now their entire Black Hole line is made from a TPU-coated, 100% post-consumer recycled polyester ripstop, and even the lining is 100% recycled.
What hasn't changed is the burly feel of their packs, and the Black Hole Pack 25L is no exception. The main compartment is accessed by a U-shaped zipper that's really easy to use (the zippers slide very easily), and the main zip extends far enough down that you get access to the majority of the pack. This 25L pack features a separate, padded, and externally-accessible laptop sleeve that Patagonia says will fit most 15" laptops, though my 15" MacBook Pro (with a thin case) does not fit, so 15"-laptop users take note.
The Black Hole Pack 25L has three individual zippered pockets — an external 23cm x 12cm pocket on the lid, an external 31cm x 22cm vertical-zip pocket on the front of the pack, and 24cm x 11cm mesh pocket on the inside. Stretch-mesh water bottles and two sets of webbing lash points round out the feature set, and despite those features, the pack still looks really clean.
What sets this pack apart from the competition is its burly, highly weather-resistant fabric (it's become my go-to fishing pack), the fact that a lot of the pack is made from recycled materials, and that it packs a lot of performance into a design that still works perfectly fine as an everyday bag.
Topo Design Klettersack
Stated Volume: 22L
Measured Weight: 855 grams
MSRP: $169–$199
Best For: classic style & simple functionality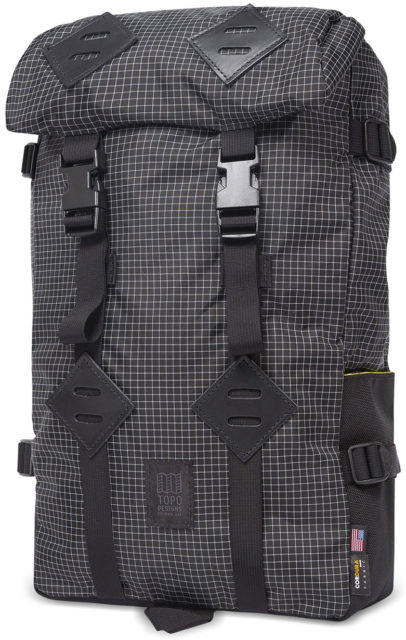 Luke: The Klettersack is one of Topo's original packs, and I think the main reason that this pack has remained so popular is its combination of clean, vintage styling and a burly construction.
I tested the Klettersack in the "Black / White Ripstop" version, which, you guessed it, uses a ripstop main fabric. Topo now makes the Klettersack in a variety of fabrics, from the ripstop version I tested to standard 1000-denier Cordura and an extra-burly 1050-denier Ballistic Cordura version.
All of the Klettersacks are DWR-coated and fully lined with an also-DWR-coated 420-denier packcloth. That makes for a surprisingly water-resistant construction — apart from when I've left it sitting in a puddle, I've never had the contents inside the Klettersack get wet, even when riding with it in the rain. This bag is also quite durable; I passed along my 5-year-old standard-Cordura Klettersack to my friend and he says all the fabrics and trims are still working great with no durability issues.
Part of what makes the Klettersack look so good is its fairly minimal feature set. Its lid serves as the only exterior pocket, it has a fairly large zippered pocket inside, and an internal laptop sleeve that will fit most 15" laptops (it does fit my 15" MacBook Pro with a thin case). It has leather lash-tabs that are great for attaching a bike light or larger items, and two exterior water bottle pockets that fit slimmer bottles (a 32-oz Nalgene is too big when the pack is fully loaded).
I also love the compression straps, which not only keep the pack streamlined when it isn't full, but can also securely stash a set of poles, a fishing rod, or other long items. Lastly, the lid can be cinched down over bulky items, and combined with the compression straps and lash points, makes it easy to pack much more than 25L of stuff in / on the pack. I had many days riding to my apparel-design classes in college when I'd have tons of fabric and sewing gear inside the Klettersack, and then a fishing rod or set of climbing shoes lashed to the outside for after-class fun. (I definitely got some odd looks from the other folks in those fashion classes…)
Now, some people will definitely want more features / storage options, but Topo takes a bit of a different approach with many of their packs. Instead of including tons of pockets in / on their packs, they sell Accessory Bags of a variety of sizes for your smaller items. So the idea is that you keep your essentials in some accessory bags and just swap them between your bags.
As someone who switches between bags a lot, I love this idea. I have one size Small Accessory Bag in which I keep my portable charger, cables, a notepad, some chapstick, a lens-cleaning cloth, and a few other things that I like to have with me at all times. Instead of having to transfer all of those little, easily-lost items whenever I use a different pack, I just take the Accessory Bag wherever I go. Some people will prefer a pack with more pockets, but personally, I love the Accessory Bag system.
The Klettersack isn't the best option for long hikes (its back panel isn't very breathable), but I've still been fine using it for day hikes where I'm not carrying a ton of gear. If you dig the style and want a simple, durable pack that's surprisingly versatile, the Klettersack is worth a good look.
Aer Duffel Pack 2
Stated Volume: 24.6L
Measured Weight: 1251 g
MSRP: $170
Best For: carrying lots of stuff in separate compartments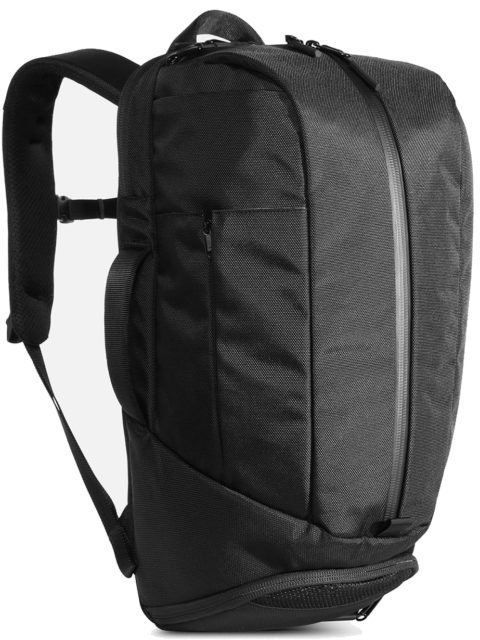 Luke: I've now been using the Aer Duffel Pack 2 for well over a year, and along with the Klettersack, it's one of my favorite bags for everyday use. It's the best option here if you want a bag that can seamlessly transition between work, the gym, and travel.
It's also the most feature-rich pack here, with a ton of pockets — a separate 15″-compatible laptop sleeve with smaller zippered pockets inside, a bunch of small exterior pockets for accessories, a large main compartment with a vertical-access zipper, a deep, exterior water bottle pocket, and a separate, ventilated pocket for your gym shoes / stinky clothes. It also features a burly side handle that lets you carry it like a duffel. This style of carry works well, though my only complaint with this pack is that the backpack straps droop a bit (even when fully cinched) when carrying it as a duffel, and it'd be cool to have a way to stow / stash them.
The Duffel Pack 2 is surprisingly comfortable when loaded up. I've been happy to have it at Outdoor Retailer, where I'm wearing it for up to 10 hours straight, and by the end of the day, it's filled with several pounds of brand catalogs, buyer's guides, my laptop, and camera.
The Duffel Pack 2 is the bulkiest option here, but if you like to carry a lot of stuff and keep it all neatly organized, it's an excellent option. Its construction is also extremely burly, particularly in the 1680-denier ballistic Cordura version I've been using — after about a year and a half of almost daily use, it basically looks new, which is kind of crazy.
Share this post:
Share on facebook
Share on twitter
Share on pinterest
Share on reddit
Share on email