Intro
When considering a new running shoe, there are so many similar-looking shoes on the market being made by so many different companies, it is virtually impossible to (1) know where to begin; (2) quickly figure out which one or two products from a given brand might work well for you; and (3) determine what products from other brands might be the most similar and also worth considering.
So in our new "Blister Brand Guide" series, we provide an overview of the entire product lineup of a brand; highlight how each product stands out from the rest of that brand's lineup; and help you figure out quickly and easily which shoe might work best for you.
In our individual product reviews, we go very deep into the details of particular products. With these Brand Guides, the goal is not Depth, but Breadth. Our Brand Guides and full reviews are designed to complement each other — provide a broad overview of entire company lineups, and then also very detailed reviews of individual products.
See our other running shoe Brand Guides
Hoka One One: Brand Background
Hoka is well known in the running world for their well-cushioned shoes, and many people swear that Hoka has found the key to creating shoes that solve many of the physical ailments that come with running (particularly leg and foot fatigue), though many other runners prefer a firmer, less-cushioned ride.
Hoka has a large lineup of both trail and road shoes, and while many have a lot of cushion and a higher stack height, they now make a pretty wide variety of shoes, including some more minimal options.
To help sort out all of their options, we'll break down each shoe in Hoka's lineup, categorizing them from most cushioned to least cushioned for both their road shoes and their trail shoes.
(Most Cushioned to Least Cushioned)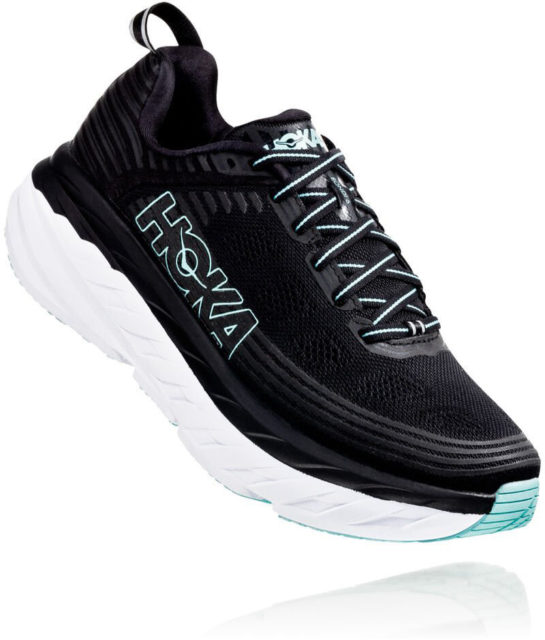 Cushion is the name of the game with the Bondi 6. It offers more of it than any other Hoka road shoe, with the goal of providing a comfortable, smooth ride for all distances. If road miles leave feet, ankles, and legs feeling beat up, you might want to give the Bondi 6 a look.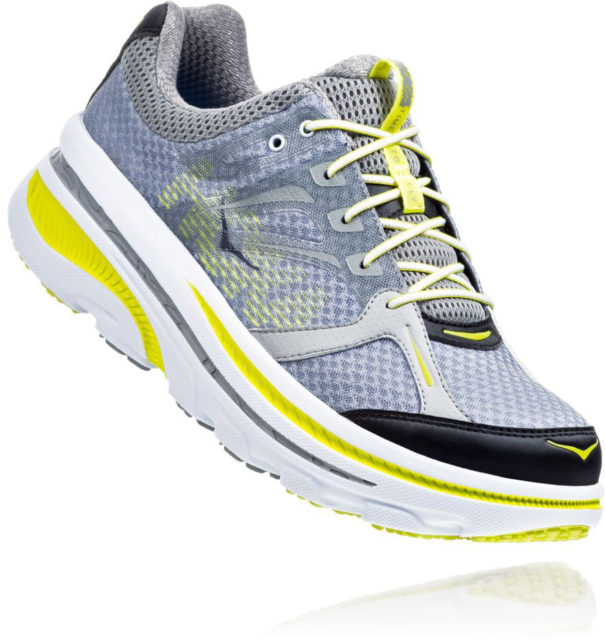 The Bondi has gone through a number of design changes over the years, and the Bondi B is a limited-edition revival of the very first model of the shoe. With a slightly higher drop and lower stack height than the Bondi 6, this shoe offers a plush ride and gives people who loved the original Bondi a chance to get back in the same shoe.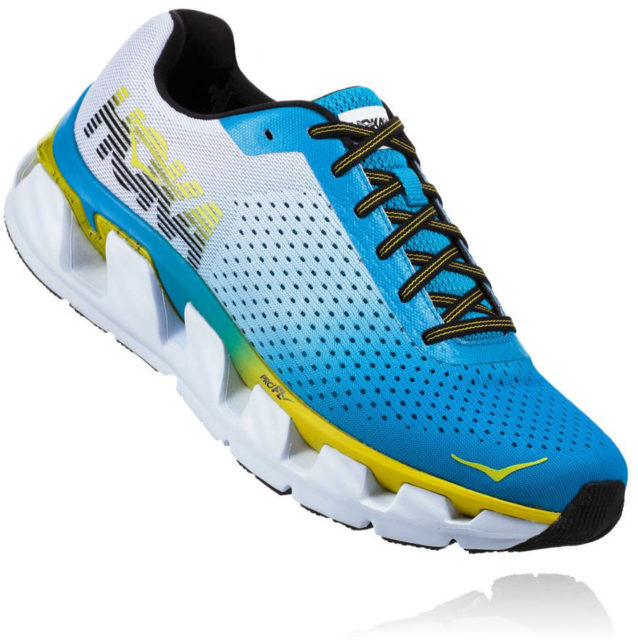 The Elevon features a dual-layer midsole and high stack height, designed to provide cushioning with a little more rebound and less squish than the Bondi. The Elevon is a good option if you like lots of cushioning but want more energy return than some other maximal shoes offer.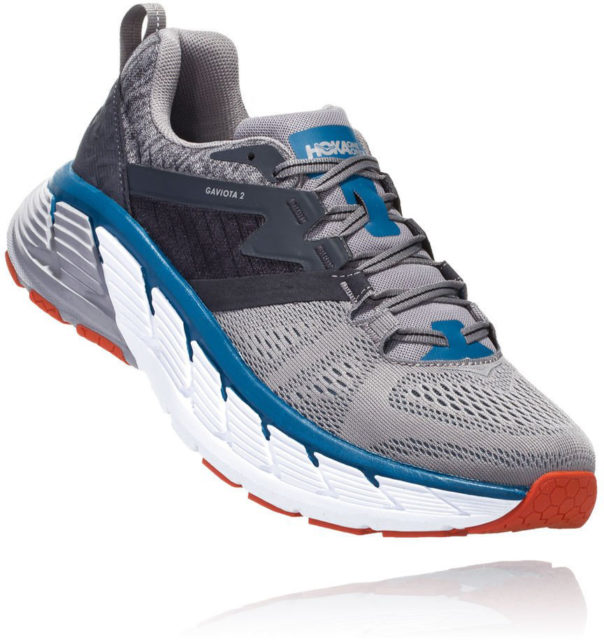 The Gaviota 2 is the most cushioned shoe in Hoka's "stability" lineup, and it gives runners looking for a more supportive shoe a maximal option. It's J-Frame support system and wide platform provide increased stability and foot guidance, while claiming no compromise in comfort.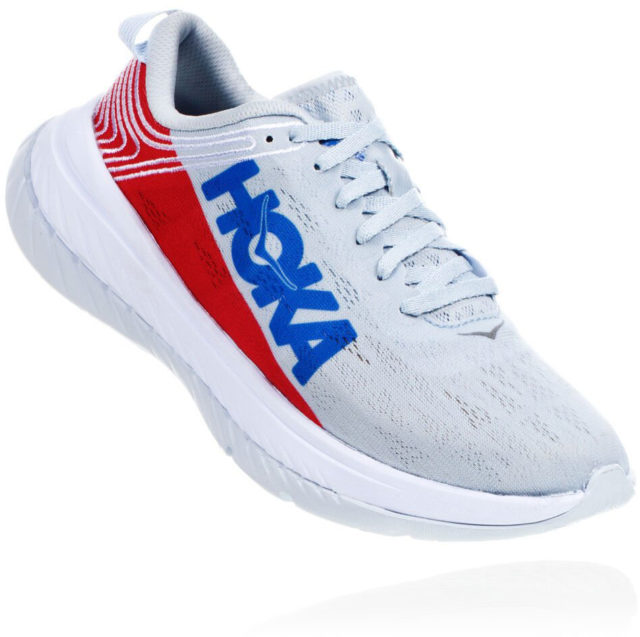 The Carbon X is all about speed and cushioning. Originally designed with several of Hoka's top athletes, the Carbon X has a carbon-fiber plate to improve energy return, and a lighter Profly X foam midsole to reduce weight. The differing densities of the plate, midsole, and EVA foam layer beneath it all pair efficiency and rebound with cushion and make for the shoe's distinctive pop. The very generous rocker on the shoe allows you to speed up your running cadence, helping you to race faster than ever. If you are in the market for a race-specific shoe that is designed to maximize running efficiency and speed — all in a well-cushioned package — the Carbon X is a great option.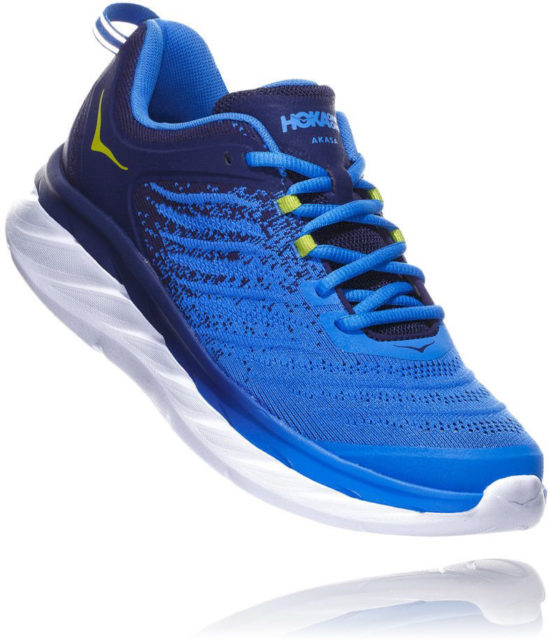 The Akasa is designed to provide in a simple, functional package maximum comfort and rebound for walking and running. It's got a broad platform and stiffer, more energetic midsole for durability and stability. It also doesn't really look that much like a running shoe, making it a nice option for everyday use.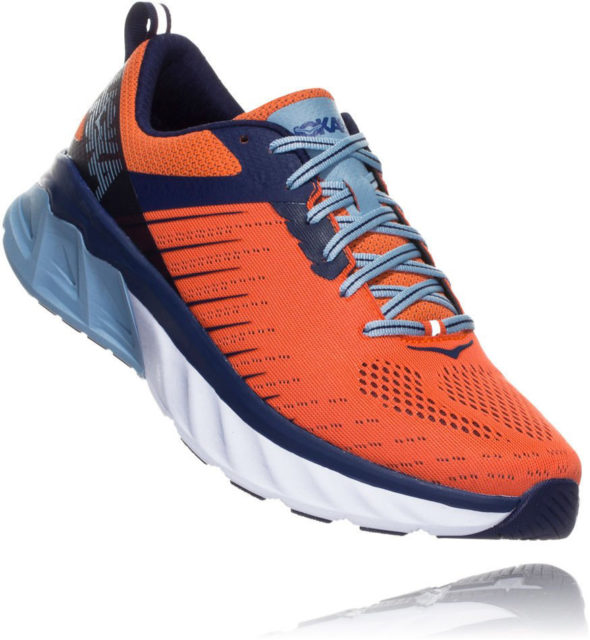 This shoe provides full support in a lighter, still-well-cushioned package. Like the Gaviota 2, the Arahi 3 uses Hoka's J-Frame technology to provide support and foot guidance without sacrificing comfort. But if the Gaviota 2 seems a bit too maximal / cumbersome for you, the Arahi 3 offers a similarly supportive ride in a slightly lower-profile package. If you benefit from more supportive shoes and maximal cushioning but want a lighter option, consider the Arahi 3.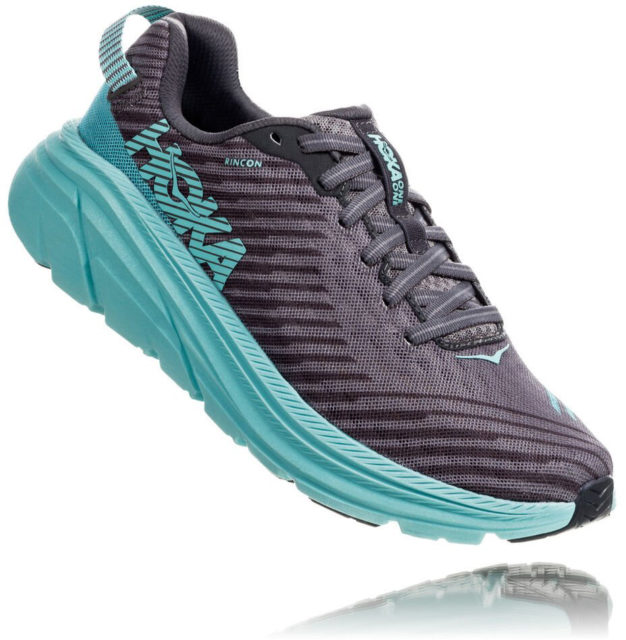 The simple, minimal design of the Rincon makes it surprisingly light given how much cushioning it provides (it's lighter than the Clifton 6, despite having the same amount of cushioning). Named after the infamous surf spot near Santa Barbara, California, the Rincon is designed to provide a smooth, wave-like ride. The Ricon is a less structured shoe, providing a bit less stability and support than the other models, such as the Arahi 3 or the Gaviota 2. If you like a soft, cushioned ride but aren't a fan of the heavy weight that usually comes with it, the Rincon could be a good option.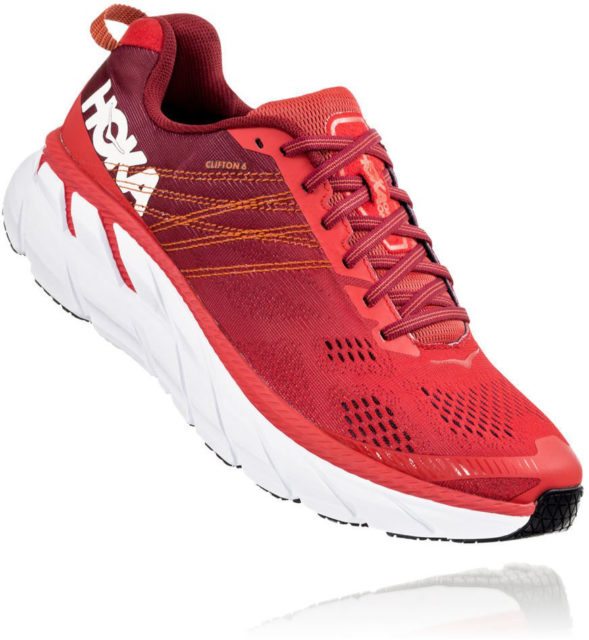 The Clifton was one of Hoka's first shoes, and this 6th iteration of it aims to provide what the Clifton is known for: a lightweight feel, ample cushion, and an upper that hugs your foot in all the right places. The Clifton's "Balanced" level of cushioning (as Hoka describes it) provides enough comfort for big mileage but feels light enough to run fast — especially compared to Hoka's even more maximal road shoes. It offers more support than the minimal Rincon, while being a bit less race-oriented than the Evo Carbon Rocket (heavier, less rebound, but with more rocker and drop). The shoe still has a firm midsole, helping it to feel fast and responsive, but the Clifton 6 has a softer feel than the previous Clifton 5.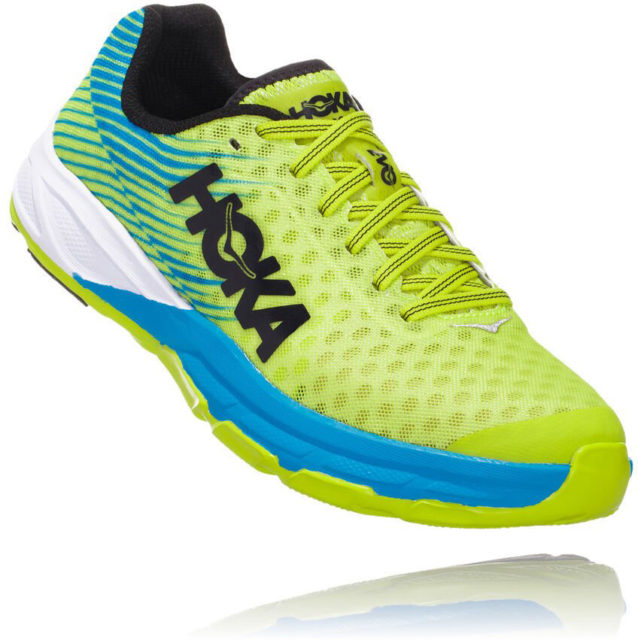 Like the Carbon X, this shoe features a carbon-fiber insert in the midsole to maximize energy return. It's also got plenty of cushioning to reduce foot fatigue during long, fast road miles. The minimal upper and lightweight midsole foam keeps weight to a minimum. With a nearly flat heel-to-toe drop, this is a great race-day option for runners who prefer a low-drop shoe, but who still want good energy return and cushioning in a lightweight package.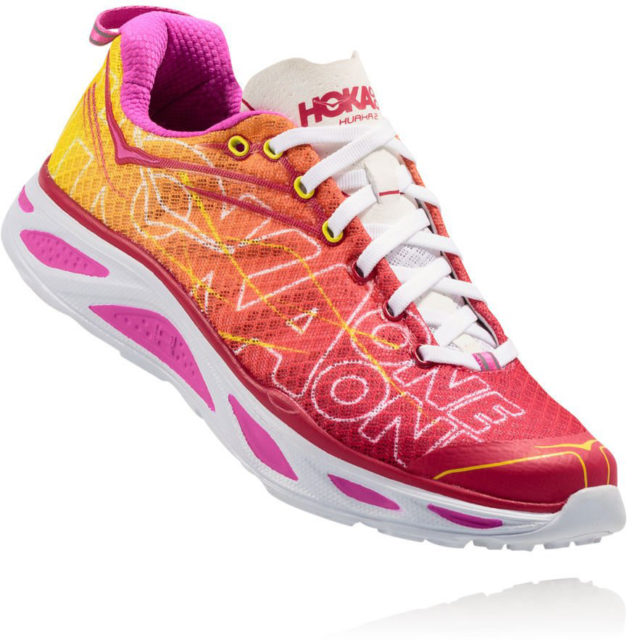 This women's-specific shoe is designed to provide a fast, cushioned, lightweight ride. Its full-length RMAT midsole is much firmer and more durable than Hoka's other midsole options, while its minimal upper keeps the weight of the shoe down. The Huaka is a good option for runners who like cushion, but prioritize energy return and efficiency over maximum comfort. It's also worth noting that the Huaka 2 only has a 2 mm drop, so it'll be best suited for people who tend to strike with their midfoot or forefoot.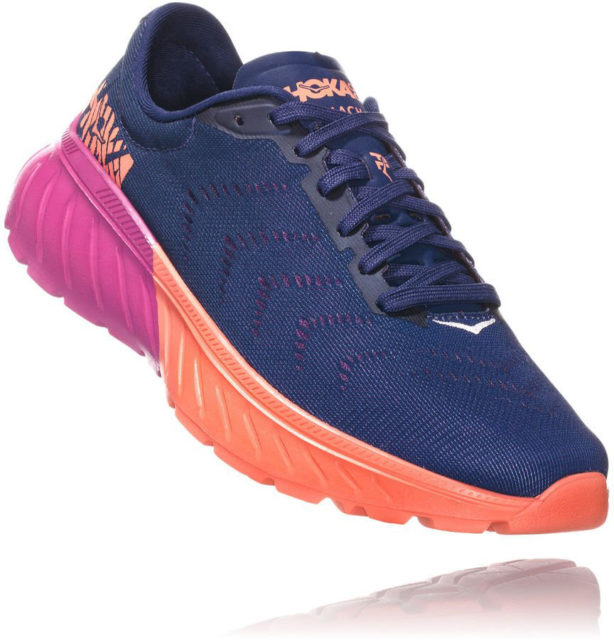 This race-oriented shoe includes features similar to the Carbon X at a lower price point. It's Profly midsole and lightweight mesh upper make it faster and more efficient than its fairly thick midsole might initially suggest. The Mach 2 is well suited to uptempo training days and races, but would make a good all-round shoe as well if you prefer faster, less-cushioned shoes.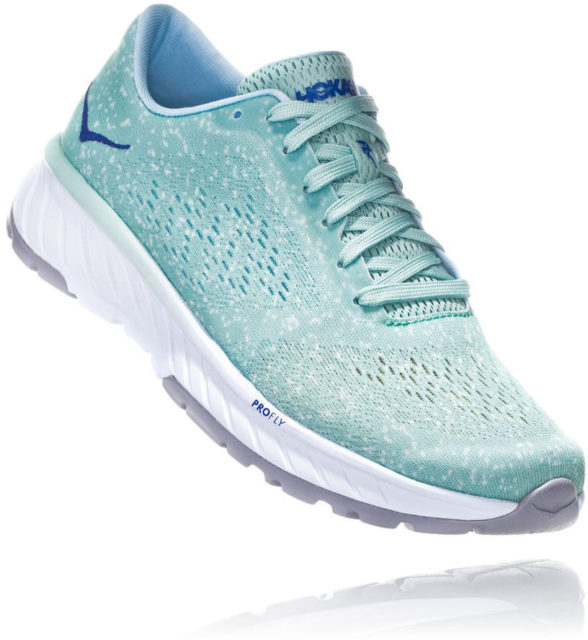 The Cavu features the same PROFLY midsole as the Mach 2 with a slightly lower stack height and weight. It's stripped-back, simple upper and springy midsole make it a great option for fast miles on the road, and its clean-looking knit upper makes it an appealing everyday option.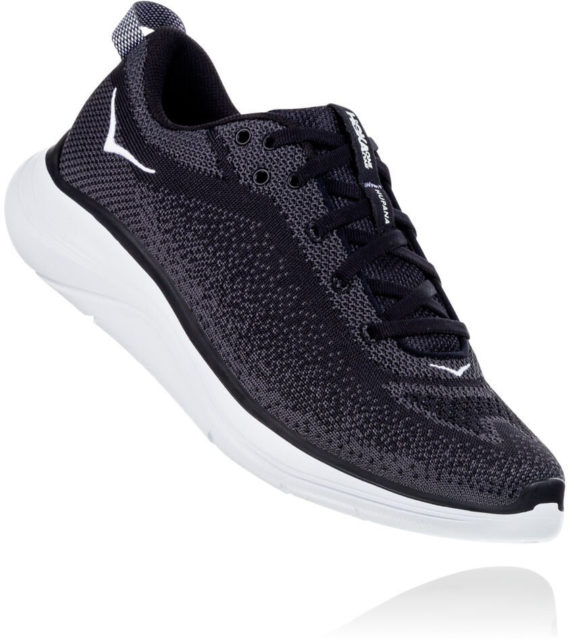 This shoe is designed to be a versatile option that feels at home whether running, hitting the gym, or walking around town. It's got a knit upper and lightweight midsole with a lacing system designed to offer increased lockdown over your instep during lateral movement (e.g., in the gym). If you like lightweight cushioning for all kinds of activities, this shoe is a good option.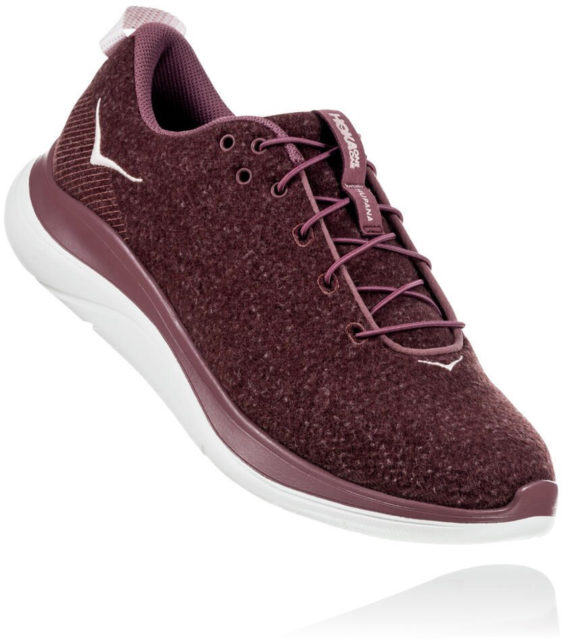 Featuring the same rubberized-foam midsole and outsole as the standard Hupana Flow, the wool version features, you guessed it, a wool upper. It also comes with both standard laces and "speed laces" that you don't need to tie. The Hupana Flow Wool is slightly heavier and a bit warmer than the standard Hupana Flow, making it a solid option for cooler days, and the simple wool upper looks pretty sharp, too.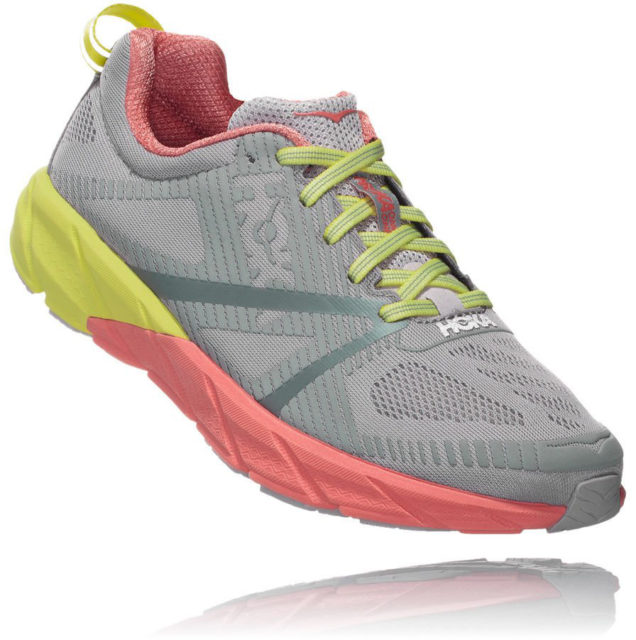 The Tracer is one of Hoka's more minimal racing shoes, featuring a dual-density midsole, ultralight upper, a slightly narrower fit, and a flatter, less rockered profile than many of their more cushioned shoes. As far as low weight and moderately high cushion go, this shoe stands out. It's a great race-day option for runners who want a moderately cushioned, high-performance, fast shoe.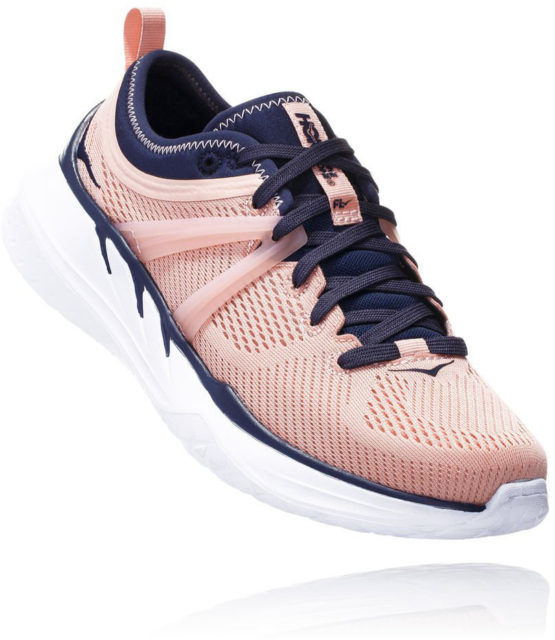 This women's-specific shoe is designed to deliver Hoka-style cushioning in a cross-training shoe. The Tivra has a broad forefoot platform and lateral straps for improving stability with lateral movements. If you're looking for a Hoka that's ready for dynamic workouts, check out the Tivra.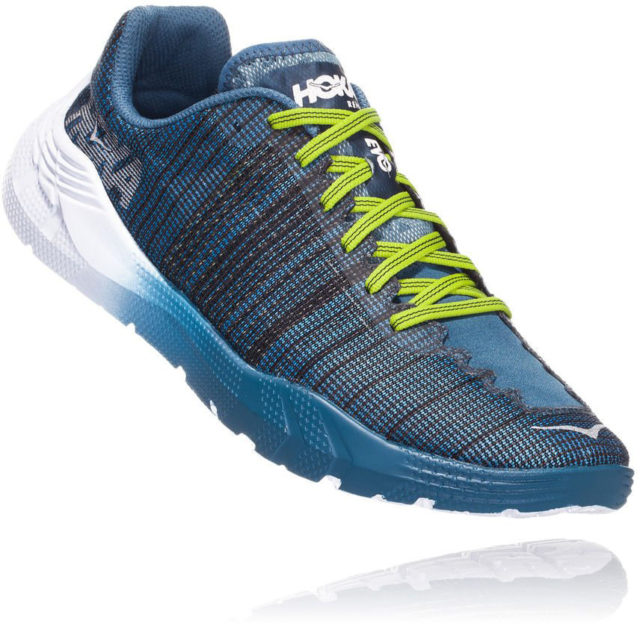 This is as close as you'll get to a truly "minimal" Hoka road shoe. With a lower stack height and lighter construction than all of their other road shoes, the Evo Rehi is a great option for runners who want an ultralight shoe with just enough cushioning to maintain a comfortable ride.
(Most Cushioned to Least Cushioned)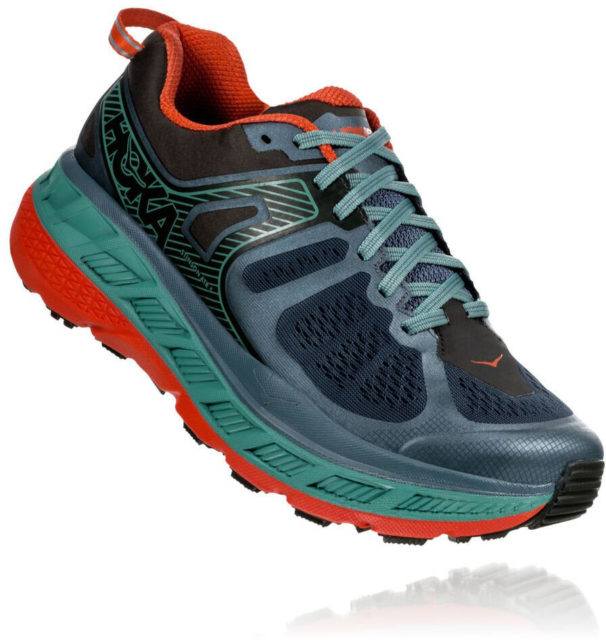 One of Hoka's original models, the Stinson ATR offers maximum cushioning in an all-terrain package. The latest version reportedly has a more locked down fit and improved toe box. While it's not the best option for technical trails due to its stack height, this shoe is well suited for long miles on moderate terrain where maximal cushioning is a priority. The low-profile outsole lugs also make it a good option for runs that involve both pavement and trail. We do recommend giving these a try before buying as we've found the Stinson ATR 4 to have a surprisingly stiff, and not particularly "plush" midsole.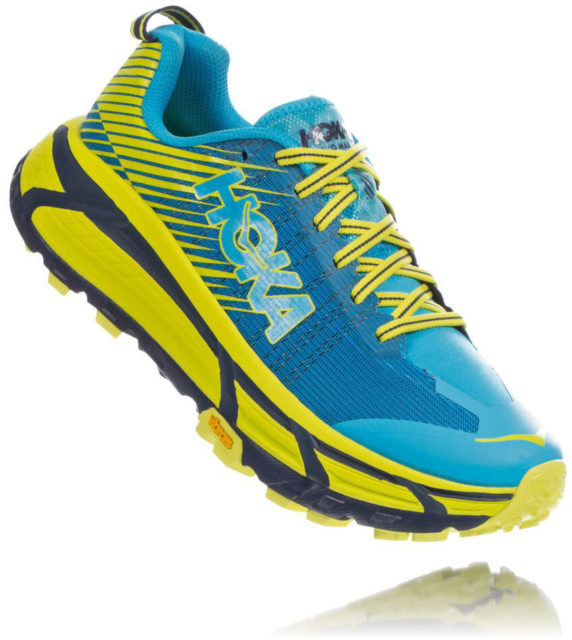 The updated Evo Mafate 2 was designed with Hoka's elite athletes to provide a maximum-cushion shoe that can still hold up to technical terrain (more so than the Stinson ATR 5). It's got a lightweight upper, firmer cushioning, and an aggressive outsole. If you want as much cushioning as possible without sacrificing much efficiency and stability on more technical trails, this shoe may be worth a look. The original Evo Mafate is also still available, which is ~20 grams lighter and has a more minimal upper.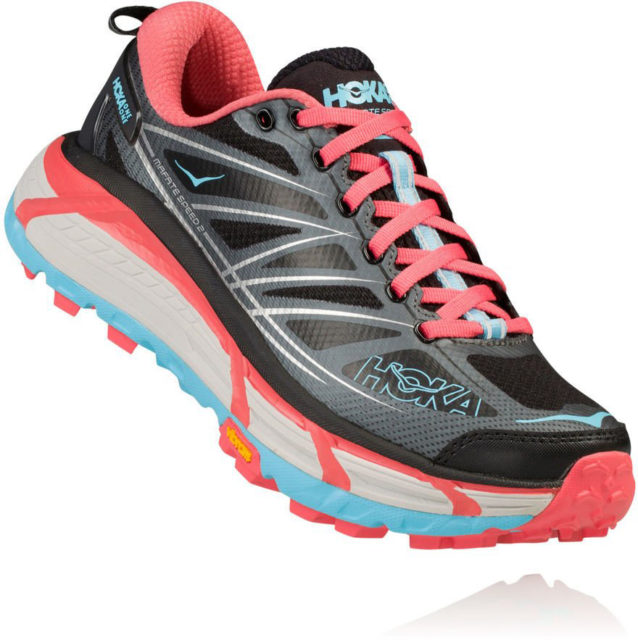 A slightly lower, more supportive version of the original (now-discontinued) Mafate, this shoe is designed for everyday use on a variety of terrain. The broad platform offers a little more stability than the Evo Mafate 2, while the pretty aggressive 5 mm lugs provide traction on all kinds of surfaces. If you like the sound of the Evo Mafate but want a bit more support and don't mind a bit more weight, the Mafate Speed 2 is worth a look.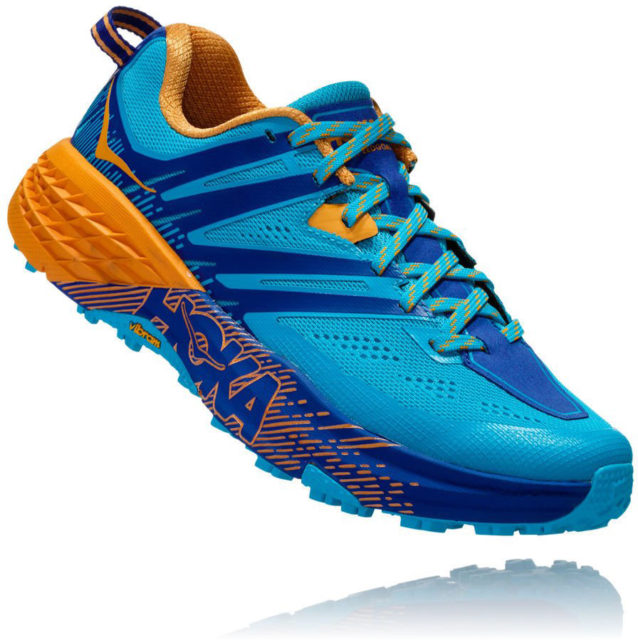 A long-time favorite in the Hoka trail lineup, the Speedgoat was designed to excel on technical terrain, and offers a slightly lower platform compared to the three shoes above. The latest version has a wider toe box and midsole for improved stability and comfort. If you like maximal cushion but find that other similarly cushioned models suffer when the trail gets technical, give the Speedgoat 3 a look.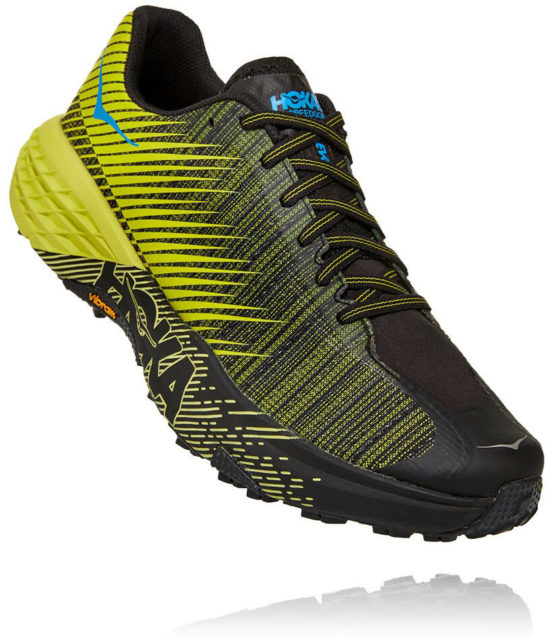 This stripped-back version of the Speedgoat features the same outsole and midsole with a more minimal, lightweight upper and a stretchier, gusseted tongue. If you like the Speedgoat but want something lighter for race day, this is the shoe for you.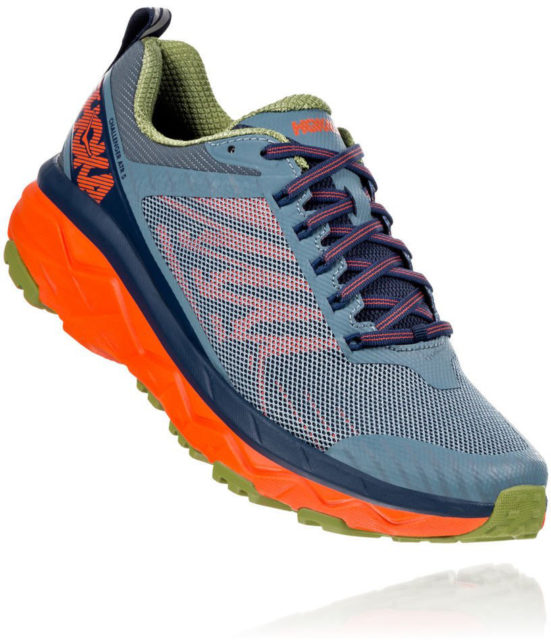 The Challenger ATR 5 features a cushioned, rockered platform with low-profile outsole lugs that work for both roads and moderate trails. Despite its lower-profile outsole (compared to the Speedgoat and Mafate shoes), we've still been happy using the Challenger ATR 5 for pretty technical trails. If your runs often have a mix of surfaces but you want a much lighter, faster option than the Stinson ATR 5, the Challenger is worth checking out.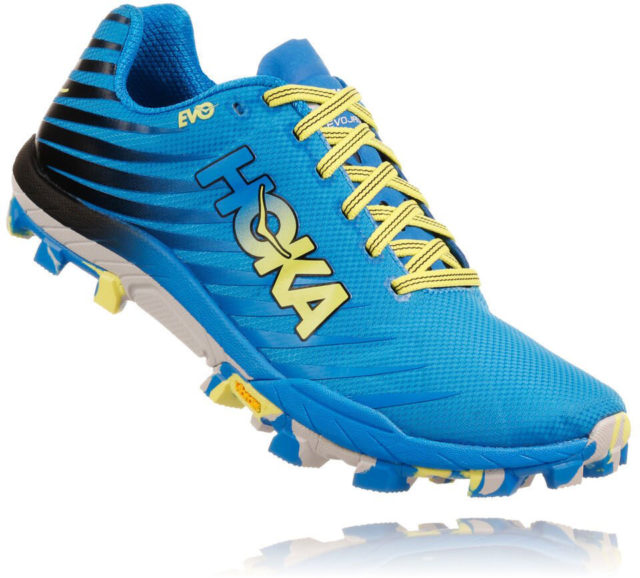 The Evo Jawz is Hoka's first foray into the world of mud shoes. While more minimal than most Hoka shoes when it comes to cushioning, the Jawz still offers a moderately cushioned, stable platform in combination with very aggressive 6 mm lugs and a light, minimal upper. It's ideal for fast running on technical, muddy terrain.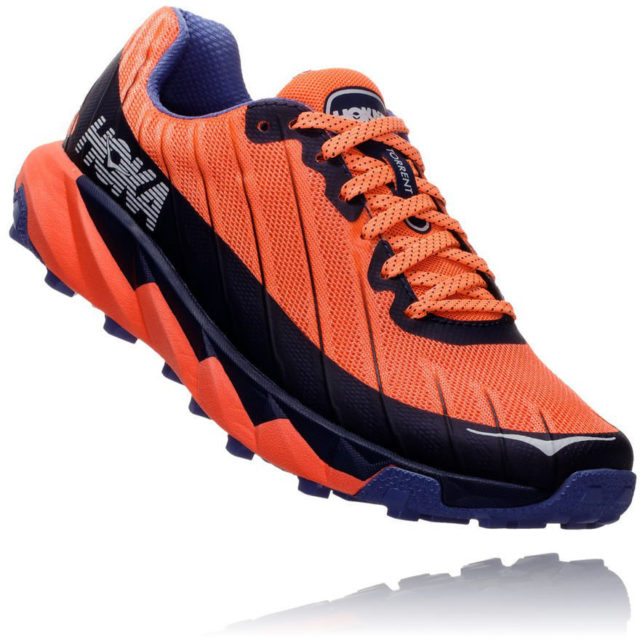 This race-ready trail shoe is intended to provide a precise ride while still offering the comfort of Hoka-style cushioning. Featuring the same PROFLY midsole as many of Hoka's road racing models, the Torrent has a faster and more efficient feel than other Hoka trail shoes. If you're looking for a light, fast, cushioned trail shoe that performs well on a variety of terrain, check out the Torrent.