Five Ten Kestrel Pro Boa
Test Location: Gunnison-Crested Butte Valley, Colorado
Test Duration: 4 months of riding
Reviewer: 5'11", 155 lbs
Size Tested: US Men's 9.5
Blister's Measured Weight per Shoe (size 9.5): 458 grams
Upper: micro-perforated, water-resistant synthetic
Closure: Boa® IP1 closure system + velcro strap at forefoot
Stated Features:
Boa® Closure System for micro-adjustment, and secure and consistent hold
Synthetic weather-resistant micro-perforated upper
Perforated EVA tongue with mesh overlay
Stealth® C4™ rubber outsole for unbeatable grip
Durable lightweight EVA midsole & OrthoLite® sockliner
Clipless style
Non-slip heel cup
Stiff carbon-infused nylon shank
Clipless Pedals Used: Shimano XTR PD-M9020 & Shimano Saint PD-M820
MSRP: $200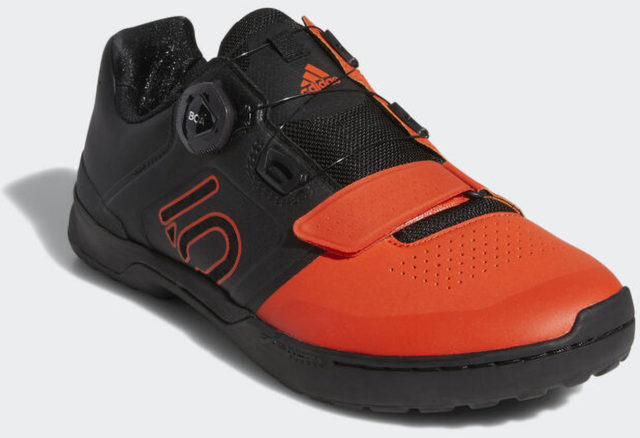 Intro
Introduced in 2019 and returning unchanged for 2020, the Kestrel Pro Boa is Five Ten's most pedal-friendly shoe. It features clipless compatibility and their stiffest sole for efficient power transfer while pedaling, though it's very far from some XC shoe — it still retains a pretty flat-soled silhouette and lots of rubber for off-the-bike hiking situations.
The Kestrel Pro Boa is designed to be a relatively well-rounded shoe, falling between minimal XC shoes and much burlier, more flexible DH options, and is aimed at "all-mountain" and "enduro" riding, according to Five Ten.
I've spent a lot of my time in lighter XC shoes, but I also do a good deal of hike-a-biking and racing for Western's MTB team, so I was excited to see if the Kestrel Pro Boa could really give me the best of both worlds. My time in the shoes has consisted of a little bit of everything, from DH races to all-day backcountry missions to trying new lines at Hartman Rocks in Gunnison — here's my take:
Features and Construction
As I just noted, the Kestrel Pro Boa seems to fill a middle ground between ultralight XC-style shoes designed primarily with pedaling in mind and more heavy-duty, downhill-oriented clipless options like the Five Ten Hellcat Pro. The Kestrel Pro Boa's construction definitely reflects that.
The Kestrel Pro Boa's closure system is one of the most notable features of the shoe. It features a Boa IP1 dial-style closure system accompanied by a velcro strap at the forefoot. Adjustability is the name of the game here: it is super easy to tighten or loosen the shoes mid-ride. The velcro strap is designed to adjust the volume of the shoe in the forefoot area, while the BOA takes care of the midfoot and instep (below I'll talk more about the fit).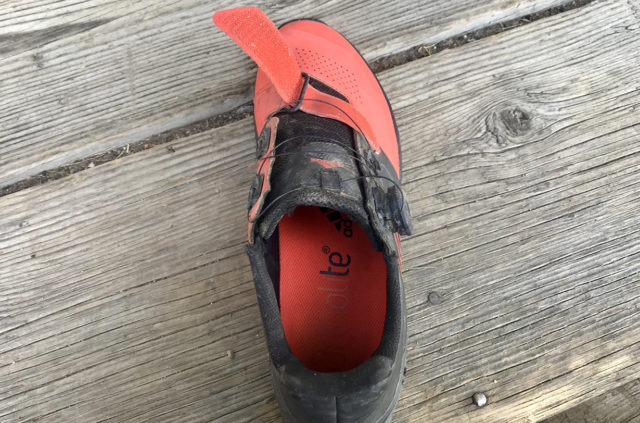 Five Ten dubs the upper of this shoe "synthetic weather-resistant micro-perforated upper." That's a mouthful, but it is basically a lightweight synthetic material with small perforations for added breathability. The Kestrel Pro Boa's upper material is definitely on the light and thin side compared to most other Five Ten shoes, but pretty standard compared to many "all-round" XC shoes. Five Ten says the Kestrel Pro Boa's tongue is made of perforated EVA with a mesh overlay and it's much less water-resistant than the rest of the shoe, but it is breathable and has enough padding to protect my feet from the thin Boa cables, which would otherwise likely create some notable pressure points.
The sole of the Kestrel Pro Boa is stiff — and I mean stiff. It has an internal, carbon-infused nylon shank to make the sole of this shoe just about as stiff as a two-by-four. Five Ten doesn't mention whether the shank is full-length or not, but for me, it's basically impossible for me to bend it from heel to toe. The Kestrel Pro Boa has a softer midsole material that goes from the heel of the shoe to about 2/3rds of the way forward (you can see this section in the photo below). This stiff sole + softer midsole combo is intended to keep the shoe from feeling like a two-by-four while still maintaining pedaling efficiency in the front of the shoe. Overall, I'd say it does so fairly well, though the softer midsole doesn't make the shoe any more flexible longitudinally (which is a plus in terms of power transfer).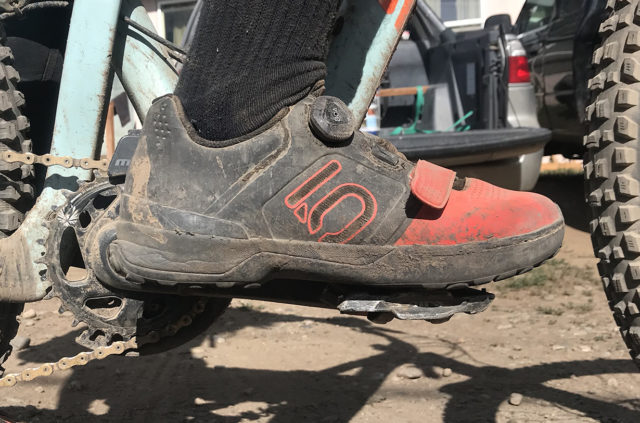 Unlike many heavier shoes, the Kestrel Pro Boa doesn't feature much added rubber for protection around the toe box, though it does have a small toe bumper and some thin, laminated overlays. The Kestrel Pro Boa's outsole features Five Ten's excellent Stealth C4 rubber in the brand's classic "Dotty" tread.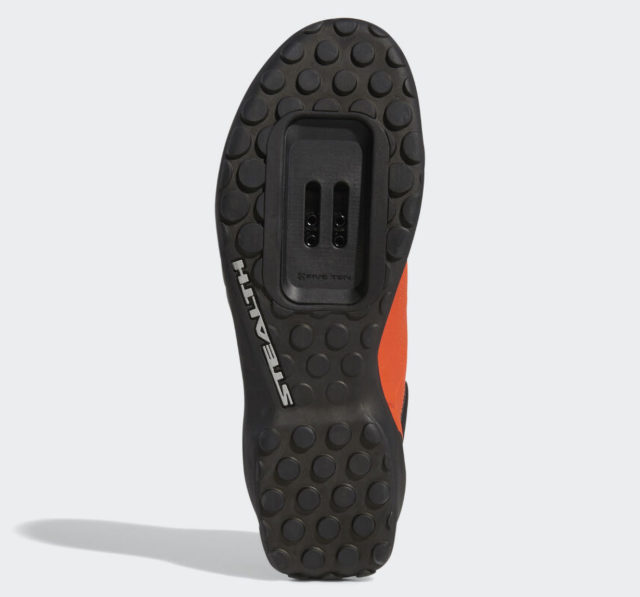 The Kestrel Pro Boa also features a stiff heel cup that is designed to reduce torsional flex and generally keep your heel locked in, and there is also a non-slip fabric around the inside to grip your heel. The inside of the shoe is topped off with an OrthoLite® sockliner / footbed.
Clipless cleats are attached into the Kestrel Pro Boa's slots, which are about 30 mm long. That's a decent range, but I've found my preferred setup with this shoe is to push my cleats as far back as possible. I think some more room to slide the cleats back would satisfy just about every rider. Like the Hellcat Pro, the Kestrel Pro Boa's slots are recessed pretty deeply and my SPD cleats don't protrude at all past the sole, which creates some pros and cons that I'll discuss below.
Weight
My pair of the Kestrel Pro Boa came in at an average measured weight of 458 grams per shoe (without cleats) for a US Men's size 9.5. Like its construction and intended use, that weight puts the Kestrel Pro Boa between shoes in the XC and more DH-oriented categories. There are tons of much lighter options if that's a priority for you, but the Kestrel Pro Boa is a notably lighter than some of the more protective shoes like the Hellcat Pro. For what it is and what it's designed for, I haven't found the weight of the Kestrel Pro Boa to be a notable drawback, but as always, your thoughts on that will depend on your riding and preferences.
Fit
At the end of the day, fit is a personal thing and it is solely dependent on your foot. So as with all of our footwear reviews, we highly recommend trying on a shoe before buying, when possible. For my narrow foot, which falls somewhere between a US Men's size 9 and 9.5, the size-9.5 Kestrel Pro Boa fits almost perfectly (if only there was a size 9.25…). The general consensus I've heard between riders regarding this shoe is that it runs a bit large in terms of length, and I'd have to agree.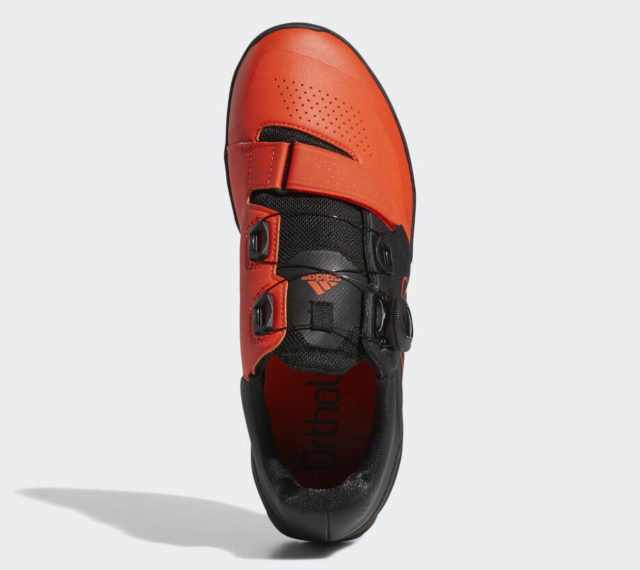 Five Ten claims that the Kestrel Pro Boa offers a "secure fit," and I think the accuracy of that statement will depend on your feet and preference. I have a narrow foot and I find the toe box of this shoe to be very roomy. Even after cranking down the velcro strap at the forefoot, I wish that the shoe was slightly more snug. This is definitely one area where it differs from a lot of the more minimal XC shoes, and may also make it much more appealing for those who need more room in the forefoot / toe box.
Other than that, the Boa closure system is awesome for dialing in the fit to be exactly how tight you'd like, and for doing so quickly and easily. It comes in handy especially on longer rides when feet swell and get sweaty / wet. Adjusting the Kestrel Pro Boa on-the-fly is a very painless task, especially if you're coming from regular lace-up shoes. Getting used to how the Boa dial operates takes some practice, but once I got it down, it basically became second nature for me and I could easily make adjustments while I was still on my bike.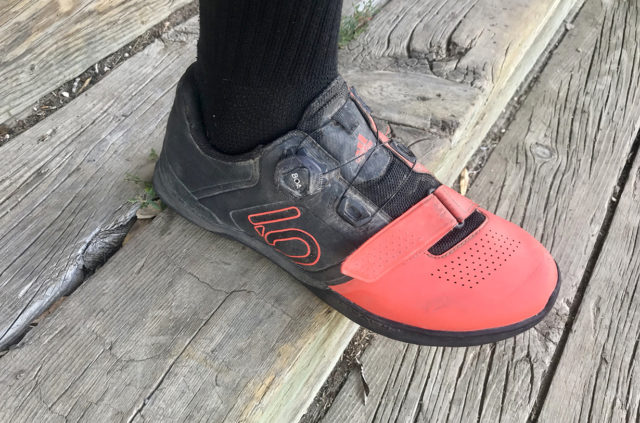 The Kestrel Pro Boa's heel cup has done a great job of keeping my foot in place while riding. That said, I do often get some heel slippage while hiking in the shoe in very steep terrain. I think this can be attributed to the shoe's extremely stiff sole, which doesn't bend and conform to my feet and terrain like softer shoes will. If you are often hiking up rock slabs and steep trails, this heel slip might get annoying, and it might be worth checking out a slightly softer shoe like the Hellcat Pro.
On the Bike
The Kestrel Pro Boa made it a little bit harder to clip in and out of my SPD pedals than what I am used to, having ridden mostly XC-style shoes in the past. I think this mostly comes down to the Kestrel Pro Boa's deep recess for the cleats and the integration with my Saint SPD pedals in particular. The large, flat-pedal-like platform that surrounds the SPD portion of this pedal can prevent me from tilting and turning my foot the way I need to release from the pedal, especially if I have pins installed in the Saint SPD. That said, after about six rides with the Kestrel Pro Boa, I adjusted and everything felt pretty normal to me after that point.
It's worth noting that I found that pedals with smaller platforms or no flat platform at all (e.g. Shimano XTR PD-M9020) tend to work better with the Kestrel Pro Boa than pedals with larger flat platforms (e.g., Shimano Saint PD-M820). As I noted, the larger platform makes it a bit more difficult to get in and out of the pedal due to the fairly deeply recessed channel of the Kestrel Pro Boa.
Other than a slight learning curve likely due to my past with XC shoes, the Kestrel Pro Boa pedals really well and has been comfortable on both short and all-day rides. It offers competitive power transfer qualities compared to many XC shoes I've used (e.g., Bontrager XXX MTB) and has been comfortable enough to spend all day at a bike park or on big backcountry missions (something that I wouldn't love doing in most XC shoes). The Kestrel Pro Boa's stiff sole, combined with its softer midsole and insole, provides great support for my foot and I have never had any foot fatigue from long descents in the Kestrel Pro Boa.
This shoe is also very nicely ventilated for what it is. On very hot days, my feet have not been getting excessively sweaty or hot in the Kestrel Pro Boa. Once again, this shoe feels like it falls somewhere between some of the super light XC shoes and burlier DH options in terms of breathability. That being said, the Kestrel Pro Boa lets in water very easily and doesn't let it out super quickly. So if you do a lot of rainy rides or those with lots of creek crossings, it might not be your best option.
Off the Bike
One of my most recent rides on the Kestrel Pro Boa included a grueling, mile-long, 1000-foot-vertical hike-a-bike. As I mentioned earlier, the shoes had a little bit of heel slip when I was walking up very steep slopes. Other than that, the tried-and-true Stealth C4 rubber outsoles with a deep recess for the cleats provided plenty of traction in loose and / or rocky terrain. While that deep recess may take some getting used to in terms of getting in / out of pedals, it's definitely a plus when you're off the bike.
Like most of Five Ten's bike shoes, the "Dotty" tread pattern of the Kestrel Pro Boa's outsole is great for most dry-ish conditions, though there are some shoes out there with larger lugs that'd be a bit better suited to hiking on super wet and / or deep conditions. For the terrain and weather around Gunnison and Crested Butte, the Kestrel Pro Boa's outsole has been great.
Another thing I like about these shoes is that they are decent for walking around and driving. With the Kestrel Pro Boa, I don't feel like I am wearing elf shoes when I go in for a post-ride taco or step outside of my car to fill up on gas. They certainly aren't as comfortable as street shoes in this aspect, primarily due to just how stiff they are, but they can do everything you need to-and-from rides.
Random: Ortholite Sockliner
This probably won't be a big deal for most people, but the Kestrel Pro Boa's included Ortholite® sockliners seem to absorb a ridiculous amount of water. After walking through a creek crossing, I felt like I could fill a water bottle with the amount of water that was in the shoes. I haven't experienced anything like this in another shoe, and while it's not a big issue, it's enough to make me take my shoes off and wring out the footbeds.
Durability
After about 4 months of using them for the vast majority of my rides, the Kestrel Pro Boa has held up well. Other than a few very small threads popping out here and there, the shoes are very much intact and pretty much performing just as well as when I first got them. I spend a lot of time on hike-a-bike climbs as well as hiking up and down lines to scout them. The Kestrel Pro Boa's soles are definitely showing some wear at this point, but are still in good shape and feel very grippy on surfaces like steep granite rock rolls. I know there is still some worry about the long-term durability of the Boa system, but so far I have had zero issues with it on the Kestrel Pro Boa, and Boa now offers a lifetime warranty on their closure systems for some more peace of mind.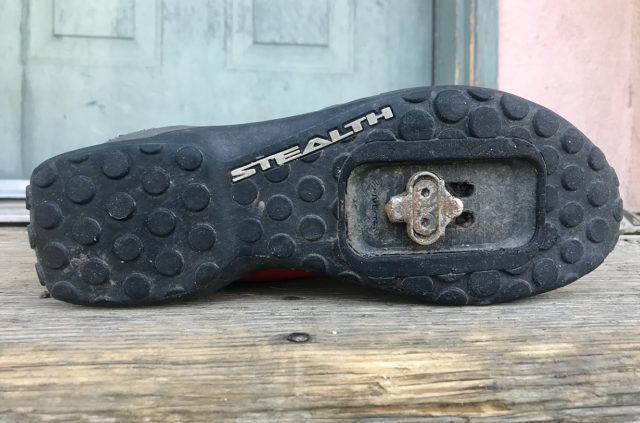 Bottom Line
Riders who appreciate a very stiff, efficient clipless shoe and who occasionally spend time off the bike for hike-a-bike climbs or scouting lines have many reasons to check out the Five Ten Kestrel Pro Boa.
There are many XC-oriented shoes that outshine the Kestrel Pro Boa in terms of weight, breathability, and pedaling efficiency, but in any off-the-bike situation, the Kestrel Pro Boa is significantly better than any of the XC shoes I've used. Compared to some of the high-end shoes on the Enduro or gravity-oriented side of the spectrum, the Kestrel Pro Boa doesn't offer quite as much protection as most, it definitely isn't the best choice when it comes to repetitive off-the-bike pushing and hiking due to its stiff sole, and it isn't as warm or weather resistant as some other less-ventilated options.
But for those who are looking to combine much of the efficiency of stiff, XC-style shoes with some of the protection and off-bike versatility of burlier options (and are willing to deal with some sacrifices on both sides of the spectrum), the Kestrel Pro Boa warrants strong consideration.