Here in the Gunnison-Crested Butte Valley, we seemed to have completely skipped spring and switched right to summer, so we ended up quickly trading our running tights for shorts. But not all running shorts are equal — many shorts now have added features, built-in compression, shorter or longer cuts, extra pockets, the capacity to carry additional gear / water, etc.
So how do some of the current running shorts compare? Here we've rounded up a bunch of the men's and women's shorts that several of our reviewers have been running in and go over how they differ and which ones might be best for you and the kinds of running you enjoy. Nearly all of these shorts are available in both men's and women's versions and in multiple inseam options, so we'll note that as well. As always, we're not able to review everything on the market, so we'd be happy to hear about your go-to shorts and why you like them.
Fabric:
Liner: "nylon hyper tight"
Shell: "ultralight stretch woven" w/ mesh accents
Inseam Length:
Liner: 9" / 22.9 cm
Shell: 4.5" / 11.4 cm
Size tested: Men's Small
MSRP: $99.95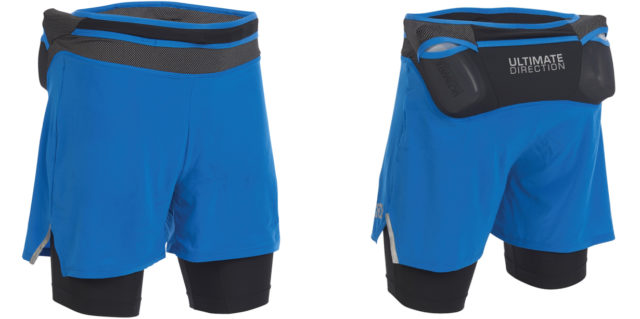 Gordon Gianniny: As far as storage capacity goes, the Ultimate Direction Hydro Shorts are pretty darn hard to beat. The Hydro Shorts are kind of a combination of a pair of running shorts and a waist hydration belt; they've got a tight compression liner and lightweight nylon shell like many other "2-in-1" shorts, but they've also got two large pockets on the back that can carry the two included 300-ml bottles and a third pocket that easily fits an iPhone 8 in a LifeProof case.
I was a little skeptical that I'd actually be able to stuff 600 ml of water, a phone, and a few gels into my shorts and go for a run without the shorts bouncing around, falling off, or generally being uncomfortable. But I've been pleasantly surprised by how well the Hydro Shorts work for their intended purpose. The bottles slosh a little once you've started drinking out of them (like pretty much any bottles will) but there's almost zero bounce, and the tight liners and waistband cinch-strap make the shorts fit securely even when fully loaded. I do wish that the rear middle pocket had a zipper, as I often put my phone and keys in it. I haven't ever had anything fall out, but I wouldn't mind a little extra security.
I usually prefer shorts with a more traditional, non-compression liner (what can I say, I like airflow), but the Hydro Shorts' compression liner hasn't caused any chafing or discomfort so far. It isn't quite as light and breathable as the liners in the Patagonia Strider Pro or Rabbit FKT 5", so I'd give the nod to those shorts in especially hot weather. But if you're looking for a pair of shorts that basically negates the need for a hydration waist pack or vest on medium-length runs, the Hydro Shorts are a pretty solid option. As far as sizing goes, the Hydro Shorts seem to run pretty true to size. I'm a Small in just about every running short I've tried, and a Small felt good in the Hydro Short as well.
Finally, it's worth noting that Ultimate Direction also makes a women's version of the Hydro Short with a shorter cut, as well as "Skin" versions of the Hydro Short that ditch the outer shell fabric.
Fabric:
Liner: 2.7-oz 42% recycled polyester w/ HeiQ Fresh anti-odor treatment
Shell: 1.9-oz 100% recycled polyester stretch ripstop
Inseam Lengths: 5" or 7" / 12.7 or 17.8 cm
Size Tested: Men's Small, 5" inseam
MSRP: $69 (both inseams)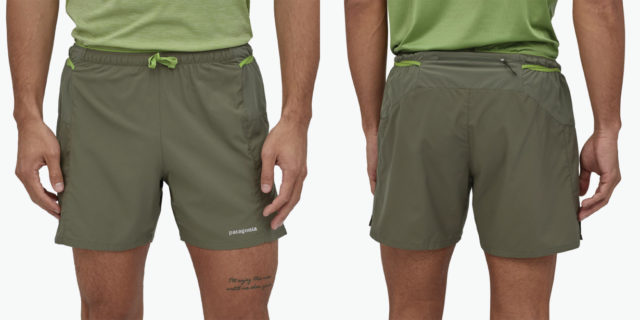 Gordon: The various iterations of the Patagonia Strider Pro Shorts have been my go-to basically since I started trail running. They've always provided nice storage options, a comfortable fit, and excellent durability. The latest version of the Strider Pro has a lighter shell fabric, a larger rear pocket to fit modern-sized smartphones, and in my opinion, an even better fit.
The Strider Pro's liner is comfortable and supportive without feeling as restrictive as the compression-style liners found in shorts like the Ultimate Direction Hydro Short. The new Strider Pro Shorts do feel a bit tighter throughout than previous versions did in the same size I've always used (men's Small), so if you're in between sizes, you might want to consider sizing up.
Like the Rabbit FKT 5", the Strider Pro has no shortage of storage options. The Strider Pro has four open-topped pockets (two on each side) that securely hold gels, gloves, buffs, and even small windbreakers. The large zippered rear pocket does fit my iPhone 8 with its Lifeproof case, but it is a tighter fit than the rear pocket on the FKT 5" or Ultimate Direction Hydro Short. The good news is that, once I've got the Strider Pro's pockets loaded, there's been pretty much no bouncing. Each pocket is anchored to the liner, which has prevented them from bouncing even when I've got heavier items like a phone or food in them.
The Strider Pro's securely fitting liner and lightweight shell fabric make for a very comfortable fit, even in hot weather. The Strider Pro feels noticeably tighter and more secure than the Rabbit FKT 5", which has been a definite plus for me. I haven't had any issues with chafing in the Strider Pro so far, and it feels lighter and more breathable than any of the other shorts I tested. If I was only allowed to have one pair of running shorts, the Strider Pro would definitely be my pick. They don't have quite as much storage as the Ultimate Direction Hydro Shorts, but they've got enough to carry everything you'd need for a medium-length run aside from water — and for my preferences, they're more comfortable than the Hydro Shorts while providing a more secure fit than the FKT 5".
Lastly, Patagonia makes 5" and 7" versions of the men's Strider Pro Shorts, as well as a 3" women's version.
Fabric:
Liner: "RabbiKnit" stretch knit
Shell: 94% polyester / 6% spandex stretch woven
Inseam Length: 3", 5", or 7" / 7.6 cm, 12.7 cm, or 17.8 cm
Size Tested: Men's Small, 5" inseam
MSRP: $65 (3" & 5"); $70 (7")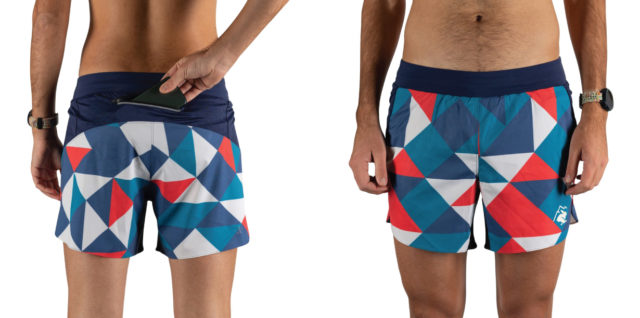 Gordon: I was pretty excited to try out the Rabbit FKT 5" Shorts because, on paper, they look pretty similar to the Patagonia Strider Pro Shorts that I've enjoyed running in so much. Like the Strider Pro, the FKT 5" has four stretchy, open-topped pockets around the sides and a large zippered pocket in the back that easily fits an iPhone 8 in a Lifeproof case (Rabbit says it won't fit "Plus" size iPhones). The FKT 5" also has a more traditional, non-compression-style liner.
When I first put on the FKT 5", I was immediately impressed by how comfortable they are. Rabbit uses a soft, stretchy material for the waistband and liner that initially felt more comfortable than the Strider Pro. The FKT 5" also has a wider waistband than the Strider Pro, which helps improve comfort by more evenly distributing the weight of whatever you've got in the pockets. Unfortunately, after spending some more time in the FKT 5", I think they might actually be a little bit too comfortable. One of the reasons that the shorts feel so good when you first put them on is that they've got a slightly looser fit than the Patagonia Strider Pro or Ultimate Direction Hydro Short. This is initially great for comfort, but I've found that it leads to a little bit of chafing on longer outings in hot weather because of the less supportive / snug liner.
I've also noticed that the FKT 5" bounces around a bit more than the Strider Pro when the pockets are fully loaded. I think this is mostly down to the fact that, unlike the Strider Pro, the FKT's pockets aren't attached to the shorts' liner, and are instead attached to the outer shell fabric. I haven't had any problems with things falling out of the pockets with the FKT 5", but it's just not as secure and bounce-free as the Strider Pro when it's fully loaded. The waist felt about right for me in a size Small, so I don't think that sizing down would help the looseness of the FKT's fit. In spite of the less secure fit, I still really enjoy running in the FKT 5"— they're still extremely comfortable for shorter runs (up to ~2 hours for me), and can still carry a phone, keys, and other essentials without too much bouncing. But if I'm going for a longer run or carrying a bit more, I usually wear the Patagonia Strider Pro instead. It is worth noting that I generally prefer fairly tightly fitting shorts, so if you generally like shorts that are a tad looser, the FKT 5" could be a perfect fit, especially for shorter runs where you don't need to bring as much with you.
It's also worth noting that all of Rabbit's apparel is made in Los Angeles, California and the FKT is available in 5" or 7" inseams, or a "Race Split" version with a 3" inseam.
Fabric:
Liner: 2.7-oz 100% polyester (42% recycled) crepe w/ HeiQ Fresh anti-odor treatment
Shell: 3.7-oz, 91% recycled polyester / 9% spandex stretch woven
Inseam Lengths: 4" or 6" / 10.2 or 15.2 cm
Size Tested: Women's Small, 6" inseam
MSRP: $65 (4"); $69 (6")
Maddie Hart: Patagonia has always made trail running shorts that I found to be excellent; from the fit to the fabric, their shorts always let me comfortably endure many sweaty adventures. The Patagonia Nine Trails Shorts have delivered the same experience.
I opted to try the 6" option for slightly more leg coverage, but the women's Nine Trails Shorts are also made in a 4" inseam (there's also a men's 8" version). I quickly found these shorts to be one of my favorites. I traditionally wear a Small in shorts and the Small in the Nine Trails fit well. I had enough room through my thighs that the fabric felt flowy, but not too baggy so that it would rub or ride up. The waist fits comfortably, and with the drawstring in the front, you can easily adjust the tightness. If you want slightly more coverage or don't want to have to worry about your thighs chafing, the 6" inseam is a great option.
While it's a bit heavier than the fabric on Patagonia's Strider Pro Shorts, the Nine Trail's fabric is very breathable and wicks moisture very well. On high-effort runs where I get very sweaty, the waistband would get damp from sweat, but dry very quickly. I have been wearing these shorts for 3 or 4 runs before washing them with no issues of salt build up in the fabric or them being too stinky, the latter of which I'd attribute to the liner's HeiQ Fresh odor control treatment.
The Nine Trails Shorts feature a single, fairly large pocket in the back. This became one of my favorite features of the shorts. The pocket was large enough to fit my iPhone 8 and my car key, which was ideal for runs where I wanted music but didn't want to have to wear a vest or tuck my phone in my sports bra. The pocket zips closed to ensure the contents don't fall out. Thanks to the thicker design of the waistband on the shorts, even with an iPhone in the pocket, the bouncing is minimal. That being said, if you are going on a longer run, the Nine Trails only have one pocket so carrying capacity is limited.
I have been using my previous Patagonia trail running shorts for 4 years, which are still in great shape with no tears or stretching. I fully anticipate the Nine Trails shorts to have a long life ahead of them. Even though these shorts are on the slightly more expensive end of the spectrum, their durability and comfort make them worth it in my opinion.
Fabric:
Liner: "RabbiKnit" stretch knit
Shell: 89% polyester / 11% spandex stretch woven
Inseam Length: 4" or 7" / 10.2 cm or 17.8 cm
Size Tested: Men's Small, 4" inseam
MSRP: $65 (4"); $68 (7")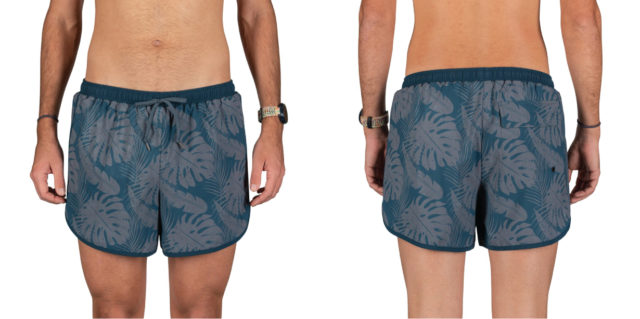 Gordon: As the name suggests, the Surf 'n Turf 4" Shorts are kind of a combination between a running short and a board short. They fit similarly to the Rabbit FKT 5", but the Surf 'n Turf's shell fabric is much stretchier and feels more similar to most stretchy board-short fabrics than most running-short fabrics. In addition to scoring some sweet style points, this fabric is actually super comfortable for running — light, stretchy, and dries extremely fast.
Like the FKT 5", the Surf 'n Turf Shorts are very comfortable when you first put them on thanks to their slightly looser fit. As with the FKT 5", this looser fit is a bit of a tradeoff for long-term comfort, as I've found that it can lead to some chafing on runs longer than 2 hours in hot weather. The Surf 'n Turf also has more limited storage options than the other shorts I reviewed, but that hasn't been much of an issue on the type of runs for which I've been using them. The Surf 'n Turf Shorts do have a large zippered pocket on the back of the butt that looks like the pockets you'd see on the back of a pair of board shorts. Again, I'll give Rabbit some style points for the pocket design, but the fact that it's not attached to the waistband or liner means that it bounces quite a bit when you've got heavier items in it. I can fit my iPhone 8 with a Lifeproof case in the pocket, but usually just use it for keys or a credit card due to the aforementioned bouncing.
The Surf 'n Turf certainly wouldn't be my first choice for long runs where I'm trying to carry lots of gear in my shorts, but I really enjoy running in them for shorter outings. They're comfortable, simple, and look good — and on the off chance that you do end up at the beach (or river, in my case) at the end of your run, you'll fit right in.
I've been using the 4″ version of the Surf 'n Turf Shorts, but Rabbit also makes a 7" men's version and 2.5" and 4" women's versions.
Fabric:
Liner: 72% polyester / 18% elastane / 10% XT2 polyester
Shell: 86% polyester / 14% elastane
Waistband: 75% nylon / 25% elastane
Inseam Lengths: 3" or 4" / 7.6 cm or 10.2 cm
Size Tested: Women's Medium, 4″ inseam
MSRP: $50 (both inseams)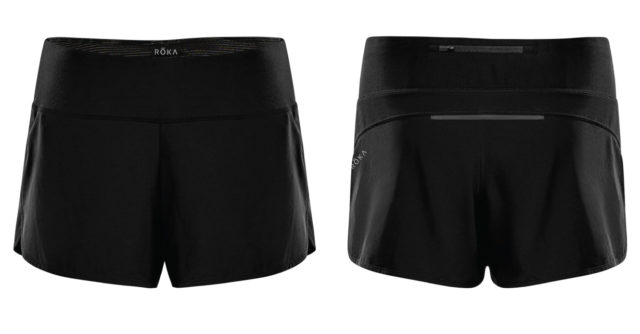 Kristin Sinnott: For years my go-to running shorts were a pair of Lululemon shorties in basic black. They were absolutely perfect until I decided to wear them while pregnant — something I do not recommend. They are now stretched out and to my dismay, Lululemon discontinued them. Thankfully, I found the ROKA Shadow 4" Shorts. These shorts from the Austin, TX brand are available in a 3" and 4" inseam and I found the 4" to be my ideal length (they also make a 5" men's version). They offer enough coverage to maintain a bit of modesty after my run ends and I inevitably wear the shorts the rest of the day, but they also aren't so long that they detract or interfere with the shorts' main purpose — to run.
Beyond the length, the Shadow 4" Shorts fit very comfortably. The anti-microbial liner is light, breathable, and stretchy. Once on, zero adjustments are needed for the remainder of the day. A good pair of running shorts are ones you can put on and forget about — no overheating or excess sweating, no adjusting the liner, no chafing, and no issues with them riding up. The Shadow Shorts have been exactly that in my experience. The waistband is snug at the top and the drawcord gives me the option to tighten them if needed, but I haven't had to use it yet (and since the drawcord lies flat and out of the way when not in use, it's still comfortable). The zippered back pocket is located on the waistband, is water resistant, and 4" wide by 2.5" deep. It's great for carrying an ID, credit card, and / or car keys, but it's too small for my cell phone or any other medium to larger cells.
At $50, I think the Women's Shadow Shorts are a great value and one of the least expensive pairs of shorts on this roundup. ROKA has a direct-to-consumer business model that avoids retail stores and the corresponding additional markups. A quality pair of running shorts is difficult to find especially for a decent price, but I've found the Shadow 4" Shorts to be worth every penny and more.
Fabric:
Liner: 100% polyester mesh
Shell: 100% polyester woven w/ 100% polyester mesh inserts
Inseam Lengths: 5" or 7" / 12.7 or 17.8 cm
Size Tested: Men's Medium, 5" inseam
MSRP: $45 (5"); $50 (7")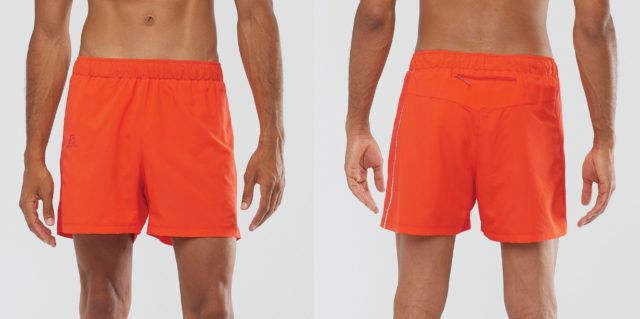 Luke Koppa: I included these back in our 2018 Running Short Roundup but Salomon hasn't changed them and I'm still a fan, so I'm tossing them in here, too.
My runs are way, way shorter than Maddie & Gordon's, and seeing as I'm also in way, way worse shape than they are, I tend to have different priorities. I'm usually only running on the trail or road for 20–45 minutes, so I don't tend to need as supportive of a liner and there's less time for my shorts to start chafing. I also get hot and sweaty quite easily, so I'll typically take breathability and a lightweight fabric over a super supportive liner and pocket options.
The Agile 5" is still one of my favorites for the running I do, and it's notably less expensive than many of the more feature-rich shorts out there. Unlike most of those shorts, the Agile has a pretty short, brief-cut, mesh liner that's fairly loose. That's fine for the running I do, but if you know you prefer a tighter-fitting, longer-cut liner, I'd check out the "2-in-1" versions of the Agile. What I like about the standard Agile's mesh liner, when combined with its ultralight shell fabric and loose cut, is how well it breathes. It's my all-time favorite for brutally hot, quick runs.
The Agile has a single, zippered back pocket that's pretty small. I've been able to cram an iPhone 6s in there (I know, how could I possibly still be using a phone that old??), but if you've got a larger, more modern phone, this pocket will probably just be for your keys, card, or ID.
If you're like me and don't tend to run for long enough to need to carry a bunch of stuff with you, prefer a more relaxed-fit, mesh liner over something snug and supportive, prioritize breathability, and / or are on a budget, the Agile is a great option. Salomon makes 5" and 7" versions of the men's Agile Short, a women's 3.5" version, as well as some versions with longer, more supportive liners in men's and women's cuts.