Fizik Terra Artica GTX
Test Locations: Washington
Test Duration: 3 months
Reviewer: 6', 170 lb / 183 cm, 77.1 kg
Size Tested: EU 43.5
Blister's Measured Weight per shoe: 469 and 470 g
Upper: High-density PU w/ GoreTex
Closure: BOA + Velcro
Stated Features:
GORE-TEX Insulated Koala membrane
Soft fleeced lining
High-density PU upper + Ripstop fabric
L6 BOA® dial D Fit System
X5 nylon outsole with rubber treads, stiffness index 5
Pedals used: Shimano XTR Trail, HT X2, HT T2
MSRP: $260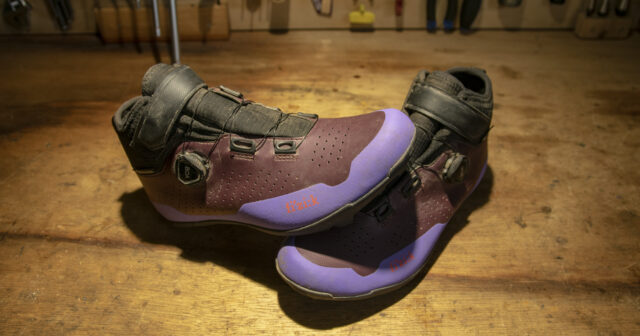 Intro
Where I live in Western Washington, a lot of the winter riding season is wet and rainy but not especially cold, with temperatures frequently in the low to mid 40s or so (4-7°C). And I've had a hard time finding riding shoes that are ideally suited to those conditions. Most winter riding shoes are also heavily insulated for use in properly cold weather, but what I really want for around here is a waterproof but not-super-warm shoe to keep my feet dry, but not so warm that I just soak them from the inside with sweat instead.
I'm a huge fan of the Five Ten Trailcross GTX for flat-pedal use in those conditions but haven't found a clipless equivalent that I am entirely happy with. So when Fizik launched the new Terra Artica GTX last fall, I was quite excited to try out a pair. And while they're still not quite the ideal shoe for my personal preferences and needs, I do think they're an extremely good option for certain folks.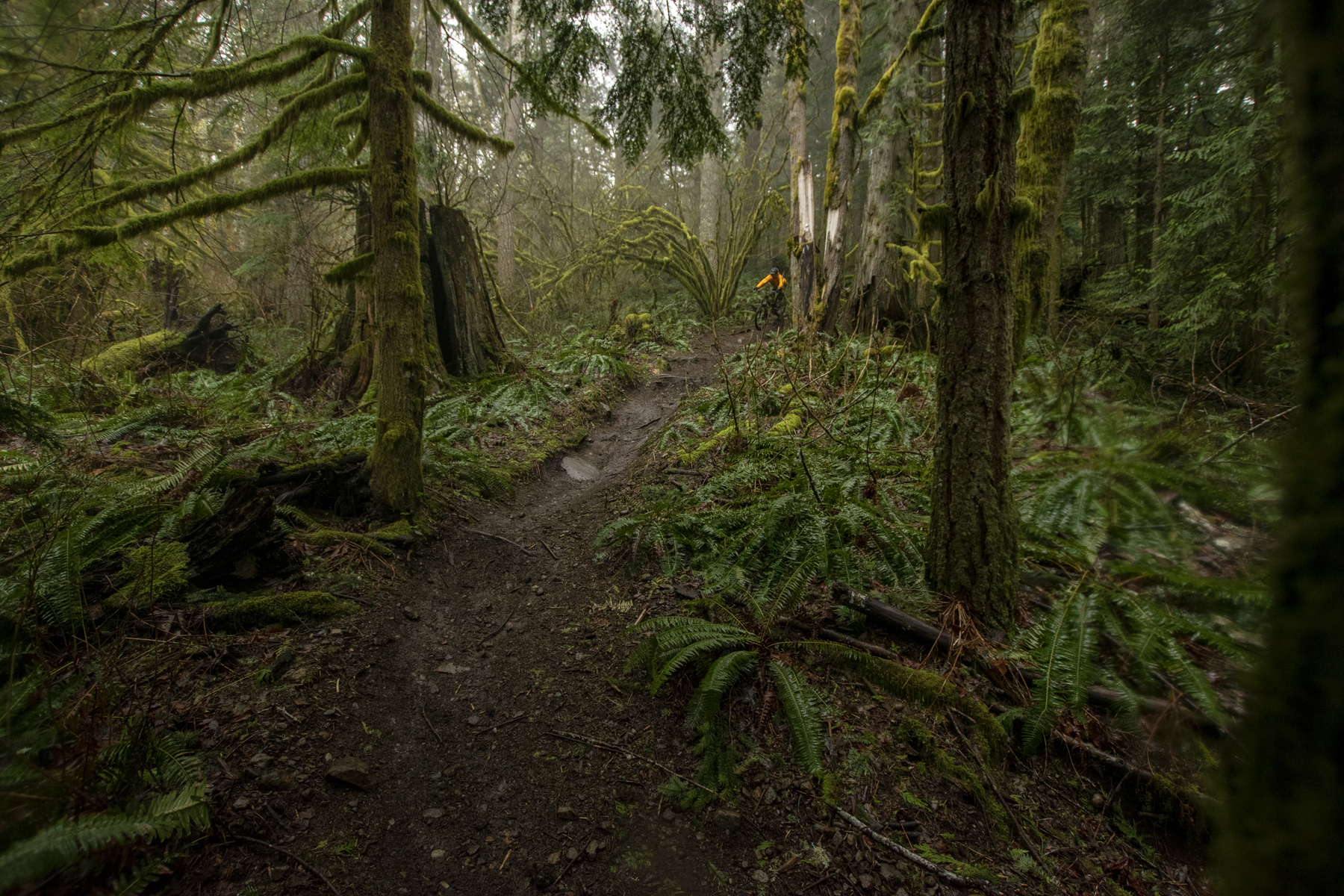 Features and Construction
Fizik describes the Terra Artica GTX as an all-round off-road winter shoe, meant for everything from gravel rides through mountain biking "and beyond." I'm a little unclear on what the next step in the progression from gravel riding to MTB would be (underwater biking? Riding in space?) but at any rate, Fizik seems to be positioning the Terra Artica GTX as a versatile offering for a variety of use cases.
The Terra Artica GTX uses a synthetic leather upper with a Gore-Tex membrane to waterproof the shoe. A BOA dial provides the primary means of closure, with an extra velcro strap over the top of the cuff to close things off. The tongue on the Terra Artica GTX is gusseted so that it can open the throat of the shoe to take them on and off without requiring any openings on the sides of the tongue where water could get in. The cuff is mid-height, with a modest ankle gaiter to help keep water and debris out, but it doesn't rise as high or offer as much coverage as that on the Five Ten Traillcross GTX, for example.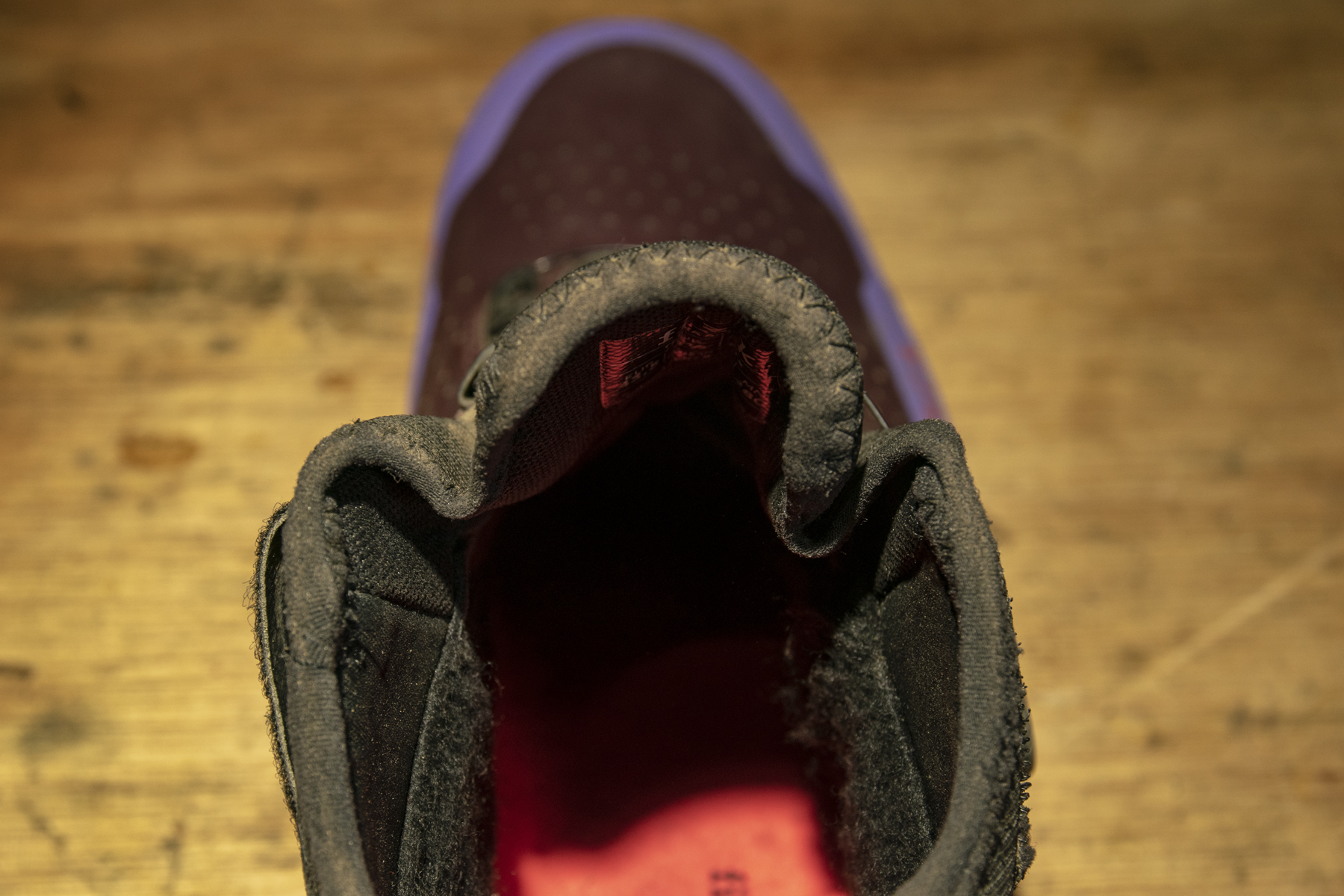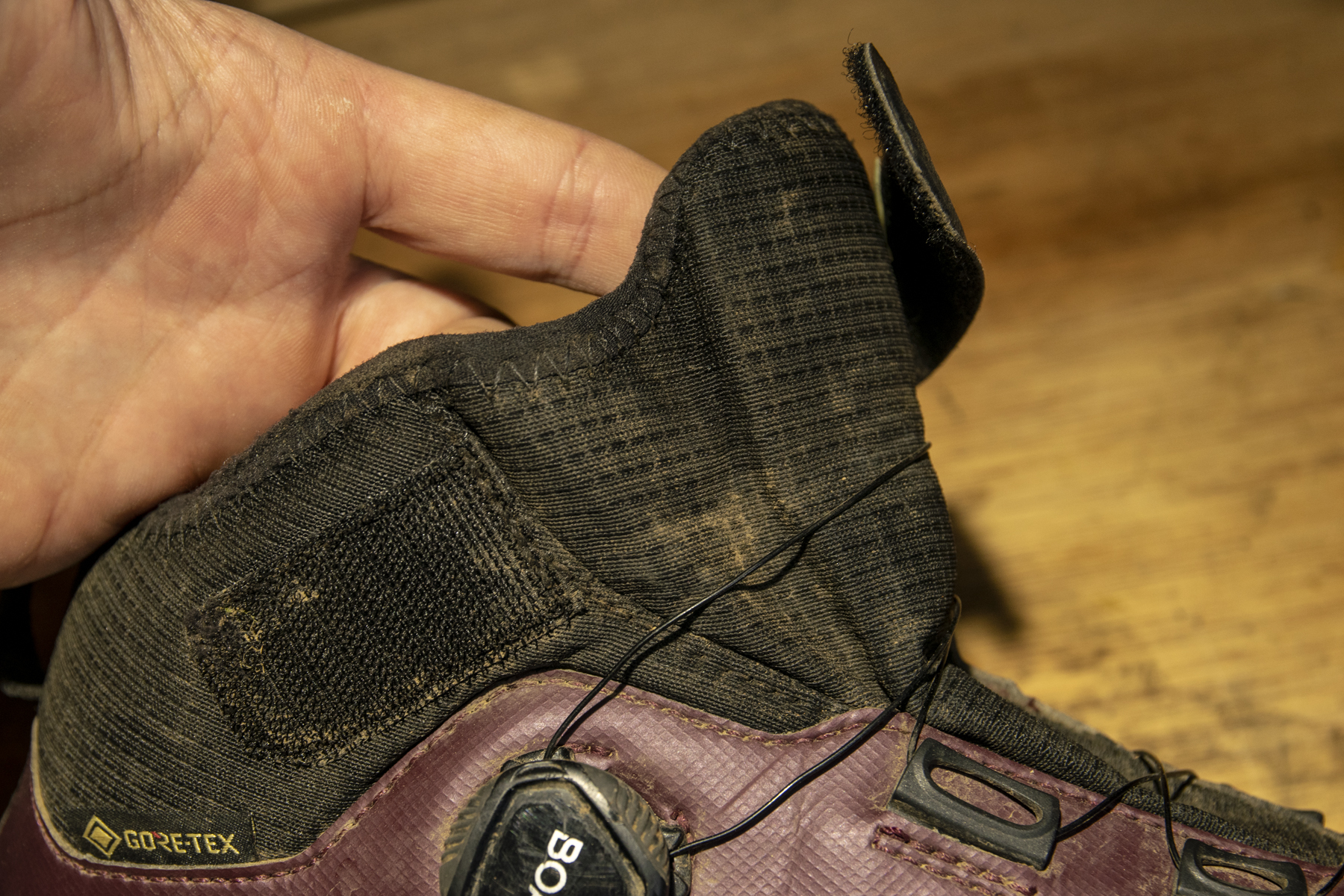 The inner lining of the Terra Artica GTX is made of lofted fleece material for a bit of insulation, but the upper is still relatively thin and breathable for an insulated, waterproof shoe. Substantial perforations in the upper help out there, too.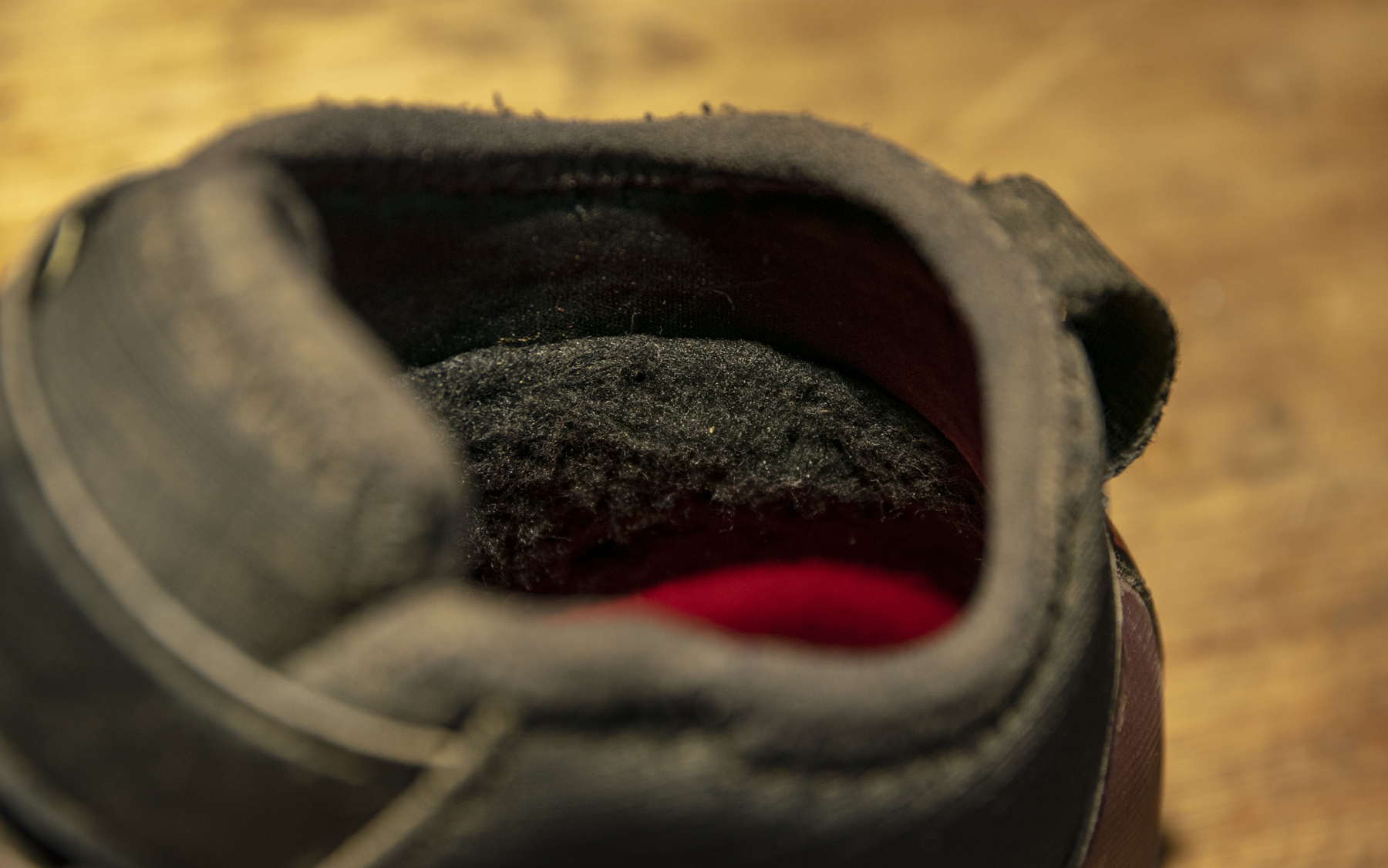 The cleat plate in the Terra Artica GTX is hidden under the inner lining of the upper and, unlike most conventional clipless shoes, isn't accessible or replaceable from inside the shoe. That means that there's no opening through the bottom of the shoe that Fizik then needs to seal off to maintain waterproofness and that the cleat plate is better insulated from your foot than it is in many other shoes. Just don't strip it out, since it's not replaceable.
Elsewhere, the feature set of the Terra Artica GTX is fairly XC-oriented. The sole is substantially rockered and quite stiff (Fizik calls it a 5 out of 10, but if anything I feel like that's sandbagging a bit — they're stiff, though not insanely so). The sole does soften a bit through the heel, but the portion through the midfoot and ball of the foot especially is stout.
The Terra Artica GTX also has provisions for toe spikes (sold separately) and a relatively aggressive, lugged tread made from moderately soft rubber. There's a slight toe cap for protection, but the Terra Artica GTX is clearly oriented more toward saving weight and aiming for a snug, streamlined fit over being a burly, protective, gravity-oriented option. Despite that, the cleat slot is relatively long and I didn't have any issues getting the cleats as far rearward as I wanted to, something that's often an issue for me on more XC-oriented shoes.
Finally, there's also a black version of the Terra Artica GTX available if you'd prefer something more subtle than the purple version we tested.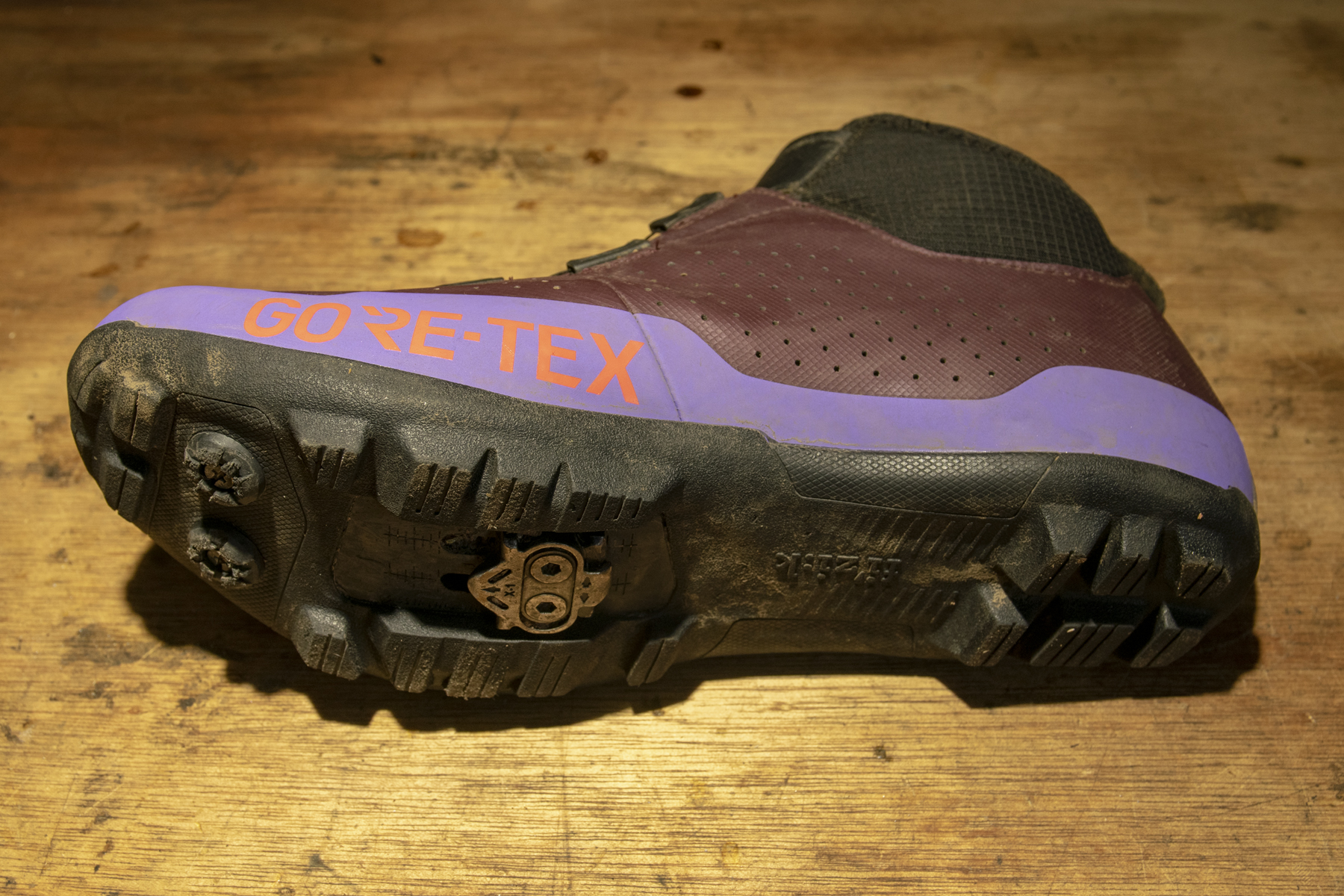 Fit
The Terra Artica GTX has what I'd describe as a moderately low-volume fit, but not wildly so. Overall, I'm pretty happy with the fit of the size 43.5s that I've been testing (which is what Fizik recommends for my typical US Men's 10 street shoe, and is in line with my normal European sizing), but I do wish that the toe box was a bit wider. Granted, I've got a relatively wide forefoot, so plenty of folks probably will fare better on this front, but I've found my toes to get pretty cold in the Terra Artica GTXs when temperatures fall to around freezing, and I think the snug fit in that part of the shoe isn't helping matters. I've got enough length in them, and my toes aren't squeezed to the point of being uncomfortable — they're great if it's at least 40°F / 4°C or so — but they do get cold if things are cooler than that.
Sizing up to a 44 might help, but I suspect it would also make for a looser fit than I'd really want elsewhere, so it doesn't seem like a perfect solution. But again, my toes and forefoot are pretty wide (before tapering down to a much narrower heel) so your mileage may vary depending on your foot shape.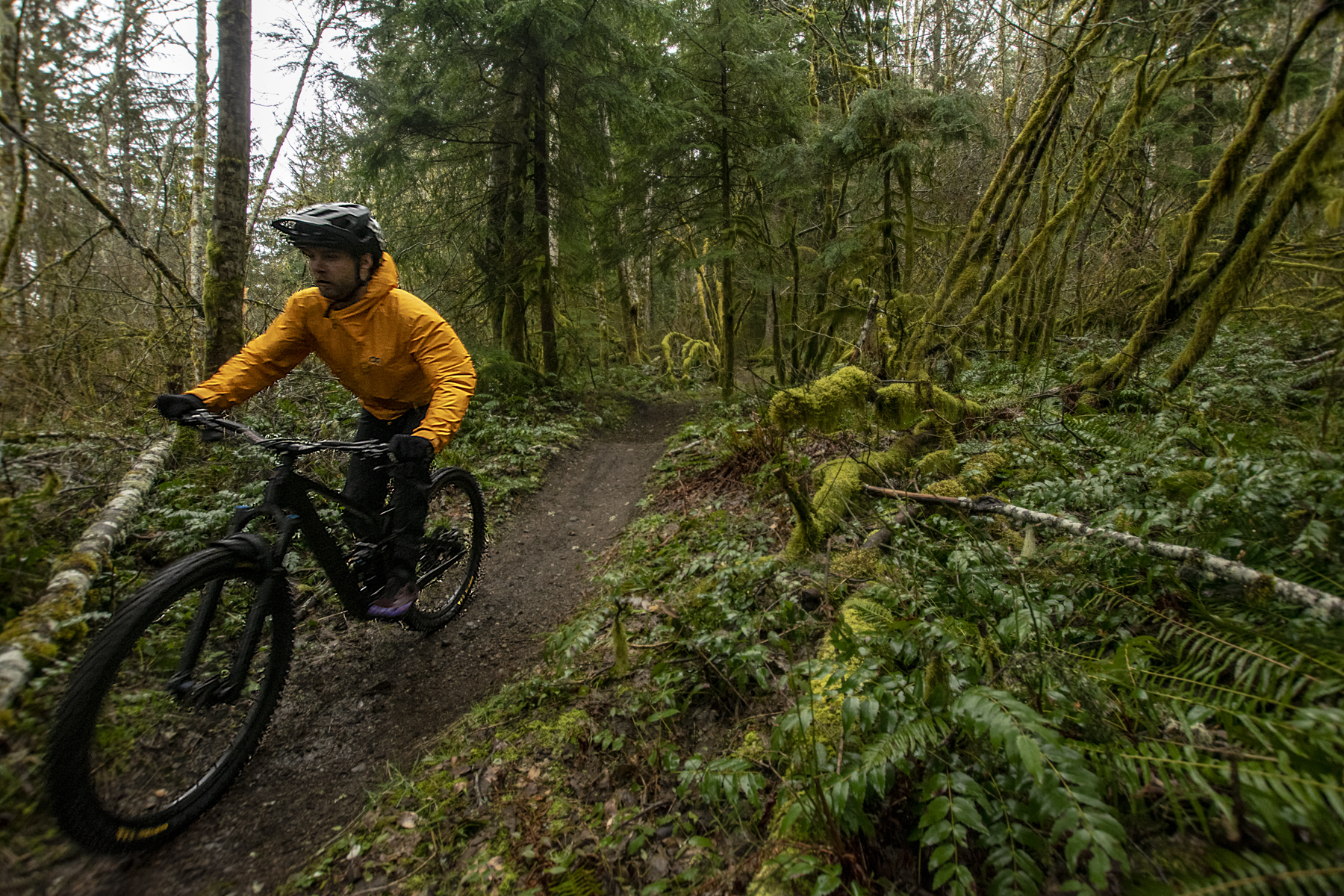 And as long as the outside temperatures are warm enough that my toes aren't getting cold, the Terra Artica GTXs are very comfortable. They do an especially good job of wrapping around my feet and providing a secure, especially snug fit without any hot spots or other issues, and the fleece lining on the interior is soft and really nice.
At least on my feet / ankles, the velcro strap that closes the cuff could also stand to be a little longer, but it works fine and the gusseted tongue arrangement is an elegant and effective way of keeping the cuff sealed against the elements, and though I was a little worried that it might feel bulky or obtrusive, that hasn't been the case at all.
On the Bike
The Terra Artica GTX has done an excellent job of its primary functions — being a waterproof, moderately insulated shoe that's better suited to cool-ish conditions than super cold ones. It's truly waterproof — which I've tested both by riding in some truly horrendous weather and by stepping through some puddles up to a couple of inches deep.
The ankle gaiter does a reasonable job of sealing off the top of the cuff, but it's not 100% sealed, and as with the Five Ten Trailcross GTX, the Terra Artica GTX works best when worn with pants that overlap the cuff to direct the water running down your legs onto the waterproof upper of the shoe rather than straight into it, but with those in place, the whole system works well. The shorter cuff on the Terra Artica GTX is a little more susceptible to opening up a small crack between it and the cuff of your pants, but the fleece lining does an impressive job of not feeling clammy or wet when a little moisture works its way in. I'd imagine that there are limits to how long that holds up if you really soak the inside of the shoe, but I never saturated the inside of the Terra Artica GTX badly enough to find those limits.
The Terra Artica GTX also does an especially good job of breathing and regulating temperature for a waterproof shoe. I've been super comfortable in them in temperatures ranging from about 40° F up to the low 60s (about 4.5° to 16° C), but as noted above, I did start to get cold toes when the temperature dropped lower than that. I think the snug fit in the toe box (at least for my feet) isn't helping there, and folks with narrower forefeet are likely to have an easier time keeping their toes warm, though the Terra Artica GTX is definitely not a super warm shoe when compared to most other waterproof bike shoes.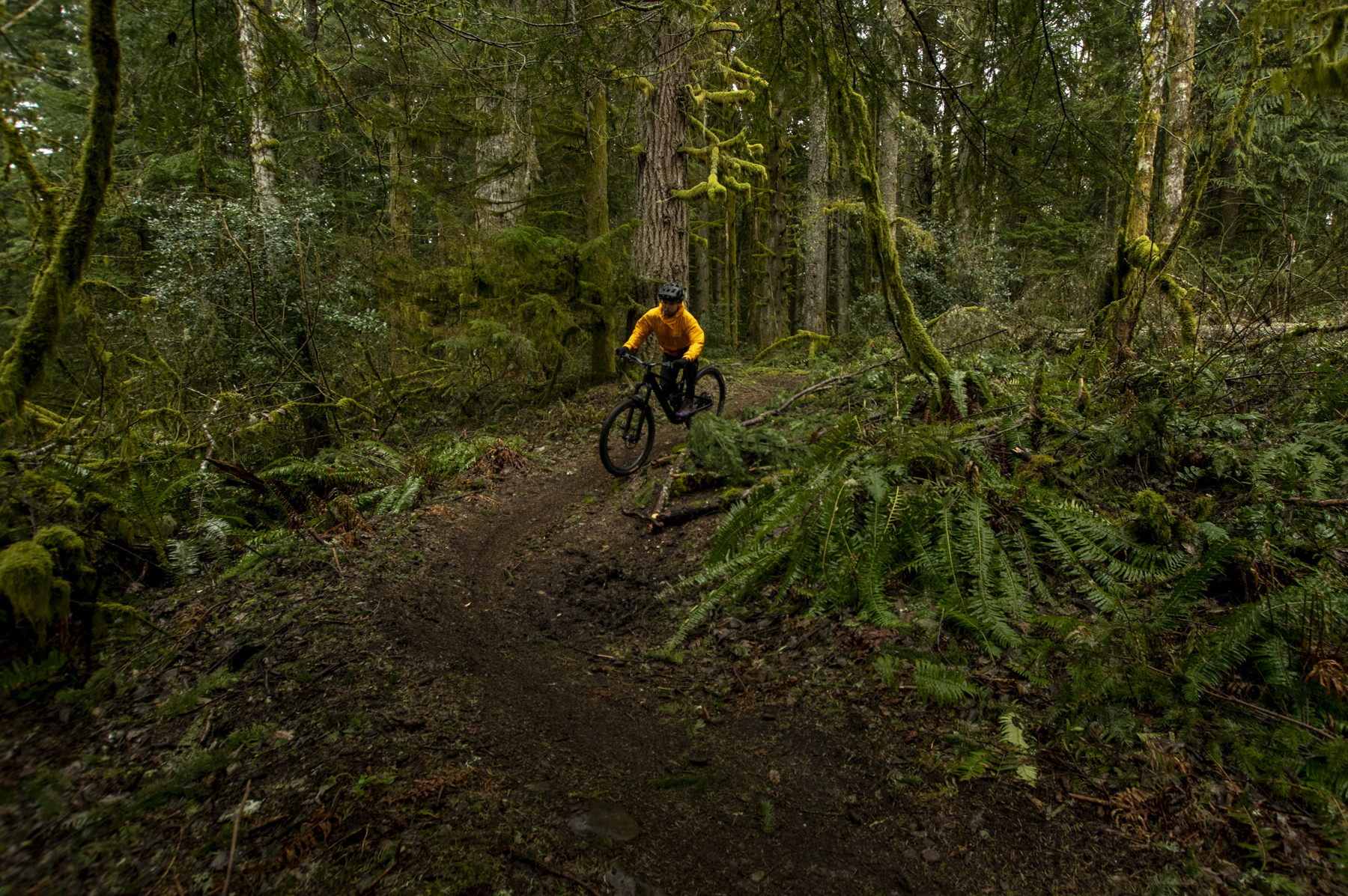 The biggest downside to the Terra Artica GTX's XC-oriented design, at least for my preferences, is that the stiff, rockered sole does make it feel like I'm perched on tiptoes a little bit when descending. The cleat slot does go fairly far back and I'm able to achieve a position that I'm happy with — having the cleat too far forward really makes these sorts of sensations even worse — but the shape and stiffness of the Terra Artica GTX's sole definitely feel like they're oriented more toward pedaling efficiency and performance than aggressive descending and cornering with your heels dropped, for example.
That said, I didn't find the soles to be unduly stiff or uncomfortable when hammering through rougher sections of trail, and the more your priorities skew toward the pedaling side of the spectrum, the more the Terra Artica GTX's design is likely to be an asset rather than a drawback. As per usual, it's a good time to know thyself and what you really want out of a shoe.
Off the Bike
The Terra Artica GTX has a fairly stiff sole but walks pretty well for what it is. The substantially rockered sole definitely helps there, to help the foot roll more naturally through the stride, and the aggressive tread offers very good grip on wet, loose dirt especially. The stiff sole doesn't do the Terra Artica GTX any favors when scrambling around on rock slabs and the like, but the medium-soft rubber sole does alright there, and for a stiff XC-oriented shoe, the Terra Artica GTX walks fairly well.
That said, the gaiter is definitely tailored more for on-bike use and does feel like it limits the rearward motion of the ankle a little bit while walking. I never found it to be uncomfortable so much as it is just noticeable — for short off-bike scrambles it's totally fine, but I wouldn't want to go on a long hike in the Terra Artica GTXs or anything like that.
Durability
I've been wearing the Terra Artica GTX shoes a ton this winter — it's been a wet one — and they're holding up great. The upper has proven to be quite tough and abrasion resistant, all of the stitching is holding up well, and so on.
One of the bigger questions I initially had about the Terra Artica GTX from a durability standpoint was just how well the fleece lining was going to hold up to extended use, or if it would get gross and be hard to clean after a bit, but it's actually doing quite well, too. I've managed to avoid getting much dirt inside the shoes — and I do think cleaning it out of the fleece might be a chore if I did — but the gaiter does a very good job of sealing things off, especially when worn with overlapping pants, as I've tended to do, and I've got no complaints on the durability front.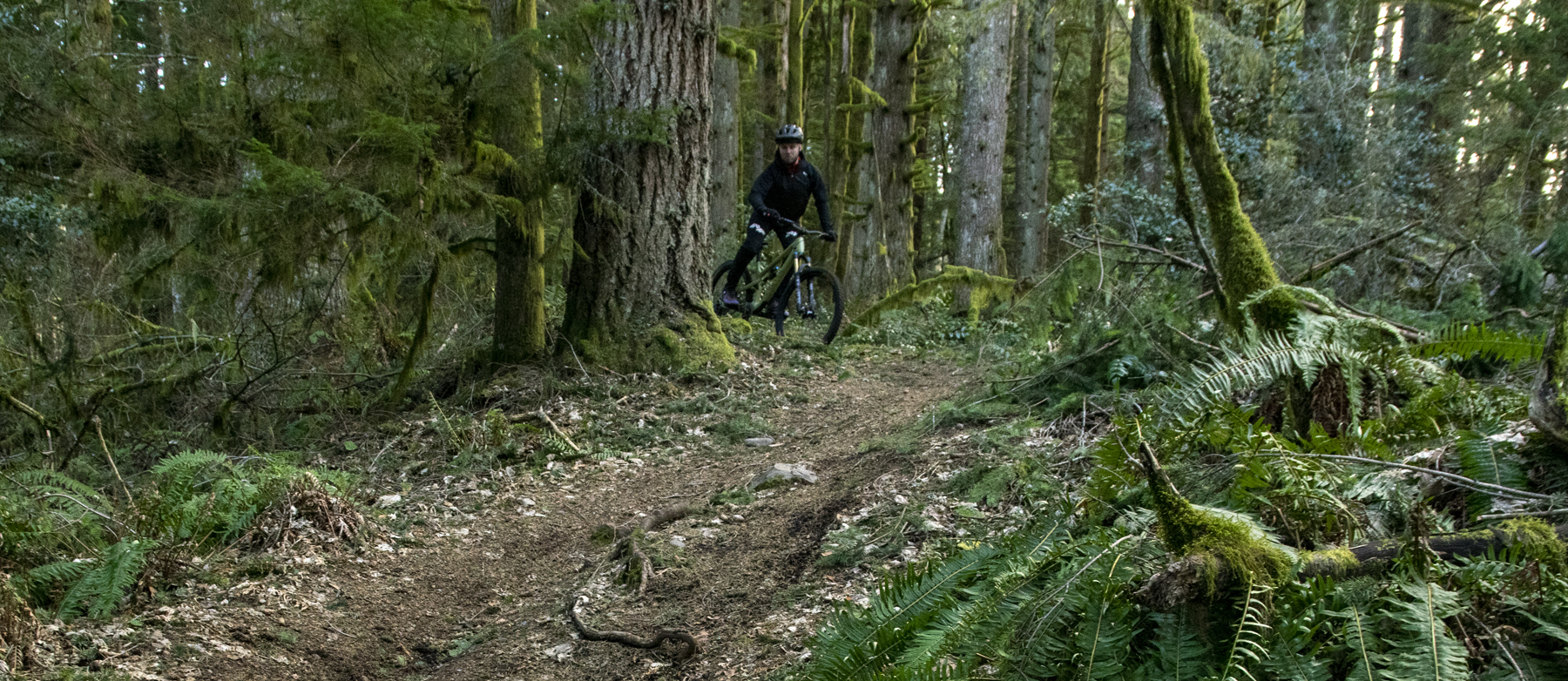 Bottom Line
The Fizik Terra Artica GTX is a really nicely-made waterproof shoe that I think is going to work best for folks looking for an XC-oriented option for cool, wet weather where a full-on winter shoe is too warm and bulky. Riders who are accustomed to more gravity-oriented shoes might find the stiff, rockered sole to feel a little less stable on the bike than they'd prefer, and the toe box is somewhat narrow, which gave me some issues with cold toes in chillier weather, but my forefeet are also pretty wide, and I'd expect folks with narrower feet to fare better there. But depending on your preferences and foot shape, that might be just the ticket, and the Terra Artica GTX is great shoe if the fit and features sound like what you're looking for.