Fjallraven Keb Eco-Shell Jacket W
Reviewer: 5'8", 125 lbs
Size Tested: Small
Blister's Measured Weight (size Small): 463 g
Blister's Measured Front Zipper Length: ~72 cm / 28.5 in
Fabric: Eco-Shell waterproof laminate w/ recycled polyester face fabric and PFC-free DWR
Stated Features:
2-way zippers at sides for ventilation
Helmet-compatible hood
2-way waterproof main zipper
Drawcord adjustable hem
Velcro at cuffs
Pockets:
2 exterior chest pockets w/ internal mesh sleeves (zippered)
1 interior chest pocket (zippered)
1 exterior upper-arm pocket (zippered)
MSRP: $500
Test Locations: Silverton & Arapahoe Basin, CO; Santa Fe & Taos Ski Valley, NM; Kauai, HI; Bradenton, FL
Days Tested: 10+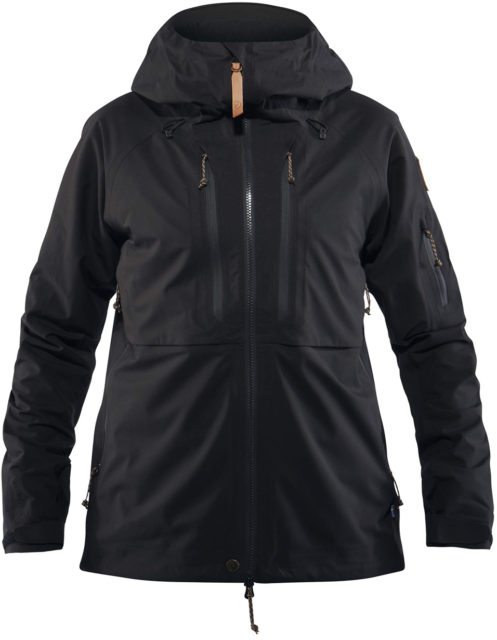 Intro
Fjällräven is a Swedish company that got its start in the 60s making framed backpacks. Since then, they've expanded their line to include hundreds of products designed to be functional, durable, and dependable.
Fjällräven's heritage stems from trekking and ski-touring in all conditions. The Keb Eco-Shell Jacket W — a lightweight waterproof shell designed with that in mind — was the first piece of Fjällräven gear I ever tried. And if I have anything to say about it, it certainly won't be the last. Here's why:
What Fjällräven says about the Keb Eco-Shell Jacket W
"Pliant technical jacket for demanding adventures in changeable weather conditions all year round. Made from stretchy Eco-Shell for high performance and low environmental impact. The material is hardwearing at the same time as it naturally follows the movements of the body and ventilates out moisture that builds up inside when you are active."
Fjällräven describes the Keb Eco-Shell Jacket as a year-round technical shell. Given that, it should work for summer trekking as well as mid-winter ski touring. So, that's what I used it for.
Fit
It's not often that I try something on and find that it looks better in person than in the stock photos. But for the Keb Eco-Shell Jacket W, this is exactly what happened. I can't even count the number of compliments I have received while wearing the Keb, but I assure you it is a lot. For a waterproof shell to look this good is impressive.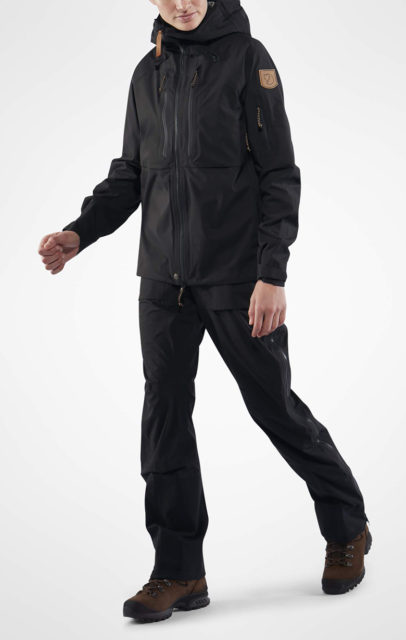 At 5'8" and 125 lbs, the size Small fit perfectly. The sleeves extended just beyond my first knuckles and the torso hit about halfway down my rear. The athletic fit is roomy enough to accommodate layers, including a thick midlayer, but it isn't so loose that it looks baggy or excessively large.
The Keb Eco-Shell Jacket W looks equally at home on the mountain or in the city thanks to its streamlined designed, matte fabric finish, and limited logos. I can't think of anything I would change about the jackets fit.
Pockets
The Keb Eco-Shell is one of the most streamlined jackets I've tested and part of what makes it so streamlined is the lack of pockets. Or, seemingly lack of pockets, as it does have four.
There are three chest pockets (two exterior and one interior) and one upper-arm pocket. I was surprised by the lack of pockets in the bottom half of the jacket as there are no handwarmer pockets or internal stuff pockets. While surprising, I found that I never missed having them as the Keb Eco-Shell Jacket W's other pockets provided ample space for all my necessities.
Both of the Keb Eco-Shell Jacket W's exterior chest pockets have mesh electronics sleeves and ports that keep phones or other smaller items secure without making the jacket sag. I hadn't used these types of internal sleeves a lot before, but after using them in several new products (Strafe Sickbird, Patagonia Snowdrifter kit), I am 100% onboard. It always frustrated me that putting a phone or other similarly weighted items into a pocket would weigh down the jacket and give it a bit of a dumpy look. With the mesh sleeve, the item stays where it's supposed to and doesn't pull the fabric down. I usually forget the item is there as it feels more integrated into the jacket.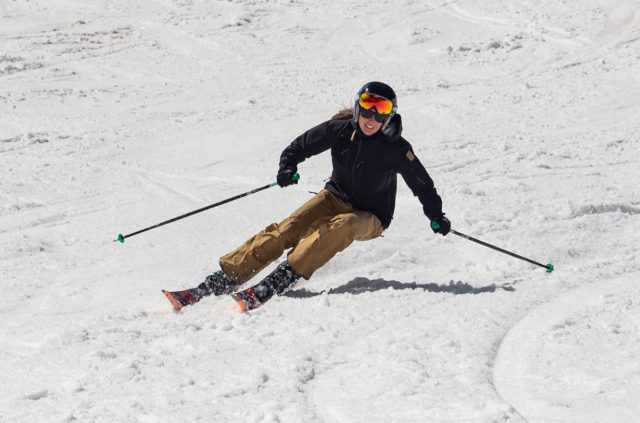 The Keb Eco-Shell Jacket W's main chest pockets also feature hidden bellows that expand the pockets when needed. I mentioned above how the jacket looked better on than in the stock photos and I think it's because of the bellows. They're more noticeable on the website than they are in person. I tested the Keb Eco-Shell in black and never noticed the bellows until I took a close look at the pockets. Being able to expand the pockets when needed is a nice feature, and keeping the bellows hidden when not in use give the jacket a less techy look.
The Keb Eco-Shell Jacket W's interior chest pocket is located on the left side. Stretchy and mesh backed, this pocket has a zipper closure and is plenty large enough to accommodate a large cell phone. The left upper-arm pocket is the smallest of the four pockets but I found it to be the ideal size for chapstick, keys, or other small items. All four pockets are designed to be worn with a backpack and all of them are accessible when wearing one.
Other Features
When I first wore the jacket I thought there were large handwarmer pockets but as it turned out, the zippers on the side were actually large vents. The side vents are 10.5" (~27 cm) long and extend from a few inches above the hem to just below the armpit (not extending under the armpit to the sleeve).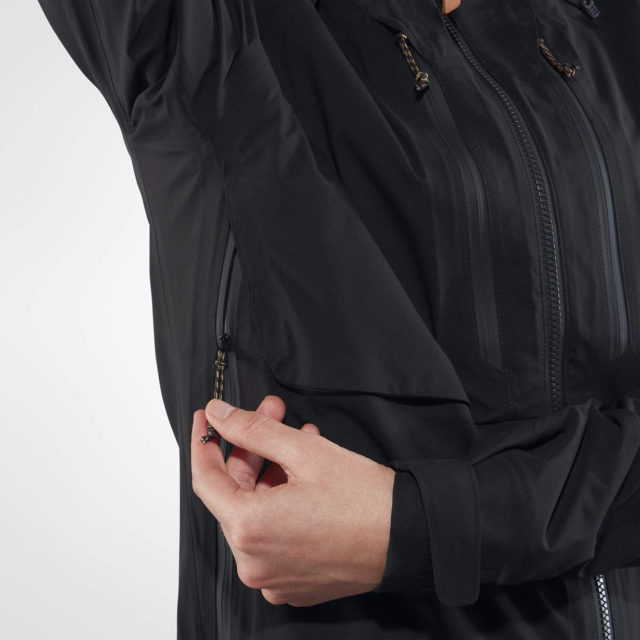 Having used the vents multiple times while wearing a ski pack, soft-structured child carrier, and child backpack, I can attest to their accessibility. I used the vents on multiple occasions ranging from a soggy Floridian kayak adventure to spring ski tours and found that they provided enough ventilation to keep me cool.
The main zipper also has two zipper pulls and while I never unzipped the jacket from the bottom, it would be a nice feature when belaying. There's a snap on the bottom inside of the jacket that keeps the jacket closed even when it's unzipped from the bottom. I never felt the need to unzip the jacket from the bottom but I assume it could also work as an extra vent.
The Keb Eco-Shell's hood fit over my ski helmet as well as over my ski hat and ball cap. On one occasion, I even wore the hood over a big (foldable) sun hat while kayaking in a downpour and the hood accommodated the hat without causing any discomfort. There's a cinch in the back and on each side to dial in the fit. The visor is not completely rigid (which I prefer, especially when skiing) but is still stiff enough to give the front of the hood some support.
The jacket also cinches at the bottom to help eliminate drafts which is important as there is no powder skirt. The lack of a powder skirt helps to keep the weight low but it would stop me from grabbing the Keb on a powder or a bitterly cold day. Another small but appreciated feature is the microfleece fabric at the collar and back of the neck. This fabric helped to eliminate chafing on the chin, absorbed sweat, and kept the little wispys from getting pulled on the back of the neck. Lastly, the cuffs can be adjusted by Velcro.
Weight
When choosing a jacket, weight is not usually a deciding factor for me, especially since many jackets are so similar when it comes to weight. But the Keb is impressively lightweight for how well it performs.
For reference, here are some of our measured weights for a few notable pieces. Keep in mind the size differences to keep things apples to apples.
463 g, Fjällräven Keb Eco-Shell Jacket W, size Small
519 g Flylow Domino Jacket, size Medium
526 g Patagonia Descensionist Jacket, size Small
538 g Patagonia SnowDrifter Jacket, size Small
571 g Strafe Meadow Jacket, size Small
589 g Flylow Vixen Coat 2.1, size Medium
685 g Flylow Billie Coat (original), size Medium
Materials & Performance
Fjällräven describes their Eco-Shell fabric as follows:
"Eco-Shell has an outer fabric made of recycled polyester which has been infused without using fluorocarbons (environmentally hazardous substances that spread further when you wash the garment and also when you wear it in the great outdoors). The membrane and inner fabric are made of polyester, making it easier to recycle when the time comes."
The Fjällräven Eco-Shell fabric is not only environmentally friendly but it also has a soft hand feel and is one of the quietest waterproof shells I've tested. The matte finish of the fabric also makes the Keb look stylish enough for urban wear.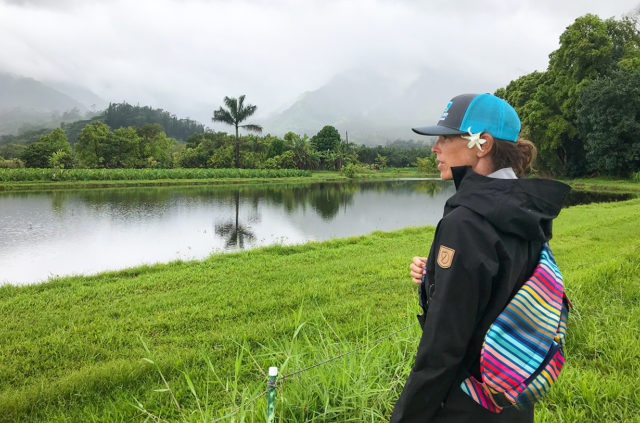 This spring was exceptionally wet in northern New Mexico and so were my spring trips. Unfortunate for my tan, but great conditions for testing the weather resistance of the Keb Eco-Shell Jacket.
On a trip to Florida, I spent over an hour kayaking in the rain — from drizzle to downpour — where the air temp was in the low 70s (Fahrenheit). I almost didn't wear the jacket as I thought I would be too warm but thankfully I threw it on at the last second. The jacket kept me dry while the vents and lightweight, breathable fabric kept me from overheating. When I finally removed the jacket, I was amazed that I was dry as no moisture had seeped in from the rain and I wasn't damp with sweat, either.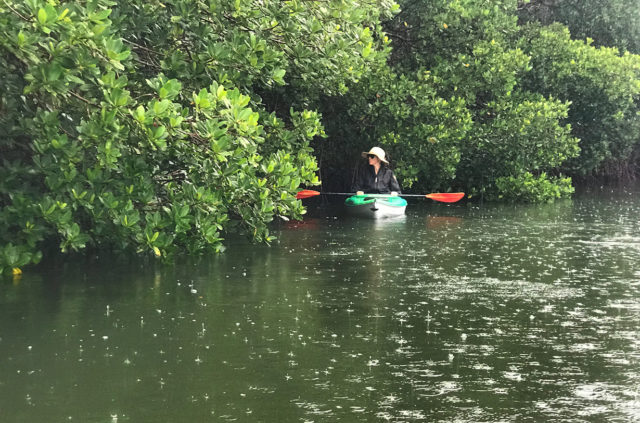 I also brought this jacket to Kauai. The trip was an extended family vacation and less than half of the group packed rain jackets. I packed the Keb not because I thought I would really need it but because I wanted to test it if the opportunity presented itself. Ultimately, I was very happy that I brought it. We stayed on the north shore and it rained (torrential-downpour-style rain) every day, sometimes all day. We spent one day hiking in a downpour and I had my son in a baby carrier on my chest. We neglected to bring an umbrella or any waterproof clothes for my then 9-month-old and this had me a little concerned. I ended up hiking the entire time with the Keb used as an awning over him. My arms were exceptionally tired after the hour plus hike but my son was dry and happy. Even with water pooling on the jacket, the waterproof fabric held up.
Fjällräven designed this jacket to be used for trekking and ski touring and, having spent several days skiing up and down hills in the Keb, I think they nailed the design. While lapping lifts at Silverton and Taos, the windproof fabric kept me warm as long as I layered correctly. As I have a number of technical shells to choose from, the Keb wouldn't be my first choice on a cold day (I'd grab the Strafe Meadow Jacket) but for any other day, this would probably be the first jacket I reached for. And if I didn't have lots of options to choose from, I'd still happily layer the Keb over a lightweight puffy jacket for those bitter cold days.
For ski touring, the Keb is a no brainer. Warm or cold days, this jacket works well thanks to the vents and the lightweight, breathable, and windproof fabric. And for warm days lapping the lift, I found this jacket to be ideal. Worn with just a tank underneath, the vents worked well with the slight breeze from the lift and the stronger breeze while skiing really helped regulate my temperature.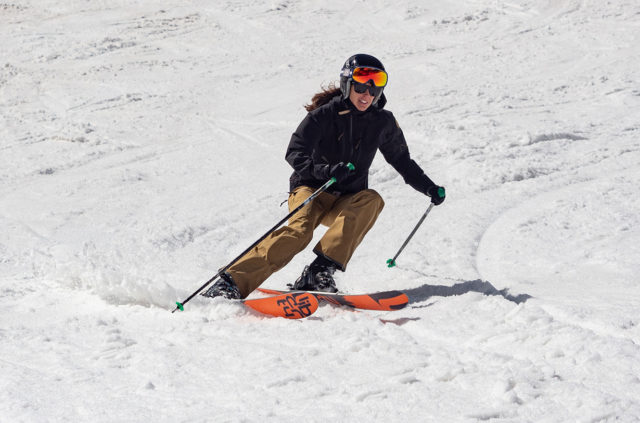 I also wore this jacket running on cool days and the soft, quiet fabric made for a pleasant layer. If I got too warm, the Keb is lightweight enough to be tied around the waist or stuffed in a small pack without being annoying.
If breathability is your absolute top priority, you'd probably be better off with a less weather resistant / more breathable fabric like Polartec NeoShell or a softshell fabric. But for most people, I think the Keb Eco-Shell Jacket provides a really good blend of weather resistance and breathability.
Durability & Sustainability
So far, the Keb Eco-Shell Jacket W is holding up great with no issues to report. While I obviously haven't had it long enough to attest to its long-term durability, it does seem like it'll last for years. As always, I'll update this review if any durability issues arise down the line.
It's also worth noting that Fjallraven offers a limited repair service and is working toward educating customers about how to fix their own gear. The latter is still a work in progress but I'll update this as more information is available.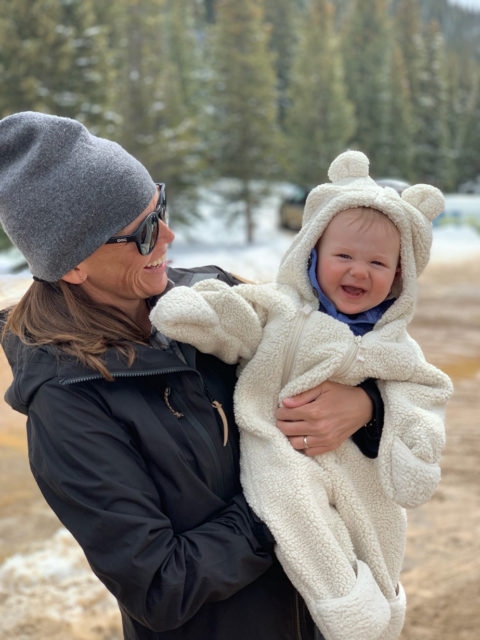 The Eco-Shell is made from a mix of new and recycled polyester which, in turn, is 100% recyclable and is treated with a fluorocarbon-free durable water repellent finish. Fjällräven also offsets all emissions from production to transport for their Eco Shell products, which is very cool to see.
Who's It For?
Anyone searching for a good-looking rain, trekking, or ski-touring jacket should check out the Keb Eco-Shell Jacket. The design is timeless and the fabric seems durable enough to last for many many years. The hefty price tag might deter some folks, but I would argue that it is a very good investment.
Bottom Line
With the Keb Eco-Shell, Fjällräven has created a great jacket that seems built to last and, thanks to the timeless design, I doubt you'll get sick of the Keb Eco-Shell anytime soon. If you like having a minimal wardrobe and want a jacket that works for activities ranging from city exploring to mountaintop trekking, then this jacket is worth a good look. Even if you have a closet full of gear, I think there's a good chance that the Keb Eco-Shell Jacket would quickly become one of your favorites.