Strafe Meadow Jacket
Reviewer: 5'8", 125 lbs
Size Tested: Small
Blister's Measured Weight (size Small): 571 grams
Blister's Measured Front Zipper Length (size Small): 28.5"
Fabric: 3L eVent waterproof / breathable fabric
Stated Features:
Fully seam sealed
Integrated helmet compatible hood with 3-point adjustment
Magnet snap closure at front of hood
Full length interior windguard
Pack-friendly seamless shoulders
Exposed underarm vents
Adjustable & removable DWR coated 4-way stretch powder skirt with gripper elastic & low profile plastic snaps
Hem drawcord adjustment inside hand pockets
Pockets:
1 exterior chest pocket (zippered)
2 exterior hand pockets (zippered)
1 exterior lower sleeve pocket (zippered)
1 interior mesh drop-in pocket
MSRP: $499
Test Locations: Telluride, CO; Taos Ski Valley & Ski Santa Fe, NM; Sun Valley, ID
Days Tested: 20+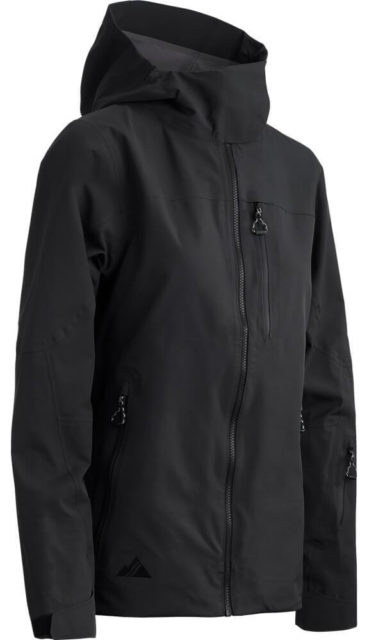 Intro
Strafe Outerwear was founded and is currently based in Aspen, where inbounds skiing often includes a bit of uphill travel. As a result, most of their products are designed for days that might include anything from resort laps to hiking Highland Bowl, followed by an evening tour. The Meadow Jacket was their first women's-specific ski shell and is currently the only uninsulated shell in their women's lineup. It is a streamlined technical shell designed for inbounds and backcountry days that's meant to be at home charging down steep lines or just hanging out in downtown Aspen. Strafe describes it as follows:
"Great for skinning, hiking and lift riding, the Meadow is the answer for all the hard-charging females out there."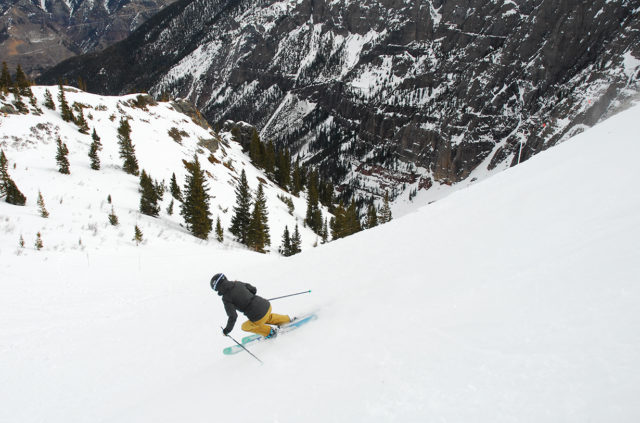 With its less techy look and feel, the Meadow Jacket is not your standard 50/50 jacket. But after spending many days pursuing uphill and downhill adventures in it, I am happy to report that it is surprisingly good at both.
Fit
At 5'8 and 125 lbs, I typically find myself between sizes in most ski apparel. For the Meadow Jacket, I tested a size Small and, while I was quite happy with the fit, a few of my observations (such as sleeve length) would have been a bit different if I had tested the Medium. That being said, the Meadow Jacket has a slimmer fit and shorter length in the torso and sleeves than other jackets I've tested (e.g., Flylow Billie Coat, Vixen 2.1, & Domino and Patagonia Descensionist). The Meadow is an extremely flattering jacket as it doesn't look baggy or overstuffed, and it pairs well with the equally flattering Strafe Scarlett Bib Pants.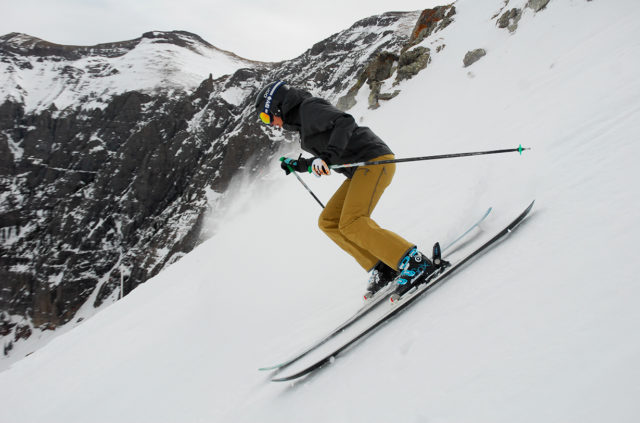 Strafe describes the Meadow Jacket as having an "active" fit. The torso for the size Small extended down just below my hips and hugged them slightly. The sleeves were the perfect length most of the time, except when I needed to stretch out my arms to adjust my ski boots. Due to the minimal stretch in the Meadow's fabric, this movement would make the sleeves rise up above my mittens. While slightly annoying to adjust the cuffs every time I needed to adjust my boots, the Meadow's wide Velcro cuffs were easy to reposition over my mittened hands so it really wasn't much of a hassle. As the sleeves only felt a little short when I was fully extended like this, had I tested a Medium, I don't think this would have been a problem.
The Meadow's cuffs also have internal wrist gaiters with built-in thumbhole loops and I had hoped that using these would alleviate the problem mentioned above. But while the internal gaiters' Polartec Power Dry fabric is comfortable and lightweight, the loops were too short for me to wear them comfortably. Again, had I tested a Medium, I think the fit of these would have been much better.
And for full transparency as far as thumbhole loops go, I generally dislike them and very rarely put them to use. This may be a result of me never finding internal gaiters that fit to my liking or always tucking my gloves/mittens under my jacket. That being said, I do understand how they can be a great feature, especially if you're trying to eliminate any draft between the cuff and gloves. I did use the thumb hole loops on a few occasions when I neglected to bring my gloves to apres and found them to be comfortable and they kept my wrists and hands warm. But when I wore them under my ski mittens, they bunched around my hand and made my mittens feel too tight.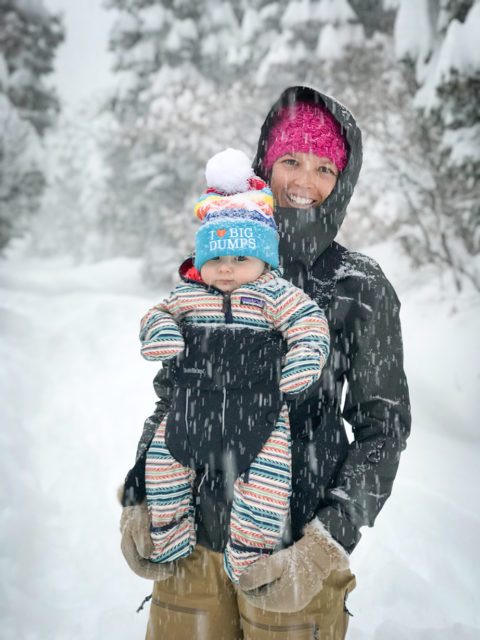 The Meadow's hood is not as large as other shells I've used, but it was just large enough to fit over my POC Skull X helmet. When not in use, the Meadow's hood stayed tucked in behind my helmet and never turned into a "parachute," even on the windiest days. When in use, I didn't need to cinch it down thanks to the smaller fit and it still stayed in place while skiing.
The Meadow's collar has a microfleece fabric along the inside and features two magnets that close the external storm flap. The microfleece makes the collar soft, which is nice as the collar is small enough that it does rest against one's chin when fully zipped up. The magnet closure is easy to use and it helps maintain the jackets streamlined look while also providing a little extra wind protection across the chin. The flap is a unique design that helps set this jacket apart.
Pockets
For such a streamlined jacket, it's impressive that Strafe was able to fit five pockets into the Meadow Jacket. The pockets include one lower-sleeve pass pocket, one chest pocket on the left side with an electronics port, two handwarmer pockets, and one internal non-zippered mesh pocket on the right side. The lower sleeve pocket is located on the left arm and it comfortably holds a pass or some chapstick. I tend to add my small Sun Bum sunscreen stick to my pass pockets, but due to the Meadow's narrower sleeves, the stick could be felt against my arm.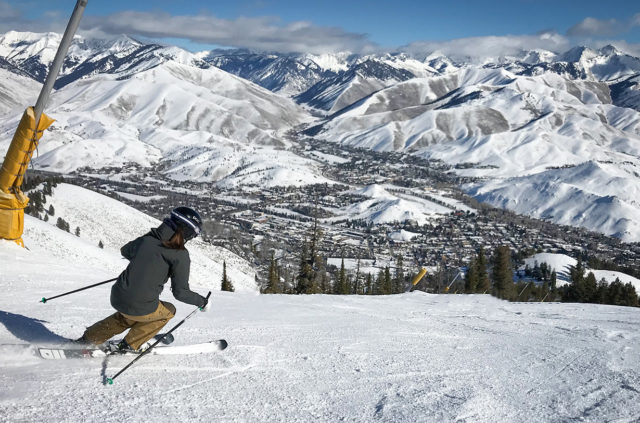 The Meadow's chest pocket easily fits a large cell phone and is easy to access when needing to grab a quick photo or call. None of the pockets could easily accommodate my folded skins, which is worth keeping in mind if you like to stash your skins in your jacket pockets.
Vents
The Meadow Jacket has ~29 cm / 11.5" underarm vents that can be opened from either side, which is another detail Strafe nailed. When needed, the underarm zips provided enough ventilation to adequately cool me off while skinning, bootpacking, or just spinning lifts on a warm day. Unnoticeable when not in use thanks to a supple zipper and excellent airflow when in use, these vents are designed well.
Other Features
In my opinion, a ski jacket without a powder skirt is a bit of a disappointment. Thankfully, the Meadow Jacket has one. Its removable powder skirt includes gripper elastic and two sets of double snaps. I wore the powder skirt about 90% of the time and, once I snapped it in place, I was able to forget about it as it wasn't overly tight and it didn't pull or bunch the fabric in any way. While not overly tight, the skirt was snug enough to prevent drafts from entering the bottom of the jacket and therefore making the jacket a bit warmer.
Materials & Performance
Strafe uses the same 3L eVent fabric on the Meadow jacket as they do on the Scarlett Bib Pants. The fabric is lightweight, uninsulated, and has a little bit of stretch to it. Unlike the other jackets I've tested, the Meadow Jacket has a stiffer feel and makes a bit of noise when moving. The thin, uninsulated backing of the fabric makes the jacket feel colder on the coldest days compared to shells with brushed / flannel backers, or those with any sort of insulation. With the lack of any brushed or insulated lining, the inside of the Meadow Jacket is cold to the touch and, for me, that translates to a slightly colder feel. As with any shell, you'll want to add some layers under the Meadow Jacket when things get cold. For more info on waterproof fabrics like eVent, see our Outerwear 101 and 201 articles.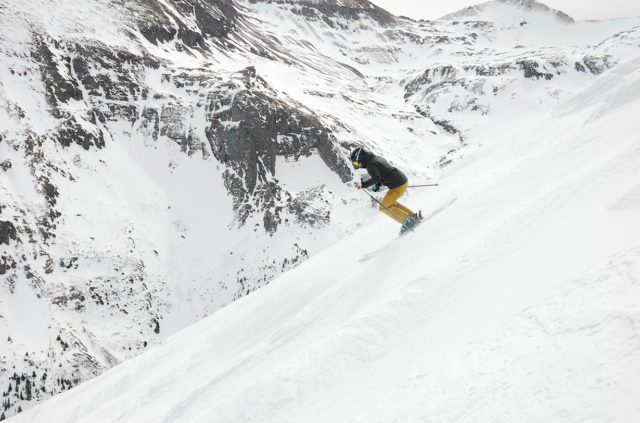 The Meadow Jacket is billed as a 50/50 jacket, and its fabric is not as breathable as some outerwear designed specifically for high-output backcountry travel such as the Patagonia Descensionist kit. But I was able to skin and bootpack comfortably in the Meadow Jacket without needing to use the pit zips, and on warm days, the pit zips did come in handy.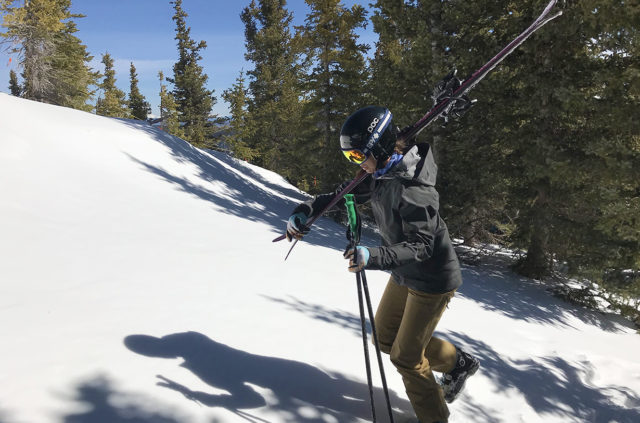 On one occasion I skinned up Ski Santa Fe with my 2-month-old son strapped to my chest and, thanks to the Meadow's pretty breathable fabric and pit zips, I did not overheat. The fabric is more wind resistant and water resistant than the Descensionist's, but the Meadow's main zipper can get a little drafty when beelining it down a groomer. All in all, the Meadow Jacket sits on the more breathable end of the spectrum compared to most 3L waterproof shells (e.g., Gore-Tex), while still offering excellent weather protection.
Durability
I haven't used the jacket on a lot of wet days so it is difficult for me to adequately describe the durability of the waterproof fabric. I can say that it is a well-crafted jacket and after 20+ days of use, it still looks brand new. I'll report back if I notice any durability issues down the line.
Who's It For?
Women looking for a streamlined technical shell that does it all should check out the Meadow Jacket. It has a more flattering fit than most 50/50 shells and you wouldn't look out of place wearing this jacket at a fancy ski resort or a remote hut. It's not the lightest jacket, but it is breathable, offers good ventilation, and is warm enough for spinning laps (when combined with some layers).
Bottom Line
Strafe Outerwear continues to impress us with their thoughtful and unique designs that work well and look good on and off the hill, and the Meadow Jacket is yet another example of this. If you're looking for a technical shell that can be used in the backcountry and the resort, but that doesn't look all that "techy," check out the Meadow Jacket.