Strafe Scarlett Bib Pant
Reviewer: 5'8", 130 lbs
Size Tested: Small
Blister's Measured Weight: 478 grams
Stated Inseam Length: 31"
Materials:
Main Fabric: 3L eVent w/ 40Dx70D nylon face fabric and woven nylon backer
Back Panel, Pocket Lining, & Powder Cuffs: 4-way stretch 89% nylon / 11% spandex
Stated Features:
Fully seam sealed
Adjustable fixed elastic halter suspender
Zippered size entry access with snap-tab closure at top
Stretch back panel
Exposed hamstring vents
DWR coated 4-way stretch powder cuffs with gripper elastic
Internal Cordura scuff guards
Durable Cordura hem guards
Zippered hem gussets for adjustability
YKK Aquaguard Coil zips
Pockets:
1 bib pocket (zippered) with interior electronics mesh sleeve
2 thigh pockets (zippered)
MSRP: $469
Test Locations: Telluride, CO; Taos Ski Valley & Ski Santa Fe, NM
Days Tested: 10+

Intro
Since 2010, Strafe Outerwear has quickly made a name for itself by creating technical ski outerwear and apparel that's both functional and stylish. Strafe's products were originally designed to meet the needs of skiers and riders heading to their local mountain of Aspen Highlands, where on-piste skiing is combined with inbounds hike-to terrain.
As a result of their home base, Strafe's products have always been designed with not only weather protection and insulation in mind, but also breathability. While they might not have as many years under their belt as other outerwear companies, their products have impressed Blister reviewers from the start (see our reviews of the Strafe Cham Kit, Pyramid Jacket, and Recon Kit).
So, knowing all of this, I was excited to check out Strafe's Scarlett Bib Pant, which stands out due to its unique halter-style top, air-permeable eVent fabric, and flattering fit. After spending several days skinning, boot-packing, and skiing in these pants, I think Strafe managed to create another great product, and the Scarlett earned them another "Best Of" award in our 18/19 Winter Buyer's Guide. So, let's take a look at what sets apart the Scarlett from the many other ski pants on the market.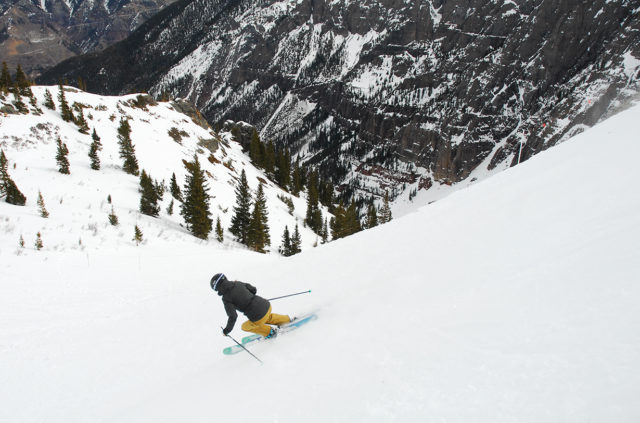 Fit
While my usual weight is around 125 lbs, last season I was pregnant and as a result, I tested the Scarlett Bib Pants as my waistline (and various other body parts) were expanding. The slim-cut Scarlett Bib Pants are the first pair of bibs I've owned and I was pleasantly surprised by how comfortable and flattering they proved to be.
The Scarlett's slim fit really does seem to flatter a variety of shapes and sizes — even the five-months-pregnant shape and most recently, the postpartum body. While the Scarlett Bib Pants are slim, they are not overly tight and the fabric has some stretch to it that helps with mobility and ultimately adds to the bibs' comfort.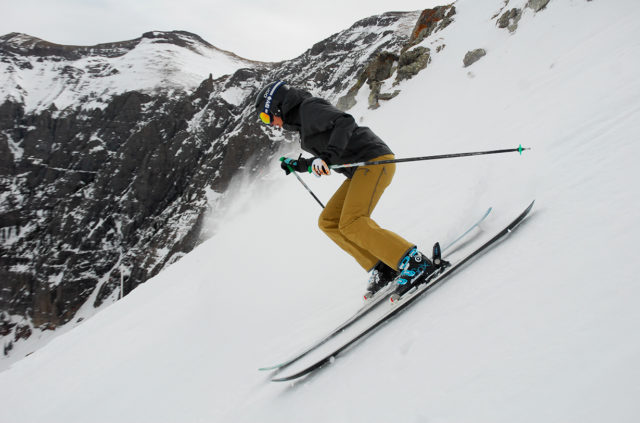 While my usual body type would be considered on the thin side, I found these pants just as flattering as I added extra baby weight. A design feature that helps keep the pants looking and fitting well is the stretchy back panel on the bibs. As my belly grew, the back panel expanded and, in turn, the front of the bibs never became too tight.
At 5'8", I found the size small Scarlett Bib Pant to be an ideal length for me as the bottom of the cuff hit just above the top of my foot. Even with the bibs' slim fit, the Scarlett's cuffs are wide enough to easily go over the top of ski boots. There is also a 6.5" cuff zipper that adds two inches to the width of the bottom of the cuff (based on a size Small) for those needing extra room around their boots.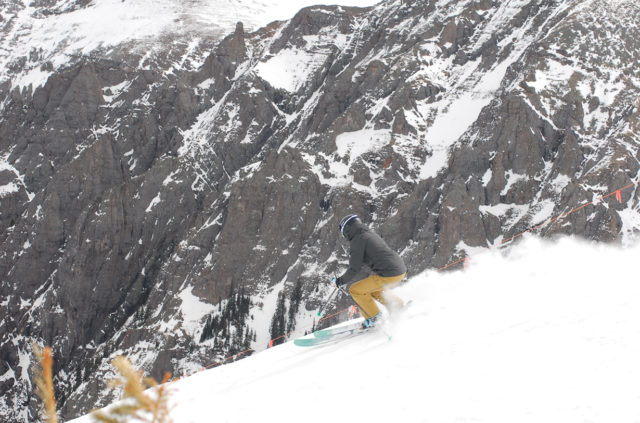 One unique feature of the Scarlett Bib Pants is the halter-style top. The adjustable elastic neck strap, combined with a zipper and button closure at the hip, makes bathroom breaks a breeze. And unlike traditional bibs, with the Scarlett there's no need to remove your jacket when you need to go.
As someone who doesn't like weight around my neck, I am happy to report that I never noticed the halter strap while skinning or skiing. At the end of the day when I climbed into the car to drive home, I did feel a slight pull on my neck when I sat down. This issue was easily remedied by removing the strap and folding the bib down.
Pockets
Each leg of the Scarlett Bib Pant has a large pocket located in the upper-thigh area. The pockets are big enough to hold a large cell phone, or even a small iPad for that matter. But due to the slim fit of the Bib Pants, I found I preferred to store my phone elsewhere as you can feel the phone (or anything else stored in the pocket) against your leg.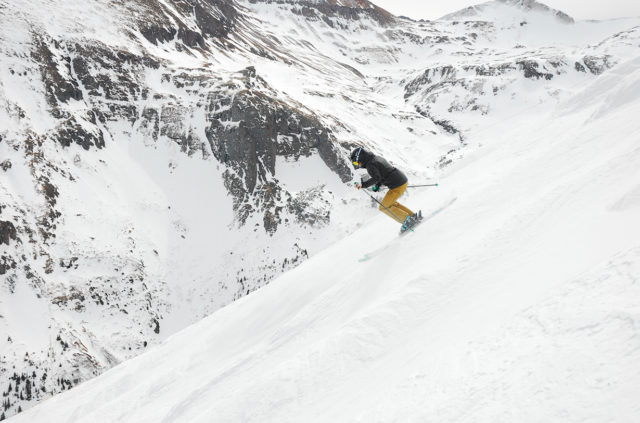 In addition to the two thigh pockets, there is another pocket located on the chest of the Scarlett Bib Pant. This is the largest of the three pockets, and spans the entire area of the chest. The chest pocket is lined with mesh and has a smaller interior pocket that's perfect for stashing credit cards, your cell phone, or other items you don't want sliding too far down. This pocket feels like a bit of a kangaroo pouch that can hold a lot, but you'll probably want to limit yourself from overstuffing it as the items do stick out a bit which, to me, ruins the slim, streamlined look of the Bib Pant. Vents The Scarlett Bib Pant has 12" leg vents on the outside of each thigh. They open fully without a mesh liner or other material to restrict air flow. When I needed to cool off my legs while skinning, the Scarlett's vents functioned as needed.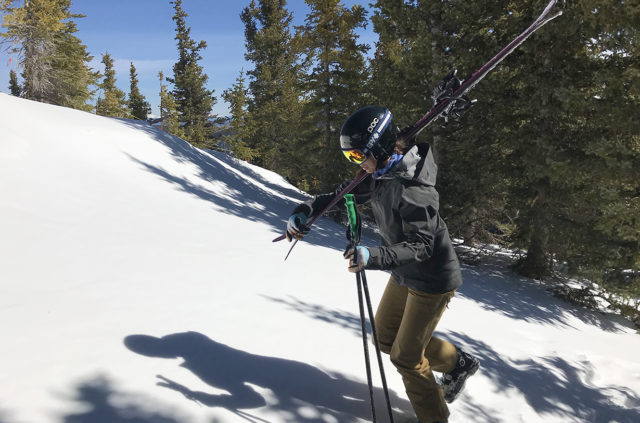 Other Features
The Scarlett's cuffs are reinforced by a scuff-guard fabric on the interior. I don't tend to shred my cuffs, so I can't yet attest to how durable the Scarlett's cuffs are. All I can say now is that I haven't had any issues with them.
The Scarlett Bib Pants also have non-adjustable, interior gaiters with an elastic, gripper hem. The gripper elastic kept the gaiters in place over my ski boots and made it easier to get them in place when I was wearing gloves.
Materials & Performance
The Scarlett Bib Pants use a three-layer eVent waterproof / breathable fabric. If you're not familiar with eVent, it's an air-permeable waterproof membrane that's designed to offer all (or more) of the waterproofing you'd expect from a Gore-Tex or other traditional waterproof laminate, but eVent is designed to breathe better. And if all this talk about waterproofing, breathability, and membranes sounds confusing, I'd check out our Outerwear 201 article.
While I have not been able to test the Scarlett in a downpour, I have worn them in a light drizzle while spinning lift laps and they kept me dry. Strafe doesn't mention anything about the Scarlett's warmth, and rightfully so, as these uninsulated pants don't offer much warmth on their own. For cold days, the Scarlett works best with some warm base layers and / or midlayers. I found the Scarlett's fabric to be slightly colder than the Arc'teryx Sentinel Pants, which feature a thin flannel backing.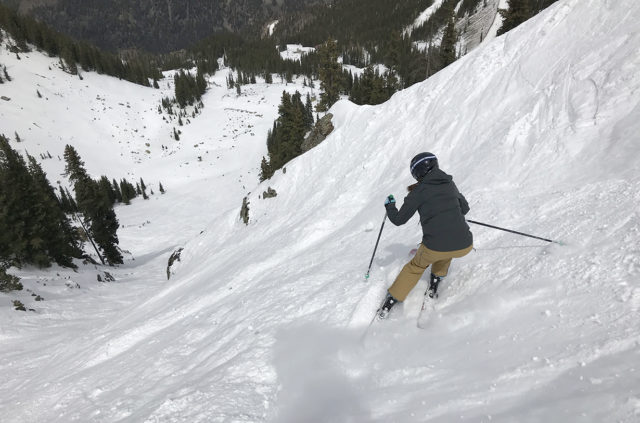 The Scarlett's material is just a little stiffer than the Flylow Donna 2.1 fabric, but the Scarlett seems similarly breathable to the Donna 2.1 and Arc'teryx Sentinel. The Patagonia Descensionist Pants are more breathable, but they are also even colder than the Scarlett. While the Scarlett isn't the most breathable pant I've used, its vents definitely help when working hard on the skintrack or boot pack.
Durability
After skiing in these pants for over 10 days, the Scarlett Bib Pants still look like they did when I first got them. There are very few scuff marks or noticeable ski-edge wear around the cuffs. I have not been able to test them repeatedly in wet weather, so I can't yet attest for the durability of the waterproof finish. But I'll be using these pants a whole lot more, and will update this review if I run into any durability issues down the line.
Who's It For?
Anyone looking for a flattering, non-insulated ski pant should give these a try. Whether on- or off-piste, these pants won't restrict movement, will keep you dry, and as a bonus, they'll make your butt look good.
Bottom Line
Any lady looking for a new, stylish, waterproof / breathable ski pant should check out the Strafe Scarlett Bib Pant — they look good, have kept me dry, and they feel great.