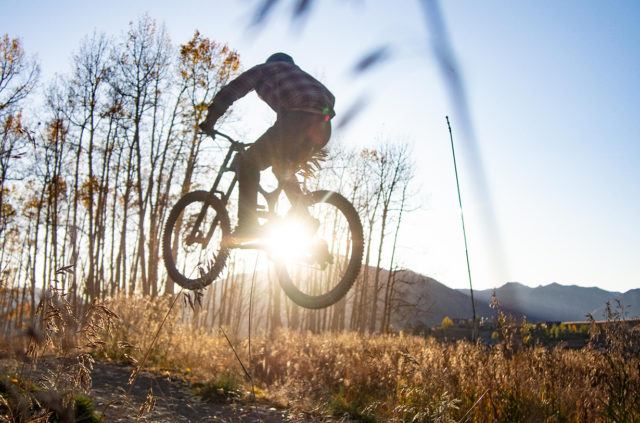 If you've ever attended Outdoor Retailer — or really any sort of outdoor-oriented event — you'll notice a trend: flannels. They're everywhere.
Flannels are basically the unofficial uniform of people who like to spend time outside, probably cause their brushed fabric tends to be super comfortable, and they've got a collar so they make you look like less of a dirtbag at après than you would in your biking / running / skiing layers.
We wear flannels and other casual collared shirts all the time, and here we've grouped several of our favorites for women, men, and one for kids. We outline what sets each one apart so you can figure out which one will work best for you, or which one will make the best holiday gift for someone in your life.
Carve Designs Lydia Button Down
Fabric: 100% organic cotton twill
Reviewer: 5'8", 130 lbs
Size Tested: Small
MSRP: $92
Best For: versatility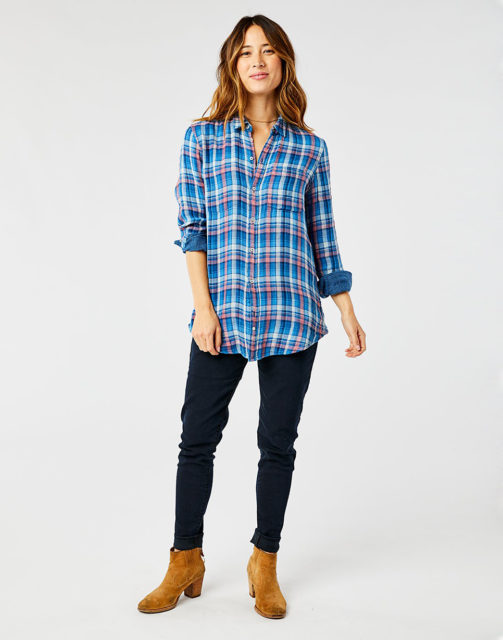 Kristin Sinnott: The fully reversible Lydia Button Down is like owning two cozy flannels for the price of one. The contrasting fabric when you roll up the cuffs, split-hem back, and chest pocket make for a cute design that's at home in the office or on a quick hike. The double-weave fabric gives the shirt some extra weight and warmth but the fabric has a tendency to come out of the dryer pretty wrinkled. The wrinkles don't stop me from wearing it outside the house but it makes the shirt look a bit more casual if you opt out of ironing.
I'm typically a size Small in Carve Designs apparel and the fit has always been good with plenty of length in the torso and sleeves. The Lydia is a little different though, as the sleeves are shorter than I like (they hit above my wrist) and the torso (while it hits below my waist, it isn't as long as I'd hoped or as long as it looks on the model). Had I sized up to a Medium, I think the fit would have been perfect.
But if you get the fit right, this 100% organic cotton flannel is a great option for those who like the sound of a top that's basically two shirts in one.
Toad & Co Women's Morrison Shirt Jacket
Fabric: 100% organic cotton "chamois"
Reviewer: 5'8", 130 lbs
Size Tested: Small
MSRP: $95
Best For: everyday wear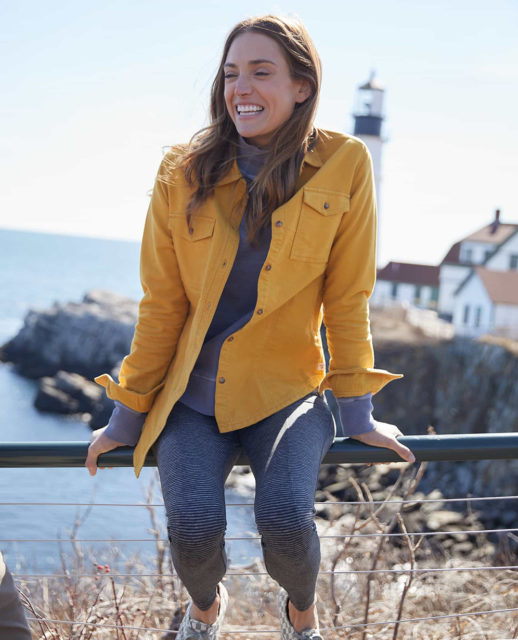 Kristin: The Morrison Shirt Jacket is aptly named as it can be worn as either. Its vegan chamois (faux sued) fabric is similarly soft to most flannels but thicker, stiffer, and more durable, making for a great cool-weather layer. With its contrasting buttons, two-button style cuff (plus an extra button on the sleeve), hidden hand pockets, and buttoned envelope-style chest pockets, the Morrison is good looking with a practical design.
The sleeves on the size Small hit just below my wrists and the shirttail bottom hit just below my hips. This made for a great fit when wearing it as a shirt, but as the sleeves aren't very roomy (especially in the shoulders), I was only able to comfortably wear a light layer underneath. So for me, the size Small functions as a jacket only on warm days when I'm layering it over a tee or tank. If I had sized up to a Medium, it would have worked better as a jacket.
The Morrison looks as good after washing as it does when first purchased. With no wrinkles to worry about and its thick, durable fabric, there's no reason not to wear the Morrison for almost any type of activity — from yard work to camping to a night on the town.
Pendleton Double-Brushed Flannel Elbow Patch Shirt
Fabric: 100% cotton
Reviewer: 5'8", 130 lbs
Size Tested: Medium
MSRP: $89.50
Best For: years of flannel love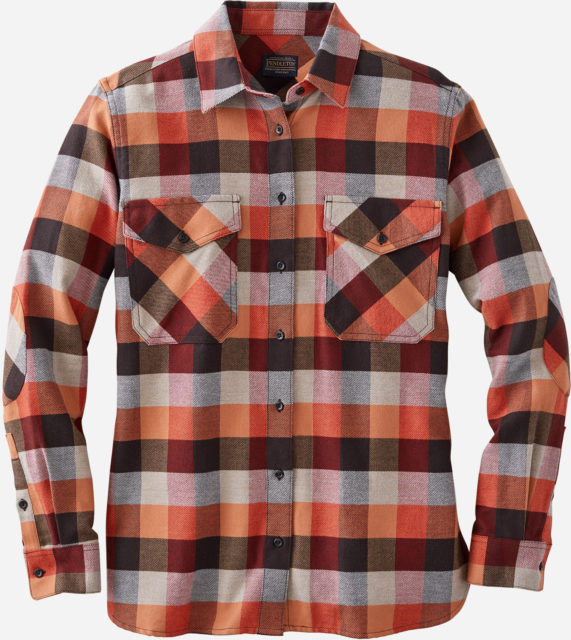 Kristin: This is by far the softest flannel I have ever worn, with the only potential exception being my dad's 30-year-old hand-me-down flannel. The double-brushed flannel on this Pendleton shirt has an exceptionally soft hand feel, a nice drape, and it washes super well (no wrinkles to speak of). With its elbow patches, classic patterns, and shirttail design, this shirt is ready to wear from day one but is made to withstand years of use.
I used a size Medium and initially found the shoulders to be a little big and sleeves a little long. But after the first wash and a bit of shrinkage, I love the fit. There's enough length in the torso and sleeves but not so much that I couldn't tuck it in or that it looks dumpy. And the best and surprising part is the mobility; it's rare to find a 100% cotton flannel that doesn't restrict movement, but with the cut of this Pendleton flannel, they've managed to do that quite well.
Outdoor Research Women's Feedback Flannel
Fabric: 100% polyester
Reviewer: 5'1", ~103 lbs
Size Tested: XS
MSRP: $85
Best For: getting outside & relaxing at home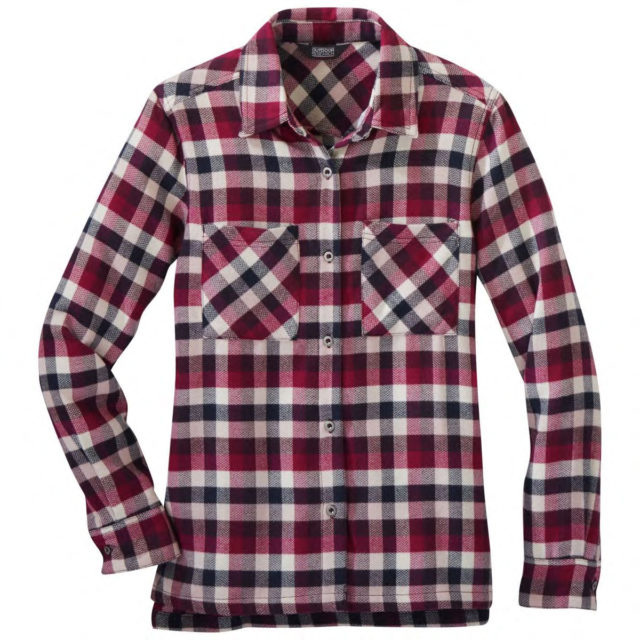 Sascha Anastas: The Feedback Flannel is a midweight flannel made of 100% polyester that can be worn every day and is versatile enough to wear while hiking, camping, cragging, and is even breathable enough for cool-weather mountain biking. It has two subtle front pockets, a large hidden pocket on the right hem, and another pocket zipped in the bottom of the right-side hem (both of the hem pockets are large enough to fit a cell phone). Surprisingly, when worn with a bulky smartphone in one of these pockets, the shirt does not hang awkwardly.
What I am most impressed with is the way this flannel fits — it is one of the best fitting flannels I have ever worn. It is pretty hard to find a flannel that does not drown people like me with smaller / petite builds. Off the rack and in the stock photos it appears quite boxy, but once on, it is tight in the right places (waist) and allows for lots of movement in the shoulders while not making them appear too wide. So if you're like me and tend to fall into "petite" sizing, this flannel is worth a look, and even if you're not, it feels true to size and I didn't find that washing / drying resulted in any shrinkage.
Patagonia Baby Fjord Flannel
Fabric: 100% organic cotton twill
Size Tested: 6-12 mos
Size Range: 3-6 months to 5T
MSRP: $45
Best For: your sidekick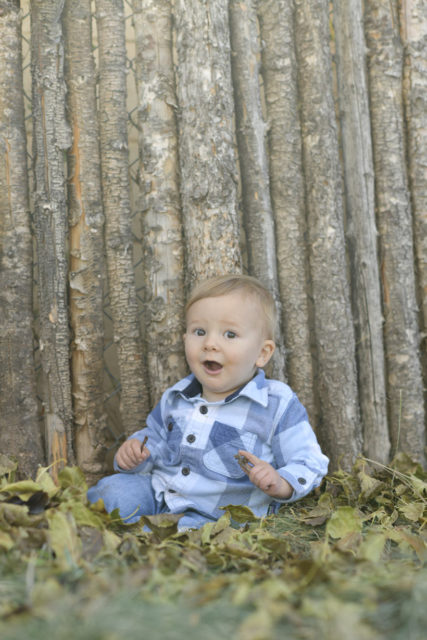 Kristin: I'm a strong believer that your little one should be your sidekick and what better way to demonstrate that than with matching Fjord Flannel Shirts. I'm kind of kidding, but wow, does this shirt look good on little ones! Soft, nice looking, and durable, this shirt will survive everything your child throws (or spills or smears) at it and still look good enough to hand down to your next child or someone else's. My son is small for his age (14 months, 19 lbs, 29") and the size 6-12 months fits with a little room to grow. Unlike other Patagonia baby products, the Fjord Flannel is only a little big — so don't downsize too much when ordering.
The Baby Fjord Flannel's fabric is thick enough to keep my son warm on cool day (50-60°F) but not so thick it limits his mobility. We love layering it over a onesie to wear as a light jacket on those warm fall days, and when the temps start dropping, we tend to throw it on him as an extra layer. If the price gives you pause, check out the Patagonia Worn Wear program where you can find like-new products for a fraction of the price. Regardless of how you purchase it, you will get plenty of wear out of this flannel.
Outerknown Blanket Shirt
Fabric: 100% organic cotton heavyweight twill
Reviewer: 5'10", 140 lbs
Size Tested: Small
MSRP: $148
Best For: getting cozy & warm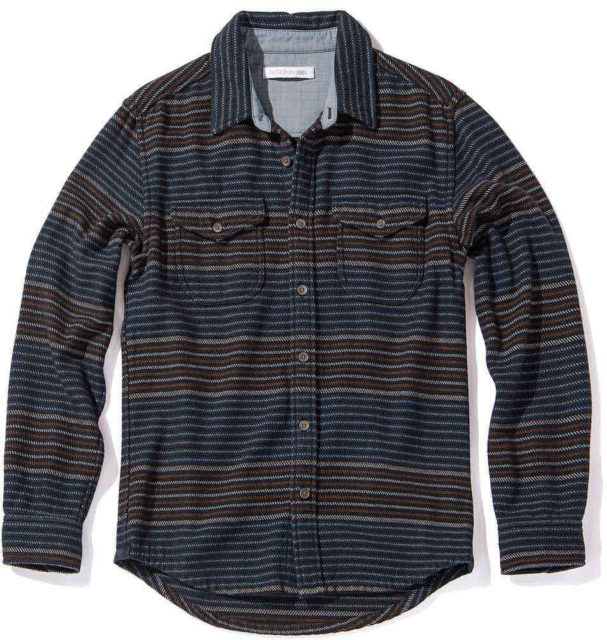 Sam Shaheen: Both Jonathan Ellsworth and I have been using the Outerknown Blanket Shirt, which is a heavyweight, supple, cozy, shirt that feels just as comfortable worn as an overshirt / jacket or as a standalone shirt. This is one of the heaviest shirts in this roundup but it also has a very supple fabric without much structure, which makes for a very comfortable, natural drape. As the name suggests, the Blanket Shirt's fabric feels more like a midweight blanket than a traditional cotton twill fabric. Its fabric isn't highly brushed and crazy soft like the Patagonia Fjord Flannel or Topo Designs Field Shirt, but the Blanket Shirt's fabric is warmer and more substantial overall.
This shirt has quickly become one of my favorites in recent memory. The size Small fits me just about perfectly, and I'd say it's neither particularly slim or particularly baggy (it fits similarly to the Patagonia Fjord Flannel). I can wear the Blanket Shirts as a standalone shirt out to the bars or throw it on over a t-shirt for a bit of added warmth.
Outerknown offers this shirt in a staggering number of colorways, so finding one that you like shouldn't be a problem (Blue Mist Mojave Stripe, anyone?). Yes, this shirt comes with a pretty hefty price tag, but if you're looking for a heavyweight button-down that can be worn in a huge variety of situations and keep you comfortable in all of them, Jonathan and I are big fans of the Blanket Shirt.
Pendleton Wool Flannel Shirt
Fabric: 100% merino wool twill
Reviewer: 5'10", 140 lbs
Size Tested: Small
MSRP: $149
Best For: sharp style in a lightweight fabric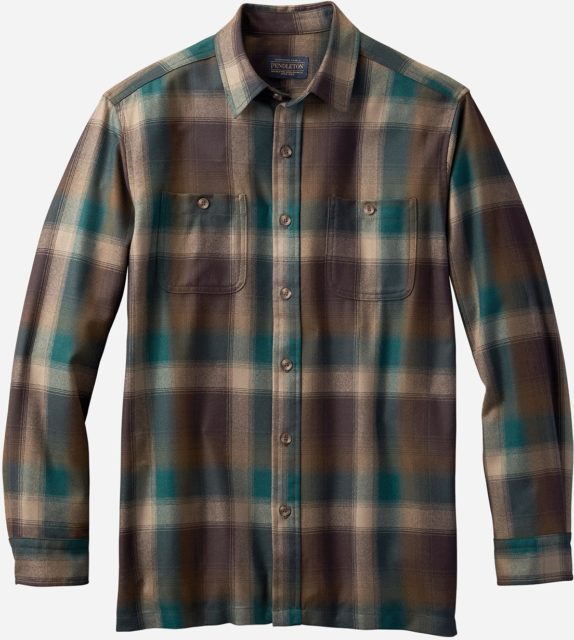 Sam: The Pendleton Wool Flannel is made from a very subtly brushed, lightweight merino flannel fabric. The fabric has a substantial hand feel due to its tight weave, though its surprisingly lightweight (the Wool Flannel uses one of the lightest fabric in this roundup). Unlike most brushed flannels or heavier button-downs, the fabric on the Wool Flannel has a very sharp, almost formal look. The collar is folded in crisp lines, the placket lies flat, and the details are clean. Of all the flannels in my closet, this is clearly the most formal-looking one.
The fit of the Wool Flannel is much boxier and more traditional than the options immediately above and below — the size Small leaves plenty of room throughout for my slim 5'10" frame (especially in the torso). As a result, this shirt fits better as an overshirt worn unbuttoned, at least for my body type. If you're looking for a lightweight, more formal flannel with a roomier fit, the Pendleton Wool Flannel Shirt fills this unique niche.
Toad & Co Cruiser Cord Longsleeve Shirt
Fabric: 97% organic cotton / 3% elastane twill
Reviewer: 5'10", 140 lbs
Size Tested: Small
MSRP: $85
Best For: getting away from traditional plaids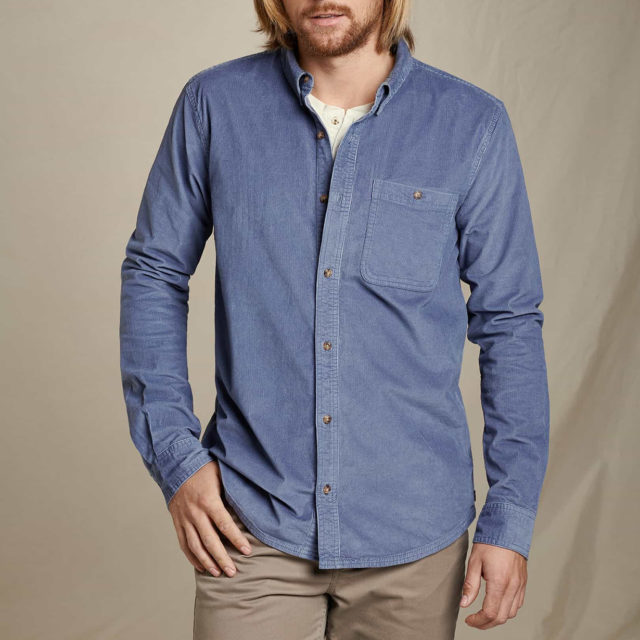 Sam: Whatever your opinions are about corduroy, it's hard not to be impressed by the Cruiser Cord Longsleeve Shirt. The fabric is soft, fairly structured, and extremely stretchy — a unique combination that makes for a shirt that is very comfortable and looks great. The corduroy on this shirt is a very small wale — if you're not in my personal space when I'm wearing it, you probably can't tell that it's corduroy (in the Flint Stone colorway at least).
Perhaps because the fabric has a significant amount of structure, the Cruiser feels a bit more fitted than other button-downs I've used from Toad & Co. It's a fairly slim fit and the size Small works very well with my body type (5'10", slim). The very stretchy fabric also helps the slim fit feel less restrictive. I've found myself wearing this shirt constantly this Fall — and I've been recommending it to all of my friends — because it's a great way to stay comfortable while not looking like all the other plaid-clothed folks out there.
Patagonia Fjord Flannel
Fabric: 100% organic cotton twill (6.5 oz)
Reviewer: 5'8", 155 lbs
Size Tested: Medium
MSRP: $89
Best For: durable comfort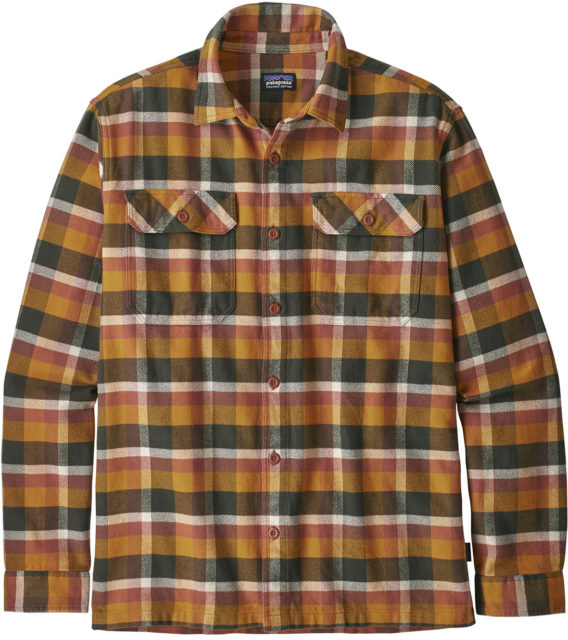 Luke Koppa: I've been wearing two Fjord Flannels for more than five years now, and they're still some of my favorites. The fabric is fairly heavy, but still very supple and soft. The fit is on the roomier end compared to the options here from Topo Designs, Foehn, and Everlane, but I wouldn't call it baggy; it's loose enough to layer over a hoody, but not so loose that it looks excessively droopy when worn on its own.
The Fjord Flannel starts out incredibly soft, and only gets slightly less soft over time. The only thing I've managed to damage on my Fjord Flannels is the shoulder area on one, but that was totally my fault — an ember from a campfire burned through it and the jacket I had underneath, which was fixed by a quick patch-job.
Overall, I have nothing to complain about with regard to the Fjord Flannel. It's comfy, it has a versatile fit, it's proved to be very durable, and it's made from 100% organic cotton.
Topo Designs Field Shirt – Plaid
Fabric: 100% organic cotton twill (7 oz)
Reviewer: 5'8", 155 lbs
Size Tested: Medium
MSRP: $89
Best For: super soft fabric in a slim fit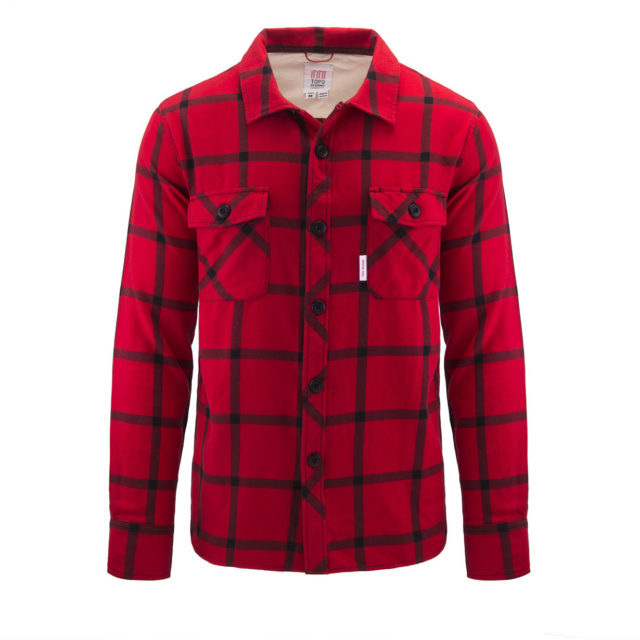 Luke: The Field Shirt combines an exceptionally soft fabric with a traditional pocket layout and a slimmer, shorter fit. While its fabric is technically a bit heavier than the Fjord Flannel's, the Field Shirt's fabric is more supple and feels a bit lighter and thinner. It has a very loose, flowy drape which I think complements the slimmer fit really well.
This shirt wouldn't be my top pick for activities with lots of potential for abrasion (e.g., mountain biking or climbing) due to the thinner fabric, but it's one of my go-to's for lounging around the house or heading into town.
If you want a super comfortable, soft fabric in a slimmer fit, the Field Shirt is an easy recommendation. And if you don't want a flannel fabric but want the same fit, Topo also makes it in a standard, non-brushed twill version.
Everlane Modern Flannel Shirt
Fabric: 100% cotton twill (5.8 oz)
Reviewer: 5'8", 155 lbs
Size Tested: Medium
MSRP: $68
Best For: modern style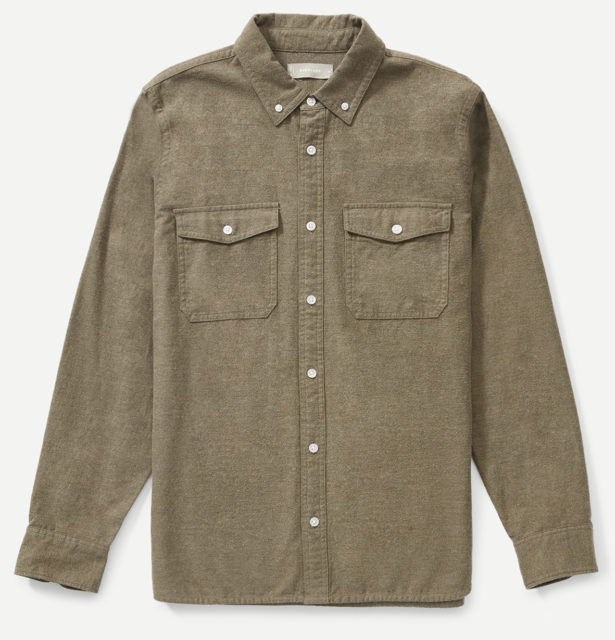 Luke: This is the best-looking flannel I own. Everlane's Modern Flannel Shirt is the slimmest men's flannel here, and combined with its soft but structured fabric, that makes it look really good, at least in my opinion.
The fabric is similarly soft vs. the Fjord Flannel, but significantly lighter and not quite as warm. The slim fit doesn't provide a ton of range of motion, but it's totally fine for casual use.
My only complaint with the Modern Flannel is that, given that most of the other flannels here use organic cotton, I'd like to see Everlane go the organic route. But other than that, this is a very comfortable, slim-fitting shirt that looks nice enough to wear out to even pretty formal occasions.
Foehn Collins Flannel Shirt
Fabric: 48% polyester / 47% Coolmax polyester / 5% wool twill (~5.3 oz)
Reviewer: 5'8", 155 lbs
Size Tested: Medium
MSRP: $99
Best For: outdoor activities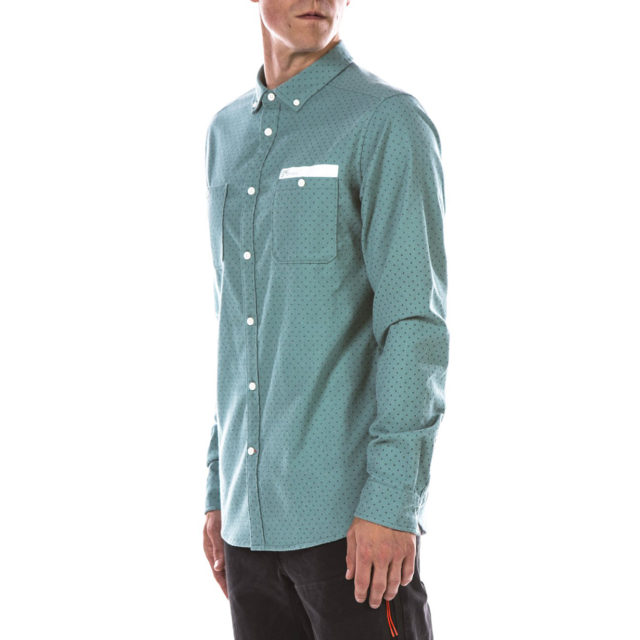 Luke: Unlike most of the flannels here, the Collins' fabric is mostly synthetic. The upside to this is that it breathes, wicks moisture, and stretches much better than any of the 100% cotton flannels. And despite the synthetic material, the brushed twill fabric of the Collins is just as soft as some of my softest cotton flannels like the Topo Designs Field Shirt.
Foehn is a company focused on making everyday apparel that can also work well for rock climbing, and the Collins shirt definitely fills this role. It fits fairly slim, but the bit of stretch in the fabric and slightly wider shoulders and arms keep it from feeling particularly restrictive (especially if you're wearing it unbuttoned). Overall, the fit is similar to the Topo Field Shirt, but a bit longer and roomy around the arms and shoulders.
The Collins Flannel is a great choice if you want a really soft and cozy shirt, but also want to use this for activities like climbing or biking where better wicking and stretch are useful.
Share this post:
Share on facebook
Share on twitter
Share on pinterest
Share on reddit
Share on email