Fox Union Shoe
Test Location: Colorado
Test Duration: 3 months
Reviewer: 6', 170 lb / 183 cm, 77.1 kg
Size Tested: EU 46
Blister's Measured Weight per shoe: 499 g and 496 g (size 46)
Upper: Lightweight mesh material coated with TPU (Thermoplastic polyurethane )
Closure: Laces and velcro
Stated Features:
Ultratrac outsole
Glass filled nylon shank
One-piece upper
Molded toe cap with reinforced toe box
Low profile velcro strap and lace system
Adjustable arch support
Colors: Red (tested), Black, Grey and Mocha Brown
Pedals used: HT X2, HT T2, Time Speciale 8
MSRP: $179.95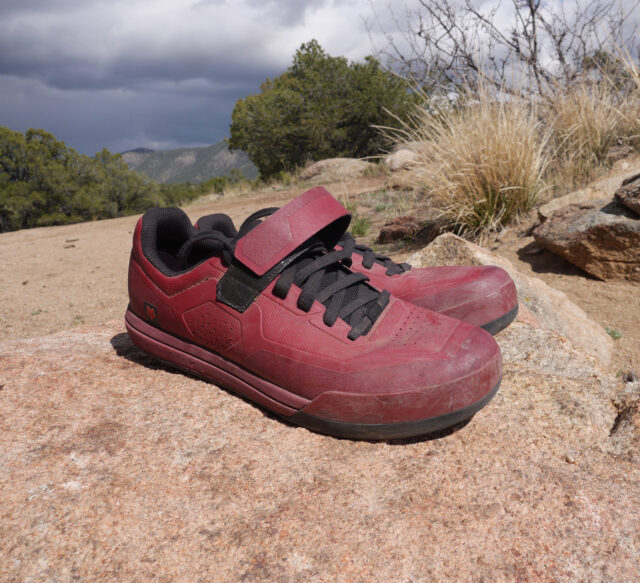 Intro
I've heard from industry friends how hard shoes are to get right — or maybe more accurately, how easy it is to muck them up — so when news of Fox entering the shoe market surfaced, it seemed like an open question if their first effort would be more of a practice run or a truly well sorted shoe. But then I read the list of amazing riders who contributed to the design, and I became a lot more optimistic — it was clear Fox had put some real effort into the Union. Then I saw pictures of the shoes and they looked really solid, giving the optimism more momentum. Then a pair showed up for review and I felt how light and well constructed they were, and couldn't wait to slap on some cleats and get out for a ride.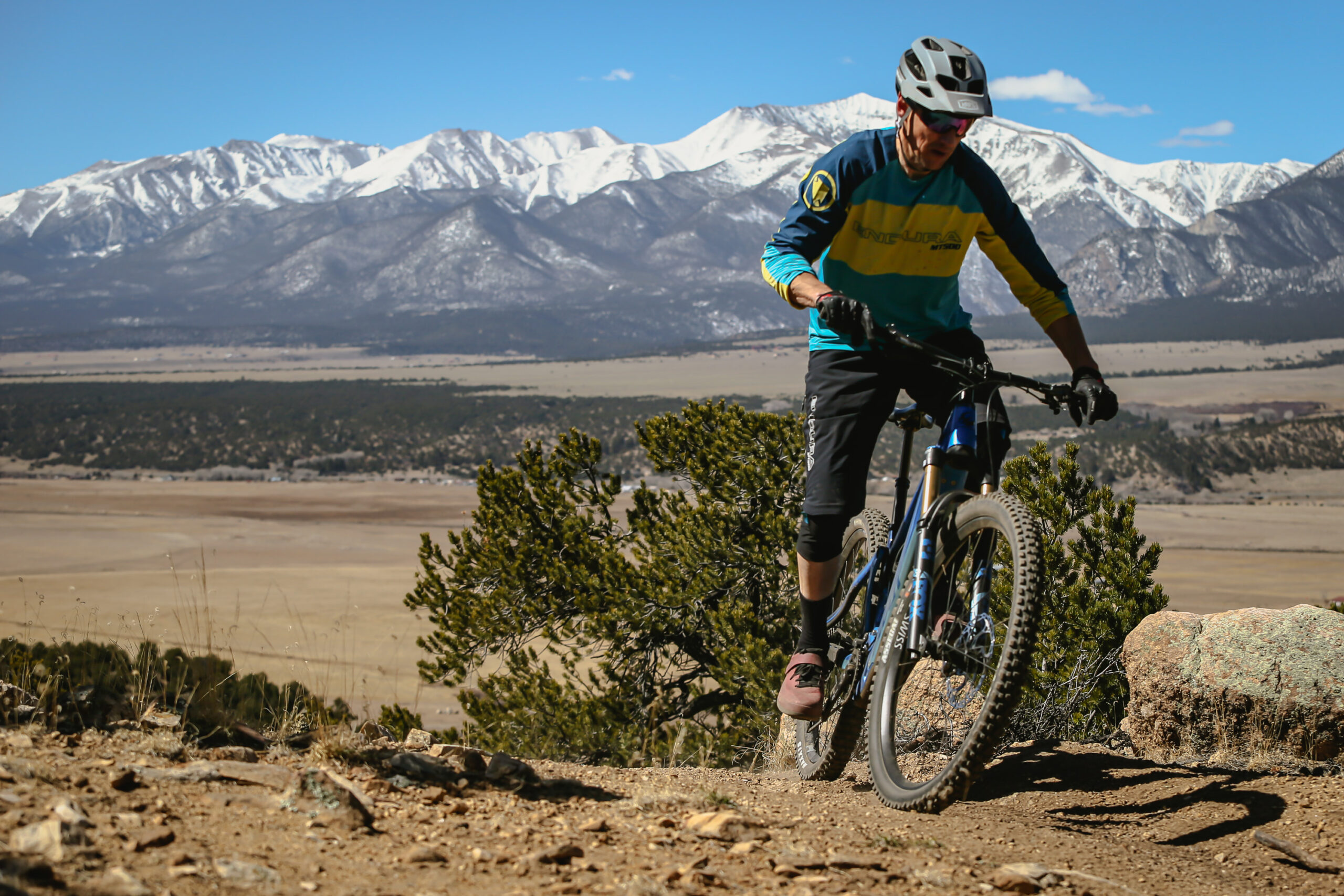 Features and Construction
The Union uses a lightweight mesh upper that's been coated in a thermoplastic polyurethane skin (TPU). I had to look up TPU as I wasn't familiar with it, but here's the short version: TPU is a melt-processable thermoplastic elastomer and has both characteristics of plastic and rubber. What makes it a good choice for mountain bike shoes are properties like flexibility, strength, durability, abrasion resistance, and low weight. One of the more common product categories to see TPU used in is phone cases. The front of the shoe has added protection from a molded TPU toe cap, and there are perforations in the front and sides to provide some airflow. On the inside, there is a reinforced toe box, molded heel cup, and molded-in sock liner.
The Union can be had with either a conventional lace with a velcro strap or a Boa system. We chose to test the lace/velcro version as we suspect it will be the more popular choice since the Boa system adds fifty bucks to the price over the lace version. The Velcro strap loop is molded into the upper, and the strap gets the TPU treatment with some added texture for grip.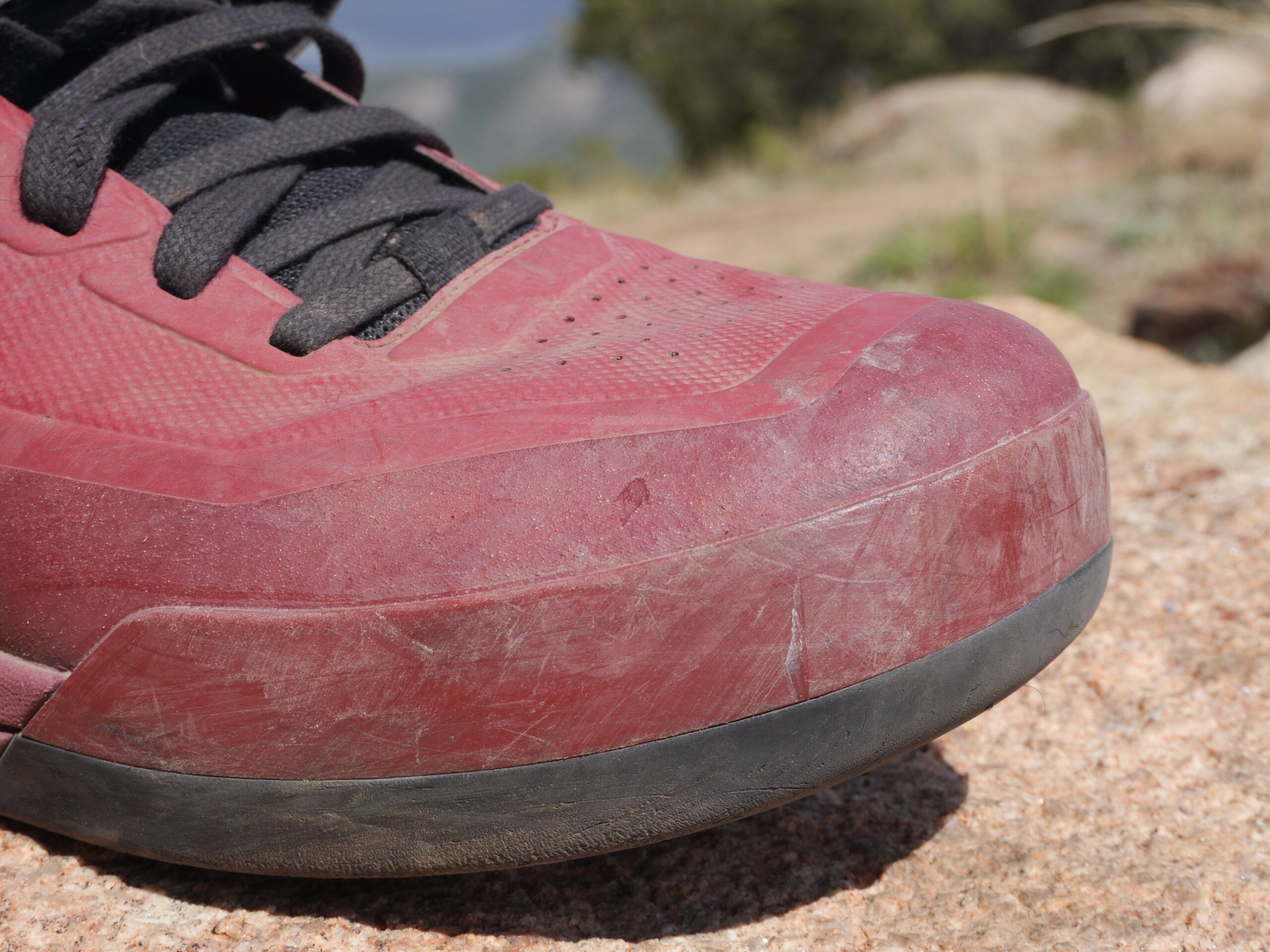 The midsole is comprised of "tuned" EVA, the tuned aspect comes from Fox's claim that it is both comfortable and efficient. The midsole is not removable which also means that the cleat plate underneath doesn't appear to be replaceable. I'm not inclined to call this out as an issue as in my twenty-plus years of running clipless pedals, I've never had to replace a cleat plate due to cross-threading or broken bolts — definitely just properly jinxed myself for sure. Fox uses a glass-filled nylon shank between the midsole and cleat plate area for additional support. In a nice touch, they added a cleat placement guide, which denotes which way to move the cleat for either power (forward) or control (rearward). Finally, the outsole features Fox's proprietary Ultratrac rubber compound, which is on the softer side, but I wouldn't describe it as especially tacky.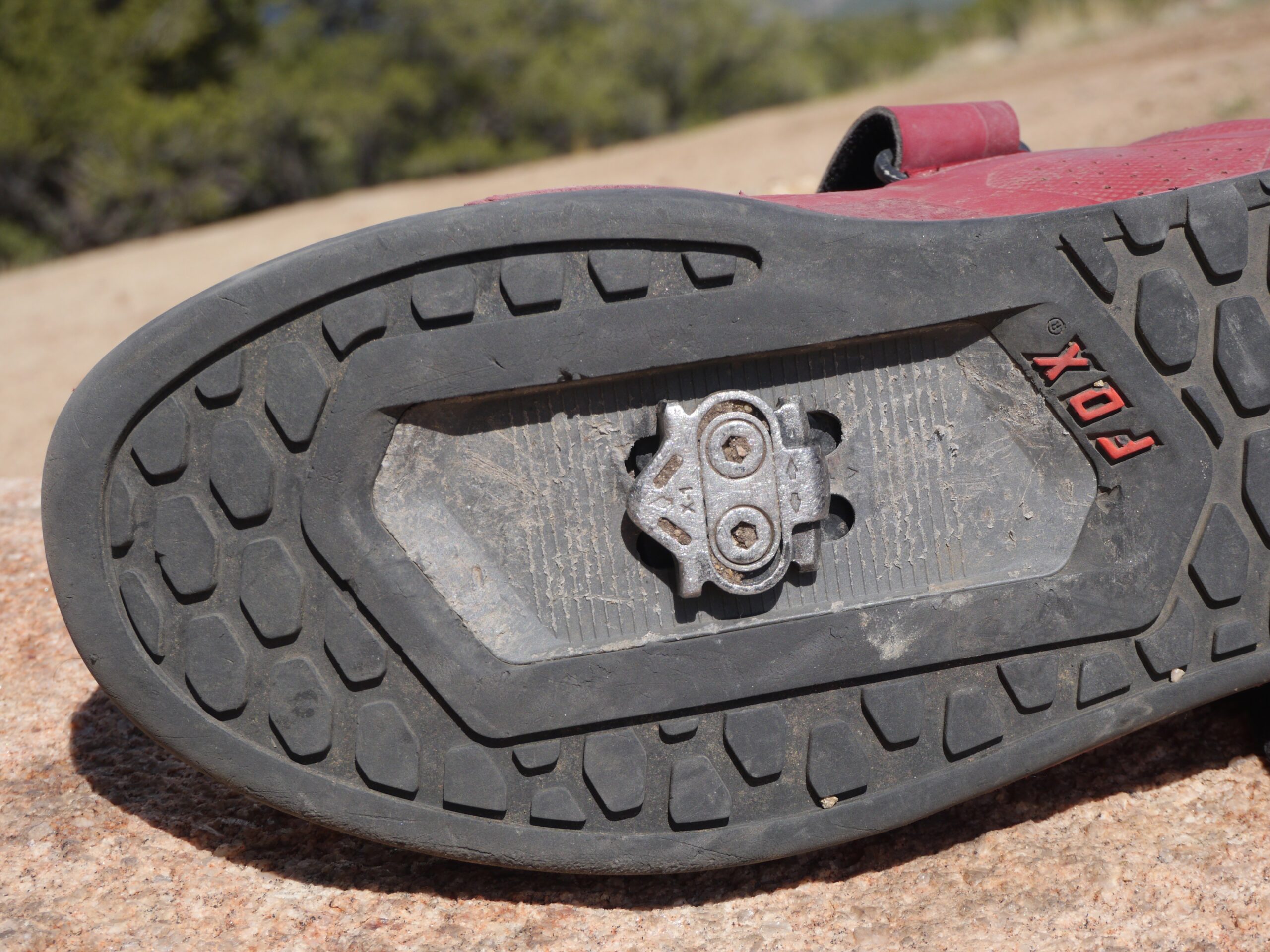 Fit
There was a bit of debate about what size to request for my huge bloody feet since there aren't half sizes available north of EU 46. I typically end up in the 46.5 /47 region, especially if shoes run small, but Fox's advice was that the Unions are true to size, or maybe run a touch big. So the decision was made to go with the 46 (US 12.5). That turned out to be the right decision as the fit was spot on right out of the box. Ski boot fitters routinely describe my feet as being low volume with bony prominences — in other words, an ugly long skinny foot with gross bone spurs — so not the easiest to fit.
I would describe the Union as being on the roomy side for my foot type, more medium volume, but not so much as to make it feel sloppy. The velcro strap does a good job of adjusting the fit across the top of the foot. The toe box has loads of room, which I can appreciate, especially given the previously mentioned bone spurs (thank you ski boots…). The footbeds are removable, and feature unique inserts that are swappable between low and high arch support — after trying both, I settled on the high support insert, which aligns with how my custom footbeds are formed. I haven't experienced any heel lift, and overall the fit is plenty snug, plus there's extra room for thicker socks for those colder rides.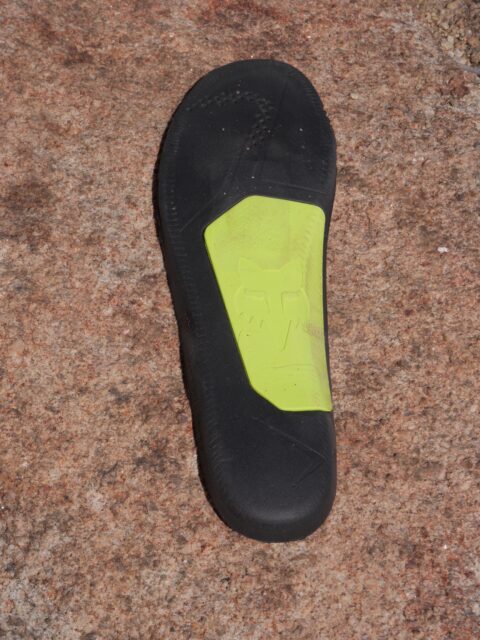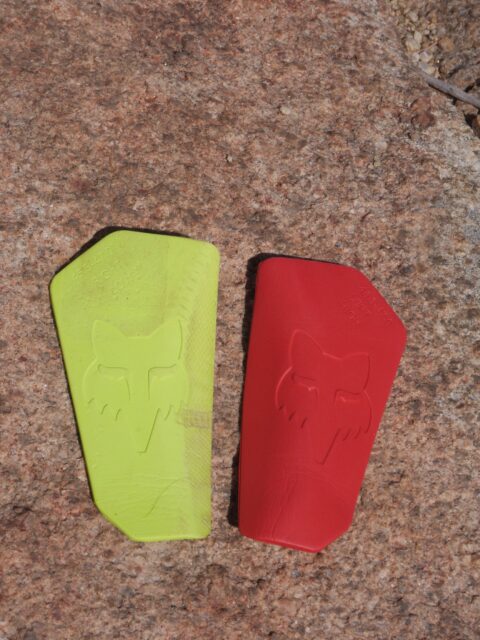 On the Bike
One of the reasons I like this shoe so much is that it has a great balance of stiffness and comfort. I found the Union to offer plenty of support for hard pedaling efforts, and I also never felt like I wanted more give for technical or aggressive trail riding — it's a fine line of getting the stiffness right, and I think Fox has nailed the flex given the Union's trail focus. The cleat cutout has a generous amount of room, so clipping in and out with a variety of pedals was never a problem — which is a huge plus, because you definitely don't want to be worried about unclipping, especially in technical terrain. The actual cleat slot is neutrally placed and quite long, which provides tons of fore and aft adjustment, easily accommodating most riders' preferences.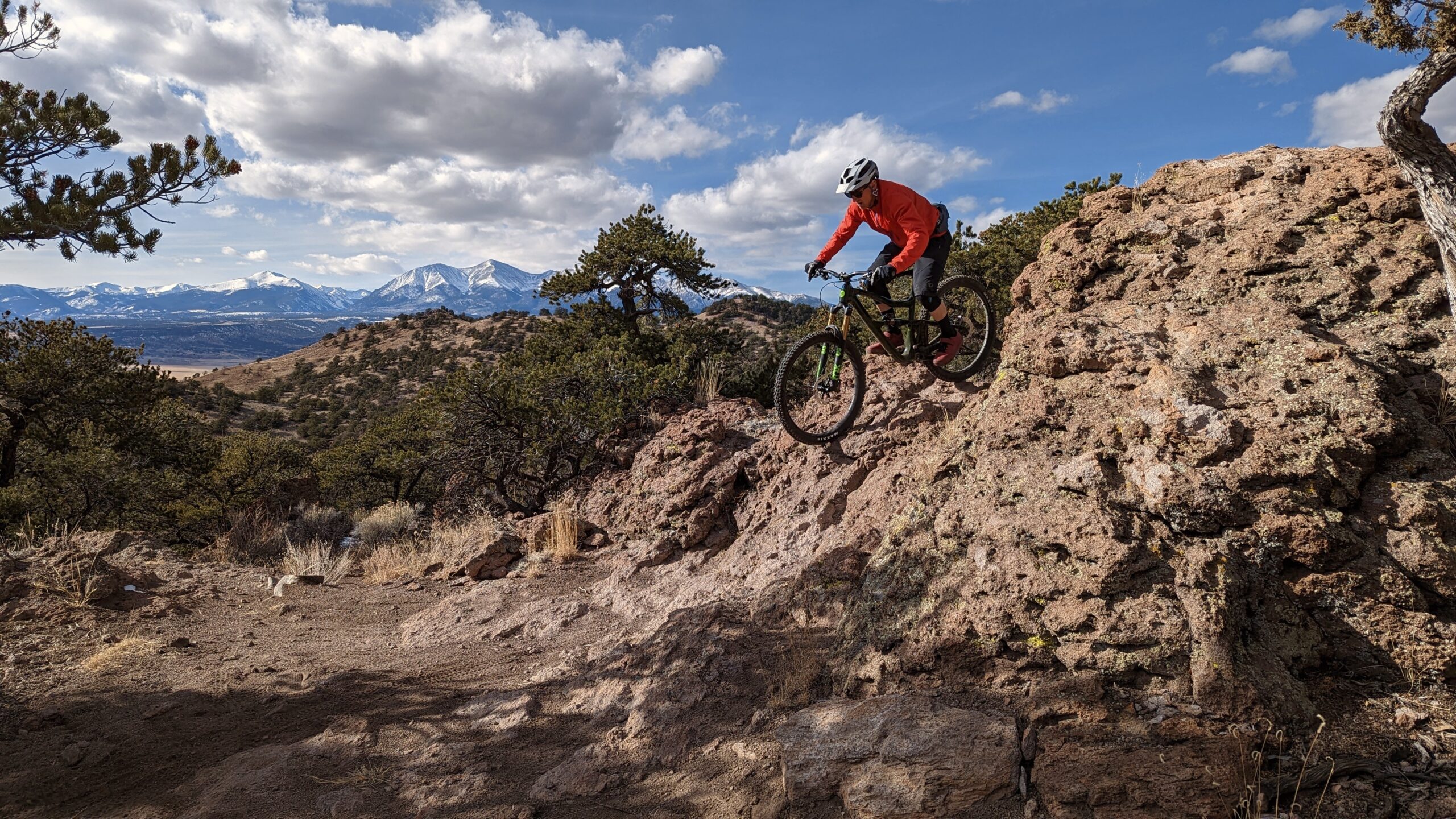 I've tested the reinforced toe box plenty of times already, and have to say it's one of my favorite features. Hard toe strikes that would usually put a tear in my eye have resulted in nothing but surprise that it didn't hurt.
I ended up doing quite a few winter rides in the Union, and found them to be pretty decent winter shoes — or maybe more accurately, pretty decent late Fall / early Spring shoes. They kept my feet warm on moderately cold days, but obviously, they're not designed to be winter shoes and thus are not insulated for really cold days. It hasn't warmed up enough here yet for me to comment on how they do in the heat, but then again, I typically don't get hot sweaty feet, so I'm really not the one to judge that anyway. My longest ride in them so far has been just under four hours and there was zero discomfort. I'm looking forward to wearing them on some of the all-day epics Colorado is known for, as I have no reason to suspect they won't stay comfortable all day.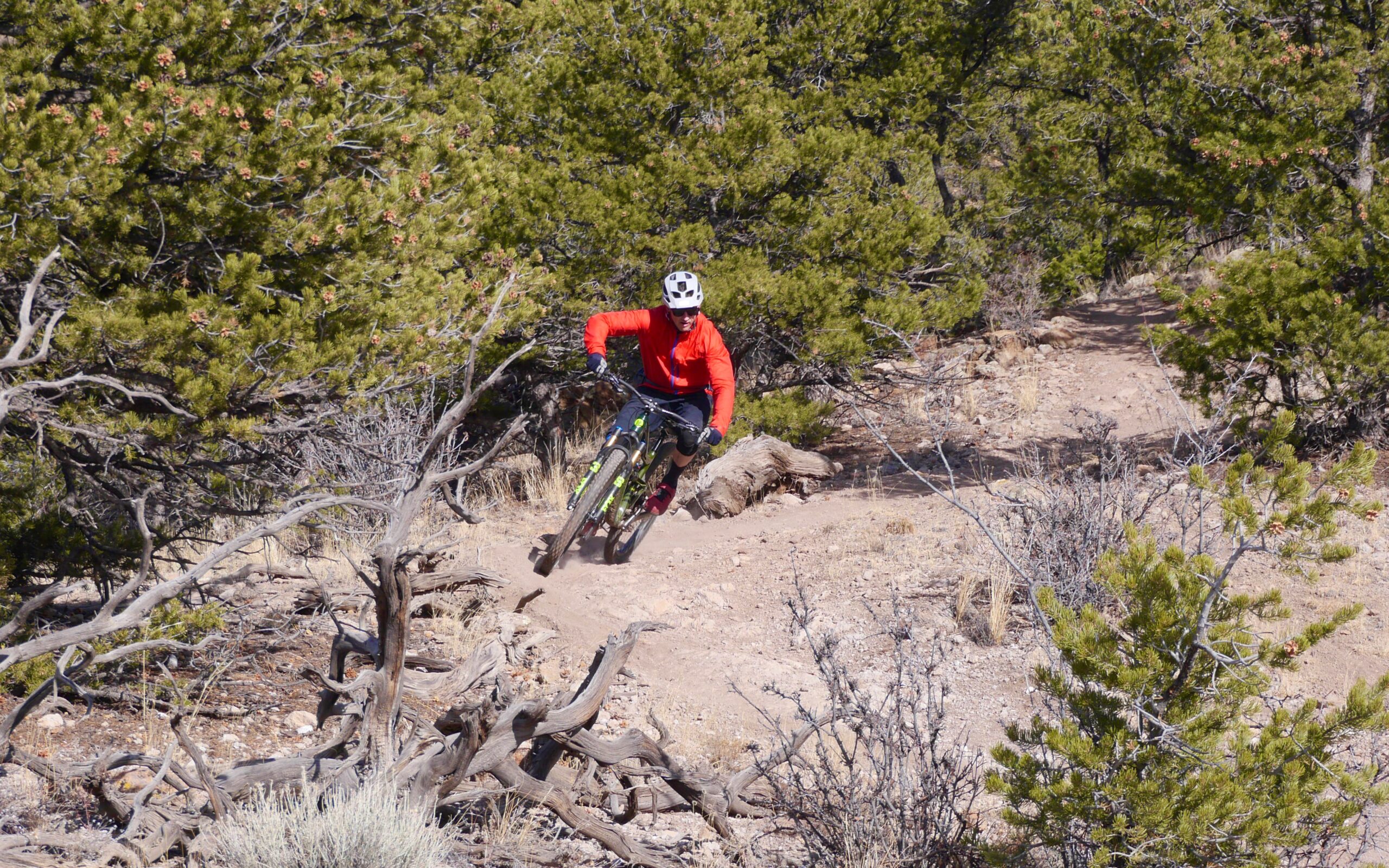 Off the Bike
Most of the hiking was done on dry loose dirt and rock, and Fox's proprietary Ultratrac rubber compound got the job done with no drama. There were a few light snow and muddy (for this area) rides where I had to get off the bike, and again the Union performed great. While I didn't get them soaking wet, their performance in the snow, coupled with how lightweight they are, points towards them faring well when wet — we'll update this review if that turns out to be not the case.
The Union is not a shoe you can't wait to get off as soon as the ride is over — quite the contrary actually, as I found myself leaving them on after rides way longer than I typically would. I even drove home from a few rides while still wearing them, something I rarely do in other shoes.
Durability
One of the attributes of the TPU coating on the upper of the Union is abrasion resistance, which I've tested numerous times by smearing them on rocks out on the trail. It's pretty much impossible to ride here without hitting rocks with your feet, so I suppose in the shoe-testing arena, that's a good thing. I'm happy to report that the Unions have shrugged off just about everything I've smashed them into so far. There's evidence of trail abuse, but overall I'd say the Unions are handling it well. There is one area where the toe box meets the sole that took a particularly heavy hit, and that area is showing signs of the outsole starting to separate from the upper — to be clear, I really smacked it hard, but it is something I'll be keeping an eye on.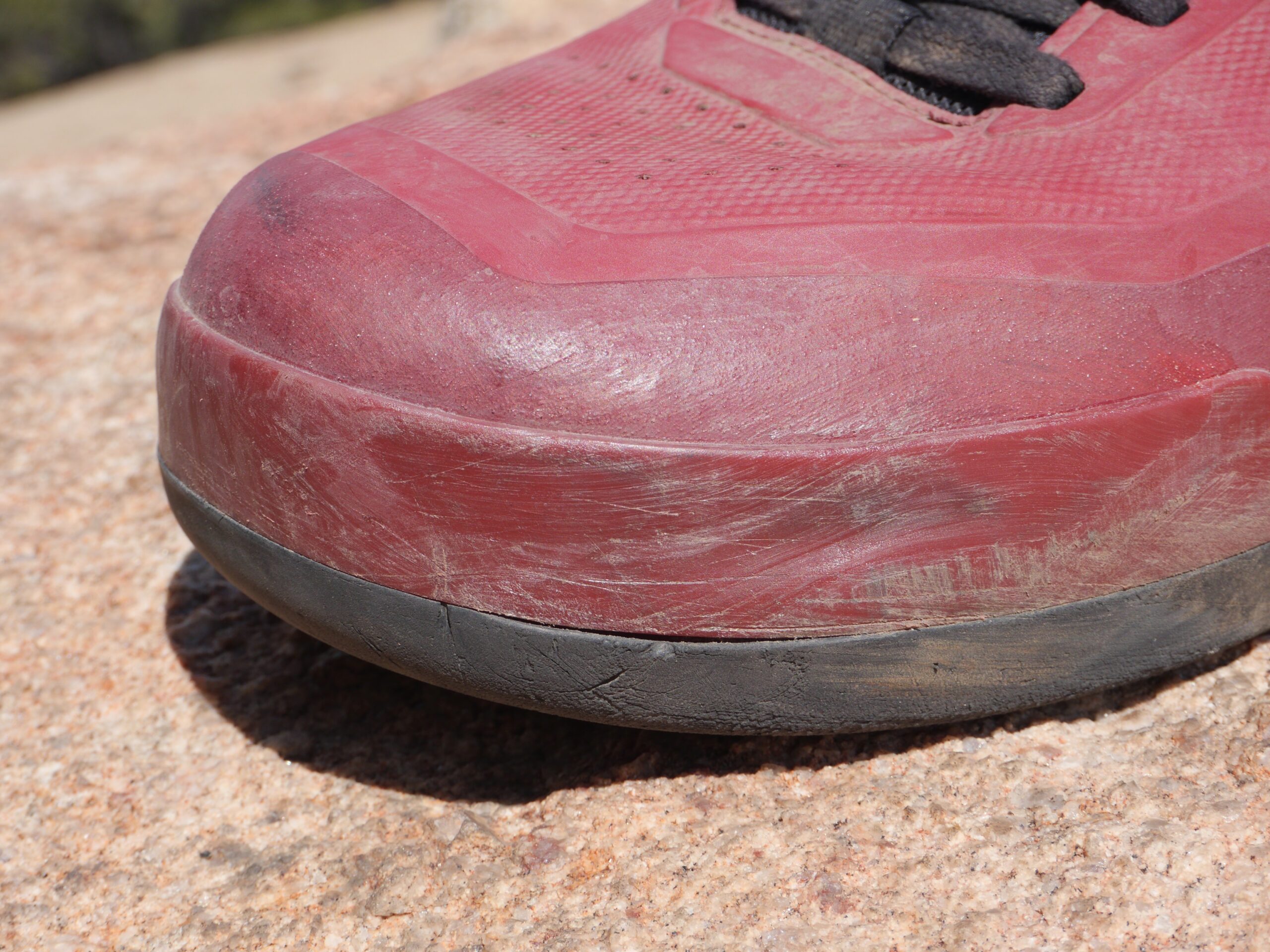 Bottom Line
Hopefully, by now it's obvious that I really like the Union, and they've become the shoes I reach for now for most rides. That said, the shoe (Giro Chamber) they are replacing has been in the rotation for over ten years, so the Unions have their work cut out for them. So far it looks like Greg Minaar, Jackson Goldstone, and Steve Peat know a few things about what makes a good mountain bike shoe. And Fox should be proud, as this first effort in footwear is really good, and a well-thought-out take on an all-arounder mountain bike trail shoe.