GearDryer Freestanding 12
Stated Weight: 13.6 kg / 30 lbs
Stated Dimensions: 25"W x 15"D x 31"H
Stated Features:
Dual fans deliver more than 200 CFM of forced airflow directly into gear
Choose heated or ambient air with the flip of a switch. GearDryer's self-regulating heater delivers an approximate 35ºF air temperature increase above the ambient air temperature for effective drying and warming (safe for use on most thermo-molded boot liners)
12 individual drying ports accommodate up to 6 pairs of boots, gloves, or other gear items
5 pre-programmed settings allow you to select a 15-minute, 30-minute, 1-hour, or 2-hour dry cycle. Hold the 2-hour button for 3 seconds to initiate a 24-hour dry cycle
Versatile twist and lock port design allows you to customize the port layoutto dry specific gear items
Plugs directly into a standard 120-volt wall outlet. Amps: 0.4 ambient air | 8.0 heated air
Heavy-duty steel construction with a durable powder coat finish
MSRP: $599
Test Location: Blister HQ @ Elevation, Mt Crested Butte, CO
Test Duration: ~60 days of use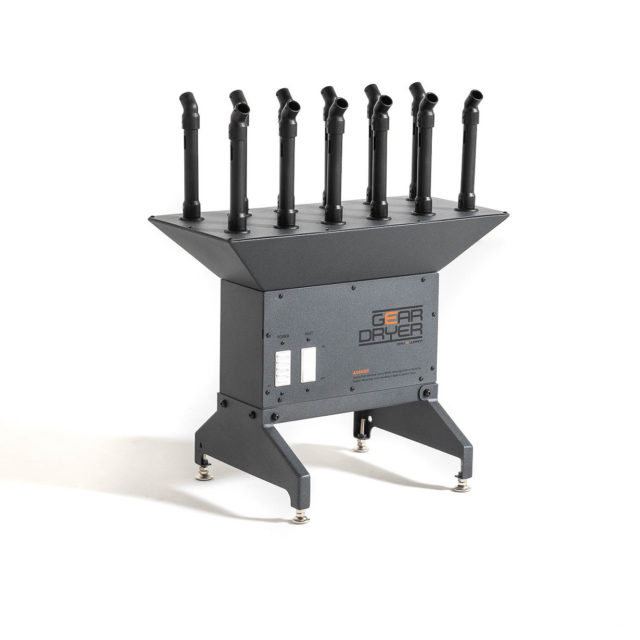 Buy It Now

Review Navigation:
Specs //
Intro //
Construction //
Assembly //
Capacity //
Portability //
Settings & Performance //
Bottom Line
Intro
Ever forgotten to take out your boot liners after a day of skiing, and the next morning find yourself stepping into a cold, swampy boot? Not fun. Luckily, there are now a bunch of boot dryers available that let you avoid this.
We've already sung the praises of the DryGuy Travel Dry DX for use on the go, but what if you need to dry several pairs of boots, gloves, helmets, etc, all at once?
The GearDryer Freestanding 12 is targeted at that second category. With twelve drying ports, it can dry up to six pairs of boots. We've been using the Freestanding 12 almost every day for the past few months at Blister HQ in Crested Butte, and here's what we've found:
Construction
Unlike many of the other boot dryers out there, the Freestanding 12 is made mostly of metal, not plastic. Overall, its construction feels burly and well made. We also think that the Freestanding 12's powder-coat steel exterior also looks a lot nicer than most plastic options.
Assembly
To get the Freestanding 12 up and running, you just have to assemble the legs and attach the drying ports. The metal legs are secured with simple nuts and bolts, and there's an included Allen wrench for assembly.
The plastic drying ports attach very quickly via a quick twist, which locks a raised bump into a slot on the port. You can also flip the drying ports so that they stick out more (rather than straight up). This can be useful for low-cut shoes.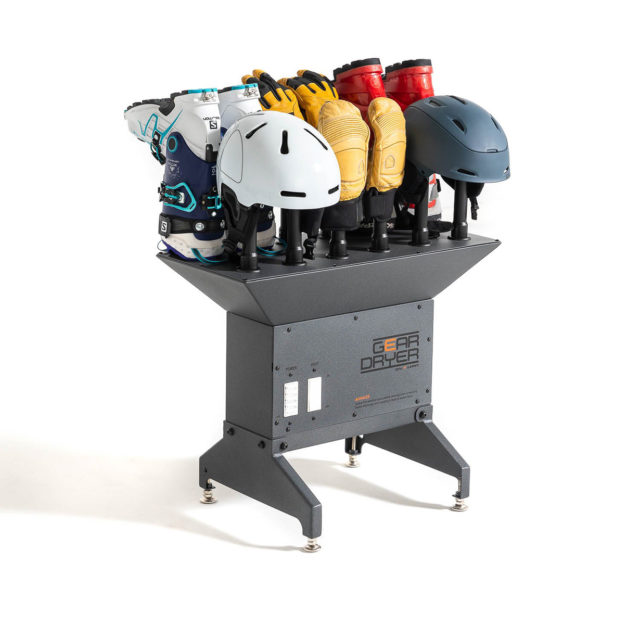 Once you've got the legs and drying ports attached, simply plug the Freestanding 12 into a standard 120-volt wall outlet, and you're ready to go.
For reference, the entire assembly of the Freestanding 12 took me less than ten minutes, and it was very straightforward.
Capacity
The Freestanding 12 has — you guessed it — 12 drying ports. As a result, it makes the most sense for people who really need that much capacity, e.g., a house / condo / apartment where you often have several people out skiing — and bringing back wet gear — each day.
Portability
The Freestanding 12 weighs around 13 kg (~30 lbs). So, it's not something you'll want to be moving around all the time. However, it's still pretty easy to move and carry, and is a good alternative to a wall-mounted dryer if you want to have the option of moving it.
Drying Settings & Performance
The Freestanding 12 pumps out a stated 200 CFM of forced airflow through its ports, and has several settings you can choose from.
First, you can select either ambient (room temperature) air or heated air. GearDryer says that with the heat on, the Freestanding 12 heats the air about 35°F more than the room temperature. They say that the heated setting is safe for most boots with heat-moldable liners, and none of us have had any issues after drying multiple pairs of boots with heat-moldable liners. The non-heated setting is nice if you want to use the Freestanding 12 to dry more temperature-sensitive pieces like leather shoes or gloves.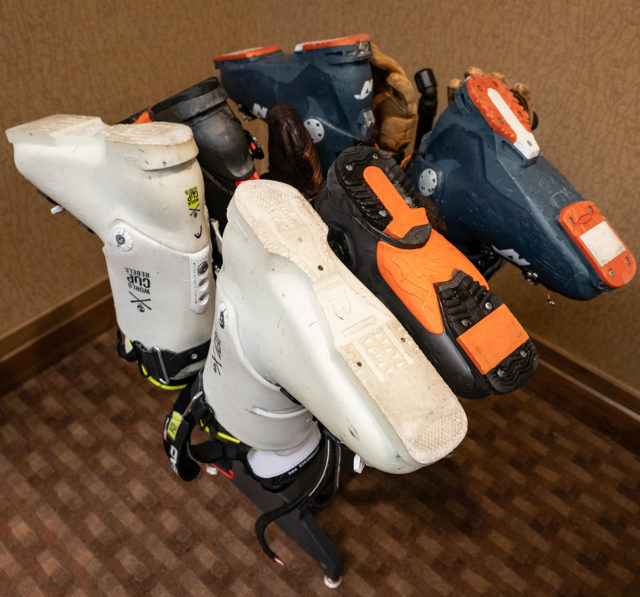 In addition to the heat setting, you can also set different time intervals on the Freestanding 12. You can select 15 minute, 30 minute, 1 hour, 2 hours, or 24 hours for the drying cycle.
While those settings work for most scenarios, we would like to have the option of a cycle somewhere between 2 hours and 24 hours. We've had a few times after a long day of skiing where the 2-hour cycle wasn't quite long enough to get ski boots completely dry. That said, you can always come back and turn off the dryer after selecting the 24-hour cycle.
Overall, the Freestanding 12 does exactly what it's supposed to — dry your gear. I've become a huge fan of it since I'm usually forgetful / lazy when it comes to taking out my boot liners after a day of skiing. With the Freestanding 12 I simply toss the boots on the dryer (with the liners in the shells), hit a button, and know that I'll have dry boots the next time I head out.
Price
At $599, the Freestanding 12 is very expensive compared to dryers with 2-4 drying ports. The DryGuy Force Dry DX (which has four drying ports and is made of plastic), comes in at a much more modest price of $80.
However, compared to pretty much all other high-capacity forced-air dryers, the Freestanding 12's price is actually right in line with the competition. So, it just comes down to whether you really need the capacity and / or burly build quality of the Freestanding 12.
Who's It For?
People who need to dry a lot of boots, gloves, helmets, etc. If you only need to dry your own gear and / or want something you can take with you on trips, then a smaller dryer like the DryGuy Travel Dry DX is a better option. And if you only need to dry two pairs of boots, there are lots of other options that are far cheaper and more portable. But for drying a lot of stuff, the Freestanding 12 is a great option.
Bottom Line
Wet gear sucks, and dry gear is great. The GearDryer Freestanding 12 lets you keep a whole bunch of boots, gloves, helmets, etc. dry for the next time you head out, it's more portable than wall-mounted dryers, and its construction seems bomber. If you need a high-capacity gear dryer, we highly recommend the Freestanding 12.
Share this post: