Hope F22 Flat Pedals
MSRP: $183.00
Test Location: Washington
Test Duration: 3 months
Reviewers:
Zack Henderson: 6', 160 lbs / 183 cm, 72.6 kg, US Men's 11 size shoe
David Golay: 6', 175 lb / 183 cm, 79.1 kg, US Men's 10 size shoe
Blister's Measured Weight: 180 and 180 g
Shoes used: Ride Concepts Tallac, Five Ten Freerider Contact, Five Ten Trailcross GTX
Intro
Few companies can match the aesthetic identity across as wide a range of products that Hope has cultivated, with their catalog of inarguably gorgeous machined parts. Not ones to mess with a good thing, Hope had kept the prior F20 flat pedal in their line for an impressively long time, but announced the new F22 as its replacement in early 2023.
With its attractive finish, utilitarian design, and smart details, the F22 was a decidedly-Hope spin on flat pedal design — and fortunately, those appearances are matched by a strong performance on the trail too.
Design
Zack Henderson: Coming from the F20, Hope has gone with what a lot of people would consider a more conventional pedal shape, but a closer look reveals quite a few interesting details.
First, the platform shape has gotten both larger and more asymmetric. Where the platform area of the F20 was stated at 99 x 102 mm, the F22 grows to 102 x 105 mm of usable platform real estate. Hope claims that the usable platform surface has grown by 30% through more optimized asymmetric shaping that more closely reflects the shape of the rider's shoe, with a wider portion towards the front of the pedal where the rider's forefoot typically rests.
The pedals aren't particularly thin but I wouldn't call them thick either, sitting at 17 mm around the edges and tapering off to 14 mm in the center over the axle. The center of the pedal doesn't have any pins — a good thing for my preferences, as I often remove those pins for a more concave and locked-in feel. Hope did go to the trouble to machine a knurled pattern into the center of the pedal, and while I'm not convinced it aids grip all that much, it certainly doesn't hurt.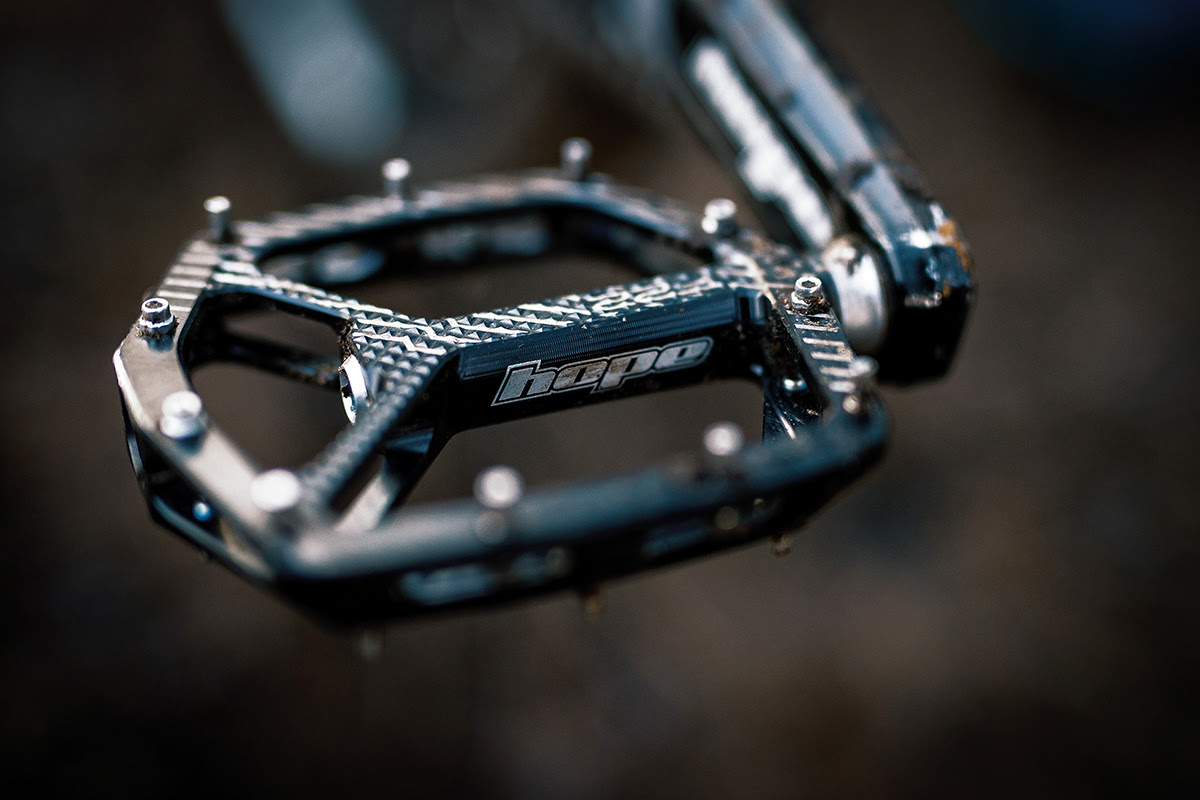 Next, the pin configuration has changed as well. Where the F20 featured 20 pins, the F22 has — surprise — 22. The design of those pins is what's more noteworthy, with the F22 featuring hexagonal pins that offer a few more biting edges than a conventional round pin. All main pins thread in from the bottom, except for the outermost pins which have a larger hexagonal base to allow easy removal with a wrench or socket if you manage to mangle them in use. Compared to the legacy F20 pedal, the main pins are taller (5 mm) and thinner with the option of removing an additional washer to gain another millimeter of pin height. The innermost pins are a bit more squat at 4 mm to provide some additional sense of concavity underfoot. The pins are properly toothy and seem eager to eat shins, but fortunately, the grip afforded is impressive — more on that below.
There are a few things about the pedals that haven't changed since the F20, all of which are time-tested features. The axle system still features a large Igus bushing and 3 bearings (that's a bearing or two more than many competitor pedals) spinning on a high-quality chromoly axle which Hope claims has been revised to be a bit stronger, and the body is machined from 2014-T6 aluminum. They're easy to disassemble, well-sealed, and should last a damn long time.
That's a lot of tech specs about a pair of flat pedals, but I'd sum up the F22 as a beautifully made, not-that-concave pedal of relatively average dimensions with some scarier-than-average pins.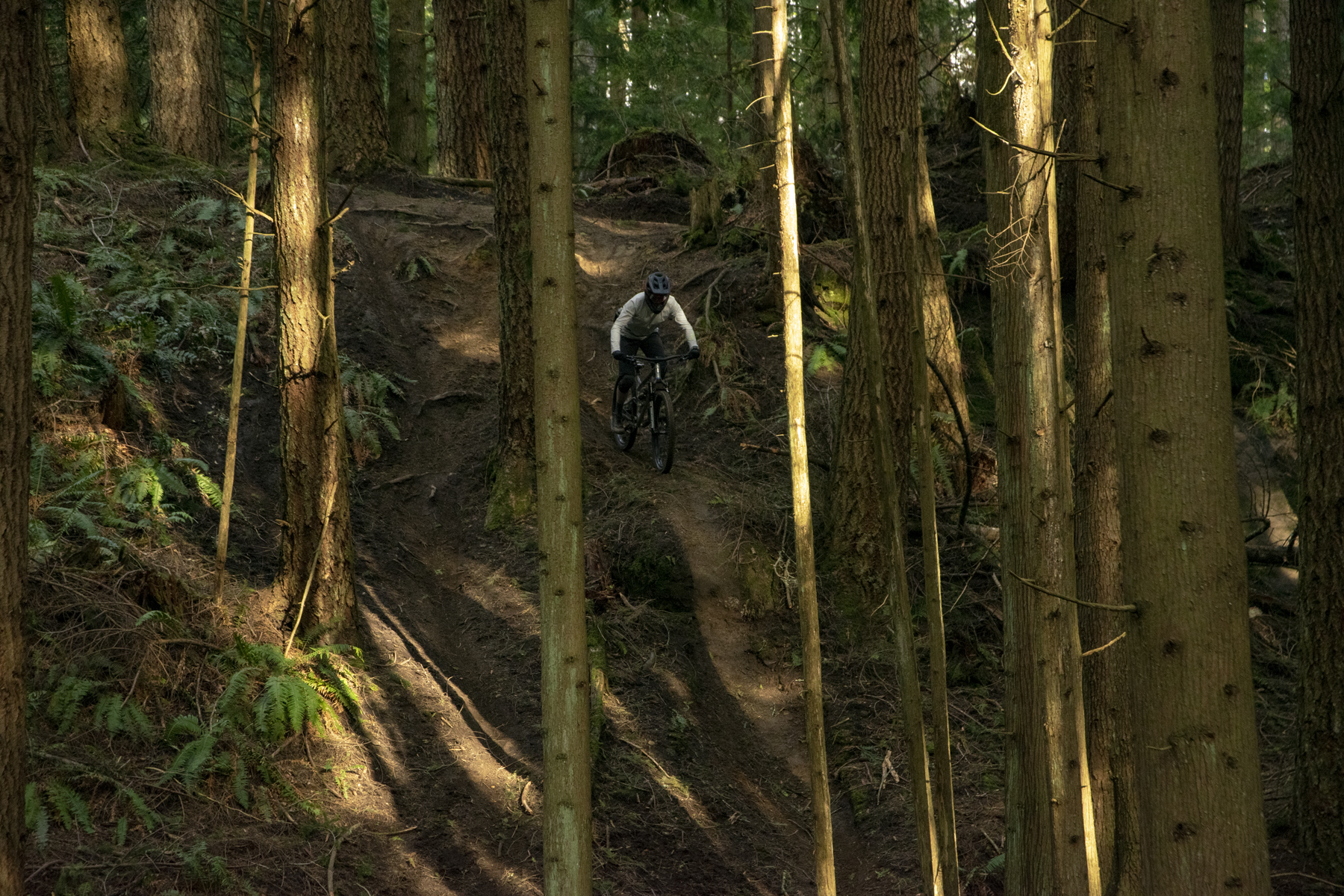 On the Trail
Zack Henderson: Hope's F22 pedals sure are nice to look at, so it was almost a shame to stomp my grubby shoes onto them for the first ride. Even in the parking lot, it was abundantly clear that my hunch about the rather sharp pins was correct, and they bit into my Ride Concepts Tallac shoes with authority.
The rather sharp F22 pins have their work cut out for them since the platform's concavity is relatively minimal, but the taller pins on the front and rear edges, paired with the slightly shorter pins nearer the axle, do a good job of creating a sense of fore-aft concavity while biting deeply into the shoe. The pedals still feel a bit flatter than some competitors with a more pronounced concave in the platform itself, in part because the sharp pins sink into your shoes fairly deeply, but they're a fairly neutral-feeling pedal that shouldn't take much of an adjustment period.
As someone who switches between clipless and flats with some regularity, I'm pretty particular about pedals offering a locked-in level of grip and being large enough to easily locate while riding, but without being so large they become a magnet for pedal strikes. The F22's pin design and configuration left very little to be desired on the grip front — even with the pedals in the stock shorter pin configuration (i.e., washers installed), the grip was impressive. The more traditional offset parallelogram design means that the effective contact area is somewhat shorter than some newer symmetrical, non-offset designs like the Deity T-Mac, and I ended up preferring the longer pin configuration (i.e., washers removed) in combination with the slightly average and flat-ish platform size to allow maximum grip along with a greater sense of concavity from the longer pins around the outer edges.
The pin configuration offered lots of highly tunable grip and the asymmetric shaping mitigated pedal strikes, but the pedals didn't jive as well as I might have hoped when it came to my preferred foot position of having the ball of my foot in front of the axle. With most pedals, I find that keeping the axle nestled in the front portion of my arch allows my foot to conform to the pedal a bit more while also reducing strain on my calves during longer descents, the tradeoff being that some smaller pedals with non-symmetrical platforms and less aggressive concavity can tend to want to "roll" forwards underfoot.
This is exactly what I experienced with the F22, and it makes sense — the portion of the pedal behind the axle is shorter than the portion of the pedal ahead of the axle, leading to the pedal wanting to roll forward when running into obstacles — especially when paired with the less pronounced concavity that leads to the foot feeling more "on top of" versus "in" the pedal. I measured the axle-to-rear-pins distance to be 43 mm and the axle-to-front-pins distance to be 53 mm, further confirming what I was feeling. This sensation is why I've more recently gravitated toward more symmetrical parallelograms like the Deity T-Mac, Chromag Dagga, and Tenet Occult / Omen (see comparisons below), which have a more even distance between the pins and axles on both the leading and trailing edges.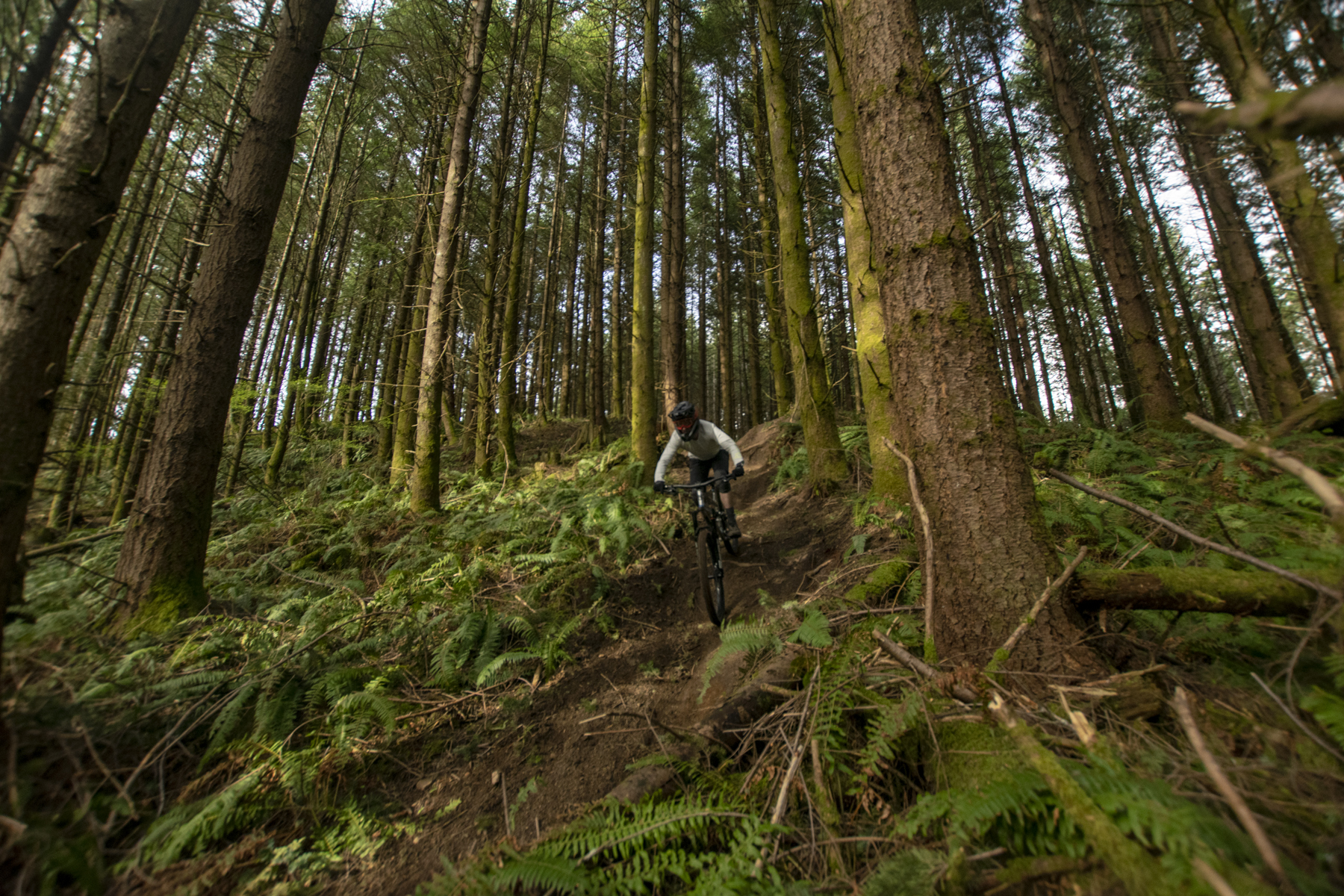 That's not to say it's wildly noticeable — most of the time, the F22 stayed glued to my Ride Concepts Tallac shoes with authority, only showing signs of instability when the going got really, really rough. In fact, they still outperform most if not all other offset parallelogram pedals I've tried. For me, I think that my years of riding clipless have made me a bit lazy with technique at times when it comes to dropping my heels, which exacerbates the sensation of pedal roll. Longtime flat pedal riders or folks who are better with consistent and aggressively dropped heels while descending may have no issues at all and purely benefit from the sharp pins and obstacle-dodging shape of the F22.
David Golay: Zack's take on the pedal roll thing is interesting because I (as someone who also switches between clipless and flat pedals with some regularity) actually prefer a bit of offset since I find that it helps me avoid rolling off the pedals while climbing — and I really liked the F22s on that front.
I think I tend to place my feet a little farther back on the pedals than Zack does, though I do still land on having the ball of my foot a little forward of the pedal axle, and tend to prefer more gravity-oriented clipless shoes in part because they often have more rearward cleat slots that help facilitate that positioning. But in contrast to what Zack described about rolling his feet off the pedals when running into stuff, I tend to have the problem more when climbing, when my back foot is going light on the pedal on the upstroke, and I actually find that some forward offset of the pedal platform helps in that scenario. I personally don't get along with the Deity T-Macs that Zack mentioned for that exact reason — they're fine once I start descending, but I can't keep my feet on them when climbing. Is this a sign that my pedaling technique on flats is terrible? Probably. I spend a lot more time clipped in.
My theory is basically that Zack's take on this holds water for when you're descending with the cranks flat (which is what he's talking about) but that when you're actively pedaling and (1) moving your back foot forward as it comes up over the top and (2) not putting much weight on that foot, and therefore generating less grip on the pedal, having a bit more pedal out in front to "catch" your foot onto as it comes forward helps prevent rolling forward off the pedal in that scenario.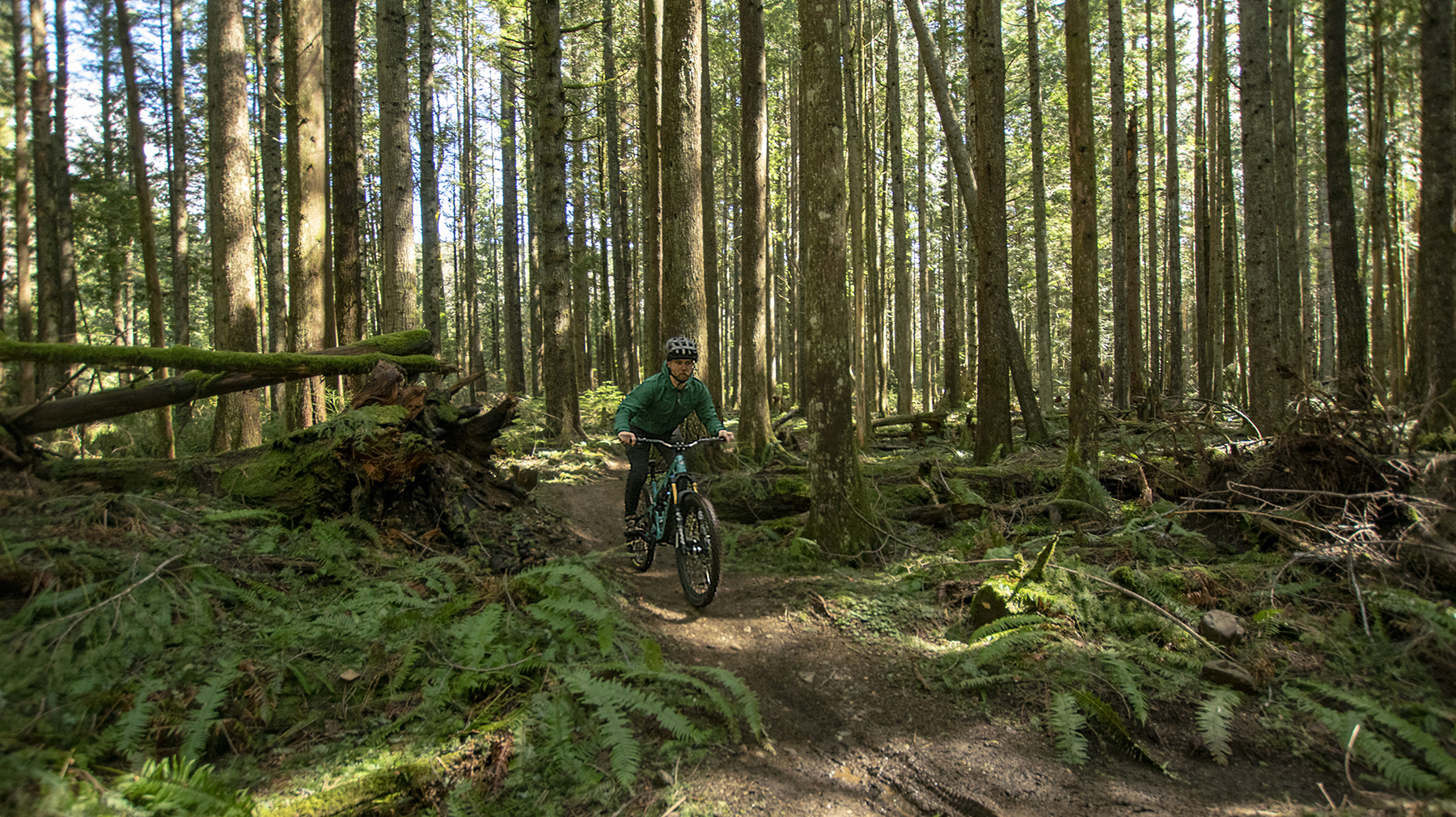 I didn't have any such issues on the F22s, and I liked them pretty well on the way back down, too. In particular, I think they're a really good option for people who want a pedal with well above average grip, but that is much, much easier to reposition your foot on than the absolute grippiest, most aggressive pedals out there (Chromag Daggas). The size of the F22 platform feels nicely supportive for my US Men's 10-sized feet without feeling unduly gigantic and, as Zack noted, the F22s do an especially good job of shedding impacts for what is, overall, a moderately large pedal.
Zack: I should also note that my concerns about ruining the beautiful finish of the F22 from the get go was a bit overblown — the anodizing is tough, and the pedals emerged from testing with surprisingly few battle scars and no bent pins.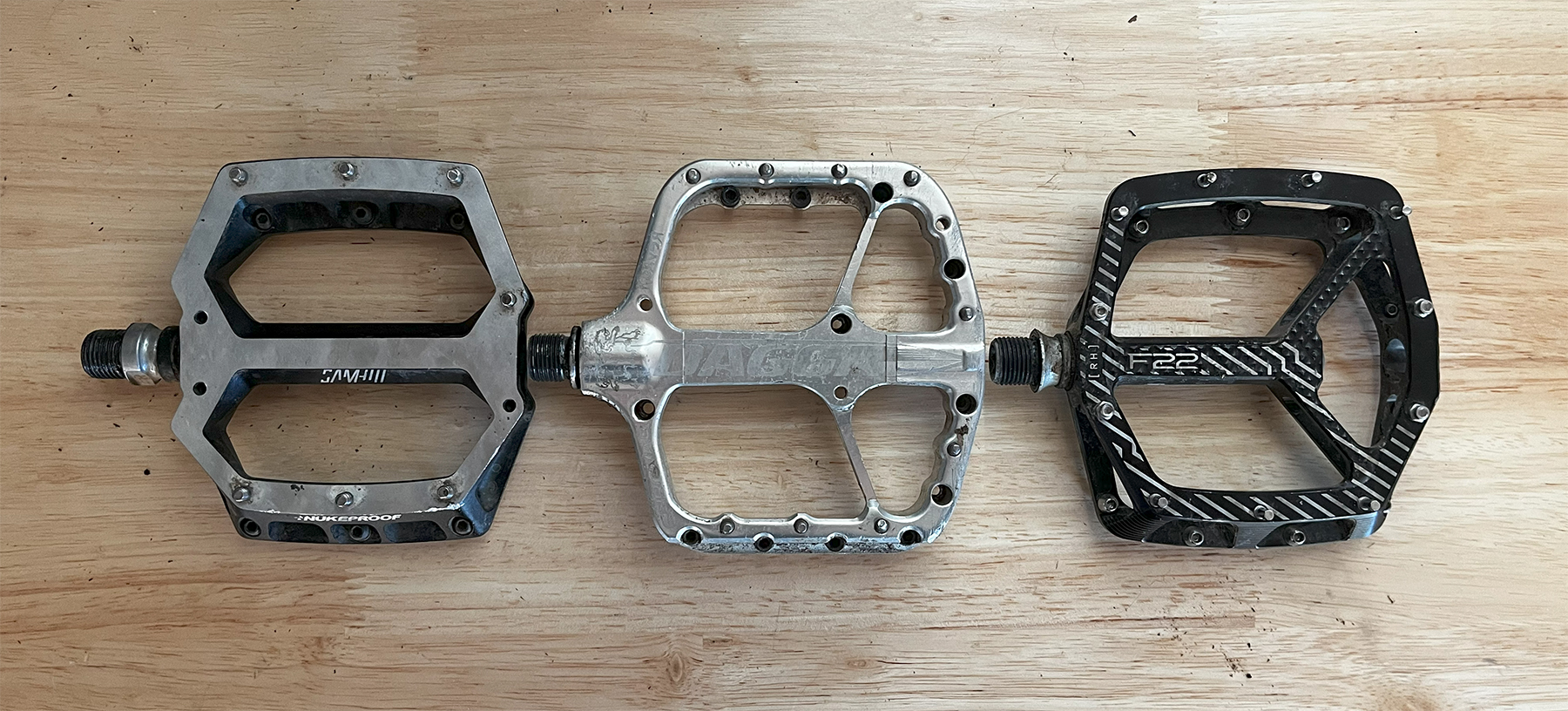 Comparisons:
Nukeproof Horizon Pro Sam Hill Enduro
Zack: These are quite similar but with some seemingly small differences that add up to a relatively big difference in feel. As far as offset parallelogram designs go, the Horizon Pro Sam Hill Enduro pedals are my benchmark. The Hope F22 is relatively similar in size if not slightly larger, but manages to be nearly 60 grams lighter per pair while also featuring an extra axle bearing and stainless pins that may resist rust longer. On the trail, the shorter, fatter, and more traditional pins on the Nukeproof pedals don't sink into the sole like the needle points of the F22 and may not offer quite as much outright mechanical grip, but the more concave platform of the Nukeproofs offers a bit more security and feel from the pedal, where I found it a bit easier to lose where I was on the pedal at times with the F22 and its flatter shape.
Chromag Dagga
Zack: Very different. The Chromag Dagga isn't quite a fully symmetrical parallelogram, but it is quite close. The Dagga is more imposing than the F22 in every sense except maybe thickness; the Dagg has particularly sharp and lengthy pins, a massively wide and long platform, and a generally very wide stance due to the extended Q-factor. They're also a lot heavier than the F22 — like, 132 grams more for the set, at 492 grams per pair. Despite the weight, the Daggas offer mindblowing grip paired with a huge, stable, easy-to-locate platform that seems shaped just right to avoid as many hits to trailside obstacles as one might expect for such big hunks of metal. I'd likely run the F22 if I was worried about weight, but on a bigger bike that sees particularly steep and rough trails, the Daggas offer addictive levels of stability and grip.
David: I'm a big fan of the Daggas too, but I don't think I'm quite as eager to sing their praises when it comes to avoiding smacking them on stuff as Zack is — they're undeniably big pedals. I do also think that, while their level of outright grip is exceptional, they're harder than most pedals to reposition your feet on if you don't stab them down in the right place straight away. The F22s are a big step up on that front, and while they don't have as much outright grip as the Daggas, they're up there on the list of platform pedals I've tried to date.
Deity T-Mac
Zack: Also very different. The Deity T-Mac is arguably one of the most popular and also copied designs on the market, having led the way for popularizing big, symmetrical pedal bodies. They're nearly 100 grams heavier for the pair than the F22, offer a traditional grub screw pin that is both less sharp and shorter than the pins on the F22, and have a substantially larger symmetrical platform. The concavity of the T-Mac gives the pedals a very intuitive feel, but the pins don't offer as much outright grip as the F22, and the large and relatively square shape of the T-Mac had me striking pedals a whole lot more than I did with the F22. The huge platform of the T-Mac offers better support for larger feet, but the outright grip and much lighter weight of the F22 make them a great choice if you don't need the massive platform.
David: I agree with everything that Zack said there, but as noted above, I don't like the symmetric platform when pedaling. Check out what I said in the "On the Trail" section if you missed it.
NSB Daemon
David: The Daemon's platform feels significantly bigger and more supportive for folks with bigger feet than that of the F22, but its pin design isn't as aggressive and doesn't offer as much outright grip. Whether or not that's a good thing is going to depend on where you land on the max grip vs. ease of repositioning continuum — the F22s are pretty good on the latter point for what is, overall, a very grippy pedal, but the Daemons are a notch less grippy and easier to move around on.
Bottom Line
There's a boatload of options in the world of flat pedals these days, with companies harboring different philosophies on concavity, pin design, and platform size. With the F22, Hope stuck with a more traditional shape while bringing their typical attention to detail with the sharp adjustable-height pins, burly axle and internals, and top-notch finishing quality. While the outright grip and platform size can't quite measure up to a couple of the most aggressive (and much heavier) competitors on the market, the result is a pedal that strikes a remarkably low weight, looks incredible, and should last just about forever.