Hunt All-Mountain Carbon H_Impact Wheelset
Available Sizes: 27.5" & 29"
Measured Internal Rim Width: 27.5 mm
Blister's Measured Weight (29"):
Front: 838 g
Rear: 1,114 g
Total: 1,952 g
MSRP (full wheelset): $769
Tested On: Specialized Enduro
Reviewer: 5'9", 160 lbs
Test Location: Montana
Test Duration: ~5 months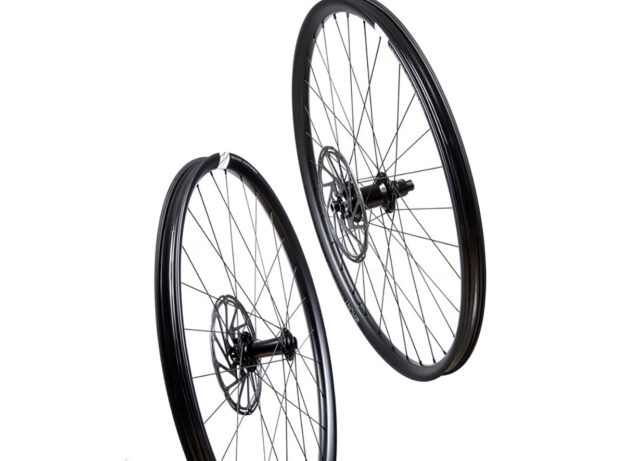 Intro
Hunt has been producing aluminum-rimmed wheels for a little while now — they have an assortment of options for entirely reasonable prices, but scrolling through their offerings, those wheels weren't what caught my eye. It was their relatively new carbon wheelset that's interesting.
Hunt only makes one carbon wheelset aimed at mountain bikes, but it offers a lot of impressive features. It has the standard things that I'd expect, like a hookless rim, bead hooks, and reinforcements around the spoke holes. It also has some additional features that aren't quite standard, like a lighter-weight front rim (or a heavier-duty rear rim, depending on how you look at it). And those rims are laced to a hub with pretty quick engagement at 3°.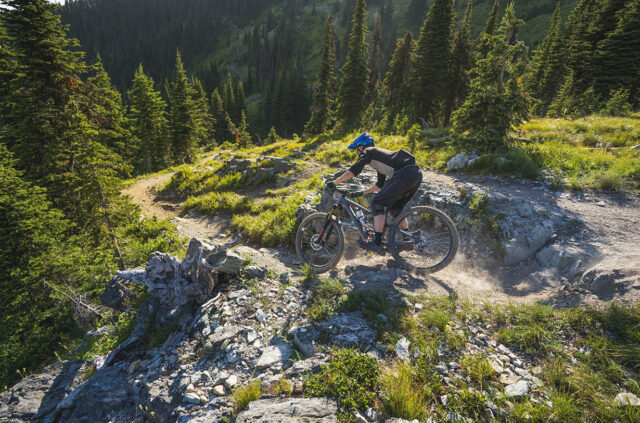 And that's all great, but it's the fact that these wheels cost $769 that raised my eyebrows. Just to be clear, that's $769 for the set.
That's … competitive.
So are they any good? I pulled a Chris King / Enve wheelset that retails for a tidy $3000 off of my Specialized Enduro, slapped on the Hunts, and spent the summer beating on them to find out.
Specs and Options
The "All Mountain Carbon H_Impact" wheelset is currently Hunt's only carbon offering, but it hits a pretty good middle ground that makes it work on a lot of different bikes. Internal rim width is stated as 28 mm, although I measure it to be a smidge narrower at 27.5 mm.
As I mentioned above, the Carbon H_Impact wheels are built with a lighter-weight rim in the front, heavier in the rear. The front wheel gets 28 spokes laced in a 3x pattern, while the rear gets 32 spokes, also in a 3x pattern.
The spokes are standard J-bend, triple-butted (2.2 – 1.6 – 2.0), made by Pillar, and are available in black or (for a $50 upcharge) oil slick.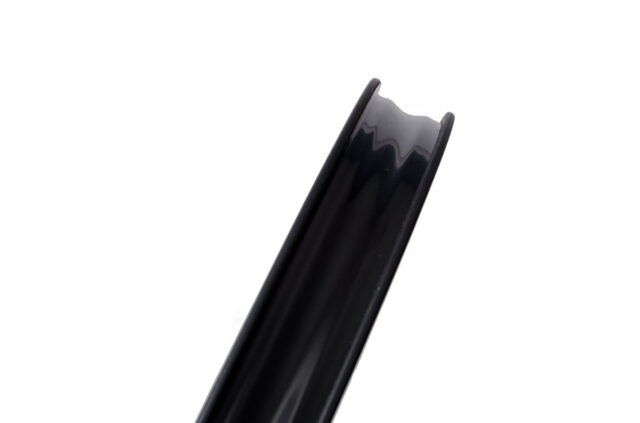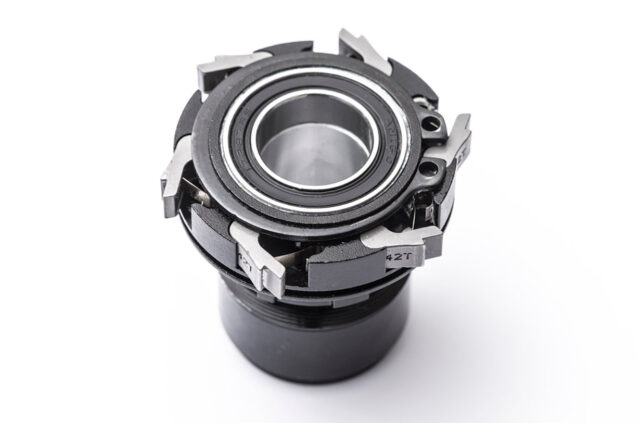 The hubs are Hunt branded, but are manufactured by Novatec, and offer 3° of engagement via 6 pawls (3 of which engage at any given time). The Carbon H_Impact wheels are available with a standard freehub, XD driver, or Microspline, all for the same price. Torque caps are also available on the front hub for no additional charge. The hubs are only available for 6-bolt rotors, and they're only available in Boost.
The wheels are available in 29" and 27.5", and if you contact Hunt, they can also set you up with a mixed / mullet set.
In the Box / Initial Setup
The Carbon H_Impact wheels come nicely packaged with a little tag that tells you who built them. The wheels came perfectly trued, the spokes were uniformly tensioned, and they were already taped for tubeless (although the tape job on one of my wheels wasn't stuck on well and needed to be redone).
Also included in the box are a handful of spare spokes as well as valves for setting them up tubeless.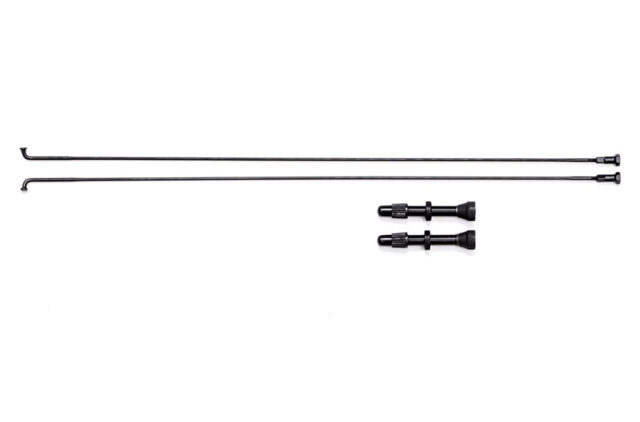 Mounting tires went uneventfully. I've put an assortment of Maxxis and Michelin tires on these wheels, including some setups with Cushcore. I didn't have any issues — everything mounted easily and sealed up nicely.
On the Trail
I'll admit that I didn't have my expectations set super high for the Carbon H_Impact wheels. I mean, I took a $3000 wheelset off my bike and swapped it for a $769 wheelset. That feels like it should come with a noticeable decrease in … something.
I'll also admit that I was wrong. I'm entirely impressed by these wheels.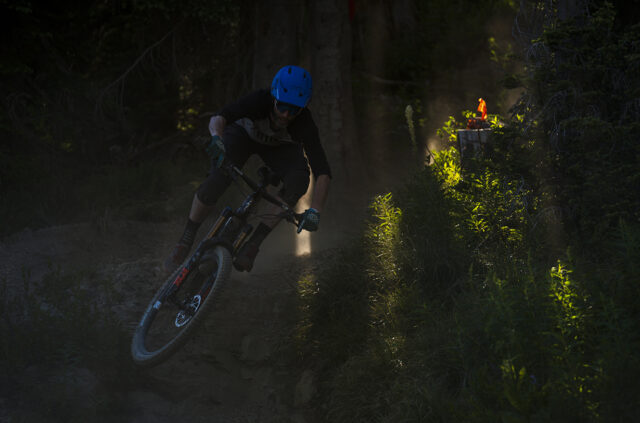 There's no shortage of carbon rims on the market right now. And to be sure, the quality of carbon rims has significantly increased over the past 5 years or so. The bar is set fairly high, and simply making a carbon rim that manages to not self destruct isn't good enough anymore — they actually have to ride well, too.
And the Hunts do, indeed, ride really well. With carbon rims, it's a fine line between something that feels stiff and snappy in corners, and something that's too stiff and feels jarring. The Carbon H_Impact rims walk that line nicely. They give the bike a nice, smooth ride, but they also don't feel noodly when pushed hard in corners.
In choppy terrain, they help the bike stay on line, which means there's enough lateral stiffness to not get weird, but not so much stiffness that they just skip off of every little bump. And there's enough vertical compliance that I'd be willing to put them on a hardtail (which isn't something I would say for every carbon wheel). The only caveat I'd throw in here is that if you're a large person that pushes hard in corners and really prefers a super stiff wheel, that bit of compliance in the Carbon H_Impact might not be ideal for you. But as an average-sized person that pushes reasonably hard in corners, I personally found the wheel's stiffness to be spot on.
The Carbon H_Impact's hub engagement is as advertised; it's quite quick. The hub certainly isn't silent, but it's not excessive either. I'd put it on par with a DT Swiss hub in terms of noise. Definitely quieter than Chris Kings.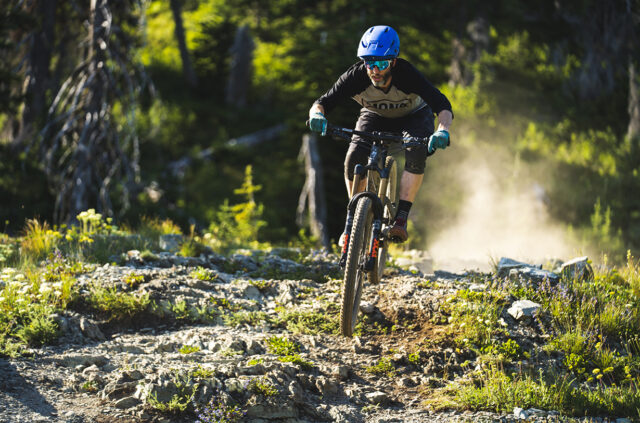 And all of that adds up to what a carbon wheelset should ride like. To be clear, the Carbon H_Impact wheels aren't particularly unique in this regard — there are plenty of other carbon wheels that I've ridden that ride similarly well. What is unique, however, is that these Hunt wheels cost a good bit less than most of those other wheelsets. Hell, you'd be hard pressed to buy a single carbon wheel for the price of a pair of the Hunt Carbon H_Impact.
So does that mean the Hunts have managed to defeat the age-old truism: "light, strong, cheap; pick two?" Well, not quite.
The Hunts are cheap. And so far, they've been quite durable (more on that below). So how about light? That one's trickier — they're certainly not excessively heavy. But they're not notably light either. If you were to spend roughly twice as much money as you'd spent on the Carbon H_Impact, you could pretty easily get a nice carbon wheelset that weighs around 1,750 grams — about 200 grams less than the Hunts. That's not insignificant, and it'll make a noticeable difference in how the bike rides and accelerates. That said, the 1,950 g weight of the Carbon H_Impact wheels is far from unreasonable, and there are plenty of other fancy wheels that are in that ballpark weight-wise. So this issue really comes down to where your gram-to-dollar priorities lie.
Durability
Some of you were skimming ahead to this part, waiting for the "aha" moment. I'm sorry to disappoint. I don't have anything to report.
And believe me, I tried. I've cased landings. I've pinch-flatted quite a few tires, and many of those flats involved significant rim impacts. And one of those flats was in a downhill race run, and in the name of rim testing, I finished my run, on the rim (I had Cushcore in, but still. The rim hit a lot of rocks).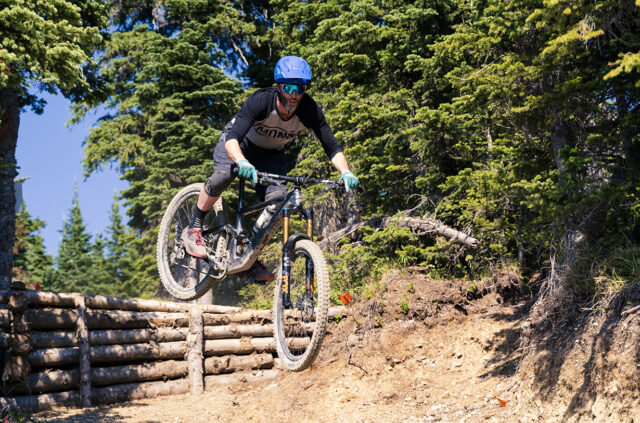 So I've put these rims through a pretty decent beating, and they're fine. There are some small chips in the finish that I'd say are on par with every other carbon rim I've ridden. But the wheels are still true (I have yet to touch them with a spoke wrench), there aren't any cracks in the rim, spoke tension is still nicely uniform, and everything is still rolling smoothly.
Warranty
It's also worth noting that Hunt offers lifetime coverage for their Carbon H_Impact wheels for the original owner — they'll repair / replace anything that breaks on your wheel, free of charge (although you're on the hook for shipping). That sort of warranty is fairly common for carbon wheelsets these days, so it's great that Hunt is able to offer it, even at the low price point on these wheels.
Speculations
A big part of a wheel's worthiness comes down to durability. But it takes thousands and thousands of miles to really suss that out, and the 600ish miles I've put on the Carbon H_Impact wheels isn't really enough to arrive at any grand conclusions regarding durability. I do have some speculations and suspicions, but they come with a significant caveat — only time will tell whether these worries come true, so take them with a large grain of salt.
On a different wheelset (the Race Face Next R), I eventually had problems with its butted Pillar spokes fatiguing and breaking. In my opinion, they broke prematurely. Now, the spokes on the Hunt wheels are slightly different (J-Bend on the Carbon H_Impact, vs. Straight-Pull on the Next R), but I'll be curious to see how the spokes on the Hunt wheels hold up over time. On the upside, some spare spokes were included.
There's also a concern as to the freehub body, which (along with the rest of the hub) is made by Novatec. Novatec freehubs have a long history of failing, but (and this is a significant "but") the Novatec hubs that are most prone to failure are a lower-end model with 3 pawls. The hub used in the Hunt wheels is a higher-end model with 6 pawls. So I remain cautiously optimistic. So far, I haven't had any issues whatsoever. As always, if I run into any issues down the line, I'll update this review.
Bottom Line
The worst thing I can say about the Hunt Carbon H_Impact wheels is that they're not the absolute lightest. At right around 1,950 grams, they're not excessively heavy by any means. But you can certainly pay more money and get a lighter carbon wheelset. Or you can probably spend about the same amount of money and get a lighter aluminum wheelset (although a lighter aluminum wheelset is likely to be less stiff and less durable).
But discussions about weight notwithstanding, I'm a fan of these Hunt wheels. They're backed by a solid warranty, which eases any lingering durability questions, and all skepticism aside, the fact is they've held up flawlessly, despite my concerted efforts to break them. And probably most importantly, they ride great.
I came in skeptical, and came out thoroughly impressed. Which is not something I often say for a product that's very nearly the least expensive option in its class.