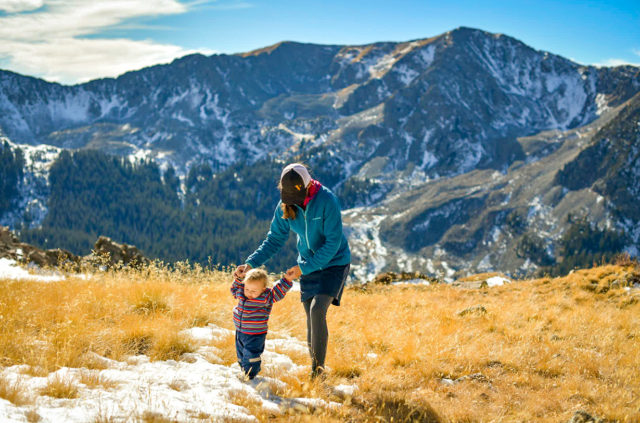 Insulated skirts have been around for years but up until recently, there were only a few options, and those options weren't necessarily the most appealing to everyone. With more and more companies diving into the world of insulated skirts, we decided to see what all the fuss was about. From pre- to post-workout and everything in between, we've discovered there is now an insulated skirt for just about every woman.
While some may think insulated skirts are only for the coldest of days, what surprised us the most was how often we found ourselves reaching for the skirts — and not just on extremely cold days. Like a favorite flannel, insulated skirts are a great layer for whenever the temperature starts dropping. From hiking to biking to logging some quality TV time, the insulated skirt has become a go-to for many of us. Read on to find out which one might be right for you.
*skirt length measurements are taken from the top of the waistband to the bottom of the hem.
SKHOOP Karolin Skirt
Materials:
Main Fabric: 100% nylon w/ environmentally friendly DWR
Stretch Panels: 95% polyester / 5% spandex
Insulation: 80-g Primaloft
Reviewer: 5'8", 125 lbs / 173 cm, 56.7 kg
Size Tested: Small
Blister Measured Weight: 155 grams
Skirt Length: 15.5" / ~39 cm
MSRP: $139
Best for: hiking or anything active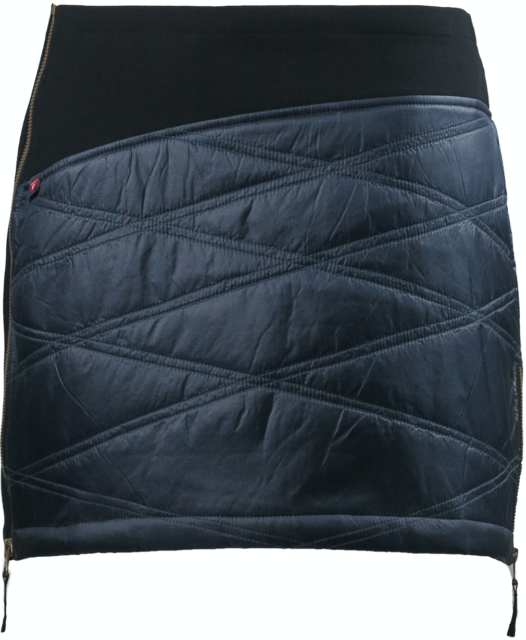 Kristin Sinnott: SKHOOP was reportedly the first to market with an insulated skirt and given that their products were inspired by the cold winters in Sweden, it really isn't surprising that they were ahead of the insulated-skirt trend. Founded in 1999 with just one product, the Original Down Skirt, they now offer 12 different styles. Whether you think an insulated skirt would fit your lifestyle or not, I dare you to look at their website and not find one that's right for you. The Karolin is a new design for 2019-2020 and was made with active ladies in mind.
The Karolin features a thin layer of synthetic Primaloft insulation, making it a streamlined skirt that's not at all bulky. It's great for outdoor activities as it will keep you warm but it doesn't add unnecessary bulk — and the synthetic insulation means that you don't need to worry about getting it wet. The 4.5"-wide side panel is uninsulated and made of a polyester / spandex fabric for better mobility. There are zippers on both sides with the left side having a 5.5" zipper and the right side having a full-length zipper that allows the skirt to be removed without having to slide it over one's feet. Both zippers unzip from the bottom to allow for a full range of motion.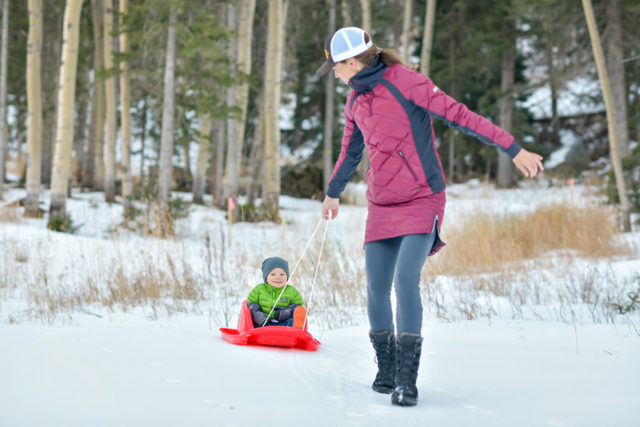 One feature that sets the Karolin apart is its grippy waistband. The waistband is asymmetrical and made from the same stretchy fabric as the sides, but on the top of the waistband, there is a line silicone laminated in key locations that keeps the skirt from rising or moving around. The Karolin, like the SKHOOP Kari, has an internal pocket perfect for keys, ID, or other small items. From running to ski touring to cold nights playing soccer, the Karolin Skirt provides a nice bit of warmth without adding any bulk.
Stio Women's Skycrest Snap Skirt
Materials:
Solid Face Fabric: Pertex® Quantum Minirip Nylon (100% nylon) w/ DWR
Print Face Fabric: Polyester Microfiber (100% Polyester) w/ DWR
Insulation: 60-g Thermore Ecodown (100% Recycled Polyester)
Lining: 100% polyester microfiber w/ DWR
Reviewer: 5'8", 125 lbs / 173 cm, 56.7 kg
Size Tested: Small
Blister Measured Weight: 161 grams
Skirt Length: 16" / ~40.6 cm
MSRP: $159
Best For: pre- and post-workout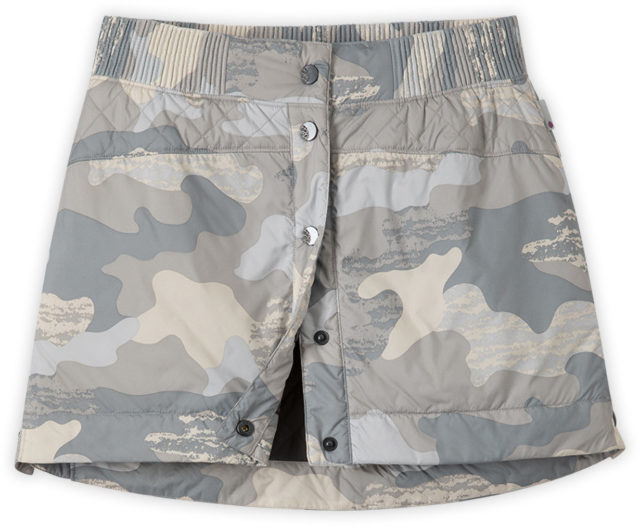 Kristin: The Skycrest is the only skirt in the roundup that is zipper-free, well, kind of — there is a small zipper pocket on the back just big enough for keys, wallet, etc. But where other skirts have zippers at the sides, the Skycrest Snap Skirt features snaps on the side and front. And it is the only insulated skirt we found that is available in camo print — two camo prints, to be exact. Kudos to Stio for thinking outside the box. The front snaps go down the full length of the skirt, making it easy to get in and out of, increasing mobility, and adding a bit of style. The two snaps on each side give the skirt a bit of a flared look when unsnapped while also allowing for an unrestricted stride without compromising modesty.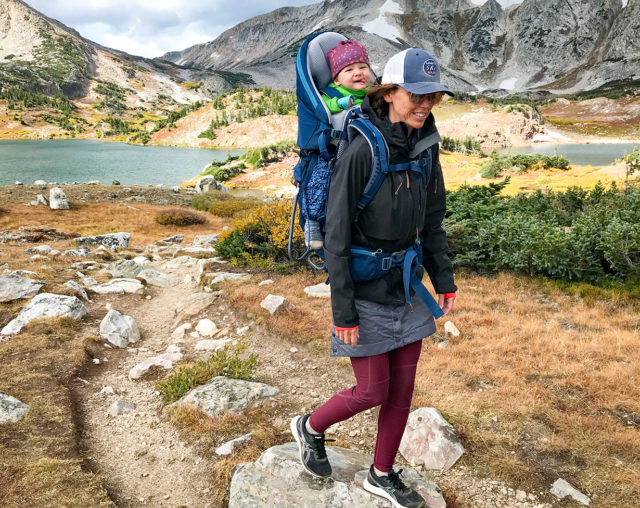 The Skycrest runs a bit large as I found the size Small a bit bigger at the waist than the SKHOOP Karolin and Swix Menali. When worn over leggings or pants, the fit is fine. The Skycrest has a tendency to move around some, most likely due to the smooth polyester fabric that makes up the waist (the same fabric as the main body of the skirt). The couple of times I wore it while hiking with my son in a pack, I had to readjust the skirt every time I buckled the belt. As a result, I found myself reaching for this skirt when I needed a little extra warmth but wasn't planning on doing any heavy exercise.
I love throwing this on over my shorts for soccer warmup when it's cool since it's exceptionally easy to remove thanks to the "stripper-style" snaps. The internal quilting and smooth face fabric give the skirt a nice look and the Thermore Ecodown insulation is fairly lightweight, making it a versatile, and non-bulky layer. This is a great transition piece for fall and I have no doubt this will be my go-to insulated skirt for après, come winter.
Swix Menali Quilted Skirt
Materials:
Main Fabric: 100% nylon w/ DWR
Heathers: 100% polyester taffetas;
Stretch Inserts: stretch microfleece (93% polyester / 7% spandex)
Insulation: 100-g 100% polyester
Reviewer: 5'8", 125 lbs / 173 cm, 56.7 kg
Size Tested: Small
Blister Measured Weight: 182 grams
Skirt Length: 18" / ~45.7 cm
MSRP: $89.95
Best For: hiking and other outdoor adventures w/ less of a slim fit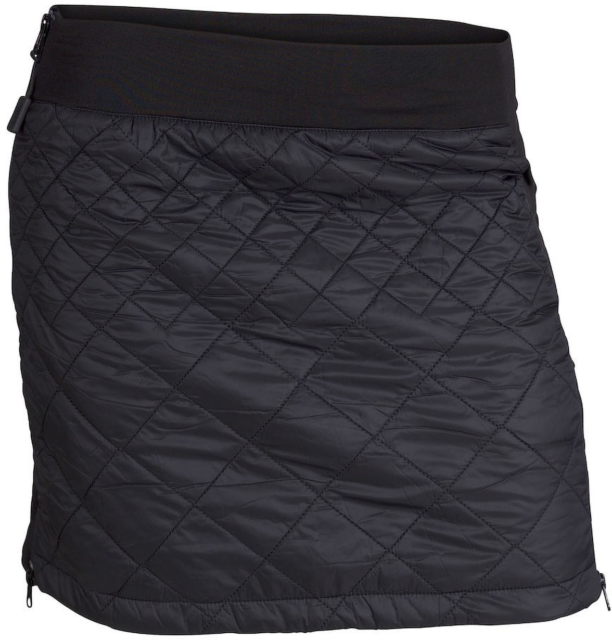 Kristin: Of the skirts tested, this one definitely has the fullest / most generous fit — meaning it's not too tight around the hips. For me personally, it's not the most flattering option I tested but it still looks good and it's a great skirt overall. Unlike the other two skirts I tested, this one is less of an A-line shape and is more dirndl-esque in that there is more fabric bunched around the waist. For my build, this extra fabric just kind of poofs out when wearing the skirt with a thin pair of leggings (or less) underneath. But when wearing the skirt over a more substantial layer like Nordic ski pants, the extra fabric makes for an ideal fit — not too tight and not too loose.
The side panels consist of 2"+ stretchy fabric and the right side had a full-length zipper for easy on and off. Unlike the Stio Skycrest And Skhoop Karolin, the Menali has only one side that can be opened for added mobility. But thanks to the fuller skirt fit and stretchy side panels, I never noticed my stride being restricted. The insulation layer is fairly light but is also substantial enough to keep me warm on cool hikes or when running errands around town.
Icebreaker Helix Skirt
Materials:
Face Fabric: 100% polyester
Insulation: 88% merino wool / 12% polylactide
Lining: 46% nylon / 38% merino wool / 16% lycra
Reviewer: 5'9", 115 lbs / 175 cm, 52.2 kg
Size Tested: XS
Blister Measured Weight: 198 grams
Skirt Length: 22.5"/ ~57 cm
MSRP: $140.00
Best for: casual use & longer coverage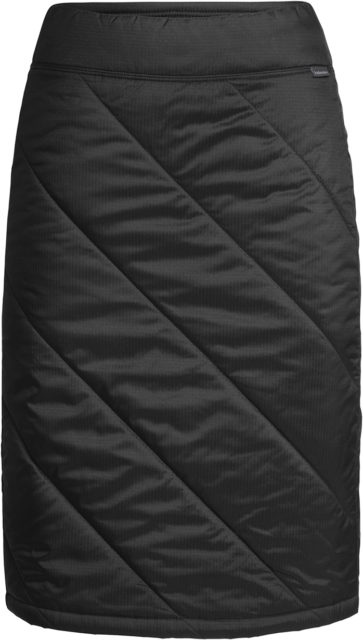 Maddie Hart: The Icebreaker Helix Skirt makes for a great everyday skirt for cooler weather. This is the longest skirt in the roundup — the Extra Small fell just below my knee (I'm 5'9"). I enjoyed the length, as it provided additional warmth, though it does limit some mobility. This is a great layer to throw on as you drive to the ski hill and then slip back into after a long adventure. Even with the longer length, this skirt was still very flattering and made staying warm look good. I wore this skirt out on a dinner date and was easily able to dress it up, but also wore it to class and did not feel overdressed.
I found this skirt to be a bit long for activities such as running, but if you are okay with the added length and want more leg coverage, this skirt could still work well for outdoor activities like hiking. Since I tend to sweat a lot, I am always a big fan of merino wool; this skirt is lightweight and not itchy, and best of all, the merino is ethically produced and Icebreaker has an excellent transparency program for their supply chain. This is a warm skirt that is not too bulky, providing extra coverage and warmth for those cold winter days.
SKHOOP Kari Mini Skirt
Materials:
Fabric: 100% nylon w/ environmentally friendly DWR
Insulation: 60-g 100% polyester
Reviewer: 5'9", 115 lbs / 175 cm, 52.2 kg
Size Tested: XS
Blister Measured Weight: 135 grams
Skirt Length: 12.5" / ~32 cm
MSRP: $129.00
Best for: everyday & active use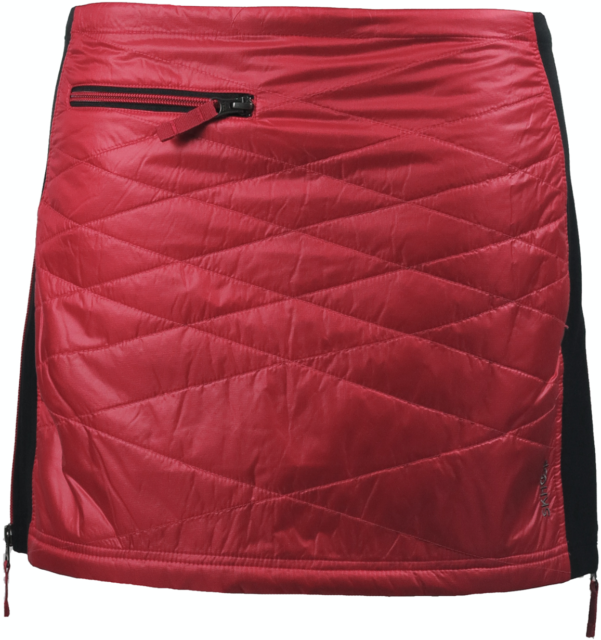 Maddie: The Kari Mini Skirt was my favorite skirt for active wear. It kept my booty warm on the frigid mornings but was short enough that my range of motion did not feel limited. I tested an Extra Small, but I recommend sizing up if you like a bit more room; I felt like a Small would have been a better length for me and more flattering in the front. The Kari has zips on both sides paired with side stretch panels which were perfect for active wear, as I would slightly unzip both sides and be free to stride out. The zipper on the right side fully unzips, making it easy to take off and put on.
The Kari is definitely a "mini" skirt, as it was far shorter length-wise than any of the others I tested. If you prefer a longer cut, check out the SKHOOP Karolin. The Kari Mini Skirt comes in 8 colors, and the Navy Blue I tested was flattering and matched with many of the other colors I have in my closet. The Kari skirt has a small pocket in the back that was the right size for car keys or a credit card.
One of my favorite parts of this skirt was the patch sewn on the inside, featuring a cute motivating message. Clothes that remind you of your importance? Yes please! Sissi Kewenter started Skhoop with the main goal of keeping buns warm, and this skirt will do just that while still allowing you to play outside and not slow down any of your adventures.
Mammut Aenergy Skirt
Materials:
Face Fabric: 100% polyamide
Stretch Inserts: 85% polyamide / 15% spandex
Insulation: 80-g Primaloft Gold Active
Lining: 100% polyamide
Reviewer: 5'9", 115 lbs / 175 cm, 52.2 kg
Size Tested: Small
Blister Measured Weight: 127 grams
Skirt Length: 15.5" / ~40 cm
MSRP: $129.00
Best for: everyday & active use w/ bright color options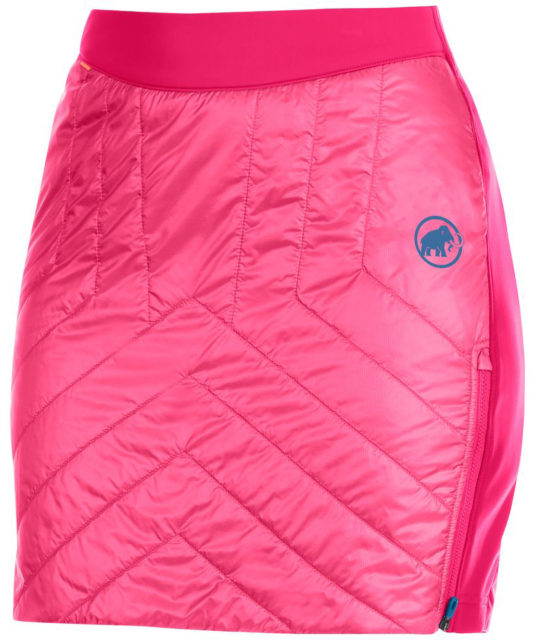 Maddie: The Aenergy Skirt is a great skirt for both everyday wear or outdoor adventures. The Aenergy has a synthetic insulation on the front and back with a stretchy material on the sides for added mobility. I was worried that a skirt would not keep me warm enough on the 14°F / -10°C Gunnison mornings, but found that it kept my upper legs and booty toasty. Both sides feature zippers for added mobility, with the zipper on the left extending the entire length of the skirt making it easy to put on and take off.
The waistband is stretchy in the back, making the skirt fit in a flattering fashion without pulling in the front. This skirt runs a bit large, as I felt like an Extra Small would have fit me better, mostly due to the waistband only sitting low on my hips instead of higher, which I prefer. The length is ideal though, hitting just above my knees and keeping the entirety of my thighs warm without being too long.
The Aenergy skirt has a pocket built into the interior of the skirt, perfect for car keys, a cell phone, or an energy gel or waffle. I am a morning runner, but in the winter, even with thick tights on, my thighs get so cold; this skirt felt unrestrictive and warm during my chilly morning run at Gunnison's Hartman Rocks. The only downfall was that the zippers do like to unzip if you have a long stride, regardless of if you are walking or running. But this problem can be easily solved by simply unzipping each side just a bit.
My favorite part of this skirt was the vibrant color; while many winter skirts are black or other darker colors, the Aenergy comes in black as well as what Mammut calls "Dragon Fruit" (shown above) and "Sapphire" (a bright blue), both of which are bright and fun ways to spruce up your winter fashion. For cold winter days where your legs need extra warmth, whether you are running errands or literally on a run, the Mammut Aenergy Skirt is another great option.
Salomon Drifter Mid Skirt
Materials:
Face Fabric: 100% polyester
Stretch Insert: 95% polyester / 5% elastane
Insulation: 100-g Primaloft
Lining: 100% polyester
Reviewer: 5'9", 115 lbs / 175 cm, 52.2 kg
Size Tested: Small
Blister Measured Weight: 168 grams
Skirt Length: 14.75" / ~37.5 cm
MSRP: $130.00
Best for: active us & versatility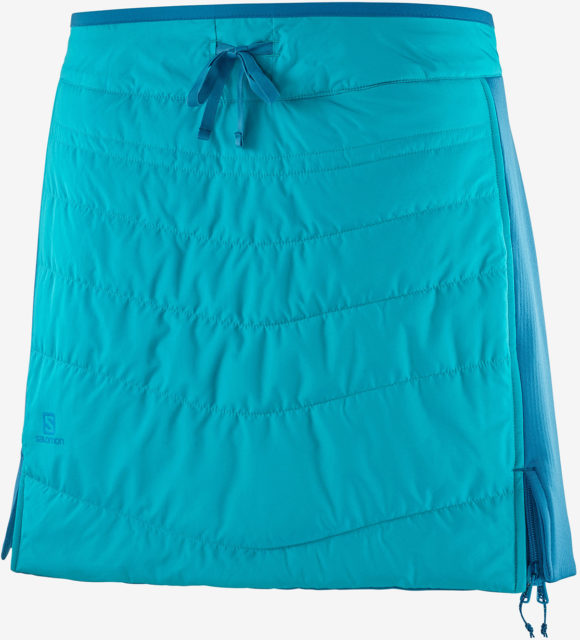 Maddie: The Salomon Drifter Mid Skirt was the most versatile skirt I tried. The Drifter uses a heavier 100-g PrimaLoft insulation, which was super warm but also pretty versatile across cool and cold temps, allowing me to be an ideal temperature all day. The front and back of the skirt are insulated while the sides have a stretchy material allowing for better range of motion. This skirt was the only one I tried that had a waist tie, which was a huge perk. I have big legs but a small waist, so the ability to cinch it tight was nice.
The Drifter Mid Skirt is reversible (the only reversible skirt in the roundup), creating two different styles for the price of one. One side has exposed seams while the other is smooth with a polyester outer, making it look chicer and easier to dress up. This reversibility makes the skirt perfect for every activity in the day; you can throw the skirt over leggings in the morning for your run, then put on some tights, reverse the skirt, and wear it for the rest of the day. The Drifter Mid Skirt also has a zippered pocket that's the right size for a car key or a gel, although it is too small for a phone.
I liked this skirt the most for running, as it has small slits on either side for the right amount of mobility for running. This skirt may also be great for Nordic skiing or ski touring. I felt it was warm enough for everyday use but not too hot for exercise outside in the winter.
Outdoor Research Transcendent Down Skirt
Materials:
Face Fabric & Lining: 100% recycled polyester ripstop
Insulation: 650-fill-power responsibly sourced down
Reviewer: 5'1" 103 lbs / 155 cm, 46.7 kg
Size Tested: XS
Blister's Measured Weight: 159 grams
Skirt Length: 16.75" / ~43 cm
MSRP: $129
Best for: everyday use & packability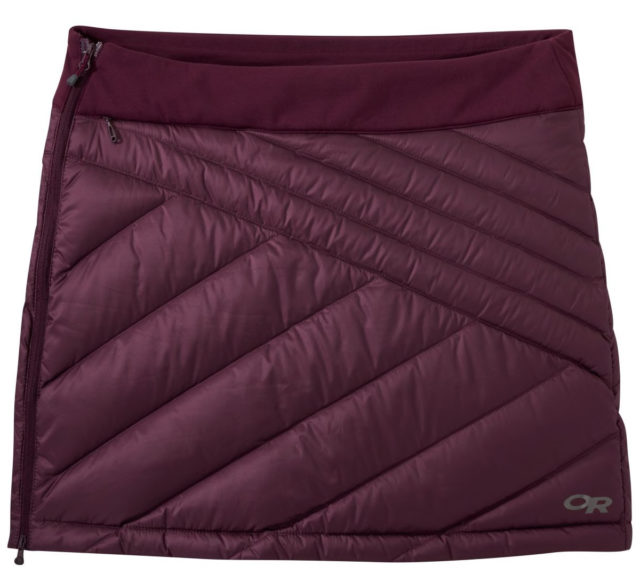 Sascha Anastas: The Transcendent skirt is one of the more flattering and least cumbersome skirts I've used. In the past, I have had a hard time wearing down skirts as they seem to add bulk and overshadow my small build, or come down too far past my knees. This skirt fit perfectly in that it was not too puffy, not too long, and was really hard to take off because it was so warm!
I tended to wear the skirt with leggings underneath and felt stylish while walking around town, riding my commuter bike, and hiking out on the trails with the dogs. It was very easy to move around in, even while riding a bike, and was incredibly warm when the temperature dropped while hiking. It basically felt like I had a down vest on my booty and upper legs (I am a big fan of down vests).
The Transcendent Skirt contours my hips perfectly and tapers slightly at the hem line which, for me, was mid-thigh in the XS. The waist band is made of fleece and has gentle cinch at the top to keep it from falling down. The waist was not too baggy and sat right above the crest of my hips and did not have a tendency to ride up, like some skirts do. The down baffling run diagonally across the skirt which makes for a flattering and fun design. There is a side zipper that extends from the top of the waistband to the hem of the skirt, making it really easy to pull off or put on. There is a small stash pocket at the upper right thigh that also functions as a stuff sack, which consolidates the skirt to a small packable item just barely larger than a grapefruit (though it was certainly a tight fit to get it into the pocket). Of note for those looking for a more eco-conscious option, the fabric is 100% recycled polyester and Outdoor Research says the down fill is resonsibly sourced.
If you're looking for a skirt that you can use in wet weather, the other options here make more sense, due to the down insulation in the Transcendent, but the Transcendent does have that cozy puffiness and packability of down products. I am pretty sure that there won't be too many days when this skirt does not end up in my bag for après skiing, and I certainly can't wait to pull it out from my backpack on the hut trips I have planned this winter.
Ortovox Lavarella Skirt
Materials:
Face Fabric: 100% Polyamide, 2nd layer: 75% Polyamide, 18% Wool, 7% Elastane
Insert: 88% Virgin Wool, 12% Polylactide
Lining: 100% Polyamide
Reviewer: 5'9" 150 lbs / 155 cm, 68 kg
Size Tested: Medium
Blister Measured Weight: 131 grams
Skirt Length: 15"/ ~39 cm
MSRP: $120
Best For: active & casual use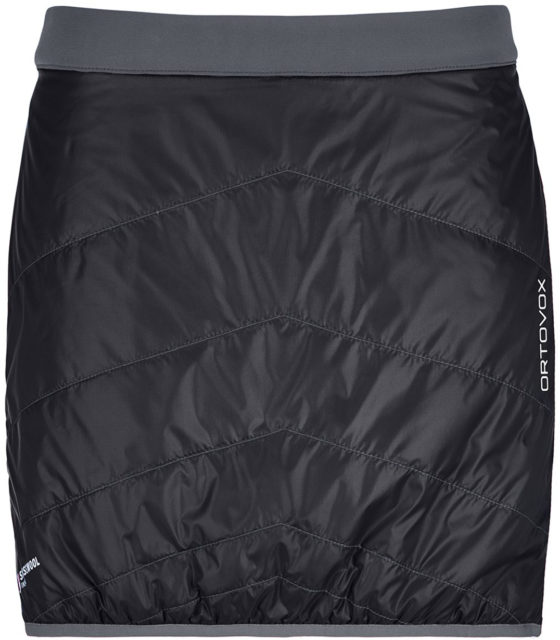 Kara Williard: I have been a fan of insulated skirts over the last couple of winters, especially after a day of skiing when the bibs come off and it's time to cozy up. That said, the Ortovox Lavarella Skirt has become one of my favorites, thanks to its versatility. One of the best characteristics I found is that it is not as bulky as some of the skirts I've tried, yet still offers substantial insulation.
While it is a comfortable and cute option for after activities, it also serves as an excellent insulator while moving. It offers a slimming, yet articulated fit and situates comfortably while hiking. I also wore it while commuting by bike on cold fall mornings (around 15°F / -9°C), and it provided warmth while not being too bulky. The Lavarella's wool insulation is specifically placed only over the front and back, while the wind-resistant and stretchy Pertex fabric, on either side, is flexible and doesn't restrict much movement. For bigger strides, or getting on and off the bike, the zipper was a bit restrictive when fully zipped. But it offers a half-zip on one side and full-zip on the other, which allow for easy unzipping on either side to expand the mobility and give full range of motion for hiking and biking.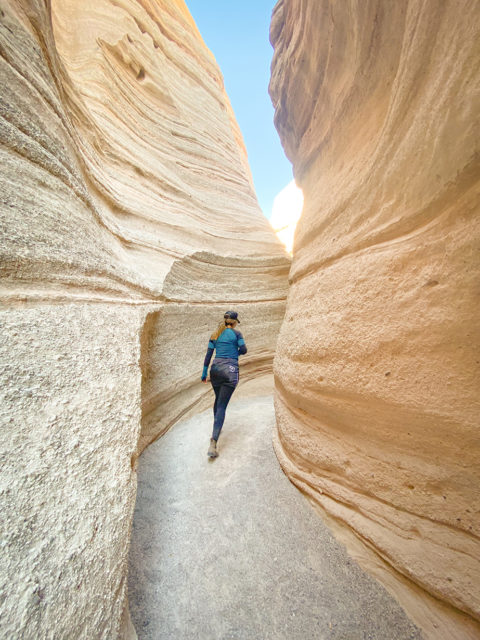 The Lavarella sits above my hips, which made it very comfortable while bending over and even while pedaling, and doesn't ride up in ways I've found from the Smartwool Smartloft 120 Skirt from last season. In fact, the Lavarella stayed in place no matter what I was doing. I also appreciated the cinched and flexible waistband, which was comfortable, even with two layers underneath.
While there are skirts with more insulation, or that are insulated throughout and therefore may provide more warmth, I found the Lavarella to be the most flexible, lightweight, least bulky, and comfortable of the skirts I've used. The wool that Ortovox offers is an efficient insulator both for the weight and bulk, making it packable and streamlined. The Lavarella is a stylish and functional option to throw over base layers after a day of skiing, to take to the trails, or even to use while commuting by bike, without compromising either style or mobility.