La Sportiva Cobra Eco
Available Sizes: 33 – 45 (half sizes), 48 – 50 (whole sizes)
Reviewer Street Shoe Size: 41 or 42 (8.5 or 9 US Men)
Size Tested: 38.5
Construction:
Midsole: 0.8 mm LaspoFlex (toe only)
Outsole: 3 mm FriXion® ECO
Upper: ECO Idro-Perwanger biodegradable leather using a metal-free eco-tanning process
Closure: Slipper
MSRP: $140
Test Locations: Eldorado Canyon, Estes Park, Flatirons, & Misc. Climbing Gyms; CO
Days Tested: ~40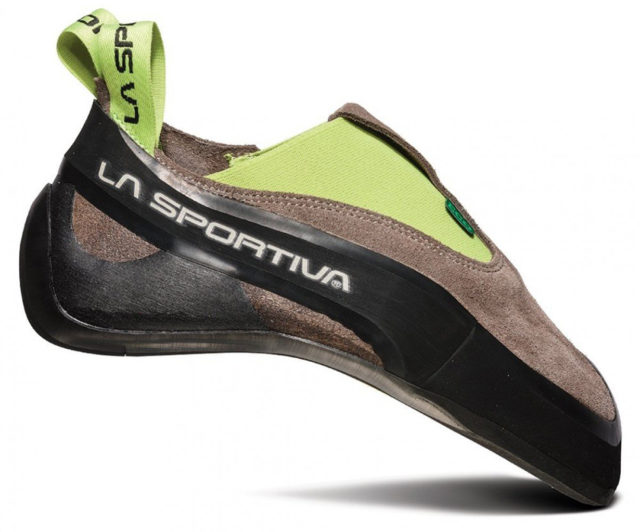 Intro
The La Sportiva Cobra has been around for a long time, and has amassed a large following.
Now, La Sportiva is making an "Eco" version of the Cobra that's made with 85% recycled materials — including the outsole, upper, and webbing. Metal-free tanning and water-based adhesives throughout add to this impressive environmentally friendly story.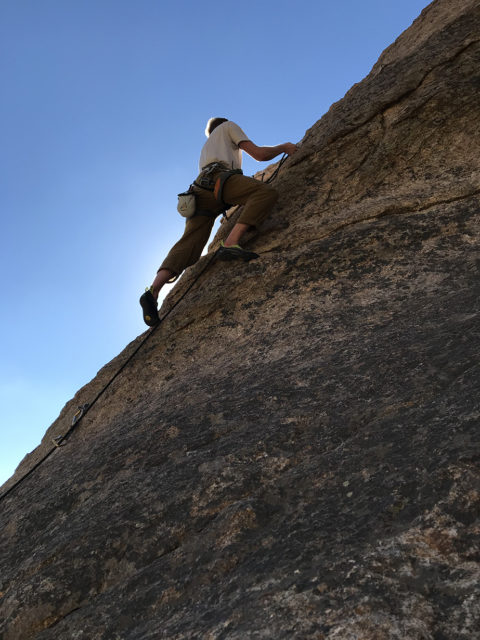 So, how does the Cobra's design stack up to the current market, and are there any downsides to this more environmentally friendly version?
Geometry & Construction
The Cobra is a cult-classic slipper. Climbers around the world love this shoe. Why? One word: versatility. And the thing that makes this shoe so versatile is its unique geometry and construction.
The Cobra has a fairly turned-down shape, but unlike many other shoes with similar amounts of downturn, the Cobra is quite flexible in the back half of the shoe. As a result, it can pretty easily be bent flatter for edging and delicate smearing but it is still quite powerful on steeper routes.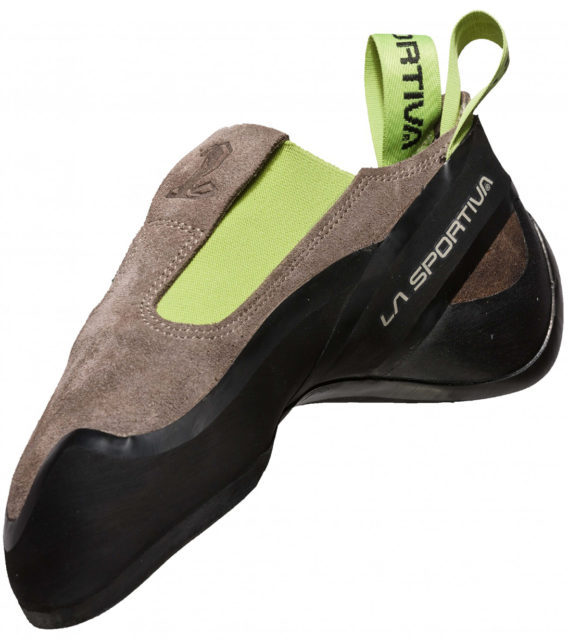 The Cobra has a wrap-around "active" rand. In many modern performance shoes, this active rand come under the midsole around the arch of the foot on both sides to create tension from the heel to the toe and the result tends to be a very powerful feel. On the Cobra, the rand only wraps under the arch on the inside of the foot. This construction balances power while maintaining flexibility, and as a result, versatility.
The Cobra has a very thin 0.8 mm midsole that is only under the toe for support when standing on thin edges. This midsole is absent from the rest of the shoe, thus keeping it more flexible.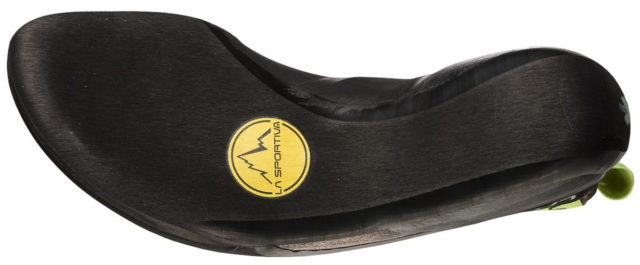 The rubber (on the Eco version I tested) is Sportiva's recycled 3 mm FriXion. 3 mm is fairly thin which, again, keeps the shoe flexible while also offering a bit more feel and sensitivity than a thicker outsole.
The Cobra Eco uses a leather upper that is tanned with a metal-free process. The shoe is unlined.
Fit
For me at least, La Sportiva climbing shoes tend to run a bit big compared to other brands. I have the Cobra Eco in a 38.5, and my street shoe is usually a US Men's 8.5 or 9 (41 or 42 euro). In a 38.5, this is definitely a performance fit for me. My toes curl significantly inside the size 38.5 Cobra Eco.
One thing I really appreciate about this shoe, though, is how comfortable it is. For a shoe that fits me so tight, I can wear it for 20-30 min pretty easily. In a typical gym session, I rarely take the shoe off.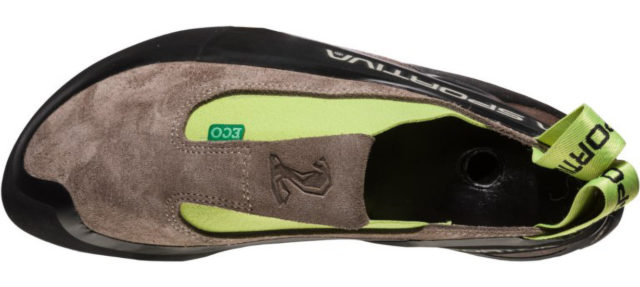 I think this is partly due to the flexibility of the shoe, but also due to the fact that there isn't much rubber covering the knuckles of my toes. I think this sacrifices a bit of toe-hook ability, but I also think it more than makes up for that in the form of the added comfort (particularly for a shoe in this less-performance-oriented, more comfort-oriented class).
Performance
I've been very happy with the performance of the Cobra Eco. I've started bringing it with me on most days out because I know that, whatever we end up climbing, the Cobra will do fine. It certainly isn't the best shoe at any one thing, but the versatility of the shoe is impressive.
If I know I'll be climbing really steep sport climbs, I'll go with something a bit more aggressive. For long multi-pitch trad climbs, I'll go with something less aggressive. If I know I need to really crank a heel hook, I'll opt for a more secure-fitting velcro or lace-up shoe. But for pretty much everything else, I've been very happy climbing in the Cobra Eco.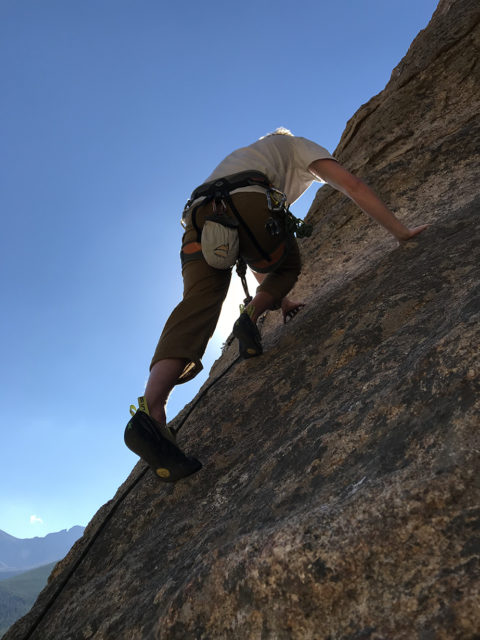 I've worn this shoe for almost an entire year and haven't noticed any out-of-the-ordinary performance issues from the recycled materials used in the Cobra. The upper is holding up great, the webbing loops look brand new, and I've been very happy with the combination of durability and stickiness of the recycled rubber on the sole. Overall, I'd say the Cobra Eco's rubber falls right around the middle of the spectrum when it comes to grip and durability.
If you're the type of climber who has a very big quiver of shoes, I don't think the Cobra really excels enough in a specific area to warrant purchasing it. But for the rest of us who have just a couple pairs of shoes (or even just one pair), the Cobra covers a lot of ground in a versatile, comfortable, and more environmentally-friendly package.
Bottom Line
The La Sportiva Cobra Eco is an extremely versatile shoe that blends a fairly aggressive shape with a flexible design. I've been very impressed with its performance and comfort on a variety of routes, and the fact that most of its materials are made in a more environmentally friendly manner is an added bonus. Apart from the slight increase in price, the Cobra Eco does an impressive job of maintaining what made the original Cobra great, but in a more sustainable package.