La Sportiva TX3
Size Tested: US Men's 8.5 / EU 41
Blister Measured Weight (size 8.5 / 41): 323 & 326 grams
Stated Features:
Vibram® Mega-Grip™ rubber outsole with enhanced stability area and Trail Bite™ Heel Braking Platform
Low-profile lacing harness for a snug, precise fit
Wide forefoot fit for all day comfort and stability
STB Control System™ delivers torsional rigidity and support without encumbering underfoot cushion
MSRP: $135
Test Locations: Rocky Mountain National Park, Estes Park, Eldorado Canyon, Boulder, CO;
Days Tested: ~40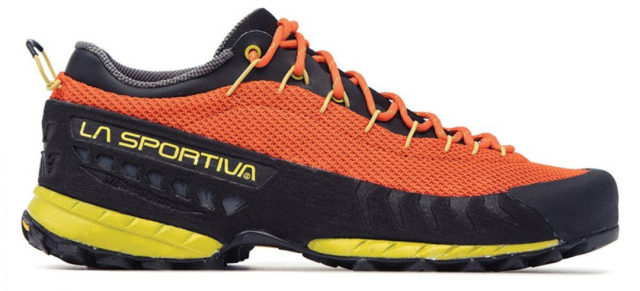 Intro
Approach shoes are an odd class of footwear. There is a huge variety of styles and models on the market, from sneaker-style options that don't look out of place in town, to others that are basically toned-down mountaineering boots. The one thing they all share is the goal of blending the traits of both hiking and climbing shoes, but most tend to lean toward one end of that spectrum.
La Sportiva makes several approach shoes, and their TX3 seems to fall right in the middle of the spectrum of hiking and climbing. So, how does that translate when you get it out on trails and rocks? After about 40 days in the TX3, here's my take.
Last & Fit
The fit and last of the TX3 is pretty middle of the road. I think it's a fit that a lot of people with a wide variety of foot shapes will get along with. It definitely feels like more of a hiking / trail running last rather than a climbing shoe last, in that the TX3 is fairly wide with a generously sized toe box and more traditional heel pocket and heel counter. In my mind, this is very good because if I'm actually climbing, I'll almost always use dedicated climbing shoes, while I spend most of my time in approach shoes hiking or scrambling (rather than climbing vertical rock).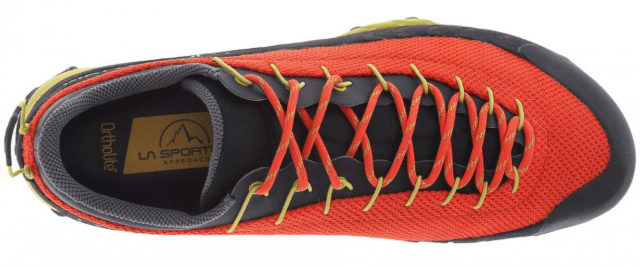 One thing I appreciate in an approach shoe is a larger toe box. With a larger toe box you definitely sacrifice some climbing precision, but in my opinion at least, what you lose in climbing performance you more than make up for in comfort. I often find myself wearing approach shoes for very long days in the mountains and I greatly appreciate the larger toe box on the TX3 (in comparison to the TX2 or Cruzer Classic).
Construction, Weight, & Comparisons
The La Sportiva TX3 is built in a similar vein to other light to moderately light approach shoes (e.g., Sportiva TX2, Arc'teryx Acrux SL, Salewa Firetail 3). The TX3 has the standard full sticky rubber sole, a high rubber rand, and a breathable mesh upper. There are, however, a few unique construction details on the TX3.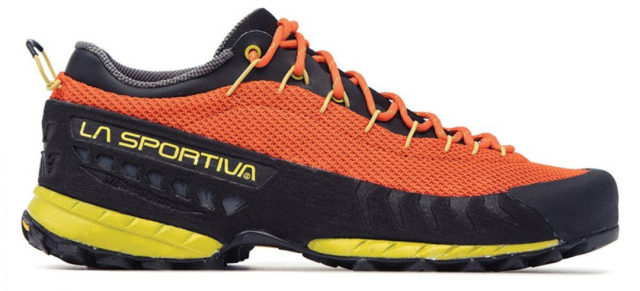 First, the TX3's rand wraps around the whole upper of the shoe. Although this certainly limits the breathability of the mesh upper, it also offers a much-appreciated increase in durability. I often find myself walking through scree, talus, and other abrasive rock that tends to tear other shoes apart. After about 40 days, the TX3's the upper has been holding up better than on other light approach shoes I've used like the Evolv Cruzer Classic and La Sportiva TX2.
Another thing that sets the TX3 apart is its lacing system. The lace eyelets are made of loops of cord that effectively act as lace locks. This makes for a very secure and unique (to the La Sportiva TX line at least) lacing system.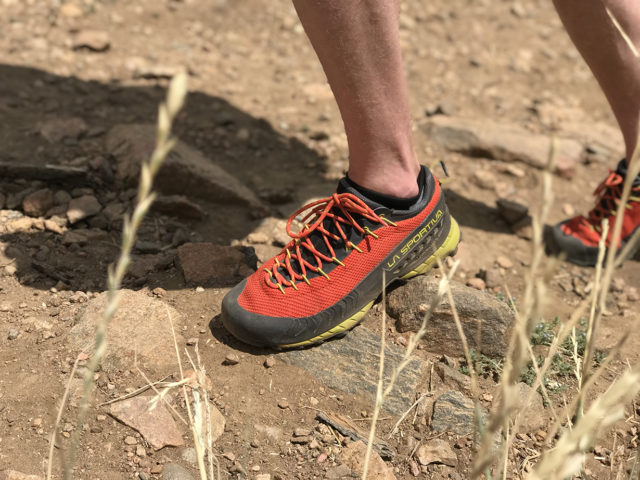 At a stated weight of ~360 grams per shoe for a EU size 42, the TX3 is lighter than many approach shoes on the market like the Five Ten Guide Tennie (407 g), La Sportiva BoulderX (481 g), and Salewa Mountain Trainer (510 g) but it certainly isn't the lightest. The Evolv Zender (198 g), La Sportiva TX2 (299 g), and the Evolv Cruzer Classic (219 g) are all lighter, more minimal options.
Technical Scrambling & Best Use
The TX3 has become my go-to scrambling shoe for anything rated around 5.5 and below. I've worn this shoe on countless Flatiron scrambling missions climbing moderate, less-than-vertical routes.
There are a few reasons why this shoe has jumped to the front of my queue of approach shoes for any day that involves scrambling.
First, the TX3's Vibram Mega-Grip rubber strikes a great balance of being both sticky and durable. I've hiked roughly ~150 miles in these shoes (a lot of which was on abrasive rock) and the outsoles show surprisingly little sign of wear. On top of that, the TX3 feels very secure and sticks to most rock types with confidence.
My other primary approach shoes are the Sportiva TX2 and the Evolv Cruzer Classic. I think the Cruzer might feel a hair stickier, but I think that is primarily due to it's very thin and flexible midsole and outsole — you can use much more of the surface area of its outsole because of how flexible it is. But I feel more secure in the TX3 when compared to the TX2 and I think that is mostly because of the fit. The TX2 is a touch shorter and has a lower-volume toe box, and at least for me, I think the TX3's wider toe box allows my toes to splay more and grip the rock better. That said, the primary difference here comes down to fit, and other people may not prefer the more voluminous fit of the TX3 for technical scrambling.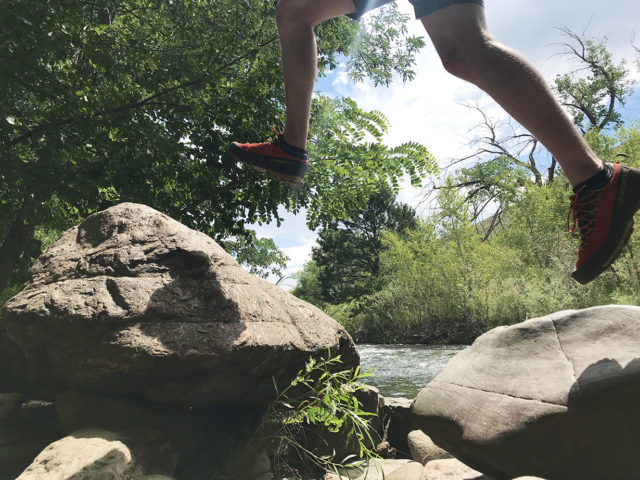 The other reason I've started to reach for the TX3 almost exclusively is the padding in the midsole. I'll often go scrambling after work so there's a limited window of light before the sun sets. I try to move fast to get in a few routes and the TX3 allows me to feel confident on the way up but then they also offer a good amount of padding for when I inevitably end up running down steep and rocky trails. The Cruzer Classic has essentially zero padding, which is fine for light and fast missions, but for a shoe I wear often, I wish it had more padding. The padding on the TX2 falls between the TX3 and Cruzer, but it is still a bit minimal for my taste, especially if I'm wearing a heavy pack when approaching bigger alpine routes.
If I'm approaching a multi-pitch climb and plan to throw my shoes in a route pack or clip them to my harness, the TX3 is a bit overkill, but I'll still often choose it over the Cruzer and TX2.
The Cruzer is so light and minimal that it's great for tossing in a pack during a long multi-pitch climb, but I mostly avoid using it if that multi-pitch climb has a really long approach. The TX2 is a bit more packable than the TX3 and the TX2 also has a unique bungee cord system to attach the shoes to one another when you're not wearing them, but I've never felt comfortable trusting the bungees when I'm far off the ground. Usually, I just leave my shoes at the base of the climb, and if the descent dictates that they must come along, I'd almost always rather jam the TX3's in a route pack than wear the Cruzer or TX2 — especially if the approach is more than about 30 min.
Most people don't want (or need) a quiver of approach shoes. For people looking for a balance of scrambling and hiking performance in a single approach shoe, I think the TX3 is a great option. If for some reason you need an approach shoe that can handle delicate edging or higher-end climbing performance, I think a lower volume fit and more sensitive midsole like that on the Cruzer Classic might make more sense. If you need an approach shoe primarily for hiking, you could probably just get a (likely cheaper) hiking shoe.
For me though, the TX3 hits a great balance of scrambling performance and hiking comfort.
Price
At $135 MSRP, the TX3 is a very competitively priced approach shoe. It's not dirt cheap like the Evolv Cruzer Classic ($75), but with most other approach shoes landing between $100 and $200, the TX3's price is pretty moderate, if not on the cheaper end.
Bottom Line
The La Sportiva TX3 blends a supportive and comfortable hiking last with a very functional set of climbing features. The result is a shoe that strikes a great balance of trail comfort and climbing performance that makes a great option for a quiver-of-one approach shoe.