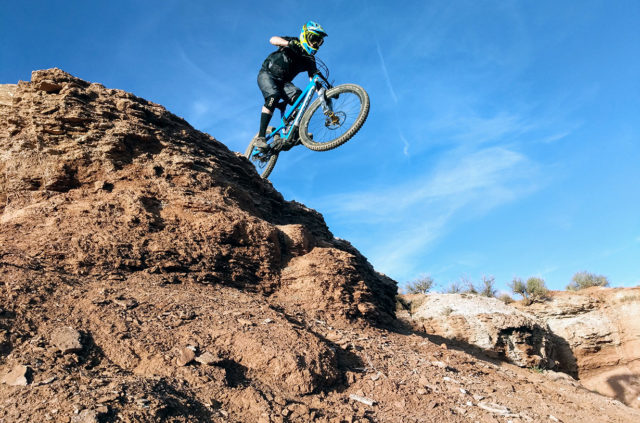 Intro
Maloja is best known for their bold and unique-looking biking and skiing apparel. In the mountain-biking category, the Bavarian brand aims to set itself apart from most of the other bike apparel out there that all too often looks like it was borrowed and repurposed from either motocross or road cycling. In a world where Fox and Pearl Izumi often dominate the scene, it's easy to understand how this approach definitely helps Maloja stand out. At the same time, Maloja also aims to create highly-functional pieces that not only stand out for their looks, but also their performance.
I've been using the FlurinM Multi ½ jersey and BrailM Shorts throughout this fall, taking them out on a mix of trail rides, shuttle runs, and park laps. And all in all, I've come away pretty happy with what they have to offer.
FlurinM Multi ½ Jersey
Reviewer: 5'10", 145 lbs
Size Tested: Small
Fabric: 100% polyester jersey
Stated Features
Round neckline
Allover print
Quick drying
Breathable
UV protection
MSRP: $99
Test Locations: Virgin, UT; Bootleg Canyon, NV; Northern CA
Test Duration: ~3 months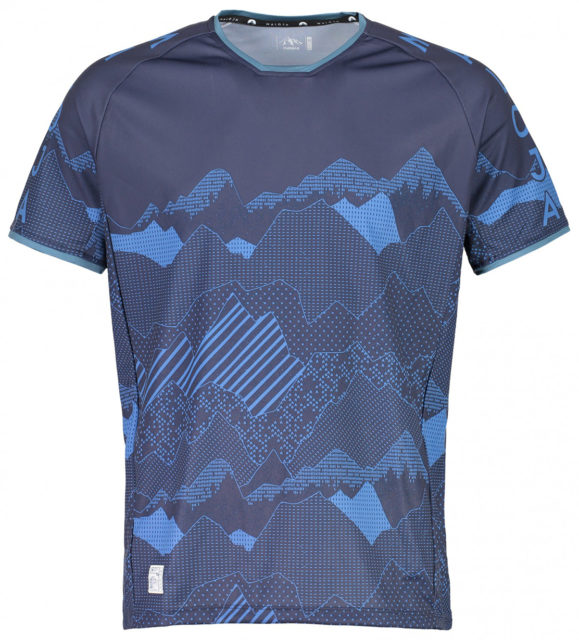 Fabric and Features
Features are pretty minimal on the FlurinM jersey. The jersey is made of thin, soft polyester that breathes nicely and still seems like it would hold up to a bit of abuse. The jersey is free of zippers, pockets, and obnoxious graphics, which all earn it high marks in my book.
Sizing and Fit
I think Maloja nailed the fit on the FlurinM jersey. It feels like a baggy jersey, but not to the extent that you're swimming around in it. If you have massive biceps, you might have some issues with the sleeves, but aside from that, the jersey should fit most body types pretty nicely. On my relatively skinny 5'10", 145 lb frame, the size Small FlurinM jersey follows my movements, but still lets in plenty of airflow.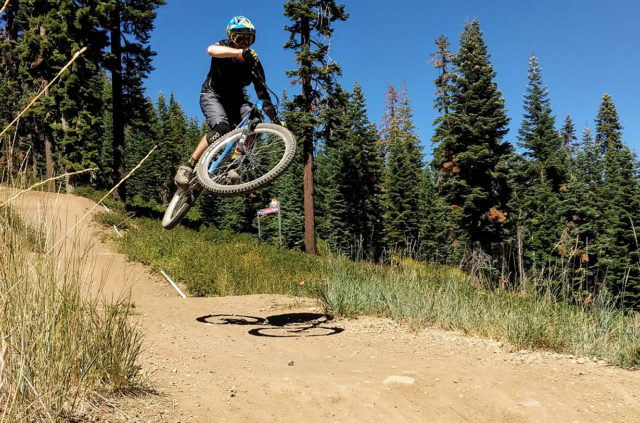 What's more, Maloja offers the jersey in sizes XS up to XL, so it's pretty likely that you'll be able to find a size that fits you.
Performance
In terms of performance, the FlurinM jersey is right on par with most thinner-synthetic jerseys out there. It dries quickly, wicks sweat well, and doesn't give you that swampy feeling in hot weather. The only jersey that I'd take over the FlurinM for super-hot conditions is an extremely thin one like the Showers Pass Apex Merino Tee, the downside being that the thin wool jersey would probably fare worse in a crash.
Durability
After using the FlurinM for three months I have no durability issues to report. That said, I haven't taken any massive spills in the jersey, so the most abuse the jersey has survived is being scraped against some tree trunks after some questionable line choices.
Bottom Line
The Maloja FlurinM jersey is such a solid all-around jersey that it's hard to identify an extremely specific rider that would benefit from it. In other words, the audience for this jersey is super wide, and that's a great thing. I'll happily wear the FlurinM jersey on pretty much any trail ride, and even on hot days in the bike park when I don't want to wear a long-sleeve jersey.
BrailM Shorts
Reviewer: 5'10", 145 lbs
Size Tested: Small
Fabric: 32% polyester, 31% cotton, 31% nylon, 6% elastane
Stated Features:
Adjustable waistband with MX closure and additional silicone coating inside
2 zippered pockets
Ribbed panel at the waistband behind
Stormshell und ribbed inserts in the crotch area
Inseam length: 36 cm
MSRP: $169
Test Locations: Virgin, UT; Bootleg Canyon, NV; Northern CA
Test Duration: ~3 months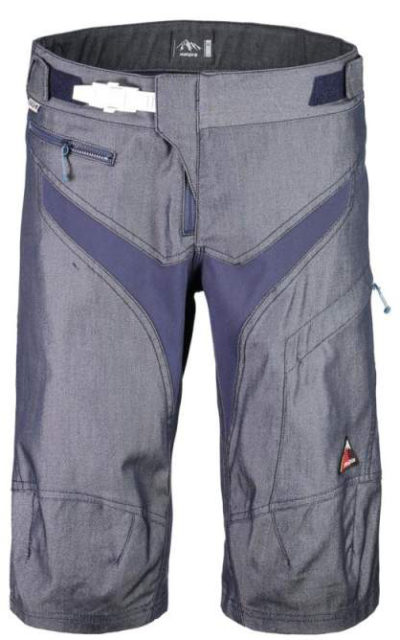 Fabric
Remember the 2010 Winter Olympics? No? Well, let me refresh your memory.
In an attempt to seamlessly blend American patriotism with the rebellious spirit of snowboarding, the designers of the US snowboard teams' uniforms opted to go with a rugged Western look, complete with plaid-patterned jackets and blue "denim" pants.
So when looking at the denim-esque fabric on the BrailM shorts, I can't help but think about 2010-era Shaun White.
Now, I'm not exactly against doing outdoor activities in denim ("Jort Track" was always my favorite XC discipline in college), but I guess there's something odd to me about modeling technical outerwear after a material that performs notoriously poorly in most backcountry situations.
However, the polyester / cotton / nylon / elastane blend used in the BrailM shorts is not your traditional cotton denim, and instead is actually somewhat hydrophobic and doesn't soak up too much water when wet. The burly, thick cloth clearly prioritizes protection and durability over ventilation, which may make these shorts particularly appealing for those who spend a lot of time shuttling or in the bike park.
Features
The BrailM shorts' motocross-style closure is adjustable and ergonomic. This style of closure adds a bit of weight and stiffness to shorts, but I tend to like it more than velcro closures that wear out or bunch up other shorts' fabric when you tighten them a lot.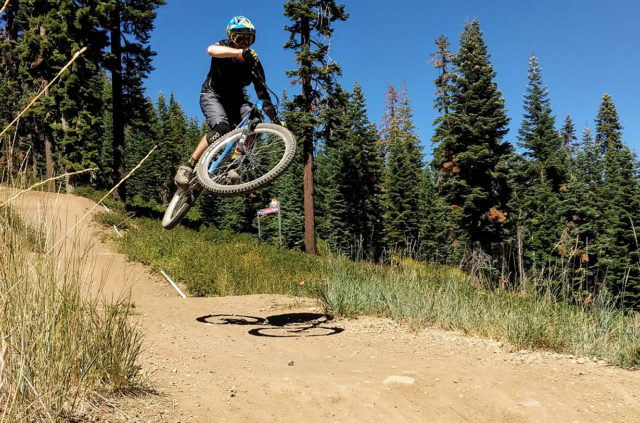 Storage in the BrailM shorts is minimal but acceptable, with two roughly cell-phone-sized pockets. And they're both zippered, so you can trust them to actually hold your valuables when you're out on the trail.
Sizing and Fit
The fit is pretty spot-on with these shorts for their intended use, and the level of adjustability they offer should satisfy pretty much anyone within a given size range.
While the FlurinM jersey feels like it could work for just about any type of riding, the BrailM shorts feel much more purpose-built for big shuttle runs or bike-park laps, and their fit reflects this.
The BrailM shorts hang well below the knee and are tapered to accommodate bulky pads without riding up. This isn't to say that you absolutely have to pair the BrailM with DH kneepads, but if you're planning on running thin pads, no pads, and / or are going to be pedaling a lot, you'd probably be better served by shorts that are lighter and thinner.
Performance
On the spectrum of "light and breathable" to "bike-park-only," the BrailM shorts sit right at the bike-park end of things. So for hotter Trail rides, I really can't recommend them over the many other lighter and more pedal-friendly shorts out there. However, for aggressive shuttle runs and lift-accessed riding, the extra protection the BrailM's thicker fabric offers will come in handy.
The fabric also has some nice stretch to it, and physically works great for pedaling, as long as you're not concerned about ventilation (the BrailM doesn't have any vents). The cut of the shorts also helps them fit comfortably over bulky kneepads, whether standing up or sitting down and pedaling.
I was also pretty impressed with how water resistant these shorts were, despite having some cotton in the fabric. Same goes for how quickly the thick fabric dries.
Durability
I haven't managed to fall in these shorts yet, but based on how burly the fabric is, I'd tentatively rate these shorts as some of the most durable ones available. If I had to pick any pair of shorts to slide down a bunch of loose shale in, these would be the ones.
Bottom Line
Maloja's BrailM shorts occupy a much narrower space than the light and versatile FlurinM jersey, but the BrailM perform well for what they're designed for — gravity riding. So while I won't be taking these shorts out for a bunch of pedaling-intensive, all-day epics, they'll be very at home on shuttle runs and park days.
If you like this look, usually wear kneepads, and want a thicker pair of shorts that offer some solid protection, the BrailM are shorts are definitely worth checking out.