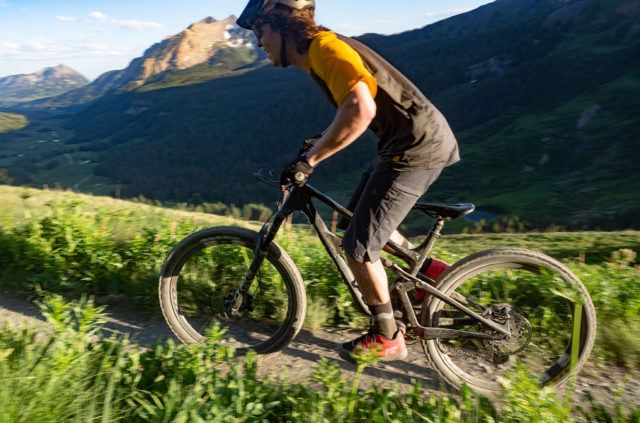 Intro
Just as the categories of mountain bikes themselves have become increasingly ambiguous, the same could be said about some of the clothes we wear on the trail. Whether it's casual-looking shorts with bike-oriented features, options that blend the longer cuts of DH shorts with lighter, more XC-oriented fabrics, or any of the new and unique features we're seeing, there are a lot of different shorts out there and it's tough to figure out exactly where each excels.
So, here we've rounded up a number of the various shorts a few of our reviewers have been spending a lot of time in over the past two seasons. None of them come with a chamois / liner but all work pretty well with one if you prefer (and we'll soon be posting a men's & women's chamois roundup for those folks).
Below, we'll outline what sets each short apart from the others in order to help you figure out which might make the most sense for you, and we'd be curious to hear about your favorite shorts and why you like them, since this roundup is only scratching the surface of what's currently available. We'll also be updating this roundup in another month or so once we've spent some more time in a few other shorts.
Lastly, for those just getting into mountain biking or who are on a budget, there's a very good chance that you already own a pair of shorts that will work just fine. There are lots of cool, new, and interesting options in this roundup that work really well on the trails. But a simple, somewhat stretchy, fairly breathable pair of shorts that hits roughly around your knee without a super wide leg opening (to avoid catching it on your bike saddle) can often work great, too.
Fabric: stretch-woven; 92% nylon / 8% Spandex; Bluesign approved
Inseam Length: 13.5 in / 34.3 cm
Reviewer: 5'8", 155 lbs
Size Used: Medium
MSRP: $85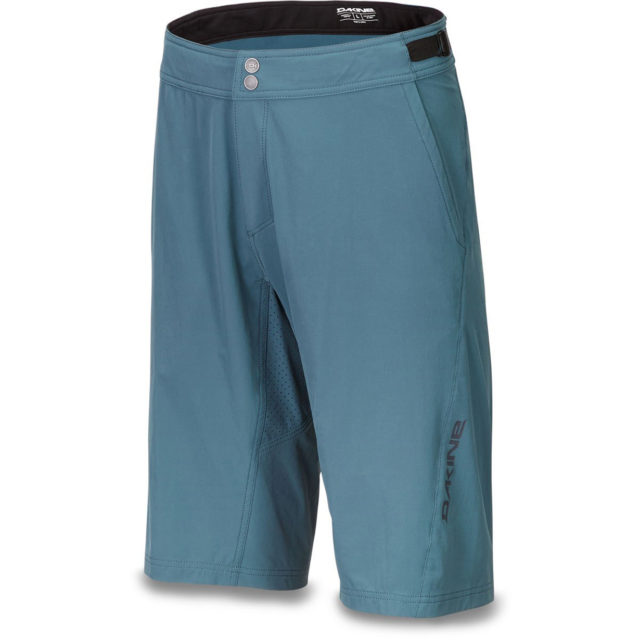 Luke Koppa: I've become a fan of Dakine's MTB gear mostly because of what you get for your money and the more understated aesthetics, compared to some of the more expensive, logo-heavy, racing-oriented brands.
The Dakine Vectra Bike short is made of a Bluesign-approved, stretch-woven fabric that's similar to the Dainese AWA Short and thicker than the fabrics on the Velocio Trail Short and Mission Workshop Traverse. While the Vectra's fabric is on the thicker end, it also features laser-cut ventilation at the back of the waist and through the gusseted crotch. While I'd opt for a slightly thinner, lighter fabric for brutally hot days, I haven't found myself complaining about the Vectra's breathability during the summer in Crested Butte, where temps are typically around 70–80°F / 21–27°C. And the upside to the Vectra's slightly burlier fabric is that it's proven to be very durable with zero tears or holes, despite my habit of frequently being launched off my bike.
The Vectra has three pockets — two slanted, zippered hand pockets (like you'd find on a pair of chinos), and a vertical-zip pocket on the right thigh. I'm a fan of bike shorts that don't really look like bike shorts, and the Vectra definitely falls into that category. And, while its slanted hand pockets look "normal," their zippers are concealed so you get security with that casual look. That said, I usually just put stuff in the thigh pocket while on the bike since anything thicker than a few credit cards / IDs in the hand pockets tends to dig into my thigh / waist.
The Vectra does not have belt loops and instead features two integrated webbing straps on either side (they don't run all the way around the back). While I like having the option of belt loops, I've been content with the Vectra's integrated waist adjustment. The camming closure has actually kept them from loosening, and the elastic straps have made for a comfortable, snug fit.
With a 13.5 in / ~34 cm inseam, the Vectra hits me right around the middle of my knee and I'd call its overall fit pretty average; loose enough (and with a stretchy enough fabric) that I've rarely felt restricted, but not as baggy as a slightly more DH-esque short like the Dainese AWA Short. Unlike the Velocio Trail Short and Mission Workshop Traverse, the Vectra's fit doesn't feel quite as bike specific — while I didn't have many issues with its fit on the bike, it also felt pretty normal off the bike with no tight spots when standing and walking around.
At $85, the Vectra isn't super cheap by any means, but it's a lot less expensive than many other options out there. Combined with the fact that it works well off the bike and looks pretty normal, I think it's a very solid choice for those looking for a do-everything bike short that could also pull double-duty as a hiking or casual option.
Mission Workshop Traverse Short
Fabric: stretch-woven; 84% nylon / 16% Spandex
Inseam Length: 14 in / 35.6 cm
Reviewer: 5'8", 155 lbs
Size Used: 31
MSRP: $165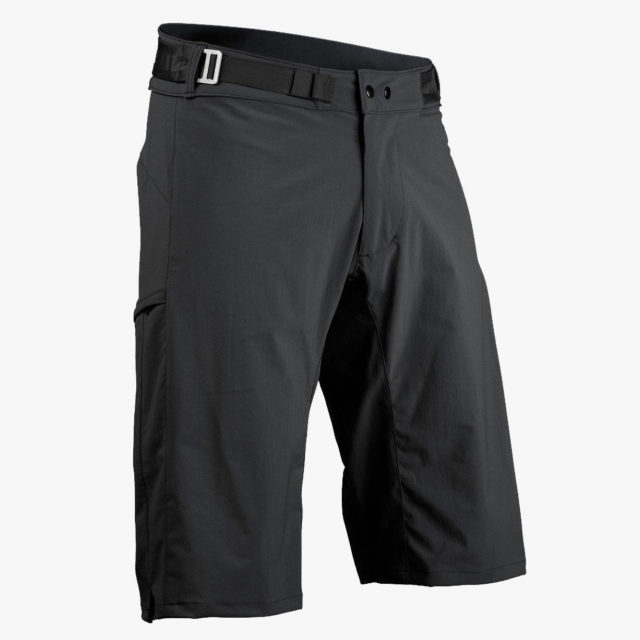 Luke Koppa: While Mission Workshop may still be best known for the urban packs, they also make some pretty amazing apparel, all of which is made in the USA. Like the Velocio Trail Short, the Mission Workshop Traverse short comes with a hefty price tag, but in my opinion, it has several features / design elements that make it a bit easier to justify.
The Traverse is a fairly long short with a 14 in / 35.6 cm inseam, hitting just over the knee for me. Unlike the similarly long Dainese AWA short though, the Traverse has a much slimmer overall fit, sitting comfortably snug around the seat and upper thigh for me. It also has a slightly flared leg opening, which makes it convenient to use with knee pads. Like the Velocio Trail Short, I think Mission Workshop has done a great job with the patterning and fabric choice on the Traverse to make a short that's streamlined and fairly slim, without compromising range of motion. And it's nice to have that option in a slightly longer inseam length.
I've been testing the size 31 Traverse, given that I love the fit of the 31-wasted Mission Workshop Mission Jean. Interestingly, the Traverse short felt notably tighter than the Mission Jean in the same waist size (Mission Workshop notes on their site that the Traverse runs a bit small). However, the Traverse offers a lot of adjustment points at the waist; not only does it have the best integrated belt I've ever used, it also has two buttons at the fly so that you can make it tighter or looser there, too. I've been using the wider-setting button and the fit is pretty ideal, but if you're on the fence or just prefer a baggier fit, I'd definitely recommend sizing up.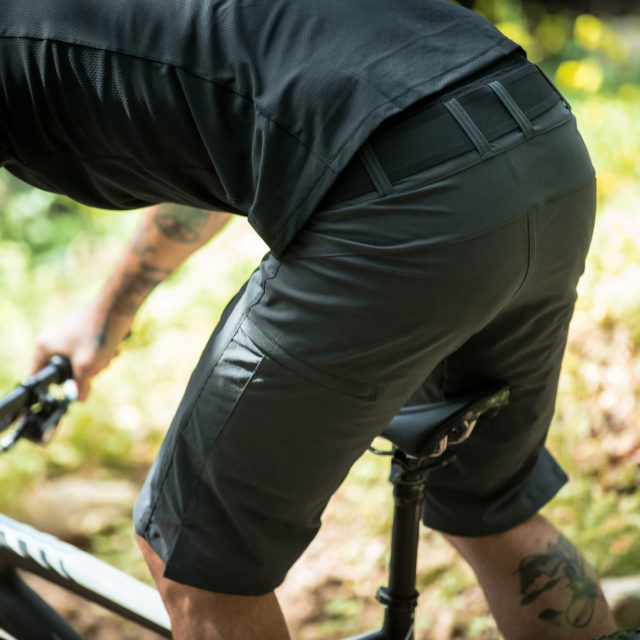 The Traverse's belt is much more refined than many integrated belts I've used. It's constructed very similarly to Arc'teryx's climbing harness (in case you're familiar with those), with a band of woven fabric that's widest at the middle of the back and that tapers as it moves to the hip area. It's secured and adjusted with an aluminum buckle that's never accidentally loosened on me, and the inner part of the belt material is coated with a grippy finish to keep it from shifting. The contoured, extra-wide shape of the belt, combined with the higher-rise back of the Traverse's waist, has done a great job of evenly distributing pressure across my entire waist. I also haven't had any issues with the belt or buckle feeling uncomfortable under a hip pack.
For the fabric of the Traverse, Mission Workshop used an American-made stretch-woven that's a bit thicker than the Velocio Trail Short's fabric but notably thinner and more breathable than the fabrics on the Dakine Vectra and Dainese AWA. While I initially saw the longer cut of the Traverse and thought it'd be best for days at the bike park, its slimmer fit and thin, breathable fabric have made it my go-to for just about everything. And even though it's pretty thin, the Traverse's fabric has been surprisingly durable. Case and point: I took my worst tumble last season in the Traverse, catching a rock while pedaling hard into a jump line and immediately going OTB and tomahawking through a field of rocks and gravel. While that crash tore my jersey, inner short, and skin to shreds, the Traverse Short came out of it with only two pin-head-sized holes, above where there was a massive gash on my hip. After that, I've continued to use the Traverse for months and those little holes haven't gotten any bigger, which is great to see.
In terms of storage, the Traverse has two horizontal-zip pockets on the outside of each thigh that have done a great job of not letting the stuff inside bounce around. Another notable detail is the Traverse's inseam and gussetted crotch seams — they're all covered with seam tape. While I rarely have issues with chafing, for those who do, the smooth finish on those seams will be appealing.
In the end, the Traverse Short's $165 price tag will rule it out for many people, and that makes sense — $165 is a lot for a pair of shorts. But if you prioritize American-made products, want something with a lifetime warranty, and / or are looking for a longer short with a slim fit and a highly breathable fabric, the Traverse Short does make a pretty strong case for its price. And if you like the sound of the Traverse's overall design but prefer a slimmer, shorter cut, they also offer an "XC" version.
Dainese AWA Shorts
Fabric: stretch-woven ripstop; 85% nylon / 15% Spandex
Inseam Length: ~14 in / 35.6 cm
Reviewer: 5'8", 155 lbs
Size Used: Medium
MSRP: $110 (on sale for $82.49 as of publishing)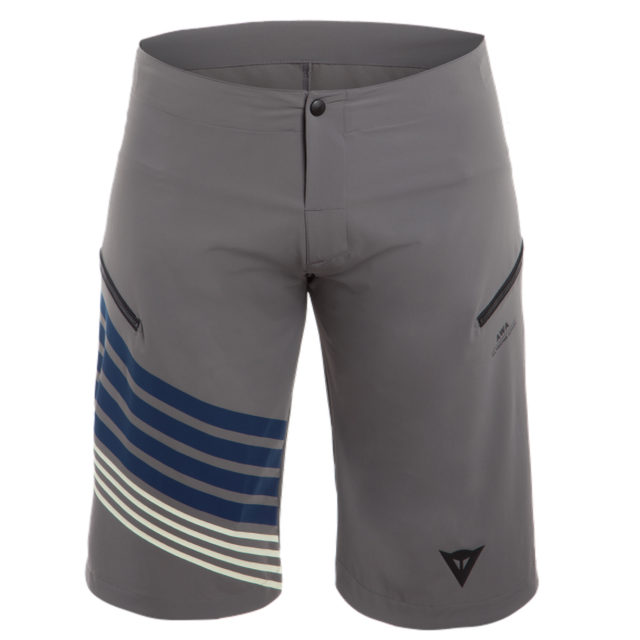 Luke Koppa: The Dainese AWA Short is the baggiest and longest of the options I've been using, falling somewhere between super baggy, dedicated DH shorts and slimmer, more XC-oriented ones like the Velocio Trail Short. While its inseam measures around 14" / 35.6 cm, the AWA feels and looks notably longer than the options here from Dakine, Velocio, and Mission Workshop, likely due to the AWA's longer cut at the front of the leg opening. It also has a fairly wide leg opening and is consequently my favorite option for days in the bike park and / or when I want to wear knee pads (and the length has kept its leg opening from ever catching on my saddle).
The AWA Short's fabric feels pretty similar to the Dakine Vectra's fabric — very stretchy and a touch thicker than average. While I initially found myself using the AWA for bike-park days, I've been pleasantly surprised by its breathability and general performance for long days in the saddle. It's not as ultra-breathable and streamlined as the Velocio Trail Short, but I've never found myself complaining about the AWA's breathability during the moderate summers in Crested Butte. Its stretch-ripstop fabric has also fended off a few crashes with zero damage, and it should hold up a bit better in the long term in the event of a small hole, due to it being a ripstop weave rather than the traditional plain weave.
The AWA has a fairly horizontal pocket on each thigh, both of which are mesh lined and their placement has done a good job of keeping the stuff inside from bouncing around too much. The AWA doesn't have a real fly, instead featuring a button closure and a mesh fabric covering where the fly would be. This design is very comfortable, though I tend to prefer having a traditional fly for quick bathroom breaks while wearing a hip pack. The AWA lacks belt loops but features pretty standard, velcro waist adjustments on the inside of the waistband. These are fairly stretchy, and while the size Medium (my standard size) fits a bit wider than average at the waist, I've still been able to get a comfortable and secure fit. I do have the velcro adjustments at their tightest setting, so if you're not able to try these on before buying and tend to be between sizes, I'd recommend sizing down.
Like the Velocio Trail Short and Mission Workshop Traverse, the AWA's bike-oriented fit (high back-waist, longer hem in front vs. back) feels a bit odd when standing up and walking around. That said, since it's baggier than those two shorts, I don't really notice this much while hanging out in the AWA before / after rides, and its fit feels awesome while I'm on the bike.
Overall, the AWA is a pretty versatile short and comes in at a fairly moderate price compared to the whole market. If you tend to prefer a slightly baggier, longer fit, frequently wear knee pads, and / or want a short that's burly enough for shuttle / bike-park laps that's also breathable enough for pretty hot days in the saddle, the AWA Short definitely warrants consideration.
Fabric: stretch-woven; 79% nylon / 21% elastane
Inseam Length: ~12 in / 30.5 cm
Reviewer: 5'8", 155 lbs
Size Used: Medium
MSRP: $159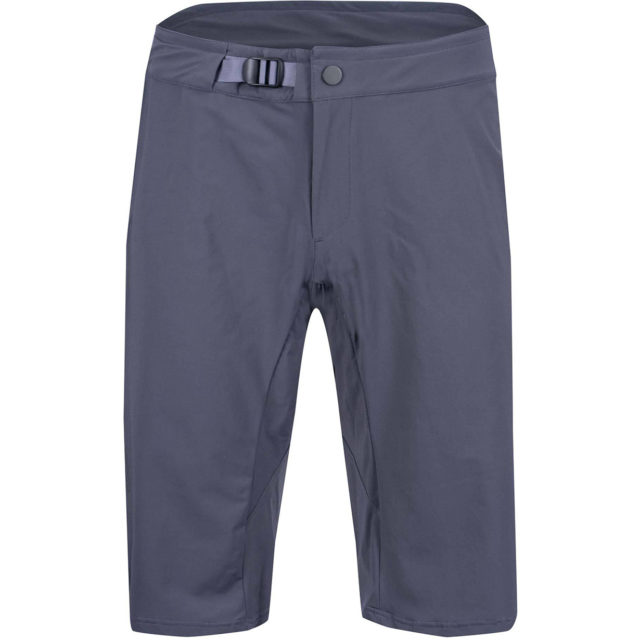 Luke Koppa: Of the four shorts I've been using, the Velocio Trail Short is definitely my favorite for super hot days that involve lots of pedaling. It's by far the most breathable short I reviewed and it's also the one with the slimmest fit.
When standing, the Trail Short fits snug throughout, but its fit works very well once leaned over on the bike. For me, Velocio nailed the fit of the Trail Short in terms of keeping it streamlined while still allowing for all the mobility I could want. But if you prefer a particularly baggy fit and / or wear bulkier knee pads, I'd look elsewhere.
The fabric of the Trail Short is its defining feature. It's a thin stretch-woven that's very stretchy in all directions, extremely breathable, and that dries exceptionally quickly. While I haven't managed to tear these shorts so far, I'm confident that they wouldn't hold up as well to frequent crashing as the options here from Dakine, Dainese, and Mission Workshop. The upside is that the Trail Short is barely noticeable to me on super hot days, thanks to the breathable, stretchy, and smooth-feeling fabric.
The Trail Short features a vertical-zip pocket on each thigh, both of which are lined with a thin mesh and that keep stuff like my phone or wallet from moving much at all while riding / pedaling. Velocio says the pockets will "easily fit an iPhone 8Plus."
My main complaint with the Trail Short stemmed from its waistband, but this has been tweaked for the current, 2020 version. Neither version features belt loops, and instead has an internal webbing belt that runs the full circumference of the waist. On the version I have, the buckle / strap was tightened from the hip toward the fly, but didn't hold tension since my hips would open up the buckle and loosen it. Fortunately, the size Medium fits my waist just about perfectly without any adjustment, and the new version of the Trail Short has a reversed buckle placed near the fly that should, in theory, do a better job of holding tension. As always, though, I'd recommend trying on the Trail Short before buying, though Velocio does offer free returns / exchanges and a 30-day "Signature Guarantee," which is something not every brand does.
At $159, the Velocio Trail Short is quite expensive. It does stand out thanks to its excellent breathability, slimmer, yet functional fit, and 30-day trial period, so if those factors are high on your priority list, it'd be worth a try.
Fabric: stretch-woven; 69% polyamide / 19% polyester / 12% elastane; >50% recycled & Bluesign approved
Inseam Length: 13.25 in / 33.7 cm
Reviewer: 6'0", 165 lbs
Size Used: Medium
MSRP: $149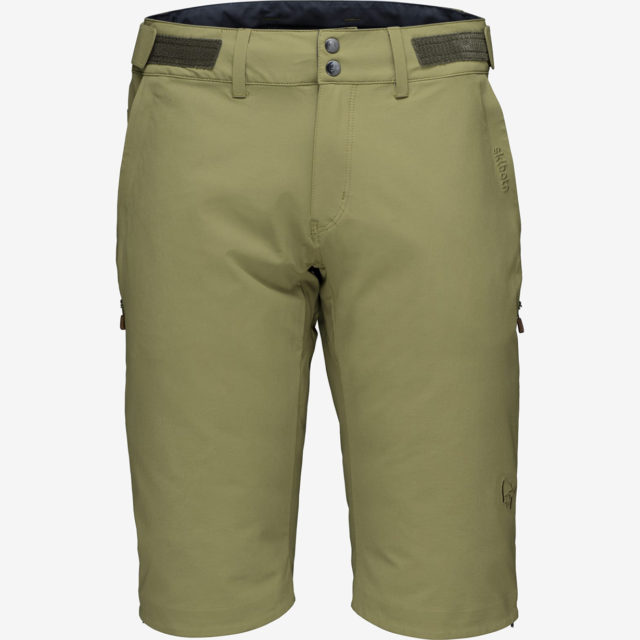 David Golay: Norrona describes the Skibotn Flex1 short as their lightest Enduro short, designed for long rides in varied weather conditions.
The proprietary Flex1 material used in the shorts is outstanding — it's extremely soft and stretchy, but has held up well to a lot of miles and a bit of crashing (and is Bluesign approved and partially recycled). Its breathability is about average for mid-weight material, but the Skibotn shorts feature rather large vents (more on those in a minute) that significantly increase airflow. I'm also a huge fan of the fit of the Skibotn shorts; for my build, they're extremely well cut, and offer a trim fit without being tight or restrictive. The back of the shorts is cut quite high, for better coverage in a riding position, and the rear portion of the waist has a sizable silicone gripper to keep it in place. Velcro tabs on both hips adjust the waist of the shorts, and they feature traditional belt loops as well, which is noteworthy these days.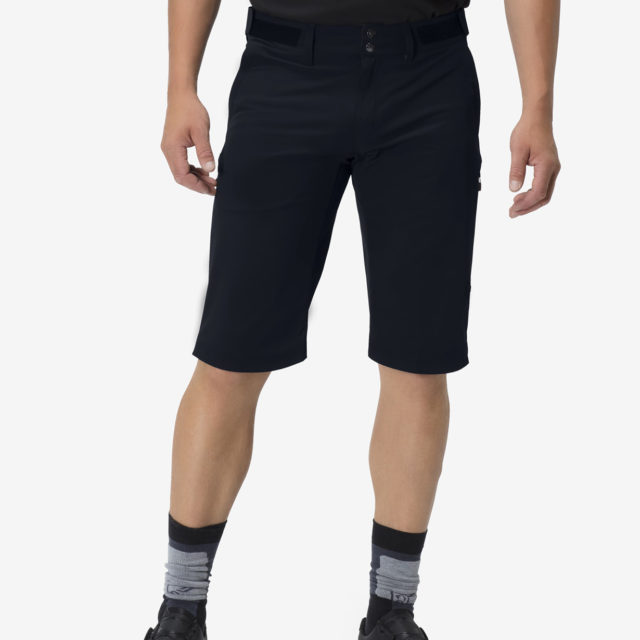 The most interesting feature of the Skibotn Flex1 is a pair of mesh vents, operated by a two-way zipper up the outside of each thigh. When the vents are fully opened, the hem of the shorts expands by roughly two inches, with a mesh panel exposed to provide some extra ventilation. The panel extends 12 inches up the side of the shorts, and tapers to a point at the top. It's a great idea, and opening the vents does noticeably improve airflow, but the narrow zipper used to open and close it is hard to operate when the shorts are being worn, and is prone to snagging on the mesh backing panel. On the plus side, the zipper is flexible enough to not be particularly noticeable with the vents closed; a larger zipper would likely be easier to use, but also stiffer and less comfortable.
The Skibotn Flex1 shorts feature three pockets: two standard hand pockets, plus one on the right side of the seat. All three are zippered, and the right hand pocket features a baffle that's meant to hold a phone securely when pedaling, which works well.
While they're expensive at $149 and the leg vents are a bit quirky, the Skibotn Flex1 shorts are a compelling option due to their excellent fabric and overall fit and have become my go-to short, especially for longer rides.
Fabric: stretch-woven; 90% nylon / 10% spandex
Inseam Length: 13.5 in / 34.3 cm
Reviewer: 6'0", 165 lbs
Size Used: 32
MSRP: $99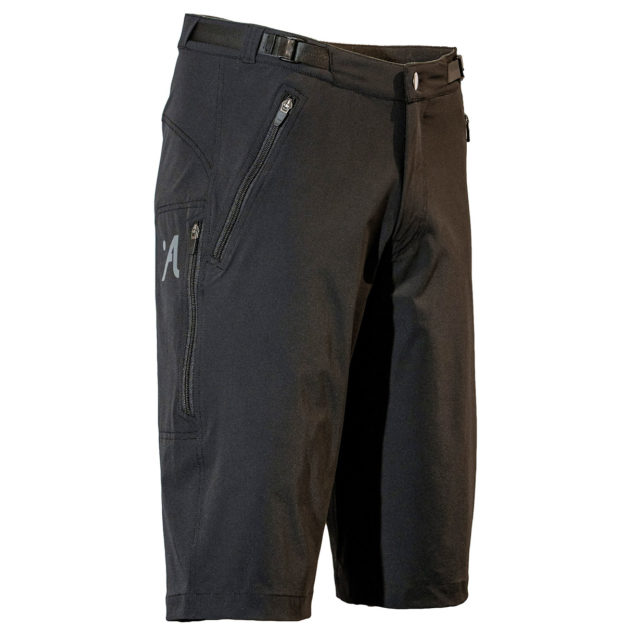 The Abit Enduro shorts are notable particularly because they come in two different fits, independent of size — a "Slim" fit and the roomier "Athletic" fit that I've been using. Both feature the same waist and inseam measurements in a given size, but the Athletic fit adds 2.5" to the hip / butt area of the shorts and 1" at the leg opening. It's great to see multiple options for different body types, and as someone who often finds bike shorts a bit tight in the seat in a waist width that fits well, I was very excited to try the Athletic fit option. In terms of waist sizes, Abit currently offers the Enduro Short in sizes ranging from 30-38.
The Athletic fit is indeed roomy through the seat and thighs — riders who have struggled with trading off a too-large waist to get the room they need in those areas should take note. The Slim fit option is there for folks who don't fit that description. For my exact build, the fit through the seat is excellent, though I wouldn't mind a slightly more tapered leg opening. Of course, plenty of folks have bigger thighs than I do, and on me, they're certainly not so baggy at the opening to the point that they feel cumbersome.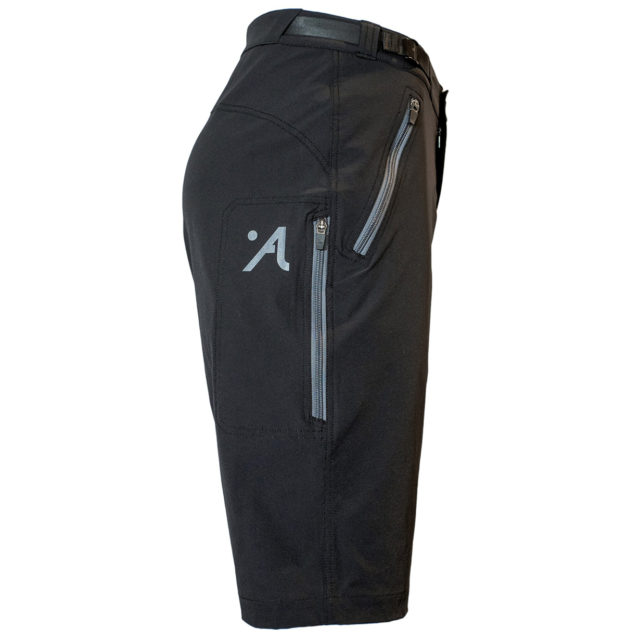 Both versions of the Enduro shorts are constructed of a four-way-stretch nylon / spandex blend, which isn't quite as soft or stretchy as the exceptionally supple Flex1 material in the Norrona Skibotn shorts described above, but it's still plenty comfortable and has proven to be quite durable. The Enduro's fabric is a bit thinner than the Skibotn, but also features a tighter weave, so breathability is about on par; the advantage of the thinner, more dense fabric of the Abit Enduros is that it absorbs less water when riding in very wet conditions.
The Abit Enduro Short's waist is adjustable via a built-in belt with plastic cam-lock buckles on each hip. The system works well and is very secure, but a little care does need to be taken to situate pack straps away from the buckles, which can be a little uncomfortable if a pack strap happens to press on them. I haven't had any major issues finding a good, comfortable position with a variety of hip packs, but it is something that requires a little care when putting on a pack, particularly compared to shorts with lower-profile, velcro waist adjustments.
The Enduro shorts have three zippered pockets: two standard hand ones, plus an additional one further down and to the outside of the right thigh. The hand pockets are especially deep and roomy; if you're looking to carry a lot of stuff in your pockets, the Abit Enduro shorts would be a great option. The inner panel of the pockets also has a large mesh section, which functions as a vent with the pockets' zippers are open.
The Abit Enduro shorts are very well constructed, and the multiple fit options are a great idea that will offer a better fit for a broader range of body types. If you've found many mountain bike shorts to be a bit tight in the seat and / or thighs, the Athletic fit version is an especially compelling option.
Dakine Boundary Bike Short
Fabric: "Airflow" woven material; 100% polyester; Bluesign approved
Inseam Length: 13.5 in / 34.3 cm
Reviewer: 5'11", 155 lbs
Size Used: Large
MSRP: $90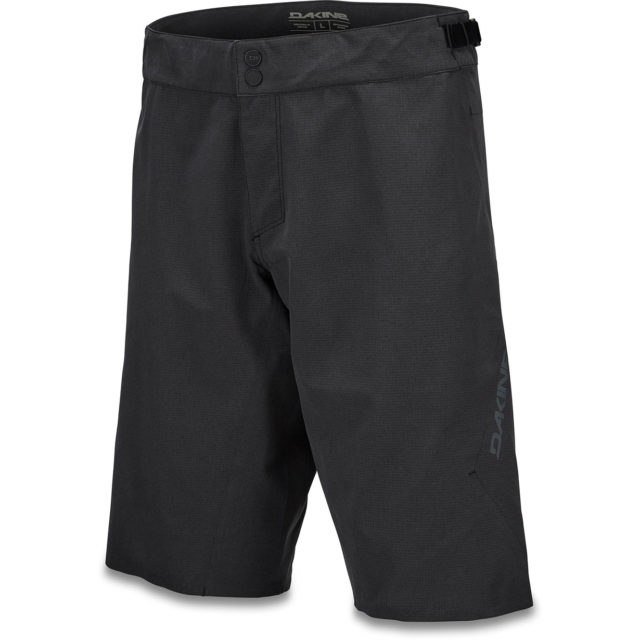 Dylan Wood: Dakine calls the Boundary Short "our lightest and most all-mountain focused short." Overall, it's a very minimalist short that has become my go-to for hot days while riding with a pack.
The first few things that stand out when wearing the Boundary Bike Short are its weight and breathability. The polyester Airflow material is thin, lightweight, and ideal for hot, long days on the bike due to its breathability and barely-noticeable weight. However, this low weight and breathability come at the cost of durability. I took one insignificant spill in the shorts and it produced a small hole on the side. I would have expected a heavier short with thicker fabric to withstand this tear, but I was not surprised that the Boundary short ripped here — a tradeoff you make with a short like this.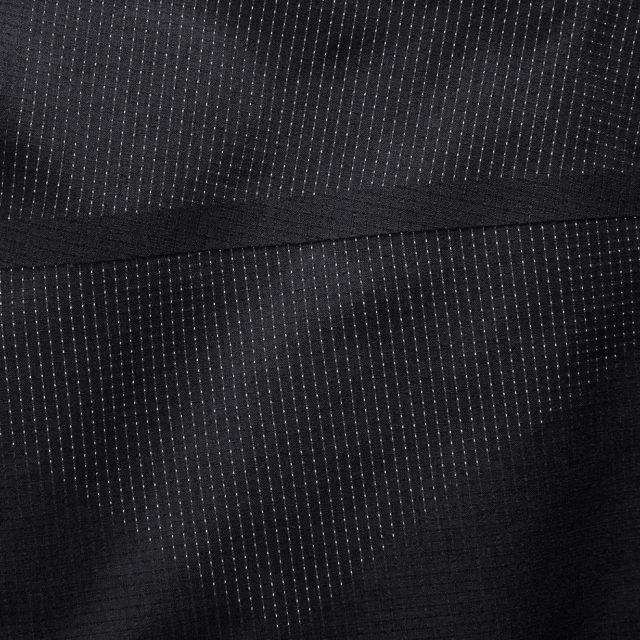 The Boundary shorts are secured at the waist by two small snaps near the fly. There is also a webbing-like belt that is sewed in and starts on the sides near the back of the short and is concealed under the fabric, except for at the closures where it is exposed so that the tightness of the waist can be adjusted. The Boundary's integrated belt is fixed to the front of the short by elastic anchors. This system is highly adjustable and has remained secure throughout my time in the Boundary Bike Short. However, I find that the front elastic anchors tend to be a little too stretchy, and can allow the short to slip down, especially in a seated pedaling position. This must be remedied by overtightening the system and it takes some trial and error to get just right.
The Boundary Short has only one pocket, situated on the lower-right, outer thigh, which can fit a phone with ease. That said, I found that putting anything heavy in this pocket results in it swinging and banging against my lower thigh / knee area, so I mostly just use this pocket for snack wrappers. For those who like to stash many items in their short pockets, the Dakine Boundary Bike Short most certainly would not be my first recommendation.
But riders who ride in very hot, dry areas should consider the Dakine Boundary Bike Short. With its minimalist feel and super lightweight, breathable construction, the Boundary short has not held me back on any long backcountry adventure I've done in them. That being said, they do not withstand wear-and-tear as other heavier, less breathable options, and if you're looking for more than one pocket, you should look elsewhere.
Fabric:
Shell: 86% polyester / 8% spandex / 6% nylon
Trim: 100% polyester
Mesh: 85% nylon / 15% spandex
All fabric used is Bluesign® approved
Inseam Length: 13.75 in / 34.93 cm
Reviewer: 5'11", 155 lbs
Size Used: 30
MSRP: $109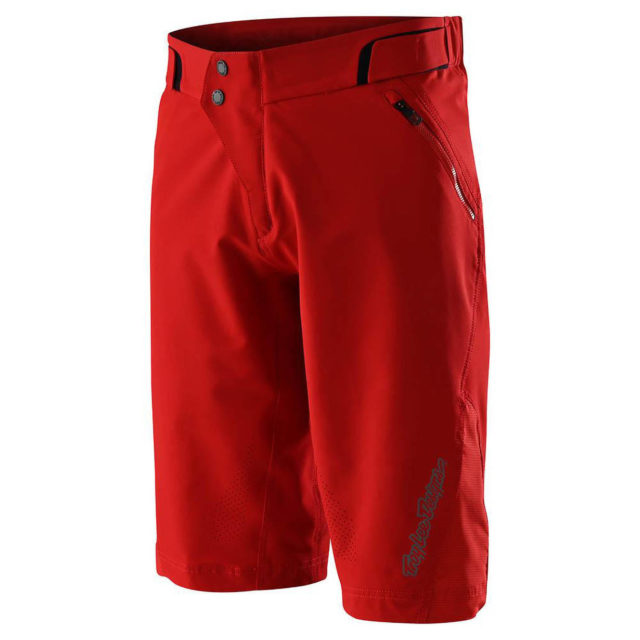 Dylan Wood: Troy Lee Designs has updated this short since we tested it, with the only notable difference being that the fabric is now Bluesign® certified and the replacement of the old zippered mesh vents with a simple, perforated fabric. We tested the model that does not include a liner and is essentially a "shell," but you can get the Ruckus with a liner.
The Ruckus Short is a durable option that can handle heavy use inside and outside of the bike park. While being slightly heavier and bulkier than other options here, it is the short I opt for when riding in the bike park or other areas where frequent impacts and abrasion are more likely.
These shorts feature two zippered pockets; the pocket on the upper-left thigh is roomy enough for a smart phone while the lower-right pocket is notably smaller and more ideal for carrying light tools or a Clif bar. There is a non-zippered pocket on the upper-right thigh that is the same size as the bigger pocket on the left, and I usually use it for stashing my gloves when I am not using them.
The Ruckus Short features a wide waistband with perforated ventilation and velcro adjustments on the side of the short. I've been able to get a secure, comfortable fit with the simple velcro adjustments and the shorts themselves don't need to be very tight to stay in place while riding all day. Part of this is likely due to the panel of two-way-stretch fabric at the back of the short, which helps ensure that the short can move around as needed, but with the waistband remaining tight around the hips. Overall, the Ruckus is on the baggier end of the spectrum, offering plenty of range of motion but it's not the best call here if you prefer a more streamlined fit.
As far as ventilation goes, the Ruckus doesn't breathe nearly as well as very lightweight options like the Dakine Boundary and Velocio Trail Short. Even with the new version's perforated panels, the Ruckus's main fabric is still on the thick and heavy side of riding shorts.
Durability is where these shorts truly shine. I've taken multiple crashes in these shorts, literally broke my pelvis in them, and after that + about 5 months of riding, they still look nearly new. Again, this durability comes at the cost of weight and breathability, but they have held up much better than other shorts like the Dakine Boundary.
If you are harsh on your riding apparel, often ride in the bike park, or just tend to fall a lot and rip your shorts, I think the Troy Lee Designs Ruckus Shorts are definitely worth the $109 as they do a great job of standing up to repeated impacts, scrapes, etc. If you don't fall into that category (pun intended), you might be better off with a lighter or more breathable option for more casual rides.